Clemson QB Trevor Lawrence is officially a member of the Jacksonville Jaguars. Color me surprised: We all knew this was going to go down since the picks became finalized following Week 17. Still, it's undoubtedly exciting to fully embrace Lawrence's Year 1 potential with Urban Meyer and company.
View PFF's 2021 NFL Draft position rankings:
QB | RB | WR | TE | T | iOL | DI | EDGE | LB | CB | S
What follows is a breakdown on what makes Lawrence such an intriguing prospect, whether or not he fits the mold of a great fantasy football QB, as well as what we should expect from him and this Jaguars offense in 2021.
We're truly looking at a (wait for it) generational talent
PFF stated the following about Lawrence in our 2021 NFL Draft Guide:
"The hype is all warranted. It's a special quarterback class, but there's still a clear gap between Lawrence and everyone else. He's the only quarterback in the PFF College era to grade over 90.0 overall as a true freshman, and he's repeated that feat in both years since. This year, despite having what was easily the worst offensive line and group of receivers he's ever had, Lawrence still put up a career-high 91.2 overall grade and showed continued growth. Most notably, his accuracy saw a considerable uptick. He's not a perfect prospect, but he's as NFL-ready as it gets."
Clearly we'll need to see if Lawrence can continue putting on weekly laser shows at the next level against improved competition, but it's tough to be anything other than majorly impressed with what he managed to accomplish over the past three seasons. All in all, he posted elite marks in overall passing grade (90.3), intermediate grade (90.2), deep grade (97.7) and no-pressure grade (92.6) alike.
Lawrence isn't the fastest QB ever, and he doesn't have the biggest arm in the history of mankind. With that said: Few signal-callers are capable of forcing defenses to defend every square inch of the field on a play-by-play basis.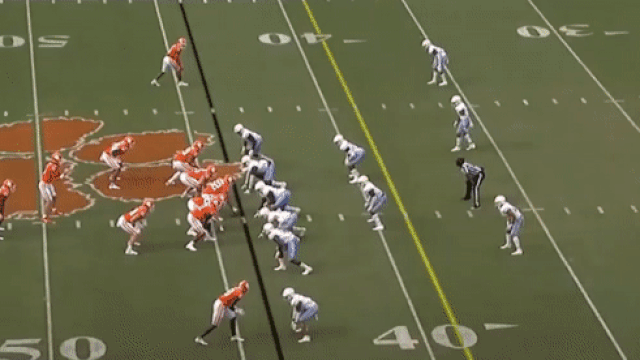 The reality that Lawrence has been slicing up secondaries since the day he walked on to campus as a true freshman reinforces the notion that we're looking at one of the best QB prospects in recent memory.
Being talented doesn't guarantee Year 1 success, but luckily Lawrence also checks the same boxes of past high-end rookies at the position.
Lawrence fits the criteria of historically successful rookie QBs
The QB position has produced seven rookies that finished their debut seasons as a top-12 fantasy performer since 2010. Among those, only Dak Prescott (Round 4) and Russell Wilson (Round 3) weren't first-round selections.
The larger trends from this group includes 1) being a Week 1 starter, and 2) the existence of a rushing floor. Each of Cam Newton, Andrew Luck, Robert Griffin, Prescott, Wilson and Kyler Murray started from the get-go and rushed for at least 25 yards per game in college. Justin Herbert is the only exception to both rules, although his status as a 1) plus athlete, and 2) Week 2 starter, doesn't make him too much of a wild card.
Note that we're only looking at season-long finishes here. Plenty of other higher-round signal-callers such as Jalen Hurts, Daniel Jones, Josh Allen, Lamar Jackson and Deshaun Watson have managed to supply some serious highs as rookies. This has (again) largely been thanks to their rushing upside.
Obviously Lawrence checks the first box and will be under center come Week 1, while his steady 24 rushing yards per game demonstrates the sort of upside he possesses on the ground. Don't expect Urban Meyer to run Lawrence like a 2021 version of J.T. Barrett; just realize Lawrence can make defenses pay with his legs in a hurry if not accounted for.
TREVOR LAWRENCE TURNS ON THE BURNERS #CFBPlayoff pic.twitter.com/x5FrKRjYqt

— ESPN (@espn) December 29, 2019
Lawrence deserves to be treated as a borderline QB1 from the get-go
There are only 12 QBs that I'd draft ahead of Lawrence at the moment in fantasy land as far as re-draft formats are concerned. Give me Lawrence ahead of the likes of Matthew Stafford, Ryan Fitzpatrick, Jameis Winston, Cam Newton and Matt Ryan. There's more dual-threat upside and a higher guarantee of 17 starts for the rookie. Still, I can't quite elevate Lawrence ahead of guys like Tom Brady, Ryan Tannehill and Joe Burrow thanks to their respective higher-end supporting casts.
The Jaguars are hardly without weapons on offense between D.J. Chark, Laviska Shenault, Marvin Jones and James Robinson. It'd hardly be surprising if they add another high-end skill-position talent or two with their remaining draft picks. However, we are taking a leap of faith with a rookie QB who is 1) playing under a coach who is brand new to the NFL, and 2) entering the reigning 30th-ranked scoring offense.
I fully anticipate this year's version of the Jaguars being far better on offense than they were in 2020, and the potential for their defense to continue to be #bad is certainly good for Lawrence's chances at becoming the eighth rookie QB1 since 2010. Growing pains are inevitable for pretty much any rookie QB, but don't be surprised if Lawrence looks the part of a star sooner rather than later. After all, it's largely all he's done with every opportunity he's had to play football at any level.