The 2021 NFL Draft is officially in the books. After a flurry of history-making picks and eye-raising selections from Thursday to Saturday, 259 players were selected to join the NFL's 32 franchises. With that, we give you our full draft recap, with analysis on each team's day and every notable selection made during the weekend.
For more information on the players your favorite team drafted, it's not too late to get our 2021 NFL Draft Guide, which includes expanded scouting reports, unique advanced data, PFF grades and much more. 
View PFF's 2021 NFL Draft position rankings:
QB | RB | WR | TE | T | iOL | DI | EDGE | LB | CB | S
ARZ | ATL | BLT | BUF | CAR | CIN | CHI | CLE | DEN | DAL | DET | GB | HOU | IND | JAX | KC | LVR | LAC | LAR | MIA | MIN | NE | NO | NYG | NYJ | PHI | PIT | SF | SEA | TB | TEN | WFT
R1 (16): LB Zaven Collins, Tulsa
R2 (49): WR Rondale Moore, Purdue
R4 (136): CB Marco Wilson, Florida
R6 (210): EDGE Victor Dimukeje, Duke
R6 (223): CB Tay Gowan, UCF
R7 (243): S James Wiggins, Cincinnati
R7 (247): C Michal Menet, Penn State
Day 1: A true physical throwback, Zaven Collins is 6-foot-5 and weighed in at 270 pounds in Indianapolis during medical checks. Despite that 1990s size, Collins had the highest PFF career coverage grade (93.6) of any linebacker in the draft class and continues the trend of Arizona drafting athletic and versatile players on defense. He allows them to implement some very interesting-looking defensive fronts in 2021.
Day 2: Arizona brought in A.J. Green in free agency this offseason. Given what we saw from Green in 2020, that wasn't going to keep the Cardinals from adding another dynamic playmaker at wide receiver in the 2021 NFL Draft. Moore certainly qualifies as that. His ability to create with the ball in his hands should fit in well with one of the screen-heaviest offenses in the NFL. Moore forced 37 missed tackles after the catch in his lone healthy season at Purdue as a true freshman in 2018.
Day 3: Tay Gowan was a top-10 cornerback prospect and a top-75 player overall on PFF's big board coming into the 2021 NFL Draft. You won't often find cornerbacks who have a chance to develop into quality starting options at this stage of the draft, but Gowan does have that chance. His combination of size, movement skills and production in his lone season as a starter at UCF should have made him a Day 2 pick. Instead, he'll enter into a competition with Robert Alford and Marco Wilson for a starting job opposite Malcolm Butler.
Draft Grade: B-
---
R1 (4): TE Kyle Pitts, Florida
R2 (40): S Richie Grant, UCF
R3 (68): OT Jalen Mayfield, Michigan
R4 (108): CB Darren Hall, San Diego State
R4 (114): C Drew Dalman, Stanford
R5 (148): DI Ta'Quon Graham, Texas
R5 (182): EDGE Adetokunbo Ogundeji, Notre Dame
R5 (183): CB Avery Williams, Boise State
R6 (187): WR Frank Darby, Arizona State
Day 1: The Falcons take the best non-quarterback in the draft with their selection of Florida tight end Kyle Pitts. He is going to be faster than any linebacker or safety and bigger than any cornerback. He enters the NFL as already one of the biggest matchup nightmares for a defense. His 96.1 receiving grade, 0% drop rate and above-average run-blocking grade in 2020 make him one of the best all-around pass-catchers we've seen in a while.
Day 2: The fourth-best safety on PFF's Big Board, Richie Grant had exceptional run-defense grades in college and was a stud during the one-on-one drills at the Senior Bowl in coverage, flashing the potential to be an all-around player at the next level. Grant has excellent numbers across the board and is an outstanding overall football player, but he was selected with TCU's Trevon Moehrig — PFF's top safety — still on the board.
Mayfield was garnering first-round consideration at one point. That might paint this as a value pick, but Mayfield's 144th ranking on PFF's Big Board still shows it as a reach. Mayfield's upside was supposed to be his physical tools. However, his Pro Day didn't show much in the way of that to get excited about. Mayfield will likely compete for the starting left guard spot in Atlanta — the lone hole on the team's line right now.
Day 3: The concerns with Drew Dalman have to do with his pass protection. He has a weaker anchor and posted pass-blocking grades of 71.7, 74.0 and 68.6 in his three years at Stanford while going up against subpar competition. He is nimble, though, and his run-blocking skill set will fit perfectly into Arthur Smith's offense. Dalman recorded a 90.1 grade in that facet in 2020.
Draft Grade: B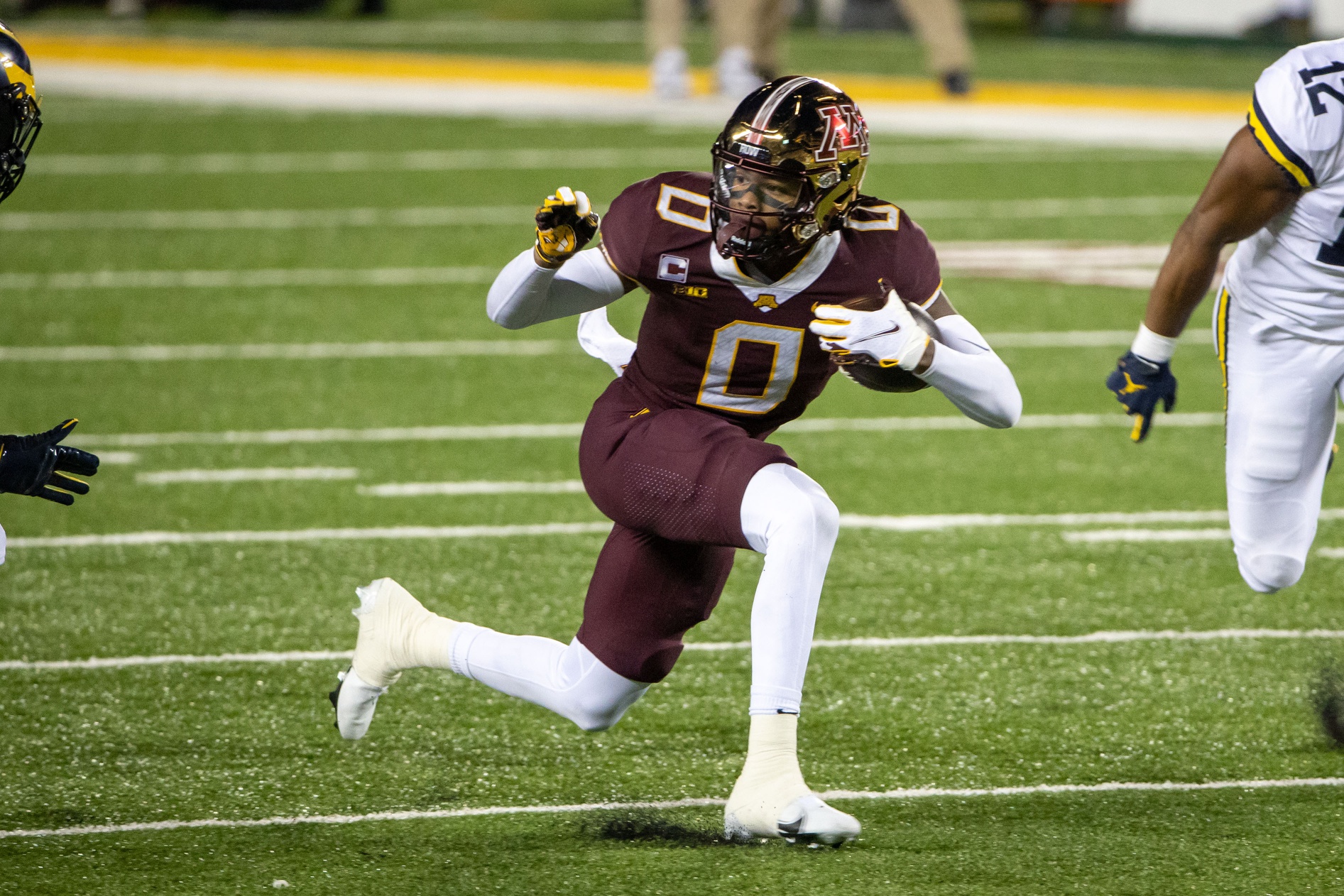 R1 (27): WR Rashod Bateman, Minnesota
R1 (31): EDGE Odafe Oweh, Penn State
R3 (94): G Ben Cleveland, Georgia
R3 (104): CB Brandon Stephens, SMU
R4 (131): WR Tylan Wallace, Oklahoma State
R5 (160): CB Shaun Wade, Ohio State
R5 (171): EDGE Daelin Hayes, Notre Dame
R5 (184): TE Ben Mason, Michigan
Day 1: Rashod Bateman may not be an elite all-around athlete, but he has an incredibly high floor and should have been the fourth wide receiver off the board. His route-running chops and release package are NFL-ready. Bateman was a productive receiver from the slot in 2019 despite dealing with COVID-19 before the start of the year and losing 10 pounds. And from an outside alignment, he recorded 3.60 yards per route run that year, the fifth-highest mark by a Power Five wide receiver in the PFF College era. Lamar Jackson gets his WR1.
Oweh is a freak athlete. At 6-foot-5 and 257 pounds, he posted a 40-inch vertical, 134-inch broad jump, 4.39 40-yard dash, 4.15-second pro agility and 6.84-second three-cone at Penn State's pro day. All of those marks rank at or above the 95th percentile among edge defenders historically. However, Oweh's pass-rush move arsenal is sorely lacking, and his rushes tend to die on contact. He produced just 10 pressures in his last six games in 2020. He's only scratching the surface of what he can become.
Day 2: Cleveland is a monster of a human being who mauled everyone in his path in college. The problem is that he didn't pair that size with production. He'll need to learn the more technical aspects of the game and must become lighter on his feet. Right now, he needs to play in a phone booth because any play in space is going to be rough for him. He brings a mentality that the coaches will love, but this is a big projection.
Stephens is far from a great athlete, and he isn't an incredibly technical player to make up for that. This is a reach for the Ravens. Speed kills him, as it's not up to the level it should be in the NFL. A move to safety might be in the cards.
Day 3: If Shaun Wade wouldn't have returned in 2020 after initially opting out, he would've certainly come off the board on Day 2. He was an exceptional slot corner for the Buckeyes in 2019 but struggled mightily on the outside in 2020. The physicality wasn't there, and his press technique was a mess. Wade proved that he is a safety/slot corner and not the outside corner many thought he would be. In 2019, he made more plays on the ball (eight) than first downs allowed (seven) in the slot en route to a 78.6 PFF grade. He can be a quality defensive back, just not an outside corner. This was good value for Baltimore.
Draft Grade: B+
---
R1 (30): EDGE Gregory Rousseau, Miami (FL.)
R2 (61): EDGE Carlos Basham Jr., Wake Forest
R3 (93): OT Spencer Brown, Northern Iowa
R5 (161): OT Tommy Doyle, Miami (OH)
R6 (203): WR Marquez Stevenson, Houston
R6 (212): S Damar Hamlin, Pittsburgh
R6 (213): CB Rachad Wildgoose, Wisconsin
R7 (236): OG Jack Anderson, Texas Tech
Day 1: Rousseau is a physical freak at 6-foot-7 with 34.75-inch arms and 11-inch hands. He opted out of the 2020 season and carries with him concerns about how he'll fare as a true edge defender, though. Rousseau rushed the passer just 283 times in his college career, anywhere from 0-technique to stand-up outside linebacker. He earned a 71.3 pass-rushing grade from outside of the tackle in 2019, but when he rushed from the interior, it spiked to 85.1.
Day 2: Basham added weight throughout his college career and transformed himself into a tank of a pass-rusher with monstrous power and the ability to tear through opposing pass-blockers, but most of his best plays don't actually come by using that potent power. His consistency has been lacking, but he has the tools of a first-round player. His 2019 season came close to elite in terms of PFF grading.
Day 3: The Bills got the player with the best name in the draft, and that has to be worth something. We project Rachad Wildgoose as a good man coverage player who didn't always have the ability to show off those skills in Wisconsin's zone-heavy system. He forced 10 incompletions in his career and only allowed 11 total catches.
Draft Grade: B
---
R1 (8): CB Jaycee Horn, South Carolina
R2 (59): WR Terrace Marshall Jr., LSU
R3 (70): OT Brady Christensen, BYU
R3 (83): TE Tommy Tremble, Notre Dame
R4 (126): RB Chuba Hubbard, Oklahoma State
R5 (158): DI Daviyon Nixon, Iowa
R5 (166): CB Keith Taylor, Washington
R6 (193): G Deonte Brown, Alabama
R6 (204): WR Shi Smith, South Carolina
R6 (222): LS Thomas Fletcher, Alabama
R7 (232): DI Phil Hoskins, Kentucky
Day 1: Jaycee Horn is the first defensive player selected in the 2021 NFL Draft. Horn, the son of former NFL receiver Joe Horn, is a truly elite press-man coverage cornerback. He is a physical nuisance who gets under the skin of receivers across from him. His press-man skills aren't quite a scheme fit with the Panthers, who like to play their cornerbacks in off positions, something Horn will have to improve on quickly at the next level.
Day 2: Marshall slid this far in the draft because of medical concerns, but on the field, he is a first-round talent and one of the few "big receivers" in this draft. Since the start of 2019, he has generated a perfect NFL passer rating of 158.3 when targeted. The LSU product has the potential to develop into a true No. 1 X receiver at the next level.
Christensen pairs high-end production (96.0 PFF grade in 2020) with high-end athleticism, testing at the 90th percentile or better across the board at his BYU Pro Day. His biggest concern entering the NFL is whether he can hold up at tackle with 32-inch arms. That's generally below the requisite threshold for starting tackles in the league, but Christensen may be worth a shot given Carolina's other options at the position. At worst, he should be a quality alternative to Pat Elflein at left guard. 
Tremble has been one of the hot names coming out of draft analysts' mouths over the past few months — a throwback player who wills his opponents into submission with physicality and tenacity. He's not a receiver — more fullback than tight end — but he's a player you want on your roster. The Panthers now have a tone-setter on their offense.
Day 3: Daviyon Nixon stands out as one of the better values of the fifth round so far, even with him coming in significantly lower on PFF's Big Board than most around the industry. Nixon has quick feet and plays the position violently. He just didn't show much high-end on tape, posting middling PFF grades of 71.5 and 73.1 in his two seasons at Iowa. That becomes less of an issue with him coming off the board this late in the process.
Draft Grade: B-
---
R1 (11): QB Justin Fields, Ohio State
R2 (39): OT Teven Jenkins, Oklahoma State
R5 (151): OT Larry Borom, Missouri
R6 (217): RB Khalil Herbert, Virginia Tech
R6 (221): WR Dazz Newsome, North Carolina
R6 (228): CB Thomas Graham Jr., Oregon
R7 (250): DI Khyiris Tonga, BYU
Day 1: The Bears underwhelmed when they settled for Andy Dalton earlier in the offseason, but they redressed the situation with an aggressive move for Justin Fields, the No. 3 player on PFF's Big Board. Fields has special talent and back-to-back seasons with a 91.0-plus PFF grade. His ceiling is as high as any passer in this draft, and he's a real threat in the run game.
Day 2: Buried in the celebrations of Chicago selecting quarterback Justin Fields was the state of the team's offensive line on paper, but the Bears are making a major move to address that with a trade-up for Teven Jenkins. One of the best run blockers in the draft, Jenkins also pass-blocked well but had an extremely limited number of true pass-blocking plays to judge from.
Day 3: Thomas Graham Jr. opted out of the 2020 season, but it is still surprising to see him drop this far, given that he has three seasons of quality play as a starter on tape. He earned 80.0-plus PFF grades in each of the 2018 and 2019 seasons for Oregon and has a versatile, scheme-diverse skill set.
Draft Grade: A+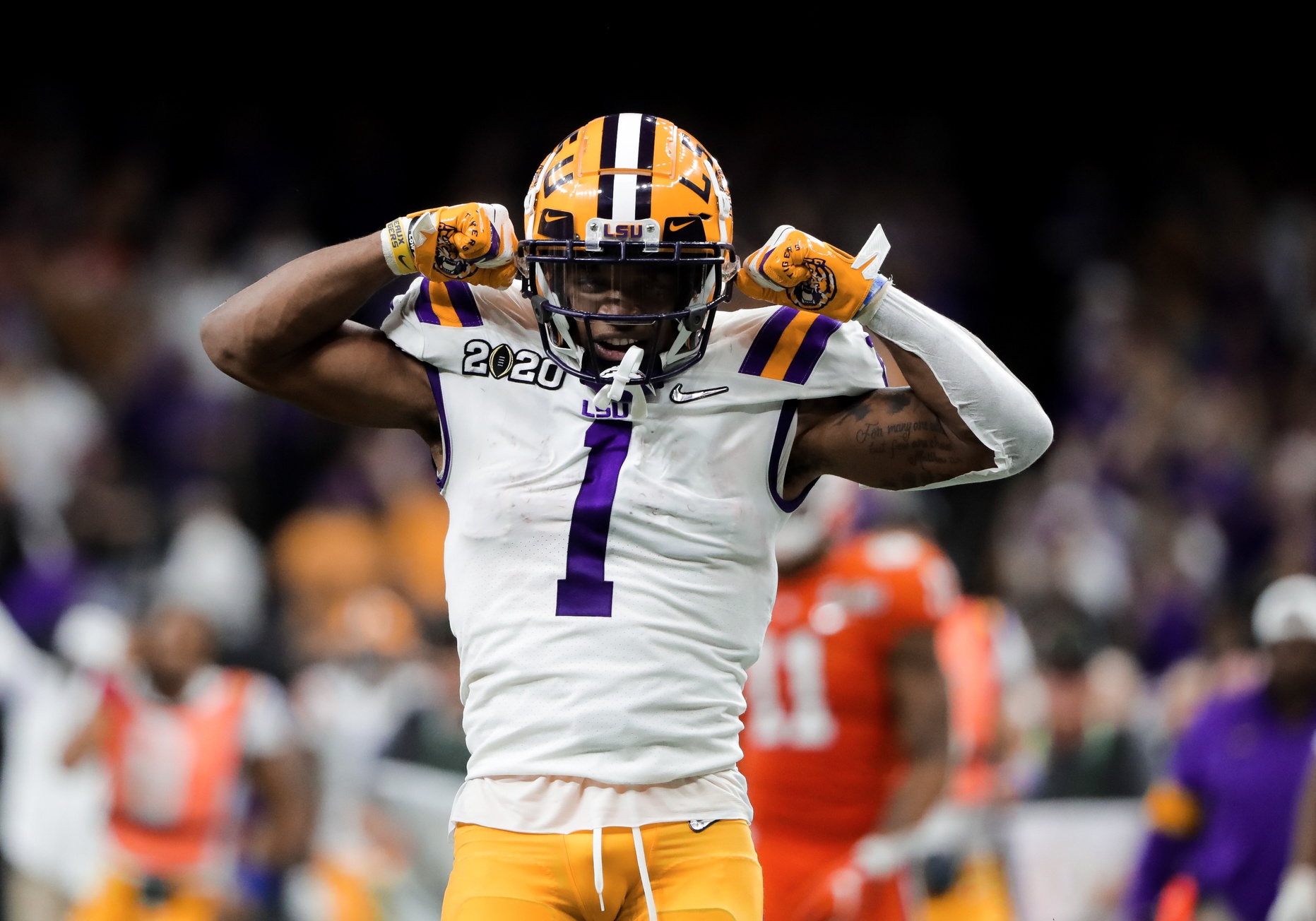 R1 (5): WR Ja'Marr Chase, LSU
R2 (46): OT Jackson Carman, Clemson
R3 (69): EDGE Joseph Ossai, Texas
R4 (111): EDGE Cameron Sample, Tulane
R4 (122): DI Tyler Shelvin, LSU
R4 (139): T D'Ante Smith, East Carolina
R5 (149): K Evan McPherson, Florida
R6 (190): C Trey Hill, Georgia
R6 (202): RB Chris Evans, Michigan
R7 (235): EDGE Wyatt Hubert, Kansas State
Day 1: The Bengals bring in former LSU receiver Ja'Marr Chase, reuniting him with national championship-winning quarterback Joe Burrow. Chase dominated the 2019 season, posting a 91.1 PFF grade to go along with 20 touchdowns, all thrown by Burrow. Cincinnati passes on an offensive lineman to bolster a receiving corps that was lacking a contested-catch monster. They now have one.
Day 2: After reuniting Joe Burrow with Ja'Marr Chase in Round 1, the Bengals attack the offensive line as expected here. It remains to be seen whether Carman plays tackle or guard in Cincinnati, but he raises the talent level of the group regardless of where he lines up. Carman has an impressive combination of size and athleticism and was playing his best football toward the end of the 2020 season.
The Bengals lost Carl Lawson to the New York Jets earlier this offseason in free agency. They've since offset that loss by bringing in Trey Hendrickson in free agency and Ossai here. Ossai is an explosive athlete off the edge whose biggest strength, as listed in the PFF Draft Guide, is his motor. That motor and his athleticism form a winning combination off the edge. He should make an impact early as a rotational pass rusher.
Day 3: Cincinnati got great value with Cameron Sample, who we projected as a third-round pick. He blossomed as a pass-rusher in 2020 with a 90.4 grade in that facet, tying for fifth-best among all FBS edge rushers. He then proceeded to post the highest win rate of any defensive lineman in the one-on-one drills at the Senior Bowl. Sample is a nimble, versatile and powerful player who should've come off the board on Day 2.
Draft Grade: B
---
R1 (26): CB Greg Newsome II, Northwestern
R2 (52): LB Jeremiah Owusu-Koramoah, Notre Dame
R3 (91): WR Anthony Schwartz, Auburn
R4 (110): OT James Hudson, Cincinnati
R4 (132): DI Tommy Togiai, Ohio State
R5 (153): LB Tony Fields II, West Virginia
R5 (169): S Richard LeCounte, Georgia
R6 (211): RB Demetric Felton, UCLA
Day 1: The Browns are one of the NFL's smartest teams, and they attacked one of the most valuable positions in the game here. Newsome is also a very good prospect, representing incredible value here at No. 26. He was battle-tested on a small sample of snaps in 2020, facing 34 targets through his first four games. He held his own, allowing just 93 yards and five first downs while making eight plays on the ball. His feet are easily the best in the class. Whether Newsome is playing off-coverage or press-man, he'll make plays.
Day 2: The Browns continue to make smart moves. It's not easy to pinpoint a clear role for Owusu-Koramoah in the NFL, but he's talented enough to contribute somewhere. He's an off-ball linebacker who had slot cornerback coverage responsibilities in Notre Dame's defense and looked good in that role. JOK is a smooth, explosive athlete who can fill multiple roles for Cleveland defensively. This is tremendous value for a top-20 player on PFF's Big Board.
Day 3: Cleveland continues to commit highway robbery by getting Tommy Togiai, a Day 2 pick, here on Day 3. He has a powerful bull-rush and can be a forceful 3-technique in both facets. He posted an 87.8 run-defense grade and 77.0 pass-rush grade for the Buckeyes in 2020.
Draft Grade: A+
---
R1 (12): LB Micah Parsons, Penn State
R2 (44): CB Kelvin Joseph, Kentucky
R3 (75): DI Osa Odighizuwa, UCLA
R3 (84): EDGE Chauncey Golston, Iowa
R3 (99): CB Nahshon Wright, Oregon State
R4 (115): LB Jabril Cox, LSU
R4 (138): OT Josh Ball, Marshall
R5 (179): WR Simi Fehoko, Stanford
R6 (192): DI Quinton Bohanna, Kentucky
R6 (227): CB Israel Mukuamu, South Carolina
R7 (238): OG Matt Farniok, Nebraska
Day 1: The Cowboys seemed destined to take a cornerback at No. 10 overall, but the Panthers starting a mini-run at the position allowed Dallas to trade back and reassess. Linebacker isn't an obvious need, with Jaylon Smith and Leighton Vander-Esch already there, but Parsons is the best linebacker prospect we have seen in years and could provide some versatility to the Cowboys defense.
Day 2: Both Jaycee Horn and Patrick Surtain II coming off the board before the Cowboys' selection in the first round led to the team selecting a linebacker in Round 1, but they fill the need at cornerback here with Joseph. The Kentucky product has elite speed and is a fluid mover at his size, but there were questions about his consistency on tape. That's why he ranked just 67th on PFF's Big Board.
No interior defensive lineman was more dominant at the Senior Bowl than Odighizuwa. He was the highest-graded player at the position both during the week of practice and in the game itself, winning with power and quickness. Odighizuwa also has four seasons of solid-run defense grades on his resume from his time at UCLA. He addresses a clear area of need for Dallas. Their defensive tackles were regularly blown off the ball in 2020. 
Golston developed at a solid pace during his time at Iowa, going from a 63.7 grade in 2018 to 75.1 in 2019 before breaking out with an 82.3 grade last season. He is a physical and willing run defender and uses his hands extremely well as a pass rusher. He just might not have the explosiveness to play every down in the NFL.
From out of left field, the Cowboys select Last Chance U cameo star, Nahshon Wright. He's a long corner and shows good ball skills, and he picked up five interceptions in only 18 games in his Beaver career. He is more of a zone player, which may fit Dan Quinn's scheme, but his athleticism leads a lot to be desired, and that's why this is a very big reach. 
Day 3: Jabril Cox was the top player on PFF's Big Board entering Day 3. We projected him as a second-round prospect. He is such a smooth player in coverage, showing as much both at North Dakota State and LSU in zone coverage, when going up against tight ends and while covering the slot. This past year for the Tigers, Cox ranked third among Power Five off-ball linebackers in coverage grade. His play strength isn't anything special, though.
Draft Grade: B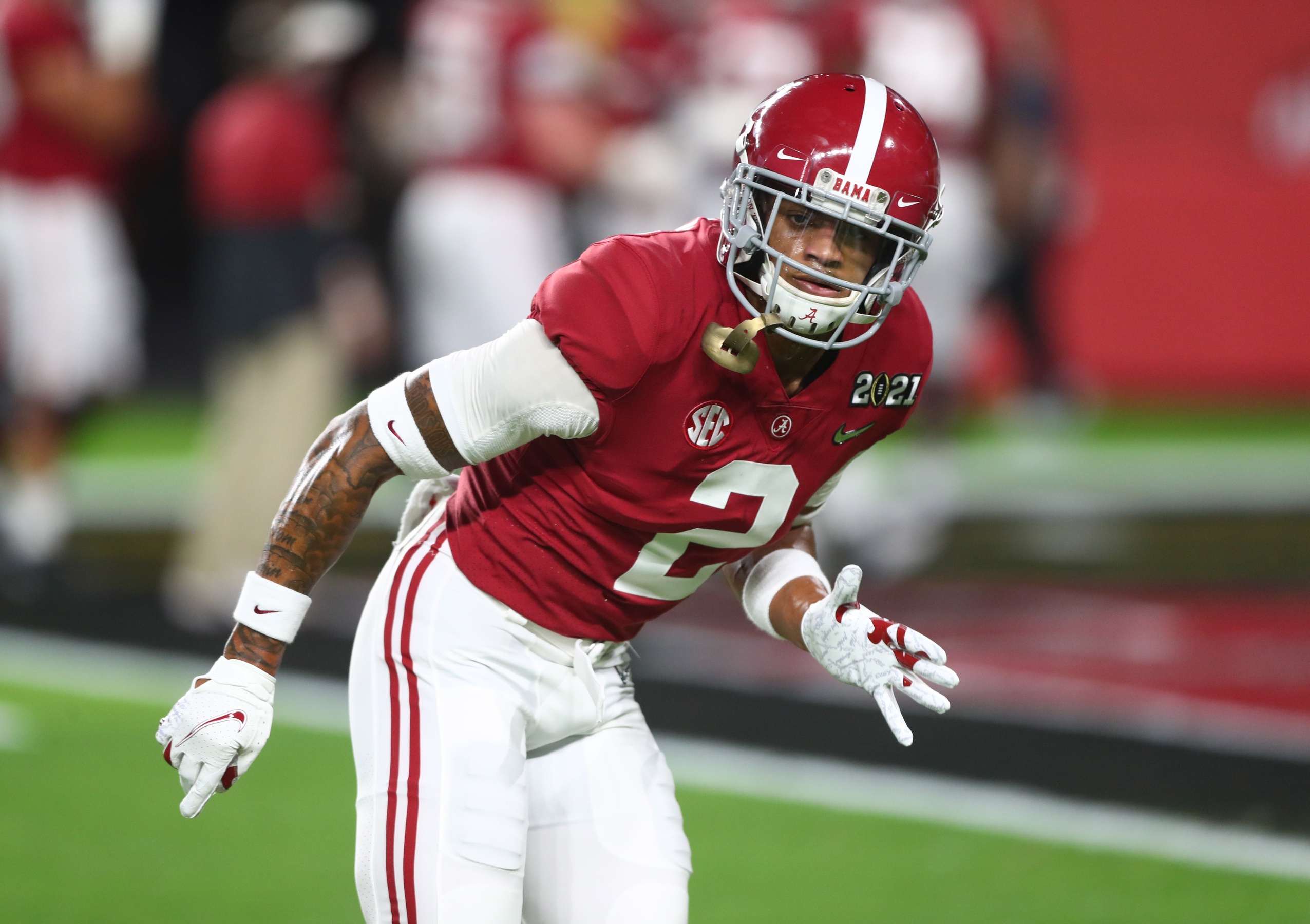 R1 (9): CB Patrick Surtain II, Alabama
R2 (35): RB Javonte Williams, North Carolina
R3 (98): iOL Quinn Meinerz, Wisconsin-Whitewater
R3 (105): LB Baron Browning, Ohio State
R5 (152): S Caden Sterns, Texas
R5 (164): S Jamar Johnson, Indiana
R6 (219): WR Seth Williams, Auburn
R7 (237): CB Kary Vincent Jr., LSU
R7 (239): EDGE Jonathon Cooper, Ohio State
R7 (253): EDGE Marquiss Spencer, Mississippi State
Day 1: Surtain was a curious pick considering how loaded the Broncos' defense already is on paper and the team's clear need at quarterback. But head coach Vic Fangio has a sure-thing lockdown cornerback. Surtain II, the son of former NFL cornerback Patrick Surtain, is a truly elite technical player at every facet of the cornerback position. He can press receivers out of the game and also play zone at a very high level. Surtain is a complete player.
Day 2: The good news is that the Denver Broncos selected the No. 1 running back on PFF's Big Board as the third back off the board. The bad news is that they traded up to make it happen, thus investing more in the position than is ever wise to do so. Williams is a tackle-breaking machine, blowing through 76 would-be attempts last season at North Carolina.
Everyone's favorite draft prospect is finally off the board. Meinerz, the Division III prospect, is picked by Denver and could very easily become the team's starting center next year. He plays with superb technical ability, always showing good leverage and power. He's also an intelligent player, something you need from your center. Obviously, the level of competition is not good, and he's not very agile, but he checks every other box.
Browning projects as a pass-rusher at the next level, a role he did play at Ohio State. He was a liability on the field for most of his career until this past season. While he thumps people and is a physical player, he is just not a very fast processor, and that's why teams will probably move him to the line of scrimmage.
Day 3: Jamar Johnson might be one of the best picks of the entire draft; he fits like a glove in Vic Fangio's defense and was a clear second-round pick in our eyes. His tackling issues and small sample size may have scared some teams away, but the coverage ability he displayed at Indiana was special. Johnson played all over the field and thrived in every role, displaying the nimble feet and the smooth hips that are required on the back end in the NFL. He produced an 89.3 coverage grade during an Indiana career that featured seven interceptions and six forced incompletions.
Draft Grade: A-
---
R1 (7): OT Penei Sewell, Oregon
R2 (41): DI Levi Onwuzurike, Washington
R3 (72): DI Alim McNeill, NC State
R3 (101): CB Ifeatu Melifonwu, Syracuse
R4 (112): WR Amon-Ra St. Brown, USC
R4 (113): LB Derrick Barnes, Purdue
R7 (257): RB Jermar Jefferson, Oregon State
Day 1: Penei Sewell slid a bit but falls right to the Lions, who find someone to protect new quarterback Jared Goff. Sewell is a hyper-athletic tackle who gobbles up pass rushers and moves in the open field like no one at his size should. His 95.8 PFF grade in 2019, the last season he played college football, is even more impressive because he was only 19 years old at the time. Sewell could be a Lions tackle for the next decade.
Day 2: The Detroit Lions are, perhaps predictably, building from the inside out when it comes to the new regime's first draft. After taking Penei Sewell in the first round, Detroit came back and grabbed an interior defensive lineman in the second and in the third. Levi Onwuzurike didn't play in 2020, but he has exceptional burst and the potential to be an elite pass rusher at the next level, albeit relying on some projection based on what we saw from him in college. The consensus was all over the board in this interior defender class, but McNeill slotted in as PFF's DT2, behind only Alabama's Christian Barmore. McNeill is an impressive athlete for a guy who tips the scales at 320 pounds. That allows him to provide more pass-rushing juice than your typical nose tackle. It's not difficult to see him becoming a difference-maker on a defense that sorely needs those types of players.
Melifonwu has unreal physical attributes but doesn't always play to his size. A 6-foot-2, 205-pound corner should bully the receivers he faces, but that doesn't show up on tape very often. He lacks an instinctive feel for the position, but he has excellent burst, breaks up plays with his long wingspan and can transition in and out of his breaks as well as anyone his size.
Day 3: Amon-Ra St. Brown has no trump card, but he's a good all-around wide receiver. He possesses good body control, offers value after the catch, can run a full route tree and was consistently productive at USC, generating 2.11 yards per route run throughout his career. St. Brown may have to start right away for Detroit.
Draft Grade: A-
---
R1 (29): CB Eric Stokes, Georgia
R2 (62): C Josh Myers, Ohio State
R3 (85): WR Amari Rodgers, Clemson
R4 (142): T Royce Newman, Ole Miss
R5 (173): DI Tedarrell Slaton, Florida
R5 (178): CB Shemar Jean-Charles, App State
R6 (214): T Cole Van Lanen, Wisconsin
R6 (220): LB Isaiah McDuffie, Boston College
R7 (256): RB Kylin Hill, Mississippi State
Day 1: Stokes is one of the fastest players in this class, regardless of position. He's not particularly fluid or instinctive, though. That's why we viewed him as a third-round product at best. He does play the catch point well, has press experience and won't get beat deep, but this is still a major reach. Stokes may have a bit of a learning curve getting used to the NFL illegal contact penalty, too.
Day 2: Myers has never earned a PFF grade above 75.0 over a full season, and the Packers selected him at this spot with significantly better centers on the board, including the one that went one spot below to the Chiefs. Meyers has impressive explosion and power, but he is far too aggressive and often loses by going for it all and whiffing at the line. The potential is there for Myers to be more, but he needs a lot of work.
The Packers finally take a receiver for Aaron Rodgers. The Clemson WR was the 128th player on our Big Board. Although he is very explosive, we don't know enough about his route-running to assume he'll run a full route tree in the NFL. Right now he's a bubble screen, jet sweep and deep-post runner, so the Packers will hope he develops a more well-rounded game.
Day 3: Jean-Charles locked up everyone he saw on the outside at App State in 2020, allowed just 17 catches across 52 targets while making 18 plays on the ball. He may not make up for his size with elite-level athleticism — as someone like Asante Samuel Jr. does — which will likely kick him inside in Green Bay, but Jean-Charles will bring the physicality and eyes needed to hold up in the slot.
Draft Grade: C-
---
R3 (67): QB Davis Mills, Stanford
R3 (89): WR Nico Collins, Michigan
R5 (147): TE Brevin Jordan, Miami (FL.)
R5 (170): Garett Wallow, TCU
R6 (195): Roy Lopez, Arizona
Day 1: None.
Day 2: The Texans look toward the future at the quarterback position with their first selection in the 2021 NFL Draft. Mills is a former five-star recruit, has an NFL-caliber arm and got the ball out quickly while at Stanford with one of the fastest average times to throw in college football. He just doesn't bring much mobility or experience. This is an interesting decision on Houston's part considering that the team will likely be in a position to draft a quarterback early in the 2022 NFL Draft.
Collins was a big-time recruit who just never produced as a Wolverine. The Texans will hope that's mostly due to the lack of quarterback talent feeding him the football in Ann Arbor. Collins is a big, physical receiver with some shiftiness who still wants to play physical football and get dirty. He also has just enough juice to run by defensive backs. Consistency needs to improve.
Day 3: Jordan isn't someone who you're going to ask to block inline, but he did profile as one of the more dynamic receiving threats at the position in this draft class. He has legitimate after-the-catch ability for someone his size and can be used as a weapon on crossers in Houston's offense.
Draft Grade: C-
---
R1 (21): EDGE Kwity Paye, Michigan
R2 (54): EDGE Dayo Odeyingbo, Vanderbilt
R4 (127): TE Kylen Granson, SMU
R5 (165): Shawn Davis, Florida
R6 (218): Sam Ehlinger, Texas
R7 (229): Michael Strachan, Indianapolis
R7 (248): Will Fries, Penn State
Day 1: Paye is one of the many physically gifted but unrefined edge rushers in this draft class. He has generational tools for the position and clocked a sub-6.5-second three-cone time, but his pass-rush plans are a bit reckless. He still managed to record a 77.8 pass-rush grade in 2019 before raising it to 87.1 on a smaller sample in 2020. With the right coaching, he can be a dominant NFL player.
Day 2: Another player who fits the Colts' athletic profile for defenders to a tee. Odeyingbo is an extremely twitchy athlete and has prototypical size, but he comes without the grading profile and production to match those freakish traits. The Colts have chased those players in the past several drafts with mixed results. Odeyingbo recorded 25 total pressures in eight games the last time we saw him play.
Day 3: Ehlinger is a four-year starter who did a good job at limiting turnovers in college. That's about where you stop getting excited about his prospects of panning out in the NFL. His pocket presence and arm both stand out as barriers to becoming a viable option at the next level. It's still not a terrible bet for Indianapolis to make at this stage of the draft.
Draft Grade: C+
---
R1 (1): QB Trevor Lawrence, Clemson
R1 (25): RB Travis Etienne, Clemson
R2 (33): CB Tyson Campbell, Georgia
R2 (45): OT Walker Little, Stanford
R3 (65): S Andre Cisco, Syracuse
R4 (106): DI Jay Tufele, USC
R4 (121): Edge Jordan Smith, UAB
R5 (145): TE Luke Farrell, Ohio State
R6 (209): WR Jalen Camp, Georgia Tech
Day 1: The Jaguars kicked things off with the no-brainer decision to take Trevor Lawrence with the first pick of the 2021 NFL Draft — a selection roughly five years in the making. The 21-year-old produced three 90.0-plus season grades at Clemson, starting with a breakout true freshman campaign in which he led the Tigers to a national championship.
Jacksonville hit a home run by landing Lawrence but struck out by taking Etienne with its second first-round pick. Unlike Harris, Etienne is an explosive play waiting to happen; he racked up 37 runs that resulted in a gain of 25-plus yards since 2018, nine more than any other FBS back. He also greatly improved as a receiver, grading out as the best running back in that facet last season. Still, he won't generate the value of a true first-round pick — no running back will.
Day 2: Investing in the cornerback position is never a bad strategy, but Jacksonville is adding to a group that already has a lot more invested in the incumbent starters — specifically, 2020 first-round pick C.J. Henderson and free-agent acquisition Shaquill Griffin. Campbell is also an outside corner, which leaves him as a future option more than an early candidate to see playing time unless Henderson can feature in the slot. The elephant in the room is that Campbell was the 108th-ranked player on PFF's Big Board.
Little's NFL projection requires some imagination given that he's played just 72 total snaps over the course of the last two seasons. A 2019 injury and 2020 opt-out have kept Little from being able to show his development on a football field. This still stands out as a strong bet for the Jaguars given Little's physical tools and an 81.2 pass-blocking grade as a true sophomore at Stanford in 2018. Little was PFF's OT4 and a top-30 player overall on the big board.
Cisco's tape is a rollercoaster. He has some of the best range, size and playmaking ability in this class, tallying 26 combined pass breakups and interceptions across 24 games at Syracuse. Jacksonville will just have to live with some reads from Cisco that take him out of position, opening the door for big plays by the opposing offense. The Jaguars are clearly placing an emphasis on the secondary, with both of their Day 2 picks addressing that group.
Day 3: Smith has an NFL build for the edge and was highly productive at UAB. He's coming off back-to-back seasons with 90-plus PFF pass-rushing grades. He just doesn't look like an NFL athlete based on his pro-day testing, namely a 7.82-second three-cone time that ranks in the third percentile at the position.
Draft Grade: B+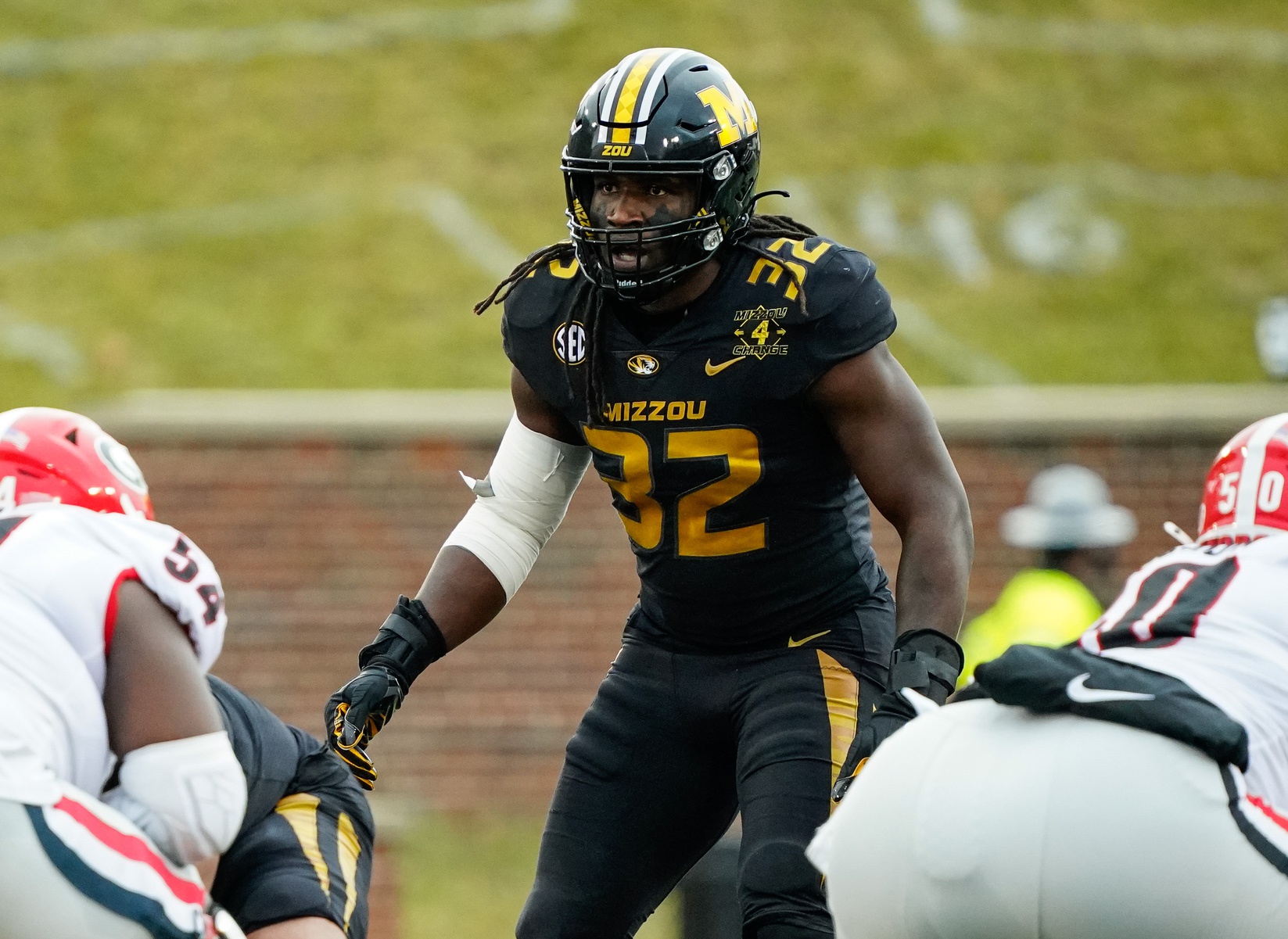 R2 (58): LB Nick Bolton, Missouri
R2 (63): C Creed Humphrey, Oklahoma
R4 (144): Edge Joshua Kaindoh, Florida State
R5 (162): TE Noah Gray, Duke
R5 (181): WR Cornell Powell, Clemson
R6 (226): G Trey Smith, Tennessee
Day 1: None.
Day 2: Bolton isn't the athlete some other linebacker prospects are, but he has exceptional instincts and can flow to the football and make tackles that stick. On his tape, there are plays of him tracking down and snaring Kadarius Toney in the open field when he played Florida, showing that he can hold his own against elite athletes and ball carriers.
Humphrey can start from Day 1 at center. He can also likely step in at either guard spot, giving Kansas City a tremendous player in terms of versatility and contingency on the offensive line, the area that effectively cost them the Super Bowl. And with Josh Myers going one spot earlier, this looks like an even better pick. Humphrey didn't allow a sack for three straight seasons in college.
Day 3: One has to assume that medicals played a big role in Smith falling this far, as he battled blood clots in his lungs throughout his tenure at Tennessee. This is a home run from an on-the-field perspective, though. Smith is a former five-star recruit with legitimate physical tools to work with. The Chiefs offer a good environment to continue to develop and provide depth behind veteran starters.
Draft Grade: B+
---
R1 (17): T Alex Leatherwood, Alabama
R2 (43): S Trevon Moehrig, TCU
R3 (79): EDGE Malcolm Koonce, Buffalo
R3 (80): S Divine Deablo, Virginia Tech
R4 (143): S Tyree Gillespie, Missouri
R5 (167): CB Nate Hobbs, Illinois
R7 (130): C Jimmy Morrissey, Pittsburgh
Day 1: The Las Vegas Raiders have a glaring need at right tackle and made a point to revamp their offensive line this offseason, but there won't be many who have Alex Leatherwood ranked ahead of Christian Darrisaw and a few others still on the board. Leatherwood comes from a blue-blood program, and that may be coveted more than usual in this unique draft, but he was the No. 9-ranked tackle on PFF's Big Board and had major issues in pass protection.
Day 2: Moehrig was the heavy favorite to become the first safety off the board in the 2021 NFL Draft. Instead, he's the third safety off the board here to Las Vegas behind both Jevon Holland and Richie Grant. Moehrig brings some much-needed playmaking ability in coverage to the Raiders secondary, but it remains to be seen how he fits in Gus Bradley's defense after playing in a split-field safety defense at TCU. There's reason to believe he can have success as a single-high safety with his size, smarts and explosiveness.
The Raiders test the waters on a very productive pass rusher with Koonce. He might not have the requisite strength right now, but the team will be hoping he adds that aspect to his game. He's going to have to add some moves, but the bend and flexibility he possesses are uncoachable traits. Can he stand up to the run at the NFL level? He was a reach of about 90 spots according to the PFF Big Board. Classic Raiders. Right now he's a third-down player until he puts on NFL muscle.
In a perfect universe, Deablo transitions to linebacker in the NFL and uses his relative speed and explosiveness for the position to become a good modern NFL linebacker. Unfortunately, there are going to be many universes where the former Virginia Tech safety never manages to nail down a spot and ends up living his pro career in positional limbo.
Day 3: Las Vegas is doing precisely what they need to be doing here by taking swings on the secondary. Gillespie is a physical player who will make an impact against the run, but he's not a quality coverage player… yet. He wasn't instinctive in college, nor is he a good all-around athlete. He also put on a subpar performance in one-on-ones at the Senior Bowl.
Draft Grade: C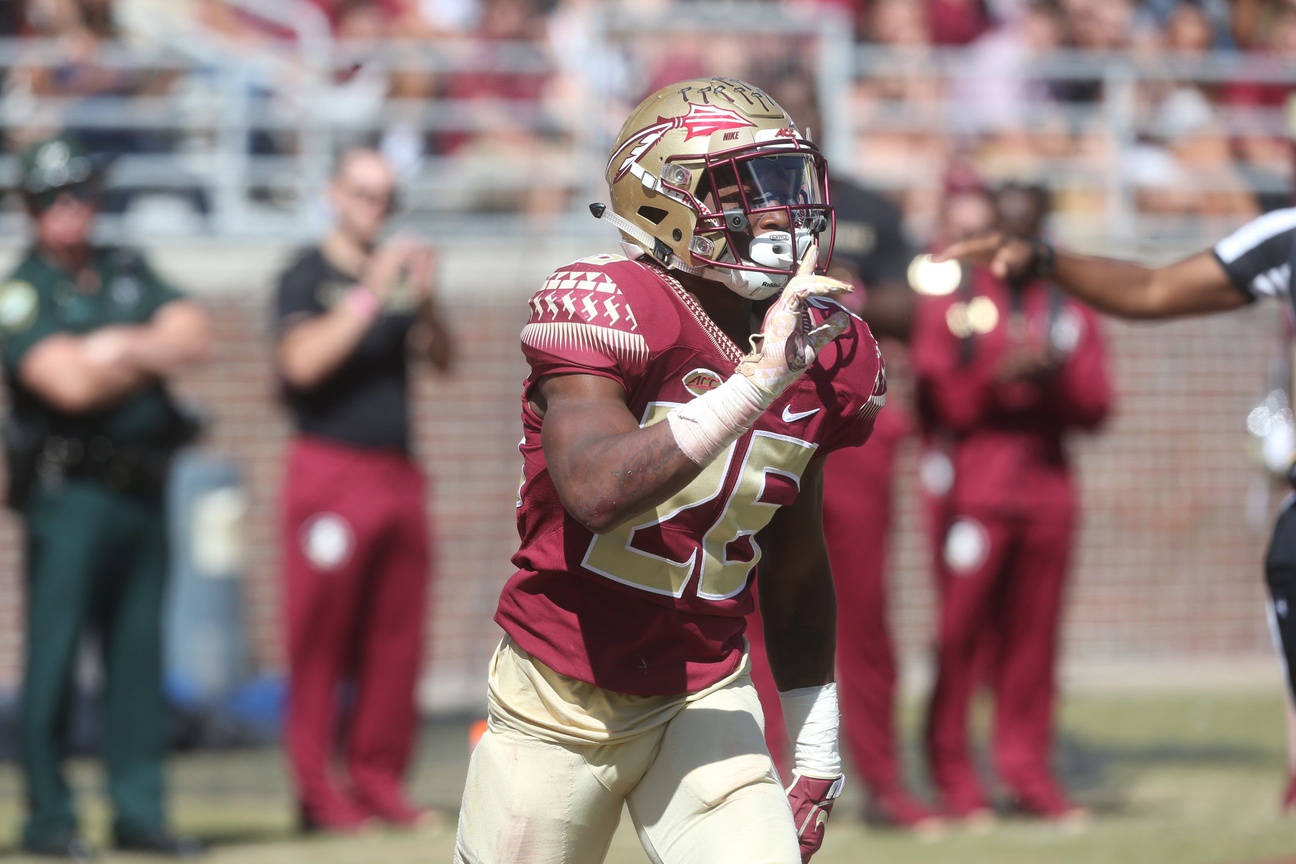 R1 (13): T Rashawn Slater, Northwestern
R2 (47): CB Asante Samuel Jr., Florida State
R3 (77): WR Josh Palmer, Tennessee
R3 (97): TE Tre' McKitty, Georgia
R4 (118): EDGE Chris Rumph II, Duke
R5 (159): T Brenden Jaimes, Nebraska
R6: (185): LB Nick Niemann, Iowa
R6 (198): RB Larry Rountree III, Missouri
R7 (241): CB Mark Webb, Georgia
Day 1: Some draft analysts had Rashawn Slater as the No. 1 offensive tackle on their boards. A player who had outstanding performances against Chase Young in college, Slater allowed only five total pressures on over 350 pass-blocking snaps in 2019 before opting out of the 2020 season. The Chargers have done a fantastic job of rebuilding their offensive line since the end of the season. Slater completes that job for quarterback Justin Herbert.
Day 2: The Chargers stand out as one of the early winners in this draft with the selection of Slater in the first round and Samuel in Round 2. Samuel's instincts and quicks make him an ideal fit in his projected off-ball zone role in Brandon Staley's new defense in Los Angeles. He recorded a forced incompletion rate above 20% over the course of his career at Florida State.
Palmer was one of the few wide receivers in this Day 2 range who fit the bill as a seemingly well-rounded player on the outside. Don't be swayed by his lackluster production over the past few seasons at Tennessee. The quarterback situation there did Palmer no favors. He can create separation underneath and in the intermediate range with sudden routes and was one of the few receivers to beat new Broncos cornerback Patrick Surtain II deep this past season. He is a legitimate third option at the position beyond Keenan Allen and Mike Williams.
This is a big reach for the Chargers. If they had to take a player who struggled to produce in college, you'd at least like to see them take someone who either has size or athleticism. Instead, they take a player who has neither. McKitty's one trait is his hand size, which is in the 99th percentile, but his 14.3% drop rate tells you that it might not matter much. A head-scratching pick for a player ranked 246th on our board.
Day 3: Rumph is one of the most interesting Day 3 prospects. His pass-rush toolbox is as good as anyone's in the draft, but he is extremely undersized. It didn't stop him from being one of the most productive pass-rushers in college football over the past couple of years, with pass-rush grades of 92.7 and 78.1 and 92 total pressures on just over 440 pass-rushes. Play strength is a different story in the NFL, though. He's a candidate to move to off-ball linebacker.
Draft Grade: A+
---
R2 (57): WR Tutu Atwell, Louisville
R3 (103): LB Ernest Jones, South Carolina
R4 (117): DI Bobby Brown III, Texas A&M
R4 (130): CB Robert Rochell, Central Arkansas
R4 (141): WR Jacob Harris, UCF
R5 (174): EDGE Earnest Brown IV, Northwestern
R7 (233): RB Jake Funk, Maryland
Day 1: None.
Day 2: The Rams grab the speedster they've been coveting in Tutu Atwell, though this is yet another reach on a smaller receiver with some issues. Atwell raised eyebrows by weighing in at the medical combine at 149 pounds, which would make him one of the lightest receivers ever to hit the NFL. His route tree was extremely limited, but there's no doubting his playmaking ability, and his best PFF grades came against man coverage.
Jones was a good run defender at South Carolina, but he falls because we don't know much about him in coverage. He needs to anticipate and react faster if he is to stick at the NFL level. He brings it in the run game, but his change of direction and coverage skills leave a lot to be desired.
Day 3: Rochell epitomizes a Day 3 flier with an incredibly high ceiling but an extremely low floor. The ceiling is all thanks to his physical tools. Rochell's all-around athleticism landed him a spot on Bruce Feldman's "Freaks" list. His makeup speed, wingspan and explosiveness are precisely what the NFL wants at cornerback. His technique, on the other hand, is virtually nonexistent. Those issues showed up on his handful of reps at the Senior Bowl and throughout his time at Central Arkansas.
The Rams took an athletically gifted project earlier with Rochell and took another here with Harris. Harris averaged just 1.64 yards per route run on 49 receptions in his collegiate career but lit up his pro day with a 41-inch vertical, 133-inch broad jump, 4.39 40-yard dash and 6.54 three-cone at 6-foot-5 and 219 pounds.
Draft Grade: C
---
R1 (6): WR Jaylen Waddle, Alabama
R1 (18): EDGE Jaelen Phillips, Miami (FL.)
R2 (36): S Jevon Holland, Oregon
R2 (42): OT Liam Eichenberg, Notre Dame
R3 (81): TE Hunter Long, Boston College
R7 (231): OT Larnel Coleman, Massachusetts
R7 (244): RB Gerrid Doaks, Cincinnati
Day 1: Like the Bengals, the Dolphins reunite their starting quarterback with a former wide receiver teammate. Jaylen Waddle arrives in Miami with experience catching passes from Tua Tagovailoa. He is an explosive play waiting to happen, whether it's on a bubble screen or a post route. He is the elite burner receiver of the entire draft class and rounds out the Dolphins' receiving corps.
Jaelan Phillips boasts the best production of any edge rusher in this class, and if medical concerns weren't a factor, he could have come off the board much earlier. He recorded 42 quarterback pressures on 542 snaps last season for Miami but has already had to walk away from the game once due to concussion issues. As a result, he has less than 1,000 career college snaps to his name. There are concerns, but Miami is playing with house money with all of their draft capital and can afford to take that kind of gamble.
Day 2: Miami makes Jevon Holland the first safety off the board, shocking many who had TCU's Trevon Moehrig projected as a sure-fire first-rounder. Holland, who can also play cornerback, was an excellent coverage player for Oregon over two high-level seasons of play. Miami needs help at safety after stacking their cornerback depth chart over the past year, and this goes a long way toward achieving that.
One of the top tackles in the country, Liam Eichenberg might not be quite as spectacular a prospect as some of the other players at his position, but he improved significantly in PFF grade every season of his college career, culminating in an 89.9 overall mark in 2020. Eichenberg didn't surrender a sack in either of the past two seasons, and he gives the Dolphins some real competition at a position they've already invested significantly in without seeing clear and certain results yet.
Even with Mike Gesicki on the roster, Long fills the need for a true inline tight end. He was a volume target at Boston College — head and shoulders the best receiving option for the Eagles over the last couple of seasons. He does a lot of different things at a very good level and can help in a few different roles, he just might not have the requisite athleticism to be a difference-maker.
Draft Grade: B+
---
R1 (23): T Christian Darrisaw, Virginia Tech
R3 (66): QB Kellen Mond, Texas A&M
R3 (78): LB Chazz Surratt, North Carolina
R3 (86): G Wyatt Davis, Ohio State
R3 (90): EDGE Patrick Jones II, Pittsburgh
R4 (119): RB Kene Nwangwu, Iowa State
R4 (125): CB Camryn Bynum, California
R4 (134): EDGE Janarius Robinson, Florida State
R5 (157) WR Ihmir Smith-Marsette, Iowa
R5 (168): TE Zach Davidson, Zach Davidson
R6 (199): EDGE Jaylen Twyman, Pitt
Day 1: Trading back from No. 14 and still securing Christian Darrisaw — a top-15 prospect on PFF's Big Board — is a massive win for Minnesota. Darrisaw is fresh off a season in which he recorded the second-best single-season PFF grade by a Power Five offensive tackle in the PFF College era. He oozes power and plays with the physicality that NFL scouts and coaches dream of.
Day 2: Mond is one of the more experienced quarterbacks in the 2021 NFL Draft class. He dropped back to pass over 1,500 times in Jimbo Fisher's pro-style offense at Texas A&M. He also brings some athleticism and a decent arm, but that didn't lead to many high-end plays on his tape. He does provide an upgrade over Minnesota's current backup quarterback options, putting him in line to sit behind Kirk Cousins.
Eric Wilson departed for Philadelphia in free agency, and Anthony Barr restructured his contract to become a free agent following the 2021 season. That opened the door for Minnesota to target a linebacker within the first two days of this year's draft. Surratt can make an immediate impact as a blitzer for the Vikings, but he's still acclimating to the position after recently switching over from quarterback. 
Davis struggled a bit in 2020 with a lower-body injury after coming off a very impressive 2019 season. That's the only reason why he drops to pick 86. If Davis fixes up some mental errors, he can be a real steal this deep in the draft. He plays a position of need for the Vikings and is a power player. When he gets his hands on defenders, they stop in their tracks. A very nice pick — potentially a Week 1 starter for Minnesota.
Jones comes off the board over 100 spots ahead of his PFF Big Board ranking of 204. Not great value. He's a big body but may not have the flexibility and speed to get around NFL-level tackles. The Vikings are reaching on huge potential that may not ever come to fruition. Jones is one of several similar edge rushers that would likely have been available in a couple of rounds.
Day 3: Smith-Marsette could end up being one of the better deep threats in this class. Iowa's offense didn't do him any favors, but he has the speed to eat up a cushion in off coverage and separate down the football field. Minnesota's offense, which takes its fair share of deep shots, is a good landing spot where Smith-Marsette can compete for snaps right away in a WR3 role behind Adam Thielen and Justin Jefferson. 
Draft Grade: B+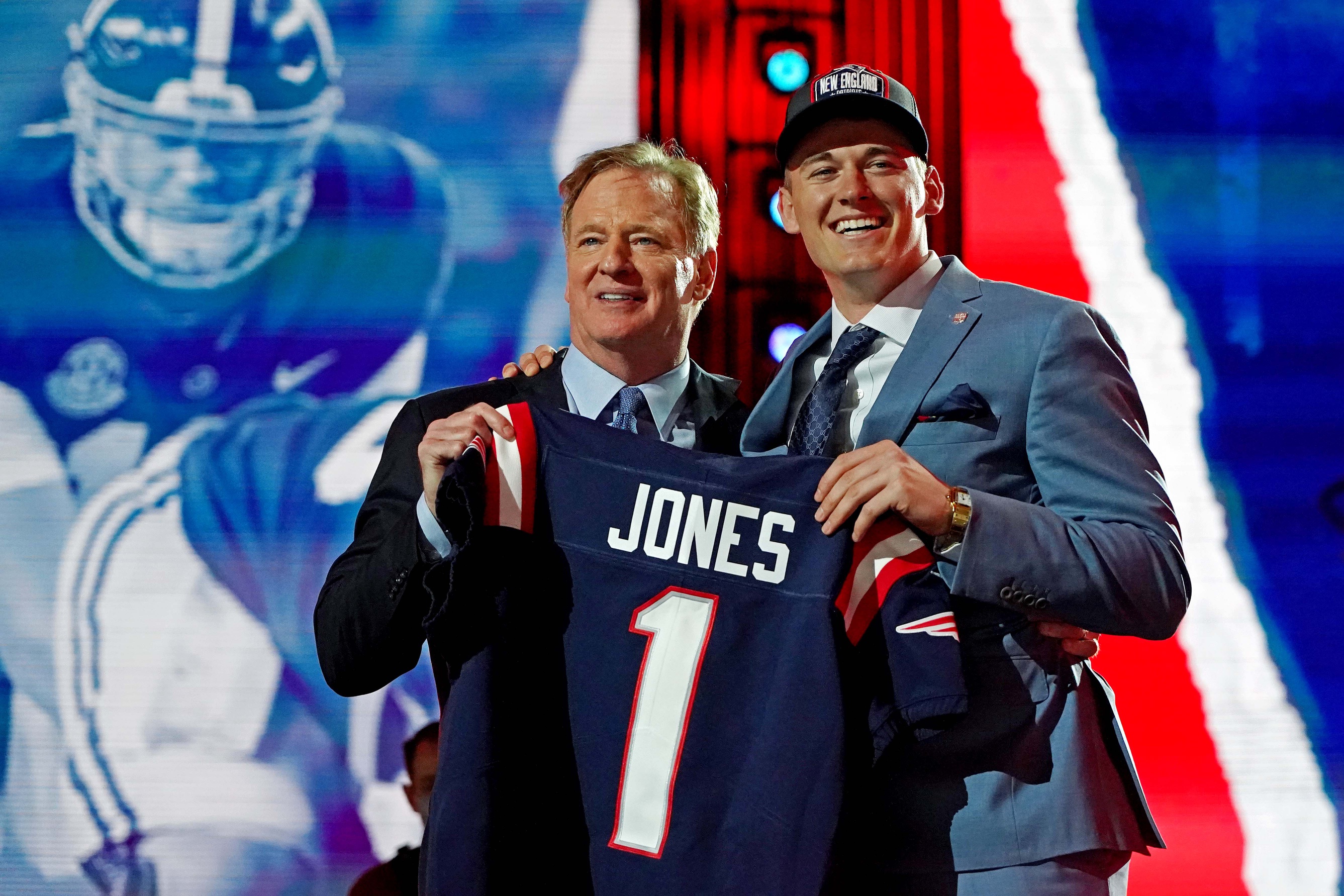 R1 (15): QB Mac Jones, Alabama
R2 (38): DI Christian Barmore, Alabama
R3 (96): EDGE Ronnie Perkins, Oklahoma
R4 (120): RB Rhamondre Stevenson, Oklahoma
R5 (177): LB Cameron McGrone, Michigan
R6 (188): CB Joshuah Bledsoe, Missouri
R6 (197): OT William Sherman, Colorado
R7 (242): WR Tre Nixon, UCF
Day 1: The narrative surrounding Mac Jones for the past few weeks was focused on whether he was worth not just the No. 3 overall pick, but the three first-round selections the 49ers invested in that draft slot. At No. 15 overall, it's an entirely different conversation. Jones led the nation last season in overall PFF grade (95.8) and was the most accurate college quarterback in terms of adjusted completion rate (84.2%) PFF has seen. This is an outstanding pick.
Day 2: Christian Barmore is the best interior defender in this draft, and he should have been a first-round draft pick. He is the only consistently high-level pass rusher from the interior in this class, posting a 90.3 PFF pass-rushing grade against true passing sets last year. Barmore was the No. 12 overall player on the PFF Big Board.
Perkins burst onto the scene with a 90.5 PFF grade last season. The problem was that his stellar play came on only 262 snaps, and some of that was against the lowly Kansas Jayhawks. If that production is real, he is an excellent steal at this pick. He has all the physical traits that the NFL covets at the position, and the Patriots can work with him to find a role on their defense. He needs to work on his hand usage but has everything else one could ask for in an edge rusher.
Day 3: McGrone has legitimate sideline-to-sideline speed. His combination of range and reliable tackling makes him well-suited to shut down outside rushing attacks and screens. And at 20 years old, McGrone has room to grow and improve on some of the concerns surrounding his coverage ability.
Draft Grade: A+
---
R1 (28): EDGE Payton Turner, Houston
R2 (60): LB Pete Werner, Ohio State
R3 (76): CB Paulson Adebo, Stanford
R4 (133): QB Ian Book, Notre Dame
R6 (206): OT Landon Young, Kentucky
R7 (255): WR Kawaan Baker, South Alabama
Day 1: Turner might be the biggest surprise first-round pick thus far. He broke out on a small sample in 2020 against subpar competition with a 90.0 pass-rush grade across four starts but has a coveted physical profile. He's 6-foot-6 and 270 pounds with 35-inch arms and plays a physical game. Turner is also a versatile piece with impressive bend for his size. It's a risky bet that could pay off big for the Saints, but there were other directions they should have gone here.
Day 2: Werner possesses a throwback linebacker's skill set, with a 240-plus-pound frame that can come downhill and lay the wood on whoever he hits. His struggles come with elite athleticism, quickness and fluidity of movement. The word "solid" was made for a player like Werner — the highest PFF grade he ever earned over a single season was just 70.8.
The Saints finally address their biggest need entering the 2021 NFL Draft, taking Stanford cornerback Paulson Adebo. The loss of Janoris Jenkins and the uncertain future of Marshon Lattimore made it a necessity for New Orleans to address the cornerback position at some point in this draft. Adebo's blend of length and ball skills (24 pass breakups in two seasons) seems best suited for a zone-heavy scheme, making this an interesting fit with the Saints.
Day 3: We had Book down as a seventh-rounder/UDFA — he was the fifth-best QB option available on the PFF draft board. He's a gamer who made something out of nothing for the Fighting Irish at times, but the arm talent just isn't there. He was one who had to see it to throw it. His play style got by at the collegiate level, but it's not going to fly in the NFL.
Draft Grade: C
---
R1 (20): WR Kadarius Toney, Florida
R2 (50): EDGE Azeez Ojulari, Georgia
R3 (71): CB Aaron Robinson, UCF
R4 (116): EDGE Elerson Smith, Northern Iowa
R6 (196): RB Gary Brightwell, Arizona
R6 (201): CB Rodarius Williams, Oklahoma State
Day 1: Kadarius Toney is still learning to play wide receiver, but his development in 2020 was impressive to watch if you cued up his tape chronologically. Plus, there is no more electrifying playmaker in this draft. Toney is a tackle-breaking machine, and while he was primarily a slot receiver in college, he has the size and moves to develop into more than that at the next level.
Day 2: Ojulari could have easily been drafted in the first round, making this selection one of the better values so far in Round 2. He is one of the more advanced pass rushers in this class technically and has an impressive first step off the edge. It helped lead to a 91.7 PFF pass-rushing grade this past season at Georgia. Ojulari also happens to fill a clear area of need for the Giants, whose top four pressure leaders were all interior defenders in 2020.
The Giants' secondary was already in a good spot entering the 2021 NFL Draft. By adding Robinson, potentially to man the slot, New York only improves its outlook. Robinson isn't your prototypical slot cornerback. He has the size and press experience to potentially play outside. He also picked up 80.0-plus run-defense grades in each of the past two seasons at UCF. New York adds another talented piece to its secondary.
Day 3: Williams projects as a man-to-man cornerback for the Giants. Although he had issues tracking the ball and getting his hands on passes, he's a patient player and offers a skill set that is needed in the NFL. Williams needs to gain some strength but this is an intriguing pick.
Draft Grade: B+
---
R1 (2): QB Zach Wilson, BYU
R1 (14): iOL Alijah Vera-Tucker, USC
R2 (34): WR Elijah Moore, Ole Miss
R4 (107): RB Michael Carter, North Carolina
R5 (146): S Jamien Sherwood, Auburn
R5 (154): CB Michael Carter II, Duke
R5 (175): CB Jason Pinnock, Pittsburgh
R6 (186): S Hamsah Nasirildeen, Florida State
R6 (200): CB Brandin Echols, Kentucky
R6 (207): DI Jonathan Marshall, Arkansas
Day 1: One year ago, no one could have foreseen Zach Wilson being the second overall pick in the 2021 NFL Draft. But here we are. The BYU quarterback had a breakout 2020 campaign that saw his PFF grade shoot up from 80.5 as a freshman and 76.2 as a sophomore in 2018 and 2019, respectively, to a stunning 95.4 mark.
The Jets have thrown a lot of resources at their offensive line already, but they haven't come close to completing the rebuild yet. And they were smart to acknowledge that with another first-round pick. Trading up to make it happen harms the grade on this pick, but Vera-Tucker is an excellent player, ranking 21st on PFF's Big Board. He was an excellent tackle at USC, earning an 89.2 PFF pass-blocking grade on true pass sets last year. He could potentially play right tackle or guard for the Jets.
Day 2: The New York Jets take Elijah Moore, who ranked 22nd on the PFF Big Board heading into the draft. Moore is a prototypical super-slot receiver. His floor will likely allow the Jets to replace Jamison Crowder for a lot less money, and his ceiling is an ability to succeed on the outside in a similar manner to other small receivers, such as Tyler Lockett and Doug Baldwin in Seattle. Moore helps revamp New York's receiving corps for new quarterback Zach Wilson.
Day 3: Instead of reaching for a running back on Days 1 or 2, the Jets addressed the position in the proper way by waiting until Day 3 to take Michael Carter here at Pick 107. He's an incredibly small player, but his cuts, balance and overall athleticism helped him put up monster numbers. Since 2018, Carter ranks second to only former teammate Javonte Williams among FBS running backs in percentage of runs picking up a 10-plus yard gain (21%). In 2020, Carter joined Alabama's Najee Harris as the only back to rank inside the top 10 in both rushing and receiving grades.
Draft Grade: A
---
R1 (10): WR DeVonta Smith, Alabama
R2 (37): iOL Landon Dickerson, Alabama
R3 (73): DI Milton Williams, Louisiana Tech
R4 (123): CB Zech McPhearson, Texas Tech
R5 (150): RB Kenneth Gainwell, Memphis
R6 (189): DI Marlon Tuipulotu, USC
R6 (191): EDGE Tarron Jackson, Coastal Carolina
R6 (224) S JaCoby Stevens, LSU
R7 (234): EDGE Patrick Johnson, Tulane
Day 1: The Eagles need elite players at many different positions, and they get one by initially trading down but then trading up to take DeVonta Smith. The Heisman Trophy winner immediately becomes the best receiver on Philadelphia's roster. All Smith did last season was produce a 94.9 PFF grade with 23 touchdowns. He can play either wide or in the slot — it doesn't matter. His diminutive size may have scared some teams off, but he has shown he can get open against anyone.
Day 2: If it weren't for injuries, Landon Dickerson would be a high first-round pick and one of the best offensive linemen in this draft. But multiple ACL injuries caused his stock to come with a significant medical red flag. Taking that gamble in the second round is a lot smarter than doing so in the first. The Eagles can look for him to replace Jason Kelce long-term and maybe find a starting spot at guard in the meantime.
Williams is undersized on the interior. However, he showed at a historically impressive Pro Day that he has the athleticism necessary to win at that size in the NFL. He took a big leap forward this past season, improving his PFF grade from 72.6 to 90.8 from 2019 to 2020. The Eagles are set at starter between Fletcher Cox and Javon Hargrave, but Williams adds to the depth inside following the loss of Malik Jackson. 
Day 3: The Eagles are getting incredible value for Patrick Johnson, a player ranked 92nd on PFF's Big Board. He is a nice technical player but needs to create consistent value by showing up to play on every down. When he's on his game, he is a very good player. 
Draft Grade: B-
---
R1 (24): RB Najee Harris, Alabama
R2 (55): TE Pat Freiermuth, Penn State
R3 (87): C Kendrick Green, Illinois
R4 (128): OT Dan Moore Jr., Texas A&M
R4 (140): LB Buddy Johnson, Texas A&M
R5 (156): DI Isaiahh Loudermilk, Wisconsin
R6 (216): EDGE Quincy Roche, Miami (FL)
R7 (245): S Tre Norwood, Oklahoma
R7 (254): P Pressley Harvin III, Georgia Tech
Day 1: This pick was not a surprise at all, and it also shouldn't be shocking to hear that we at PFF wouldn't pound the table for such a selection; any running back in Round 1 is a reach. Harris isn't much of a breakaway threat, but he does bring value as a receiver, which is a requisite in today's NFL. With the help of his massive catch radius, Harris dropped just two passes on 75 catchable targets since 2019.
Day 2: The Steelers snag the 55th-ranked player on the PFF Big Board at Pick 55. Pat Freiermuth is the clear second-best tight end in the class after Kyle Pitts, but this is a weak group of tight ends. He is an all-around player who fits a throwback style of offense that will covet his blocking every bit as much as his receiving skills. The Penn State product was also one of the few tight ends in college football who was the featured receiver in his offense.
Green is one of the most physically gifted guards to come into the NFL in the last few years. He's fast and physical. One would think he fits more in a zone-based scheme, but he shows some strength that could make it work in a gap and pull system as well. A very good pick for a rebuilding Steelers offensive line.
Day 3: Roche is arguably the best value Pittsburgh has gotten all draft. Roche isn't an elite athlete on the edge, but he is adept at reading and reacting to the tackles he goes up against, which is one of the reasons why he posted PFF pass-rushing grades above 85.0 in each of the past two seasons. Roche will have an opportunity to carve out a role behind T.J. Watt and Alex Highsmith in Pittsburgh.
Draft Grade: C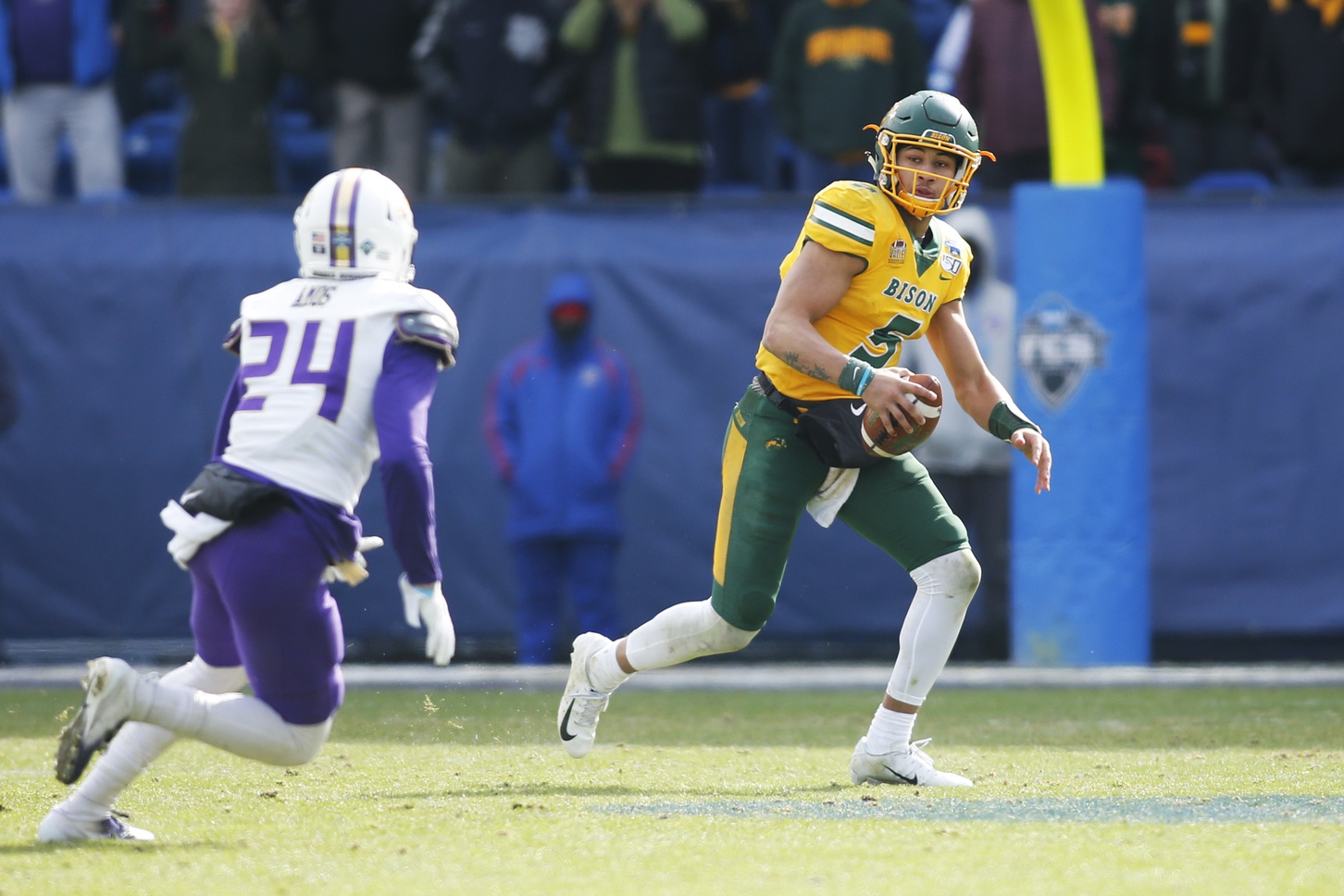 R1 (3): QB Trey Lance, North Dakota State
R2 (48): G Aaron Banks, Notre Dame
R3 (88): RB Trey Sermon, Ohio State
R3 (102): CB Ambry Thomas, Michigan
R5 (155): OT Jaylon Moore, Western Michigan
R5 (172): CB Deommodore Lenoir, Oregon
R5 (180): S Talanoa Hufanga, USC
R6 (194): RB Elijah Mitchell, Louisiana
Day 1: After weeks of speculation, the 49ers find their quarterback of the future with dynamic North Dakota State playmaker Trey Lance. In his one full season at the helm for the Bison, Lance posted a 90.7 PFF grade and didn't throw a single interception on 288 passing attempts. He gives the 49ers a live arm to go along with his explosive running ability.
Day 2: It's not surprising to see the 49ers address the interior offensive line, but it is a little bit of a surprise to see Banks as the target. Banks is coming off a well-rounded 2020 season at Notre Dame in 2020 with 80-plus PFF grades both as a pass-protector and run-blocker. However, physical and athletic limitations kept him outside the top 100 on PFF's Big Board, and they make him an interesting fit in San Francisco's offense.
Sermon could very well end up being the best running back in this class. He doesn't possess elite speed, but he breaks tackles and has tremendous contact balance. Still, trading up for a running back isn't going to be a great value pick. He needs to lower his shoulder pads a bit more on contact, and even though he doesn't have long speed, he does have great agility and elusiveness.
Thomas plays way above his 6-foot, 191-pound frame. He comes from a pro-ready scheme where he played a lot of press-man coverage, which should translate right away in the NFL. He's fast and plays physically but still isn't that strong. The problem with Thomas is that we don't know much about him. He was a former four-star prospect but didn't play in 2020, so he only has the 672 snaps from 2019 and the 104 snaps from 2018 under his belt. He's a big unknown.
Day 3: San Francisco's type at the running back position over the past few years has been fast. The 49ers' first running back selection in this draft, Trey Sermon, didn't fit that type, but Mitchell certainly does after running a sub-4.4-second 40-yard dash at his Pro Day. That speed gives him some home-run potential in San Francisco's outside zone run scheme if he can stumble upon playing time in a crowded group. 
Draft Grade: B
---
R2 (56): WR D'Wayne Eskridge, Western Michigan
R4 (137): CB Tre Brown, Oklahoma
R6 (208) OT Stone Forsythe, Florida
Day 1: None.
Day 2: Eskridge represents a massive reach according to the PFF Big Board, as he ranks 164th overall and 24th among receivers. Still, he is a perfect fit for this offense, which has a history of turning players with his profile into success stories. Eskridge is undersized but extremely polished as a route-runner with great footwork and hand use at the line. He also brings legitimate speed, and if the Seahawks can get Tyler Lockett's ball skills and physicality to rub off on him, he could justify this pick.
Day 3: Tre Brown is incredibly undersized and will likely be kicked inside to the slot, but he brings that dog mentality and plays bigger than his size suggests. He showed it routinely at Oklahoma and then again at the Senior Bowl. Despite that smaller stature, Brown put the clamps on his opposition and racked up big-time ball production over the last couple of years. He put up a combined 22 pass breakups and interceptions since 2019, allowing well under a yard per coverage snap. Slot corners are starters and valuable players in the NFL, and Brown is a good pick to fill that job in Seattle.
Draft Grade: C
---
R1 (32): EDGE Joe Tryon, Washington
R2 (64): QB Kyle Trask, Florida
R3 (95): iOL Robert Hainsey, Notre Dame
R4 (129): WR Jaelon Darden, North Texas
R5 (176): LB K.J. Britt, Auburn
R7 (251): CB Chris Wilcox, BYU
R7 (259) LB Grant Stuard, Houston
Day 1: We were lower on Joe Tryon than most other outlets and analysts. He boasts ideal size, length and explosiveness and features a menacing bull rush. We just didn't see those dominant reps on a consistent basis, and that bull rush was about all he had to his name. He posted a middling 71.9 pass-rush grade in 2019 (opted out in 2020), and nearly half of his 41 pressures that year were unblocked or clean-ups. He's a work in progress, but the reigning Super Bowl champions can afford to take a chance on him.
Day 2: Trask is one of the most intriguing quarterbacks in this draft because of how little experience he has. Trask didn't even start in high school, as he backed up D'Eriq King and attempted just 161 passes at that level. He has just two seasons of starting quarterback play since the age of 14, and one of them produced an elite PFF grade of 92.2, which came in 2020. Trask must project to even better play, given how inexperienced he is, and now he gets to learn behind Tom Brady.
The Bucs are getting a superb technical player, though he does lack some athleticism. Hainsey enjoyed a tremendous 2020 season that saw his PFF grade jump from 74.6 in 2019 to 89.6 in 2020. Proficient in both the passing and running game, he could play tackle as he did at Notre Dame but can also be moved to guard or center without seeing much of a dip in his production.
Day 3: The Buccaneers are in position to make luxury picks with strength throughout their roster. Taking Jaelon Darden is a good one, adding legitimate speed and quicks to one of the best receiving corps in the NFL. He's coming off a highly productive 2020 season at North Texas when he caught 19 touchdowns and forced 23 missed tackles after the catch. He'll join the quality depth behind Tampa Bay's starters that already includes Scotty Miller and Tyler Johnson.
Draft Grade: B-
---
R1 (22): CB Caleb Farley, Virginia Tech
R2 (53): OT Dillon Radunz, North Dakota State
R3 (92): LB Monty Rice, Georgia
R3 (100): SCB Elijah Molden, Washington
R4 (109): WR Dez Fitzpatrick, Louisville
R4 (135): EDGE Rashad Weaver, Pittsburgh
R6 (205): WR Racey McMath, LSU
R6 (215): S Brady Breeze, Oregon
Day 1: If Farley had a clean medical report, he would have gone within the first 10 picks. He suffered a torn ACL in 2017, had a back operation in 2019 and then had another surgery in late March. That makes this a risky bet, but if he stays healthy, this is a huge steal. His 6-foot-2, 207-pound frame with 33 ⅜-inch arms is ideal for an NFL corner. Farley is also capable of running a sub-4.3-second 40-yard dash and boasts the production to back those traits up. He earned a 90.5 coverage grade in his final college season in 2019.
Day 2: Tennessee's last swing at an offensive tackle was a disaster, as 2020 first-round pick Isaiah Wilson played just three snaps on offense — all kneel-downs — before he ran himself out of town. Dillon Radunz is a little undersized and underweight but has exceptional movement skills and the tools to be an elite pass-blocker, even if it could take a period of time to get there.
Monty Rice has been flying around finding the football between the hedges for as long we can remember, but he lost his starting spot to Nakobe Dean this past season. He'll need to figure out what's happening in front of him at a much higher level in the NFL, but at least he has the athleticism to work with at the pro level. He's a great tackler, but he just needs to read the game better. 
Molden can come in and be an excellent slot cornerback, especially on a team looking to rebuild its defensive backfield. Molden, who was the highest-graded slot corner of the PFF College era, was a borderline first-round talent and falls to the bottom of the third. There's no doubt that this is a great pick, and now Molden and Caleb Farley could change the outlook of the Titans' season. Molden is a playmaker and a great tackler — he has so much value at this pick it's incredible.
Day 3: The Titans got exceptional value here by selecting Rashad Weaver, PFF's EDGE10 and the 63rd-ranked prospect in this class. He has power, ideal size/length and technical refinement, but he's not going to impress from an athletic standpoint. He is also on the older side. Still, he has an incredibly high floor and should be able to make an impact right away. After coming off a torn ACL, Weaver posted a 90.0 pass-rush grade this past year.
Draft Grade: A
---
R1 (19): LB Jamin Davis, Kentucky
R2 (51): OT Samuel Cosmi, Texas
R3 (74): CB Benjamin St-Juste, Minnesota
R3 (82): WR Dyami Brown, North Carolina
R4 (124): TE John Bates, Boise State
R4 (163): S Darrick Forrest, Cincinnati
R6 (225): LS Camaron Cheeseman, Michigan
R7 (240): EDGE William Bradley-King, Baylor
R7 (246): EDGE Shaka Toney, Penn State
R7 (258): WR Dax Milne, BYU
Day 1: Washington definitely had a need at linebacker, but Jamin Davis comes with significant projection. He ranks No. 41 on PFF's final Big Board but was impressive in his first season as a starter. On top of that, his workout numbers were phenomenal, and he flashed real talent in coverage, which has become the single most important trait in today's NFL. Linebacker is a tough position to play at the next level, and Davis has the tools to get it done.
Day 2: Cosmi is easily one of the most athletic offensive tackles in this class. That athleticism, along with his size, is always going to interest teams. Cosmi also earned pass-blocking grades of at least 82.0 in three consecutive seasons as a starter at Texas. There are some things he'll have to clean up with his technique in the NFL, but there is a lot to like with his profile coming out of college. He should compete with several in-house options for the starting left tackle job in Washington.
St-Juste brings a rare combination of length and change-of-direction ability at cornerback. The Minnesota cornerback is listed at 6-foot-3 with over an 80-inch wingspan, and his three-cone and short shuttle times both ranked in the 90th percentile or better at the position. You won't find many big cornerbacks who can move like that. St-Juste just isn't all that experienced (420 career coverage snaps) despite turning 24 years old in September. 
Ranked 45th on the PFF Big Board, Brown falls to 82 overall. Brown wasn't asked to fill a lot of roles at North Carolina, as he played left wide receiver almost every snap, but he's a great route runner and you can project that onto the more advanced route tree he will have to run at the next level. He fills out the Washington receiving corps nicely.
Day 3: Darrick Forrest's athletic profile is certainly alluring — he's fast and explosive, as his 39-inch vertical and 132-inch broad jump can attest. He was a consistent performer in his time at UC with PFF grades of 73.3, 73.4 and 76.1 in his three years playing in a major role.
Draft Grade: A-
---
More of PFF's 2021 NFL Draft tools here: 
2021 NFL Draft Big Board | 2021 NFL Draft Guide | 2021 NFL Draft Stats Export | NFL Mock Drafts | NFL Mock Draft Simulator