With the kickoff to the 2020 NFL season just days away, it is officially time for us to unveil our offensive and defensive rankings.
The process of ranking all 32 NFL offenses brought about some hotly contested debates over at PFF HQ. Several factors were considered, such as quarterback situation, PFF play-by-play grading, PFF WAR added and lost, the unit's playcaller and per-play efficiency in 2019. So, here is how the NFL's offenses stack up against each other as we enter the 2020 NFL season.
The reigning Super Bowl Champions are here for obvious reasons. For starters, they have Patrick Mahomes, who is on the path to becoming one of the best quarterbacks in NFL history. The Super Bowl 54 MVP has produced the second-best PFF grade at the position (93.7) in his two years starting for the Chiefs, and he has recorded the second-most big-time throws in the NFL over that time (87, 11 more than third).
And, of course, when you pair a talent like Mahomes with a wide receiver like Tyreek Hill, you get fireworks. On targets thrown at least 20 yards downfield since 2018, the Cheetah ranks first in receiving grade, catches (34), yards (1,269) and touchdowns (12). He's also been charted as "open" — per PFF's QB charting data — on 22 targets over that same span, six more than anyone else.
Alongside Hill, Mahomes also has the NFL's second-best tight end in Travis Kelce and one of the best playcallers in the league in Andy Reid.
As long as everyone stays healthy, it'll be hard for any defense to stop this passing attack in 2020.
Orchestrated by offensive coordinator Greg Roman, who popularized the pistol formation in the NFL after learning it from Chris Ault at Nevada more than a decade ago, Baltimore's 2019 offense was one of the best we have ever seen in our time grading NFL games.
There have been 448 team seasons since 2006, and the Ravens' 2019 offense ranked 14th in EPA per pass play and fifth in EPA per run play. Led by quarterback Lamar Jackson, the Ravens were actually more efficient running the ball than 26 teams were passing it.
While we knew just how dangerous Jackson could be as a runner, it was his improvement as a passer that propelled him toward MVP honors. Jackson's downfield accuracy was still slightly below average, but he took exceptional care of the football, recording the 10th-best negatively graded throw rate in the NFL. The Louisville product ended the season with the fifth-highest passing grade among quarterbacks, with top-10 marks in deep passer rating (111.9, 6th), passer rating under pressure (97.7, 3rd) and passer rating from a clean pocket (118.5, 4th).
Tight end Mark Andrews proved to be Jackson's favorite target last year, and the second-year tight end repaid the confidence by generating the second-best PFF grade (90.8) at the position. However, the player I am excited to see more of in 2020 is wide receiver Marquise "Hollywood" Brown. Brown battled injuries throughout his rookie campaign, but he had numerous big-time performances, including two games that earned PFF grades above 90.0. Brown was a separation-getter at Oklahoma and looks to be the same way in the NFL.
With the dual-threat Jackson, two great pass-catching weapons in Andrews and Brown, a loaded backfield with Mark Ingram II and J.K. Dobbins and a top-five offensive line, the Ravens' offense is once again set to be among the league's best.
Whether you want to admit or not, the Cowboys could very well end the 2020 campaign with the best offense in the entire NFL. In fact, they were even in the conversation for it last year, as they joined only the Ravens by ranking in the top three in both EPA per pass and rush.
Dallas made the right move by hiring Mike McCarthy and retaining Kellen Moore as the playcaller. And on top of that, the team was gifted wide receiver CeeDee Lamb at Pick 17 of the 2020 NFL Draft. Lamb was the sixth-best prospect in our eyes, and his addition gives Dallas the best receiving unit in the NFL.
Lamb forms a potent trio with Amari Cooper and Michael Gallup, who both earned top-32 receiving grades last year. And while quarterback Dak Prescott does get his fair share of criticism, he can produce at a top-tier level with the right supporting cast and playcalling, both of which he has in 2020.
There hasn't been a more volatile offense over the last few years than that of the Buccaneers. But now that they have swapped out Jameis Winston for one of the best quarterbacks of all time in Tom Brady, Tampa Bay finally has some stability at the most important position on the field.
It's easy to cherry-pick Brady's box score stats and say that he was a below-average quarterback in 2019, but that's not actually the case. He still produced the 10th-best passing grade over the regular season, and he did that with one of the worst receiving units of his career.
Now, Brady may well have the best receiving unit of his career.
One of the best WR-duo seasons of the PFF era came courtesy of Randy Moss and Wes Welker in 2007. And that year just so happened to produce the highest single-season passing grade of Tom Brady's career (94.8). There are only a handful of duo seasons that can rival what we saw from Moss and Welker that year, but one of them is the Buccaneers' tandem of Chris Godwin and Mike Evans from 2019.
WR duos to each earn an 85.0-plus single-season PFF receiving grade (2006-19)
| | | |
| --- | --- | --- |
| Team & Season | WR1 | WR2 |
| Tampa Bay Buccaneers (2019) | Chris Godwin | Mike Evans |
| Green Bay Packers (2014) | Jordy Nelson | Randall Cobb |
| Denver Broncos (2014) | Demaryius Thomas | Emmanuel Sanders |
| Atlanta Falcons (2012) | Roddy White | Julio Jones |
| New England Patriots (2007) | Randy Moss | Wes Welker |
Brady also helped woo future Hall of Fame tight end Rob Gronkowski out of retirement. We can't guarantee that we will see the same elite Gronk who produced a PFF grade above 90.0 in every season from 2011 to 2017, but we still think he is a top-three tight end, and early reports out of Tampa Bay have been positive so far.
With the duo of Godwin and Evans, an all-time great tight end in Gronkowski and two rising young talents at receiver in Tyler Johnson and Scotty Miller, Brady could very well have a top-five year at 43 years old.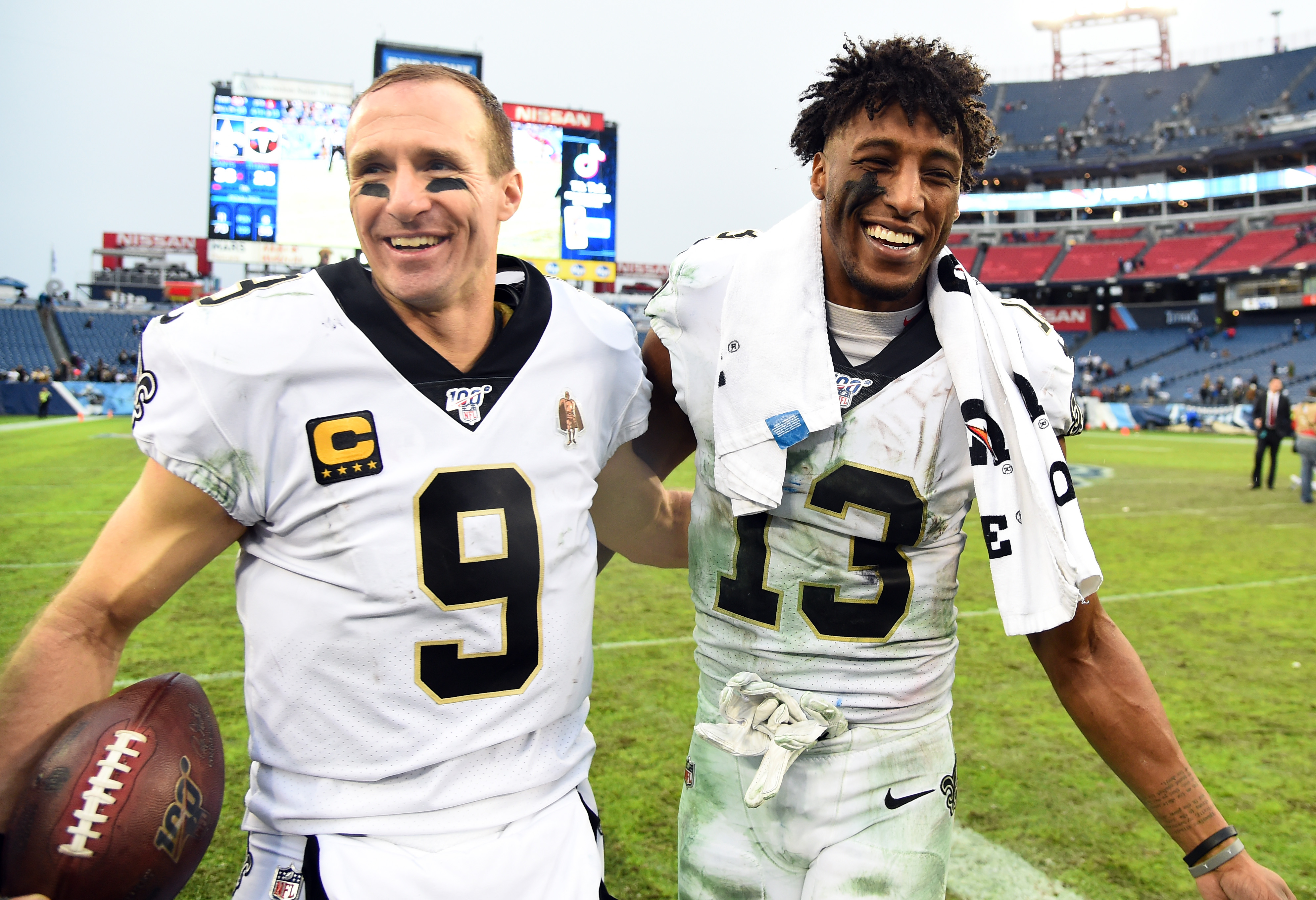 The performance of 41-year-old quarterback Drew Brees is something I am intrigued with, considering how his 2019 season progressed.
Through Week 15, Brees looked like his usual, elite self. He had produced a 93.8 PFF grade in his nine appearances over that span, the best in the NFL, but then that grade plummeted to 23rd at the position over the final month of his season.
That stretch of play was actually just the second time in the PFF era (2006 – present) that Brees had posted three consecutive game grades that failed to crack 65.0; the last time that happened was 2008. It could mean nothing for his 2020 campaign, but it could also mean something.
Either way, Brees will still have an outstanding offensive arsenal at his disposal. Firstly, running back Alvin Kamara is one of the most dynamic receiving backs in the NFL and is poised for a bounceback year after playing most of last year hurt (assuming his holdout doesn't bleed deep into the season).
The wide receiver unit is then led by none other than Michael Thomas. Since 2006, no wide receiver has produced a better receiving grade over their first four seasons. New Orleans also made an underrated addition to their receiving unit by bringing in Emmanuel Sanders in free agency. Sanders is a perfect fit for this offense, as his receiving grade on passes thrown less than 20 yards downfield within 2.5 seconds of the snap ranked behind only Thomas last year.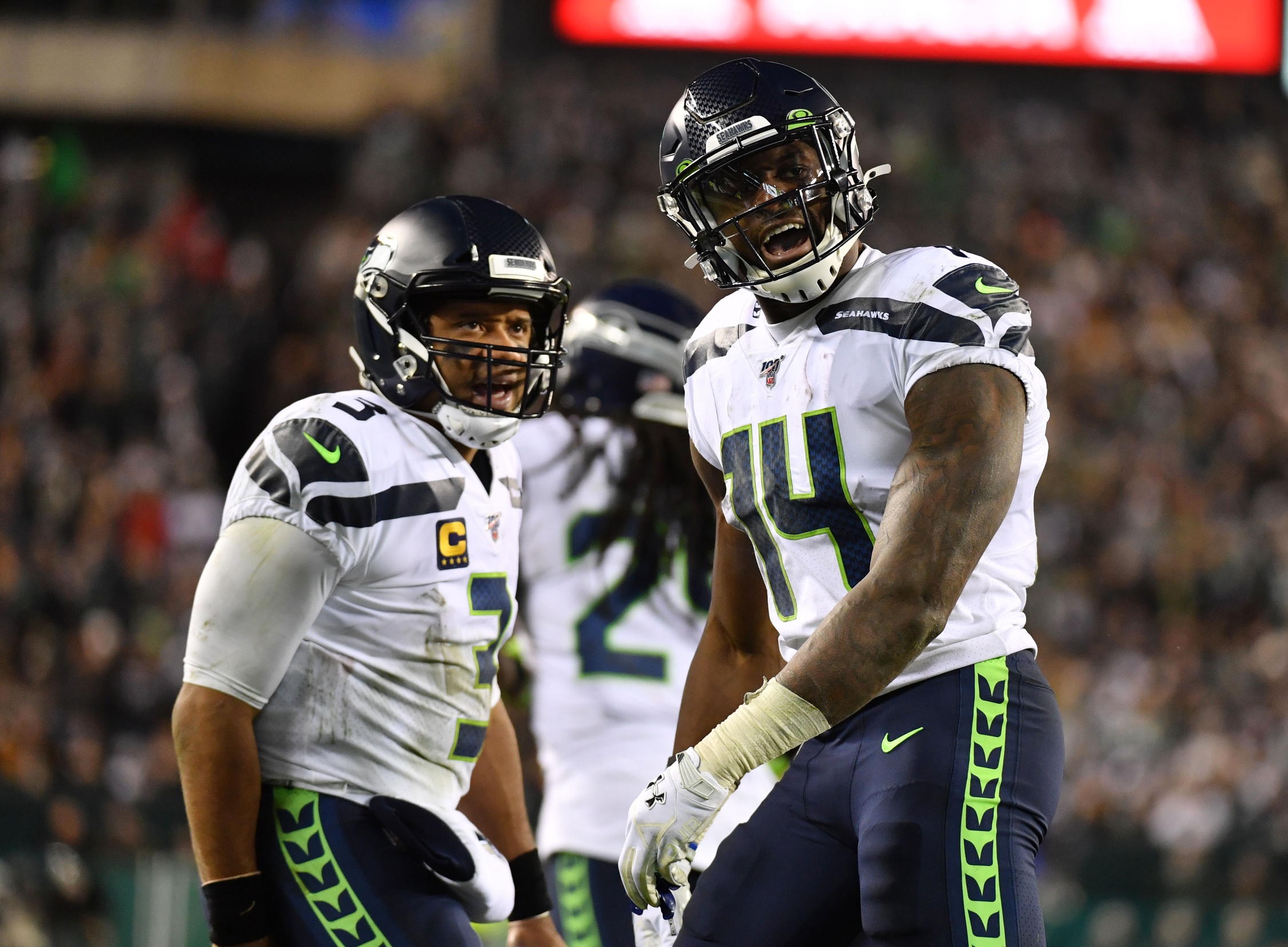 Whenever you have someone like Russell Wilson at quarterback, the chances are that you will have one of the best offenses in the NFL.
There is no better quarterback in the league at making plays out of structure, and that's a valuable trait to have, especially with an offensive line as bad as Seattle's. Wilson recorded a 90.1 passing grade on such plays last year, first among quarterbacks and 18 grading points above second place.
According to PFF's WAR metric, Wilson was the most valuable player in the league last year, and he is set to enter the 2020 season with a strong wide receiver duo at his disposal in Tyler Lockett and D.K. Metcalf.
Lockett has developed into one of the league's best deep threats over the last couple of years, ranking behind only Tyreek Hill and Julio Jones in deep receiving grade since 2018. Metcalf also proved doubters wrong last year when he put together a respectable rookie campaign that ended in a PFF grade of 73.4 (including the postseason). Don't be surprised if we see a big-time breakout from him in Year 2.
It's no secret that we here at PFF are high on the Lions and quarterback Matthew Stafford this year.
Before his midseason injury, Stafford was legitimately producing at an MVP level in 2019, largely because he was finally given the green light to air it out. Stafford's average depth of target increased by over 4 yards from 2018 to 2019 (11.4), and it was 2.5 yards more than any other single season of his career. That aggressive playstyle paid off for Detroit's offense, and it also helped the Lions passer produce 25 big-time throws through Week 9, second among quarterbacks over that span.
The Lions signal-caller was the seventh-highest-graded passer in the NFL when he got hurt while the Lions offense as a whole ranked fifth in EPA per pass play. From Week 10 on, Detroit's rank dropped to 29th.
Detroit will enter the season with a one-two punch of Kenny Golladay and Marvin Jones Jr. at wide receiver. When Stafford was healthy and leading the offense in the first half of 2019, the two ranked 13th and 19th, respectively, at the position in PFF grade. They are also two of the best receivers in the league when it comes to contested-catch situations.
Detroit also has two promising young talents in tight end T.J. Hockenson and running back D'Andre Swift, who ranked fifth among Power 5 running backs in yards per route run from 2017-19.
With a healthy Stafford, Detroit is a top-10 offense in the NFL and quite easily a contender for the NFC North.
Kyle Shanahan has transformed this offense into a superpower. A season ago, the 49ers produced the seventh-most-efficient offense in terms of EPA per play and caused headaches for the opposition through heavy motion and play-action usage.
Quarterback Jimmy Garoppolo posted the seventh-lowest rate of uncatchable throws in the NFL last season, which helped him produce the 13th-best passing grade in regular-season play. He still struggles to see linebackers and makes too many bad decisions over the middle of the field, but make no mistake, San Francisco can win with Garoppolo at the helm.
The receiving unit's shining star is none other than tight end George Kittle, who is coming off a 95.0 PFF grade that ranked first at his position. In today's NFL, you need a tight end with elite after-the-catch ability, and Kittle has that in spades.
Unfortunately, for the Niners and football fans alike, a series of injuries have hit this wide receiver unit, likely hurting them in the first few weeks of the year.
Firstly, Deebo Samuel's status for Week 1 is currently up in the air as he nurses a broken foot, though he isn't expected to miss a significant amount of time. The second-year receiver ranked second in yards after the catch per reception (8.5) and tied for first in broken tackles (18) last year, so the team will be hoping that he can return to the starting lineup sooner rather than later. 
Brandon Aiyuk's status for Week 1 is also unknown after he tweaked his hamstring in training camp. Like Samuel, he isn't expected to miss that much time. Aiyuk averaged 10.9 yards after the catch per reception in 2019, so he should be an explosive weapon for this passing attack once he gets on the field.
As for the rushing attack, it doesn't matter if it's Raheem Mostert, Tevin Coleman or anyone else carrying the ball — Shanahan's system will lead to plus production.
With the addition of quarterback Kyler Murray and head coach Kliff Kingsbury, Arizona fielded the most improved offense of the 2019 season after improving their EPA per play rank from 32nd in 2018 to 13th in 2019.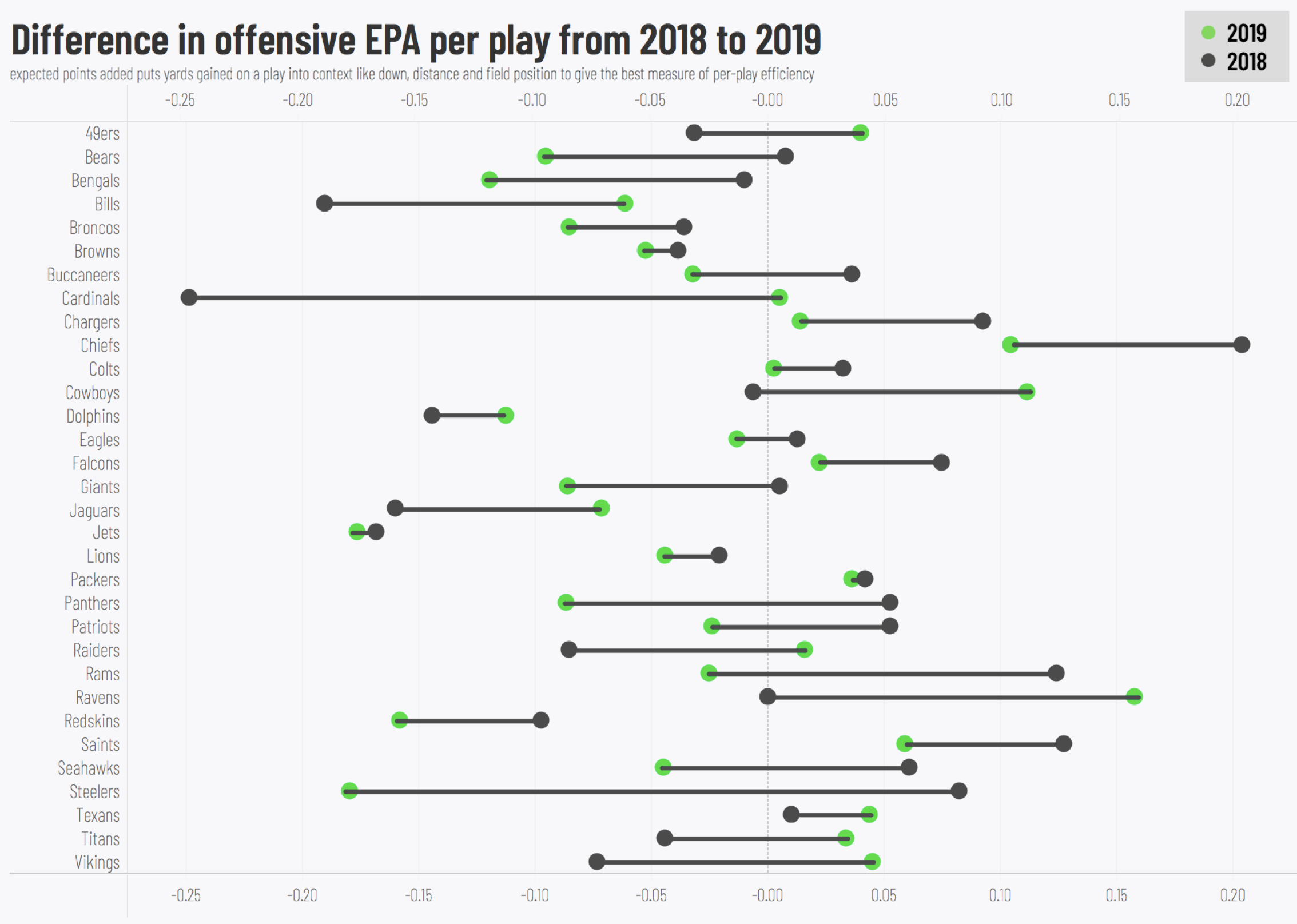 The Cardinals are poised to be even better in 2020 now that Murray is entering Year 2 and DeAndre Hopkins is joining the ranks. Murray's rookie-year grade is nothing to get jazzed about (64.2, 26th at the position). Still, there were a lot of promising signs throughout his first full year. Hopkins joining forces with Larry Fitzgerald should help Murray obtain the breakout we expect from the former No. 1 overall pick.
Hopkins leads the league in receiving grade against tight coverage over the last three years, and he has caught a whopping 58 passes within a yard of the sideline since being drafted, 22 more than the second-place receiver over the same span.
Meanwhile, Fitzgerald could have a monster year for a 37-year-old wide receiver now that opposing defenses have to worry about Hopkins. He might be coming off the second-lowest-graded season in the PFF era, but the veteran pass-catcher still produced at a top-25 level in terms of PFF WAR. With his sure-fire hands — he had the most catchable targets without a drop in 2019, at 75 — he helps make this Arizona receiving unit one of the best in the NFL.
The improvement we saw from quarterback Ryan Tannehill in 2019 was one of the wildest things we have ever seen here at PFF. After ranking dead last among quarterbacks in passing grade (42.4) just the year before, Tannehill exploded as the highest-graded passer in regular-season play in 2019 (91.0).
Tannehill did a terrific job of limiting negatively graded throws while producing the NFL's highest positively graded throw rate. The latter can be explained partly by the scheme and supporting cast. Offensive coordinator Arthur Smith dialed up a substantial rate of play-action passes for Tannehill, and the veteran passer averaged a very healthy 13.6 yards per attempt on those throws, 1.7 yards more than any other quarterback. He also saw a significant increase in open throws downfield and was finally able to succeed.
It'll be difficult for Tannehill to replicate that success in 2020, but the system fits his skill set far better than Miami's did. He should be an above-average quarterback to Tennessee.
Tannehill also has a rising star to throw to in A.J. Brown, who produced an 84.0 PFF grade in his rookie campaign that ranked ninth in the NFL. And while Derrick Henry's impact is perceived to be greater than it actually is, the Titans still boast one of the best rushing attacks in the league (sixth in EPA per rush in 2019).
Houston would be higher up on this list had they not traded away Hopkins, but they are still good enough to ring in at No. 11, largely because of who they have under center.
Quarterback Deshaun Watson is capable of playing at an MVP level; he's proven it on numerous occasions over the past two years, with 12 games that earned a passing grade above 80.0, which trails only Patrick Mahomes and Drew Brees (13) over that period. The only issue is that he has a handful of abysmal outings sprinkled in there that prevent him from being the ultimate MVP. Watson can make special plays outside the structure, but he sometimes sticks around too long, waiting for that big play. Taking throws that the defense gives him will help him find some consistency and, perhaps, get to that MVP level.
As much as we all want to pile on Houston for trading away Hopkins, they still have a very capable set of wide receivers. Will Fuller, Kenny Stills and Randall Cobb are all coming off seasons in which they produced receiving grades north of 70.0 (above the league average), and while Brandin Cooks is coming off a down year, we know he is capable of being a top-25 receiver with his wheels and what he can do vertically.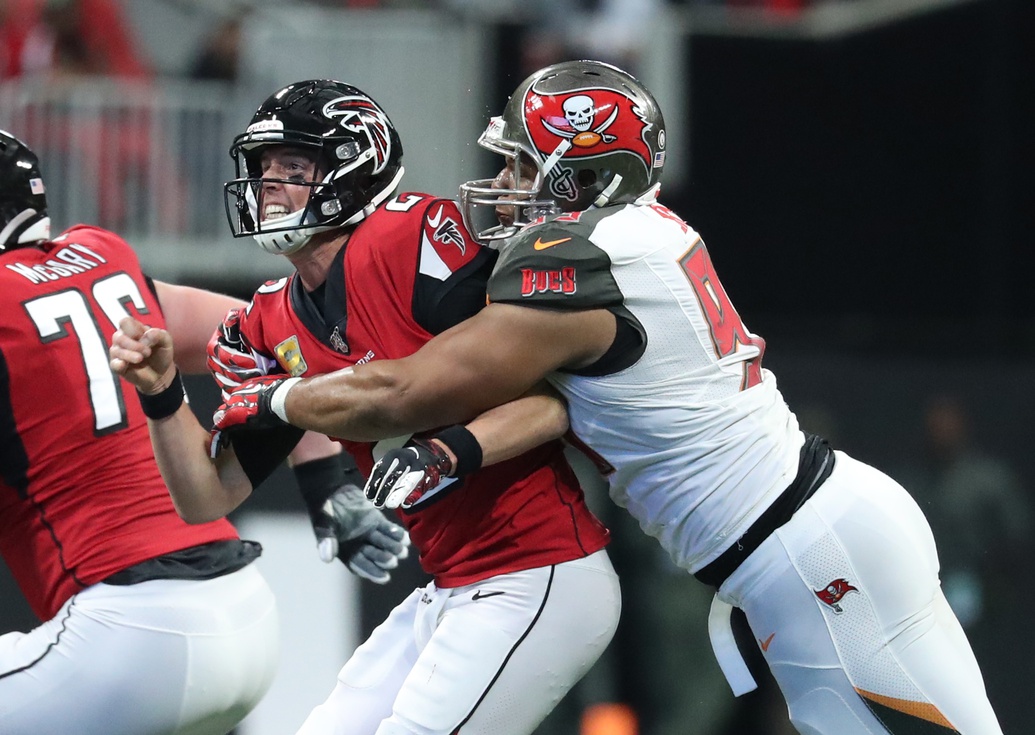 If Matt Ryan had a reliable offensive line, we'd be more confident in placing Atlanta higher here. The Falcons' offensive line in 2019 was undoubtedly the worst of Ryan's career — the unit failed to crack the 25th percentile in team pass-block grade and allowed pressure on 39.2% of Ryan's dropbacks, the fifth-highest rate in the league. And that lowly line certainly played a part in him producing the second-worst grade of his career.
Ryan looked like his top-tier self when he was kept free from pressure, though, as he ranked fifth league-wide in clean-pocket passing grade. However, the bad news is the line doesn't look like it'll be much better in 2020.
On the bright side, he still has one of the league's best receiving units at his disposal, and it's led by the single best in the NFL in Julio Jones. Jones has been one of the NFL's three highest-graded wide receivers in each of the past five seasons and has produced 225 receptions that resulted in a 15-plus yard gain, 50 more than any other wide receiver over those five years.
Third-year receiver Calvin Ridley is also a great complementary piece to Jones. He is a crisp route-runner and is a separation-getter as a result. This past year, Ridley tied for fifth in catches at the intermediate level on which he had a step or more of separation (20).
The 2019 offense that suited Kirk Cousins so well won't change much under Gary Kubiak. And while Cousins may not be one to elevate the play of those around him or be able to make up for the shortcomings of his teammates, the play-action passes and designed rollouts bring the best in him. The Minnesota quarterback produced an 85.9 passing grade last year, fourth at the position. His grade rank jumped to second when you looked at only play-action passes.
Adam Thielen is coming off an injury-riddled year but still posted a solid 78.0 receiving grade that ranked 22nd in the NFL. The year prior, though, he was the NFL's seventh-highest-graded receiver, at 89.4. Thielen's releases are still some of the best you'll see, and he can separate against the best of them. In 2018, Thielen had the fourth-highest separation rate against single coverage, at 65% — over 20 percentage points higher than the NFL average. After Thielen, though, there are no proven wide receivers on the roster now that Stefon Diggs has left town. They'll need a big year out of rookie Justin Jefferson as a result.
The 22nd overall pick put up huge numbers at LSU in 2019. And while he's a crafty route-runner and has excellent ball skills, he never proved that he could effectively win against press coverage on the outside. Most of his 2019 production stemmed from finding a hole against zone, and he hardly ever faced press coverage as most of his reps came in the slot. We did see Jefferson play mostly outside in 2018, and he struggled against single coverage, failing to produce a top-100 receiving grade on such reps.
Dalvin Cook is once again set to lead this rushing attack, and he is coming off a career year that ended with the third-best rushing grade in the league (83.5). If he can stay healthy, the Vikings will possess an above-average passing attack, at the worst.
The Indianapolis offense is a sneaky good one, capable of climbing this list as the season progresses.
While Philip Rivers' best years are likely behind him, he's still very much an above-average quarterback. Behind a horrid offensive line in Los Angeles last year, Rivers still managed to produce the league's eighth-best accurate pass rate on passes thrown 10-plus yards downfield, while his passing grade of 73.6 finished 17th at the position. As PFF's Seth Galina recently broke down, the Colts' stout offensive line will do wonders for the veteran quarterback.
The veteran QB has a very complementary set of wide receivers at his disposal, as well. T.Y. Hilton leads the pack, bringing great speed and deep playmaking to the table, which Jacoby Brissett really couldn't take advantage of when he was on the field. Still, Hilton ranks second in deep receiving yards (3,125) since entering the league in 2012.
Indy used the first of their two second-round selections on Michael Pittman Jr. of USC this past April, and we were big fans of this particular pick. The 6-foot-4 wideout is an excellent possession receiver; he dropped just 2.8% of his catchable targets in his career, possesses an insane catch radius and can adjust to any off-target throw to snag what would typically be an incomplete pass.
The wildcard, and perhaps most intriguing WR of the bunch, is Parris Campbell, who couldn't make an impact in his 2019 rookie campaign due to injury. The 2019 second-round pick was an underneath weapon at Ohio State — no FBS wide receiver produced a higher receiving grade on screens in 2018 than Campbell. He averaged 12.5 yards after the catch per reception and broke seven tackles on 33 such catches.
Whether it be rookie Jonathan Taylor or Marlon Mack, the Colts' rushing attack will still be among the most effective in the NFL, given the offensive line they have up front. The unit ranked second in run-blocking grade a year ago and helped Indy produce positive EPA on 44% of runs, the third-highest rate in the league.
Jared Goff and Sean McVay took the NFL by storm in 2018, producing the third-most-efficient offense in terms of EPA per play en route to a Super Bowl berth. Unfortunately for them, that didn't carry on into 2019, as the offense took a step back from top to bottom and dipped to 18th in EPA per play.
The offensive line played a large part in that regression. As a whole, the unit went from the highest-graded in the NFL in 2018 down to the second-worst-graded in 2019. Another key reason was the increasingly volatile play from Goff. The former No. 1 overall pick can produce at a top-10 level in any given year; he just needs help from the playcalling and supporting cast.
This receiving unit is a good one. It returns Tyler Higbee and Gerald Everett — the third- and eighth-highest-graded receiving tight ends from the 2019 season, respectively — as well as wide receivers Robert Woods and Cooper Kupp.
Woods has found his home with the Rams, as he has earned the 11th-best receiving grade at the position since joining the team in 2017. At the same time, Kupp has had a strong career thus far, producing a top-25 receiving grade in all three of his years in the NFL. While they have lost Brandin Cooks, the Rams add Van Jefferson, who is reportedly lighting up training camp. Whether or not he can handle physical defensive backs is our concern, so that's something to monitor in his rookie year.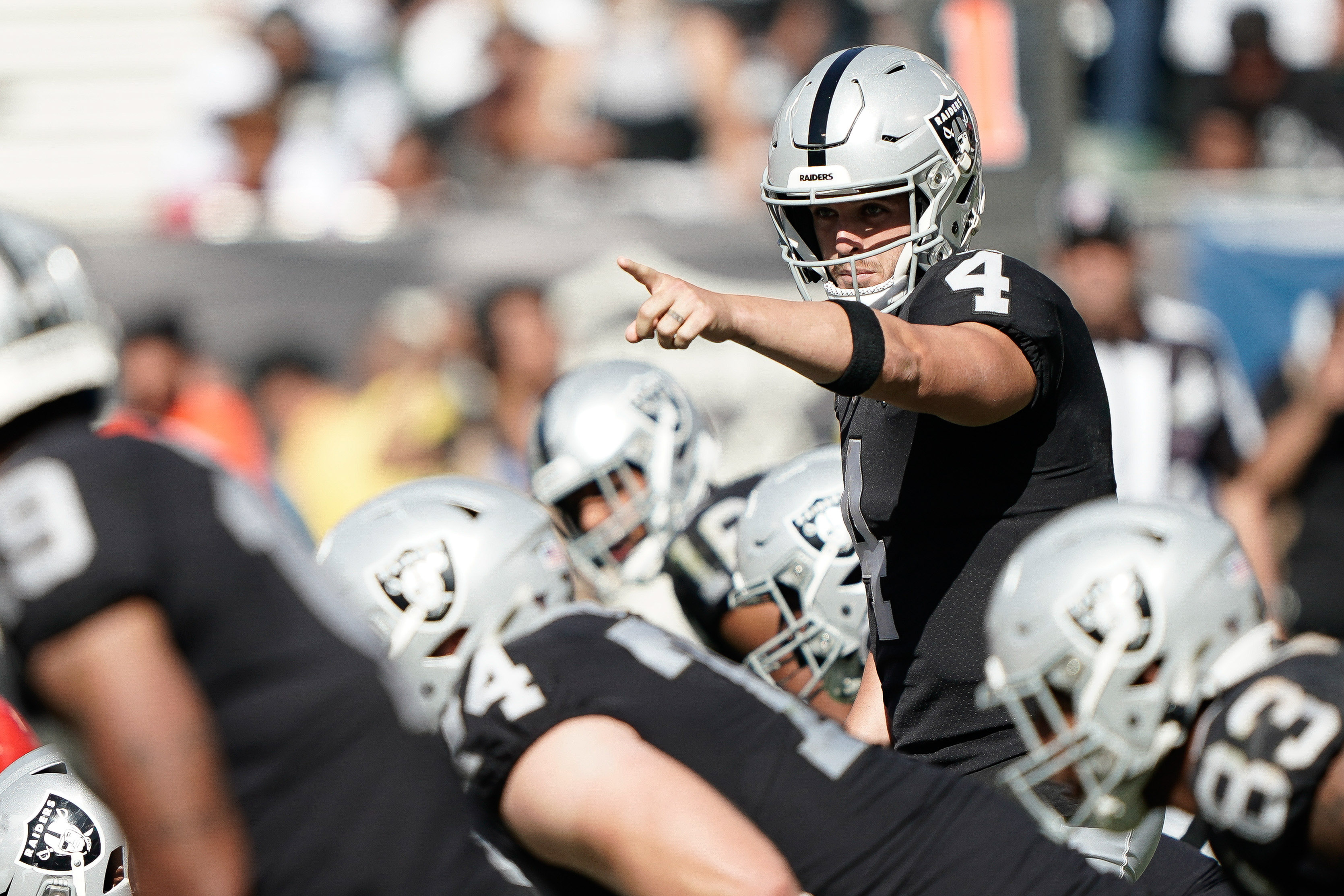 Quarterback Derek Carr was pretty solid in 2019. He earned an 81.2 passing grade on the year, eighth at the position; he was also accurate and limited negatively graded passes well on a throw-for-throw basis. However, Carr also recorded the league's highest checkdown rate, while his 6.9 average depth of target tied for the second-lowest mark league-wide.
That said, he does precisely what the Raiders ask of him, and he helped the offense to produce the eighth-most-efficient passing attack in terms of EPA per play last year.
There is no question that the receiving corps struggled a season ago. Hunter Renfrow was the only bright spot, as he produced a 76.5 receiving grade in his rookie campaign. To help bolster the unit, they opted to take speedster Henry Ruggs III with the 12th overall pick of the 2020 NFL Draft. No FBS wide receiver turned a higher rate of targets into a 15-plus-yard gain in 2019 than Ruggs (38%). With his speed, releases, route-running, ball skills, after-the-catch ability and potential to make plays in traffic, we think Ruggs can provide an immediate upgrade as a rookie.
Josh Jacobs looks very much like one of the top pure runners at the position after he produced the NFL's second-best rushing grade as a rookie, at 86.9. His elusiveness and ability to plow through contact are exactly what you want in a running back.
Las Vegas may be 16th here, but not much separates them from those a few spots ahead of them on this list.
Carson Wentz is coming off quite a streaky year. He started the 2019 season well — significantly better than the box score suggested — earning the highest PFF grade in the NFL through the first six weeks of the season. After that, though, his grade rank fell to 25th. That has been the story of Wentz's career, with part of the reason being his subpar accuracy.
Over the past two years, Wentz ranks 29th in the NFL in the percentage of accurate-plus passes thrown to a receiver with a step or more of separation. He's in that tier of slightly above-average quarterbacks who can produce a top-tier season in any given year, and there is nothing wrong with that.
With the recent injuries of Alshon Jeffery (out until possibly October) and first-round rookie Jalen Reagor (will likely miss the first few weeks), the Eagles desperately need youngsters John Hightower and JJ Arcega-Whiteside to step up. Hightower was always pegged by us as a possible steal in this past draft's loaded wide receiver class with his deep speed and route-running.
As for Arcega-Whiteside, he was one of the most disappointing rookies of last season. We loved his ball skills coming out of Stanford and had him slotted as a top-three wide receiver in his respective class, but he hardly made a dent in 2019, producing just a 53.3 receiving grade on 19 targets. The good news is that the Eagles have the sixth- and seventh-best tight ends in the NFL in Dallas Goedert and Zach Ertz to help offset the losses of Jeffery and Reagor.
Aaron Rodgers was still a top-10 quarterback in 2019 by passing grade, but it's no secret that he isn't the same player of the past. Rodgers is still producing a high rate of big-time throws while avoiding turnover-worthy plays, but as PFF's Steve Palazzolo outlined in our quarterback rankings article, Rodgers' greatness stems from his ability to routinely hit the easy throws.
And he is slipping in that regard. Last year, Rodgers produced a negatively graded throw rate on passes targeted between 1-19 yards downfield that ranked 18th of 32 qualifying quarterbacks. Among that same group, he tied for 20th in percentage of accurate passes thrown. While he is slowly declining, Rodgers is still one of the top quarterbacks in the league — he just isn't in the top-tier status anymore.
Davante Adams is the leader and lone difference-maker in the receiver room. His route running is in the conversation for best in the NFL, and his 27 catches against single coverage since 2018 in which he had open separation (tied for third-most) can attest to that. Outside of Adams, Allen Lazard is the only Packers receiver who produced at least an average PFF grade in 2019. He offers some potential in 2020, as he flashed decent reps against single coverage.
Matt LaFleur and Green Bay got off to a hot start in 2019, but there's no doubt the offense took a step back as the season progressed. The unit ranked just 25th in the NFL in percentage of pass plays to produce positive expected points added from Week 9 and on. It's fair to assume that the trend continues in 2020.
Cleveland is penciled in here at 19th because if we see the 2018 versions of Baker Mayfield and Odell Beckham Jr. and repaired rapport between the two, this Browns offense can be potent.
The system they were in certainly played a part in their declines, but each had their fair share of issues their first year teaming up together in 2019. Beckham's 27 targets that resulted in a quarterback-fault incompletion last year tied for the most in the NFL. He also was battling a sports hernia. In all, Beckham his PFF grade dropped from 90.0 in 2018 to 68.7 in 2019.
As for Mayfield, his 83.2 PFF grade as a rookie dropped to 73.7 in Year 2. He forced far too many throws to Beckham and Jarvis Landry early on in the year and struggled with poor pocket presence and a tendency to abandon clean pockets. New head coach Kevin Stefanski will repair that relationship and perhaps get them to the top-10 QB-WR connection we all thought they'd be.
The rushing attack is led by the best pure runner in the NFL in Nick Chubb. In his first two years in the NFL, Chubb has produced rushing grade ranks of second and first. He's at his best on outside-zone concepts (first in rushing grade since 2018 on such plays), and that just happens to be the bread and butter of Stefanski's offense.
Cleveland is a prime candidate to improve on its preseason offensive ranking.
There might not be an offense in the NFL with a wider range of outcomes this year than that of the Cincinnati Bengals. I say this because they'll have rookies with prominent roles at two of the most valuable positions on the field in quarterback Joe Burrow and wide receiver Tee Higgins. The health factor of veteran receiver A.J. Green is in play, too. The Bengals could end up 10 spots higher or five spots lower as the season progresses.
We are confident that Burrow will develop into a star quarterback for Cincinnati. He easily had the best college season we have ever recorded in the PFF College era in regard to wins above average (WAA) and was easily the most accurate signal-caller in 2019. The No. 1 overall pick is reportedly showing off in training camp the same traits we saw from him at LSU. The tough part will be how he fares with a limited offseason program as well as no preseason reps.
Cincinnati hit another home run in selecting Higgins with its first pick on Day 2 this past draft. In our eyes, he should have easily been a first-round player. At 6-foot-4, Higgins has a massive catch radius and great hands. He dominated any cornerback he faced in tight coverage with his size and produced the best grade in the FBS since 2018 on such reps by a massive amount.
Green, meanwhile, is one of the league's best deep threats when healthy. He still ranks fourth in deep receiving touchdowns since entering the league with 63 despite not playing in a year and a half.
And, of course, we cannot forget about Tyler Boyd, who ranks 10th in slot receiving grade over the past two years. If potential is maximized and everyone stays healthy, Burrow and that receiver trio can be in the upper echelon of the league.
Many will take issue with Pittsburgh coming in at No. 21, but we mustn't forget that there is no guarantee Ben Roethlisberger gets back to his prime form.
After producing the third-best PFF grade by a quarterback in 2017, Roethlisberger started to show some signs of decline in 2018. His increase in rate of negatively graded throws was concerning given his age, lowering his rank in that metric to 28th in the NFL from sixth in 2017. When throwing at or beyond the sticks in 2018, Roethlisberger produced the NFL's fourth-worst rate of uncatchable passes thrown.
Then, in the small sample we saw from him in 2019, Big Ben looked even worse, stumbling to a mere 49.0 PFF grade. And as much as everyone wants to put stock into how his arm feels in training camp, it's impossible to tell how it'll hold up when getting hit over the course of the year — it was a major surgery, after all. As much as I want Roethlisberger to revert back to his old, top-tier self, we have to take into account his injury and the signs of decline he showed prior to.
JuJu Smith-Schuster leads the receiving unit and is poised for a bounce-back year with an upgrade in quarterback play. Just 31% of Smith-Schuster's targets 10-plus yards downfield were deemed accurate last year, the 64th-lowest rate among 71 qualifying wide receivers. Not to mention, he played through injury for a large part of the season.
Pittsburgh has a couple of promising talents at wide receiver in addition to Smith-Schuster. Diontae Johnson tied for the most broken tackles after the catch as a rookie in 2019, with 18, and closed out his final four games with a hot stretch (sixth in PFF grade). In this year's draft, the Steelers nabbed Chase Claypool, who is reportedly lighting up training camp with his size.
Denver isn't sitting here at No. 22 because of its receiving situation — that's for sure. The Broncos have a top-10 wide receiver unit that has the potential to be one of the NFL's best.
The group is led by Courtland Sutton, who put together a nice breakout year after a fairly poor rookie campaign in 2018 that saw him earn a 63.8 PFF grade (72nd among 100 qualifying wide receivers). Sutton improved that mark to 83.1 (11th) in Year 2. He's strong at the catch point and isn't an easy receiver to bring down, as he broke 16 tackles on 72 catches in 2019. He did most of that work as virtually the only receiving threat on the field, and he is now joined by rookies Jerry Jeudy and K.J. Hamler, who both excel at separating.
Jeudy is a refined route-runner, and he racked up explosive plays as a result. Since 2018, no college wide receiver produced more 15-plus yard plays when they had at least a step of separation than Jeudy. As for Hamler, he brings some baggage with him. At Penn State in 2019, he dropped a massive 17% of his catchable targets, ranking 345th of 361 qualifying FBS wide receivers. He is, however, an explosive play waiting to happen like Jeudy. Since 2018, Hamler produced the third-most plays of 15-plus yards from the slot.
Drew Lock now has all the weapons he needs to succeed. While he made only five starts in his rookie campaign, consistency was an evident issue. In all, Lock produced a 57.4 passing grade in those five games, which would have ranked 30th in the NFL had he taken enough dropbacks to qualify. What made Lock the 42nd overall pick of the 2019 NFL Draft was his downfield touch and arm strength, but we didn't see any of that in the NFL. His grade rank on throws of 10-plus yards downfield would have ranked last in the NFL.
The Broncos' rushing attack took a huge step back in 2019, going from fifth in expected points added per rush the year prior down to 21st. If we see the 2018 version of Melvin Gordon III, who was the highest-graded rusher at 90.6, the rushing unit is bound to improve.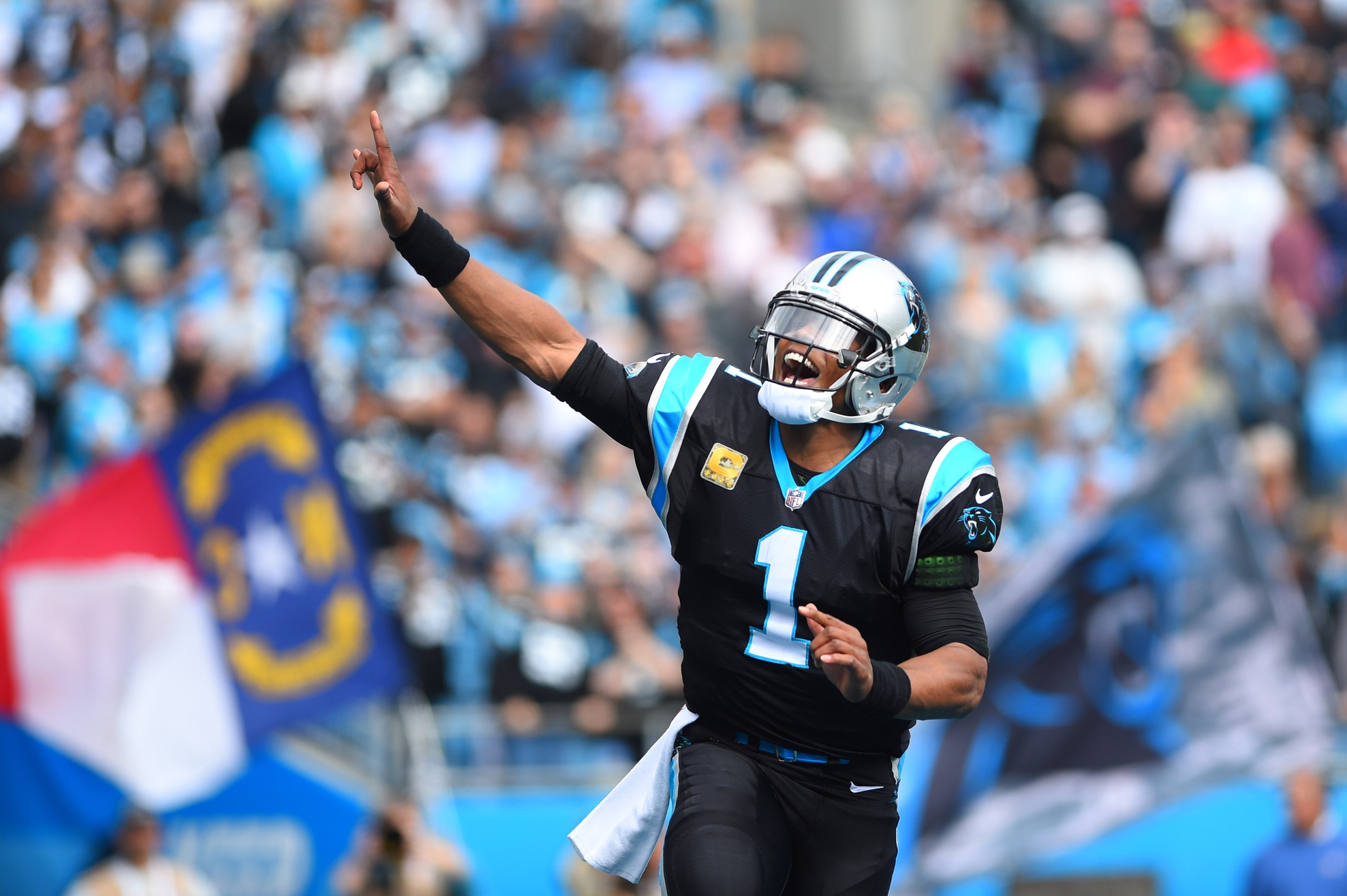 A healthy Cam Newton can be an above-average quarterback who will help offset the loss of Tom Brady, to a certain degree. Newton has had an injury-riddled career, which has derailed his past few seasons and ultimately led to his release by the Panthers. He has struggled to stay healthy since his 2015 MVP campaign, when he was the league's fifth-highest graded quarterback.
In the first nine weeks of the 2018 season prior to his shoulder injury, Newton was the 11th-highest graded passer in the NFL. It's no guarantee that Newton returns to that form, but if he is as healthy as reports are made out to be, the quarterback position won't be a liability for New England. Their receiving unit, however, will be.
Julian Edelman is the only returning wide receiver to produce at least an average PFF grade last year, but he was far from perfect, registering 10 drops and three fumbles on the year (both tied for the second-most).
Even with top-10 play from Tom Brady last season, the Patriots' offense was still only average. Without him, it's bound to be below average for the first time in a long time.
The first year of the Matt Nagy era went a lot better than Year 2. After tying for ninth in percentage of total offensive plays to produce positive expected points added in 2018, Chicago dropped down to 28th in 2019. The play-calling clearly wasn't as strong, but the first step to getting back to being an above-average offense all starts with the quarterback. The Bears will need to get at least average play from Mitchell Trubisky, who has failed to live up to expectations over his NFL career thus far:
Most games with a passing grade below 60.0 since 2018:

???? Mitch Trubisky – 14
???? Case Keenum – 12
???? Josh Allen – 12
???? Josh Rosen – 12
???? Jameis Winston – 11
???? Sam Darnold – 10 pic.twitter.com/Ng5t2nl2Vm

— PFF (@PFF) August 20, 2020
Nick Foles is the easy answer here, and he can provide at least average play. He has two of the best games we have ever seen in the postseason at the position — in 2017 in the conference title game and in the Super Bowl (PFF grades of 93.8 and 92.3) — and failed to produce at least a 60.0 passing grade in only two of his 10 games with at least 15 pass attempts over the past two years (including postseason).
The Bears' receiving unit has a strong WR1 in Allen Robinson, who has infamously made the best of bad quarterback situations throughout his career. With the Bears, specifically, just 37.7% of his targets past the sticks have been deemed accurate. Still, Robinson has managed to produce the 19th-best receiving grade in that span. Very few defenders can beat him for a catchable contested ball, as he has posted the second-best receiving grade on contested targets with Chicago and caught the third-most such targets (40).
After Robinson is a group of receivers with a lot of potential, but each is relatively unproven. Anthony Miller is a breakout candidate as he enters Year 3, but he has struggled with staying healthy while failing to produce an average PFF grade in either of his two years. The battle for WR3 is up for grabs between Riley Ridley, Javon Wims and Darnell Mooney. The speedster Mooney could be one of the surprise rookies of 2020.
Running back David Montgomery leads the rushing attack, and while his rate of explosive runs is a concern and needs to improve in Year 2, it's clear his elusiveness translated from college — he broke the eighth-most tackles in the NFL last year. In addition, Tarik Cohen is looking for a bounce-back year after struggling in 2019 to replicate his electric play from 2018.
Quarterback Tyrod Taylor has proved to be capable of leading an effective offense. Through the use of read options and play-action passes in Buffalo with Greg Roman as offensive coordinator in 2015 and 2016, the Taylor-led offense was the 10th-most efficient attack in the NFL. In his three years in Buffalo from 2015-17, Taylor produced the eighth-best PFF grade at the position. That said, there is some concern with how Taylor fared outside of Buffalo with the Browns in 2018. He took just over 100 dropbacks before Baker Mayfield replaced him. Taylor produced a lowly 44.9 passing grade and had a league-worst accuracy mark.
The depth within the receiving unit is another concern in the wake of Mike Williams' injury that'll likely cause him to miss the first couple weeks of the year. Keenan Allen is one of the NFL's top route-runners and can separate against the best of the best in single coverage, but he can't do it all himself. Running back Austin Ekeler will help matters some, as he is on McCaffrey and Kamara's level of receiving ability. He actually produced the best receiving grade of any running back last year (93.6).
The Giants have a solid set of skill position players. At running back, Saquon Barkley has helped them rank sixth in expected points added per rush since 2018 and is a dynamic receiver (tied for third in 15-plus yard reception in that span at 22).
Golden Tate leads the wide receiver room and fared well while playing a different role in 2019 than what we were accustomed to seeing with him in years prior. He forced significantly fewer broken tackles after the catch (20-plus in each season from 2012 to 2018, but only six in 2019), but this was due to a far lower rate of screens and an uptick in vertical routes. Tate actually produced the seventh-best receiving grade on such routes. In addition, the receiving unit has two other good options in Sterling Shepard and Darius Slayton, who both produced relatively average PFF grades above 70.0 last year.
The real key to New York finding offensive success in 2020 is for Daniel Jones to stop putting the ball in harm's way. While Jones did have some fearless and impressive reps on tape under pressure (tied for fifth-most big-time throws under pressure with 11), he gave the opportunity for the defense to make an impactful play far too often — from forced throws to fumbles. His 5.5% turnover-worthy play rate led the rookie class by a considerable margin and was the fifth-worst mark we have seen from a rookie quarterback since 2006.
First and foremost, the Buffalo receiving unit is one of the five best in the NFL, in our eyes. The Bills added a savvy route-runner and fearless receiver in contested scenarios in Stefon Diggs, who forms a great trio with Cole Beasley and John Brown. Each produced a receiving grade rank in the top 35 in 2019. The volatility from quarterback Josh Allen, however, is something that needs to improve if the Bills want to climb up this list by the end of the season.
Allen ranked ninth in the league last year in positively graded throw rate but ranked last in negatively graded throw rate at the same time. He can make plays with his legs, though, and showed some growth as a passer last year, but he has to limit the inconsistent shots downfield. On throws up to 19 yards, Allen was a solid passer, producing the 10th-best passing grade. On 20-plus yard shots, he dropped to last and led the league in quarterback-fault incompletions. Allen has a strong arm, but that trait doesn't matter if below-average accuracy downfield is causing incompletions.
Again, Buffalo can absolutely have success on offense with Allen in 2020, but they'll have to scheme it up for him.
Gardner Minshew was a rookie surprise in 2019. His 70.0 passing grade led all rookie signal-callers, and he made up for his subpar tools with tremendous touch and accuracy downfield. That helped him produce the third-best deep passing grade in the NFL, buoyed by a perfect big-time throw to turnover-worthy play ratio of 16 to 0. Minshew did, however, struggle massively with protecting the ball, particularly in pressured pockets. He had a concerning rate of fumbles on such plays and often would play with fire late in the down.
At receiver, D.J. Chark Jr. is fresh off a big-time breakout campaign, raising his receiving grade from 51.6 as a rookie in 2018 to 75.8 in 2019 (26th). For the Jags' receiving unit to improve on its unit preseason ranking, it'll need a big year from rookie Laviska Shenault Jr. He has a brutal injury history but is explosive after the catch, making him look more like a running back than a wide receiver. He broke an FBS-high 44 tackles since 2018 and averaged an impressive 7.4 yards after the catch per reception in that span.
Last year's rushing attack was fairly nonexistent, failing to produce a consistent rate of explosive plays. The Jaguars ranked fifth to last in percentage of carries to produce positive expected points added and will still struggle to be much better than that despite cutting loose Leonard Fournette.
The Panthers' supporting cast is good enough to raise the offense's ranking by the end of the year. Running back Christian McCaffrey has separated himself as the league's best back due to the value he generates as a receiver (47 15-plus yard receptions since 2017, most at position). Wide receiver D.J. Moore is a playmaker in traffic and had a nice sophomore campaign in 2019, raising his PFF grade to 82.2, which tied for 12th.
Carolina added a deep threat in wide receiver Robby Anderson this offseason, who still managed to produce the 15th-best receiving grade on 20-plus yard targets since 2016 despite dealing with consistently poor quarterback play. In that same span, Anderson had the second-most deep targets that resulted in a quarterback-fault incompletion.
The reason Carolina slots in at 29th has nothing to do with who they have in the backfield or at receiver, though, but rather solely because of the quarterback situation. While Teddy Bridgewater performed well when filling in for Drew Brees in 2019, given he hadn't seen substantial action in years, his conservative playstyle is cause for concern.
He produced a 78.9 passing grade in his starts for the Saints last season but owned the lowest average depth of target (6.1), produced the lowest rate of pass attempts to travel 10 or more yards (21%) and generated the highest percentage of completions coming from underneath targets (49%). Bridgewater also completed only seven passes of 20-plus yards, and all but one was to an open receiver. Carolina will have a better offense in 2020, but if Teddy can't push the ball downfield, it won't be an impactful one.
While the Dolphins rank 30th here as we approach the start of the 2020 season, their offense's future is bright. Quarterback Tua Tagovailoa, who we feel can develop into a quality franchise quarterback, doesn't have a cannon for an arm, but he has the accuracy, decision-making and pocket presence you want in a starter. Those quality traits helped him be one of two FBS quarterbacks to produce 90.0-plus PFF grades in both 2018 and 2019.
That said, he isn't going to see the field right away for Miami, nor should you expect the rookie to produce at a top-tier level immediately with the Dolphins' current supporting cast. Wide receiver DeVante Parker is really the only bright spot within their receiving unit, as he is coming off a breakout 2019 campaign. He won routinely against single coverage downfield, making numerous contested catches that helped him produce the eighth-best receiving grade against single coverage.
Even before the opt-outs of Albert Wilson and Allen Hurns, the receiving unit was meek. And without those two, it's in the conversation to be one of the worst in the league. Not to mention, the offensive line is our lowest-ranked unit headed into the season.
Ryan Fitzpatrick made the most of a horrible situation in 2019, as he managed to rank eighth in the NFL in positively graded throw rate. If Fitzmagic is here to stay, the Dolphins may squeak out a surprise victory or two, but that's about it.
First things first, Washington landed a gem in the third round of the 2019 NFL Draft in wide receiver Terry McLaurin. The former Ohio State Buckeye produced an impressive 86.5 receiving grade in his rookie campaign, which ranked sixth in the NFL and was the second-best mark we have ever seen from a rookie wide receiver.
McLaurin's route-running chops are top-notch, and he can separate at an elite level downfield. The bad news is that he is the only proven skill-position threat on the roster. Dynamic rookie Antonio Gibson could very well join him in that category, but there's not much else in the way of weapons.
Quarterback Dwayne Haskins didn't have as bad of a rookie season in 2019 as most made it out to be, but it wasn't anything to get jazzed about. He took exceptional care of the football, which is something most rookie quarterbacks don't do, by producing the league's fourth-lowest turnover-worthy play rate. However, he had poor pocket presence. One-third of his pressured dropbacks resulted in a sack, the highest rate in the NFL. Not to mention, his downfield accuracy was incredibly shaky.
This might be the most important and impactful year in the history of the Jets. It's a make-or-break season for 2018 third overall pick Sam Darnold, and if he shows no signs of improvement or even takes a step back, the Jets might be in position to snag either Trevor Lawrence or Justin Fields in next year's draft. Given what we have seen from Darnold thus far, there's a higher chance of that happening than most people think.
Darnold has fallen short of the 25th percentile among quarterbacks in PFF grade in each of his two career years in the NFL, posting grade ranks of 27th and 28th. Of all first- and second-year quarterbacks since 2006, only six have failed to produce at least a 65.0 PFF grade in both years: Blaine Gabbert, Geno Smith, Christian Ponder, Andy Dalton, Brandon Weeden and Sam Darnold. That isn't a great group to be a part of.
PFF's Timo Riske dove into how important rookie performance is when it comes to predicting career performance and found that we generally have a good idea by the end of Year 2 about just how good a quarterback can be over the duration of his career.
We were worried with Darnold's decision-making when he was coming out of USC, and so far, he's proven us right. Given the lack of consistent play from the Jets' signal-caller — as well as the fact that he's surrounded by the 27th-ranked offensive line and 31st-ranked receiving unit — things aren't looking great for the Jets' offense in 2020.