We're in the heart of rankings season here at PFF. And today, it's time for the running backs.
There are only so many three-down workhorses capable of adding value in both the running game and passing game on high volume. Naturally, those players will find themselves near the top of this list, but once you get to a certain point, it really just comes down to preference on scheme fit and how you balance receiving vs. rushing impact at the position. 
Using PFF's play-by-play grading and statistics that can be found in Premium Stats 2.0, this is how our top-25 list shakes out heading into next season. 
According to PFF WAR, McCaffrey has been the NFL's best running back since entering the league in 2017, and he was rewarded for that play with a record-setting four-year, $64 million contract this offseason. He has taken the volume crown at the position from Le' Veon Bell, rarely coming off the field in Carolina. And that's possible because he does everything at a high level. McCaffrey isn't on the same level as a runner as some of the other guys near the top of this list, but he's still an above-average runner (80.9 PFF rushing grade over the last two years) who is one of the best in the NFL at generating yards before contact, something that isn't entirely an offensive line stat. 
Where McCaffrey really separates himself is his ability to carry the load on the ground and stand out as arguably the game's best receiving back. Since 2017, his 93.7 receiving grade trails only Austin Ekeler among 39 running backs to run 500 or more routes.
In terms of raw receiving totals, no one else even comes close to McCaffrey. His 135 first downs and touchdowns as a receiver are 38 more than the second-place Alvin Kamara. He's a big part of the biggest strength for the Panthers heading into 2020 — an offensive supporting cast that should make life easier on Teddy Bridgewater in his first season in Carolina. 
Chubb would take the cake if we were simply looking at who the best pure runner in the NFL is right now. His 92.0 rushing grade since entering the NFL out of Georgia in the 2018 NFL Draft is the highest mark in the league. In fact, it's the only grade above 90.0. Similarly, his 110 missed tackles forced are more than any other running back over that two-year span, and his 4.0 rushing yards after contact per attempt are fewer than only Derrick Henry among qualifiers. When Chubb gets rolling downhill, getting him to the ground is easier said than done. Size, speed, balance — no matter what you want from a runner, Chubb has it. 
That's what allows him to come in at second on this list despite limited contributions in the passing game. It's not necessarily that Chubb can't provide something in that area, but he simply hasn't been used extensively in the passing game with options like Duke Johnson Jr. and now Kareem Hunt available to take some of that work.
Kamara was not the same guy in 2019 that he was the prior two seasons, but I'm comfortable chalking that up almost exclusively to ankle injuries and a torn MCL that he played through for the majority of the season. Going back and looking at some of his tape pre-injury, Kamara was still the dynamic runner and receiver at the position that makes him one of the most valuable backs in the league. 
In this Week 3 game against the Seattle Seahawks alone, Kamara forced 12 missed tackles as a runner and a receiver. That's been the story for much of his NFL career — he is one of the most elusive backs in the league. Kamara was one of just four running backs to break 100 or more tackles across the 2017 and 2018 regular seasons, all while grading out as the position's best receiver (92.3) in those two years. That is the player Saints fans should be excited to see back in 2020.  
Barkley is in a similar boat to Kamara in that injuries hampered his production during the 2019 season, but there is no doubt that he is one of the most talented running backs in the league when he is healthy. He has the speed to hit the home run — as his league-high 24 carries of 20 or more yards would suggest — but he also has the lateral agility and elusiveness needed to be difficult to bring to the ground in close quarters. Those two don't always go hand in hand. As a rookie, Barkley's 71 broken tackles as both a runner and receiver were 11 more than any other NFL player. He also showed the ability to be one of the best receiving threats out of the backfield in that rookie season, earning an 86.3 receiving grade on the year.
All of that, in conjunction with just how physically gifted Barkley is as an athlete, gives every reason to believe he'll bounce back to start next season with a clean bill of health.   
Jones is already the third running back from the loaded 2017 draft class to crack this list, and like Kamara, he is still searching for that second contract. His play on the field says he deserves a nice raise. His 90.5 PFF rushing grade since 2017 ranks second among all backs with 250 or more carries, trailing only Chubb, and few backs have converted a higher percentage of their carries into first downs or touchdowns than Jones has over that span (25.8%). 
His real growth in the NFL thus far has come as a receiver, though. Not only did Jones see his passing-game role expand in a big way in 2019, but his efficiency did, as well, with sizable increases in receiving grade (84.3), yards per reception (9.6) and passer rating when targeted (109.0) over previous seasons. Players who can perform at a high level in both facets like that are the ones you want at running back. We'll soon find out just how badly the Packers want to keep Jones in Green Bay.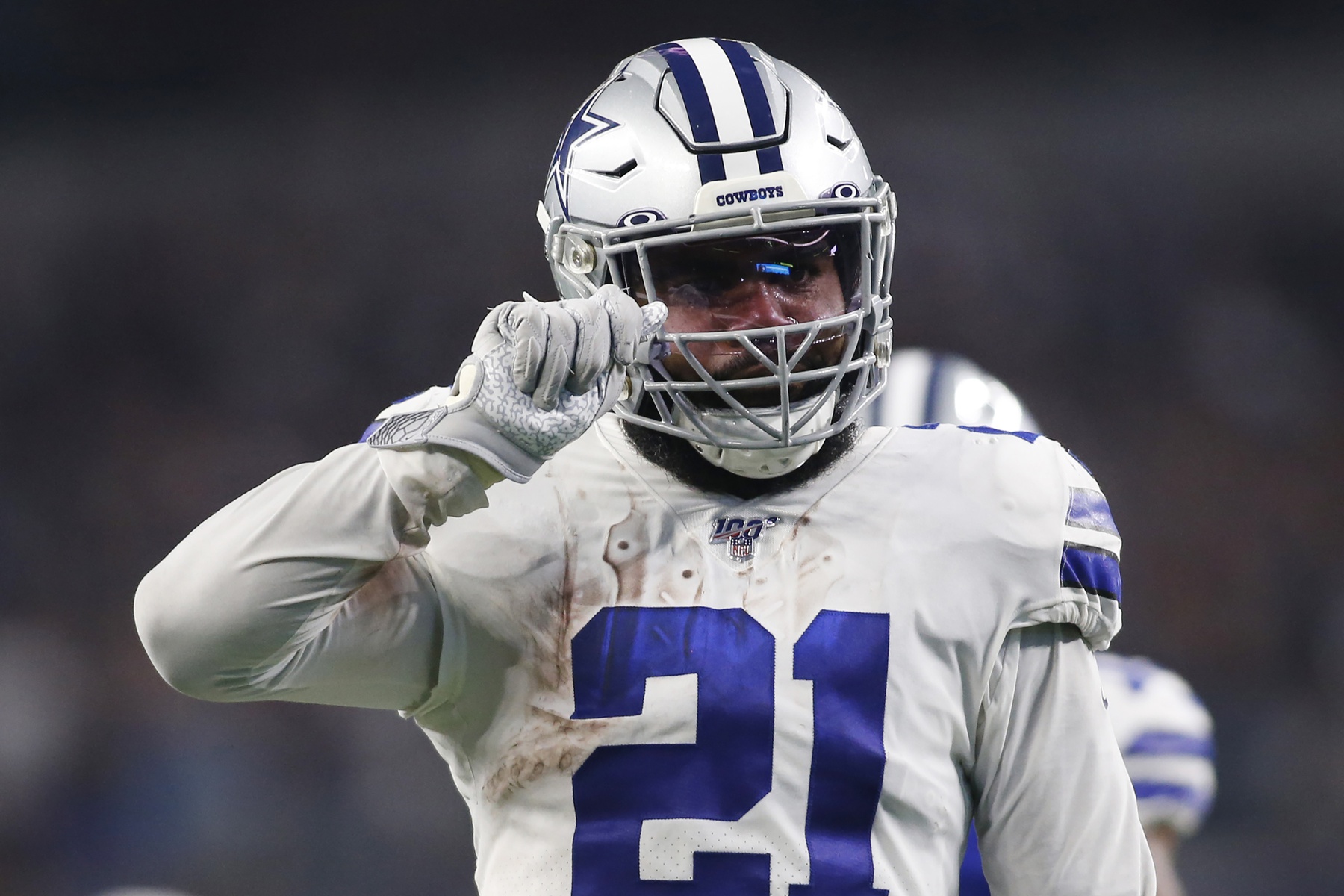 Few players have stirred up arguments at the running back position like Elliott has in recent seasons. The big contract extension that he signed while teammates Dak Prescott, Byron Jones and Amari Cooper waited to get paid is generally at the core of those arguments, but they also extend to the question of just how good Elliott really is. He's someone whose reputation has outpaced his PFF grading profile for much of his career, but there is a lot to be said about his consistency, ability to carry the load in the backfield and do everything you want a running back to do.
Lowest percentage of carries that resulted in a loss or no gain since 2016
| | |
| --- | --- |
| Player | % of Carries for No Gain or Loss |
| Mark Ingram | 13.9% |
| Ezekiel Elliott | 14.3% |
| Le' Veon Bell | 15.7% |
| Christian McCaffrey | 16.2% |
As the table above shows, he rarely takes negative plays behind the Cowboys' perennially strong offensive line. His 3,539 rushing yards after contact over the past four years are over 500 more than the second-place Derrick Henry. While he doesn't make guys miss at a high rate, he still owns one of the highest PFF rushing grades (86.4) in the league across his four years in the NFL. That's a testament to his ability to consistently find additional yardage through contact. 
Cook is yet another one of these guys looking for a new deal, but the biggest roadblock when negotiating that second contract will be his injury history. His 1,264 regular-season offensive snaps over the last three years are 10th-most from the 2017 running back class alone. When you extend that to all running backs, it ranks 28th. As someone who came into the league as the guy in Minnesota — playing over 50 snaps in the 2017 opener — that has to be concerning.
Cook's abilities on the field are another thing entirely. The tackle-breaking show that he put on display at Florida State has certainly translated to the NFL. Cook's forced missed tackle rate of 22.4% ranks fourth among 28 running backs with 500 or more touches over the past three seasons, and he has been an ideal fit in Minnesota's outside-zone scheme, showing rare ability to maintain speed in and out of his cuts. It's a big reason why his 83.5 rushing grade during the regular season in 2019 was a top-three mark at the position. The biggest thing left to do is stay healthy and highlight that ability in a full season of action. 
Henry has been the most dominant runner in the league at various points in his NFL career. The numbers point to Henry being just that over the last two seasons — one of the league's best runners. His 88.6 rushing grade over the last two years trails only Chubb at the position, and his 4.2 yards after contact per run lead the way at the position. Sometimes you don't need stats to tell you the story, and this is one of those times. Tackling all 250 pounds of Henry, particularly when he gets up to full speed, is a problem. 
It is important to note the reasons why Henry slides to eighth on this list, though. First, it's hard to look past Henry's lack of impact in the passing game through the first four years of his NFL career. His PFF receiving grade has come in below 50.0 in each of the past three seasons. 
Second, Henry hasn't always been a dominant runner. In fact, Henry's game didn't take off this past season until Ryan Tannehill took over at quarterback and the Titans' offense took a leap forward. With Marcus Mariota at quarterback over the first six weeks of the season, Henry earned just a 67.2 rushing grade while averaging 3.7 yards per carry. It's another reminder that the situation really matters at the position. 
Jacobs showed in his rookie season why he was the first running back off the board in the 2019 NFL Draft. No running back was more elusive with the ball in his hands than Jacobs was, forcing a missed tackle on 29% of his carries this past season — easily the best rate in the league. The yards-after-contact numbers for Jacobs were almost equally as impressive and were among the best we've seen from a rookie running back. 
Most yards after contact per attempt by a rookie running back in the last decade (min. 100 carries)
| | | |
| --- | --- | --- |
| Player | Season | Yards after contact per attempt |
| Nick Chubb | 2018 | 4.5 |
| Alvin Kamara | 2017 | 3.8 |
| LeGarrette Blount | 2010 | 3.7 |
| Josh Jacobs | 2019 | 3.5 |
| Bernard Pierce | 2012 | 3.5 |
It would be nice to see the Raiders try to incorporate Jacobs a bit more in the passing game next season. He wasn't used extensively as a receiver in Alabama's offense, but he was effective when the ball did come his way, with 21 missed tackles forced on 48 receptions and over 12 yards per catch. There's reason to believe Jacobs could be a solid receiver out of the backfield in Las Vegas, but it's still something he needs to show in a larger role. 
If you're going to give a running back a second contract, it doesn't get much better than what the Chargers were able to work out with Ekeler this offseason. There's a real argument to be made that no running back offers more in the passing game than Ekeler does after posting a 94.0 PFF receiving grade (first at the position) and 2.49 yards per route run (first) since entering the league as an undrafted free agent in 2017. He's one of the few running backs who doesn't look out of place when lined up in the slot or out wide as a wide receiver (position-high 85.6 receiving grade at WR), as well.
He's probably not the kind of runner who is ever going to get anywhere close to 300 carries in a season, but he has been an effective runner to this point in his career, nonetheless, averaging over 3 yards after contact per rush in all three of his NFL seasons. That's good enough to make him a top-10 back in the league with how dangerous he is as a receiver and a strong value for Los Angeles compared to the rest of the running back market on a deal that pays him just over $6 million per year. 
Strictly going off talent, I think there's a real argument to be made that Hunt is firmly in the top-five running back conversation. Obviously, for Hunt, talent isn't the only thing in the equation. That's why he is now in a timeshare in Cleveland after missing the better part of a year of game action rather than serving as the lead back on the juggernaut that is the Kansas City Chiefs' offense. Now, however, Hunt's presence in Cleveland comfortably gives them the best one-two punch at running back of any team in the NFL. 
Somehow, Hunt's 164 broken tackles as a runner and receiver since 2017 still are the most of any running back despite the missed time and committee workload once he returned from his suspension in 2019. Among the 38 running backs to play at least 1,000 snaps over that three-year span, his 86.0 receiving grade ranks sixth at the position and his 88.4 rushing grade ranks fourth. It's hard to argue that Hunt is one of the more talented running backs in the league and that he'll help Cleveland in the snaps he sees next season. 
It's pretty easy to break down the upside and downside to Carson's game as a runner over the last several seasons. On the one hand, he's one of the most difficult runners in the NFL to bring to the ground. His 107 broken tackles as a runner over the past two seasons are fewer than only Chubb, and his 3.5 yards after contact per attempt are a top-five mark at the position. The downside with Carson is that he has had real problems holding onto the football. His nine fumbles over the last two seasons are tied with Ezekiel Elliott for the most in the NFL, three more than the next closest running back (Carson's new teammate, Carlos Hyde). As long as he can secure the ball, Carson should continue to be one of the league's most effective and bruising runners.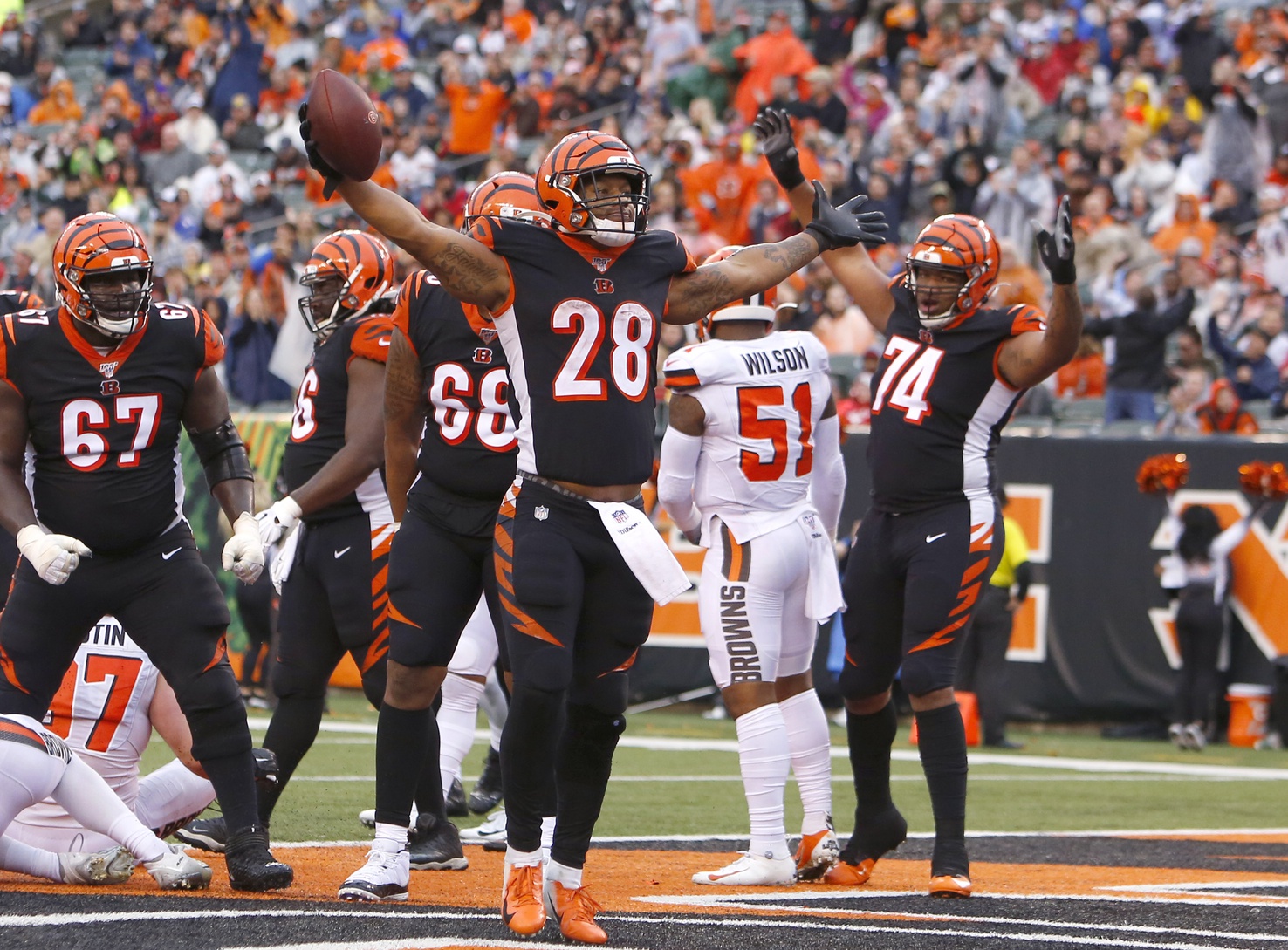 Mixon was playing his best football towards the end of the 2019 season, and from a PFF grade standpoint, he was playing as well as any running back in the league. From Weeks 10 to 17, no running back had a higher PFF grade than Mixon's mark of 81.6 as he managed to find some success on the ground behind one of the worst offensive lines in the NFL. While his play has been somewhat up and down, his contributions in the run game have been solid throughout his three-year career, with rushing grades of 72.0 or higher every season since 2017. 
The same can't necessarily be said for his contributions as a receiver. Mixon's 68.3 receiving grade in 2019 — 19th out of 50 running backs to run at least 150 routes — was a step in the right direction, though. If he comes out in 2020 with similar play to how he closed last year, Mixon could be a guy who rises on this list in a year's time. 
Though it may seem like it, it wasn't that long ago when Bell was considered the best running back in the NFL. However, after sitting out the 2018 season, Bell made his return to a New York offense that had its fair share of struggles. As a team, the Jets averaged just 0.7 yards before contact per attempt on their running plays — the worst mark in the NFL and a primary factor in Bell averaging only 3.2 yards per carry despite a middle-of-the-pack rushing grade. It's tough to ask any running back to do much when they're consistently met in the backfield by multiple defenders like Bell was in the play below.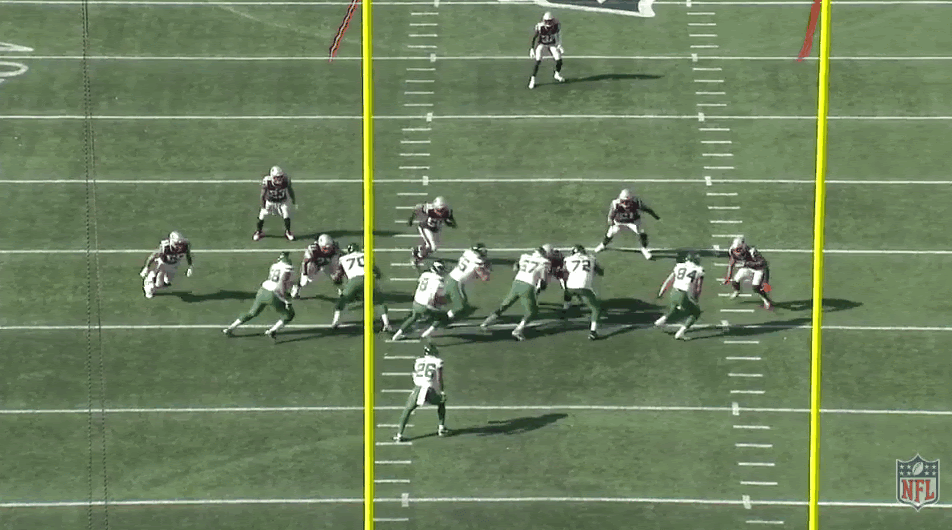 Bell may not have looked quite as dynamic as he was with the Pittsburgh Steelers, but he still does a lot of things at a high level. Specifically, Bell poses more of a receiving threat than most running backs in the league. Even in a down year on a bad offense, he posted a 77.3 receiving grade with just three drops, and he has a hard-earned reputation as one of the NFL's better pass-blocking running backs. Bell is still someone who can put up big numbers in a respectable NFL offense. 
The Ravens spent a second-round draft pick on J.K. Dobbins in the 2020 NFL Draft, but that doesn't mean Ingram is simply going to disappear from the equation. He is coming off one of the better seasons in his NFL career — his first in Baltimore — with a 78.7 PFF grade (eighth at running back) on just over 500 offensive snaps. Similar to what I talked about with Ezekiel Elliott, Ingram rarely takes negative plays. He fits well as a guy who gets upfield while defenders are forced to give an extra half-second of attention to Lamar Jackson on the read options that Baltimore runs so well. 
While Ingram isn't necessarily thought of as a receiving threat, he was very efficient with the looks he got in the passing game last season. The Ravens had a 143.0 passer rating on Ingram's 28 targets in 2019. And with no drops on those passes, Ingram is now up to just eight drops on 288 career targets — an impressive showing of hands. At worst, he should serve as 1A with Dobbins as the 1B in Baltimore next season. 
As a pure runner, Lindsay would actually be a fair bit higher than this ranking given what he's accomplished over the past two seasons. His 87.8 rushing grade since 2018 ranks third among the 77 running backs with at least 100 carries over that two-year span. Lindsay has been one of the best running backs in the league at picking up yardage before contact, and at least some of that credit should go to him for his ability to find and get through holes as well as his speed. 
This play is a good example of Lindsay setting up the safety inside before bouncing the run back outside and accelerating for a touchdown. The reason he falls to 16th despite that success on the ground is that he has offered very little to this point as a receiver, dropping 10 of his 90 career targets and averaging just 6.2 yards per reception. It will be interesting to see how Denver chooses to split its backfield reps in 2020 after adding Melvin Gordon.
Conner has been limited by injuries early in his NFL career. He hardly saw any work in 2017 with Le' Veon Bell rarely coming off the field, but he took over that lead back role the following season and showed, at the very least, that he was elusive. Conner's 60 forced missed tackles in 2018 as a runner and receiver ranked second in the NFL to Barkley — and that was despite him missing three games late in the season with an ankle injury.
Injuries became a bigger factor this past season, as shoulder and quad ailments limited Conner to just over 300 offensive snaps, but he still produced another solid showing on the league's worst offense by expected points added per play. That was especially true in the receiving game — a question mark for Conner coming out of college — where he put up an 89.8 receiving grade and forced 19 missed tackles on just 34 receptions. He'll look to put it all together in a healthy 2020 season. 
White may get overlooked in some lists highlighting the league's top players at the position because he isn't a traditional, three-down running back by any means, but the high-level play he provides as a receiver for New England out of the backfield has made him one of the more valuable backs in the league.
James White: Receiving numbers and ranks since 2015
| | | |
| --- | --- | --- |
| Category | Stat | Rank |
| PFF receiving grade | 92.3 | 4th |
| Receptions | 315 | 1st |
| Yards | 2,786 | 1st |
| First downs + touchdowns | 139 | 1st |
White has been particularly dangerous as a receiver in the red zone. His 21 receiving touchdowns in the red zone over the past five seasons are nine more than any other running back in the NFL. He'll give Cam Newton a sense of familiarity in New England after the signal-caller moved on from another one of the game's elite receiving backs (McCaffrey) in Carolina. 
Gordon's contract situation did not play out how the 27-year-old running back out of Wisconsin would have hoped, signing with Denver this offseason on a two-year, $16 million deal. He should have a good opportunity with the Broncos to return to the kind of strong play he showed in 2018 (83.6 PFF grade), though. 
When looking at Gordon's career from a PFF grading standpoint, that 2018 season was the only one where he really put up an elite season as a runner. In his other four seasons, he topped out at 3.9 yards per carry in 2016 and a 71.7 rushing grade in 2019. Gordon's holdout had a clear impact on his play early last season, but he will need to show that he can replicate that 2018 production as both a runner and receiver early on in Denver, as Phillip Lindsay and Royce Freeman will both be competing for touches in one of the NFL's deeper backfields.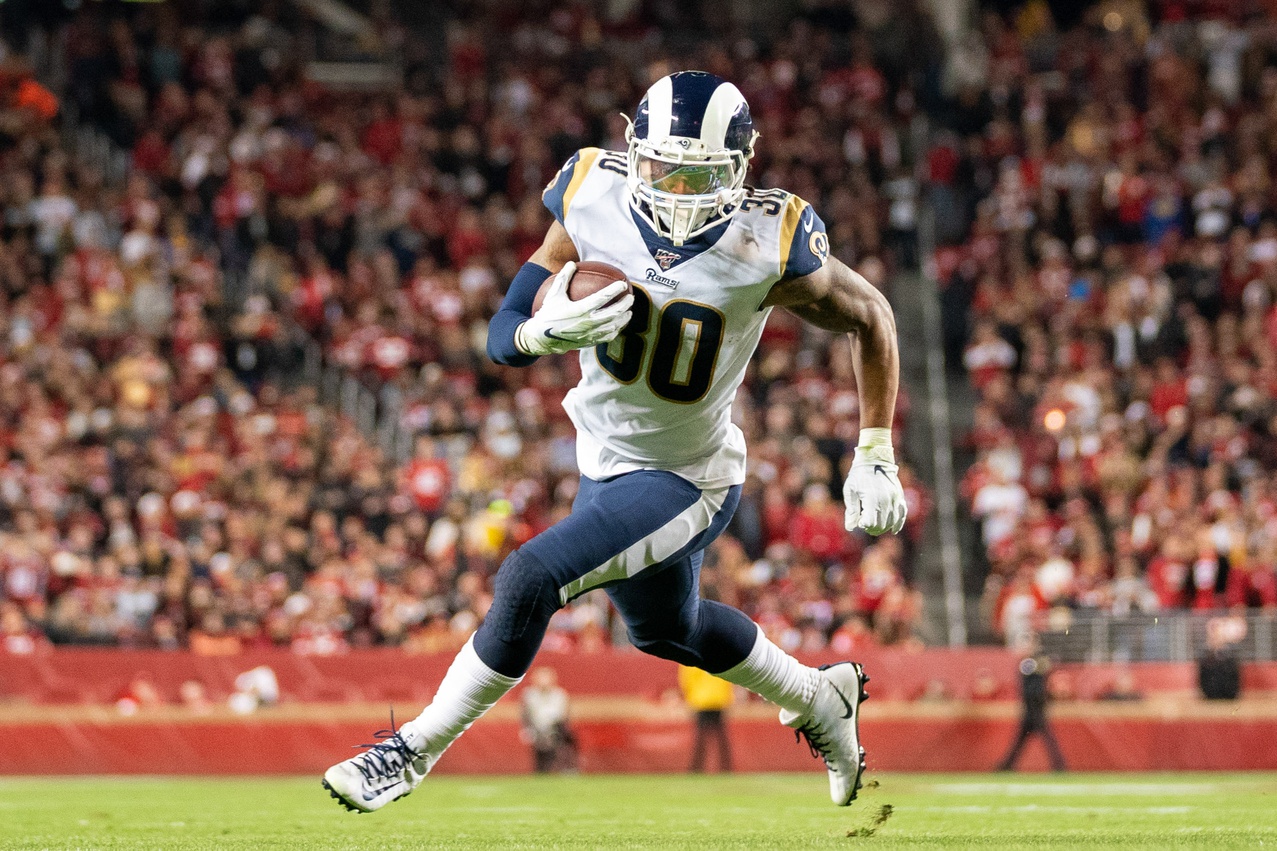 Gurley's fall has been quick and extreme. It's tough to see the chronic knee injuries chip away at what was an impressive start to his career. There's a chance his arthritic knee knocks him off this list entirely by this point next season, but as of now, Gurley still finds himself among the league's top 20 running backs. 
He graded well as a runner this past season in Los Angeles' offense. His 79.1 rushing grade ranked ninth at the position, with the majority of the blame for his 3.8 yards per attempt falling on the shoulders of a Rams' offensive line that went through plenty of injury issues in its own right. The real decline comes when he gets out into the open field, particularly as a receiver. Gurley's 34.8 receiving grade in 2019 points to a player who just isn't as dynamic as the running back who put up an 87.8 receiving grade during the 2017 season. However, he can produce as the lead back in Atlanta if healthy. That's just a big if.   
Drake is in easily the best position of his NFL career as the Cardinals' projected lead back heading into the 2020 NFL season. Talent was never necessarily the roadblock with Drake in Miami, but opportunity and the skill level around him was. His 56.9 PFF grade to start the season with the Dolphins compared to a 76.8 overall grade to close the final eight games with the Cardinals (fourth at running back) highlights how that move to Arizona brought out the best in his game. 
Throughout his career, he's been among the best backs in the league in areas such as yards after contact and missed tackles per attempt, and with Kyler Murray and Kliff Kingsbury orchestrating a much-improved offense, there's a decent chance Drake beats out his previous career-high PFF grade of 74.4 in 2017. 
No player had a higher rushing grade per play in zone schemes last season than Mostert. His breakaway speed is ideal for the big plays that San Francisco hunts in the run game, and he put it on full display in the 49ers' run to the Super Bowl this past season.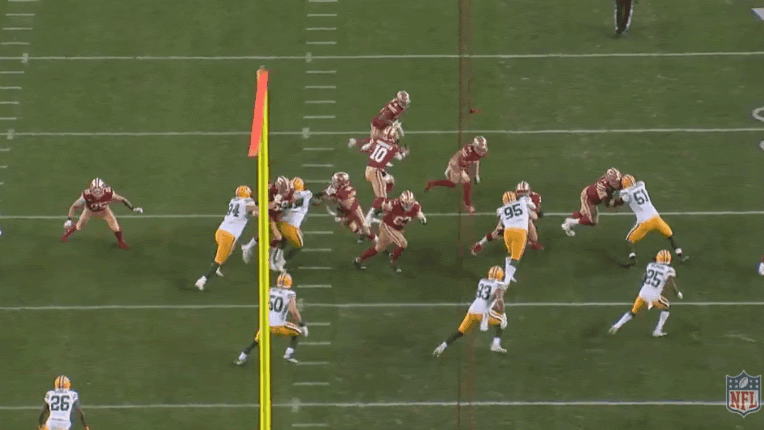 Across San Francisco's three playoff games, Mostert forced 17 missed tackles on 53 carries and averaged 4.3 yards after contact per attempt. Those are big reasons why he's set to return to the offense as the lead back in 2020 on a new contract. He was extremely efficient with his carries during the regular season, as well, but the obvious question becomes: Can he do it across a full season as the lead back? He's carried the ball just 231 times in regular season and postseason NFL action after bouncing around teams early in his career. If he repeats his 2019 rushing performance on a larger workload in 2020, it would warrant a bump up the rankings this time next offseason. 
Sanders did a lot of exciting things as a receiver out of the backfield in 2019, which was much-needed in an Eagles' offense that lacked receiving threats toward the end of the season. He caught 50 passes and averaged 10.2 yards per reception, which ranked second among 19 running backs with at least 50 targets. That's why he comes in on this list of the top 25 running backs in the NFL heading into next season. 
However, the reason that he's lower on this list than some may think he should be is that the rushing grade just wasn't there this past season. Despite what his 4.6 yards per carry would suggest, Sanders earned just a 59.5 rushing grade on the season. It speaks to the idea that his success on the ground was more a product of the PFF's highest-graded run-blocking offensive line in 2019 than it was his play as a runner. Sanders is a former five-star recruit — a natural athlete with the requisite burst, explosiveness and agility needed to be a high-level NFL runner. I'd expect the grade (and his ranking) to rise in 2020 with fewer fumbles as long as his vision continues to improve. 
The elusiveness that was a clear strength to Singletary's game in his collegiate days at Florida Atlantic translated well to Buffalo's backfield this past season. His 42 broken tackles on just 181 touches this past season were good enough to rank among the best rates in the NFL among qualifying running backs. As a runner, there is a lot to like for Singletary. He's not necessarily the home-run hitter that some at the position are, but it's difficult to get a clean shot on him. 
The biggest thing holding Singletary back right now is that he's not much of a threat in the passing game. In college, he put up just a 55.8 receiving grade as a rookie, hauling in 29 passes during the regular season for 194 yards with five drops. Buffalo's rookie selection at running back (Zack Moss) should have a leg up in their competition in that area.
Going purely off his grading profile and efficiency numbers, Johnson has a pretty strong case to be higher in these rankings. Here is the list of running backs to play at least 1,000 snaps over the past three seasons and put up PFF rushing and receiving grades higher than 80.0:
McCaffrey does just miss the cut with a 79.9 rushing grade, but that's the entire list. Of course, the catch is that Johnson has done that in a complementary pass-catching role and didn't carry the ball more than 83 times in any of those seasons, never truly taking over as the lead back for any extended stretch. Still, it would be nice to see what he could do in that lead role. He has profiled as one of the most elusive running backs in the NFL throughout much of his career.