For years now, the New Orleans Saints have been manipulating the NFL salary cap unlike any team in recent history. And at this point, they are a giant bubble waiting to burst as they continue to push prorated bonus money into future years.
There is one simple reason why you can't knock this strategy: they have Drew Brees. When you have a Hall of Fame quarterback on the way out, you might as well do whatever it takes to field a Super Bowl-contending roster. We talk a lot about teams going "all-in" in a given season, but there has been no better example in the last decade than this year's Saints. 
New Orleans is currently projected to have around -$75 million in 2021 cap space if the salary-cap floor of $175 million — which was agreed upon by the league and the NFLPA — ends up being utilized. That is not a typo. They are projected to have negative $75 million.
The team also has one of the best pending free-agent groups of any team in the NFL, which includes: Alvin Kamara, Demario Davis, Marcus Williams, Sheldon Rankins, Jameis Winston, Jared Cook and more. Further, promising young cornerback Marshon Lattimore and star offensive tackle Ryan Ramczyk — Kamara's fellow 2017 draft class members — are both set to play on the fifth-year option in 2021, but they will obviously be looking for extensions in the near future. 
All of that is to say that it's going to be really hard for the Saints to find the coins in the couch cushion to pay Alvin Kamara, who is reportedly holding out of Saints training camp in the hope of landing a new contract. Maybe they can work it out after this season, but a $2.3 million cap hit for their star running back in 2020 is exactly what they need to make everything work. 
In Kamara's defense, one player the Saints did somehow find the money to pay this offseason was Taysom Hill. Hill has 64 rushing attempts for 352 yards and 22 receptions for 238 yards over the past three seasons, whereas Kamara has 485 rushing attempts for 2,408 yards and 243 receptions for 2,068 yards over the same span. And if you look beyond just generic volume stats, Kamara was PFF's seventh-most-valuable running back in 2019 — his worst finish since being drafted.
We understand that Hill, the 30-year-old QB with 13 career pass attempts to his name, is supposed to become a quarterback at some point. But he's been little more than a gadget player for Sean Payton and his offense so far. That was good enough to earn him a two-year, $21 million contract from the Saints back in April, roughly $17.5 million of which was fully guaranteed (more specifically, he was subject to an RFA tag for $4.6 million in 2020 before they agreed to an early extension, which perhaps makes things even worse from Kamara's perspective). For reference, Tennessee Titans running back Derrick Henry had $25.5 million fully guaranteed at signing with his extension, and while Kamara is a better player than Henry, that Hill money could have gone his way and he would've been pretty close to matching the Titans' workhorse.
Kamara still needs to accrue a season in order to become an unrestricted free agent after the 2020 season. Per Article 8(b)(ii) of the CBA (shown below), a team could attempt to prevent a player from accruing a season just for the "unexcused absences" reported by Adam Schefter, though that is a rare, extreme step.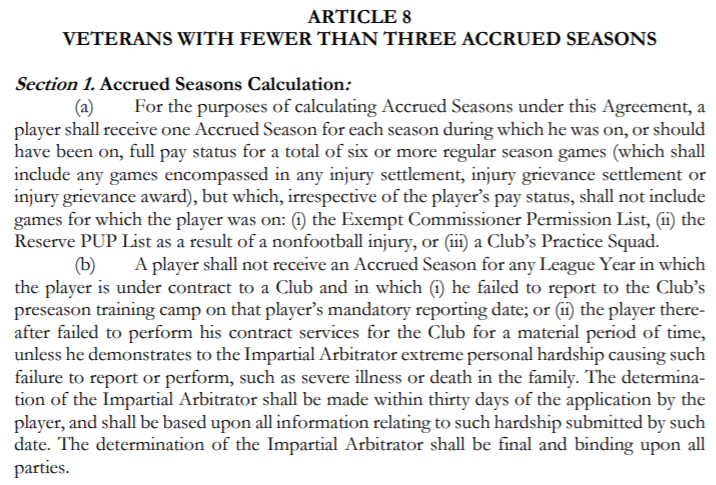 Kamara will have to be on "full-pay status" for at least six regular-season games in 2020 in order to accrue a season, but this could include a situation where he was "holding in" and sitting out games while still on the 53-man roster.
It is fair to be a bit worried about Alvin Kamara in redraft fantasy football, considering he is a consensus top-five pick in most formats. And if he does sit out, or an injury keeps him out a few weeks longer than perhaps it would have in the past, Latavius Murray becomes an automatic RB1 in the Saints' high-octane offense.
The simple fact is that Kamara deserves to be paid like one of the NFL's best running backs. His 2017 and 2018 seasons rank sixth and fifth, respectively, in PFF WAR generated by a running back over the last three years, and his PFF grade of 91.3 across those two seasons is second to none at the position. Kamara's balance and elusiveness consistently have him among the league leaders in forced missed tackles, and when healthy, he is one of the league's most dynamic receiving threats at running back.
Kamara clearly wasn't healthy last year, though. You saw that dynamic threat that he brought as both a runner and receiver in early contests against the Houston Texans and Seattle Seahawks, but his play started to fall off later in the season as he battled a variety of lower-body injuries. Bleacher Report's Master Tesfatsion reported that Kamara played last season through a torn MCL suffered in Week 7. The result was a 68.9 PFF grade on the season that doesn't accurately reflect the kind of player Kamara is. When he's healthy, he's one of the game's best running backs.
If you absolutely had to take the loss of an elite player at any position, though, that position is running back. The fact that the Saints have an established backup in Latavius Murray behind him only makes a potential loss more manageable.
Murray has played 400-plus offensive snaps in each of the past five seasons and is capable of assuming a lead-back role, as he did for the few games Kamara missed last season. He turned in 100-yard rushing performances in both of his starts in 2019, with 10 broken tackles on the ground across the Week 7 and Week 8 contests. Over the past two seasons, his 79.1 overall grade ranks 16th among the 55 running backs who played at least 500 snaps.
The biggest potential loss for the Saints if Kamara does hold out will be in the passing game. Murray isn't a complete non-factor there, but he is neither the route-runner nor the versatile playmaker Kamara is as a receiver.
Murray's 69.4 receiving grade this past season was a career-high. We could see a situation where offseason addition Ty Montgomery — the former Green Bay Packers' wide-receiver-turned-running-back — takes on more of a pass-catching role in the backfield. The Athletic's Jeff Duncan noted earlier in training camp that both Kamara and Montgomery were working with the receivers in red-zone drills and that "both looked extremely crisp in their routes." He's not Kamara, but he brings a similar, versatile skill set as a receiver for the position.
The Saints would obviously prefer that a healthy Kamara is ready to go for Week 1, but a potential holdout would not cripple their offense. This is too talented an offense — and too talented a roster in general — for that to be the case. Murray as the lead back with contributions from Montgomery will still give them every opportunity to field one of the NFL's best offenses with Drew Brees throwing to Michael Thomas, Emmanuel Sanders and Jared Cook.