Nick Chubb's college career got derailed through injury, and that hiccup impacts how people perceive him even now.
In high school, he was a legitimately freaky athlete who starred in track and field events as disparate as the 100 meters and the shot put. He won the state title in the shot put while at the same time being one of the best sprinters in the state, and he was even a top long jumper.
Chubb was a four-star recruit out of high school, and he showed during his freshman season with the Georgia Bulldogs that he was every bit as good as then-starter Todd Gurley II, racking up 1,547 yards in just eight games while Gurley was suspended. Chubb averaged over 100 rushing yards per game after contact that season.
Subscribe to PFF ELITE today to gain access to PFF's Premium Stats and new Player Grades experience in addition to the 2020 NFL Draft Guide, 2020 Fantasy Rookie Scouting Report, PFF Greenline, all of PFF's premium article content and more.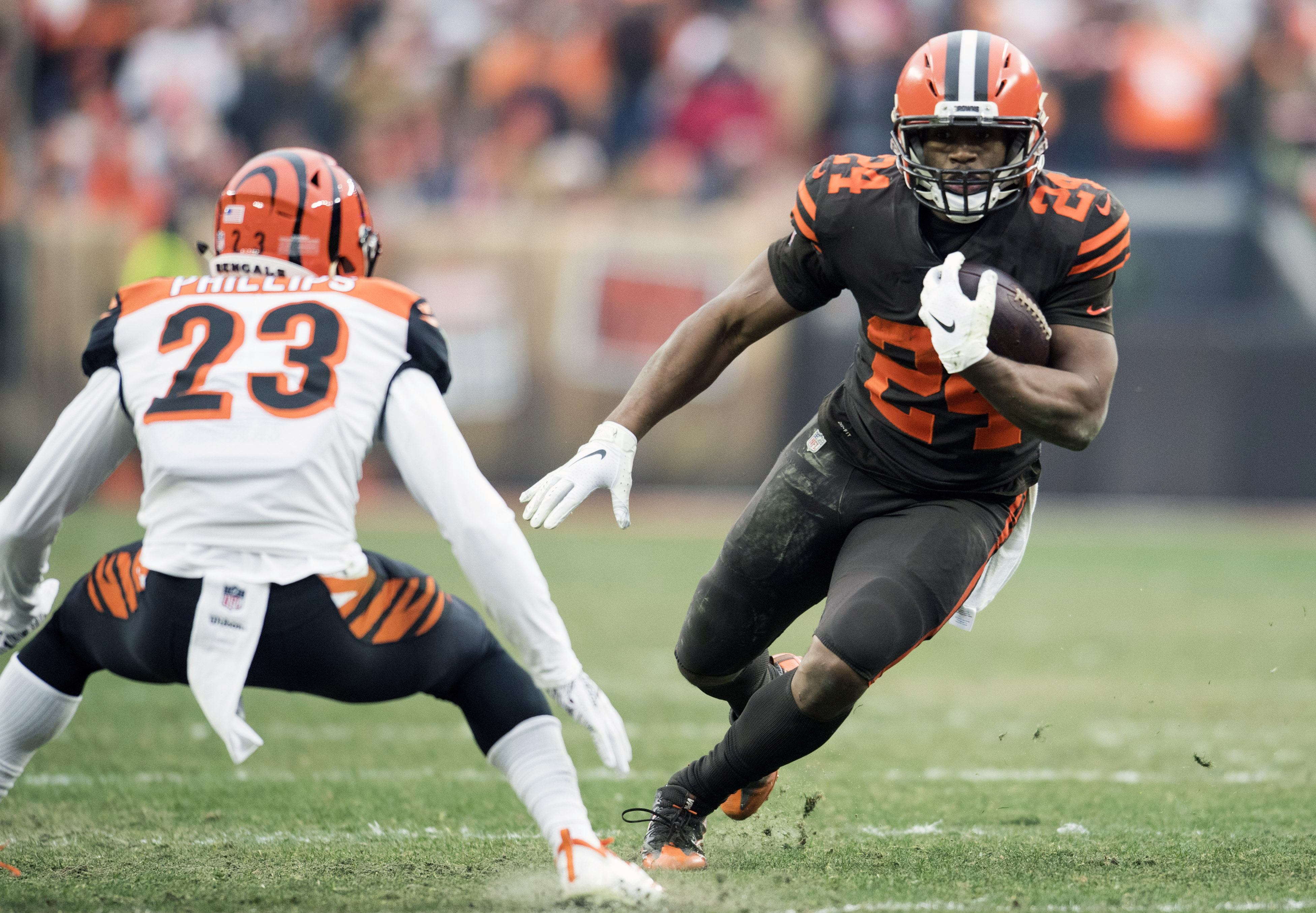 Early in his second year, however, he suffered a gruesome knee injury that not only halted his assault on the record books but also ended his season and threatened his entire career. While he returned in 2016, his junior campaign showed a back who wasn't quite the same player he was before getting injured. His rushing numbers remained solid, but his PFF rushing grade had dropped significantly to just 76.8, and he was visibly less dominant.
During that time, Sony Michel began to emerge and steal the spotlight at Georgia, and it was Michel who ended up being drafted in the first round, even though Chubb was the better player during their final season together.
Being drafted in the second round (pick No. 35 overall) still represents a significant investment and reputation, but Chubb was the fourth back taken in that draft and was completely overlooked when compared to the human hype-magnet that was Saquon Barkley at draft time.
That continued into their rookie seasons when Barkley hit the ground running, leading all rookies with 1,300-plus rushing yards and another 700 receiving, breaking 2,000 all-purpose yards on the year. Chubb didn't quite top 1,000 rushing yards (996), but he averaged more per attempt than Barkley (5.2 versus 5.0) and broke more tackles (44 to 40) despite having 69 fewer attempts. Chubb's PFF grade was even higher than Barkley's (87.4 to 85.2), and his rushing grade was significantly higher (90.2 to 83.8).
As a rookie, Chubb was primarily held back by opportunity. He was on the field for just 370 snaps, 50 fewer than his teammate, Duke Johnson Jr., let alone Barkley's 852 and the league leaders such as Carolina's Christian McCaffrey, who was over 900 snaps in the regular season.
Subscribe to PFF Edge to continue reading
Already have a subscription? Sign In