Buffalo Bills quarterback Josh Allen is still yet to graduate to Football 202, and it already might be time to take him back to school.
The Bills are finally in contention to win the AFC East and get a home playoff game; they even have a slim chance of earning a bye into the second round of the playoffs. So, offensive coordinator Brian Daboll will have to squeeze everything he can out of Allen to keep the Bills from wasting a tremendous defense.
Allen is perhaps no longer a mystery. After two years of starting in the NFL, we have a pretty good idea of what type of quarterback he is going to be. He's not an accurate thrower, just like he wasn't an accurate thrower in college. His big arm allows for some flexibility to get out of bad situations, but overall, it's not a net positive.
Unfortunately, the Buffalo offense has been stagnant with Allen at the helm. The offense sputtered to a 23rd-place finish in terms of EPA per play last season in Allen's first year as a starter with a full offseason under his belt. And while there were improvements, Allen's PFF grade of 63.9 put him 27th among all players with at least 250 dropbacks last season, postseason included.
Daboll tried his best to simplify the offense as much as he could for Allen, and it created a bit of a collegiate feel to the Bills passing attack. Still, there weren't a lot of concepts Allen excelled in, and that was even more apparent when the Bills tried to create some chunks in the intermediate parts of the field.
At this point, it feels as though Allen hasn't passed the Football 101 quiz and the Bills won't let him advance to 202.
One of the few passing-game concepts Allen fared reasonably well in was the "mesh" concept. The main ingredient in this Air Raid staple has two receivers running shallow drag routes from opposite sides of the field. And this often creates a rub that allows one of the receivers to skate free, especially against man coverage.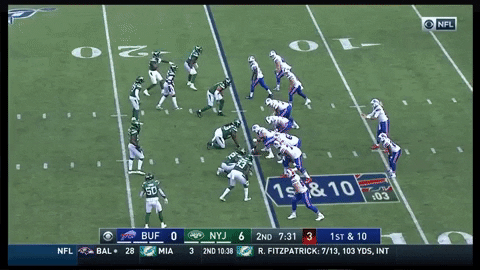 NFL teams have undoubtedly co-opted this play, but it's hard not to think about it as the college staple it is. It's argued that the recent reintroduction of mesh to the NFL was in part because Chip Kelly brought a version of the concept from Oregon to Philadelphia.
Subscribe to PFF Edge to continue reading
Already have a subscription? Sign In