With the regular season less than a month away and there being a lot of uncertainty regarding how teams will use personnel and schemes, I wanted to look into how good coaches have been calling plays on the offensive and defensive side of the ball.
[Editor's Note: PFF's advanced statistics and player grades are powered by AWS machine learning capabilities.]
I've written about this before, and the basic idea is to use play-by-play data and its canonical success metric — expected points added — to set expectations about how a team should perform based on circumstances and the strengths of both their team and their opponent. Coaching prowess is then measured roughly as the difference between what happens on a play and what was expected to happen on a play. Noise is mitigated by clustering plays into types and down-weighing play types that elicit more noise than more-frequent plays.
We've found that evaluating coaching this way on both the offensive and defensive sides of the ball can help projections in both fantasy and betting. Here, we lay out some coaches on the offensive side of the ball who have stood out in the past and how they impact our viewpoint on the 2020 season.
I've waxed poetic about Reid for a long time now, and he's taken the Chiefs above their season win total in each of his seasons as their coach. While he doesn't employ the most unique scheme mathematically, his ability to adapt the West Coast offense to the skillsets of the league's most valuable player has been a sight to behold.
One of the ways that Reid hacks this metric is by pushing the limits of what an acceptable pass/run balance is, especially early in games. In 2019, the Chiefs dropped back to pass on more than three-fourths of their "scripted" plays, which we defined to be the first 15 plays of the game. They were successful on more than half of those passing plays and over 45% of their run plays.
Scripted Rushing/Passing EPA by Team in 2019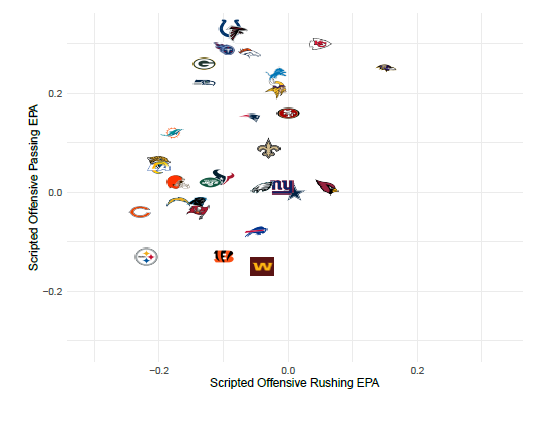 After years of struggling with end-of-game and fourth-down decisions, Reid played those two parts of the game like a fiddle in his first Super Bowl win, and if that is a consistent phenomenon moving forward, an already Hall of Fame career might just be getting going.
The Cardinals did not have a good offense in 2019, but they were leaps and bounds better than what Kingsbury inherited in 2018 — a unit that averaged just 4.3 yards per play. That was four-tenths of a yard worse than Josh Allen's Bills, who finished 31st that season. In 2019, that number jumped to 5.5 yards per play, which was better than the 13-3 Green Bay Packers, the 12-4 New England Patriots and the 10-6 Buffalo Bills. Kingsbury's ability to get by with a poor offensive line, a rookie quarterback and a defense that negatively impacted their game scripts was an impressive feat in Year 1.
Kingsbury gets high marks when looking at "uniqueness" of a scheme, and for good reason; he ran more 10 personnel than anyone else in the league, while only the Saints threw shorter passes on average. Only two quarterbacks had more designed runs than Kyler Murray, but Kingsbury's usage of pre-snap motion was among the league lows — an increase there could benefit the Cardinals even more in 2020.
With Murray hopefully coming into his own in 2020, in addition to the acquisition of wideout DeAndre Hopkins from Houston and tackle Josh Jones through the draft, there is a lot of hope for Arizona in a tough NFC West, and Kingsbury is one of the biggest reasons why.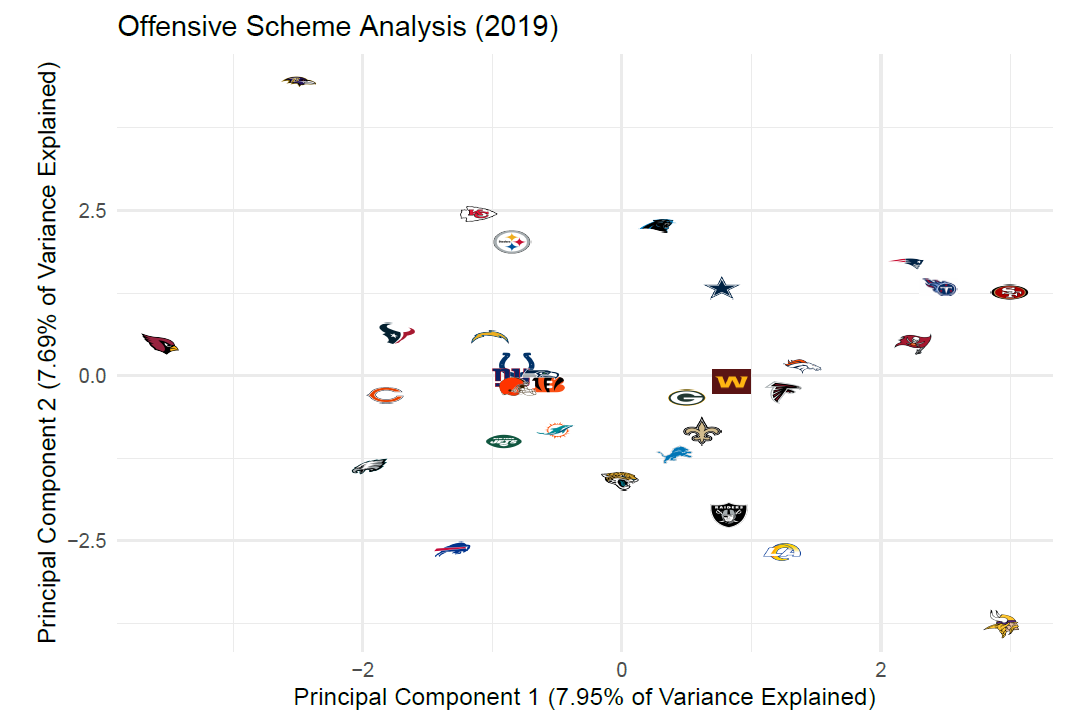 Moore burst onto the scene in Dallas a season ago, leading the Dallas Cowboys to a league-leading 6.5 yards per play (which was 0.3 yards better than the Super Bowl Champion Kansas City Chiefs' mark in 2019). Dak Prescott, after two largely marginal seasons at the helm, earned the second-most wins above replacement of any player in the league during the regular season, despite no other quarterback suffering more from drops. Slot receiver Randall Cobb averaged over 10 yards per target a season ago while also dropping nine passes, for example.
Mike McCarthy has taken over for Jason Garrett, and expectations are high. It says a lot about the young playcaller that McCarthy is going to continue to give Moore control over playcalling. And as that news has solidified this offseason, so has the Cowboys' stature as the NFC East favorite (now at -105 at FanDuel sportsbook).
Geg Roman was the architect of the success of Colin Kaepernick's 49ers, and his second prominent act has been even better than his first. Lamar Jackson's 787 regular-season rushing yards on designed runs were twice as much as any other quarterback last year, and he has statistical support in terms of helping running backs gain yardage on their carries, as well. The Ravens used pre-snap motion on almost three-quarters of their plays in 2019, surpassed only by San Francisco, and their play-action rate was among the league's highest, as well.
The Ravens ranked just 28th in the league in wins above replacement generated by wide receivers, but they were in the top 10 in net yards per pass attempt, mostly by leaning on the ultra-valuable targets inside of the hash marks to tight ends (Ravens tight ends were collectively the most valuable in the league).
There's always going to be questions regarding the sustainability of an offense that relies on the running game for success. Given the Ravens' relatively easy 2020 schedule, we may not get the answers to these questions this year. But if anyone is up to the task, it might be Roman with the aid of Jackson.
As stated above, Shanahan really understands offensive football. He sends players in motion more than any other offensive playcaller. That equates to hell for opposing defenses, which use a league-high average of 7.5 men in the box against the 49ers on early downs. Shanahan uses fullbacks and tight ends better than any other offensive mind with the exception of Roman (the 49ers were second in WAR generated by FB/TE). His penchant for spending too much money on free agent running backs, only to see players like Raheem Mostert and Matt Breida see more success later on, is a flaw — but it's one he consistently overcomes on the field. 
He'll have his work cut out for him in 2020. The 49ers will be without Deebo Samuel for the early stages of the season — and Emmanuel Sanders altogether. They were a more explosive run offense than an efficient one (they were out of the top 10 in success rate on the ground last year), a feature that generally regresses from one year to the next (big plays are less sticky than successful ones). San Francisco's defense is less likely to be a top unit in what is now a tough NFC West. A repeat of 2019's team outcomes (or better) would likely vault him up this list given his limitations at quarterback with Jimmy Garoppolo.
Bets I Like Based on This Information
Cardinals +240 to Make the Playoffs (FanDuel)
Chiefs +650 to win Super Bowl (FanDuel)