Over the past half decade, wide receiver has seemingly evolved into the most difficult position to scout in the entire sport. The NFL's track record at the position ever since the blockbuster 2014 receiver class has been nightmarish, to say the least. Here are all the first-rounders since then:
That hit rate is abysmal. Only one receiver of the bunch put up 1,000 yards last season (Amari Cooper). Six others drafted over that span hit 1,000 yards last season: Tyreek Hill (pick 165), JuJu Smith-Schuster (pick 62), Michael Thomas (pick 47), Kenny Golladay (pick 96), Tyler Boyd (pick 55), and Stefon Diggs (pick 146). Looking at the list of names above and the list of players drafted later that have turned into stars, one can see why scouting the position is so difficult. There's no logical common thread tying either list of receivers together.
That's why when scouting wideouts, I prioritize two things above all others. The first is non-negotiable and it's ball skills. The ability to accurately track a football, position one's self between that ball and the defender, and pluck it out of the air is a necessity in the NFL. There were 18 1,000 yard receivers last season and they had, on average, 25 contested catch opportunities a piece throughout the season with only Amari Cooper having fewer than 15 such chances. Unless you are truly special separating from defenders, you're going to have to be able to make tough catches at the NFL level to be a number one receiver.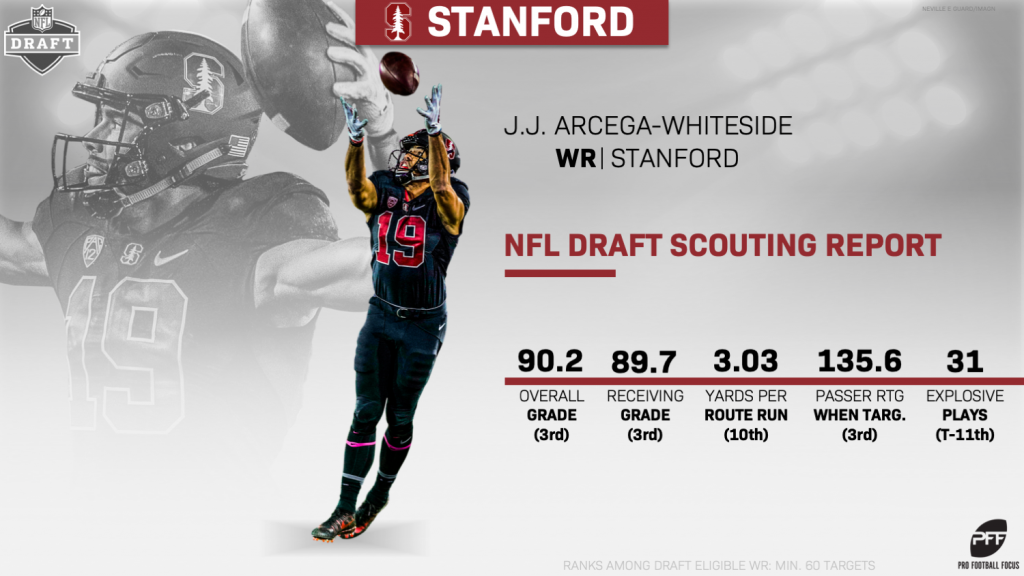 The other biggest trait I prioritize isn't really a specific trait at all. It's what I refer to as a 'trump card'. In essence, something a receiver does at a truly elite level. Whether that's speed, body control, route running, releases, etc., I want to see a special trait that I know will translate to the NFL. This is why Stanford wide receiver J.J. Arcega-Whiteside, with good not great production and question marks about his athleticism/separation is still a top-three wide receiver on PFF's big board. No one in this class possesses a better combination of ball skills and body control than the 6-2, 225-pound wideout.
While that's obviously an opinion, our data vehemently backs up that claim. A lot of guys get tagged as being good at contested catches. Arcega-Whiteside is on his own level though. He led the entire draft class in contested catches with 17 on 29 attempts (58.6 percent). That wasn't a fluke as he also led the draft class in 2017 as well with 18 on 35 attempts (anything over 50 percent is elite). He also drew 14 penalties this past season, the second most in the country, in large part because of how talented he is at tracking and positioning himself down the field.
One need look no further than Arcega-Whiteside's patented 'box out' fades to realize how special he is at the catch point.
Not sure why teams aren't double teaming Arcega-Whiteside when Stanford gets near the goal line. He's gonna catch this every time as long as Costello gets it to him on the correct side of his box out pic.twitter.com/DxRJYGOGm7

— Ryan McCrystal (@Ryan_McCrystal) 30 September 2018
By our count, Arcega-Whiteside hauled in 7-of-11 targets for touchdowns on this exact play in 2018 with multiple other penalties drawn. It's difficult to explain how absurd his efficiency is on that play. It's so incredibly tough to execute with any sort of regularity that basically no one else in college football runs fades like this. If other guys could come close to a 50 percent success rate, you'd be an idiot not to go to it every time around the goalline. It takes a rare combination of skills to execute the way Arcega-Whiteside did this past season, and while I'm not saying he'll be able to run the same play in the NFL, it's indicative of a skillset that will be valuable at the next level.
The counterpoint to all this is obviously that he had so many contested targets because of an inability to separate that will only get exacerbated at the next level. This is a fair criticism, but I think it needs more context. The route tree that Arcega-Whiteside was running at Stanford was not one conducive to gaping windows. Even disregarding the box out fades which were contested by design, Arcega-Whiteside was almost exclusively asked to run downfield 'silo' routes. That's not a route tree that someone without top-end speed is going to consistently separate on.
When Arcega-Whiteside was dialed up double moves: 
Sheesh release from Arcega-Whiteside here. Would love to JJAW in Shanahan's offense. His creativity reminds me of Pettis last year. pic.twitter.com/6iU6WmF0N9

— Tommy Call III (@tommy_III) 5 April 2019
Or underneath/intermediate routes: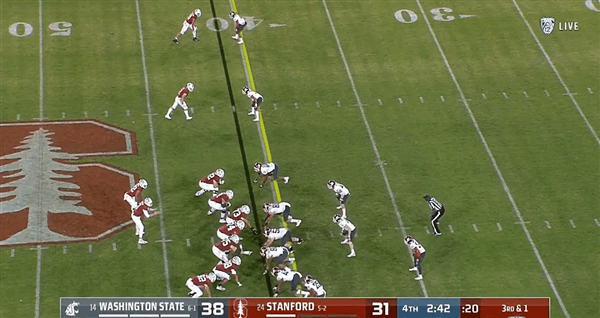 You saw a nuanced route runner who can get himself clean with his release and separate from defenders with his physicality. He just wasn't often given that chance. 857 of his 1,059 yards came on targets 10+ yards downfield. His 14.9 average depth of target was the third deepest among Power-5 receivers with at least 1,000 yards. Arcega-Whiteside wasn't thrown a single screen all season long. The big man wasn't 'schemed' production, he had to work for all of those yards and even still targeting him resulted in a passer rating of 135.6 – the third highest in the country. Arcega-Whiteside has one of the biggest trump cards of any receiver in this class and deserves more first-round hype.