Let's open up this Lamar Jackson debate.
There are varying opinions when it comes to Jackson's skillset, from top quarterback in the class to necessary wide receiver conversion. Of course, the truth is likely somewhere in the middle where Jackson's limitations must be acknowledged, as does his incredible playmaking ability.
The key for Jackson at the next level will be his future offensive coordinator's ability to tap into his playmaking while understanding and mitigating his limitations. The same can be said for any player, but it's even more vital for Jackson who must use his athleticism at the quarterback position, something many teams are reluctant to rely upon with their franchise signal caller.
Let's take a look at some of the positives and negatives when it comes to Jackson's game.
The Good
The first thing that must be acknowledged about Jackson is just how young he is as a passer. In high school, he was simply a playmaker without a playbook, and it takes time to master a college passing attack. He's improved every year as a passer, as evidenced by PFF passing grades that have increased from 56.4 to 79.6 to 82.9. The grades aren't as strong as other passers in this class, but it's an encouraging sign that he's continued to grow.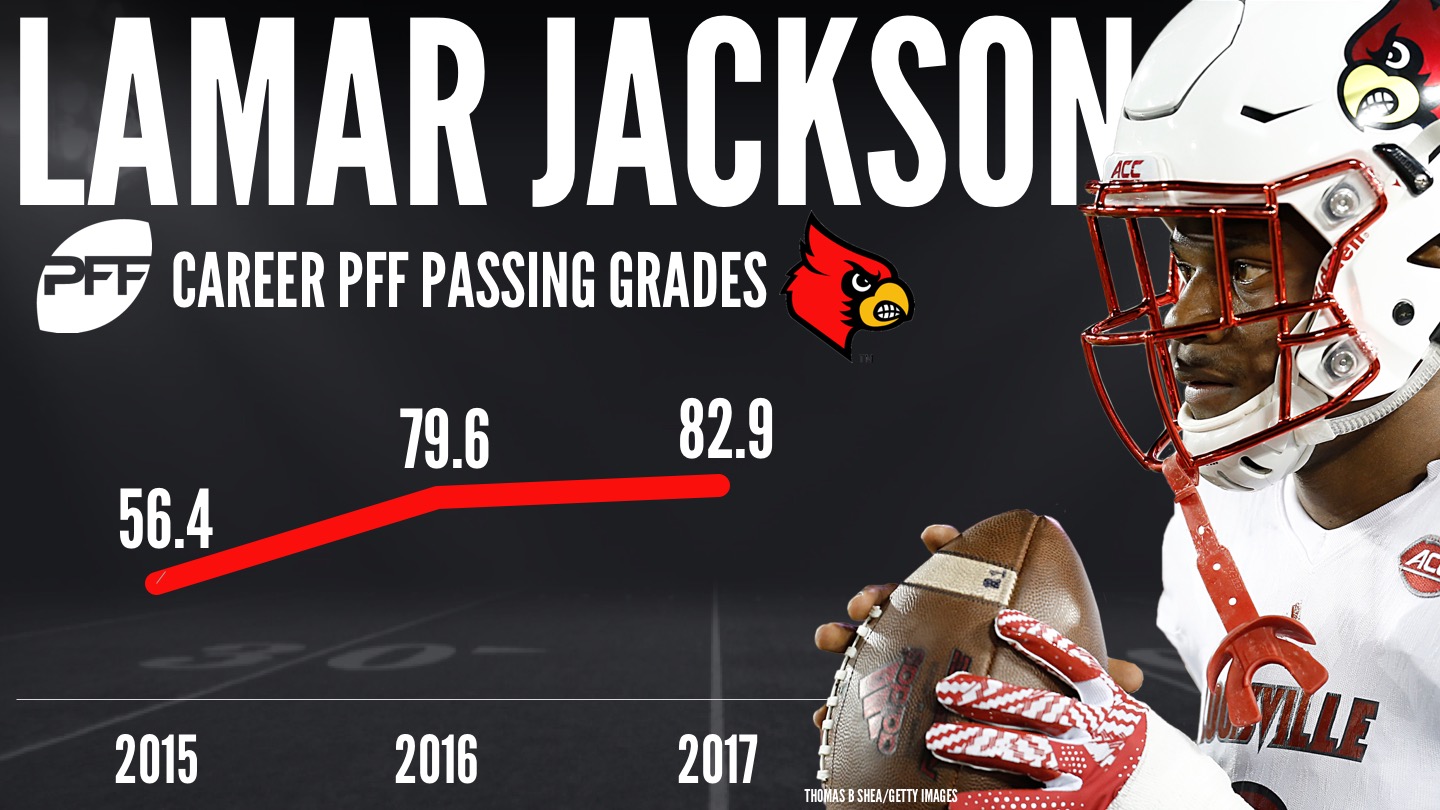 While Jackson may not have a cannon for an arm, he's put plenty of NFL-caliber throws on tape. It's not hard to dig through and find him throwing receivers open through zones in the middle of the field or dropping a deep ball in the bucket down the field. He can also make plays outside the pocket, extending plays or avoiding quick pressure in order to turn a negative play into a positive.
Here he fires a well-placed tight-window throw during a 2016 game.
Lamar Jackson still misses his fair share of throws, but he's making more tight-window throws at the season progresses #BTT pic.twitter.com/6bo8T5XqOX

— Steve Palazzolo (@PFF_Steve) October 23, 2016
Another 2016 game, receiver has a step of separation and Jackson puts the ball right on him.
If Lamar Jackson continues to hit these throws… pic.twitter.com/ikaLF9J8bu

— Steve Palazzolo (@PFF_Steve) October 22, 2016
Against Wake Forest this season, Jackson throws a pinpoint red zone pass that his receiver is unable to haul in.
Lamar then comes back with a pinpoint pass right on his receiver's hands.

Works through multiple reads, excellent tight-window red zone pass.

Lamar misses too many easy ones, but capable of "NFL throws" like this one pic.twitter.com/QMLQWKa2cT

— Steve Palazzolo (@PFF_Steve) March 19, 2018
When Jackson hit the big-time throws, they were a thing of beauty, like this one against Kentucky.
Lamar has the #BigTimeThrows in his bag.

Second read, puts this right on his receiver's hands in the back of the end zone.

This is the kind of throw Mariota made on the regular at Oregon pic.twitter.com/WQADnbKNlw

— Steve Palazzolo (@PFF_Steve) March 21, 2018
Before we discuss Jackson's elite athleticism, make no mistake about his intentions when in the pocket. He's more than willing to go through multiple reads and he has no problem making plays from the pocket. Jackson is not just running around and vacating pockets, though it's certainly a part of his game. In fact, 73 percent of Jackson's rushing yards in college came off designed runs, and only 27 percent came on scrambles.
As for Jackson's running ability, it's elite and it will play at the NFL level. He's posted the top rushing grade in the nation for two straight years and it wouldn't surprise to see him rush for 1,000 yards in a season at some point in his career, though that depends on his usage pattern. He has the speed, cutting ability and vision to be a threat in the designed rushing game, though his future offensive coordinator must find the balance of tapping into that skillset while not exposing Jackson to too many hits. Avoiding hits is often on the quarterback and his feel for knowing when to slide, get out of bounds or accelerate away from trouble, and to this point, Jackson appears to be better at that skill than previous injury-prone runners like Michael Vick and Robert Griffin III. Jackson can create big plays with both his arm and with his legs.
The Bad
Even the staunchest Jackson defenders must be honest about his accuracy. While he has plenty of NFL throws on tape, it's his down-to-down accuracy that presents a problem. The PFF team has charted every throw multiple times, including a pass that focused on actual ball location, receiver separation, throw type and more among NFL and draft-eligible quarterbacks. Among our top six draft-eligible quarterbacks (Baker Mayfield, Sam Darnold, Josh Rosen, Mason Rudolph, Jackson and Josh Allen), Jackson ranked third in "perfect" accuracy throws, but last in overall accuracy. It's a perfect way of saying that the "special" is there, but the consistency is not.
It was particularly alarming that Jackson ranked at the bottom when it comes to ball location on "open" throws and he struggled on throws in the 10-30-yard range. It backs up what the eyes see on tape when cycling through every Jackson throw as it's easy to be wowed by what he can do, but also frustrated by the number of throws he lacks good ball location or outright misses his receivers.
Against Wake Forest last season, Jackson is late to see the open receiver and misses a wide open touchdown.
Wake Forest game really highlights the good and the bad with Lamar Jackson as a passer.

Wide open missed touchdown late in the down pic.twitter.com/ZaM5XUSJxl

— Steve Palazzolo (@PFF_Steve) March 19, 2018
In the same game, Jackson misses another open receiver on a key 4th-and-6.
Another relatively easy miss from Lamar. Gets to the right receiver, but have to put this on him.

4th-and-6 here pic.twitter.com/GtdiafQSdf

— Steve Palazzolo (@PFF_Steve) March 19, 2018
While accuracy is certainly important at the NFL level, there are examples of quarterbacks having success with less than stellar pass location. Carolina Panthers QB Cam Newton makes up for subpar accuracy by making a higher percentage of downfield throws and the Panthers mitigated some of his issues by designed a higher percentage of open throws in the short game last season. 2017 rookie phenom Deshaun Watson created big plays as well as any quarterback in the league last season, ranking first in big-time throw percentage, but his overall accuracy percentage was well below the league average. Like Newton, Watson also added a running component to his game, and the ability to pick up yards on the ground is one way to offset an inaccurate short game.
Another part of Jackson's game that must improve was highlighted when surfing through his turnover-worthy plays last season. While he didn't have a huge percentage of turnover-worthy plays, far too many of them involved his mis-reading an underneath linebacker. It resulted in a number of ugly interceptions and passes that should have led to easy turnovers. Jackson is capable of making outstanding throws in between the numbers, but he must cut back on the poor reads when trying to fire through underneath zone defenders.
Lamar didn't have a high-percentage of turnover-worthy throws, but when he did, they were ugly.

Far too many misreads of underneath coverage pic.twitter.com/JDQYCyEI5v

— Steve Palazzolo (@PFF_Steve) March 21, 2018
Final Word
Using player comparisons is always risky as very few players match up cleanly across the board. However, comparisons are useful when isolating specific parts of a player's game. For this reason, I've used Michael Vick as a comparison for Lamar Jackson for three simple reasons:
1. Both players are capable of making big-time throws at the NFL level, though Vick certainly had a stronger arm than Jackson.
2. Both players are inaccurate on a throw-for-throw basis. Even on completions, Vick and Jackson will put the ball in less than desirable locations and both players miss far too many easy throws.
3. Both players have dynamic athleticism that plays at the NFL level.
Perhaps Vick entered the league at the wrong time, but there was a point in his career in which he was square-pegged into a timing and rhythm west coast offense. At other points in his career, Vick was able to run around freely, even rushing for over 1,000 yards in 2006. If Vick was entering the league today, a good offensive coordinator would tap into his dynamic athleticism and use him as a part of the designed running game while using his arm to create big plays down the field.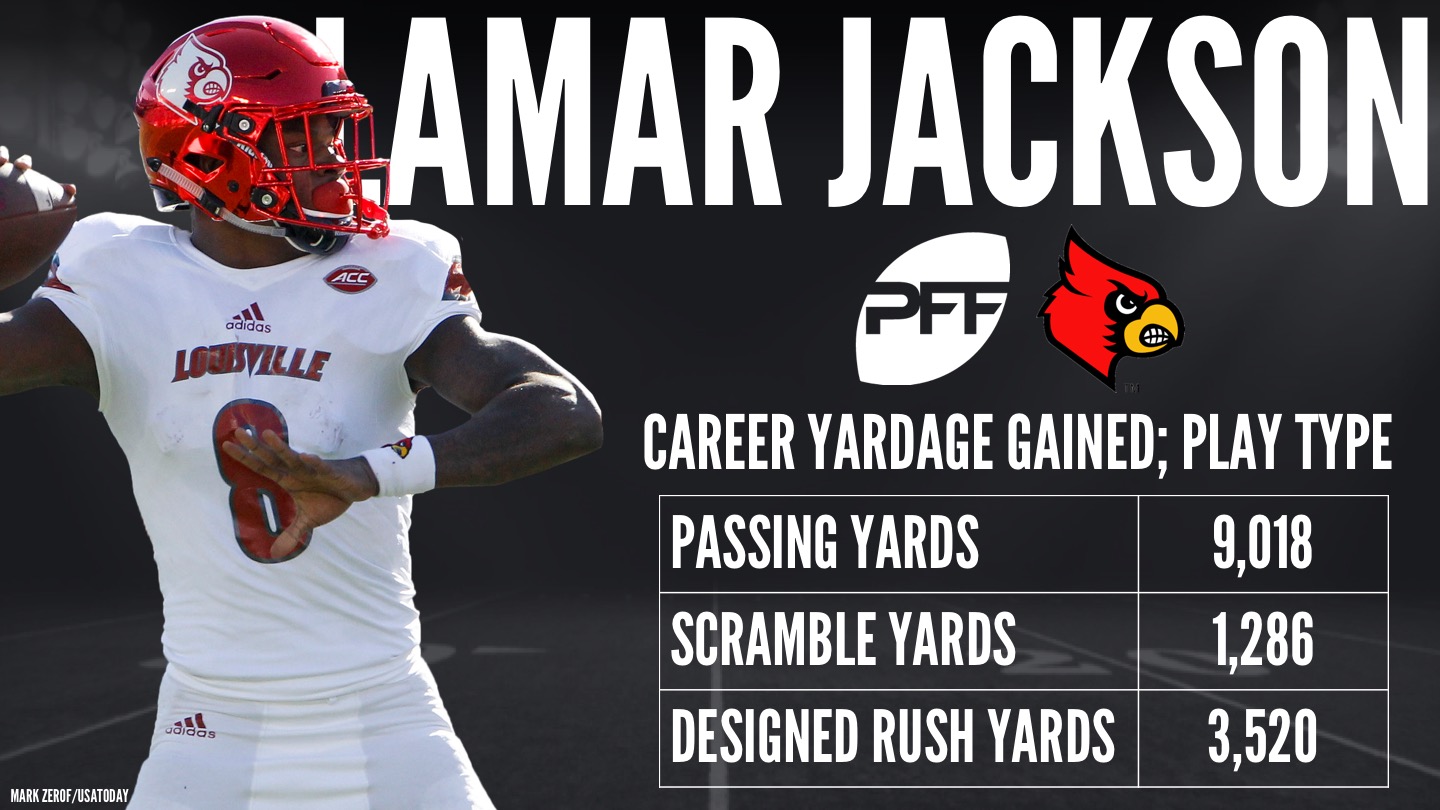 Jackson must be used in the exact same way. He's capable of making NFL-caliber downfield throws from squeezing passes into tight windows to putting the ball on his receivers with touch, and he'll create plenty of big plays with his arm. However, Jackson lacks the down-to-down accuracy to run an efficient passing game, often putting the ball in suboptimal locations for YAC opportunities and downright missing too many open throws. His accuracy can be mitigated by tapping into his rushing ability that will create big plays and help keep the offense on schedule. It will also challenge the defense, making them respect the run game and open up easier throws to offset the accuracy issues, just as Louisville did in their offense where Jackson had the highest percentage of "open" throws among the big-six draft-eligible signal callers.
Like the other top quarterbacks in this draft class, Jackson's strengths and weaknesses must be understood in order to maximize his value. The bottom line is that there is an offense to be built around Jackson's skillset, and it'll take a creative offensive coordinator properly use his skills.
2018 NFL Draft
---
Mock Drafts: 1 (Oct. 31, 2017) | 2 (Jan. 18, 2018) | 3 (March 8, 2018) | 4 (April 3, 2018)
Top 100 Draft Board | Top 10 WRs on the route tree | WR prospect fits | DI prospect fits | Underrated west coast prospects | 5 boom-or-bust prospects
Position ranks: QB | RB | WR | TE | OT | OG/C | EDGE | DI | LB | CB | S
Draft Quarterback Study: Lamar Jackson
Draft Corner Route Trees: Josh Jackson | Minkah Fitzpatrick | Denzel Ward | Donte Jackson | Isaiah Oliver | Carlton Davis 
Predictive Analytics: PFF College grades translation to NFL for pass-rushers | PFF College grades translation to NFL for QBs