We are currently in the midst of NFL training camp, which means it is officially spicy take season. Training camp videos and quotes from players, coaches and media incite endless speculation. These should all be taken with a grain of salt, but we are human, after all. Who doesn't just want to believe "player X" is lighting up practice and is thus poised for a big year? Many such takes have already been fired off throughout training camps this year, and we at PFF are going to buy or sell the most notable ones.
Subscribe to
BUYING
To no one's surprise, the first overall pick is lighting up training camp, with his biggest moment so far being the first drive of Cincinnati's first scrimmage when he went 6-of-6 for 69 yards with a touchdown. Burrow was a star at LSU in 2019 and is looking to seamlessly translate that to the NFL. Cincinnati players and coaches are raving about his accuracy, which is already in the conversation for the best in the NFL.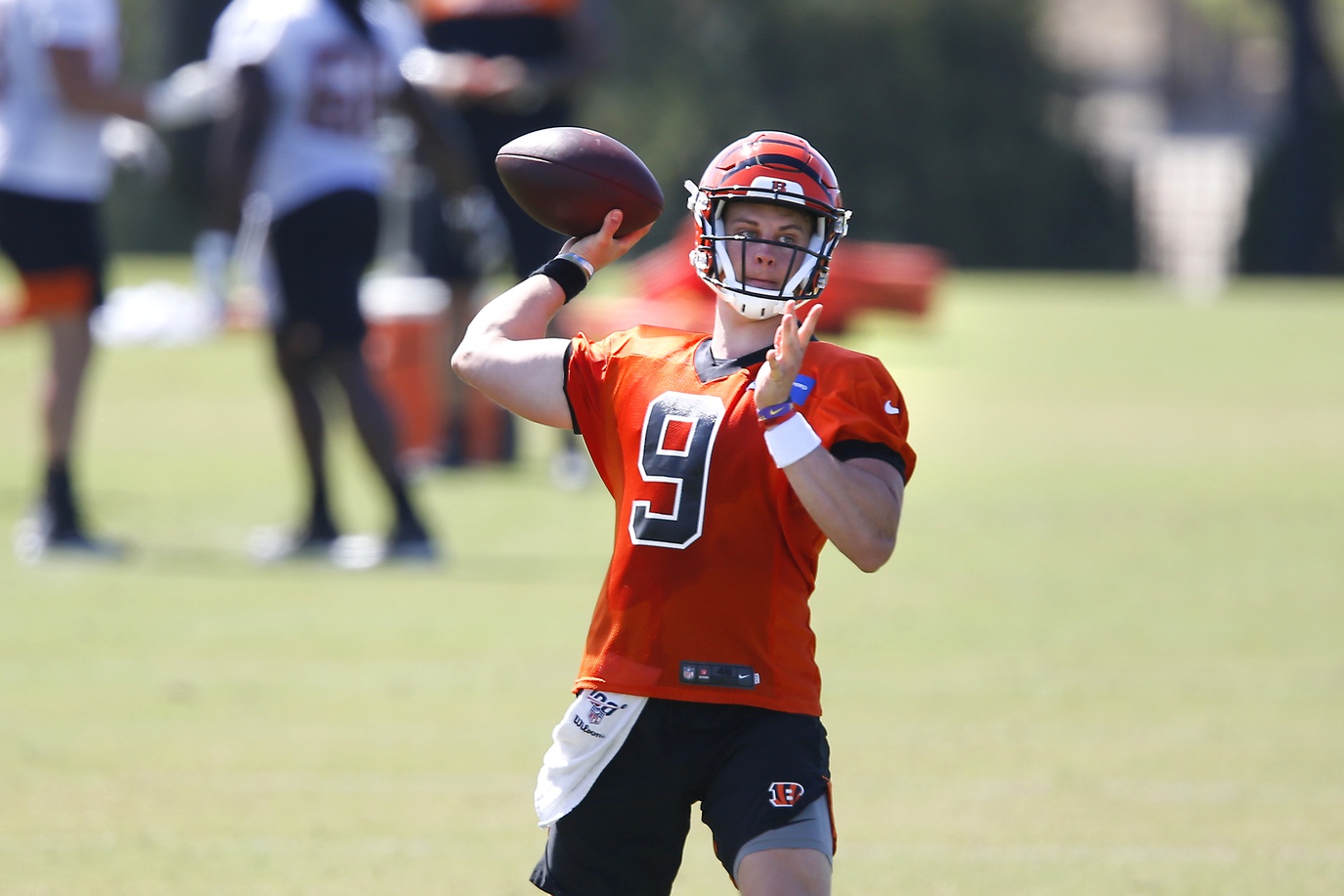 Our analysis concurs. Just over 70% of Burrow's throws beyond the line of scrimmage last year were deemed accurate, according to our ball-charting process — that was over 4 percentage points higher than any other quarterback in college football. I wouldn't expect elite performances from Burrow in the first few weeks of the year, considering the impacted offseason/preseason, but him finishing the season as a top-10 graded quarterback is a strong possibility.
The miscommunication between Mayfield and Beckham in 2019 was quite apparent. Beckham's 27 targets that resulted in a quarterback-fault incompletion last year tied for the most in the NFL. Both Mayfield and Beckham had their fair share of issues, leading to down years for each; Beckham saw his 90.0 PFF grade in 2018 dip to a career-low 68.7 in 2019, while Mayfield's 83.2 PFF grade as a rookie dropped to 73.7 in Year 2.
While it's fair to place some blame on the old regime, Mayfield made some uncharacteristic mistakes — he abandoned clean pockets, had poor overall pocket presence and forced far too many throws to the wide receiver duo of Beckham and Jarvis Landry. Beckham, on the other hand, played through a sports hernia. 
"It's sure as hell going to be a lot better than last year. We're just on the same page, things we talked about, there was a lot going on within the building last year. We're not going to get into that, but we're both in a better state." – Baker Mayfield, via NFL.com
Mayfield himself doubled down on the QB-WR connection improving, and we believe that to be true. He has performed at a top-tier level in college — when he posted grade ranks of second, first and first — and in the NFL, when he was the 11th-highest graded quarterback as a rookie. With Kevin Stefanski leading the way, we believe Mayfield and OBJ can get back to their top-tier status in 2020.
Here we go again. 
After battling a slew of injuries over the past few years that have limited him to only 67 snaps since Week 5 of the 2016 season, Verrett is healthy and reportedly impressing at 'Niners camp. If he stays healthy, I'm all in on him starting opposite of Sherman in the loaded San Francisco defense.
Verrett was limited to only 156 coverage snaps in his 2014 rookie campaign due to injury but managed to produce a solid 82.5 coverage grade. In his only (mostly) healthy season in 2015, Verrett produced the highest PFF coverage grade (90.9) among cornerbacks. Should you expect him to be healthy? No. Should you expect him to play that well again if healthy? No. But the risk-reward with starting Verrett is far higher than starting Emmanuel Moseley and Ahkello Witherspoon.
Metcalf proved a lot of his doubters wrong in his rookie campaign, as he had multiple big-time performances and produced a respectable 73.2 receiving grade. That mark surpassed the 75th percentile among all rookie wide receivers since 2006. Reports out of Seahawks camp are that Metcalf looks even better entering Year 2, with new addition Quinton Dunbar saying he "looks like Julio out there."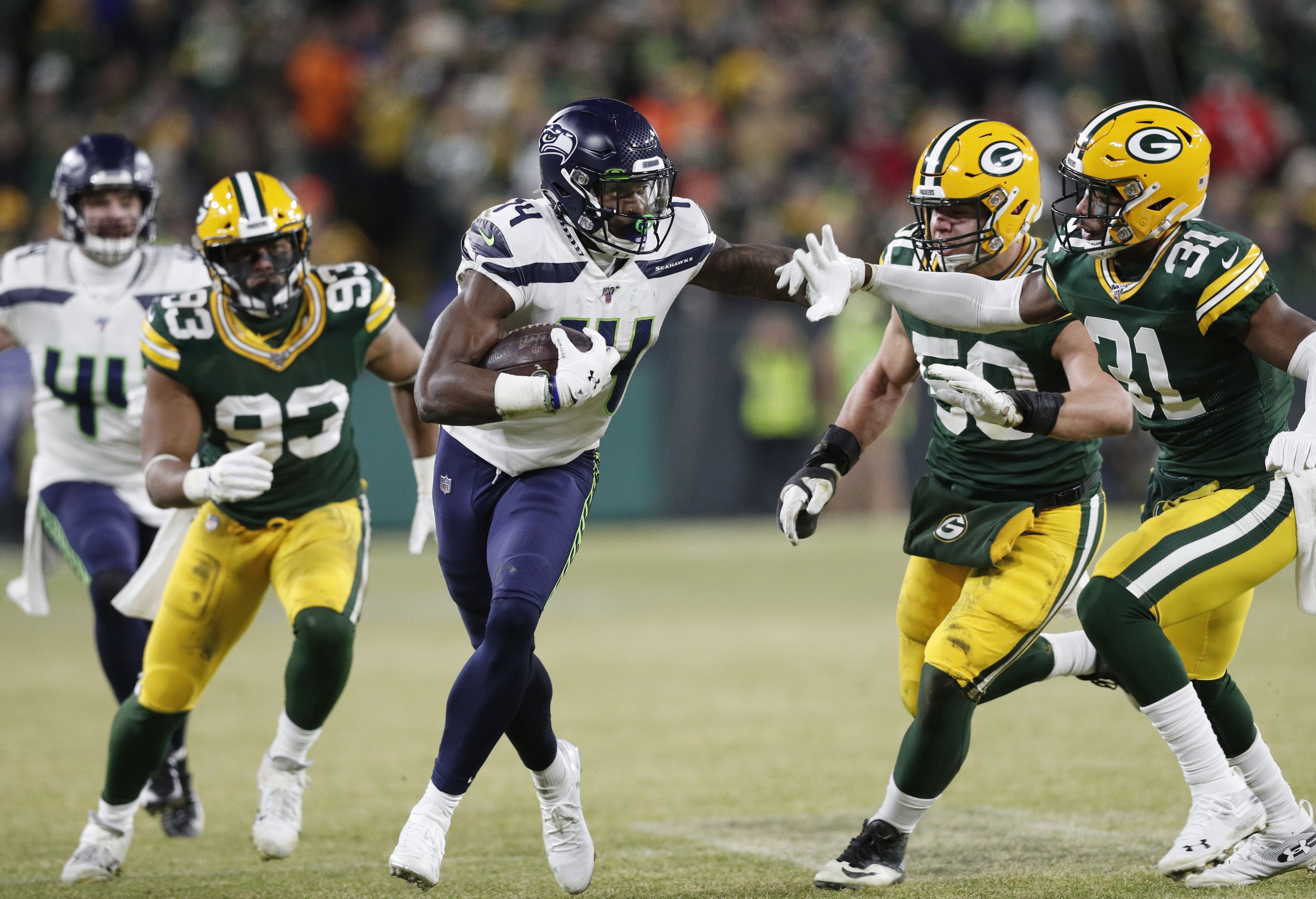 While I wouldn't go as far as comparing him to the best wide receiver in the NFL, it's fair to expect big things from Metcalf in Year 2 with one of the NFL's best quarterbacks throwing to him. Among rookie wide receivers since 2017, Metcalf's grade on contested targets is the best we have seen, as are his 18 contested catches. He's physical at the catch point and is a vertical weapon with his speed, which serves Russell Wilson well, considering he has the best deep ball in the league.
Of all the takes made thus far into training camp, this one is, perhaps, the least surprising. I was pounding the table in the months leading up to free agency that Dennard would end up as an underrated signing.
He was exceptional in the slot for the Bengals over the past few seasons. Since 2017, the new Falcon has produced the 12th-best slot coverage grade in the NFL among 42 qualifiers. As you may have seen on our free agent rankings page, in two of those three seasons Dennard was among the 30 most valuable cornerbacks in the entire NFL, according to PFF WAR. 
And the Falcons signed him to just a one-year, $910,000 contract. Slot cornerback is one of the most valuable positions on the field, and Atlanta now has one of the most underrated players at that role in the entire league.
Last year's number one overall pick had several Rookie of the Year moments throughout the 2019 season, but he also had games in which he looked like a typical rookie. Murray got off to a bit of a slow start but picked up steam from Weeks 5 through 11. In that span, he posted a 78.8 PFF grade. However, he returned from his bye in Week 12 with two of the lowest-graded games from a quarterback all year long (sub-30.0 PFF grades in each). 
While Murray's consistency was that of a rookie, his deep ball that of a polished veteran. On throws of 20-plus yards, he produced the fifth-best passing grade in 2019 — not to mention, it was the fifth-best mark we have ever recorded by a rookie quarterback since 2006. He displayed the touch we all fell in love with when he was at Oklahoma and made numerous throws downfield with precision.
Don't expect MVP-type play from Murray in 2020, but he is poised for a big Year 2 with more consistency. Keep in mind, rookie year performance isn't a strong predictor of long-term play for quarterbacks.
Dallas Cowboys: Mike McCarthy and Kellen Moore might have the best offense in the NFL
It seems to be a three-team debate in regard to which team owns the NFL's best offense: Baltimore, Dallas and Kansas City. That trio made up the top three in expected points added per play in 2019, with the Ravens and Cowboys being the only two that were top three in both EPA per pass and rush.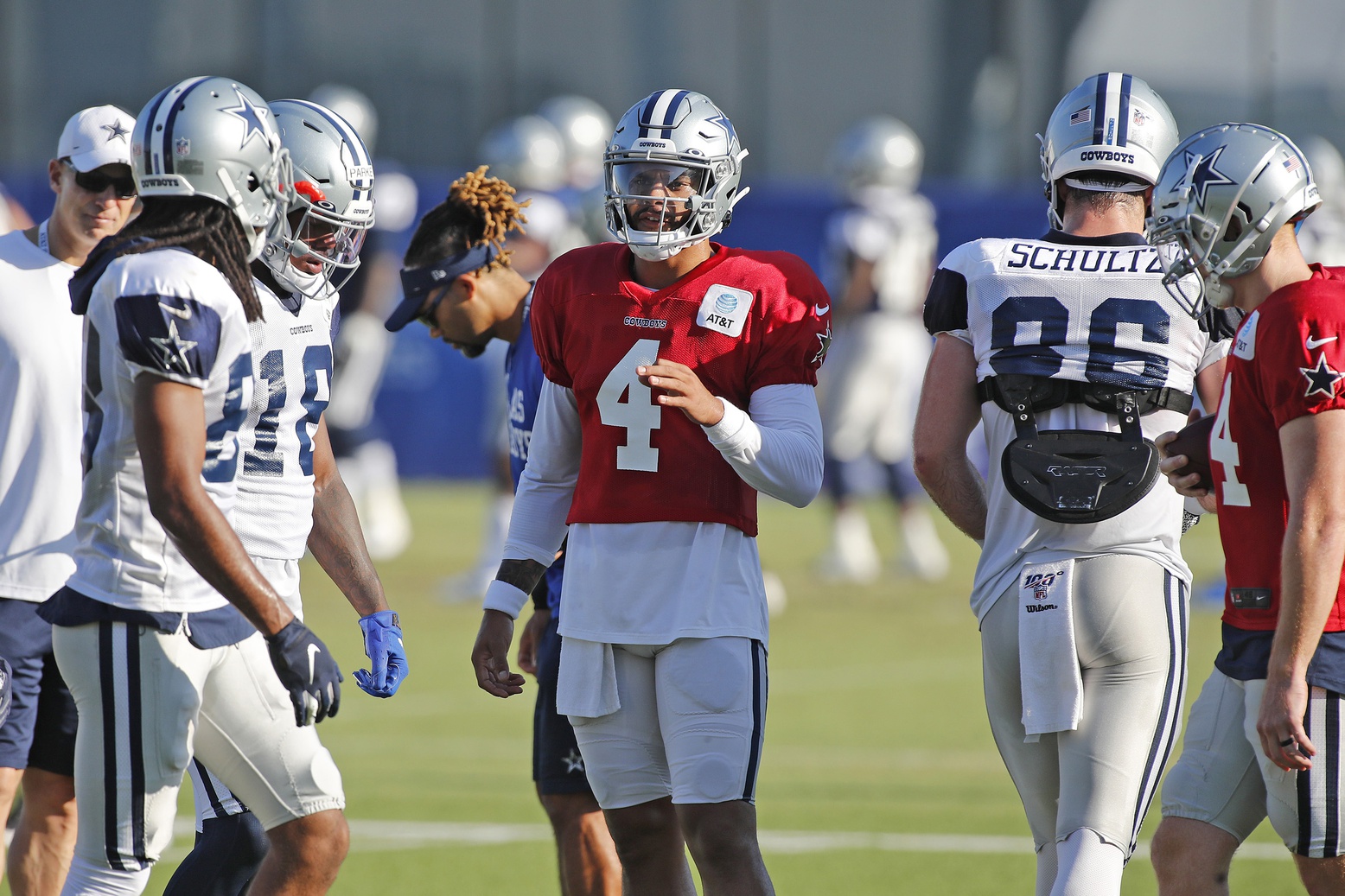 As long as Lamar Jackson and Patrick Mahomes stay healthy, each of their offenses will be considered one of the best in the NFL. The Cowboys, however, never got their fair share of credit for their offensive success in 2019. They're getting it now and have a solid chance to be the NFL's top offense in 2020.
Dallas made the right move in hiring Mike McCarthy and retaining Kellen Moore as the playcaller, and the team was somehow handed wide receiver CeeDee Lamb at the 17th overall in the 2020 NFL Draft, which gives them the best receiving unit in the NFL.
Lamb is electric with the ball in his hands and creates separation with ease. In his final year at Oklahoma, Lamb broke a ridiculous 26 tackles and averaged 11 yards after the catch. He joins Amari Cooper, one of the best route-runners in the entire NFL, and  Michael Gallup, who is fresh off a second-year breakout campaign. Those two ranked ninth and 32nd, respectively, in the NFL in receiving grade. Now, Dallas has one of the most advanced wide receiver prospects we have ever seen in Lamb. Pair that with one of the top playcallers in the league who helped Dak Prescott take home the honor of being the second-most valuable quarterback in the NFL last year, according to PFF WAR.
The Ravens and Chiefs get all the attention — and rightfully so — but don't count out the Cowboys for having the top offense in 2020.
SELLING
It's not that we think O.J. Howard doesn't have an NFL future — rather, we are selling this take due to the abundance of talented receivers on Tampa Bay's roster.
Howard is fresh off a disappointing 2019 campaign after an impressive sophomore breakout year in 2018, when he produced a 90.0 receiving grade. He didn't sustain that elite play in 2019, as that mark fell to 58.8. One reason for the decline was his usage in Bruce Arians' offense. Howard ran most of his routes lined up at receiver in 2018 (over 64%), but Arians, who has been notorious for not featuring tight ends, had that rate of snaps at receiver drop nearly 20 percentage points in 2019.
Adding Rob Gronkowski, the best tight end we have ever seen in the PFF era,  and rookie wide receiver Tyler Johnson, who was one of the biggest steals in the entire draft — in addition to the emergence of second-year slot receiver Scotty Miller — means targets are running out for Howard. He's capable of being a high-quality player in the NFL, but it doesn't look like it will be in Tampa Bay for at least this year due to the slew of receivers at Tom Brady's disposal.
The Raiders made multiple plays this offseason to try and repair their lowly receiving unit. They took speedster Henry Ruggs III with the first of their two first-round picks, and we believe he'll be an immediate-impact rookie right out of the gate. As training camp has progressed, though, players, coaches and media have said he won't be the only rookie to bolster the unit right away.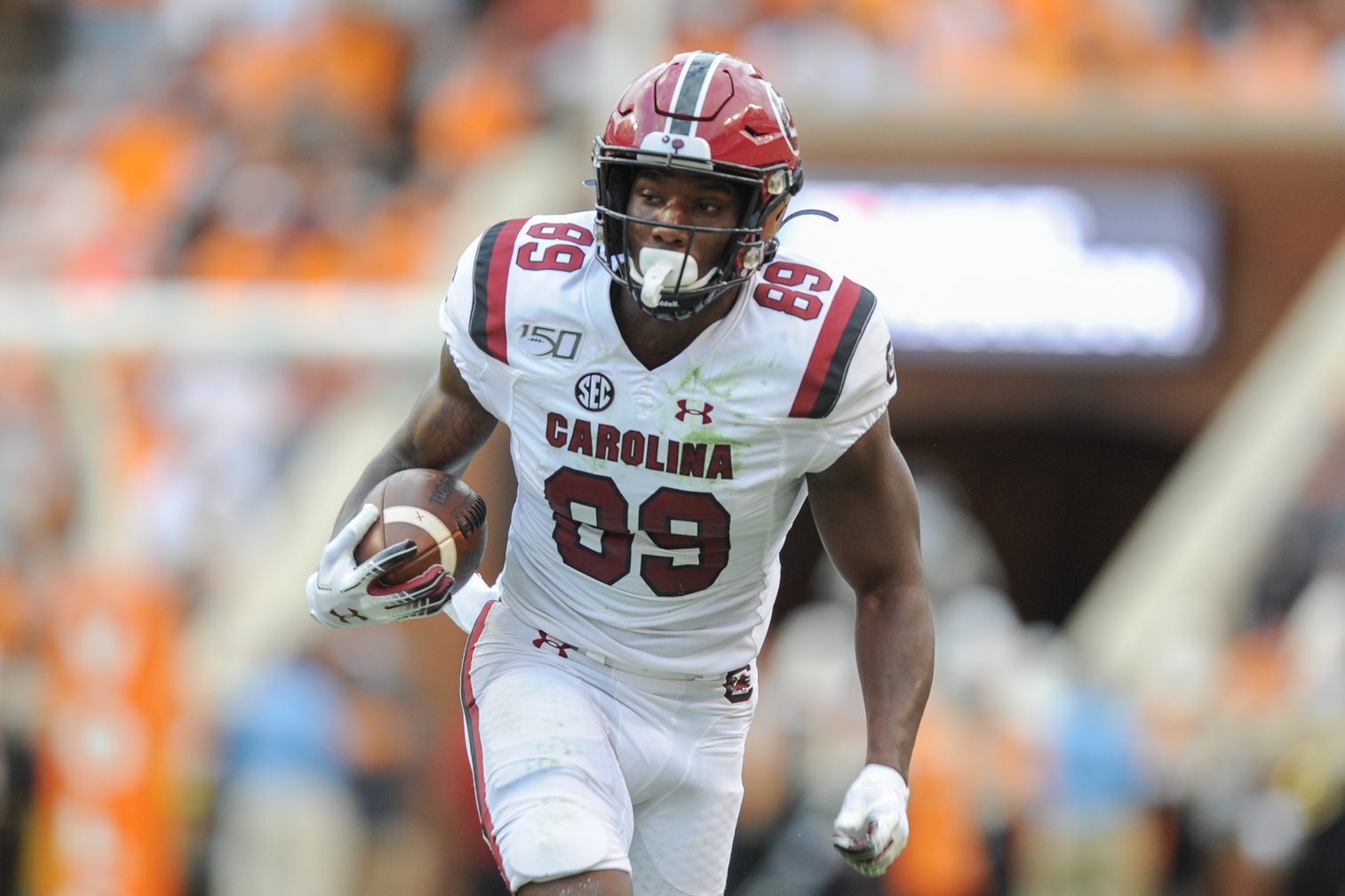 Third-round pick Bryan Edwards is receiving high praise from various people within the Raiders' organization, one of whom was quarterback Derek Carr:
"He [Edwards] reminds me of that guy that I can trust, that guy I can just throw that ball up to and know he's going to get it or nobody is." – Carr via NFL.com
We, however, feel it's time to pump the breaks on Edwards being deemed a likely standout rookie in 2020. Edwards has the size to win contested balls downfield but hasn't shown the ability to consistently separate. As PFF's lead draft analyst Mike Renner said in the article linked above, if Edwards got open at the intermediate or deep levels, it was because of his physicality as opposed to shaking defenders at the top of his route. And as we all know, the NFL is far more physical than college football. 
Edwards was a featured piece in all four years of his college career and managed to produce a solid 79.1 receiving grade in 2019 despite poor quarterback play. We aren't saying Edwards won't develop into a decent NFL receiver down the road, but his lack of separation ability gives us reason to believe he won't live up to the hype in Year 1.
New England Patriots: There's still a quarterback competition
This has been reported both ways — some have said it's Newton's to lose at this point, while others — and even Newton himself — say it's an open competition. In our eyes, it would have to take an injury to the 2015 NFL MVP for him to not secure the starting job.
While Newton's MVP 2015 season should be viewed as an outlier, he is more than capable of performing at an above-average level when healthy. After producing the fifth-best PFF grade at the position in that MVP campaign, Newton battled a plethora of injuries. His performance, and subsequently his grade, suffered. However, we did get a glimpse of a healthy Cam in the first half of the 2018 season, and he produced the 11th-best passing grade in that stretch through Week 9.
As for Jarrett Stidham, there are no indicators to show that he can produce at an average level. His college-to-pro projections are far from favorable, and he's attempted just four passes in his career — with one being a pick-six. This is no quarterback competition — it's Newton's job.
Pittsburgh's quarterback situation last year could not have been much worse. After Ben Roethlisberger went down with a season-ending injury, we saw Mason Rudolph and Duck Hodges take reps under center for the Steelers. They'd go on to be the third-lowest and lowest-graded passers, respectively, in the NFL.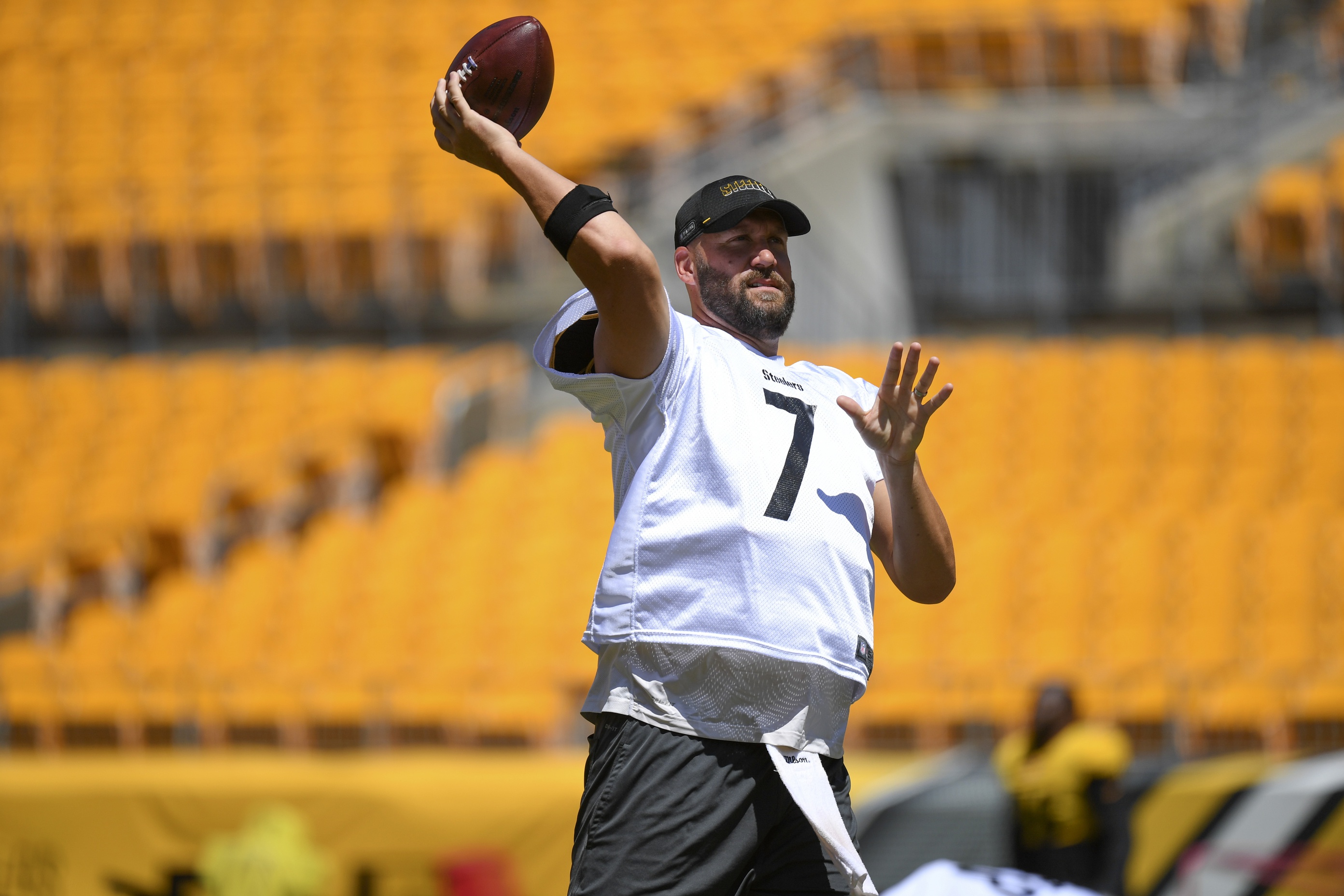 Despite the offense's woes, the Steelers made a push for the playoffs behind a stout defense but ultimately fell short, owning an 8-8 record. Now with Big Ben back from injury and reportedly lighting up training camp while looking slim as ever, many are suddenly pegging the Steelers as possible contenders. However, the 38-year-old is far from prime form.
After being the NFL's third-highest-graded quarterback in 2017, Roethlisberger showed signs of decline in 2018. His PFF grade dropped nearly 10 points down to the position average, but the biggest reason for concern was his poor accuracy.
When throwing at or beyond the sticks in 2018, Roethlisberger produced the NFL's fourth-worst rate of uncatchable passes, ranking just above Josh Allen, Mitchell Trubisky and Josh Rosen. Then, in the small sample we saw from him in 2019, Big Ben looked even worse as he stumbled to just a 49.0 PFF grade.
And while Roethlisberger has said he feels fine after successful elbow surgery, it's still a long-term concern and will hinder play more than help it. The Steelers are bound for improvement with Roethlisberger under center in 2020, but expecting him to be back in his prime form is lofty.
This take is, perhaps, the spiciest of them all. While we hope Rosen's NFL career does take a turn for the better, the odds are low, given the current quarterback situation and his performance thus far in the league. After starting most of his rookie campaign for the Cardinals, the 10th overall pick in 2018 was traded to Miami, with which he'd appear in only five games for in 2019. Despite not seeing the field for most of the 2019 season, Rosen still has his name atop a negative stat for quarterback play:
Most games with a passing grade below 60.0 since 2018:

???? Mitch Trubisky – 14
???? Case Keenum – 12
???? Josh Allen – 12
???? Josh Rosen – 12
???? Jameis Winston – 11
???? Sam Darnold – 10 pic.twitter.com/Ng5t2nl2Vm

— PFF (@PFF) August 20, 2020
In all, Rosen has produced just a 46.2 passing grade for his career, which is the lowest mark among quarterbacks in that span and tied for the fourth-worst among quarterbacks in the first two seasons of their NFL careers since 2006. Again, I hope he proves me wrong, but the news that he "might be turning the corner" is a hard sell until we see him look decent in a regular-season matchup — and that's not happening in Miami.