PFF's quarterback rankings are based on grading every player on every play and tapping into multiple years of data to project future performance. We go beyond just last season's performances, and the grading works to isolate each quarterback's performance from that of his supporting cast, making for more effective projections.
In a given year, quarterback performance is somewhat dependent on the pieces around him, and that's why you see traditional statistics fluctuate quite a bit for the middle class of signal-callers from year to year. This concept may be truer than ever, as a large chunk of quarterbacks land in "Tier 3" here, the tier that houses those who are not perennial top-10-caliber quarterbacks but are certainly capable of top-10 production in a given year.
Here are the PFF QB rankings heading into the 2020 season.
Subscribe to PFF's EDGE or ELITE subscriptions to get access to the following tools, charts, etc. 
– All Premium Article Content
– Fantasy Football Rankings & Projections
– Fantasy Football Draft Guide, Cheat Sheets & Advanced Stats
– Fantasy Football Mock Draft Tool (DraftMaster)
– Fantasy Football Strength of Schedule Matrix
– NFL Player Grades
– NFL Premium Stats
Tier 1
High-end quarterbacks who can carry a team. They have high percentages of positively graded plays and limit negatively graded throws, and they're most likely to achieve high-end passing production no matter their supporting cast in a given year.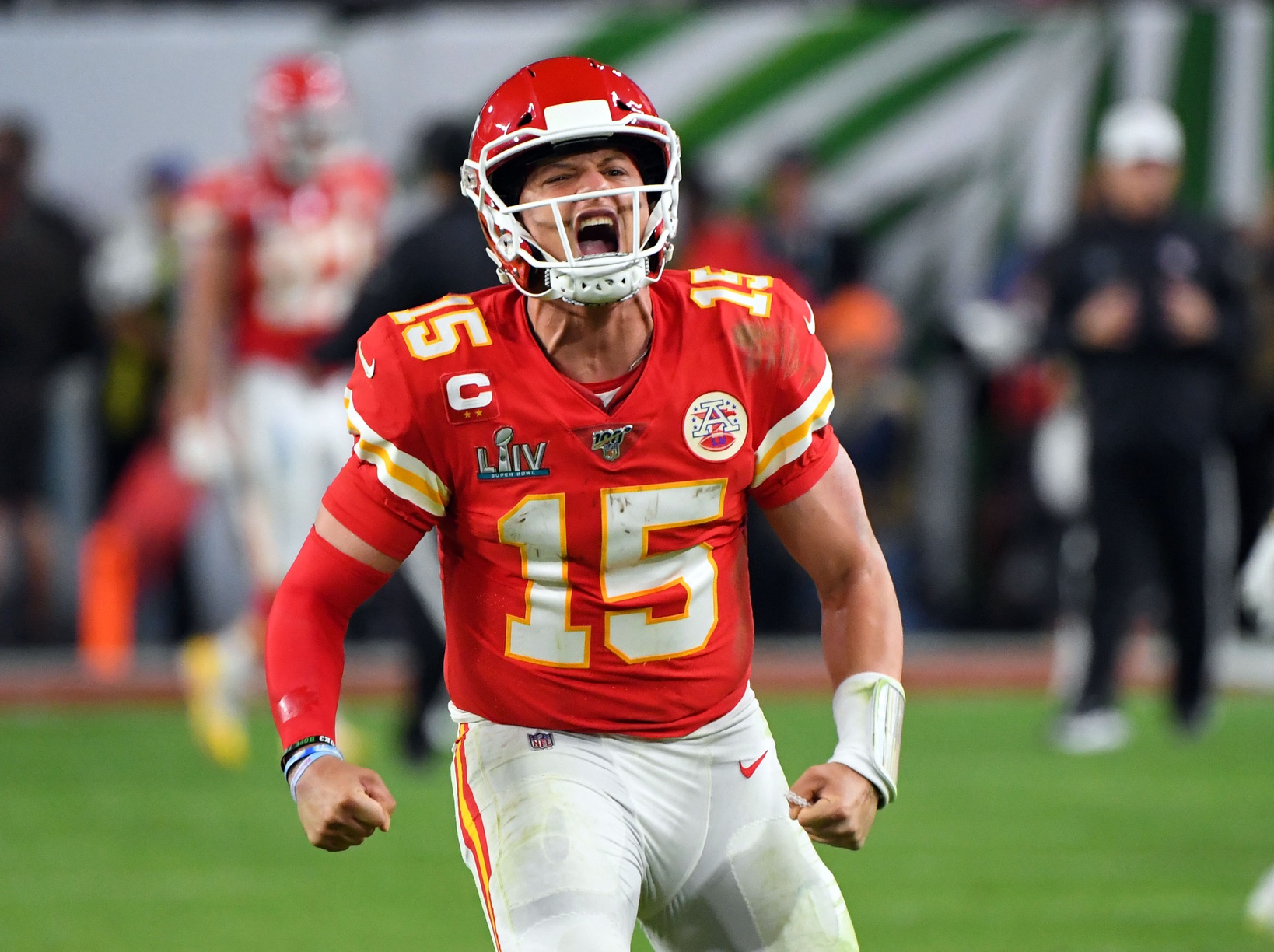 Here's what I said about Patrick Mahomes prior to the Super Bowl last season:
Mahomes battled injuries from the get-go as he fought through an ankle injury starting in Week 1 and eventually missed some time with a knee injury. While the Chiefs' offense is still one of the most explosive units in the league, Mahomes took a slight step back from his 2018 MVP campaign. As tantalizing as Mahomes' highlight reel is, perhaps most impressive in 2018 was that he rarely missed throws. In 2019, though, he saw a four-percentage point increase in negatively graded throws. Part of the regression may be chalked up to injuries, but regardless, Mahomes' talent and the Chiefs' system make up a dangerous offense. He is still more than capable of taking over games and moving the ball down the field in a hurry.
Mahomes is off to an incredible start to his career, backing up his 2018 MVP campaign with a Super Bowl win. He was lights-out in the first two rounds of the playoffs before overcoming a poor three quarters in the Super Bowl to lead a late comeback for the Chiefs. It's Mahomes' fearlessness and quick-strike ability that make him so dangerous, and the playmakers around him allow the Chiefs to take full advantage of his downfield passing ability. With a career's worth of highlights but also few mistakes for such an aggressive style, Mahomes has taken the mantle as the top signal-caller in the league.
Here's what I said about Russell Wilson after the 2019 season:
The highest-graded passer with at least 300 attempts, Wilson had a spectacular season attacking down the field with his usual array of big-time throws while limiting turnover-worthy plays at the best rate of his career. As the season progressed, Wilson's raw stats took a hit, but it was more due to what was happening around him rather than his throw-for-throw performance. He still takes too many sacks, including 14 that we directly charged his way, but Wilson is the catalyst to the Seattle offense, despite their desire to build a run-first attack. Throughout his career, Wilson has had many games in which he looked like a top-three quarterback but also a bevy of outings in which he was way off his game. In 2019, he posted the highest grade of his career, and for the first time, posted just one game grade that came in under 60.0.
Until last season, Wilson had a handful of games in which he looked like one of the league's best, and also a handful in which he was completely off, but the 2019 season saw him eliminate those poor outings en route to the best grade of his career. Wilson has been a top-eight quarterback since entering the league in 2012, annually ranking among the league's best, but he's taken his game to the next level over the past two years.
The question now is if the Seahawks are willing to put more on his plate rather than leaning on a run-first attack. While Wilson certainly benefits from heavy play action and downfield shots that play to his strengths as, perhaps, the best deep-ball thrower in the game, Seattle's offense could reap the benefits of having the ball in their best playmaker's hands more often. 
Tier 2
Quarterbacks who are more likely to elevate teammates and achieve top-end production, even with lesser supporting casts. Tier 2 quarterbacks have a good chance to rank among the NFL's top-eight quarterbacks — or even finish as the NFL's top signal-caller — in any given year.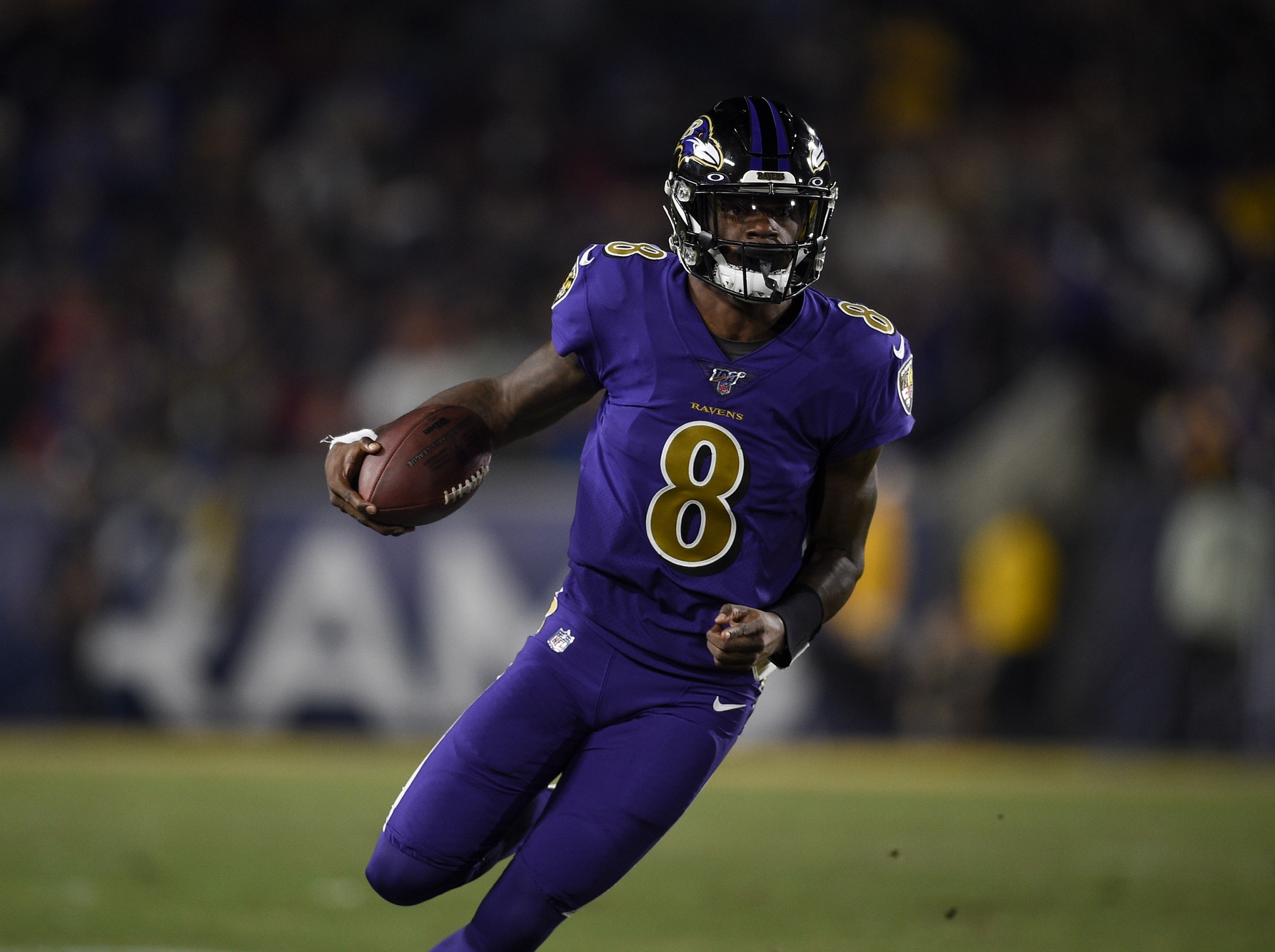 Here's what I said about Lamar Jackson after the 2019 season:
Outside of Ryan Tannehill, Jackson made the league's biggest stride as a passer, as he improved from a second-to-last ranking in catchable pass rate to 15th. The Ravens have built a perfect system to take advantage of Jackson's unique skill set, and he subsequently led the league with 776 yards on designed runs and another 430 on scrambles. But it was Jackson's improvement as a passer that turned the offense into the league's best during the regular season. The threat Jackson presents as a runner creates better pass-blocking situations while also putting defenders' heads on a swivel when trying to find the ball in the designed run game. It all adds up to an efficient run game and more open throws in the passing game. Jackson also cut down on his turnover-worthy plays, which is even more impressive given how often he handles the ball.
It may be difficult for Jackson to duplicate his incredible statistics from a year ago, as a touchdown rate of 9.0% is not sustainable, but he'll still be one of the league's most dangerous quarterbacks. His improved accuracy puts defenses in a bind, and the next step in his development will be finding success with passing in come-from-behind situations where conditions are less favorable. Jackson's rushing ability gives him a high floor in any game, as he can make up for bad days as a passer with chunk plays on the ground, and that gives the Baltimore offense a strong baseline from which to work.
Here's what I said about Deshaun Watson after the 2019 season:
Watson continues to light up the highlight reels, but the week-to-week consistency still needs work. For the second straight year, Watson had six games that earned an 80.0-plus grade, and those are the games in which he looks like an MVP candidate capable of carrying a team. However, he also had three games that graded under 50.0, and those games usually involve poor ball security and taking too many sacks. Watson ranked among the league's best in big-time throws once again, but to take the next step as a true MVP candidate, he must cut down on the faults that have plagued him to low game grades in the past. It's a difficult balance, as Watson's high-risk, high-reward style pays off more often than not, but it's still leading to too many games in which his poor play is too much for Houston to overcome.
Watson has clearly exhibited the high-end play that gives the Texans something to build around. Now, it's just a matter of avoiding the disastrous games that have plagued him early in his career. Watson creates big plays inside and outside the pocket, but he'll often try to do too much in the pocket, leading to too many sacks and turnover-worthy plays. The next step for Watson is cutting down on those lulls and taking more "easy" throws to keep the offense on schedule, all while maintaining the highlight-reel plays that will make him a perennial MVP candidate.
Here's what I said about Matt Ryan at the end of last season:
Ryan appeared primed for a big year with a favorable schedule and strong group of playmakers, but his offensive line struggled in pass protection, and he faced his highest pressure rate since 2013 — and that was also the last year that Ryan finished outside of the top 10 in PFF's quarterback rankings. Ryan finished with his lowest overall grade since 2009, as his season was marred by uncharacteristic poor decisions and a high number of avoidable sacks, even with the increased pressure rate. Despite all of that, Ryan was still one of the best passers from a clean pocket, and he hit open throws at a high rate — both good indicators that even the slightest improvement up front should bode well for next season.
It's always easy to overlook just how good Ryan has been throughout his career, but as last season showed, disastrous pass-blocking from an offensive line is difficult to overcome. Ryan faced plenty of pressure, but he was also a tick slow from a decision-making standpoint. He needs to get back on track to trusting his protection and his receivers. When he's on his game, Ryan is one of the league's best intermediate (10-19 yard) passers and generally takes good care of the ball. Ryan, who was still a capable passer from a clean pocket in 2019, could benefit massively from even a slight improvement in his offensive line's blocking in 2020.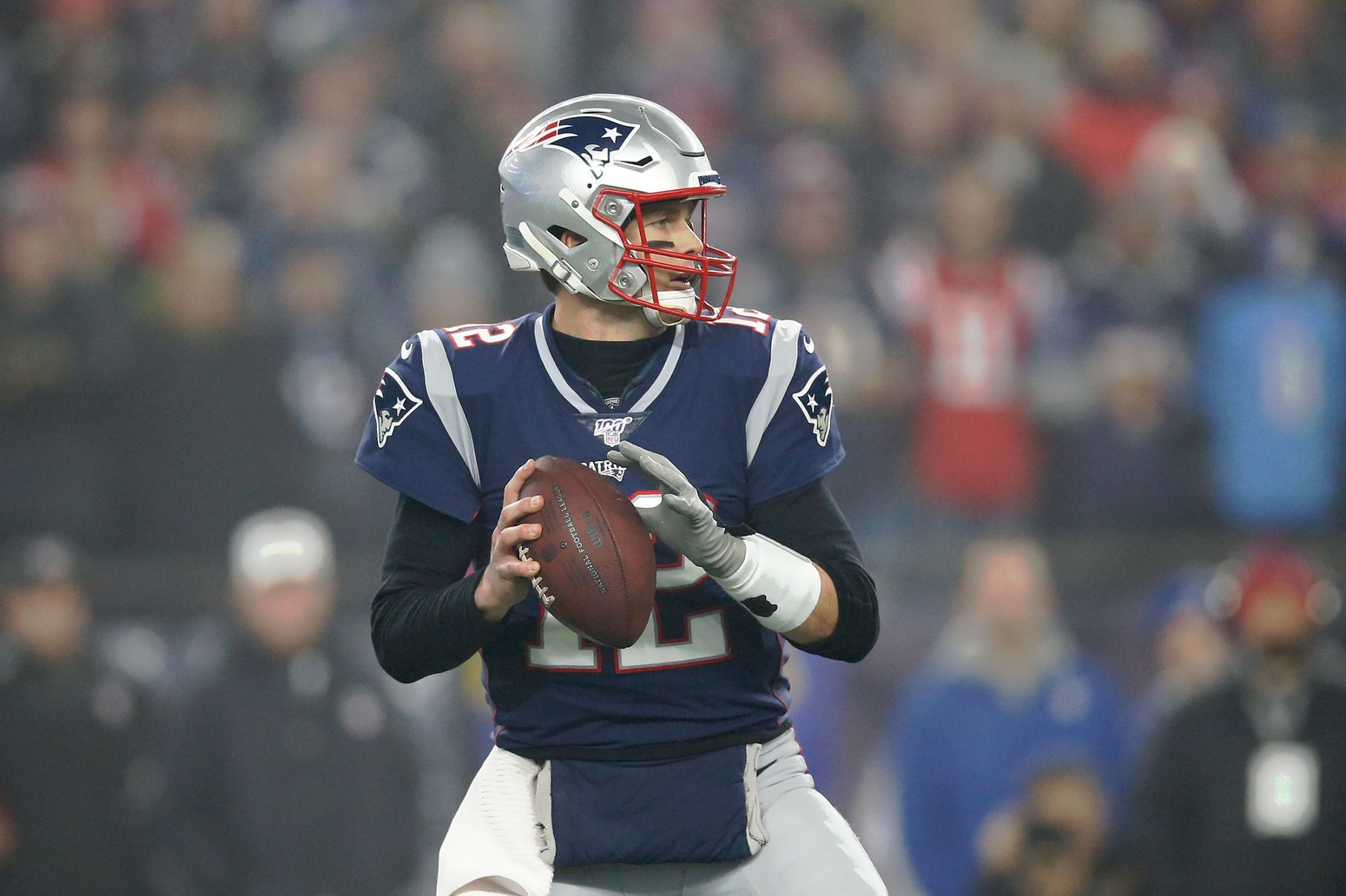 Here's what I said about Tom Brady after the 2019 season:
After playing perhaps the best football of his career from 2014-17, Brady took a slight step back in performance in 2018 and yet another step back in 2019. This season coincided with his worst group of playmakers in years, and the result was an uncharacteristically mediocre statistical performance for Brady. Heading into his age 43 season, Brady is less likely to be able to carry an offense as he has in the past, as we've seen an uptick in his negatively graded throws and turnover-worthy plays over the past two years. Last season, we saw a downtick in Brady's play under pressure and his outside-of-structure plays, but he is still capable of moving the chains with his signature good decision-making and accuracy — it's just a matter of creating more opportunities with a versatile group of playmakers.
There's no denying that Brady didn't look like himself last season, but when combined with a poor group of playmakers, the results were ugly. That's what makes this year so fascinating, as Brady is equipped with one of the NFL's best groups of receivers and tight ends, though he's about to learn a new offensive system for the first time in 20 years. Brady's ability to mesh with head coach Bruce Arians is crucial, and if it's a quick learning curve, the production should be there. Brady has taken a step back in key metrics over the past two years, but even at age 43, he's still one of the league's most accurate passers and can be counted on to make good decisions while limiting turnovers.
Here's what I said about Drew Brees after the 2019 season:
A thumb injury cost Brees a chunk of the season, but he once again showed that he could spread the ball around accurately while consistently making good decisions. Brees earned his second straight 90.0-plus grade, avoiding negatives better than any other quarterback in the league. He did see a downtick in his big-time throws, and despite strong stats in the last two games of the season, he forced multiple passes down the field that should have been intercepted but didn't show up on the stat sheet. That's the big question moving forward, as Brees still has the ability to lead an offense with his quick decision making and accuracy, but the downfield passing game was inconsistent this season. As such, there are concerns about Brees' age and if he'll be limited in the next year or two.
As we saw last season, Brees' accuracy remains top-notch. And there's not much he hasn't seen from under center, so that baseline already gives him a good chance of success in 2020. However, the Saints' downfield passing attack remains a question mark, and it's concerning that Brees has taken fewer deep shots while his game has regressed down the stretch in each of the past two seasons.
At this point, Brees is looking for that one last ring. And in the midst of playing with the best supporting cast of his career, that door hasn't quite closed. It's safe to predict that Brees will rank among the league's best at avoiding negatively graded throws once again, but keep an eye on the positively graded throws and the downfield passing, as that will determine how much success the Saints have during the stretch run this season. 
Here's what I said about Aaron Rodgers after the 2019 season:
One of the biggest offseason questions centered around Rodgers playing in a new system, and though he led his team to a 13-3 record and a first-round bye, Rodgers didn't exactly answer those questions with flying colors. He finished with a solid grade but also had multiple poor games, and he even produced the lowest-graded outing of his career in Week 12. There's no denying Rodgers' talent — and he's still one of the league's best at hitting big-time throws and avoiding turnover-worthy plays — but the thing that has made Rodgers one of the best quarterbacks of all time is his ability to hit the "easy" throws and avoid negative plays. Those elements of his game have taken a step back in recent years, and that trend has now stretched across multiple systems. Perhaps Rodgers can get back to his top-three self, but he'll have to improve his short and intermediate accuracy while cutting down on the pressure that he's invited in recent years.
We have a new question for Rodgers this offseason: Will a more run-heavy approach get the most out of him in his later years? That appears to be the Packers' plan given their draft strategy of adding run-game weapons instead of upgrading the wide receiver room, and perhaps that will play to Rodgers' strengths of getting the ball down the field. He's still shown to be capable of making the special throws and avoiding the disastrous ones — an excellent starting point for any quarterback — but Rodgers ranks just 26th in accuracy percentage on 1-19-yard throws over the last two years, so perhaps the Packers see this as an opportunity to take some of those plays off his plate. Even with Rodgers trending in the wrong direction the second half of the decade, he remains one of the best quarterbacks in the league and more than capable of creating chunk plays in a hurry.
Tier 3
Volatile or conservative quarterbacks who will rely even more heavily on supporting cast and playcalling. Tier 3 quarterbacks can post top-10 production in any given year in the right situation.
Most of the offseason was dedicated to imagining a Jarrett Stidham-led Patriots offense, but their recent signing of Cam Newton creates an entirely new vision. Newton is incredibly talented, and while many point to his 2015 MVP season, that year was a clear outlier in his career. He's been an above-average quarterback in his nine years but has ranked in the 20s in PFF grading in each of the past three seasons. Part of that was due to Injuries and the fact that early 2018 Newton was a change from the previous, downfield-throwing boom or bust passer who hit great throws but also missed far too many.
While Newton's early 2018 numbers were slightly inflated, it showed his ability to play a more ball-control style — perhaps the desired approach for the Patriots' offense. Newton's rushing ability is another factor for the Patriots to tap into, and given his one-year contract, they could look to use it to its fullest. As for Stidham, he was a project coming out of Auburn but showed quick progress in his first NFL preseason. There still may be a future starter in Stidham, and adding Newton allows for more development — a rare occurrence in today's NFL.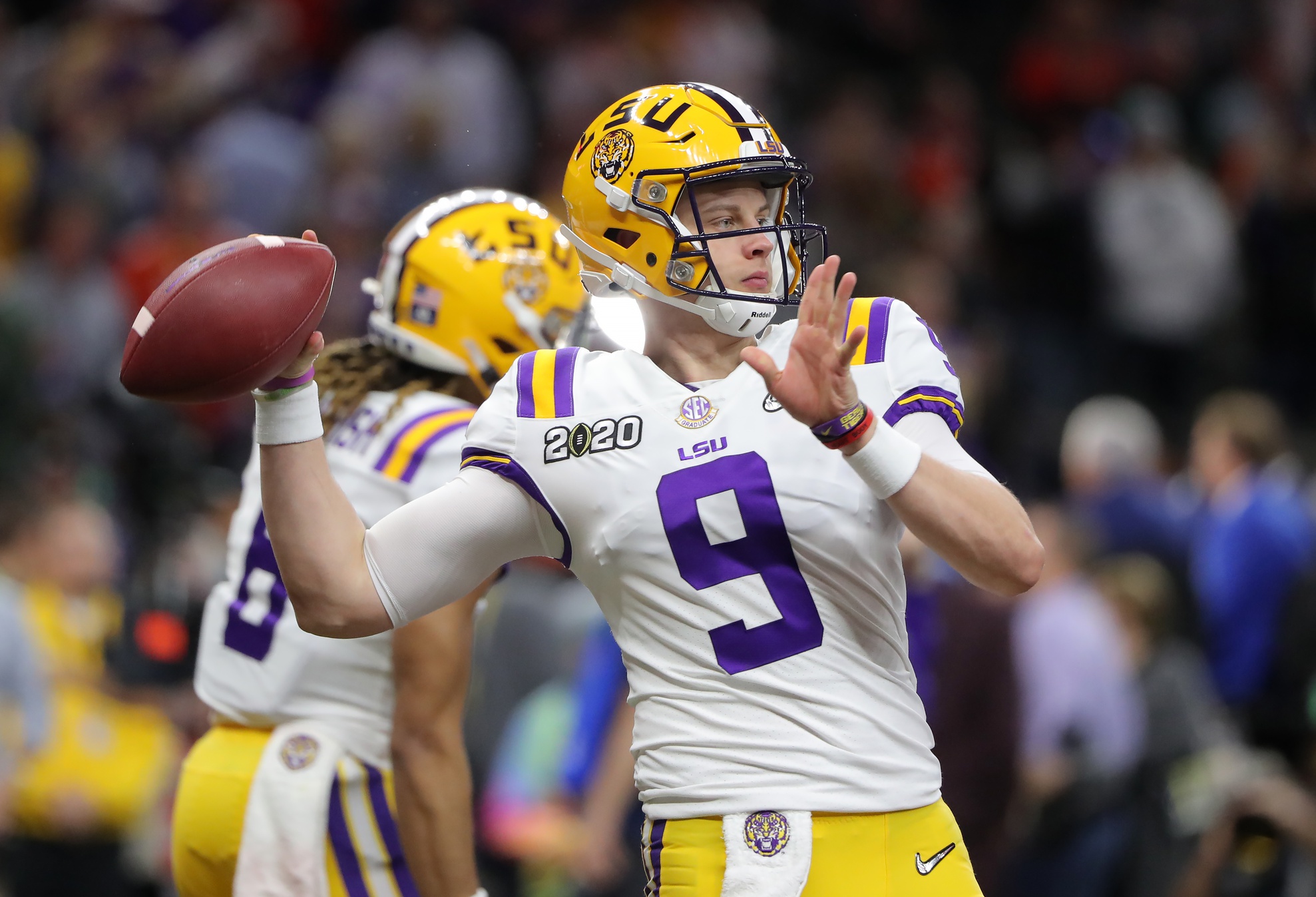 It's a new era in Cincinnati with No. 1 overall pick Joe Burrow taking over after posting the highest single-season grade of the PFF College era. Burrow's accuracy, pocket presence and overall playmaking ability made him the best prospect in the draft, and he has the skillset to produce at the next level. While Burrow was certainly surrounded by outstanding talent at LSU, his 2019 season may be the best in college football history, as he never had a down game and elevated his play as the season progressed.
That may be the most encouraging sign for the Bengals, as Andy Dalton was a fine quarterback for many years, but Burrow has more upside and has shown the ability to rise to the occasion in crunch time. Drafting Burrow was the right move for Cincinnati — now it's just a matter of continuing to build an offense around him.
Here's what I said about Ryan Tannehill after the 2019 season:
In one of the biggest breakout seasons in history, Tannehill became one of the league's best passers, dominating at all levels of the field. He more than doubled his percentage of positively graded throws from a year ago, which is a ridiculous feat, even in small sample sizes. Tannehill was accurate to all levels of the field and was the league's best on 10-plus yard throws. His career year led the Titans to the No. 2 passing attack in EPA from the time he took over as starter through the end of the season. While Tannehill had settled in as a mid-tier starter in his first five years in the league, he was the league's lowest-graded starter in 2018 before posting the top grade in 2019, the biggest one-season increase in the PFF era. His 2019 campaign was special, and it's one that will be difficult to duplicate.
There's no denying that Tannehill's 2019 season was a far cry from the rest of his career. Even if this is a turning point in his development, it will still be difficult for him to duplicate the on-field production that carried the Titans' offense last season. That said, Tannehill has always been an accurate quarterback at the short and intermediate levels. Deep passing success is often down to the supporting cast, and that's where wide receiver A.J. Brown provides hope. Expect some regression from Tannehill, especially with positively graded throws, but there's also a chance that he is truly rejuvenated in a system that fits his skill set, which could give the Titans another top-rated offense in 2020.
Here's what I said about Derek Carr after the 2019 season:
It was a good season for Carr, who finished with the second-best PFF grade of his career. He ranked among the league's best in accuracy and avoiding negatives while also doing a fine job of taking care of the ball despite a group of pass-catchers that was one of the biggest question marks in the league. Carr is more than capable of attacking down the field, but whether it's the system, lack of playmakers or simply a conservative nature, Carr finished with the third-lowest average depth of target in the league (6.9). Even in games that saw the Raiders fall behind early, Carr rarely pushed the ball down the field. He has the velocity, touch and accuracy to create big plays, but Carr has profiled as more of a game manager in recent years. Perhaps an influx of playmakers can unlock the potential that he flashed in his highest-graded season in 2016.
There's no denying Carr's ability to throw the ball accurately and with the requisite amount of velocity to every level of the field, and that's why I've advocated for a more aggressive approach to maximize the offense's effectiveness. The Raiders' offensive weapons aren't great, but the pieces are improving. If Carr takes advantage, he's capable of posting a top-10 season. He plays the game manager role just fine, but the Raiders can get more out of him and develop a high-octane offense at some point in the next few years.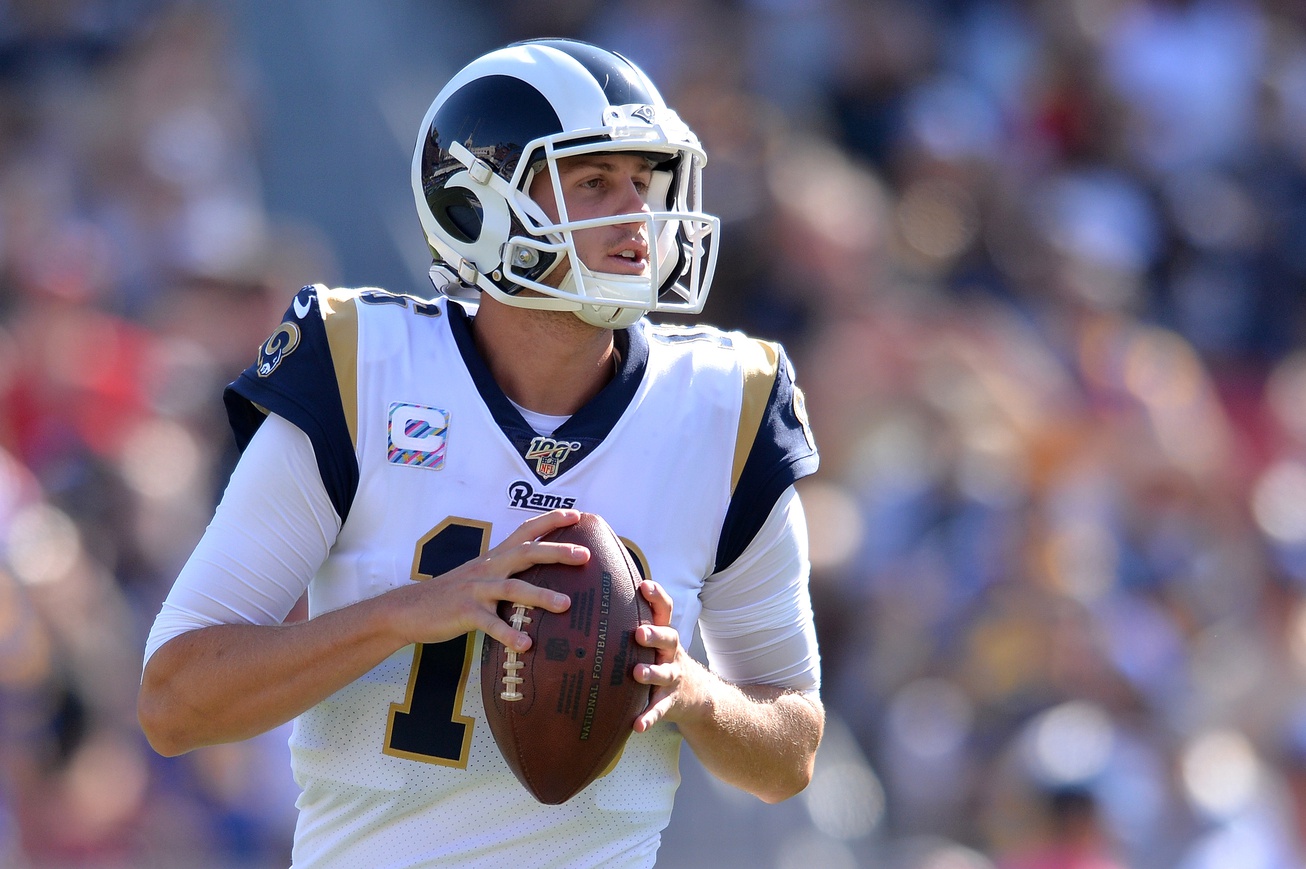 Here's what I said about Jared Goff after the 2019 season:
After three straight years of continued development, Goff took a step back in 2019 to rank among the middle tier of quarterbacks, which coincided with his offensive line's regression in pass protection. He left too many throws on the table, missing a higher percentage than he did in 2018 while ranking in the bottom half at avoiding turnover-worthy plays. The scheme plays also took a hit, as Goff saw the third-largest decrease in positively graded throws, all leading to his uneven season that only really got going in spurts and featured six games with PFF grades of 60.0 or below. As he heads into Year 5, it's fair to place Goff among the middle class of the league's signal-callers, a group that is capable of high-end seasons with good play-calling and a strong supporting cast, but also capable of nondescript seasons like Goff had in 2019.
Goff critics will point to last season as his regression back down to earth, but the reality is that he has played like a mid-tier quarterback whose production has been dependent on his ecosystem. The Rams' scheme was fantastic in 2017 and 2018, as was the receiving talent, and Goff's numbers reflected those truths. Last year, the scheme hit a lull and the offensive line was a disaster, leaving Goff with his worst performance since his rookie season in 2016. We've seen Goff make a high percentage of big-time throws while efficiently attacking the intermediate level, and he's primed to bounce back as long as the offensive line returns to form and a third wide receiver emerges as a vertical threat.
Here's what I said about Jimmy Garoppolo prior to the Super Bowl last season:
We finally got to see a full season of play from Garoppolo, who performed well in San Francisco's offensive system. Much like his run in 2017, he had a high percentage of positively graded throws and a low percentage of negatives, but he ranked near the bottom in big-time throws. Garoppolo also saw an uptick in turnover-worthy plays, as he made several poor decisions over the middle of the field to go with some ball security issues in the pocket. Overall, Garoppolo was one of the league's most accurate passers, and his quick release and decision-making have proven to be a good fit in the Shanahan system. He is yet another mid-tier quarterback who can produce at a top-10 level in any given season, especially if he can cut back on the random poor decisions that seem to pop up once or twice in every game.
Garoppolo finished with the 13th-best grade in the league during the regular season, and that's a fair proxy for what he is at this point in his career. The 49ers had one of the most efficient passing games in the league in 2019; the scheme was fantastic, and Garoppolo was aided by 55.1% of his yards coming after the catch, the second-highest rate in the league.
Garoppolo's accuracy does help make the system work, as he had the sixth-lowest percentage of uncatchable passes a year ago, though he must cut down on those poor decisions over the middle of the field that turned too many of his solid games into average performances. There was a point during Garoppolo's 2017 run that his 86.6 grade looked like he could be ready to break into the top eight quarterbacks in the league, but last year's 77.5 overall grade is a more realistic expectation.
Here's what I said about Kirk Cousins after the 2019 season:
After a slow start to the season and one of the worst games of his career in Week 2 against the Packers, Cousins turned things around to put together the best performance of his career and his second top-10 finish in PFF grading. He took to the Vikings' outside zone/play action-heavy scheme, working well both inside and outside the pocket. Cousins was incredibly accurate at the intermediate (10 to 19 yards downfield) level and cut down on his turnover-worthy plays. The biggest improvement this season was his increase of 3.8 percentage points in positively graded throw rate, the third-highest mark in the NFL, and that's a credit to the system and supporting cast in Minnesota, even with their injury woes. Overall, it was a strong second season for Cousins, who improved his game and came through in big spots over the course of the year.
Cousins was one of the most efficient quarterbacks in the league last season, producing a career-high 84.1 overall grade, including the playoffs. He made big plays outside the pocket, and while the new system certainly provided more downfield opportunities, Cousins also did a fine job of keeping the offense on point despite injuries on the outside and uneven play from the offensive line. Fans are always left wanting for a "next step" from Cousins, whether it's a big playoff win or a get-on-my-back stretch of play in which he carries the team, and while those may never happen, he's a capable starter who will keep the Vikings in position to win games once again this season.
Here's what I said about Dak Prescott after the 2019 season:
Prescott had his most productive season since his rookie year, as fresh play-calling and a full year of strong playmakers led to Dallas ranking third in the league with an EPA of 0.23 on passing plays. Prescott ranked among the middle class of quarterbacks in PFF grading in 2017 and 2018, and his 2019 campaign showed that the right supporting cast could lead to high-end production from mid-tier signal-callers. Prescott attacked down the field more than ever, leading to his No. 3 ranking in the league in passing yards on 20-plus yard throws, and he finished fourth in PFF rushing grade at 76.2. Overall, it was a good season for Prescott, who improved his positively graded throws, cut down on the negatives and showed that he could have a top-notch season when given a strong group of receivers.
With Prescott officially playing on the franchise tag, we see the dilemma with locking up a quarterback who is not clearly in the top echelon every season. Prescott has two top-10 finishes in PFF grades, and the Dallas pass game was excellent last season. With most of the same pieces returning, the table is set for another productive pass game, and that's all that matters when building an offense. With the top receiving unit and one of the league's best offensive lines, expect another good year from Prescott and another debate about his long-term value a year from now.
Here's what I said about Matthew Stafford after the 2019 season:
In one of the biggest single-year transformations in recent memory, Stafford briefly returned to his best in 2019 before he lost his season due to injury. Stafford increased his average depth of target by over 4 yards per attempt, a massive improvement in offensive aggressiveness that led to the most efficient year of his career and the league's highest percentage of big-time throws. He also saw the biggest jump in the percentage of positively graded throws outside of Ryan Tannehill, which led to the league's sixth-most efficient passing attack while Stafford was on the field. He had fallen into more of a game manager mode in recent seasons, but Stafford and the Lions embraced a high-risk, high-reward style that led to more explosive plays but also a few more misses down the field. And if they continue down that path, the payout could be massive.
Stafford getting back to a downfield attacking machine is a great sign for the Lions, and that should absolutely be their approach in 2020. There are a handful of games each year in which Stafford looks like a top-five quarterback, using his strong arm and playmaking feel to make "wow" plays all over the field. While it's not easy to bottle that up and trot it out there for 16 games, a more aggressive, downfield-throwing Stafford has a much better chance of unlocking that potential, and the Lions have the skill position talent to put points on the board.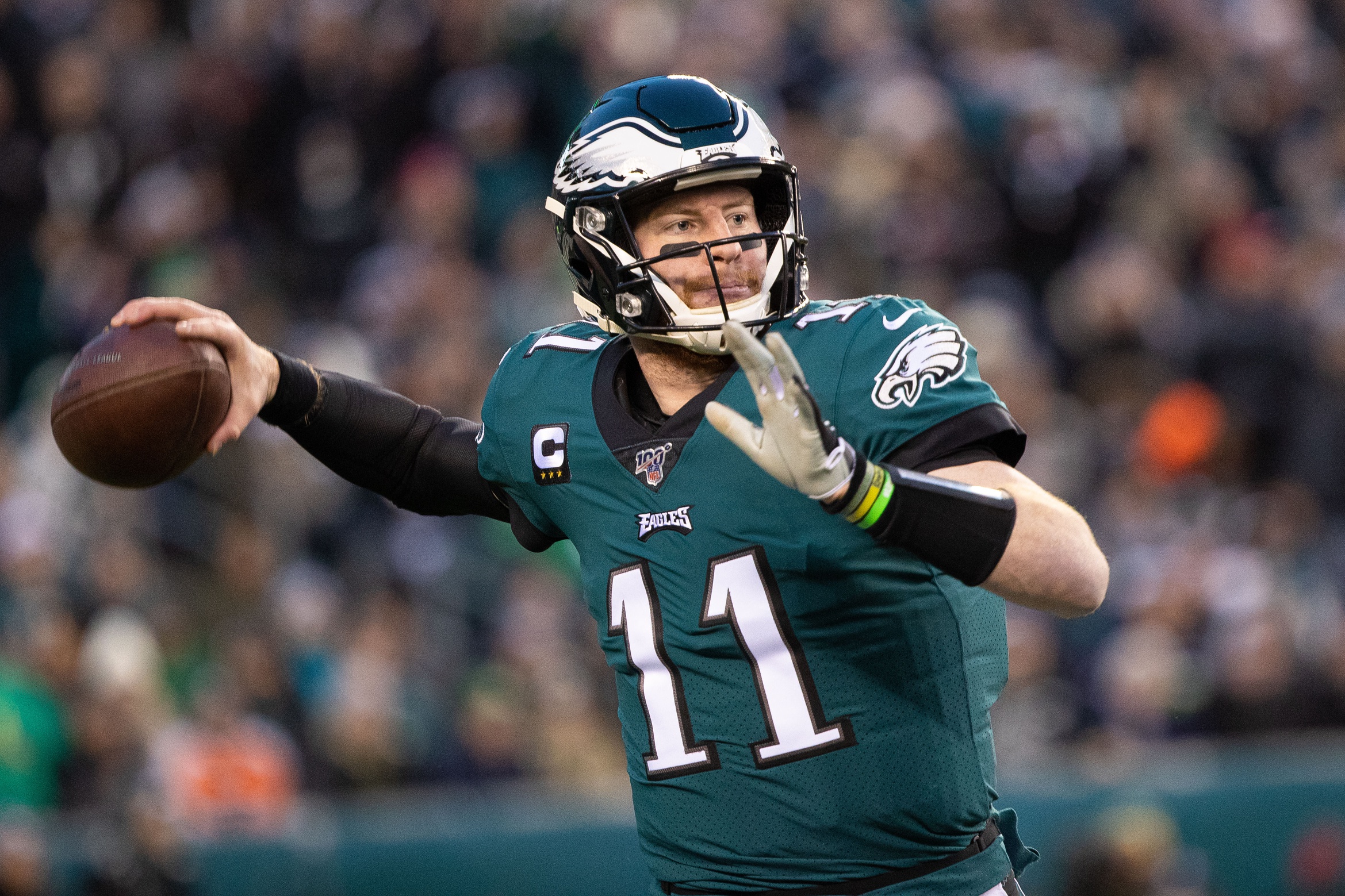 Here's what I said about Carson Wentz after the 2019 season:
It was an odd season for Wentz, who was playing better than the stats showed during the first few weeks of the season before ranking near the bottom of the league in PFF grade over the second half of the season. He did have to deal with an incredible number of injuries to his supporting cast, and the end of the season saw multiple gutsy performances when throwing to a different group of receivers seemingly every week. On the positive side, Wentz was among the league's best in big-time throws, and he was excellent when playing under pressure and outside of structure, though those are all facets that are difficult to duplicate moving forward. On the other hand, Wentz was mediocre in stable situations and below average at hitting open throws, but surrounding him with a full season of good playmakers should get him back on track.
Looking at Wentz's first four NFL seasons, we see a quarterback who ranks in the top half of the league, though his 2017 MVP hype was a sign of his ceiling, not his norm. Wentz's 2017 campaign was a classic case of a small sample of excellence in unstable areas, such as play under pressure, on third down and touchdown rate. Wentz has come back down to earth since then and has settled in as a quarterback who can flip the field with his arm.
And when aided by a solid group of playmakers, he'll give them ample opportunities to make plays. The Eagles have made moves to put those playmakers in place, so this could be another big statistical season for Wentz.
We saw only one game from Ben Roethlisberger last season, and it was not his best effort — he graded at just 49.0 overall. In 2018, Roethlisberger put up big numbers, but his 75.2 passing grade was his worst since 2008, as he had the eighth-highest percentage of negatively graded throws in the league. The concern for Roethlisberger and the Steelers is his below-average performance in many stable metrics, including clean-pocket grade and passes thrown at or beyond the sticks.
On the positive side, Roethlisberger may have missed more throws than usual in 2018, but he still has the natural playmaking to move the ball down the field and put points on the board — something this offense lacked last season under Mason Rudolph and Duck Hodges. Any time Roethlisberger is on the field, he's capable of carrying a team and putting his playmakers in position to succeed, but there are also many signs from his 2018 and limited 2019 on-field play that are cause for concern.
Here's what I said about Baker Mayfield after the 2019 season:
After one of the best rookie seasons of the past 10 years, Mayfield had a disappointing 2019 — he regressed in key areas, and some of his college weaknesses crept back into his play. The Browns' passing attack was never in sync, and while Mayfield had his fair share of poor decisions, he also had an incredible string of unlucky interceptions (passes that are intercepted less than 3% of the time). Among the concerns was Mayfield's pocket presence, as he invited pressure and vacated clean pockets much more than what we saw as a rookie. Both in college and in the NFL, Mayfield has shown the ability to throw on time and accurately to all levels of the field, and it would not be a surprise to see him return to form despite his setback this season.
It's a pivotal year for Mayfield after he took a downturn last season. The Browns are surrounding him with an improved offensive line and a new offensive system to go with a strong group of pass-catchers at all levels of the field. Mayfield's 2019 season wasn't as bad as the stats showed, but there was a clear dropoff in his performance. We've graded three college seasons and two NFL seasons for Mayfield, and 2019 was clearly his worst of the bunch. However, given his track record of success, it will not surprise if he bounces back with a big year in 2020.
Here's what I said about Philip Rivers after the 2019 season:
After back-to-back seasons with a top-10 PFF grade, Rivers settled back in with the middle tier of quarterbacks in 2019. As with any older quarterback, questions have been raised about whether Rivers still has it, but he's been working with diminished tools for a few years now while still finding a way to succeed. The concern is Rivers once again ranking among the league leaders in turnover-worthy plays while experiencing the fifth-highest increase in total negatively graded throws this season. That volatile style is not new for Rivers, as he still ranked among the best in big-time throws while showing his usual anticipation when throwing to all levels of the field. Rivers has been playing behind terrible pass blocking for a few years now, but he's shown that he can still produce, especially if given a few more clean pockets to work from moving forward.
It will be a new world for Rivers in 2020 — he's playing behind a good offensive line for the first time in years, and having a bigger pocket to maneuver around should work wonders. Rivers has been battling diminished arm strength, but playing indoors with the Colts should help, and it's not like he wasn't capable of getting the ball downfield to his playmakers with the Chargers.
That's where things are different this season. Rivers leaves one of the better receiving units to throw to a corps that consists of T.Y. Hilton plus young question marks. If the youth develops, Rivers playing indoors behind a strong offensive line should put the Colts in position to win plenty of games, and it would not surprise to see another one-year rejuvenation to his career.
Tier 4
Quarterbacks with more question marks, either due to a lack of experience/seeing them perform at a high level in the NFL or due to volatility when given extended opportunities to play.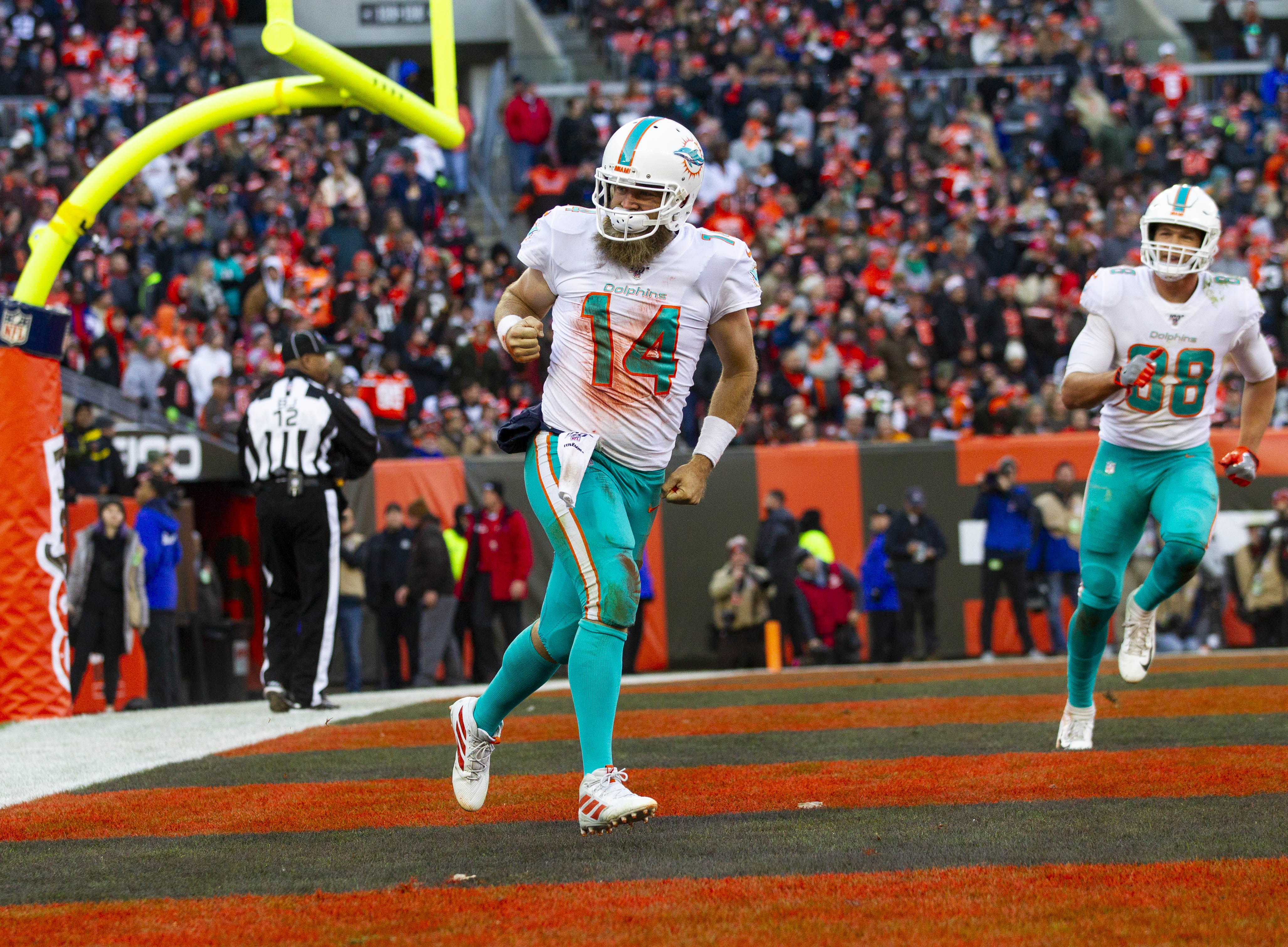 With the Dolphins spending the fifth overall pick on Tua Tagovailoa, expect him to start as soon as possible. However, given the short offseason and solid performance by incumbent starter Ryan Fitzpatrick over the past two years, don't be surprised if he is the opening day starter. Here's what I said about Fitzpatrick at the end of the 2019 season:
Given his supporting cast, Fitzpatrick had one of the most impressive seasons of any quarterback this year. He elevated Miami's offense despite facing the fourth-highest pressure rate, and his downfield aggressiveness led to the Dolphins turning into a pesky, competitive team down the stretch. This is now the best two-year stretch of Fitzpatrick's career, as he finished as a borderline top-10 quarterback for the Buccaneers in 2018 and ranked in the top 15 in 2019. It's also the second straight year that Fitzpatrick ranked among the league's leaders in positively graded throws, showing that he can put his playmakers in position to make plays. He has an intriguing skill set for teams with playoff aspirations but is in "bridge quarterback" territory.
If the Dolphins are looking to immediately compete in the AFC East, Fitzpatrick's aggressive, volatile style gives them the ceiling to compete. However, the long-term plan is obviously built around Tagovailoa — a polished passer with good accuracy to all levels of the field.
Here's what I wrote about Josh Allen at the end of the 2019 season:
Allen made strides in key areas, as he graded among the league's best on passes up to 19 yards downfield, but he still had issues with 20-plus yard throws and avoiding turnover-worthy plays. The Bills did a fine job of passing on early downs and finding short-area playmakers to get open for Allen, and that led to his improved completion percentage. The deep ball was an issue for Allen, though, and he had the highest percentage of uncatchable passes on 20-plus yard throws. And even though he cut down on his interceptions, Allen was still among the league's worst in turnover-worthy play rate, in large part due to fumbles. The good news for Allen is that the short and intermediate passing game is more stable from year to year, while deep passing is often wide-receiver dependent, so the 2019 season was a step in the right direction in his development.
Since drafting Allen in 2018, the Bills have done a great job of building their offense around him, and he's in position to have a big statistical season in 2020. Allen is difficult to defend on the ground, as he ranks behind only Lamar Jackson with 1,141 rushing yards over the past two seasons and leads the way with 17 touchdowns on the ground. As a passer, there's room for both concern and optimism heading into the season. Allen still misses too many throws, ranking last out of 38 qualifiers in negatively graded throw percentage — one of the most stable measures of quarterback play.
However, Allen finished 12th in percentage of positively graded throws, a measure that is heavily driven by the quality of the supporting cast, particularly the receivers. Given the Bills' weapons, Allen should benefit from more open throws at all levels of the field. And when combined with his rushing ability, he could be in line for a big statistical leap, even if his actual throw for throw accuracy doesn't improve.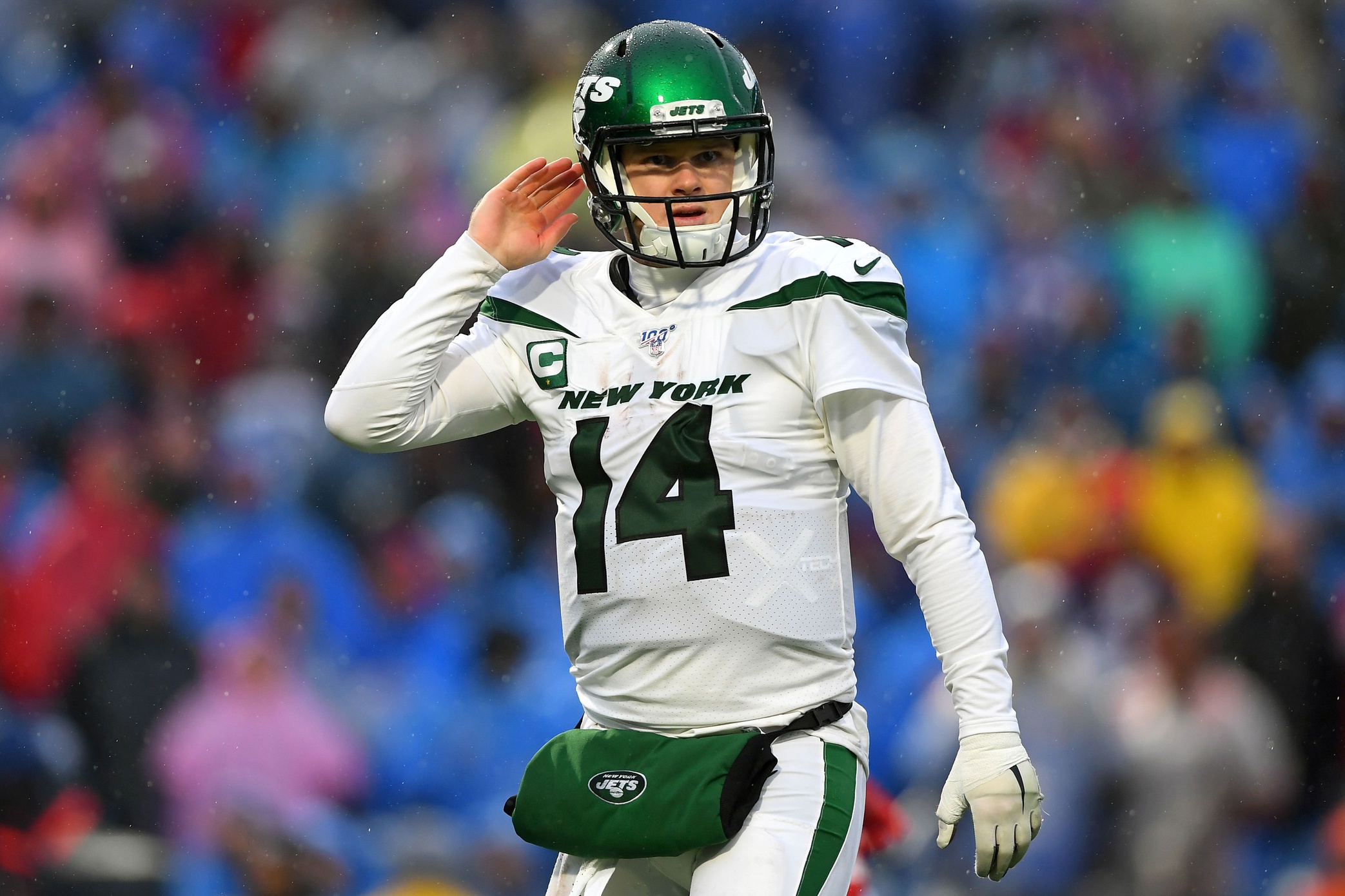 Here's what I wrote about Sam Darnold at the end of the 2019 season:
Darnold's career has been a roller coaster ride to this point, as he started slow and finished strong as a rookie before putting together a similar stretch of good and bad play in 2019. He missed time due to mononucleosis before a disastrous performance on Monday Night Football against the Patriots. Darnold followed up with a midseason improvement before a mediocre stretch of play to finish the season. On the positive end, Darnold did return to his college form, showing good accuracy in the short game, but he ranked near the bottom on 10-plus yard throws. Those numbers should improve with a better group of playmakers in the coming years.
It's a pivotal year for Darnold, who has shown the peaks of a franchise signal-caller but also the valleys of a backup. He has also had one of the worst supporting casts of recent first-round picks, so context is crucial in his evaluation. In college, Darnold was outstanding on passes at the short and intermediate range (up to 20 yards), though he struggled on deep passes. His NFL career has been a similar story, as he ranks 22nd on passes up to 20 yards but just 40th out of 44 qualifiers on 20-plus yard throws.
Deep pass success often comes down to receiver talent, so perhaps the influx of deep speed will lead to an uptick in downfield production from Darnold, but he has room to improve in all areas of the field. While the Jets still have work to do to better surround Darnold with talent, it's an important year for him to show enough improvement to keep hope for the future.  
Here's what I said about Gardner Minshew after the 2019 season:
Minshew was thrust into the lineup in the first half of Week 1, and he certainly exceeded expectations for a rookie sixth-round pick. Despite his mediocre arm strength, Minshew was excellent throwing the ball down the field, generating the No. 3 PFF grade on 20-plus yard throws. He did a fine job of making the most out of Jacksonville's offense, which came into the season with few household names in the passing game. Among the negatives, Minshew picked up 38% of his turnover-worthy plays on fumbles, often spending too much time trying to create late in the down. Overall, it was a mid-tier performance for Minshew, who did show starting ability, but there's plenty to clean up if he's going to be considered a long-term answer.
One of the biggest stories of the 2019 season was Minshew emerging as a capable starter and giving the Jaguars something to think about for the future. He was a late bloomer in college who took to Washington State's scheme under Mike Leach, and he carried that feel as a passer into his rookie year. Minshew overcame average tools to spread the ball around and help a below-average Jaguars offense exceed expectations. This season is yet another test for Minshew to see if he can elevate the offense and build on the downfield accuracy and decision-making that made him so efficient last season.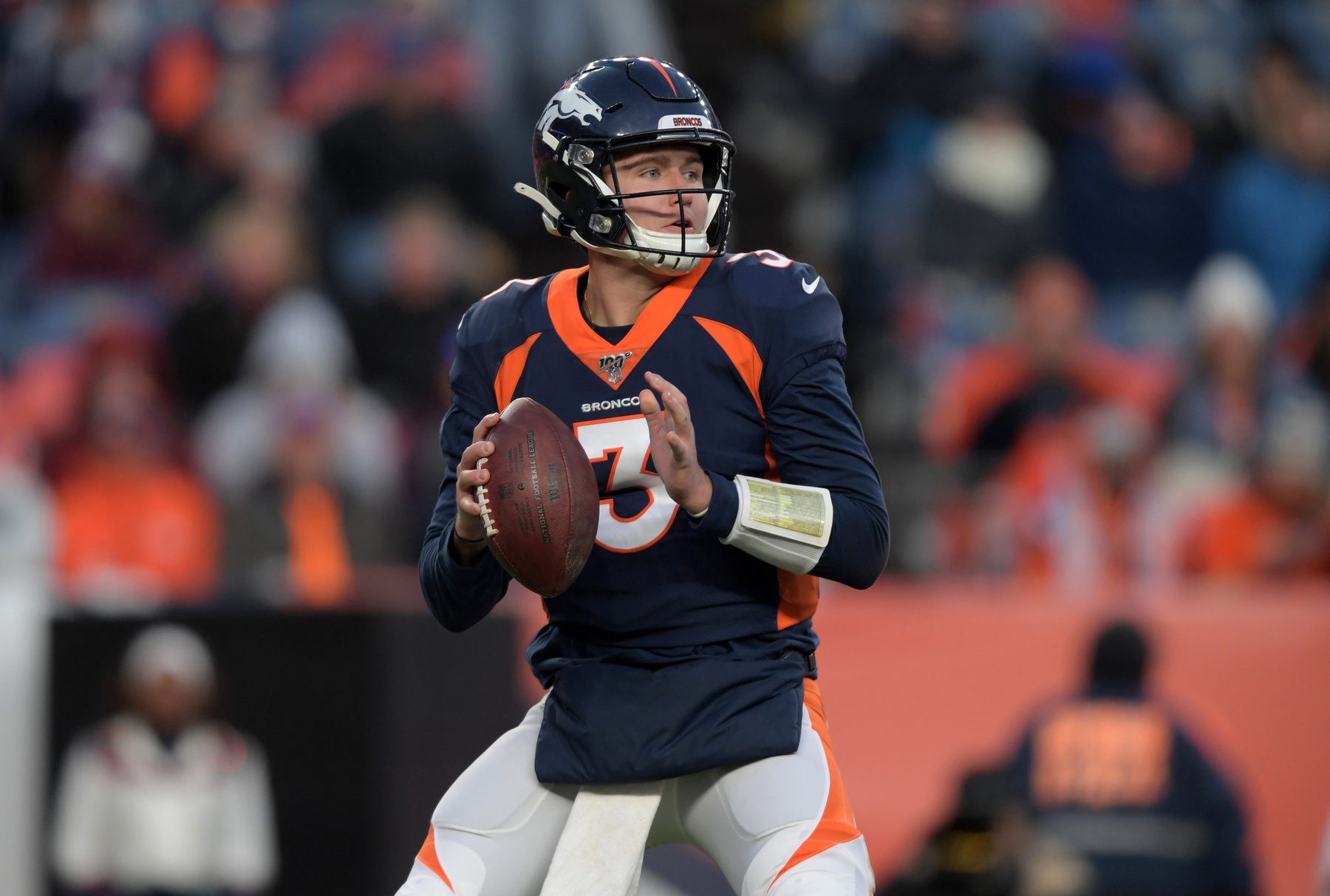 Here's what I said about Drew Lock after the 2019 season:
After a preseason in which Lock looked out of sync in his first NFL action, it was good to see him much more comfortable once he was handed the reins down the stretch. It was a small sample size, but Lock threw the ball well up to 10 yards while doing a nice job of avoiding negatively graded throws. But even with the Broncos going 4-1 with Lock, he had some help. Altogether, 53.3% of his yards came after the catch, the seventh-highest rate in the league, and he graded last among signal-callers on 10-plus yard throws. Lock flashed the arm that made him a coveted prospect last draft season, but he still has plenty to prove. Most importantly, Lock's comfort level was much better than what he showed in the preseason — and he has a history of improvement, as he increased his PFF grade in all four years at Missouri.
It's far too early to definitively declare Lock as the future for the Broncos, even with his 4-1 record, but the offseason additions in Denver will give him every opportunity to succeed. The key areas to improve included that last-place ranking on 10-plus yard throws along with his movement in the pocket. He attacked downfield well in college, but the pocket presence was always a question mark coming out of Missouri. With speed, outside playmakers and viable middle-of-the-field weapons, Lock should have an opportunity to show off the zip and touch that put him in the first-round conversation before he landed in the second round in 2019. We'll know much more about Lock by the end of 2020.
The last time we saw Tyrod Taylor he had a rough go of it for the Browns, but he was a solid starter during his time with the Buffalo Bills. Taylor is one of the league's best at avoiding turnover-worthy throws, but that comes in exchange of taking too many sacks. Playing behind a poor offensive line is worrisome, but it would also be wise for the Chargers to take advantage of Taylor's rushing ability to keep defenses off-balance.
Of course, sixth overall pick Justin Herbert was drafted to be the future for the Chargers after a solid career at the University of Oregon. Herbert has a big arm, and he throws the ball up the seams well, but he didn't develop as planned at Oregon — both his touch and his short-area accuracy need work. The lack of development is the biggest question mark; Herbert once looked like a potential No. 1 overall pick but his game leveled off and he landed as a fringe first-round prospect on the PFF Draft Board. Still, the tools are there, and the path to success for Herbert may lie in allowing him to flip the field with his big arm. Given the unique offseason circumstances, this could be a perfect opportunity for Herbert to sit and learn, especially if Taylor plays as he did in Buffalo.
Here's what I said about Teddy Bridgewater after the 2019 season:
Bridgewater saw his first extended action since 2015, and he made the most of it. His skill set remains one that is most similar to the safe, game manager quarterback types, as he finished among the league's best at avoiding negatives and turnover-worthy plays while also posting a low percentage of positives. On the concerning end, Bridgewater's stats were aided by the scheme and playmakers in New Orleans, and he graded below average in a number of key, stable metrics. Bridgewater's performance matches what we saw in his two years as a starter in 2014 and 2015 for the Vikings, and it's fair to project that game manager style if he gets an opportunity to start in 2020.
Bridgewater will get that chance to start, and we'll see if he can take another step beyond the game manager label. He has good short and intermediate accuracy, but even with last year's success, it took a few games for Bridgewater to throw the ball aggressively down the field. One concerning number is Bridgewater's 60.1 passing grade when not using play action compared to a 92.9 mark when using play action, the latter being the best in the league last year. It's an unsustainable split, and the non-play-action snaps tell us more about what Bridgewater will be going forward. Still, with playmakers capable of winning to all levels of the field, this could be the season we see Bridgewater show that he's a franchise quarterback.
Here's what I wrote about Kyler Murray at the end of the 2019 season:
There was a point in Murray's season when it looked like a perfect, natural progression for a rookie with superstardom was right around the corner. He started off with some rookie mistakes before hitting a hot streak, and a strong finish would have had Murray primed for a second-year breakout that has become commonplace around the NFL. Unfortunately, he put together the two worst games of his season in Weeks 13 and 14, perhaps taking some of the luster away from an otherwise solid rookie campaign. Regardless, Murray showed off the velocity and touch to create plays down the field, and, when combined with his dynamic running ability, he has game-changing big-play ability moving forward. That scrambling ability also leads to Murray taking too many sacks, many of which were his own doing and not the fault of poor blocking. He must find the proper balance and cut back on the negative plays.
We've seen enough to be excited about Murray heading into Year 2, but there are plenty of concerns, as well. He ranked last in the league in clean-pocket passing grade and just 27th out of 39 qualifiers at avoiding negatively graded throws, two areas that remain stable for quarterbacks. The addition of DeAndre Hopkins should allow Murray to play more aggressively at all levels of the field while opening up the rest of the receiving corps to play to their respective strengths. Murray's athleticism brings a baseline of production to the offense in the running game, and the better supporting cast should lend itself to a better season in Year 2.
Here's what I said about Daniel Jones after the 2019 season:
There was plenty to like from Daniel Jones' rookie season — he attacked effectively down the field and had multiple high-end games from a production standpoint. The big question is the turnover-worthy plays, as he put the ball in harm's way at a high rate both as a passer and in the pocket, with too many unfortunate fumbles. Jones is fearless under pressure, which leads to big-time throws, but he also had numerous forced throws and a league-high 10 fumbles that were deemed turnover worthy. The range of outcomes is wide with his playing style, meaning Jones may have high-end seasons with a strong supporting cast and some luck, or it could go the other way in a hurry. Still, Jones did a good job of avoiding the overall negatives, and his downfield aggressiveness could lead to big seasons in New York.
Jones has many similarities to his predecessor, Eli Manning, including a volatile style that can lead to a wide range of outcomes. We saw that in Jones' rookie season, as fans and detractors alike both had plenty of evidence to back up their respective points.
One of Jones' best attributes is his willingness to create big plays when under pressure, and that can sometimes lead to spectacular plays as well as disastrous ones. Giants fans are just rooting for the season in which those plays land in Jones' favor, and that's precisely how you get the improbable Super Bowl runs that Manning produced.
Here's what I said about Dwayne Haskins after the 2019 season:
Haskins had his ups and downs as a rookie, making plays outside of structure but also struggling in key situations from the pocket. He did a nice job of taking care of the ball, ranking among the league leaders in avoiding turnover-worthy plays, and he was on the wrong end of some bad luck on multiple interceptions. Haskins must improve pocket presence, though, as he took too many sacks — many of which could have been avoided. While he performed better than expected on plays outside the pocket, Haskins will take the next step when he cleans up his work in more classic dropback situations. Overall, he missed a high percentage of throws while inviting pressure more than you'd like to see. He must get back to the efficient short and intermediate thrower that he showcased at Ohio State.
While Haskins did well to take care of the ball as a rookie, 2020 will be a crucial year in his development. He must show the same short and intermediate accuracy that made him a first-round pick last season.
The new coaching staff will be eager for him to play a tick faster, and they'll no doubt be looking to find another playmaker for Haskins to trust outside of his former college teammate and future star, wide receiver Terry McLaurin. Haskins had the second-highest percentage of negatively graded throws last season, so Washington fans will certainly want to see that number cut down in Year 2.
Here's what I said about Mitchell Trubisky after the 2019 season:
There wasn't too much of a difference between Trubisky's 2018 and 2019 seasons on a throw-for-throw basis, but he received far more help from playmakers and had better overall luck in 2018. In 2019, he missed too many passes, ranking among the league's worst in negatively graded throws, and he ranks in the bottom third in catchable-pass rate. Trubisky was a weapon with his legs in 2018, but that regressed this past year as he took off on fewer scrambles. While Trubisky played his best football during the second half of the season, he still finished the year with eight games of sub-60.0 PFF grades (after seven such games in 2018), and there are still many question marks to his game as we head into his fourth year in the league.
 Part of the trouble with predicting quarterback play is isolating the QB's performance with that of their playmakers, and Trubisky's 2019 statistical regression is a good example. His stats took a big hit while his grades remained static, and given his low-level performance in each of the last two years, there was too much risk for the Bears to go into 2020 with him as the starter. Enter Nick Foles, who comes with caveats of his own.
Here's a snippet of what I said about Nick Foles prior to the 2019 season:
Foles' 2013 season is one of the best statistical seasons in history, though it was aided by Chip Kelly's brand-new scheme. The 2014 season saw regression, his 2015 season was a disaster with the Rams when multiple quarterbacks struggled, then 2017 and 2018 saw Foles rejuvenated when given a chance to start for the Philadelphia Eagles, leading one of the most improbable Super Bowl runs in history in 2017. His last two years have been incredibly volatile as he's posted the top two PFF game grades for the Eagles despite starting fewer games than Wentz, but he's also put up six of the top-10 worst grades. It shows Foles as both streaky and scheme dependent…
When you add it all up, Foles gives the Bears the best opportunity for high-end play, but he's also dabbled in a "game manager" role at points in his career. Foles generally takes good care of the ball, and if the Bears defense remains strong, that may be enough to put them back on the winning track.