Each week in this space, we'll be taking a look back at Sunday's games to find five of the most important stats for fantasy owners heading into the following week.
However, Week 1 isn't just like any other week, so, today we went a little bit overboard. Instead of five stats, you're getting 15.
Enjoy.
1. Running back usage
Week 1 typically leads to a lot of overreactions. Did you know that Julio Jones was held to just 31 yards in Week 1? Yeah, I don't care about that at all.
Every year, my most valuable Week 1 takeaways come from analyzing running back usage. (Remember, volume is far more important than efficiency for fantasy running backs, and gamescript-proof bell cows are typically your league-winners.) With the appropriate level of analysis applied we can sort through the noise of Week 1 (avoiding unnecessary overreactions) to recognize and embrace the reality of the new season before our opponents, resulting in a massive edge.
Here's the top-26 running backs sorted by Week 1 snap total and ranked by snap share (Snap%) and positional expected fantasy point market share (AO%):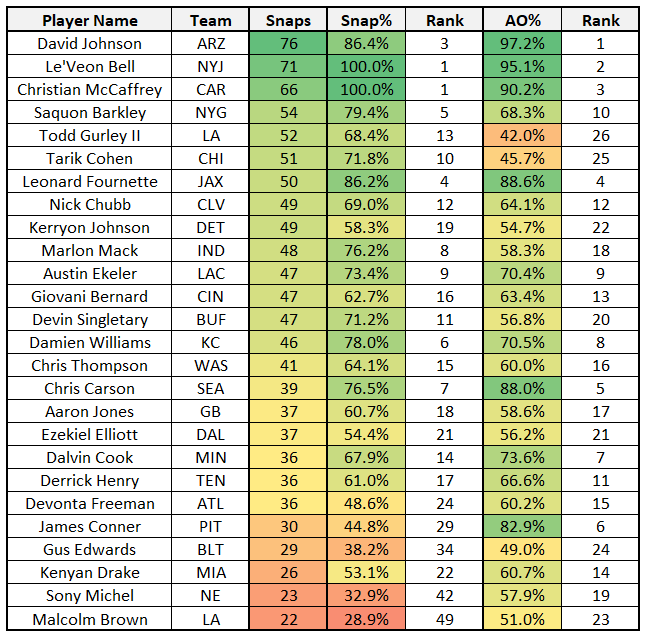 2. Near-end-zone usage and vulture risk
Bell, Cook, Carson, and Ronald Jones received both of their teams' running back opportunities inside the 10-yard line.
Williams and McCaffrey were handed three of their team's four running back opportunities inside the 10-yard-line (75%).
Miles Sanders (two of three, 67%), Ingram (four of seven, 57%), and Ekeler (three of six, 50%) all saw at least 50% of their team's running back opportunities inside the 10-yard line. (Ingram handled four of the team's five [80%] running back opportunities inside the 10-yard line before the fourth quarter, when the starters were pulled.)
Malcolm Brown handled three of Los Angeles' four running back opportunities inside the 10-yard line. Darrell Henderson saw the other opportunity, while Gurley didn't see any opportunities inside the 20-yard line. This brings us to…
3. In Week 1, Gurley played on 68% of the snaps, drawing 14 of the team's 26 carries (53%) while earning the team's lone target out of the backfield. Last season, when active, Gurley played on 86% of the team's snaps, drawing 84% of the team's carries, and averaging 5.4 targets per game.
This is a far cry from RB1 usage. When factoring in the lack of near-end-zone work, things become all the more alarming. In 2017-2018, Gurley averaged 8.3 fantasy points per game on touchdowns alone (most by 2.3), scoring 32% of his fantasy points on touchdowns (second-most). If I owned Gurley, I'd be desperately looking to sell. Brown (11 carries, 53 yards, two touchdowns) looks like a weekly flex-play with league-winning potential should Gurley miss time due to injury.
4. McCaffrey totaled 128 yards and two touchdowns on 19 carries (6.7 yards per carry). Through the air, he caught 10 of 11 targets for 81 yards. Excluding a meaningless Week 17 game where McCaffrey played on only 10 snaps (instead of his typical 63.7), he averages 30.7 fantasy points per game over his last 10 games. Only three running backs have ever averaged more than 27.5 fantasy points per game in a single season (Marshall Faulk, LaDanian Tomlinson, and Priest Holmes).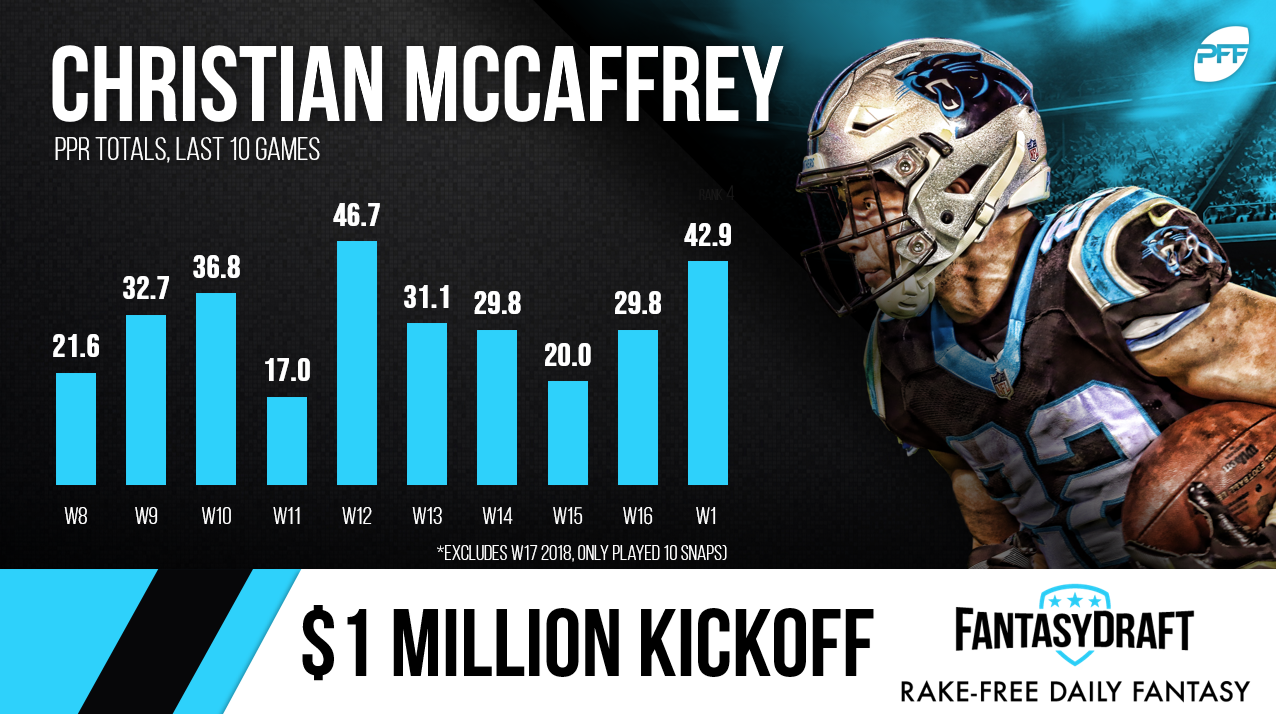 No hyperbole, that's within his range of outcomes this year.
5. Including the preseason, Cook totals 199 rushing yards and three touchdowns on 23 carries (8.7 yards per carry) in 2019.
In Minnesota's revamped Gary Kubiak-influenced outside zone-based offense, I wouldn't be surprised if Cook leads the NFL in rushing yards. In 12 seasons as an offensive coordinator, Kubiak's offense has ranked top-five in rushing yards nine times and top-12 12 times. In Week 1, Minnesota ran the ball 32 times while attempting just 10 (!) passes. In his last year in the league, Kubiak led the league in outside zone runs and outside zone run percentage. Over the past two seasons, Cook ranks fourth-best in yards per carry when running in outside zone.
While things are looking up for Cook, it might be worth fielding offers for Kirk Cousins and his pass catchers. In a run-first offense behind a top-flight defense, volume will be hard to come by.
6. Ekeler ranked second at the position in fantasy points (39.4) in Week 1. He played on 73% of the team's snaps, drawing 12 of 18 carries and six of the team's nine targets out of the backfield. In total, he earned 154 yards from scrimmage and three touchdowns.
Melvin who? Gordon will return from his holdout and muddy up the backfield at some point this season, but until then Ekeler needs to be treated as a low-end RB1. I'm not even sure we should be assuming any dropoff in production between Ekeler this season and Gordon's numbers last year. Last season Ekeler ranked top-seven in PFF grade, elusive rating, yards per carry, and yards per target. All of these numbers ranked better than Gordon, who hit 4.0 yards per carry for just the first time in his career.
7. Non-running back snap shares to know
8. In Week 1, Lamar Jackson threw for over 300 passing yards and five touchdowns, along with a perfect 158.3 passer rating. That's the first time that's ever been done on 20 or fewer pass attempts.
Jackson was my single-highest-owned player this season, someone I was calling a "league-winner" in early June. Although, in that article, I discussed how Baltimore's new offense is now better suited for his skillset and how he was being underrated as a passer, the bulk of my reasoning behind this bold call was due to his rushing upside. In Week 1, Jackson totaled just six yards on three carries on the ground.
Seeing as how this confirmed all my priors, and confirmation bias is real, I, obviously, still feel confident in saying he has league-winning potential. Though, at the same time, this was also an ideal matchup. The Dolphins are tanking and their defense was playing like it. Even Robert Griffin III went 6 of 6 with 55 yards and a touchdown in relief. Next Miami will face off against – oh boy – Tom Brady, Antonio Brown, Julian Edelman, and Josh Gordon.
Oh, and the second-best quarterback value in drafts this year? That was Dak Prescott. He scored 33.4 fantasy points against the Giants, totaling 405 passing yards, four touchdowns, and zero interceptions on 32 attempts. He finishes the week second at the position in fantasy points (behind Jackson) and just one rushing yard shy of a career-high.
9. From Week 10 until the end of last season, Baker Mayfield was sacked only three times (fewest) and pressured on only 26% of his dropbacks (second-fewest). In Week 1, Mayfield was sacked five times.
The most hyped offense of the 2019 offseason scored just 13 points in a 30-point beatdown at home. Mayfield recorded a 64.0 passer rating, the worst of his career. Most of the pressure surrendered was credited to the tackles, but it is noteworthy the Browns traded away Kevin Zeitler (our highest-graded pass-blocking guard in 2018) this offseason. This could be an issue for Mayfield and the Browns all year.
10. Sammy Watkins caught nine of 11 targets for 198 yards and three touchdowns. In total, he scored 46.8 fantasy points, the most in any game of his career (by 13.0). He did this while running 55% of his routes lined up against Jalen Ramsey or A.J. Bouye, who both rank top-six of 192-graded cornerbacks over the past two seasons.
Tyreek Hill is, reportedly, expected to miss "the next few weeks" with a shoulder injury. Watkins needs to be treated as a borderline WR1 every time Hill misses a game. When Hill returns, Watkins should be treated as a low-end WR2. Last season, Watkins averaged 13.6 fantasy points per game when playing on at least 20% of the Kansas City's snaps. That would have ranked 25th-best at the position last year.
Patrick Mahomes, meanwhile, completed 25 of 32 passes for 378 yards, three touchdowns, and zero interceptions (147.1 passer rating). That's the most passing yards Jacksonville has surrendered to any quarterback since 2015. Mahomes continues to be matchup-proof and the most valuable quarterback in fantasy football.
11. DeSean Jackson totaled 154 yards and two touchdowns on nine targets. This was his best fantasy game in six years (35.4 fantasy points) and the third-most receptions (eight) he's ever caught in a single game.
Jackson is back? Jackson is back! Or, really, he never went away — he was just hamstrung by poor quarterback play in Tampa Bay. Despite underwhelming fantasy numbers, Jackson still ranked ninth-best in yards per route run (2.27) last year and 18th at the position in PFF grade over the past two seasons. Now, in Philadelphia, he's gone from the worst quarterback he's ever played with (by his numbers) to, potentially, the best. At the very least, Carson Wentz is the far more competent deep passer. Jackson could finish the season as a fantasy WR3 or better but expect boom-or-bust production week-to-week.
So, how'd Jameis Winston do without Jackson? He threw three interceptions in Week 1 (two for touchdowns). Last season, the 49ers intercepted just two passes all year, the fewest by any defense in NFL history.
12. Jamison Crowder caught 14 (most) of 15 targets (most), totaling 99 yards receiving. Only twice has a player recorded more than 14 receptions in Week 1. Crowder earned himself a 37% target market share which led the position.
Robby Anderson had a brutal matchup against top shadow cornerback Tre'Davious White, but this is noteworthy — perhaps we should be treating Crowder as the team's WR1. Given Adam Gase's history with slot wide receivers, it wouldn't be too surprising. In 2013, Wes Welker, ranked 13th in fantasy points per game. Jarvis Landry ranked 13th at the position in fantasy points in 2016 and then fourth-best in 2017. In 2018, Albert Wilson ranked second in fantasy points per target.
13. In Week 1, three different rookie wide receivers totaled at least 100 receiving yards. Only 10 other times in NFL history has a rookie wide receiver ever reached 100 yards receiving in Week 1.
Marquise Brown caught four of five targets for 147 yards and two touchdowns. He did this on just eight routes.
Terry McLaurin caught three of four targets for 104 yards and a touchdown.
A.J. Brown was Tennessee's most-targeted wide receiver, and the team's only wide receiver to total more than five receiving yards, catching three of four targets for 100 yards.
All three wide receivers will be hot waiver-wire adds this week, and I am recommending you make an attempt to add one of these wide receivers (in the order listed above). Typically, rookie wide receivers aren't expected to do much in the first-half of the season, let alone the first game of the season. Over the past decade, rookie wide receivers have been over 50% more productive in the second half of the season than the first.

So, it's especially encouraging to see these wide receivers be so heavily involved and so productive so early in the season. I'm expecting part-time roles and up-and-down production from each of them throughout the first half of the season, but add them now and hold onto them so that they can contribute to your team when it matters most.
I wrote about my love for Marquise Brown here, here, and here. I've called A.J. Brown (already) the best wide receiver on the Titans, and wrote about my love for him here. I haven't written much about McLaurin but do feel confident in his Year 1 potential, and especially, when Dwayne Haskins (inevitably) becomes the starter. Haskins and McLaurin played together at Ohio State, and that already-established rapport is going to help mitigate typical rookie-related growing pains.
Rookies D.K. Metcalf (six targets for 89 yards) and KeeSean Johnson (10 targets for 46 yards) also stood out. It's probably too early to add Johnson, but, after out-targeting Tyler Lockett six to two, Metcalf needs to be rostered in medium-sized and deeper leagues.
14. T.J. Hockenson Gronkenson caught six of nine targets for 131 yards and a touchdown. In other words, he led the position and just totaled the most receiving yards by any tight end in an NFL debut all-time.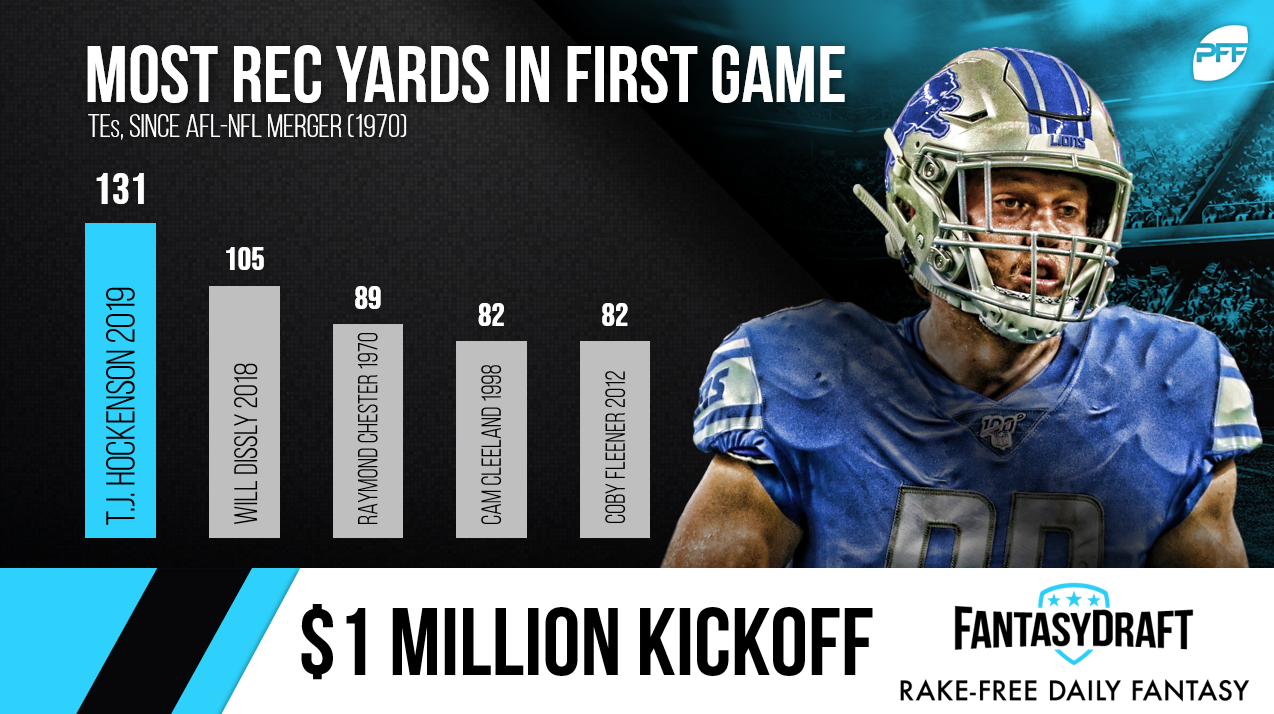 I'm typically low on rookie tight ends for fantasy but Hockenson might be the rare exception. He was our highest-graded tight end in 2018 and is the first tight end to be drafted inside the top-10 since Ebron in 2014. He was Matthew Stafford's favorite and most productive receiver this preseason, and then again in Week 1 was Stafford's most productive and second-most-targeted receiver. This came following a stellar and much buzzed-about camp. He appears to be locked in to an atypically (for a rookie) valuable role, running a route on 71% of Stafford's dropbacks in Week 1.
15. Evan Engram ranked first at the position in fantasy points (28.6), followed by Hockenson (25.1), Mark Andrews (24.8), and Delanie Walker (22.5).
Engram was the focal point of the Giants' offense, earning 14 targets (second-most among all players). Since entering the league, Engram averages 8.8 expected and 8.9 actual fantasy points per game with Odell Beckham Jr. on the field. Without Beckham on the field, he averages 13.8 expected and 14.3 actual fantasy points per game. Both numbers would rank top-three among tight ends over this span. He's an easy top-five tight end this year, with, maybe, top-two upside.
Andrews was one of my top targets all offseason, for reasons outlined here, and he was truly awesome in Week 1, turning 18 routes into 108 yards and a score (6.00 yards per route run, best). There were concerns over Andrews' usage heading into the season but he ran a route on 68% of Jackson's dropbacks in Week 1 — a much better rate than his numbers last season or in the preseason this year.
Walker seems fully back from the ankle injury he suffered last year, proving he was likely one of the best ADP values at the position all offseason. Prior to last season, Walker finished sixth, sixth, third, and seventh among tight ends in fantasy points per game. On Wednesday, Titans beat writer for ESPN Turron Davenport gave his bold prediction for the season, stating Walker would end the season with "90 catches and 1,000 receiving yards." He's not quite on pace for those numbers, but after a 5-55-2 line in Week 1, he's off to a great start.