Preseason wins are irrelevant. Preseason scores are useless. Preseason stats are meaningless. The preseason itself? Actually pretty important — well, at least if you're a fantasy player.
Didn't watch a lot of preseason football this year? Or, rather, didn't track first-team snap counts by hand? Don't worry, I've got your back. Today, we're breaking down the most-important fantasy takeaways from this year's preseason games for all 16 AFC teams after we focused on the NFC Monday.
You'll notice special attention is being paid to Week 3 of preseason — the "dress rehearsal" week of preseason. Starters almost never play in Week 4, which is why this article is coming out before the conclusion of preseason games.
Without further ado, here's who you should be moving up or down your draft boards:
On 80 snaps this preseason, Justice Hill totals 27 carries, four receptions, 114 total yards, and one touchdown. Of 76 qualifying running backs, he ranks fourth-best in missed tackles forced per touch (0.39) and 10th-best in PFF grade. Per ESPN beat writer Jamison Hensley, "He has all the makings of being that third-down, change-of-pace back to complement Mark Ingram." He's an ideal late-round zero-RB target.
This preseason, Mark Andrews has played on just 18 of Lamar Jackson's 38 first-team snaps. That ties with Hayden Hurst (18 of 38) and ranks well behind Nick Boyle (31 of 38). Andrews has been one of my must-draft late round targets all offseason and drew rave reviews all throughout camp, but this is worrisome. As good as Andrews is, it's hard to score fantasy points when you're not on the field.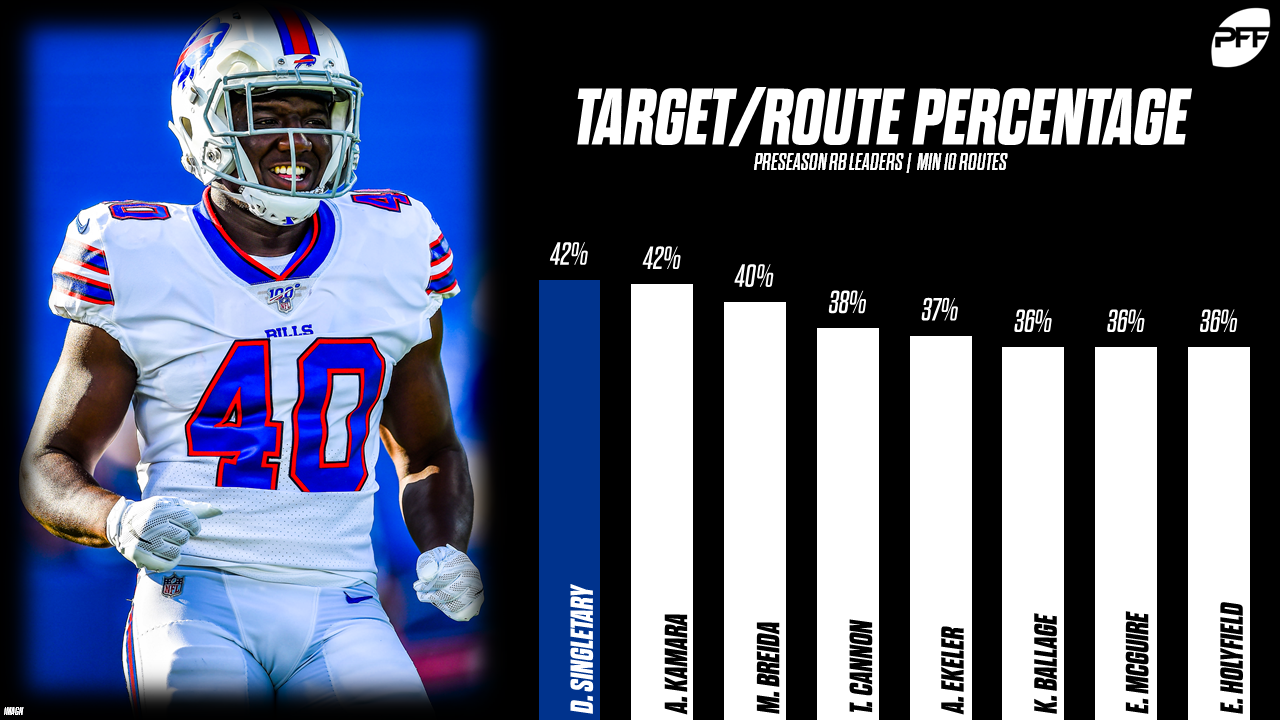 Of 100 qualifying running backs this preseason, Devin Singletary ranks sixth-best in PFF grade and 10th-best in yards per route run (2.42). He also ranks first in targets per snap (0.24) and first in targets per route run (0.42). This sort of usage backs up a recent report by ESPN beat writer Marcel Louis-Jacques that, "Singletary has carved out a Tarik Cohen or Darren Sproles-type role as the Bills' gadget back."
In Week 3, LeSean McCoy played on 17 of 28 snaps (61%) with Josh Allen under center, compared to 10 of 28 snaps (36%) for Frank Gore. In Week 2, Gore didn't play, and McCoy was on the field for 15 of Josh Allen's 18 snaps (83%).
On just four touches, former rugby superstar Christian Wade totaled 117 yards, two touchdowns, and five missed tackles forced.
Nick Chubb has played on four snaps this preseason and touched the ball only twice. On those two touches, he's gained 26 yards and forced two missed tackles. On 38 snaps and eight touches, Kareem Hunt totals just 20 yards and one missed tackle forced.
Joe Flacco has played on 30 snaps this preseason. Phillip Lindsay was on the field for 15 of these snaps (50%), while Royce Freeman was on the field for 11 (37%). This seems about in line with the usage I'm expecting from both running backs this season. As such, Lindsay and Freeman are both easy draft-day fades, stuck in a near-even split on a bottom-tier offense.
Noah Fant has played on 25 of Flacco's 30 snaps this preseason. It's hard to tell if this is because Jeff Heuerman missed Weeks 2 and 3 due to injury, or if Denver is ready to anoint Fant as their starting tight end.
Shortly after Saturday night's game against the Bears, Andrew Luck officially announced his retirement from the NFL. You can read Director of PFF Fantasy Jeff Ratcliffe's breakdown of the impact of the news, and check out my full thoughts on what this means for Indianapolis' skill position players here.
Indianapolis' starters sat out Weeks 1 and 3 of preseason. In Week 2, Marlon Mack played on 16 of Jacoby Brissett's 19 snaps, drawing six carries and running seven routes (one target). If Mack is who he was throughout most of last season (the lead running back in a two-way committee), he's a terrible pick at ADP. If he is who he was at the tail-end of last season (nearly an every-down player), then he's a strong ADP value. His small-sample preseason usage seems to imply it's the latter.
In Week 2, Jack Doyle out-snapped Eric Ebron 13 to nine with the first-string offense. Last season, Ebron was out-snapped (331 to 164) and out-targeted (32 to 22) by Doyle in games both were active. As I've argued all offseason, I'm not even sure we should be drafting Ebron over Doyle, let alone at their respective ADP price-tags (Round 8 vs. undrafted).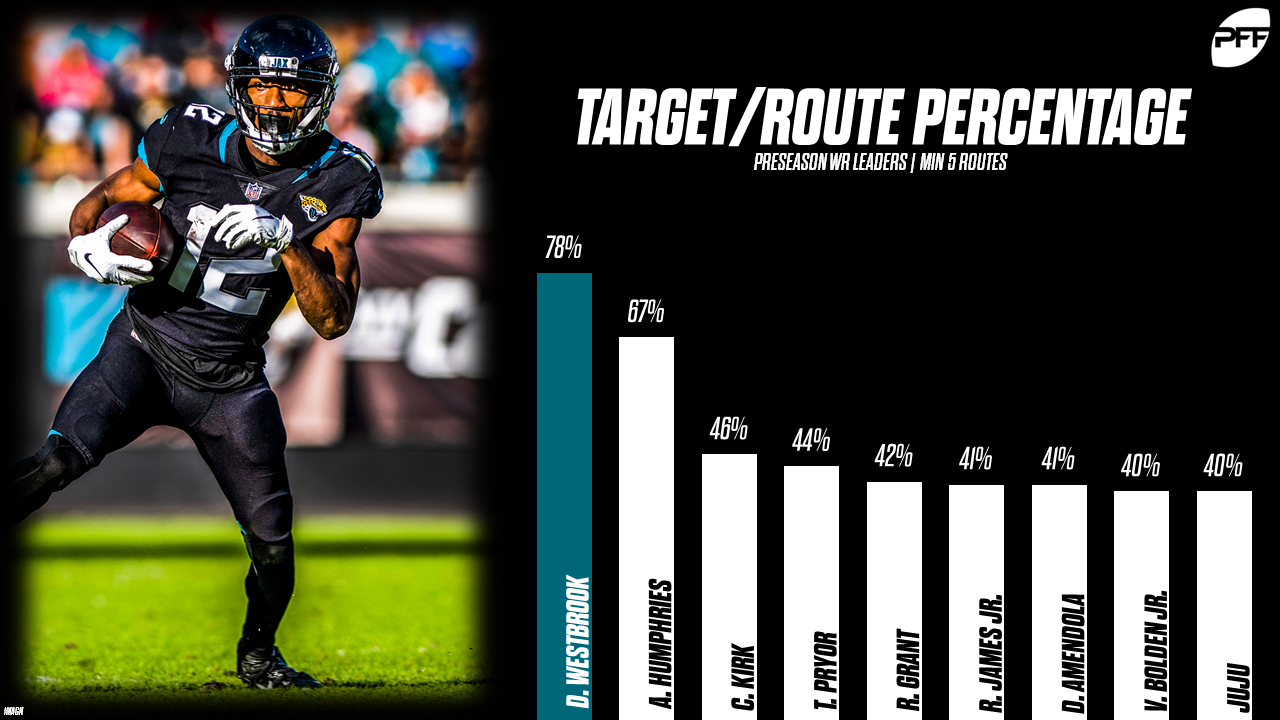 In Jacksonville's Week 3 dress-rehearsal game, Nick Foles attempted 10 passes. Seven of those targets went to Dede Westbrook while the other three went to Leonard Fournette.
In Week 3, Fournette played on 18 of the team's 19 first-string snaps. He saw seven carries and drew three targets on nine routes. Earlier this offseason, ESPN beat writer Michael DiRocco said "Fournette is going to be a big part of the pass game in 2019." Jaguars.com writer John Oehser said essentially the same thing in late July. So far those predictions looks good.
On just nine routes run, Westbrook has been targeted seven times. Recently, OC John DeFilippo told Troy Aikman that "Westbrook is the best route runner he's ever been around." Keep in mind he has been around some great route runners, like Adam Thielen and Stefon Diggs as recently as last year. So, if he really believed that, we should expect elite usage to follow. So far it has.
Damien Williams played on all of the team's first five snaps in Week 2. In Week 3, he played on eight of the team's first 10 snaps. On just 13 total snaps Williams saw one carry (gain of two yards) and four targets, catching three passes for 74 yards and a touchdown. On a very small sample size, he leads all running backs in yards per route run (8.22) and targets per snap (0.31). Again, it's a very small sample, but this should highlight Williams' upside as the team's starter and as a gifted pass-catching running back on the league's best passing offense.
On 52 snaps, Darwin Thompson totals 60 yards on the ground (12 carries) and, through the air, three catches, 38 yards, and a touchdown. On those 15 touches, he's forced six missed tackles, good for the second-best rate (0.40) of 88 qualifying running backs. This is a metric Thompson also dominated in college. He's been a must-draft player for me throughout much of the offseason.
Hunter Henry has played on 93% of the team's first-string snaps over the past two weeks. Among all tight ends from 2016-2017, Henry ranked first in fantasy points per target and second in fantasy points per snap. He averaged 10.4 fantasy points per game in games he was targeted, despite playing on just 55% of the team's snaps.
In Week 3, Austin Ekeler played on 15 of 23 snaps with the first-team offense (65%), while Justin Jackson played on 8 (35%). This is the sort of split I'd expect from them in Week 1, should Melvin Gordon's holdout linger into the season.
Across the full preseason, both Ekeler and Jackson have played on 40 snaps. Ekeler totals 60 rushing yards on 12 carries (5.0), while Jackson has turned 18 carries into 68 yards (3.8). Through the air, Ekeler ranks fifth in targets per snap (0.18) and second in yards per route run (3.00) of 67 running backs, turning 19 routes into 57 receiving yards. Jackson totals 13 yards and two targets on 15 routes.
In Week 3, Kalen Ballage played on 28 of the team's first 29 snaps. Ballage could be an ideal Week 1 DFS play — an underpriced option thrust into a bell cow workload — if Kenyan Drake were unable to return in time. Though that volume is enticing, he's clearly struggled. On 42 total snaps this preseason, he's seen 18 carries and five targets, but managed to gain just 38 total yards. Of 173 qualifying running backs, he ranks 10th-worst in PFF grade this preseason.
Of 71 qualifying quaterbacks, Ryan Fitzpatrick ranked third (45.9%) and Josh Rosen 10th (41.5%) in pressures incurred per dropback. In July we ranked the offensive lines of all 32 NFL teams – Miami finished dead-last.
Quincy Enunwa, Robby Anderson, and Chris Herndon have been on the field for all 48 of Sam Darnold's snaps. Enunwa leads the way in target share (six targets on 23 throws) but with little to show for it (two catches for 14 yards). Anderson has been far more productive (five catches for 92 yards), while Herndon has been targeted just twice, but caught both targets for 37 yards.
Ty Montgomery has been on the field for 43 of Darnold's 48 snaps (90%) this preseason. Backing up Le'Veon Bell, he's one of the league's most valuable handcuffs this year.
Derek Carr and the starting offense has played just six snaps this preseason. Darren Waller was on the field for all six of those snaps. Earlier this offseason, HC Jon Gruden had this to say of Waller – "We're going to give him a chance of the lifetime."
Carr and the starting offense has played just six snaps this preseason. Josh Jacobs was on the field for all six of those snaps. On those six snaps, Jacobs saw four carries totaling 21 yards. All indications point to a massive workload for Jacobs in Year 1.
In Week 3, James Conner played on 15 of Ben Roethlisberger's 20 snaps (75%), drawing five carries and running nine routes. He seems locked into a bell cow workload for 2019.
In Week 3, JuJu Smith-Schuster and Donte Moncrief played on 18 of Roethlisberger's 20 snaps (90%), while Ryan Switzer played on 14 (70%). With Week 3 typically being the dress rehearsal week, I'd bet this is the starting lineup we see from Pittsburgh when in 11 personnel (most of the time). Across the final six weeks of last season, Switzer out-snapped James Washington 184 to 160.
Washington graded out dead-last of 118 qualifying wide receivers last year, but he might be the MVP of preseason this year. Of 116 qualifying wide receivers this preseason, Washington ranks first in yards per route run (4.83), first in yards per target (16.9), and second in PFF grade.
In Week 3, Vance McDonald played on 19 of Roethlisberger's 20 snaps (95%). In Week 2, he played on all 15 of the team's first 15 snaps. This sort of usage runs counter to a recent report implying McDonald's snap share wouldn't climb too much from last season's number (50%).
On Roethlisberger's 13 attempts, Smith-Schuster was targeted five times (38%), catching four passes for 37 yards and a touchdown. Last season, Smith-Schuster ran 62% of his routes from the slot. This preseason he's run just 15% of his routes from the slot. I explained earlier this offseason what this might mean for Smith-Schuster's fantasy potential in 2019.
Of 75 qualifying quarterbacks, Marcus Mariota ranks 51st in PFF grade (55.4) and 42nd in passer rating (78.5). His backup Ryan Tannehill ranks 10th (81.1) and seventh in both categories (119.7).
On just 12 routes, Adam Humphries has been targeted eight times (67%). Earlier this offseason, Humphries turned down more money from the Patriots to go to Tennessee. Tennessee couldn't match New England's money, or their odds of getting Humphries a Super Bowl ring, so maybe they lured him to town with the promise of something else?