At PFF, we have a team of experts who spend roughly 20,000 man-hours grading every player, at every position, on every play, in every game of the season. I try to watch as much football as I can during the season but, obviously, I don't have 20,000 man-hours to spare, nor do I trust myself as much as our experts and our extremely thorough grading process. For fantasy football, our player grades are especially useful in identifying breakout candidates or potentially undervalued sleepers before the rest of the fantasy world.
(Read more about the PFF grading process. If you're an Edge or Elite subscriber, you can access our 2018 season-long grades. If you're a skeptic, I implore you to watch this video from former offensive line coach Paul Alexander.)
For instance, I owned Doug Baldwin in all of my dynasty leagues heading into the 2015 season. He never finished inside of the top-50 wide receivers in fantasy points per game up to this point, but in each of his next three seasons he ranked top-16. Why was I so high on him? Despite the poor fantasy production to start his career, he's ranked top-25 among wide receivers in PFF grade in every year of his eight-year-career.
With the 2019 fantasy season in mind, here's some of our grades that stood out the most to me, and who might be a strong ADP value or ADP fade:
The good
ADP: QB14
PFF grade: 7th of 38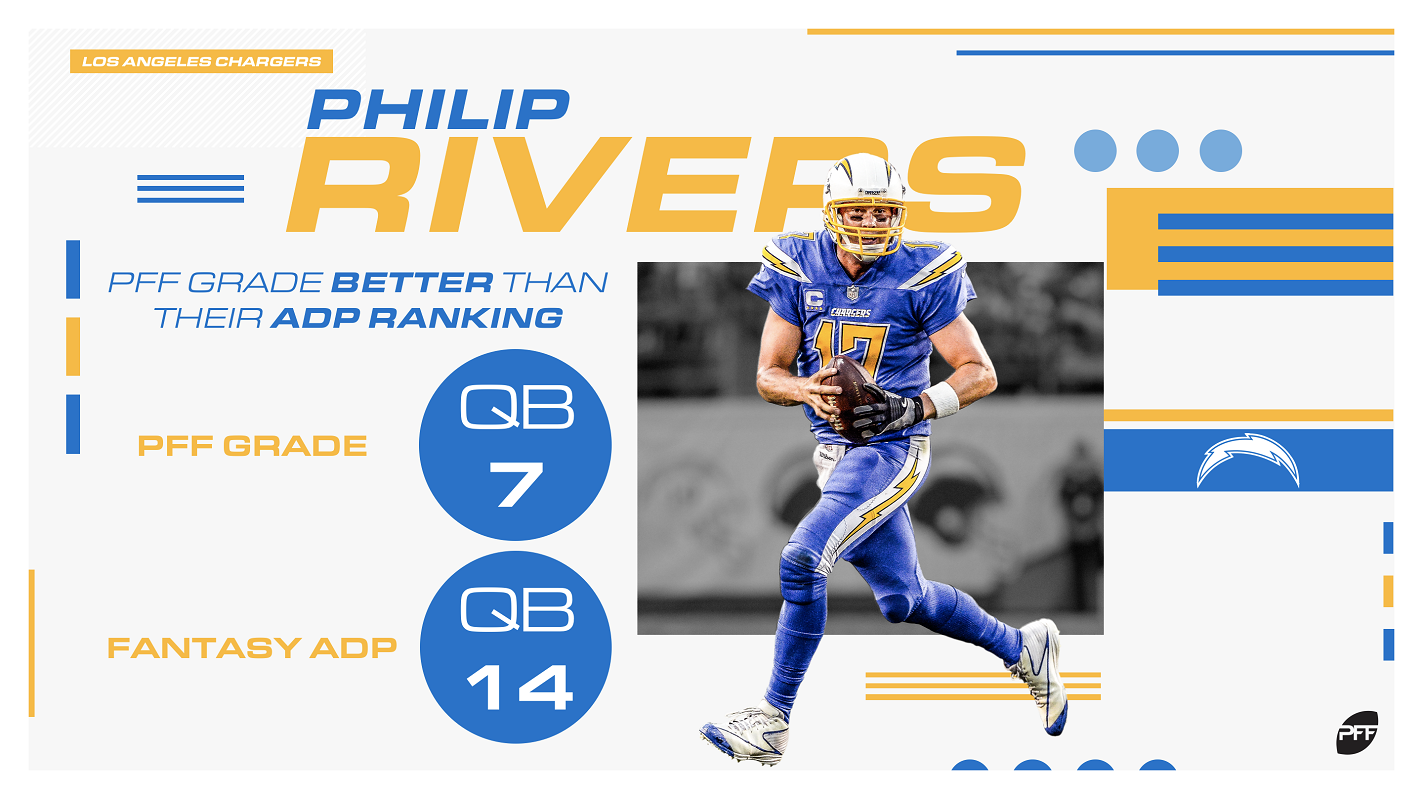 Rivers was phenomenal last season, ranking fourth-best in PFF grade and seventh-best in fantasy points per dropback. Despite the good efficiency, Rivers' volume wasn't anywhere near as good, ranking just 29th in dropbacks per game (34.0). Across his previous four seasons, he ranked ninth of 37 qualifying quarterbacks in dropbacks per game (39.9). If he kept up with that sort of pace last year, he would have finished seventh in fantasy points per game. He's a glaring regression candidate heading into 2019.
ADP: QB16
PFF grade: 4th of 38
I argued against taking Tom Brady at his current ADP earlier this offseason, following the losses of Rob Gronkowski, Josh Gordon, and Chris Hogan. However maybe Brady's still got it, despite turning 42 years old this year. Or rather, I should say, maybe he's never really lost it. And that's important for fantasy – remember, efficiency is far more important for fantasy quarterbacks than volume. Over the past four seasons, Brady has ranked fifth, first, first, and second in PFF grade. Over this span, he's also ranked 18th, seventh, third, and second in fantasy points per game.
ADP: RB35
PFF grade: 6th of 61
Last season, Ekeler ranked:
6th of 61 running backs in PFF grade (83.6)
7th of 56 running backs in elusive rating (67.6)
6th of 56 running backs in yards per carry (5.23)
7th of 31 running backs in yards per target (7.62)
All of these numbers ranked better than Melvin Gordon, who hit 4.0 yards per carry for just the first time in his career last year and is now threatening to holdout. With just a seventh-round price tag, Ekeler is a screaming value, even if a full bell-cow workload in a Gordon absence isn't a guarantee.
ADP: RB58
PFF grade: 21st of 61
Breida seems likely to be stuck a three-way committee in San Francisco, and at the bottom of the pecking order, but he was much better than expected last year. He ranked 21st in PFF grade (Tevin Coleman ranked 46th) and 10th of 47 running backs in fantasy points per snap. He also ranked 16th in PFF run grade in 2017. Since 2000, and among all NCAA running backs with at least 500 career carries, only Melvin Gordon owns a higher career yards per carry than Breida's 6.9. Here's what Dr. David Chao recently had to say of Breida: "Breida was a cyborg when it came to injuries last year. He missed only two games but dealt with separate injuries to knee, shoulder and ankle… He starts off [this season] ostensibly healthy. Imagine what he might be able to do if he stays that way." Maybe he's not a redraft target, but he is a strong dynasty sleeper.
ADP: N/A
PFF grade: 25th of 61
I really love David Montgomery but Davis might be one of the best sleepers at the position, going undrafted in the majority of leagues. This is despite the fact that he ranked 25th in PFF grade last season, and that Davis and Chicago beat writers both think he'll have an even bigger role in Chicago this year than the one he had in Seattle last year (112 carries and 42 targets).
ADP: WR33
PFF grade: 17th of 118
Over the past two seasons, Fuller averages 14.0 fantasy points per game when he's played at least 50% of the team's snaps. For perspective, 14.0 fantasy points per game would have ranked 23rd-best last year. As his PFF grades show, along with his fantasy production, he's really good when healthy. Well, he's finally healthy, tearing up camp, and, probably, a strong ADP value.
ADP: WR27
PFF grade: 12th of 118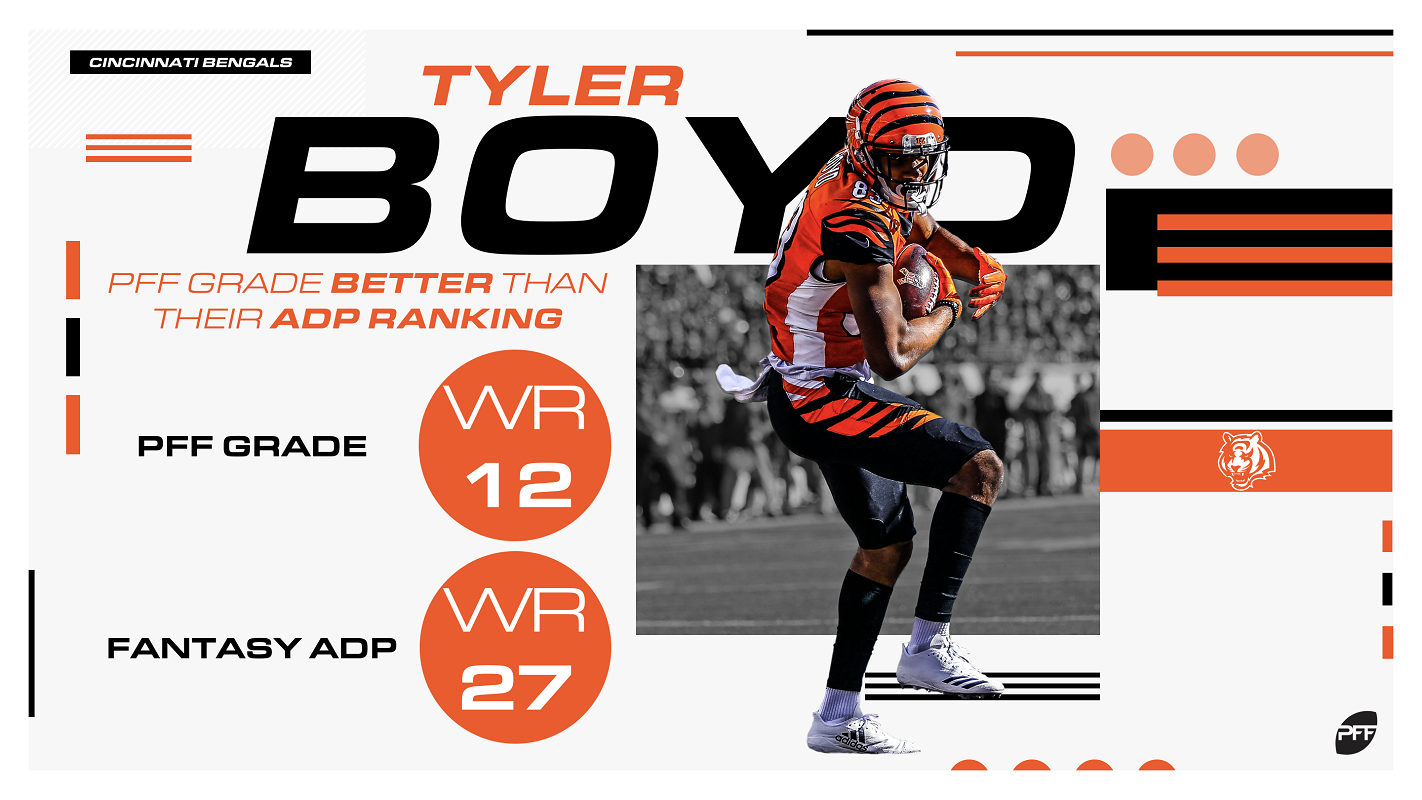 Boyd was awesome last year – by PFF grade and by fantasy production. He averaged 15.8 fantasy points per game last season, or 16.7 fantasy points per game when Andy Dalton was active, or 17.4 fantasy points per game when A.J. Green was active. For perspective, those numbers ranked (or would have ranked) 19th, 15th, or 12th, respectively last year. No matter how you split it up, Boyd is a glaring value at ADP.
ADP: WR50
PFF grade: 25th of 118
Jackson struggled throughout his Tampa Bay tenure, though I'm not entirely sure it's his fault. Despite underwhelming fantasy numbers, Jackson still ranked ninth in yards per route run (2.27) last year and 18th at the position in PFF grade over the past two seasons. Now, in Philadelphia, saddled with a far more competent deep passer, it's safe to expect a bounceback year from Jackson.
ADP: N/A
PFF grade: 32nd of 118
Humphries ranked 32nd in PFF grade and 24th in fantasy points last year. Somehow, he's going undrafted in the majority of leagues. Granted, he's on a new team, but he also chose that team for a reason — and over New England offering him more money.
ADP: N/A
PFF grade: 14th if qualified

Wilson graded out 14th-best last season, and has long been one of my favorite under-the-radar players in the league. If he's healthy and starting by Week 1, he's a must-draft player for me.
ADP: TE20
PFF grade: 6th of 41 (min. 30 targets)
Baltimore beat writers can't stop gushing about Andrews, and yet, his ADP hasn't budged. Last season Andrews ranked sixth-best in PFF grade and totaled 552 yards, or the 22nd-most by a rookie tight end in NFL history — remember, rookie tight ends typically make a sizeable leap in their sophomore seasons. On top of this, he was also hyper-efficient, ranking fifth of 30 tight ends in yards per route run (2.01). Perhaps most importantly, he was also Lamar Jackson's most productive receiver, comprising a team-high 26% of Jackson's passing yards on just 12% of his throws.
ADP: N/A
PFF grade: 4th of 41
Los Angeles' offense is so highly concentrated among the team's three wide receivers that I don't think there's much fantasy upside for Everett. But his impressive grades last season give me hope, and, more importantly – I want to believe [cue X-Files theme]. Everett was one of my favorite tight ends in the 2017 draft.
ADP: N/A
PFF grade: 14th of 41
At age 38, Watson graded much higher than his receiving production in New Orleans might otherwise imply. He'll serve a four-game suspension to start the season, but he is basically free and probably the early favorite to replace Rob Gronkowski.
The bad
ADP: QB21
PFF grade: 33rd of 38
Trubisky was productive last year (11th in fantasy points per game), thanks mostly to a scramble-heavy stretch in the middle of the season, and he has legitimate Konami Code upside, but he was also one of our worst-graded quarterbacks last season. Luckily, his ADP is fairly low relative to his production last season. If he can take a step forward in his second-year in Matt Nagy's offense, or the team goes a little more pass-heavy in 2019 (they were the sixth-most run-heavy team in 2018), he could still be a strong value in spite of the overarching efficiency concerns.
ADP Rank: QB13
PFF grade: 24th of 38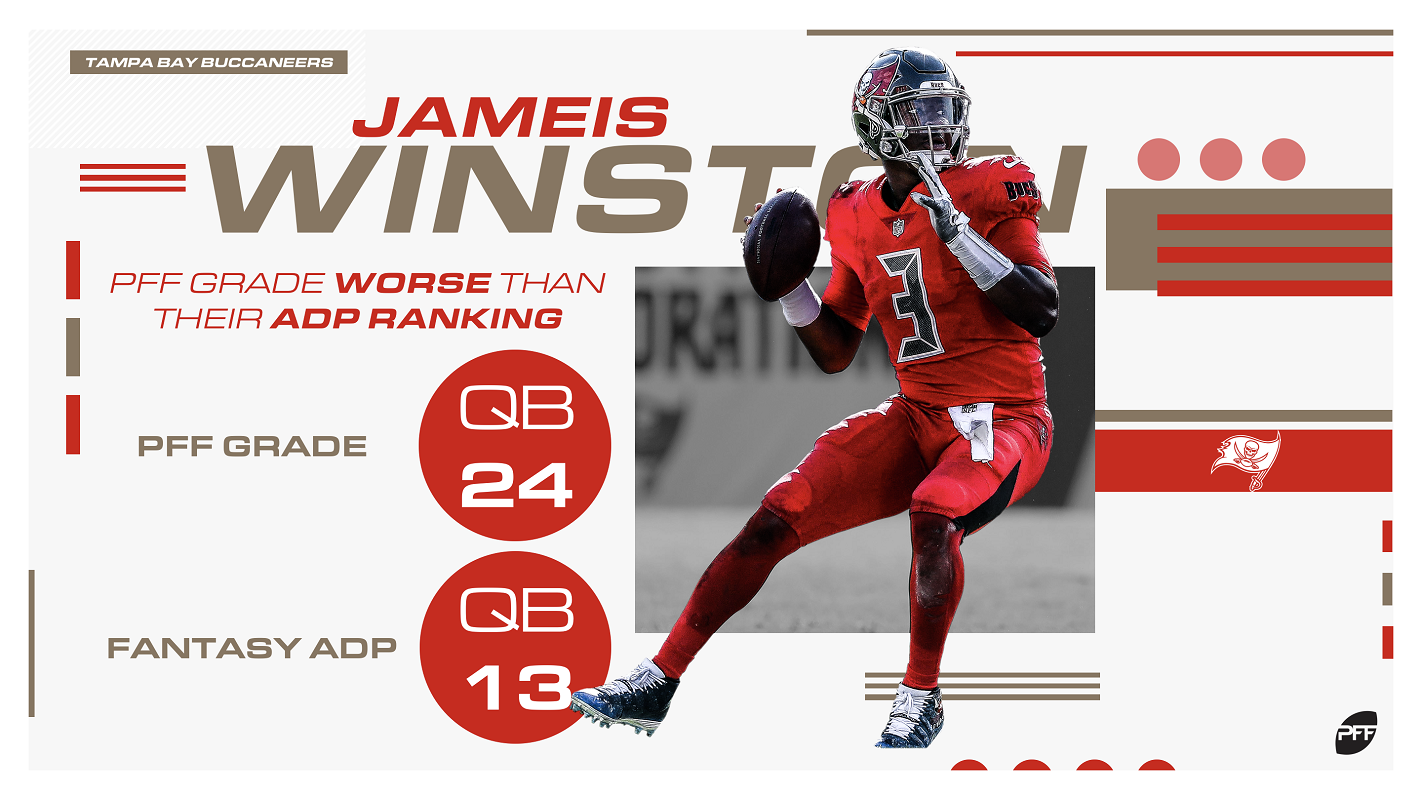 Winston is one of my biggest ADP fades this season. He has volume on his side, but efficiency is a major concern, getting outplayed (and badly so) by Ryan Fitzpatrick last season.
ADP: RB5
PFF grade: 51st of 61
Of 61 qualifying running backs, Johnson ranked 11th-worst in overall PFF grade. Among all 47 running backs to see at least 100 carries, he ranked ninth-worst in yards per carry (3.64). Among all 13 running backs with at least 50 targets, he ranked second-worst in yards per target average (5.9).
Yup, we know Johnson struggled last year, but this isn't deterring me at all from drafting him top-five overall in 2019.
ADP: WR8
PFF grade: 26th of 118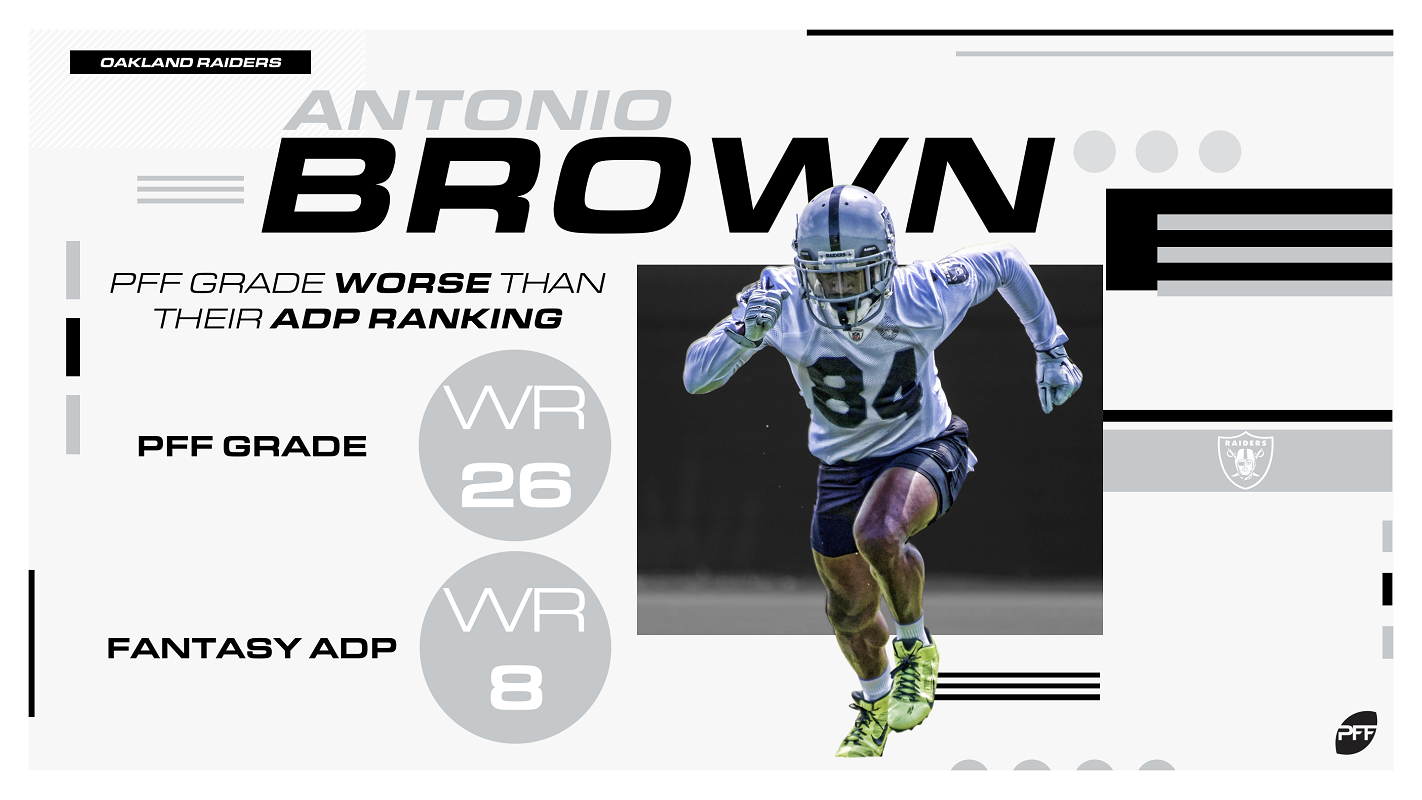 Starting with last season and working backward, Brown has graded out 27th, second, fourth, first, first, and third among wide receivers. Brown totaled almost 1,300 yards and led the position in touchdowns but he also accounted for 11 of Ben Roethlisberger's interceptions in 2018. Could this be a sign of decline? Maybe, but Brown is probably still well worth a second-round pick.
ADP: WR49
PFF grade: 118th of 118
Washington graded atrociously last season, ranking dead-last among all 118 qualifying wide receivers. He was eventually out-snapped by Ryan Switzer, 184 to 160, over the final six weeks of the season. Granted, he was a rookie and there's room for improvement, but perhaps we should be comparatively higher on Donte Moncrief, Switzer, or PFF favorite Diontae Johnson.
ADP: WR39
PFF grade: 93rd of 118
Scantling has earned some praise in camp but he graded poorly (26th-worst) last season. At ADP (WR35), I'd much rather own his teammate Geronimo Allison.
ADP: WR43
PFF grade: 77th of 118
Sutton graded out poorly in his rookie year, but it's hard not to get excited about the second-round pick's potential in Year 2. His only competition for targets are a rookie tight end, a 32-year-old wide receiver coming off of a late-season Achilles tear, and DaeSean Hamilton (who graded far worse than Sutton).
ADP: TE7
PFF grade: 21st of 41
Ebron graded much worse last season than his fantasy production (fourth-most fantasy points per game) seems to imply. Ebron also has other concerns that make him an easy fade at ADP – mainly the healthy return of Jack Doyle. In the six games both tight ends were active last year, Doyle out-snapped Ebron 331 to 164 and out-targeted him 32 to 22.
ADP: TE10
PFF grade: 22nd of 41
Njoku is young (23 years old) and gets to play with a deadly accurate quarterback in Baker Mayfield, but competition for targets is tougher this year, following the trade to acquire Odell Beckham Jr. He's disappointed relative to expectations in back to back years, and on top of poor grades in 2018 he also led the position in drops. Like fantasy owners, Cleveland's front office also seems to be growing impatient with Njoku's development.