Preseason wins are irrelevant. Preseason scores are useless. Preseason stats are meaningless. The preseason itself? Actually pretty important – well, at least if you're a fantasy football player.
Didn't watch a lot of preseason football this year? Or, rather, didn't track first-team snap counts by hand? Don't worry, I've got your back. Today, we're breaking down the most-important fantasy takeaways from this year's preseason games for all 16 NFC teams before we move to the AFC Tuesday
You'll notice special attention is being paid to Week 3 of the preseason — the "dress rehearsal" week of preseason. Starters almost never play in Week 4, which is why this article is coming out before the conclusion of preseason games.
Without further ado, here's who you should be moving up or down your draft boards:
Of 57 qualifying quarterbacks, Matt Ryan ranks fourth-best in PFF pass grade. This is despite the fact that he was under pressure on 53% of his dropbacks (worst of 98 qualifying quarterbacks) this preseason, significantly worse than his pressure rate during the 2018 regular season (33%).
The RB2 role is apparently still up for grabs in Atlanta. The incumbent (Ito Smith) still seems to be the favorite. He out-snapped Brian Hill 17 to six with Ryan under center in Week 3. Both have performed poorly, however, grading out bottom-15 of 43 qualifying running backs.
In Week 3, Christian McCaffrey played on 11 of 11 snaps with Cam Newton under center.
Newton suffered a mid-foot sprain in Week 3 of the preseason. Although this hurts Newton's upside as a Konami Code quarterback, it could be beneficial to his receivers. Throughout his career, Newton has run on 21% of his dropbacks. If he runs less due to the foot sprain, that should mean more passing volume for everyone else.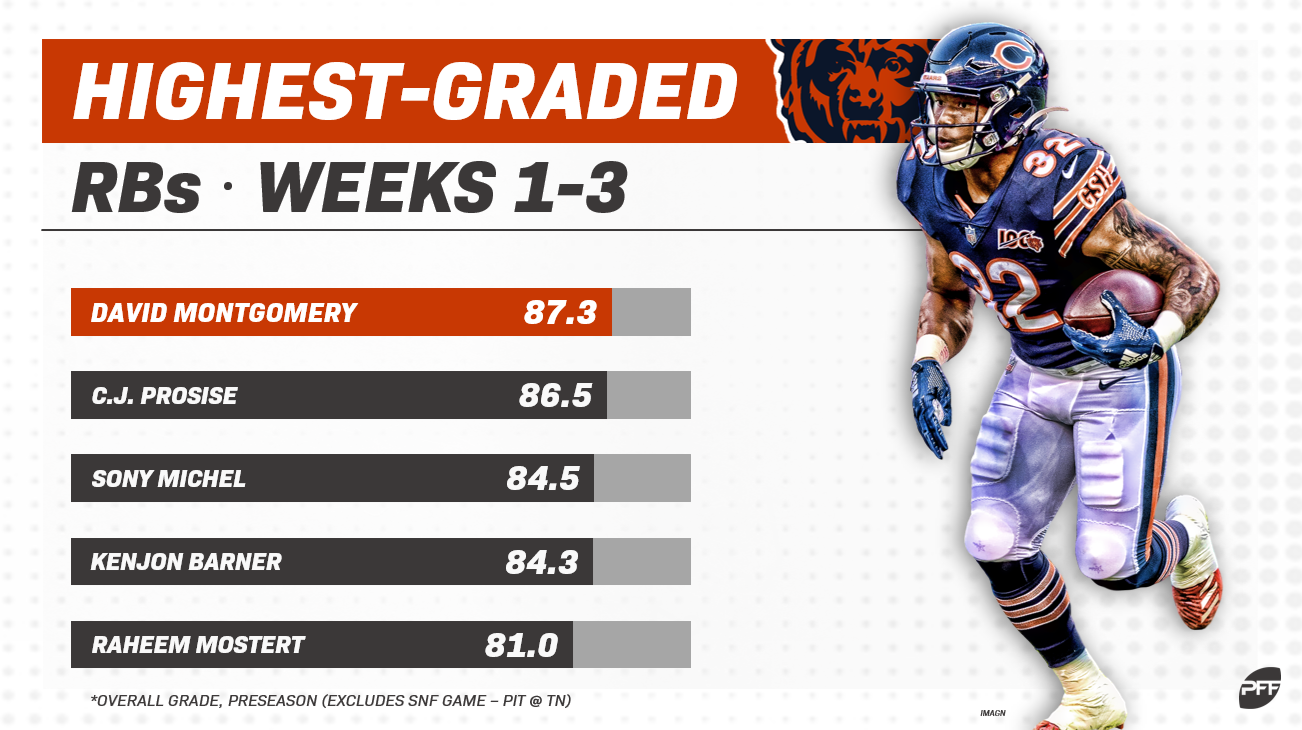 Chicago has mostly kept its exciting young rookie (David Montgomery) under wraps, playing on only 13 snaps. However, within that small sample he leads all running backs in PFF grade (87.3). He also saw three targets on 13 snaps, which ranks fourth-most. As multiple reports have corroborated, I think Tarik Cohen sees a major reduction in targets at Montgomery's expense.
Dak Prescott has played on 31 snaps this preseason. Tony Pollard was on the field for all 31 of those. Of 61 running backs this preseason, Pollard ranks second in yards per carry (5.6) and seventh in missed tackles forced per touch (0.28). He has legitimate league-winning potential should Ezekiel Elliott's holdout last the full season.
With Amari Cooper sidelined, Michael Gallup has been Prescott's favorite and most productive target. On Prescott's 12 pass attempts this preseason, Gallup has comprised 50% of Prescott's targets, 56% of his passing yards, and 100% of his touchdowns. He also ranks fourth-best of 150 qualifying wide receivers in PFF grade.
In Week 3, T.J. Hockenson played on 26 of the 33 snaps (79%) Matthew Stafford was on the field. Jesse James was on the field for only 16 of 33 snaps (48%). Hockenson was also Stafford's favorite and most productive receiver this preseason. Rookie tight ends typically underwhelm for fantasy but Hockenson could be an exception.
In Week 3, Kerryon Johnson played on eight of the team's first 13 snaps before getting taken out of the game (62%); C.J. Anderson played on the other five snaps (38%).
Aaron Rodgers hasn't played a single snap this preseason, so it's hard to come up with a meaningful takeaway other than that Jake Kumerow continues to look terrific. Kumerow has played in just five preseason games over the past two seasons, and on just 33% of the team's snaps in those games. If adjusted for a full four quarters, he would average 7.8 receptions, 173.4 yards, and 1.8 touchdowns per game in the preseason.
Like with Green Bay, Jared Goff hasn't played a single snap this year. Actually, almost every Rams starter has sat out all of the preseason. What's particularly interesting about this is that Malcolm Brown has played zero snaps this preseason, while Darrell Henderson has played on 74. Sean McVay has repeatedly indicated that Brown is the running back you want to own should Todd Gurley go down due to injury. Preseason usage backs this up, though I suspect Brown's ADP will remain absurdly low (RB61).
Dalvin Cook has just two touches this preseason. On one of those touches, he scored an 85-yard touchdown. If Cook sees similar usage to what he saw last year, he has legitimate top-five upside in Gary Kubiak's offense. In 12 seasons as an offensive coordinator, Kubiak's offense has ranked top-five in rushing yards nine times and top-12 12 times. In his last year in the league, Kubiak led the league in outside zone runs and outside zone run percentage. Over the past two seasons, Cook ranks fourth-best in yards per carry when running in outside zone.
This preseason, Adam Thielen has run 12 routes, drawing four targets and totaling 79 yards. Stefon Diggs, meanwhile, has run 27 routes, drawing just five targets and totaling only 34 yards.
This preseason, Alvin Kamara has played on eight of eight snaps with Drew Brees under center.
During the Saints' Week 3 dress-rehearsal game, Tre'Quan Smith out-snapped Ted Ginn seven-to-four with Brees under center (eight total snaps). That might seem small but it's enough for me to move Smith up in my rankings. Last season, New Orleans' WR2 played on 56% of the snaps, while the WR3 was on the field only 35% of the time. He's an ideal high-upside late-round pick in 2019 fantasy drafts.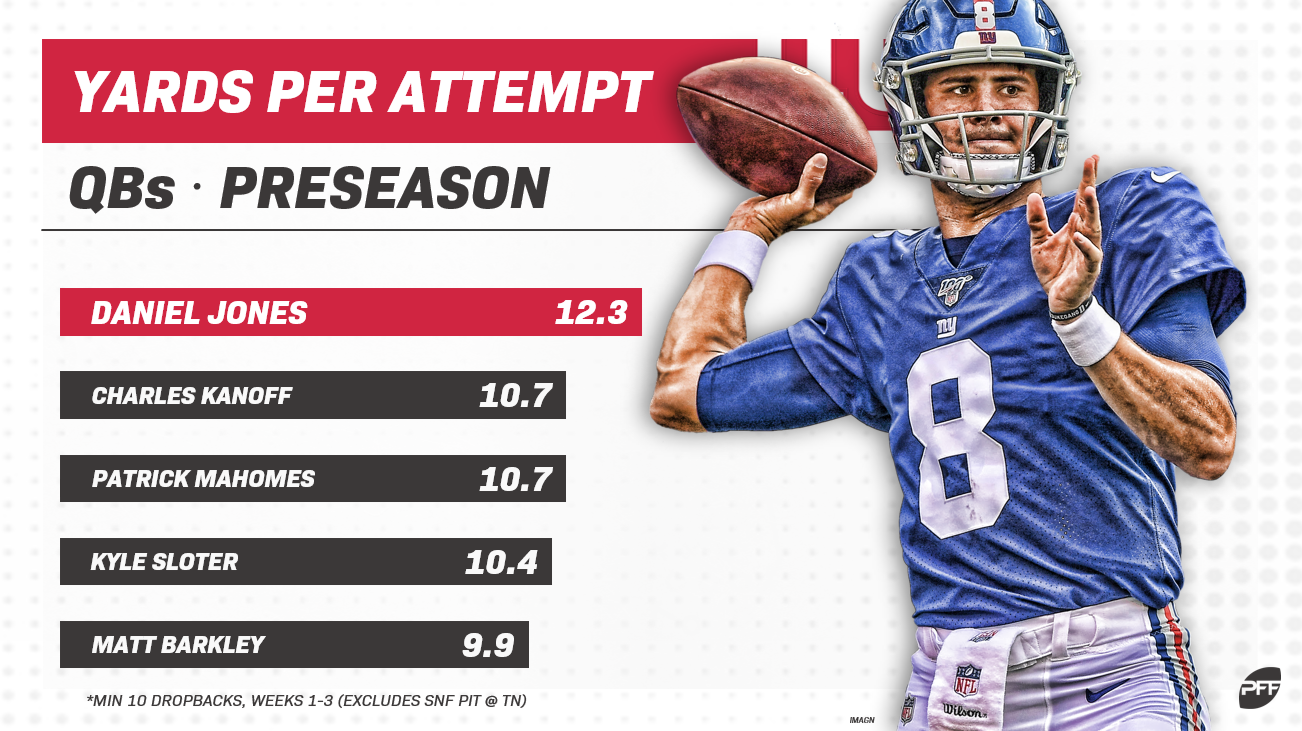 Rookie Daniel Jones has arguably been the league's most efficient quarterback this preseason. Among 108 quarterbacks, Jones ranks first in yards per attempt (12.3), second in passer rating (140.1), and third in drop-adjusted completion percentage (87%).
Carson Wentz hasn't played a single snap this preseason and the rest of the starters have only seen minimal work, but Dallas Goedert and rookie JJ Arcega-Whiteside are two players who have stood out. Goedert ranks as our highest-graded tight end on a small sample (12 snaps and five targets). Arcega-Whiteside – a personal favorite of mine – ranks sixth in PFF grade (of 53 qualifying wide receivers) after posting a 8-104-1 line (nine targets) in Week 3.
This preseason Tyler Lockett has been targeted seven times on just 21 routes (33%), averaging 3.67 yards per route run. Both numbers rank top-six of 222 qualifying wide receivers. Historically, WR1s have struggled to see good volume in Seattle and under Brian Schottenheimer. That might be more important than preseason usage, but I don't see how Lockett doesn't see a hefty target-jump this year, following a historically great 2018 season, the retirement of Doug Baldwin, and injuries to David Moore and D.K. Metcalf.
Last week, Chris Carson was pulled after playing on all five of the team's first five plays. In Week 2, Carson played on 15 of 19 snaps (79%) with the first-string offense. After Mike Davis' departure, Carson seems like an easy bet to beat ADP, and his preseason usage only reinforces this point.
Will Dissly played on 26 of 29 snaps (90%) with Wilson under center last week. He wasn't targeted but this usage is encouraging.
Jameis Winston has played on 58 snaps this preseason. Chris Godwin was on the field for all 58 of those snaps, while O.J. Howard was on the field for 55 (95%). Godwin has been Winston's favorite receiver this preseason, comprising eight of Winston's 28 attempts (29%). Earlier this season Bruce Arians had said Godwin would "never come off the field," and so far he hasn't. Howard's usage might be even more encouraging. Last season he tied for fifth at the position in fantasy points per game (12.1), despite playing on just 61% of the team's snaps in games active.
Derrius Guice played on 19 of 31 snaps (61%) with the first-string offense in Week 3. On those 19 snaps he saw 11 carries while running seven routes (one target). If he can stay healthy, he has far more upside than current ADP (RB32) implies.