On fantasy football draft day, avoiding potential landmines can be just as important as hitting on the right players. So, please, allow me to navigate you through the rocky waters of your 2019 fantasy draft, and help you avoid those players who might sink your team.
Today, we're looking at the most overpriced player (at ADP) in each of the first eight rounds of your fantasy draft. In Round 5 there are two equally overpriced players, so both warrant mention.
(ADP: Round 1, RB8)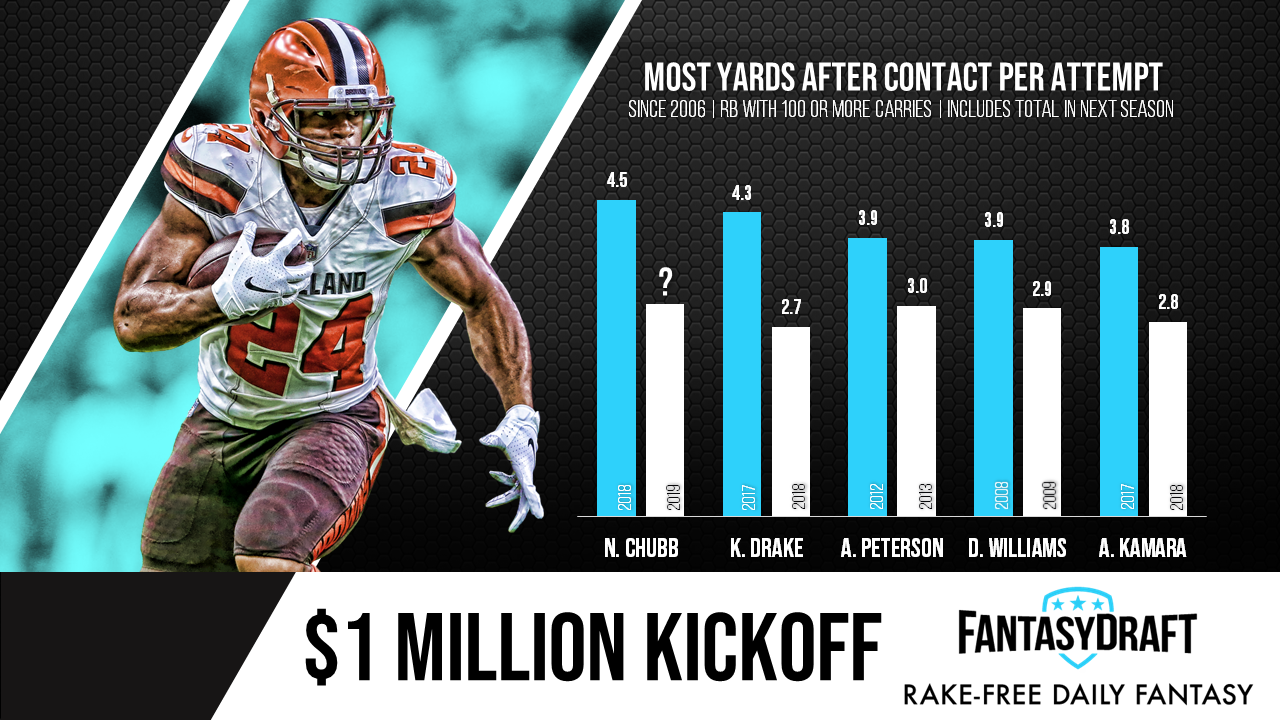 Chubb was other-worldly last year, breaking the PFF record for yards after contact per attempt and ending the season as our highest-graded running back. Simply stated, he was — and is — awesome. However, he was also so efficient that he's sure to see a regression in that regard in 2019. For instance, the 25 running backs who ranked closest to Chubb in yards after contact per attempt fell, on average, from 5.27 yards per carry to 4.48 in the following season.
However, that's really just a minor point so long as an increase in volume makes up for the efficiency regression. It should, but how much more volume should we expect? Across the final five games of last season, Chubb saw 85% of the team's carries but only 50% of the snaps and 38% of the targets out of the backfield. Since 2014, Chubb has never eclipsed 20 catches in a single season. With Duke Johnson out of the picture, can he double that number in 2019, or will the passing-down role go to Dontrell Hilliard, as Cleveland beat writers have suggested?
Even if Chubb returns a first-round value through the first nine weeks of the season, what happens when Kareem Hunt returns from suspension on fresh legs? Across the past two seasons, Hunt ranks ninth in yards per carry average (4.75), second in PFF grade, first in yards per target average (8.5), and first in elusive rating (77.9). Maybe Chubb remains the starter, but Cleveland isn't going to give a top-five running back zero touches. Instead, he'll at least somewhat eat into Chubb's workload, capping upside when it matters most, in the fantasy playoffs.
(ADP: Round 2, RB11)
The Athletic's Paul Dehner recently said, "I think you'll see much more of Giovani Bernard [this year]," predicting a whopping 11-13 touches per game for Bernard. Bernard averaged just 5.0 touches per game last year to Mixon's 19.7. It's hard to imagine Bernard comes anywhere near that total without significantly eating into Mixon's volume and upside. Keep in mind, 50% of Bernard's touches also came through the air last year, and targets are worth 2.83 times as much as a carry for running backs in PPR leagues. So, it seems, Bernard will also be stealing away the more valuable work. And a lack of target volume is especially detrimental to running backs on bad teams and with poor offensive lines. Cincinnati is projected to win only 5.5 games this year and has our sixth-worst projected offensive line.
(ADP: Round 3, WR13)
Last season, including the postseason (11 total games), Cooper averaged 17.9 fantasy points per game with Dallas. That would have ranked 10th-best at the position. That's the good news. Here's the bad news:
He's dealing with a mysterious lower-body injury that could linger into the season.
He's been maddeningly inconsistent throughout his career. In 2017, Cooper scored 52% of his fantasy points in just three games (the highest percentage in the league). In 2018, Cooper scored 52% of his fantasy points in just three games (the highest again). This means that the other 79% of the time you were starting him he was averaging just 5.5 (2017) and 7.0 (2018) fantasy points per game. Those numbers would have ranked outside of the top-75 wide receivers in both seasons. You're not going to predict those "boom" weeks, so this is just something you're going to have to live with if you're drafting Cooper.
(ADP: Round 4, RB22)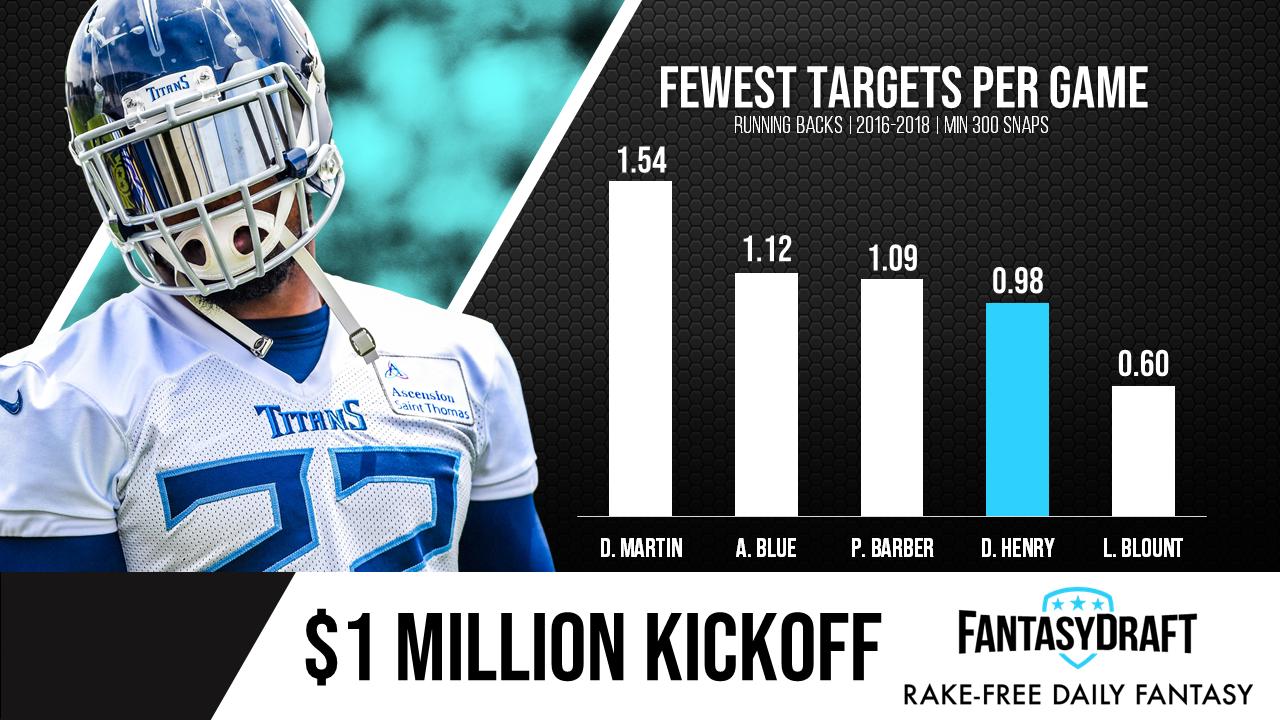 Similar to Mixon, my concern with Henry is a lack of receiving volume. Dating back to college in 2014, he's never seen more than 18 targets in a single season. With such a robust sample it's hard to conclude anything other than that he's not being used as a receiver because he's closer to a liability than an asset in that department. Unfortunately, if you can't contribute in the passing game, you're not going to be on the field very often. This is partly why Dion Lewis out-snapped Henry 600 to 401 last season despite being far less efficient on the ground (3.3 yards per carry to 4.9).
A lack of receiving work also makes a running back more gamescript-dependent. For instance, last season, Henry scored 38% of his fantasy points when the team was trailing, though the team trailed 51% of the time. Vegas projects Tennessee to win one fewer game this year — meaning more unideal gamescripts. Henry also combined to total 78.0 fantasy points across just two games last season (blowout victories in Weeks 14 and 15). So, he essentially scored 38% of his total fantasy points for the year in just 12.5% of his games. I expect Henry will be just as inconsistent and gamescript-sensitive this year. I'll get my exposure to him in DFS on weeks Tennessee is heavily favored but will otherwise be fading him in redraft PPR leagues.
(ADP: Round 5, RB26)
Lindsay was great last year, well exceeding his volume-based expectation (by 3.4 fantasy points per game). The problem is, his volume was poor and he's bound to regress in efficiency, and there's little evidence his volume is likely to improve. Last season, in games active, Lindsay played on just 45% of the team's snaps, drawing only 55% of the team's running back opportunities. This preseason, Lindsay has played on just 15 of Joe Flacco's 30 snaps (50%) with the first-string offense, with Royce Freeman being on the field for 11 (37%). In Denver's low-upside offense, I want no part of this committee backfield.
(ADP: Round 5, WR26)
Last season, Williams scored 4.6 touchdowns above his expectation, which ranks as the 18th-largest positive differential this past decade. He ranked fourth in touchdowns (11) but just 19th in expected touchdowns (6.4), implying volume wasn't nearly as good as his production implied. On top of that, he was far too reliant on touchdowns for fantasy points. In total, 33% of his fantasy points came on touchdowns, which ranked third-most among wide receivers, and he averaged just 41.5 receiving yards per game (55th). Now, with Hunter Henry back in the fold (he led the team in end zone targets on just 55% of the snaps in 2016-2017), he seems like a longshot to make as big of a jump as his ADP seems to imply — ranking 26th in ADP after finishing 38th in fantasy points per game last year.
(ADP: Round 6, RB31)
One of my best calls of the offseason came on Chicago's 670 The Score, when I predicted Chicago would trade up for a multi-dimensional running back in the 2019 NFL Draft. The next week, Chicago did just that, selecting the hyper-elusive David Montgomery in the third-round. I also suggested HC Matt Nagy was looking to give the more one-dimensional Cohen less work in 2018, after he led the position in fumbles (despite ranking just 31st in touches). Since then, Nagy has suggested, and beat writers have corroborated we should expect to see Cohen less in 2019. On a team projected to win 9.5 games this year, expect inconsistent production week-to-week from Cohen, if Montgomery doesn't just supplant him outright.
(ADP: Round 7, RB35)
Penny might end the season ranking higher in fantasy points than his ADP implies (RB35) — but that doesn't mean the value he adds to your team is worth his price tag. Penny has handcuff value, sure, but there are a lot of cheap running backs with more upside as handcuffs (e.g. Chase Edmonds, Ty Montgomery, etc.). In terms of standalone value, he could have some big weeks, but those won't be at all predictable (barring injury). Otherwise, if Chris Carson is healthy and you're relying on Penny as a starter, your team is probably in a good bit of trouble.
Penny is another low-upside committee running back who is going to be highly volatile on a week-to-week-basis. Like Cohen, he's also on the lesser end of the committee. Seahawks insider Joe Fann recently suggested that Penny has fallen further behind Carson, "who has established himself as Seattle's clear No. 1 option." In Week 2 of the preseason, Carson played on 15 of 19 snaps (79%) with the first-string offense. In Week 3, Carson was pulled after playing on all five of the team's first five plays. In both games, Penny was still on the field well after Carson was pulled, continuing to play with the second-string offense.
(ADP: Round 8, TE9)
This one is easy. Ebron was unsustainably efficient (read: lucky) in the touchdown department last season, scoring 4.9 touchdowns above his expectation. He's being drafted as a TE1 (the No. 9 tight end overall) but I'm not even sure he's the TE1 on his team. Last season, Jack Doyle out-snapped (331 to 165) and out-targeted (32 to 22) Ebron in games both players were active. This preseason, Doyle has out-snapped Ebron 13 to nine with the first-string offense. There's also the whole "Andrew Luck isn't on the team anymore" thing going on, and with that, note that Jacoby Brissett already has an established rapport with Doyle. In 2017, Doyle was Brissett's favorite target, commanding a 26% target share in games both players were active. Why take Ebron in Round 8 when you can take Doyle in Round 16? I have no idea.