Winning the last few rounds of a fantasy football draft is one of the best ways to have a successful season. Nailing the early rounds is important, but nailing the late rounds can make all the difference.
So with that in mind, who are my favorite deep sleepers for 2019? Who specifically am I going out of my way to acquire in the last rounds of 2019 drafts? Who has the best odds to exceed their ADP and/or who might have league-winning potential at a low cost? The phrasing might change, but at its core the question is always the same — who are my top late-round draft targets?
Well, here they are:
Note: ADP is pulled from Fantasy Football Calculator. Any order of players is by ADP unless otherwise stated. In order for a player to qualify as a "sleeper" they must have an ADP in the 12th round or later.
Quarterbacks
ADP: QB18 (12.09)
Prescott has ranked 10th, 10th, and sixth in fantasy points scored across his first three seasons in the NFL. Last season, from Week 10 (Amari Cooper's first game with Dallas) until the end of the regular season, Prescott ranked third in total fantasy points. He's also coming off of a career high in rushing attempts per game, and has a new offensive coordinator (Kellen Moore) who promises to help bridge the gap between his lowly volume numbers (dropbacks per game) and impressive efficiency numbers (fantasy points per dropback).
ADP: QB19 (12.11)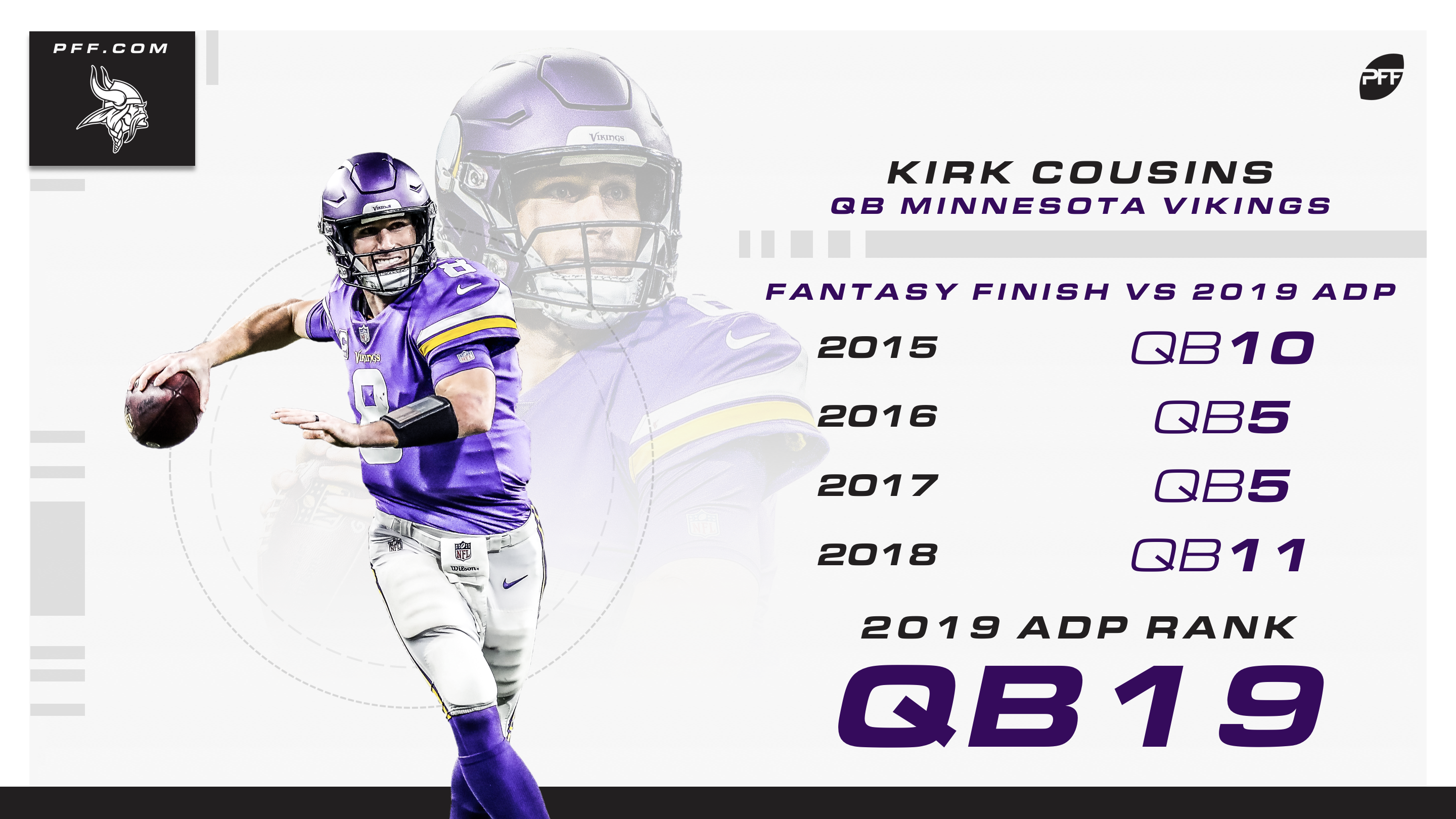 Cousins ranked 11th in fantasy points last year, after finishes of fifth, fifth, and 10th over the prior three seasons. So, why does he rank 19th this year by ADP? I have no idea.
ADP: QB22 (14.02)
Cousins is a great late-round QB2 if you're looking for safety and a reliable floor. If you want upside, turn to Allen, who was the quintessential Konami Code quarterback last year, ranking first in fantasy points per game (24.2) over the final six weeks of the seasons. So long as he runs as much as he did last year, he has legitimate league-winning upside.
Running backs
ADP: RB54 (12.06)
Within a sample of over 500 qualifying seasons, there are only six instances of an NCAA running back averaging at least 0.32 missed tackles forced per touch in a single season. Those running backs are David Montgomery (twice), Devin Singletary, Saquon Barkley, Kareem Hunt, and Thompson. Last season, he averaged 6.8 yards per carry, and over his last six games turned 11 catches into 243 yards. This preseason, he's averaging 0.50 missed tackles forced per touch, which ranks second-best of 117 qualifiers. Entrenched starter Damien Williams has a storied injury history and in 77 career games has handled 15 or more touches only four times. More than anyone else in this article, Thompson is the one I'm most scared to leave a draft without.
ADP: RB55 (12.07)
I think there's a very small chance Ezekiel Elliott misses more than one game due to his holdout. Even so, that's still worth a bet on Pollard at current ADP. He has legitimate league-winning potential if Elliott doesn't return, and, even if he does, could spell Elliott on passing downs, or, at the very least, provide value as a handcuff. The fourth-round pick and slot wide receiver turned running back has also been phenomenal this preseason. Pollard played on 100% of the team's first-string snaps last week, and, over the past two weeks, Pollard has turned nine carries into 58 yards (6.44 YPC) and a score.
ADP: RB56 (12.08)
Mark Ingram is entering his ninth season in the NFL — a point at which running backs typically start to decline (and dramatically so). Hill has 4.4 speed and good draft capital behind him (fourth round). This preseason, he's averaging 0.45 missed tackles forced per touch — an absurd rate even on a small sample (Ingram forced a missed tackle on just 16% of his touches last season). He's an ideal zero-RB target in 2019 drafts.
ADP: RB59 (14.02)
Brown has been an afterthought all offseason, with rookie Darrell Henderson dominating the headlines. However, head coach Sean McVay has repeatedly indicated that Brown is the running back you want to own should Todd Gurley go down with an injury (with Henderson remaining in his change-of-pace role). C.J. Anderson proved last year that's a valuable role — across Weeks 16-19, Anderson averaged 24.3 opportunities and 24.0 fantasy points per game.
ADP: undrafted
Over the past three seasons, Atlanta's top running back not-named-Devonta-Freeman has averaged 12.1, 11.2, and 14.7 fantasy points per game. That's a moderately valuable role for fantasy owners, and I think Hill has the best odds of winning that job.
Top handcuffs
Last year in this space, we wrote up James Conner as a must-draft sleeper due to his immense upside should something happen to Le'Veon Bell. This year, the standout late-round handcuffs (beyond the ones we've already mentioned) are (in order) Ty Montgomery, Chase Edmonds, Alfred Blue, Wayne Gallman, Mike Davis, and C.J. Anderson. If something were to happen to Bell, David Johnson, Leonard Fournette, etc., any of these names could be reliable every-week starters for fantasy owners.
Wide receivers
ADP: WR55 (12.02)
Crowder has shown flashes of brilliance when healthy, and the pairing with Adam Gase seems near-ideal. He might not be a league-winner but he has decent odds of leading the team in fantasy points and should benefit from Robby Anderson's league-worst cornerback schedule.
ADP: WR59 (13.07)
Last season, Josh Allen saw 40% of his fantasy passing production come on deep passes (balls traveling 20 or more yards through the air), which ranked first among all quarterbacks. Brown has 4.34 speed and, last season, saw 36% of his receiving yards come on deep passes (11th-most). He's led all Buffalo wide receivers in first-string snaps this preseason. Though he's an unsexy pick, and likely highly volatile week-to-week, he is a value.
ADP: WR60 (14.01)
Humphries ranked 32nd in PFF grade and 24th in fantasy points last year. Somehow, he's going undrafted in the majority of leagues. Granted, he's on a new team, but he also chose that team for a reason — and over New England offering him more money. Maybe it was a desire for more consistent usage? This preseason, Humphries has seen six targets on just seven routes run.
ADP: WR61 (14.03)
Goodwin is an ideal post-hype sleeper, being drafted nearly 10 rounds later than where he was this time last year. Dante Pettis and the rookie wideouts have failed to impress the coaching staff this preseason, and Goodwin has always been productive when both he and Jimmy Garoppolo have been healthy. Over the past two seasons, Goodwin has scored 21.4, 17.9, 16.6, 12.0, 10.8, and 6.7 fantasy points in games both he and Garoppolo played on at least 30% of the team's snaps.
ADP: WR65 (14.07)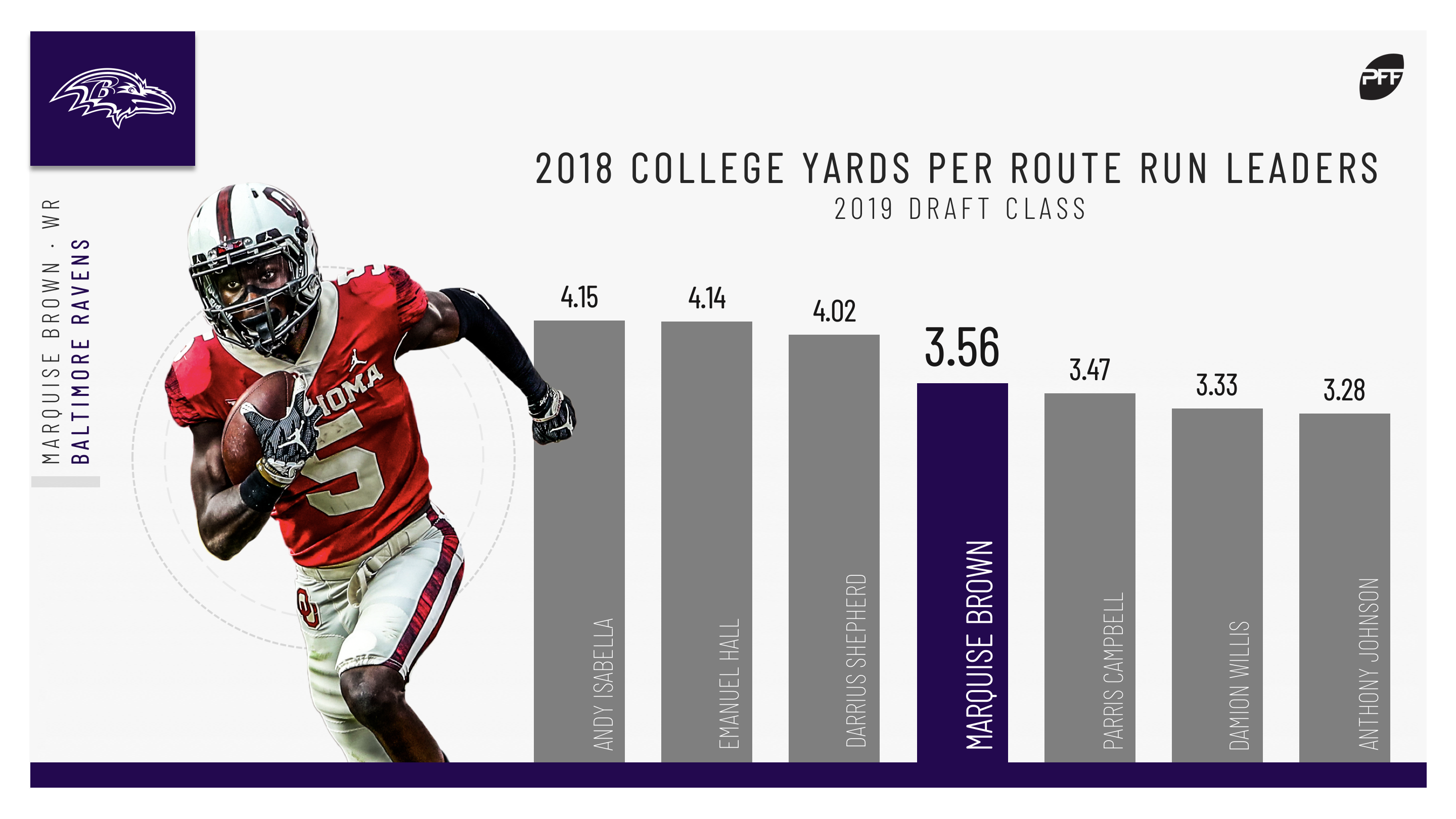 Brown is priced like a flier, and that's exactly what he is. He's not yet 100%, coming back from Lisfranc surgery, but if he were to return to 100%, the upside is high. As I've highlighted multiple times (looking at WR breakout age, the draft class leaders in yards per route run, and the draft class leaders in depth-adjusted yards per target), the first-round pick (top overall wide receiver) has all the markings of a special talent. He should be going late in drafts (and could be an easy cut if he struggles early on), but it shouldn't be this low.
ADP: undrafted
As far as man crushes go, my love for Wilson borders on embarrassing. Of course, I'm not going to let Wilson go undrafted when I'm drafting my own teams. He just needs to get healthy, and, ideally, earn full-time starting slot duties before I start reaching multiple rounds.
ADP: undrafted
ESPN beat writer Cameron Wolfe recently called Williams the MVP of Miami's camp and added that he has a strong feeling "that he belongs not just on the roster but in the starting lineup." Top-20-graded cornerback Xavien Howard said, "That guy can be special. … There's so much room for improvement with him, but he's going to be a No. 1 receiver one day." He's an undrafted rookie free agent who fell in the draft for off the field issues, but has looked good in preseason games and has spent time practicing with the first-strong offense. However, he's still a longshot, so unless you're playing in a really deep league, he might be better off as an add to your waiver wire watch list than as a draft-day target.
Other: Jakobi Meyers, Trey Quinn, David Moore, Ted Ginn, Cole Beasley, D.J. Chark
Tight ends
ADP: TE15 (13.06)
Last season Andrews totaled 552 yards, the 22nd-most by a rookie tight end in NFL history – remember, rookie tight ends typically make a sizeable leap in their sophomore seasons. On top of this, he was also hyper-efficient, ranking fifth of 30 tight ends in yards per route run. Perhaps most importantly, he was also Lamar Jackson's most-productive receiver, comprising a team-high 26% of Jackson's passing yards, and on just 12% of his throws. Per Jeff Zrebiec of The Athletic, "This year, he's been the Ravens' most dangerous and productive offensive player. Andrews seems to be well on his way to becoming one of the top young tight ends in the league." His preseason usage has been worrisome, but, clearly, the upside is high.
ADP: TE17 (13.09)
Over the past two seasons Olsen has spent 19 games either inactive or in the injury report. Prior to that, he posted three consecutive 1,000-yard seasons and five consecutive top-seven fantasy finishes. At his lowly ADP, it's worth the gamble that he still has a little bit of gas left in the tank.
ADP: undrafted
Waller is an athletic freak, and, reportedly, one of the NFL's "best-kept secrets," who will be given "the chance of the lifetime" as Oakland's TE1 this year. Last season, in Oakland, Jared Cook ranked fifth in total fantasy points. Waller might be a longshot to match him but is still a great upside pick at ADP.
ADP: undrafted
Last season, Eric Ebron was out-snapped (331 to 164) and out-targeted (32 to 22) by Jack Doyle in games both players were active. In Week 2 of preseason, Doyle out-snapped Ebron 13 to nine with the first-team offense. Doyle very well could be a wasted pick, or he could be Indianapolis' TE1. At his ADP, it's worth taking that gamble.
ADP: undrafted
Gronkowski is probably never going to play a snap in the NFL ever again. There might be a 5% chance he changes his mind and comes back for Week 1 after skipping all of preseason. At those odds, I might still draft Gronkowski in the last round of a deep league. If I do, and he stays retired, I'll just drop him to add a free agent tight end like Watson. At age 38, he's not an exciting name, but he is likeliest to be the team's starting tight end once he returns from suspension.