The final week of the 2021 NFL preseason kicked off and the focus remains on the five first-round rookie quarterbacks. Sixteen games will occur over the weekend, leading up to the NFL's cutdown day on Tuesday and the start of the regular season a week from Thursday.
PFF's fantasy football recap focuses on player usage and stats, breaking down all the vital information you need to achieve fantasy success in 2021

Fantrax is the official fantasy football sponsor of PFF! Create a free Fantrax account for a chance to win a signed Davante Adams jersey with promo code PFF at Fantrax.com/PFF
SNAP COUNTS (STARTERS ONLY)
Consider Austin Hooper with a late-round flier: The Browns have three viable tight ends, and last year Hooper would play 70-85% of snaps thanks to the heavy usage of two- and three-tight end sets. he played only one drive tonight, but it was still good to see Hooper playing 100% of snaps.
Draft Donovan Peoples-Jones in deeper leagues: The second-year receiver has competed with Rashard Higgins for the third receiver role in Cleveland. Higgins tweaked his hamstring earlier in the week, which could give Peoples-Jones some time to take the lead in the battle. He ran nine routes and caught his only target tonight.
Ignore the Falcons' snap counts: The Falcons wanted to get some of their starters just a little bit of preseason play. Mike Davis and Russell Gage played the first snap of the game, and then their night was done. Kyle Pitts lasted two snaps, while Hayden Hurst lasted four. Both of Pitts' snaps occurred as an in-line tight end. We will get a much better sense of how the Falcons will use their new weapons after Week 1.
---
SNAP COUNTS (STARTERS ONLY)
Draft Damien Harris: The Patriots traded Sony Michel to the Rams earlier in the week, but that didn't stop Harris from handling a heavy workload tonight. The third-year back took every snap on first and second down with the starters, while James White took every third-down snap.
Don't overreact to Darius Slayton's snap count: Slayton played almost every snap outside of a stretch where trainers checked his foot. Both Slayton and Sterling Shepard played every snap with the starters outside of plays with three tight ends on the field. The distribution of snaps will change once Kenny Golladay and Kadarius Toney are the mix, but this game was no indication that Slayton is an odd man out.
Monitor Evan Engram's injury: Engram suffered a calf injury in the second quarter and was quickly ruled out for the game. Kaden Smith played in two-tight end sets to start the game and took over once Engram was out. Kyle Rudolph has also just returned from injury and wasn't ready for this preseason game, but he should be ready for the season. The former Viking will be a borderline starter at tight end if Engram misses any time.
---
SNAP COUNTS (STARTERS ONLY)
Draft Tyler Boyd: The Bengals used their starters for only 20 snaps over three preseason games, and it was largely the players we all expected. Tee Higgins didn't play in this game, and for two snaps we saw the Bengals' two-tight end set with Boyd as one of the two wide receivers.
Slot receivers typically don't play in this formation, so it's good to see Boyd would get extended work if one of Cincinnati's starting outside receivers gets hurt in the season. It was also noteworthy that Mike Thomas received the lone snap in a lone three-receiver set over Auden Tate.
Don't draft Preston Williams: The Dolphins didn't use their starters or several of their top skill-position backups. Williams, who started in this contest, was phased out of the offense early in the 2020 season before injuries had him return to a full amount of snaps. Then he suffered a season-ending injury of his own. The fact that he played in this game isn't a good sign for his future in Miami.
---
SNAP COUNTS (STARTERS ONLY)
Don't start a 49ers quarterback: The 49ers employed a quarterback rotation reminiscent of Roger Staubach and Craig Morton in the early 1970s, where neither player saw more than four consecutive snaps until rotating out for the other. San Francisco did this for two drives before having Trey Lance play with the backups.
This wouldn't be good for fantasy managers if this carries on into the regular season, as neither quarterback would be startable. It's possible this is the 49ers' strategy going forward, but it also could be that they just want their opponents to waste time preparing for it.
We likely won't know the 49ers' strategy going into a regular-season game, and that could last until they finally name Lance their starter.
Draft Raheem Mostert: The longtime 49ers running back hadn't played in the preseason prior to today, but it remained clear he is the starter. He took all of the snaps on the first drive. He and other starters sat out the rest of the game while Trey Sermon took over. Mostert should be the starter as long as he remains healthy.
Take a late-round flier on Trent Sherfield: The former Cardinal has been the talk of 49ers camp. He saw significant playing time with the starters last week rotating in and out with Brandon Aiyuk and Deebo Samuel. Aiyuk missed this game with a minor injury, so the 49ers gave Sherfield the most snaps with the starters. He will likely be only a rotational player to start the season, but if Aiyuk or Samuel suffers an injury, Sherfield could be a fantasy starter.
Mohamed Sanu seems locked into the 49ers' slot receiver role, but San Francisco uses two tight end sets significantly, which won't give the veteran receiver much value.
Don't draft John Brown: The Raiders continued to rest most of their starters and key backups, including the top five wide receivers on their depth chart. The fact that Brown is playing in this game means he is likely sixth. There is a chance Las Vegas keeps only five receivers or holds onto someone else as a sixth who contributes more to special teams.
---
SNAP COUNTS (STARTERS ONLY)
Move Laviska Shenault Jr. up your rankings: Shenault's usage was questionable early on in the preseason, as he played only in 11 personnel unlike last season and had Jamal Agnew taking some of the slot snaps. He's still playing only in 11, but that doesn't matter much; the Jaguars have rarely used 12 personnel with Trevor Lawrence at quarterback. This should carry on into the regular season. Agnew didn't see any playing time with the starters, and there also is no longer a concern of Travis Etienne featuring in the slot.
It wasn't surprising that Shenault put up good numbers, with both of the Jaguars' starting outside receivers sitting out and the Cowboys playing backups. Regardless, it was still good to see.
Don't overreact to James Robinson's snap share: The Jaguars' running back usage hasn't changed throughout the preseason. Robinson has started the first two drives in every game and took every snap on those drives as long as they hadn't exceeded five plays. Carlos Hyde has taken 100% of Jacksonville's snaps on the third drive in each game. The Jaguars' starters played on the fourth drive in the previous two games, but the backups came in for this contest. Had the starters kept playing, Hyde would have received more snaps. The distribution of snaps will likely be closer in the regular season.
Don't draft Collin Johnson: Jacksonville didn't have its top two outside receivers to start the game. Instead, the team started Phillip Dorsett and Pharoh Cooper. Dorsett played the first two snaps, caught a 38-yard pass and didn't return. Johnson took over for Dorsett and is seemingly sixth on the depth chart. He was a popular deep sleeper option early this offseason after good play on a small sample as a rookie, but he is lost in the shuffle and potentially on the roster bubble now.
Don't draft any Cowboy who played today: Dallas didn't use its top three running backs, top five wide receivers or top two tight ends. Most, if not all, of the players who saw offensive snaps with the "starters" probably won't be on the roster in a few days from now.
---
SNAP COUNTS (STARTERS ONLY)
Don't draft Gerald Everett: Everett has moved up draft boards recently without playing because of injuries to other tight ends as well as unfavorable playing time. Everett and Will Dissly played for the first time together, and they split playing time evenly. This included fairly even splits in terms of down, personnel groupings and routes run vs. blocking.
Monitor the Chargers wide receivers: The Chargers have rested Keenan Allen and Mike Williams all preseason. Jalen Guyton also rested tonight, which could be a sign he's secured the third receiver job. Tyron Johnson and Josh Palmer have been part of the competition, and both made some plays tonight. It wouldn't be surprising if this situation evolves throughout the season. Until there is more information, it's best to avoid them.
Monitor the Seahawks' backup running backs: Chris Carson is firmly in control of the Seahawks' starting running back spot, but they don't seem to have a front runner for the backup job, as they have rotated between Rashaad Penny and Alex Collins all preseason. The Seahawks continued to rotate them into the second half even though some other starters' nights were done. It wouldn't be surprising for Seattle to add a back after the Tuesday cut-down day.
SNAP COUNTS (STARTERS ONLY)
Proceed with caution on Jerry Jeudy: The first potential cause for concern is that Jeudy mostly played in 11 personnel, with Patrick and Sutton playing in two-receiver sets. It's possible the Broncos just wanted to get their other receivers more playing time after missing two games. It's also possible that Sutton and Patrick are the starters and Jeudy will see limited playing time.
It's also concerning that Jeudy played in the slot whenever he was in, as the second-year receiver played significantly better playing out wide last season.
Monitor the Broncos RB situation: Melvin Gordon III played for the first time, while Javonte Williams did not play. The rookie participated in warmups but was spotted on the sideline without a helmet. At the time of writing, there hasn't been a reason why he was absent. Denver had some rotation at running back, but most of Royce Freeman's snaps came after Gordon's night was done. There will be some kind of timeshare once everyone is healthy, but it's unknown just how much Denver will rotate.
Draft Tyler Higbee as a top-10 fantasy tight end: The main concern here was the possibility of a backup tight end stepping up to take some of Higbee's snaps. The Rams haven't played any of their starters or top backups throughout the preseason, and this has made it pretty clear Johnny Mundt is the second tight end, as neither player has played so far. Mundt is very clearly a blocker after blocking on 93 of 121 snaps last season. Higbee's role as an every-down receiving tight end looks very secure.
---
SNAP COUNTS (STARTERS ONLY)
Draft Rob Gronkowski: Tom Brady's longtime favorite played nearly every snap with the starters, and he was clearly ahead of O.J. Howard. Cameron Brate only saw playing time with the second team, so it seems like Gronkowski's role as the lead tight end is secured. His potential to rack up yards and touchdowns with a future Hall of Fame quarterback puts him in a better situation than most late-round fantasy tight ends.
Spend a late-round pick on Nico Collins: The Texans have used several wide receivers with the starters throughout the preseason, but Collins consistently sees more time than anyone other than Brandin Cooks. The Texans will likely be passing a lot late in games, which should lead to plenty of opportunities for the rookie.
Avoid the Buccaneers backfield: Tampa Bay rotated their running backs by drive on first and second downs while giving Giovani Bernard the third-down snaps. This seems like the likely distribution going into games. Bernard is the least valuable without having much of a chance for touchdowns. If the Bucs play as well as they did late last season, they also won't see many third downs. Ronald Jones and Leonard Fournette will both produce, but it will be hard to predict which one will play well.
Avoid the Texans backfield even more: The Texans had a less predictable rotation, outside of Mark Ingram II and Phillip Lindsay generally playing early downs and David Johnson and Rex Burkhead generally playing later downs. Johnson stopped playing earlier than the other backs, but it's a little hard to tell if that's a good or bad sign, as it allowed Burkhead some time with the starters. We could see all four backs see significant playing time in Week 1.
---
SNAP COUNTS (STARTERS ONLY)
Don't draft Anthony Firkser: The third-down tight end was a popular sleeper throughout the offseason after the departure of Jonnu Smith. Unfortunately, Firkser's role remains the same as last season when he was TE25. He didn't see any time in two-tight end sets over the first two preseason games, and he only did tonight when Tommy Hudson missed some time in the first quarter. When Hudson returned to the game, Firkser's early-down snaps disappeared. Every top-15 tight end in fantasy football last year played in the majority of two-tight end sets.
Take a late-round flier on Damien Williams: It's clear through three preseason games that Williams is the primary backup in Chicago, as he's consistently played the first several drives for Chicago's offense. We have no good sense of how much playing time he will see compared to David Montgomery, but Williams could easily be a top-20 fantasy back if Montgomery gets injured.
Avoid everyone else in this game outside of Justin Fields: How a quarterback plays in the preseason isn't a great indicator of how a quarterback will play in the regular season, so we really haven't learned anything new with Fields, especially without playing with his offensive weapons. Both teams rested the majority of their starters, so the rest of the skill players playing can be avoided.
---
SNAP COUNTS (STARTERS ONLY)
Draft Gus Edwards: J.K. Dobbins suffered a serious-looking leg injury on the first drive. More information will be needed, but Edwards will be the Ravens running back for as long as Dobbins is out. The only other experienced back on the roster is Justice Hill, who has served as the Ravens' third-down back at times. Baltimore could also add a free agent running back or trade for someone such as Mark Ingram II.
If Dobbins lands on injured reserve, Edwards will fall between RB14-RB18 in PPR rankings, depending on how much the Ravens invest in a backup.
Draft Mark Andrews as a top-five fantasy tight end: Andrews has consistently ranked in the top five since his rookie season, and he should have a strong start to the season. The Ravens used all of their healthy starters, but their top four wide receivers and backup tight end Nick Boyle are all injured. Andrews will be a focal point of the offense as one of the few healthy starters remaining. He also saw more playing time last season once Boyle went down, and that extended playing time on early downs has continued through the preseason.
Monitor Ricky Seals-Jones: The journeyman tight end has worked his way up to second on Washington's depth chart. He played significantly on the first few drives, and then his night was done before other players who started tonight. Seals-Jones was excellent in a small sample size in his first year with the Cardinals but has failed to replicate that play since. Logan Thomas' production in Washington has just been from volume with low efficiency, so it's not out of the question for Seals-Jones to eat into Thomas playing time at some point.
---
SNAP COUNTS (STARTERS ONLY)
Don't draft a Bills RB: The Bills used Josh Allen for the first time this preseason, and all of his first-quarter snaps were passes. That's not a good sign for any running back, but it's worse considering three men are competing for playing time. Zack Moss has the lowest ADP of the group but was the third back to see playing time. Devin Singletary played every snap in the first quarter, while Moss played most of the second. Matt Breida also played only in the second quarter, with most of his snaps coming from the slot. Buffalo was among the most pass-heavy teams both when winning and losing last season, making this a low-upside, low-floor situation for each back.
Draft Emmanuel Sanders: The Bills used three of the four receivers at the top of the depth chart in this game. Sanders both led the team in targets with the starters and had the most versatile role. Gabriel Davis lined up on the outside the vast majority of the time and Cole Beasley saw snaps only in the slot, with Sanders getting snaps all over the field. It's unclear how snaps will be distributed once Stefon Diggs joins the lineup, but Sanders appears to be the new second-favorite target.
Be cautiously optimistic on Gabriel Davis: The second-year receiver produced the biggest highlights in this game. Davis is likely the odd man out in typical three-wide receiver sets, but that might not stop the 22-year-old from excelling. The Bills used 10 personnel 16.4% of the time last season, and they should employ it more this season with a better receiver room. Tight end Dawson Knox lined up in the slot or out wide more in this contest compared to last season, and those snaps could go to a fourth wide receiver instead. With how pass-happy the Bills are and their stacked pass-catching unit, this team could support four fantasy-relevant wide receivers.
Don't Draft Amari Rodgers: The Packers rested most of their starters, so the fact that Rodgers is even playing in this game is concerning. Green Bay had only four receivers active, and that still wasn't enough for the third-round rookie to get the start. He's rarely getting drafted at this point, but it would take several injuries for him to be fantasy-relevant this year.
---
SNAP COUNTS (STARTERS ONLY)
Don't draft Amon-Ra St. Brown: The rookie hasn't played in a single snap in 12 or 21 personnel all pre-season. Tom Kennedy saw playing time in 11 personnel before St. Brown in this game — and split time with the starters. The fourth-rounder will certainly see some playing time in 2021, but his ceiling is 70% of offensive snaps, and it could be less if Quintez Cephus continues to take some of the slot snaps in three-receiver sets. 
Consider Quintez Cephus with a late-round flier: Cephus is the lone wide receiver who was on the team last year who is likely to make it this year. The Lions have been without Tyrell Williams and Kalif Raymond the last two preseason games, making it hard to know who will get the start on the outside or how much players might rotate. The former Wisconsin Badger is the safest bet due to his ability to play both outside and in the slot. Cephus saw playing time into the second quarter, while Breshad Perriman's night was done after one quarter. Perriman at least seems to have a secure spot on the team.
Consider Kylen Grayson and Michael Strachan in dynasty leagues only: The two rookies created some highlights for Indianapolis in the first half, but neither should be considered in redraft leagues. Indianapolis held out its top three running backs, four wide receivers and three tight ends. Strachan didn't play until the second quarter, so his roster spot might not be guaranteed at seventh on the depth chart.
---
SNAP COUNTS (STARTERS ONLY)
Monitor the Eagles WR situation: Jalen Reagor started the game for the Eagles, took all of the snaps during the first drive and then his night was done. Quez Watkins played for two drives, while other Eagles wide receivers saw extended playing time. The former sixth-round pick seemed like the No. 2 receiver based on the last two preseason games, but Reagor took that spot tonight. Those two, along with Devonta Smith, should be the WRs to see most snaps three-receiver sets this season. 
Consider Boston Scott in the last few rounds of your draft: Scott was another Eagles player to only play in one drive. He touched the ball three times in five snaps and scored a touchdown. He should hold off Kenneth Gainwell for the third-down role at least to start the season and is also capable of playing on early downs.
Lower Michael Carter in your rankings: The fourth-round pick remains third on the Jets' depth chart. He didn't play last week with the starters. The Jets benched their starters this week, which meant no Tevin Coleman, but Carter still played behind Ty Johnson. Carter will see playing time this season, but he'll need to jump two players on the depth chart to be fantasy relevant.
Draft Corey Davis as the Jets WR1: After commanding 10 targets on 13 routes run in the team's first two preseason games, Davis had nothing else to do to solidify his status as the team's No. 1 wideout. Because of rain early on, the Jets benched all their starters including Davis and Jamison Crowder. Crowder should be viewed as the No. 2 option until we see rookie Elijah Moore return from injury. Keelan Cole will likely be the No. 4, so he doesn't need to be drafted.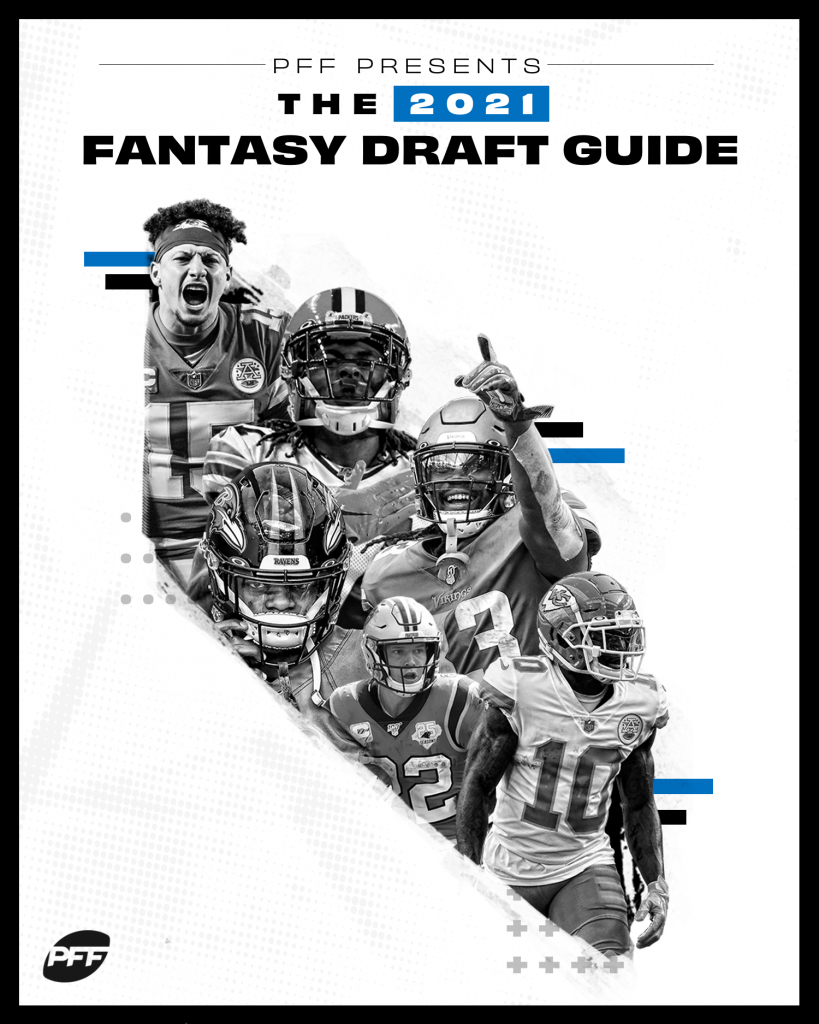 SNAP COUNTS (STARTERS ONLY)
Draft Terrace Marshall Jr. as priority late-round sleeper: Although the 2021 second-rounder is playing behind D.J. Moore and Robby Anderson in 12 personnel, he has been able to carve out a significant target share in the offense when operating in three-receiver sets. The big-bodied wide receiver hauled in another touchdown, 43 receiving yards and saw four targets from Sam Darnold against the Steelers.
Draft Anthony McFarland Jr. as the handcuff to Najee Harris: The Steelers rested a number of starters and key players in this one. McFarland was the primary backup for each of the first two preseason games and didn't need to play in this game. Benny Snell Jr. seems to be secure in the third back spot, with Kalen Ballage and Jaylen Samuels on the roster bubble.
Consider Dan Arnold in deeper leagues: Arnold might be the least likely to be targeted on any given pass play, but he was getting a positive share of the playing time. He was the tight end for nearly all of the 11 personnel snaps. The only times he wasn't on the field were two-tight end sets in likely run situations. He could end up among the top-15 in routes run at the position, giving him some fantasy value.
---
SNAP COUNTS (STARTERS ONLY)
Draft Mecole Hardman in the mid-to-late rounds: Hardman received the start in a two-wide receiver set over Demarcus Robinson. The two split time in this set, which is likely something we'll see in the regular season. The big news is Byron Pringle was held to one snap with the starters, with the rest of his time coming with backups. This should be a significant increase in playing time compared to last season for Hardman.
Target Irv Smith Jr. as a sleeper TE: Smith ran a route on seven of Cousins' nine dropbacks (77%) and hauled in both of his targets for 39 receiving yards. That aligns with Smith's usage last week, suggesting that ISJ is locked-in as the team's primary pass-catching tight end.
Consider Jerrick McKinnon in deeper leagues: The free agent addition played six of the first seven snaps and then a few plays in one other drive. He's been the clear third back on the depth chart throughout the preseason, while Clyde Edwards-Helaire and Darrel Williams are both dealing with injury. This should lead to some playing time for McKinnon early in the season and a chance to carve out a larger role.
Monitor the Vikings' third wide receiver spot: The Vikings rested a number of starters, including Justin Jefferson and Adam Thielen. The third spot seems to be between K.J. Osborn, rookie Ihmir Smith-Marsette and Chad Beebe. Beebe played the fewest snaps but is the clear slot receiver option. None of them put up impressive numbers on the stat sheet, with a combined one catch on seven targets. If one of the starters is injured, the Vikings would very likely need to look elsewhere for a new receiving option.