The PFF unit-ranking series moves to the secondary as we look forward to the 2020 season. 
Depth is key when projecting the secondary in today's NFL, as the best teams are rolling three or four deep at cornerback now that the nickel is a starting position. Safeties are also taking on a more prominent role in many schemes, doubling as linebackers in sub-packages while trying to combat the many versatile threats on opposing offenses.
In this year's rankings, there's a clear group of high-end units, several with unbalanced breakdowns between their cornerbacks and safeties, and several that enter the season with massive question marks across the board. Here are the best secondaries in the NFL heading into 2020.
Subscribe to PFF's EDGE or ELITE subscriptions to get access to the following tools, charts, etc. 
– All Premium Article Content
– Fantasy Football Rankings & Projections
– Fantasy Football Draft Guide, Cheat Sheets & Advanced Stats
– Fantasy Football Mock Draft Tool (DraftMaster)
– Fantasy Football Strength of Schedule Matrix
– NFL Player Grades
– NFL Premium Stats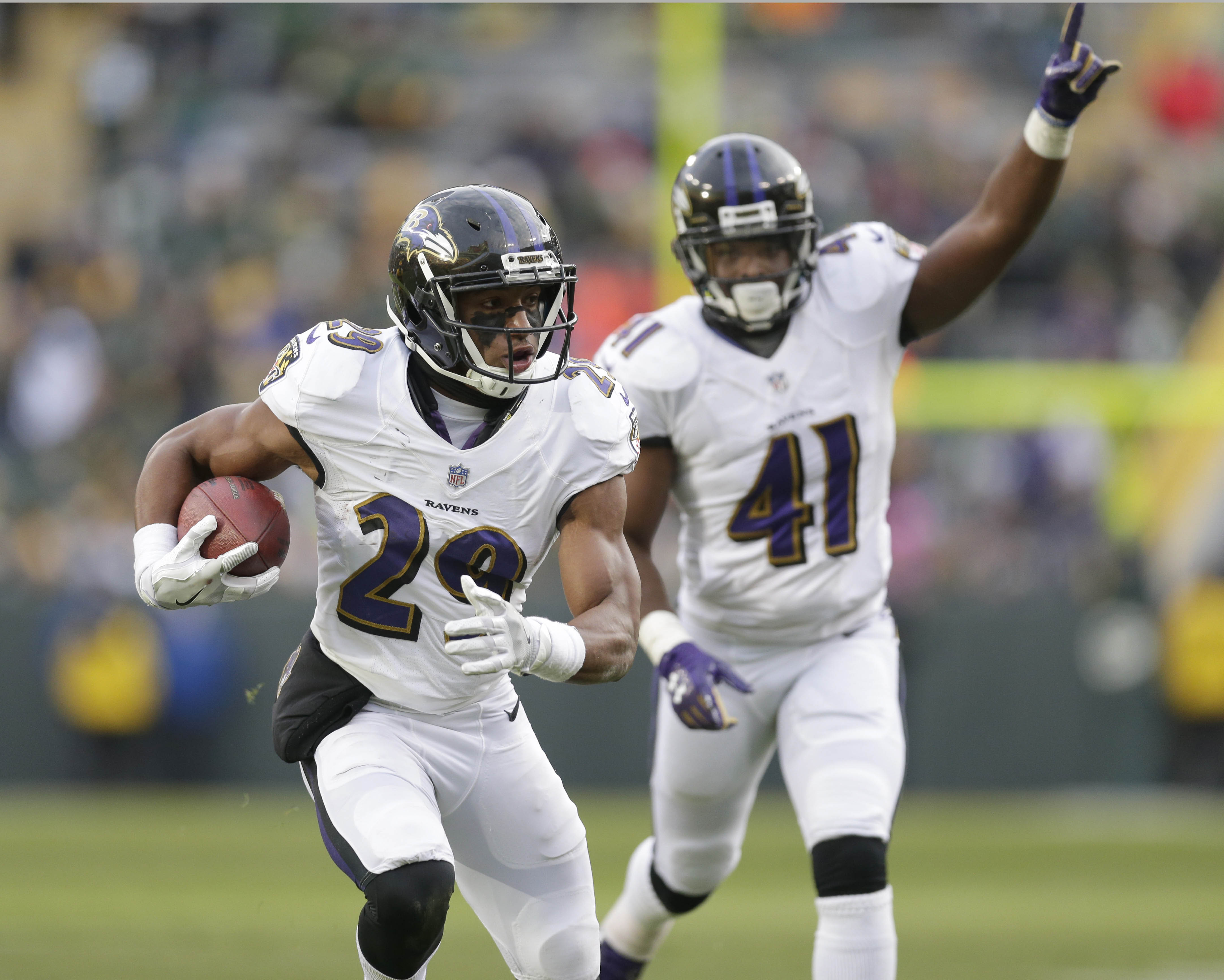 The Baltimore Ravens have a talented and versatile group of defensive backs, but they also have a defensive scheme that uses them to attack unlike any other in football.
The Ravens led the league in blitz rate last season (41%), but they also led in the percentage of six- and seven-man rushes. Six different defensive backs on the team rushed the passer at least 15 times, with safety Chuck Clark being sent to attack 106 times over the year, the most among defensive backs in the league.
Marlon Humphrey is one of the best corners in the league in man coverage, with only Stephon Gilmore having a higher PFF grade in single-coverage situations last season. Humphrey, Marcus Peters and Jimmy Smith represent one of the best corner trios in the league, while Tavon Young will be hoping to make it back from injury and contribute.
The cornerback group is also backed up by talented safeties. Earl Thomas III has been the prototype for the single-high free safety for his entire career, but he has been given more opportunities to line up all over the field in Baltimore. Thomas blitzed more times his first year with the Ravens (57) than he did the previous seven years combined (36). And while his all-or-nothing style of play can sometimes leave some holes — particularly in run fits — he is still a playmaker and changes the dynamic on defense and what offenses need to worry about.
The Ravens have an elite defense that has been built back to front, with resources plowed into the secondary as more and more evidence surfaces as to the importance of coverage.
The Chargers are assembling an all-star group of defensive backs that could do something very special in 2020.
Chris Harris Jr. comes on board from the Broncos and will likely be allowed to go back to the slot, where he has been at his best throughout his career. That will likely push Desmond King II to safety, where he will team up with Derwin James to give the team one of the most dynamic playmaking duos in the NFL. King can obviously also defend the slot while Derwin James can basically do everything else — and that includes rushing the passer, where he has four sacks and 26 total pressures in a little less than one and a half seasons of NFL action.
 Casey Hayward Jr. is one of the league's most underrated players, but he has been a true stud during his NFL career. Over the past decade, nobody has recorded a higher forced incompletion than Hayward. He has been as good as any No. 1 cornerback in the game. 
The only question mark in this secondary is the other starting spot at corner. Last season, Michael Davis and Brandon Facyson split those duties, but neither earned a PFF coverage grade north of 60.0. One of those players needs to take a significant step forward in order to avoid being the weak link in an otherwise rock-solid chain. 
Nasir Adderley may struggle for playing time unless the team uses a lot of sub-packages with three safeties, but he has rare coverage skills for a deep-lying free safety and does bring something to the table the rest of the group doesn't specialize in. Altogether, this Chargers group is one question mark away from having a truly fearsome unit.
The New England secondary is led by arguably the best cornerback in the game in Stephon Gilmore. Over the past two seasons, Gilmore has by far the best PFF grade among corners (91.3) — and that is despite tracking No. 1 receivers more or less every week for the Patriots. In 2019, Gilmore scored more touchdowns on defense (two) than he surrendered in coverage (one) and gave up just a 47.4 passer rating when targeted. Gilmore's elite-level play allows the Patriots to maximize the effectiveness of the rest of their corners.
J.C. Jackson has yet to surrender a catch longer than 28 yards in the regular season, and when he has been targeted in his career, the resulting passer rating is the same as if the quarterback had just thrown the ball into the dirt every play. Jackson's grade isn't as spectacular as his numbers, but that's the effect of the scheme and Gilmore's presence. Jason McCourty and Jonathan Jones give the Patriots excellent depth as well as top-end play at cornerback.
At safety, the Patriots were able to bring back Devin McCourty, one of the most consistent players they have had over the past decade. McCourty has had back-to-back seasons with a PFF grade above 80.0 and has three years with a mark of 90.0 or better in his career. Patrick Chung and Adrian Phillips provide solid veteran play, and they'll help develop second-round pick Kyle Dugger from Division II Lenoir-Rhyne. Overall, the Patriots have had one of the best secondaries in the league for a number of years, led by one of the best defensive minds of all time.
The Pittsburgh Steelers are cornering the market on solid, if unspectacular, defensive backs. Steven Nelson was the team's top corner last season, earning an 80.5 overall PFF grade that ranked sixth at the position. Joe Haden was the other starter, and while he had better coverage numbers than Nelson across the board, Nelson's grade in critical areas was better.
In single coverage, Nelson's grade was in the 88th percentile, while Haden's was in the 61st. Similarly, Nelson was better when there was no pressure on the play. Unlike many teams, the Steelers also have strong play in the slot in the form of Mike Hilton. Hilton has the third-best PFF coverage grade among slot corners over the past two seasons and has graded above 70.0 in coverage in every season of his career so far.
Terrell Edmunds has been a disappointment as a shock first-round selection in 2018, but he has at least been consistently average in two years of play. Edmunds may never justify the Steelers' reach in that draft, but he doesn't look like he will be a problem player in a good secondary. The acquisition of Minkah Fitzpatrick last season is the real game-changer for this defense and, given the trade, you could argue he is their top draft pick from this year's draft.
Fitzpatrick earned an 88.4 overall grade with the Steelers after he was traded and showed the ability to be a true playmaker, but much of that high grade came in a three-game stretch where he had four interceptions, a pass breakup and a PFF grade above 90.0. He still needs to show he can be a consistently dominant force and not just ride the optimism caused by that brief stretch of elite play.
He has certainly yet to be given a clear and stable role in his young NFL career, so there is legitimate hope we might see him raise his game in 2020 and eliminate that inconsistency to become one of the better players in the league at his position.
The so-called Legion of Boom is long gone, so the team is now trying to put together a unit worthy of succeeding it. Shaquill Griffin bounced back to have a career year after a tough sophomore campaign. And while he didn't come away with an interception, he tallied 14 pass breakups and was a tough player to beat each week.
Things have been far less positive opposite Griffin, though. Tre Flowers was the other starter last season, but he earned a PFF grade of just 53.9 and gave up over 700 yards over the regular season. Quinton Dunbar was supposed to step in and solve that issue, but his role is now up in the air following an offseason arrest. Dunbar was a perfect fit for the Seahawks' scheme; without him, that second spot is once again a major concern.
The slot cornerback position was such an issue a season ago that the team ran base defense — with three linebackers — on 68.7% of their snaps, a full 30 percentage points higher than any other team. Ugo Amadi is supposed to address that this season, but Amadi's NFL career has spanned just 101 snaps and 16 targets, 14 of which ended up being caught by the intended receiver.
With the trade for Jamal Adams, the Seahawks add one of the league's most valuable safeties and the No. 20 player on the PFF 50. Adams is one of the few safeties who makes an impact in coverage, in the run game and as a pass-rusher, and he can be deployed several different ways to add value to the Seattle defense. If they want Adams to fulfill the traditional box-safety role in their defense, he's more than capable, but it also makes sense to tap into his ability to impact the game from all over the field.
The Saints may have the NFL's best roster from top to bottom, and that remains true when focussing just on the secondary. Marshon Lattimore and Janoris Jenkins are a two very solid starters, but the depth extends to Patrick Robinson in the slot and P.J. Williams behind them.
Lattimore hasn't quite hit the heights of his rookie season, but playing in the NFC South means that he has one of the toughest assignments of any corner in football. Despite this, he has still allowed a passer rating of just 75.7 on 246 targets over his three years in the league. And while Jenkins can be a rollercoaster in coverage, he has playmaking ability and has recorded double-digit pass breakups in five of his eight NFL seasons.
At safety, Marcus Williams had the best PFF overall grade of any member of the secondary a season ago (86.5). He also earned the best coverage grade (89.2). Williams has become an elite safety after the disaster that was the "Minneapolis Miracle" play early in his career, and he will again be an impact player on the back end.
Next to him will be a new face in Malcolm Jenkins, who is returning to New Orleans after six seasons with the Eagles. Jenkins is a versatile safety who can move around the secondary and answer some of the matchup problems that NFL offenses can cause now, and that will be particularly valuable in a division that contains players like Christian McCaffrey and Rob Gronkowski in 2020. Depth is strong at safety, too, with D.J. Swearinger and Chauncey Gardner-Johnson both capable of strong play if called into action.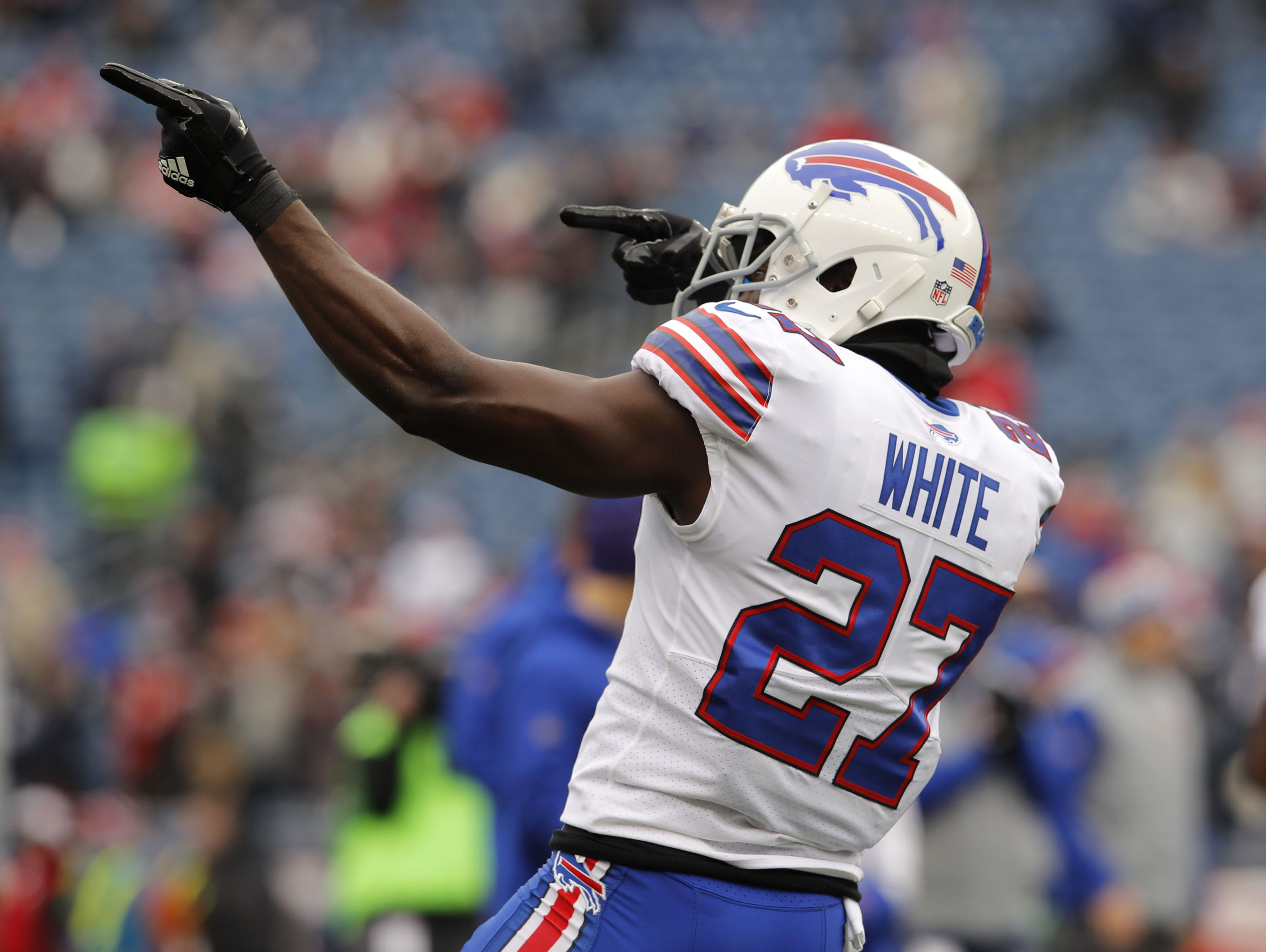 The Bills have done a fantastic job covering on the back end over recent years, and they've had success with several different cornerbacks in their zone-heavy scheme.
Tre' Davious White has earned a coverage grade of 85.6 since 2017 — 13th-best in the NFL — to go with the second-lowest passer rating allowed, at 60.9. White has tracked opposing No. 1 receivers at points in his career, allowing the Bills to play more man coverage and add flexibility to their scheme.
Buffalo signed Josh Norman to compete on the other side, though he's coming off a career-low 43.4 coverage grade and allowed a passer rating of 133.3 into his coverage in 2019. Norman is worth a look, though, as he was one of the better zone corners in the league during his Panthers days, but the Bills still may be better off with Levi Wallace starting opposite White, as Wallace has earned a solid coverage grade of 78.0 in his two years in the league.
In the slot, Taron Johnson has provided mid-level play over the last two years, but just like the Bills linebackers, he must clean up his tackling problem after missing 21 tackles on just 909 career snaps. The other name to watch is E.J. Gaines, who has played only 181 snaps over the last two years but returns to the Bills after an impressive 79.0 coverage grade with the team back in 2017.
When head coach Sean McDermott took over in 2017, he overhauled the safety position with Micah Hyde and Jordan Poyer taking over as starters, and they've been one of the best duos in the league ever since. Hyde had the 12th-best grade in the league during the 2019 regular season at 79.5, marking his third straight season in the top 12. Poyer ranked 22nd at 74.2 while tying for eighth in the league with 30 defensive stops.
The Bills have aligned in a two-deep-safety look at one of the highest percentages in the league, and both Hyde and Poyer have earned 90.0-plus grades when lined up at free safety over the last three years. Their ability to work as interchangeable parts in Buffalo's defense is one of the key reasons the Bills have had one of the best coverage units in the league.
Kevin Byard is the best player in Tennessee's secondary. He narrowly missed PFF's list of the best 50 players in the NFL entering the season, but on reflection, he probably shouldn't have. Byard was good, not great, last season, but that performance came off the back of two excellent campaigns. Over that entire three-year period, Byard earned the fourth-best PFF grade among all safeties, and he played more snaps than any of the players ahead of him. Byard has elite coverage skills, yet he is also an underrated player against the run. He has missed a total of just 10 tackles in the last two seasons.
Kenny Vaccaro was Byard's safety partner last season. However, he could be pushed for a starting spot by Amani Hooker, who marginally outshined Vaccaro on his 335 snaps as a rookie before struggling during the playoffs.
Logan Ryan departs from the team's 2019 cornerback unit, but the team brought in veteran Johnathan Joseph and drafted LSU's Kristian Fulton. Fulton may be the best zone cornerback in the draft and was a steal in the second round; he has the ability to make game-changing plays on the football in coverage, and he should push to start right away.
Meanwhile, Malcolm Butler hasn't been the same player in Tennessee as he was for a stretch in New England, though he remains a solid member of the secondary, albeit one who will be beaten at times. The big thing that will need to be resolved is how the team defends the slot with no Ryan in 2020. Ryan played the majority of his snaps (855 of them, including the playoffs) inside as a bigger-bodied, physical presence there, and the Titans will need to figure out how to replace that production.
The Rams return the same starting duo at cornerback from last season, with Jalen Ramsey the clear star of the group and Troy Hill proving to be a capable foil as a No. 2 corner who is mostly tasked with covering the opponent's No. 2 wideout.
Hill earned an overall PFF grade of 76.4 last season and allowed just 45.1% of the passes into his coverage to be caught by the intended receiver. Ramsey, on the other hand, hasn't hit the heights of 2017 since that season, but his time with the Rams saw him hit his stride late in the year, as he surrendered more than 12 yards just once after Week 11.
Eric Weddle's retirement opens the door for Taylor Rapp to retain his starting spot in Year 2, with John Johnson III also returning to the lineup. After two really impressive seasons, Johnson was not enjoying a good start to last year before a shoulder injury ended his season. Third-round pick Terrell Burgess lurks behind that pair on the depth chart, waiting to push for playing time, so the team's only major question mark will be hovering over who covers the slot after Nickell Robey-Coleman left the team this offseason.
Darious Williams played very well across just 221 snaps last year, snagging a pair of interceptions and two pass breakups on just 16 targets, and he has the kind of size that typically occupies the slot (5-foot-9, 187 pounds). Dont'e Deayon has similar credentials, though, and could also be an option. David Long Jr. was another of the team's young corners pressed into action last season. But while Long performed well across a small sample size, he is a bigger corner who would seem a less ideal fit inside.
The turnaround in the San Francisco defense was impressive last year, but the secondary took huge strides forward, propelled largely by Richard Sherman returning to form as arguably the game's best corner.
Though he had a tough Super Bowl, Sherman allowed just 227 receiving yards in the regular season — and he allowed only 373 when you include the postseason — around 250 yards fewer than many of the game's other top corners. Sherman is now 32, so he will be battling Father Time to maintain that level of play in 2020.
The other starting spot was something of an Achilles' Heel for the team last year, with the play of Ahkello Witherspoon threatening to keep the Minnesota Vikings in touch for a while early in the playoffs and the lapse from Emmanuel Moseley costing them dearly in the Super Bowl. Again, the team eschewed the draft and will enter the 2020 season with the same group that needs to step up opposite Sherman.
Overall, Moseley was significantly more solid than Witherspoon, and he actually allowed a passer rating more than 20 points lower, but the 49ers have a third-round pick invested in Witherspoon and may elect to give him one more shot. Meanwhile, K'Waun Williams is one of the game's best slot corners and earned a PFF grade of 77.2 last year after allowing only one touchdown when targeted.
At safety, Jimmie Ward is coming off a career year and Jaquiski Tartt also returns to try and run it back again. Overall, the 49ers have much the same group from a year ago that showed the ability to do what needs to be done, and they have taken one more swing at the lottery ticket that is cornerback Jason Verrett. Few players have the kind of talent that Verrett does, but his 2019 season lasted just four snaps, and he has played only 112 snaps in the last four seasons. The chances of him making an impact are minimal, but if he does, the upside is still massive.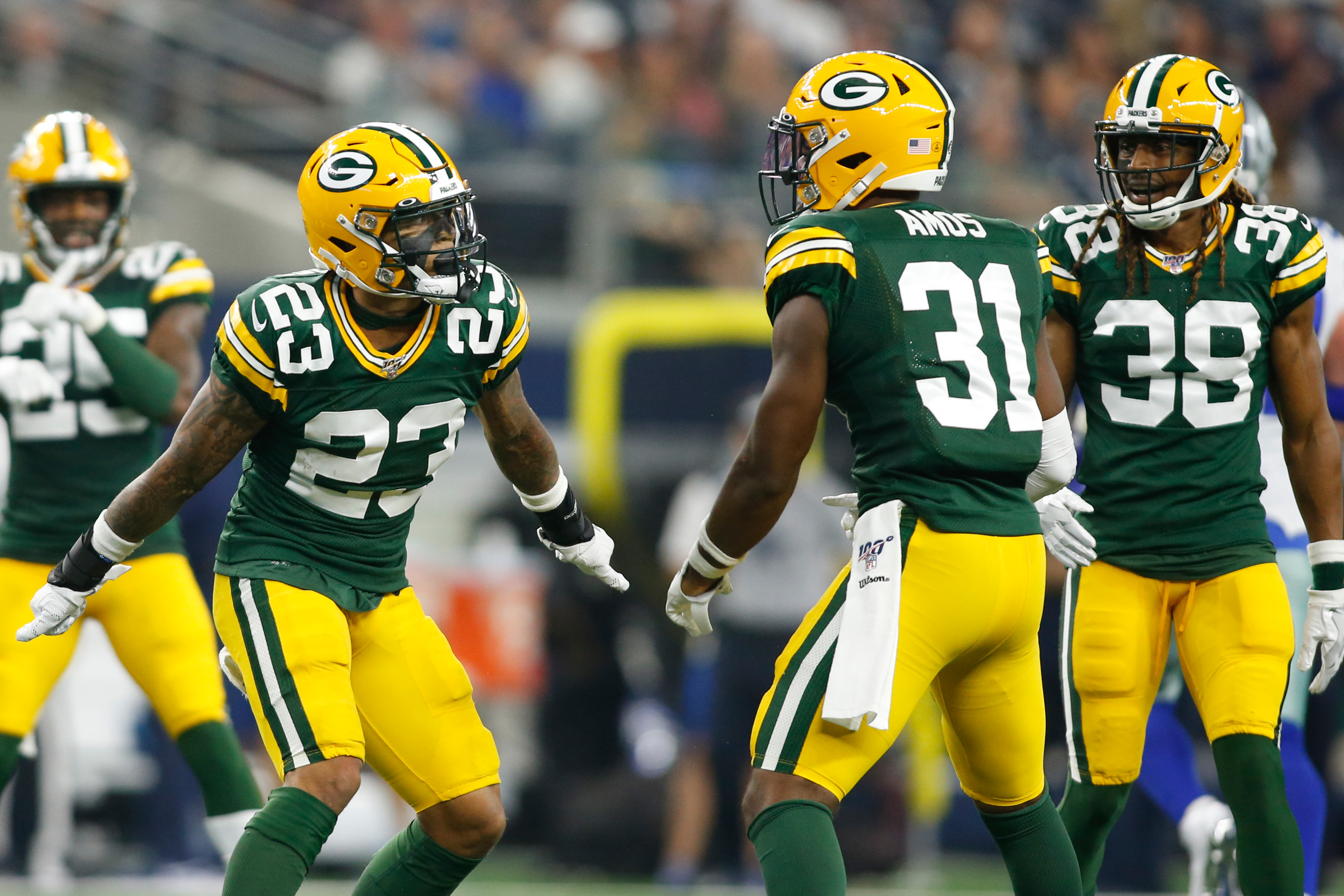 The limit for this Green Bay secondary rests a lot on the performance of their top corner, Jaire Alexander. Through the first three weeks of last year, he was looking like the best corner in the league, but that play was not sustained over the full 16-game season, and he had a game in which he surrendered 201 receiving yards as well as another where he allowed over 100 yards. Truly elite corners go years without surrendering 100 receiving yards, so Alexander needs to eliminate those inconsistencies from his game to be ranked among the game's best.
The Packers are still clinging to the hope that either Kevin King or Josh Jackson can develop into a solid No. 2 corner on the other side. And while King has incrementally improved each year, he has still yet to grade above average; he surrendered over 900 yards last season — including the postseason — and he also gave up four touchdowns.
Chandon Sullivan played almost 400 snaps last season between safety and the slot, and with the volume of dime (six defensive backs) defense the team employs, he will likely get significant reps again this year.
The Packers had nine defensive backs play more than 100 snaps last season, so players like Will Redmond, Ka'dar Hollman and Scott Vernon, among others, are all viable contenders to see playing time.
Adrian Amos and Darnell Savage are sure-fire bets to start at safety, though. Amos typifies the term "solid" and will make few mistakes, while much is expected of Savage in Year 2 after a rookie season in which he was relatively quiet but solid enough in coverage. Savage has game-changing skills, but we have yet to see those translate to the NFL, with just two picks and two pass breakups as a rookie alongside 14 missed tackles.
Trading for Darius Slay will go a long way to finally answering the Eagles' problems at cornerback. Ronald Darby was meant to be that player, but his time in Philadelphia never quite worked out. Slay is coming off his worst coverage grade since his rookie season, but his tape shows a player who played in tight coverage consistently but continued to come out on the wrong side of the play against some elite receivers in the NFC North. Slay is still a high-end, man-to-man corner, and he has more pass breakups than anybody over the past five seasons.
Avonte Maddox, Sidney Jones and Rasul Douglas will battle it out to start opposite Slay, while Nickell Robey-Coleman will cover the slot after coming over from the Los Angeles Rams. Robey-Coleman has been consistently one of the best slot defenders in the league, so snagging him — as well as Slay —represents something of a coup for the Eagles. He may have just one interception in two years, but he has limited opposing quarterbacks to a below-average passer rating for four straight seasons.
Jalen Mills has been moved to safety but is still likely to start, despite having earned PFF grades under 60.0 in three of his four NFL seasons. Mills will likely start next to Rodney McLeod, though Will Parks will also push for playing time and has a better case to start than Mills, given what we've seen from each so far in the NFL. K'Von Wallace was a fourth-round rookie and could also easily get in that mix for playing time.
Cleveland's defensive backs have not been put in the best position to succeed in recent years, despite some significant draft capital thrown at the secondary. However, Denzel Ward has still shown some very impressive play. In the NFL, Ward has allowed a 64.9 passer rating when targeted, with fewer than 50% of the passes thrown his way being caught. He has been one of the better man-cover corners in the league and had four games last season with fewer than 20 receiving yards allowed.
New defensive coordinator Joe Woods will be tasked with further developing Greedy Williams — a second-round draft pick last year. Williams excelled in man coverage in college at LSU, and Woods has extensive experience playing man coverage and matchup coverage shells within his coaching history. Williams struggled as a rookie, allowing a 91.5 passer rating when targeted, but if he can be better supported by the scheme, he could be in line for a major improvement in Year 2.
Safety is an area where the team now has intense competition for playing time, with new faces joining from both free agency and the draft. Karl Joseph and Andrew Sendejo add veteran experience to the group, while rookie Grant Delpit gets to reunite with his college teammate from LSU a year later. Second-year player Sheldrick Redwine flashed some impressive play as a rookie and will be looking to try and steal playing time, but he may be facing an uphill battle given the investment in more proven or highly-touted options.
All in all, the Browns secondary is a work in progress, but the single biggest impact could come from Joe Woods' scheme and coaching. If he can work his wonder on this group, the Browns' defensive backs are certainly not short on talent, with four former first- or second-round picks potentially starting.
With Darius Slay now with the Eagles, much rests on the shoulders of top draft pick Jeffrey Okudah to be impressive right out of the gate. Okudah was the No. 1 corner on PFF's Big Board and the No. 4 player in the entire draft, regardless of position. He was the consensus best corner in this draft and excelled in man coverage during his college career. He is a perfect match for Detroit's man-heavy coverages, but expecting a rookie to be better than Slay was, even in a down year, is asking a lot.
Okudah will play alongside Desmond Trufant, who gets a chance to revive his career in Detroit and try to rediscover the form that he began his NFL career with. After back-to-back years with a grade above 80.0, Trufant hasn't topped that mark since. But, like Okudah, he is a good fit for the man coverage scheme the Lions want to run. Amani Oruwariye, Darryl Roberts and Mike Ford round out the depth chart with solid options, while Justin Coleman will continue to cover the slot.
Oruwariye, in particular, could be an option to start if either Trufant or Okudah struggles, as he has impressed in limited snaps so far in the NFL. Tracy Walker will retain one safety spot after finishing 2019 with the best PFF grade of any Lions defensive back, but he will now line up next to Duron Harmon, who comes over from the Patriots. Harmon has been one of the better pure free safeties in the league for a while in New England and allows the Lions to run more single-high looks with aggressive man coverage. Jayron Kearse adds some intriguing versatility and depth after coming over from Minnesota.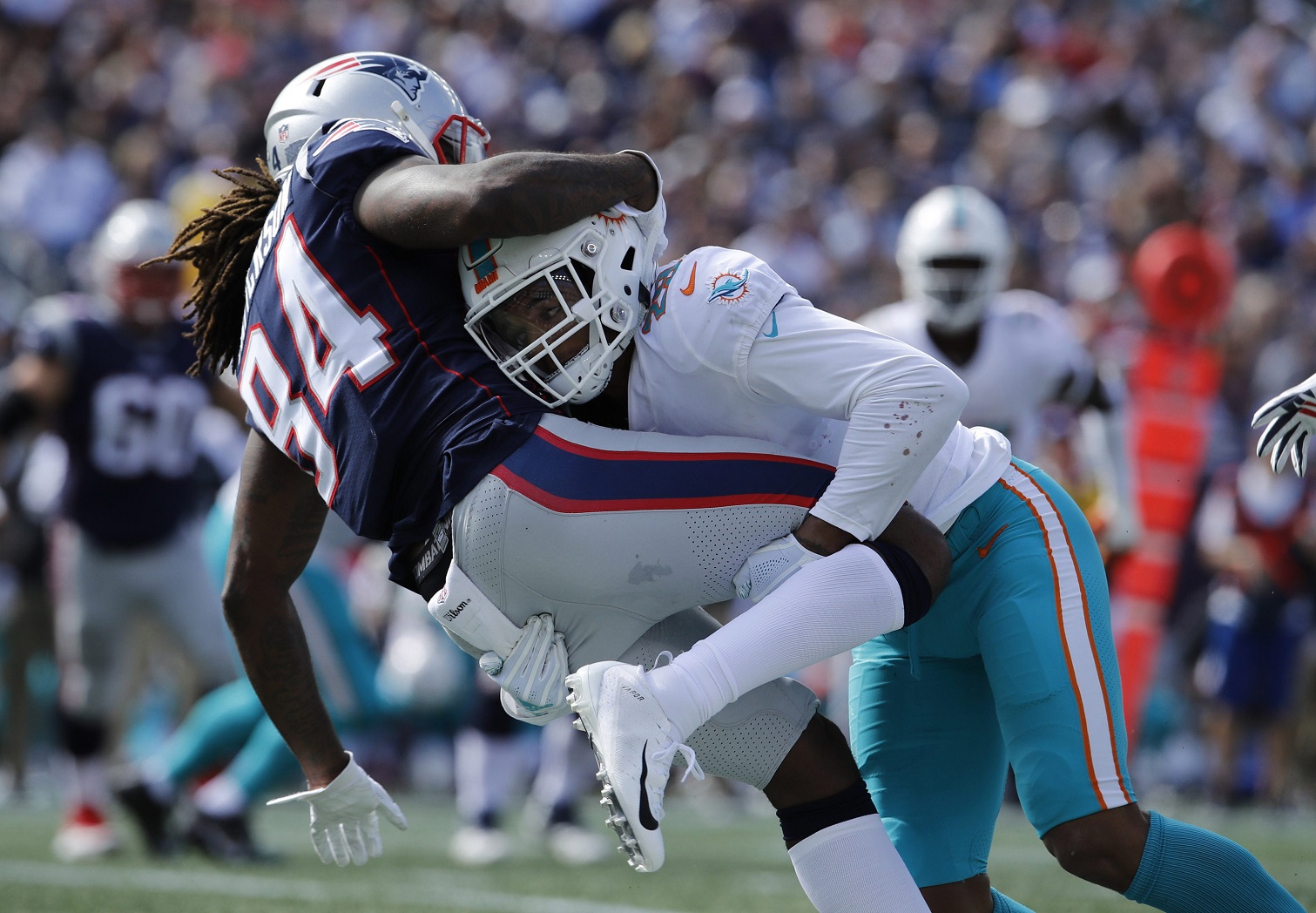 Miami has invested heavily at cornerback, and the unit looks like one of the most well-rounded groups in the league. The Dolphins signed Byron Jones — the top free-agent option — this offseason, and he has the size, movement skills and production to play the No. 1 role in their man-heavy scheme. He produced an 83.3 coverage grade over the past two years, the ninth-best mark in the league, and he's broken up 19.3% of his targets — good for sixth-best.
He'll pair with Xavien Howard, whose play tends to fluctuate between All-Pro level and low-end starter; he has a 69.9 coverage grade since 2017, good for 59th among corners. Howard has Richard Sherman-like games in which his size and ball skills look elite, but he also has posted coverage grades under 60.0 in 14 of his past 33 games. Miami used its third first-round pick on Noah Igbinoghene, an athletic corner with man coverage skills that fit in the slot. Igbinoghene has work to do to polish his game, as his 70.2 coverage grade last season doesn't scream "first-rounder," but he can mirror shifty receivers and fits well with what Miami wants to do defensively.
Cordrea Tankersley and Nik Needham round out the depth chart on the outside, though neither player has graded above 62.0 in a season in their respective short careers. The Dolphins have three starters who fit their scheme and respective roles, and the team's ceiling is high, as all three players have shown off the necessary skills to produce in the coming years.
At safety, the Dolphins have two former corners slotted to start in Bobby McCain and Eric Rowe, giving them plenty of flexibility when matching up against opposing offenses. McCain has one year of grading above 62.0 in his five years in Miami and played 446 snaps at free safety last year, where his 67.7 coverage grade ranked in the bottom third of the league.
Rowe played all over the field in 2019, including 445 snaps in the box, 226 in the slot and 254 on the outside. He finished with a 58.9 overall grade and eight penalties. Rowe did his best work when playing in the box, and that could be his best fit moving forward. Third-round pick Brandon Jones is also a player to watch. He works well around the line of scrimmage and has the size and physicality to match up with tight ends.
The Patriots' coaching tree loves to play matchups, and head coach Brian Flores is no different. Jones could be charged with a simple, yet difficult, task of covering opposing tight ends in man coverage as he acclimates to the NFL. The Dolphins don't have a great safety group on paper, but they've built a versatile unit that should increase its defensive flexibility.
Tampa Bay's secondary will be incredibly fun to watch in 2020, given how they left the 2019 campaign. The young players in that secondary were on a tear by the end of the year, with Jamel Dean and Carlton Davis combining for 18 pass breakups over the final eight weeks of the season.
Davis, Dean and Sean Murphy-Bunting were all drafted in the first three rounds over the past two seasons. And of all the members of this secondary who are expected to see a significant workload, there isn't a single one who has been in the league longer than three years.
M.J. Stewart has yet to show much in two seasons in the league and was something of a tweener when he came into the NFL, but he will have a chance to prove he can still contribute. While at safety, Mike Edwards played 307 snaps for the team last year and was solid across the board, while Justin Evans missed the entire season after two solid years starting to open his career. Both players will have to fend off rookie Antoine Winfield Jr., one of the most intriguing playmakers in the draft. Much like his father, Winfield can be a game-changer from the secondary and will likely feature early for a team whose secondary is already stuffed with youth.
This group is one of the most fully dedicated commitment-to-youth movements the league has seen in recent years, and for that reason alone, it will be one of the most fascinating groups in the league to watch.
The Bengals recently imported two intriguing options at cornerback, with Trae Waynes and Mackensie Alexander both joining the team in free agency. They combine with William Jackson III to give the team an interesting group.
Jackson needs a bounce-back season after seeing his overall PFF grade decline in each subsequent season after a spectacular first season of play in 2017. That year was one of the greatest statistical seasons we have ever graded — he allowed a completion rate of just 34.9% and a passer rating of 36.1 — but he hasn't come close to replicating it since.
Waynes was seen as a disappointment in Minnesota because he was once the No. 11 overall pick in the draft, but he has been a consistently solid starting corner for his entire career, grading in the 60s in every single season. Alexander, meanwhile, was just starting to find his feet as a slot corner in the Vikings' defense, also grading above 60.0 in each of the last two seasons.
The new imports will battle with Darius Phillips, who has shown flashes of high-end play in limited snaps. If all goes well, this cornerback group will be a massively improved unit.
At safety, Jessie Bates III and Shawn Williams are both solid starters, though neither is coming off a strong year, with the highest PFF grade between them being the 61.4 that belonged to Bates last year. If they can get back to their best play, the Bengals could have one of the best secondaries in the league.
With the offseason departure of Chris Harris Jr., the last remnants of the so-called No-Fly Zone have gone. Harris was one of the best cornerbacks in the league during his time in Denver, first as a slot corner then as a complete player who could line up at any cornerback position.
The Broncos' coaching staff will hope A.J. Bouye can go some way to replacing that. And if they could guarantee the best of him, they will have certainly made the right decision to trade for him. The problem is that we just didn't see the best of Bouye in 2019. The now-veteran corner was elite during his last season in Houston in 2016 and in his first season in Jacksonville as part of that fantastic defense that drove the team, but his play has slipped since then. Last season, he was beaten for a passer rating of 103.8 when targeted, the first time in his career that number has crossed the 100.0 barrier. He has come away with just two interceptions in the past two years after recording six the season before that, and his completion rate allowed jumped from under 50% to over 65% in each of the past two years. Bouye has a lot of talent, but the Broncos need him to rediscover it in a hurry.
Kareem Jackson is a versatile defensive back who can play pretty much anywhere in the secondary. He spent much of his time in the slot in 2019, but he will likely play at safety in 2020. The signing of Bryce Callahan, who played under Vic Fangio in Chicago, should take care of the slot corner role and allow Jackson to be a full-time safety. Callahan was one of the league's best slot corners during his time in Chicago but missed the entire 2019 season with a lingering injury that is now hopefully behind him.
The other cornerback spot will be a question mark, as youngsters like Davontae Harris and Isaac Yiadom battle to prove they can be better than they were in 2019. Each played more than 400 snaps last year, but neither could earn an overall PFF grade higher than 52.9 or allow fewer than 70% of passes thrown their way to be caught.
Meanwhile, Justin Simmons will play 2020 on the franchise tag after failing to agree with the team on a long-term deal. Simmons was an elite safety last season; he earned a coverage grade of 91.1, made 28 defensive stops and missed only four tackles.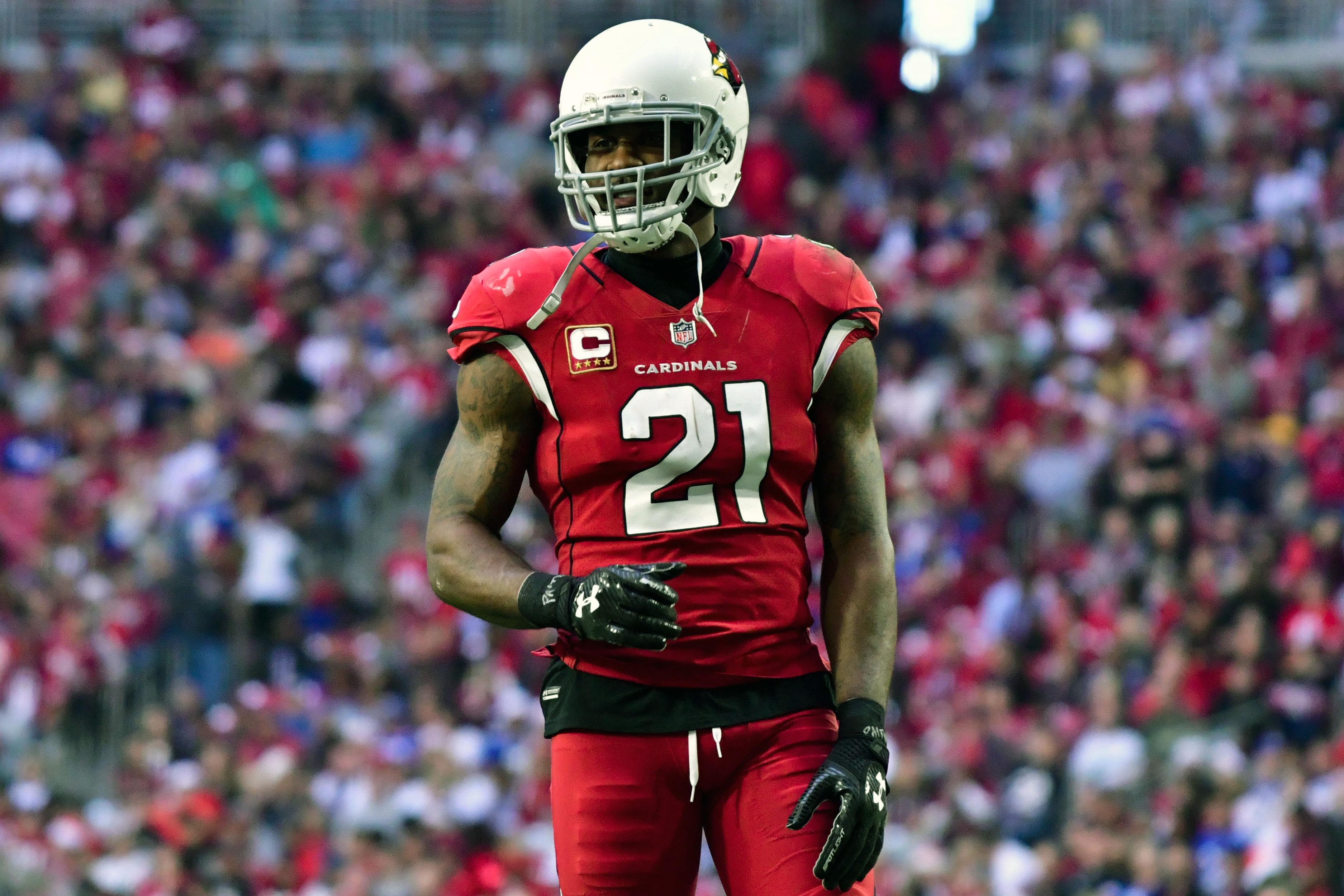 Patrick Peterson remains the best player in this secondary but will begin an NFL season the wrong side of 30 for the first time in his NFL career. Peterson earned an overall PFF grade of 68.6 after he returned from his suspension last year, which is a solid mark, though it was still some 15 grading points lower than the year before. He also allowed a passer rating of over 100 for the first time in his career. However, you would still expect him to be a quality starter for the team in 2020.
Byron Murphy did not begin his career with a bang on the other side, earning a PFF grade below 50.0 for his rookie season. Murphy also gave up a passer rating of over 100 but was also beaten for four touchdowns on 50 targets. The team hasn't brought in much in the way of competition for his place, so Murphy will likely get a second season to prove he was worth the second-round draft pick the team spent on him.
Chris Jones and Kevin Peterson each saw over 200 snaps last season, and Jones flashed some solid play. He may be the most likely to steal snaps if Murphy continues to struggle, as could Robert Alford, who missed all last season with a broken leg.
At safety, the starting duo will likely be the same as it was a year ago, with Budda Baker and Jalen Thompson occupying the starting spots. The drafting of Isaiah Simmons gives the team some more flexibility on the back end, but the team has already said that Simmons will be playing primarily at linebacker, despite extensive deployment in the secondary in college. Budda Baker is an impact player against the run and racked up 150 total tackles in 2019. The biggest question mark in the secondary is when it comes to covering the slot, which could result in Murphy moving inside while Alford takes his spot outside, which was arguably the team's intended plan all along before Alford's injury forced Murphy into a different role.
Eddie Jackson and Kyle Fuller return along with nickel corner Buster Skrine, but the other two starters from Chicago's secondary last season — Ha Ha Clinton-Dix and Prince Amukamara — will play elsewhere in 2020, opening up a couple of spots.
Artie Burns will try and hold off second-round rookie Jaylon Johnson for the cornerback spot, while Deon Bush is the most likely starter at safety. Burns has been somewhat of a letdown in the NFL so far, declining in both play and playing time, and he is not a great schematic fit for what the Bears will be doing in 2020. Johnson is a good fit, however, and was a first-round talent on PFF's Big Board. For his entire college career, he allowed just 48.9% of passes thrown his way to be caught for a passer rating allowed in the 50s, and if he picks up in the NFL where he left off in college, he will be an upgrade for Chicago.
Skrine is something of a liability covering the slot, and he presents a huge downgrade over what the Bears once had in Bryce Callahan. Skrine has been beaten for a passer rating of over 100 in each of the past two seasons and has given up nine touchdowns over the same time without an interception to his name. His PFF coverage grade has never topped 61.4, and he has seven seasons with a grade in the 50s.
The Bears will hope Eddie Jackson can get back to his 2018 level of play — when he was the best coverage player in football — as opposed to last season when he was good but not great.
Few secondaries have more uncertainty than the Minnesota Vikings' unit right now. They lost their top three cornerbacks from a season ago in the offseason, leaving just Mike Hughes and Holton Hill to battle for playing time against rookies Jeff Gladney and Cameron Dantzler. Hughes was a first-round pick in 2018, but injuries have limited him to just over 700 snaps in two seasons split across multiple different positions. Hill played well as a rookie in 2019, but an eight-game suspension for 2020 makes it challenging to rely on him going forward, which will give Gladney and Dantzler every chance to start and feature heavily.
Gladney is the most battle-tested cornerback in the class, seeing 232 targets come his way in his college career, by far the most of any top corner. Dantzler has a frail-looking frame and did not test well, but he allowed just 42.7% of passes targeting his coverage to be caught for a meager 43.8 passer rating in his college career. At safety, the Vikings have the best tandem in the league in Harrison Smith and Anthony Harris, who will play on the franchise tag. The pair each had a coverage grade above 91.0 last season, and they should help mitigate some of the struggles from the cornerback group should they manifest as they did in 2019.
Given the turnover at the position, depth is a question mark across the board. Late-round rookies make up the options behind the safeties, with Brian Cole and Josh Metellus the primary backups, while Kris Boyd is the only other cornerback option the Vikings took in a draft.
With Byron Jones now in Miami, the Cowboys are on the hunt for a new No. 1 corner. The hope is that rookie Trevon Diggs can hit the ground running. The Alabama product was seen as a potential first-round selection from the Cowboys pre-draft, but they were able to secure him in the second round. While his coverage numbers and grade were spectacular last year (90.3 coverage grade), he was eviscerated by LSU's J'Marr Chase, the closest thing to an NFL receiver Diggs faced last season.
Diggs has exceptional length and size and is made for the kind of role Byron Jones leaves behind, but his transition could be bumpy. Chidobe Awuzie and Anthony Brown are the incumbents, and Awuzie could catapult himself into a different stratum of cornerback play if he can convert some of his pass breakups into interceptions. He had 11 pass breakups but just one pick. Brown didn't allow a touchdown on 22 targets last season, but he hasn't had a PFF coverage grade above 66.0 in his NFL career.
Daryl Worley and Maurice Canady supply veteran depth despite having some flaws, while Dallas struck another potential steal in this year's draft with Reggie Robinson out of Tulsa. Jourdan Lewis should man the slot once more, and while he has been solid, he hasn't quite developed into the star that he had the potential to be. At safety, Xavier Woods will partner with Ha-Ha Clinton-Dix if he can hold off the challenge of Darian Thompson. Both players are capable coverage specialists and more-than-solid presences in the secondary.
Cornerback is one of the biggest concerns surrounding this Super Bowl-winning roster, as Charvarius Ward and Rashad Fenton will likely start the season with Bashaud Breeland suspended.
Fenton, a sixth-round draft pick a year ago, played 244 snaps last season including the playoffs; he graded reasonably well, allowing just 53.6% of passes thrown his way to be caught.
Last season was Ward's first as a starter. He was solid if unspectacular, snagging a pair of interceptions and six pass breakups over the entire season. Ward allowed just 48% of passes thrown into his coverage to be caught, and those passes yielded a passer rating of 73.6.
Tyrann Mathieu gives the team significant flexibility by taking care of the slot while nominally being a safety rather than a corner. Mathieu is an elite playmaker and played over 500 snaps in the slot last season in addition to his safety snaps.
The team will also be hoping that Juan Thornhill can return from injury at full strength after a really impressive rookie campaign that saw him tally six pass breakups as well as four picks during the regular season. Daniel Sorensen remains on the roster as a dime linebacker/strong safety, and Alex Brown could be among those to fight for playing time until Breeland returns, along with rookies L'Jarius Sneed, Thakarius Keyes and Lavert Hill among others. Sneed, in particular, could be a sneaky bet to see playing time, as he allowed less than 48% of passes thrown into his coverage to be complete last year to go along with his 45.2 passer rating when targeted.
The best PFF grade among the Raiders' secondary players last season belonged to safety Karl Joseph, who the team was happy to offload once the year was over. So, Las Vegas enters the 2020 season with intriguing talent among the group but has major question marks all over.
Prince Amukamara has been the embodiment of an average corner over his time in the NFL. For his career, he has allowed a completion on 61.8% of the passes thrown his way for a passer rating of 89.6, both almost exactly average figures for a cornerback.
Trayvon Mullen flashed some ability as a rookie, though he earned a PFF coverage grade of just 61.4 and will now need to fight off rookie Damon Arnette. Arnette was a surprise first-round pick who has some intriguing tape and data in college. Arnette will likely be playing sooner rather than later — as is the case for most first-round rookies — and that trio will likely be fighting for two spots on the outside.
The Raiders persisted with Lamarcus Joyner as the nickel corner covering the slot last year despite all evidence that suggests he's much better suited to playing safety. Joyner earned the lowest PFF grade of his career last season after topping 90.0 at his peak with the Rams playing safety, and he could find his spot under pressure quickly from fourth-round Amik Robertson, who has incredible stats and tape but is small in stature.
Joyner is potentially the best member of this secondary if he was playing free safety, but GM Mike Mayock was such a huge fan of Damarious Randall when he came out that it likely gives Randall the inside track to start at free safety while Johnathan Abram plays alongside him. Jeff Heath also provides depth at that spot and adds special teams skills while players like Nevin Lawson and Ken Crawley give the team some solid depth beyond the starters at corner.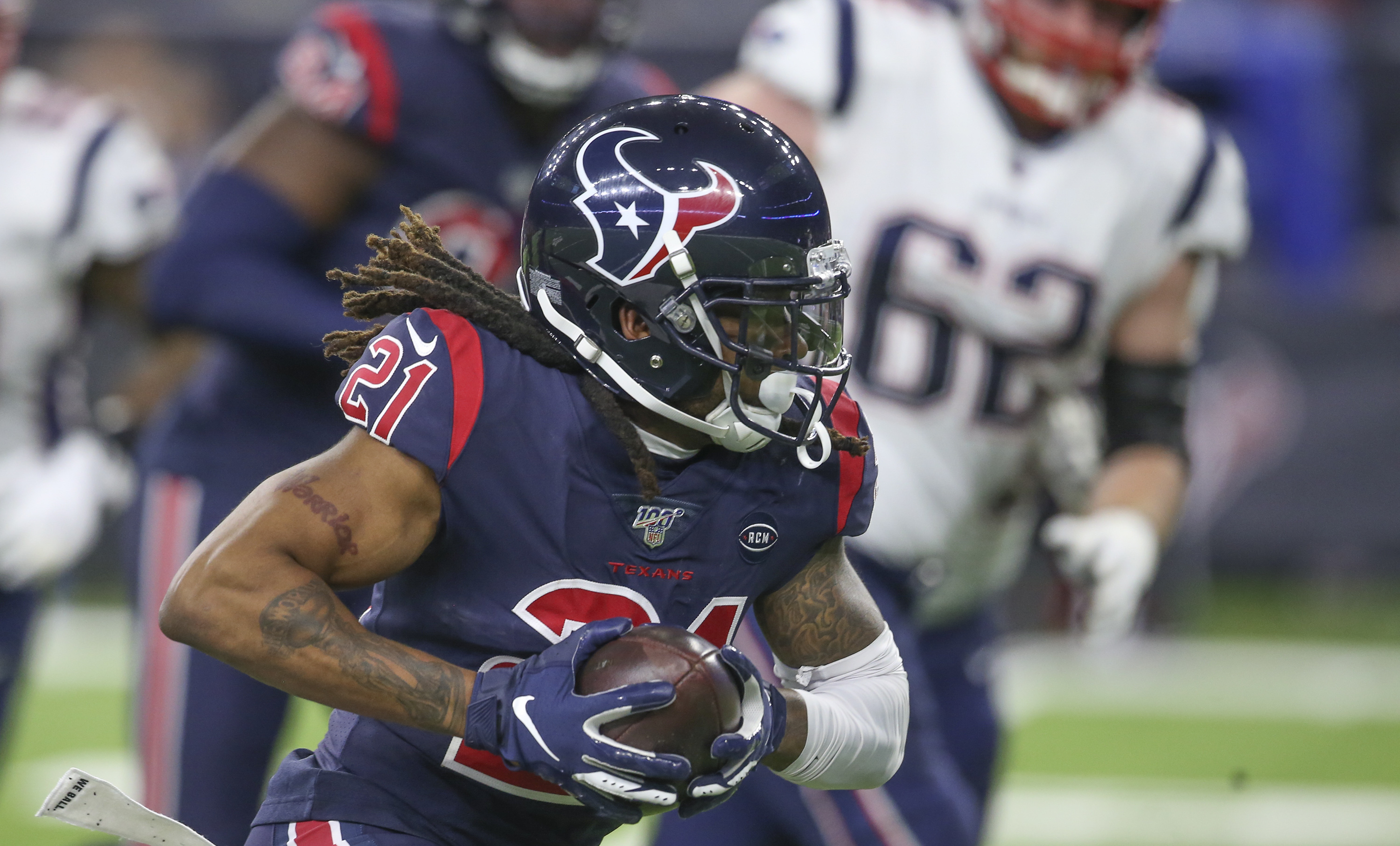 On paper, the Houston Texans' secondary is a concern heading into the season. Bradley Roby's and Gareon Conley's best play in the NFL has come in man-heavy coverage shells, and while the Texans do play a lot of man coverage, even the most man-heavy teams play zone on almost half of their snaps.
Overall, Roby hasn't hit the heights he hit in Denver from 2015-17, and last season he allowed 62.2% of the passes thrown his way to be caught. Conley surrendered six touchdowns and a passer rating of 104.2 when targeted, even if he did tally 11 pass breakups.
Lonnie Johnson gets a chance to recover from his rookie season, where he earned a PFF grade in the 30s and gave up seven touchdowns in just 52 targets. And the team has also kept faith with the Vernon Hargreaves III reclamation project despite little evidence he will turn his career around in Houston. Hargreaves graded only marginally better in Houston than he did in Tampa and remains a long shot to ever justify his draft spot.
At safety, the team signed Eric Murray, formerly of the Cleveland Browns, to a three-year, $18 million contract this offseason in a move that likely would have received significantly more scrutiny had they not also traded away DeAndre Hopkins for a bag of pistachios. Murray has been solid when pressed into action in his NFL career, but he is better against the run than he is in coverage, and that is a highly replaceable trait.
Justin Reid also returns and remains the best player in this secondary. He had a pair of interceptions, three pass breakups and a PFF coverage grade of 79.3 in 2019. Other new additions that could feature are special-teams ace Michael Thomas and fourth-round rookie John Reid. Reid has all the skills to be a plus player covering the slot, and given the uncertainty of the Houston cornerback room, he could easily steal playing time there sooner rather than later.
The outlook for the Indianapolis Colts' secondary rests largely in the hands of young players the team has added over the past couple of seasons, but they did bring in a veteran insurance policy in Xavier Rhodes from the Vikings. At his best, Rhodes was a top man corner in the NFL, but his best play is some way in the rearview mirror. In 2019, he allowed a 127.8 passer rating when targeted and an ugly 84.3% of passes thrown his way to be caught — numbers that only got worse in the playoffs. Unless Rhodes can show some signs he is returning to his best play, he isn't much more than a supplementary option after the young players, but he is one with intriguing upside.
T.J. Carrie also gives the team another veteran insurance policy at corner. Pierre Desir's departure opens up a starting spot from last year, and the team will look for Marvell Tell III to show enough to claim that spot. Tell played 254 snaps as a rookie and had a solid 67.6 PFF grade. Given that he was converting from safety in college at USC, those early signs were encouraging, though a truncated offseason won't help his cause.
Former second-rounder Rock Ya-Sin will be expected to step up and become a true No. 1 corner after a solid rookie season in which he was a starter all season. He surrendered two touchdowns on 56 targets and had solid grades across the board. Kenny Moore II was the best-graded member of the secondary a season ago and should remain their slot corner in 2020. Moore has improved every season of his career so far and will provide a chance for other young corners to focus on their specific roles as perimeter corners.
At safety, the duo of Khari Willis and Malik Hooker remains, and the departure of Clayton Geathers opens up snaps that could be claimed by rookie third-round pick Julian Blackmon. The Colts played around 200 snaps of dime defense last season, so depth is more important for them than it is for other teams, and that is one concern for the team on paper.
James Bradberry is the big offseason addition to the Giants secondary, and while it's true that few cornerbacks have had a tougher job over the past few seasons, given the division in which he has had to ply his trade, he's also never quite lived up to the potential we saw as a rookie. Bradberry has consistently generated PFF grades in the 60s but has a rare skill set and should immediately look significantly better without needing to try and cover the likes of Julio Jones and Mike Evans twice a season.
DeAndre Baker struggled badly as a rookie and was beaten for eight touchdowns in total, though his future is somewhat up in the air, given the reported off-field troubles. Beyond Baker, the Giants would be turning to Sam Beal, who played fewer than 300 snaps last year, or one of either Corey Ballentine, Darnay Holmes, Chris Williamson or Montre Hartage. So, for as much as Baker struggled last year, the prospects of a season without him would not be good.
On the inside, Grant Haley was the team's slot corner in 2019, but he earned a PFF coverage grade of 48.3 and was beaten for a passer rating of 114.2 when targeted. And at safety, Antoine Bethea has now gone, leaving Julian Love to try and fight off rookie Xavier McKinney for playing time alongside Jabril Peppers. McKinney has elite versatility and was used much the same way as Clemson's Isaiah Simmons, though McKinney does come without the absurd size and measurables. Love played well last season, so it would be unfortunate if he were to lose time this year.
Quinton Dunbar was by far the highest-graded player in Washington's secondary in 2019, as the former UDFA finished his breakout season with a PFF grade of 87.6, third-best among qualifying cornerbacks. However, he was not a great fit for new coach Ron Rivera's defense and was shipped off to Seattle in exchange for a mid-round pick.
So, with Dunbar out of town, Kendall Fuller returns to the team he began his career with after an ugly stint with the Chiefs, albeit a stint that earned him a Super Bowl ring. Fuller was the best slot corner in the league for a period, but he wasn't quite the same force when he was asked to play outside. Fuller will likely be expected to start because the alternative options include Fabian Moreau, Aaron Colvin and Jimmy Moreland.
Ronald Darby also has a chance to resurrect his career after a sharp decline in Philadelphia. Darby has the talent to be a high-end corner, but that play is getting further and further away in the rearview mirror. Also in the mix is third-year cornerback Greg Stroman, who could be a sneaky dark horse for playing time, too. Stroman played just two snaps in 2019, but his rookie year saw him play well across almost 400 snaps.
At safety, Landon Collins has yet to recapture the form that made him a Defensive Player of the Year candidate with the Giants, but he is, at worst, a solid starter. With Montae Nicholson still unsigned, Troy Apke will have to fight off Sean Davis and Jeremy Reaves for the other safety spot. Apke and Reaves both saw snaps last season, and both were solid, though Apke earned the higher PFF grade.
After trading away A.J. Bouye, Jacksonville has now virtually dismantled its dominant defense from 2017. Rashaan Melvin and D.J. Hayden are now slated to start, and while both have some solid tape on their NFL resumes, there's more bad than good. It would be a stretch to label either a quality starter, meaning that first-round rookie C.J. Henderson will likely be pressed into action sooner rather than later.
Henderson was the No. 3 corner on PFF's Big Board and has the elite traits to be a top-tier corner, but he never earned a PFF grade higher than 81.0 in his college career. That leaves him with a lot of work to do to make that leap at the next level. Outside of that trio, depth is also a concern. Tre Herndon played 902 snaps last season, and though his coverage numbers weren't terrible, his grade was below average (54.7) and he was penalized nine times.
At safety, Jarrod Wilson and Ronnie Harrison return as the two starters from a season ago, while the depth remains largely the same. Wilson had the second-highest PFF grade in the Jaguars' secondary in 2019, intercepting two passes and breaking up another four without being penalized all year. Harrison's coverage grade was solid (68.5), but seven missed tackles and some questionable run-fits torpedoed his grade in that area (44.4).
Overall, this Jacksonville secondary is not a great unit on paper, but a lot could change if Henderson can become the NFL player his traits suggest he can be.
Longtime starter Desmond Trufant left for Detroit, but the Falcons replaced him with first-round rookie A.J. Terrell out of Clemson. Terrell was the No. 5 corner on PFF's Big Board, but he has the ability to play at a very high level in the NFL. He had a tough time in the 2020 National Championship against LSU, but he was in close coverage for a lot of that. He was also exceptional in the 2019 National Championship Game.
Terrell likely starts from Day 1, which is always a tough ask, but the pressure is also on Isaiah Oliver on the other side. Oliver was solid as a rookie, but Year 2 saw him take a major step backward: His overall PFF grade slipped from 70.0 to 56.8, and his coverage grade fell from 69.6 to 54.5. All told, he has allowed 65.5% of the passes thrown into his coverage to be caught since he entered the league.
Keanu Neal played just 166 snaps last season, and his return should make a huge difference to the defense, leaving Damontae Kazee and Ricardo Allen to battle it out for the other starting spot. Both players were average last season, but Kazee tended to have the splash plays on tape, even if Allen actually had six pass breakups to Kazee's zero.
Kendall Sheffield was the team's slot corner last season and likely remains there in 2020, but he struggled in that role as a rookie, allowing a passer rating of over 100 and earning a PFF grade in the 40s.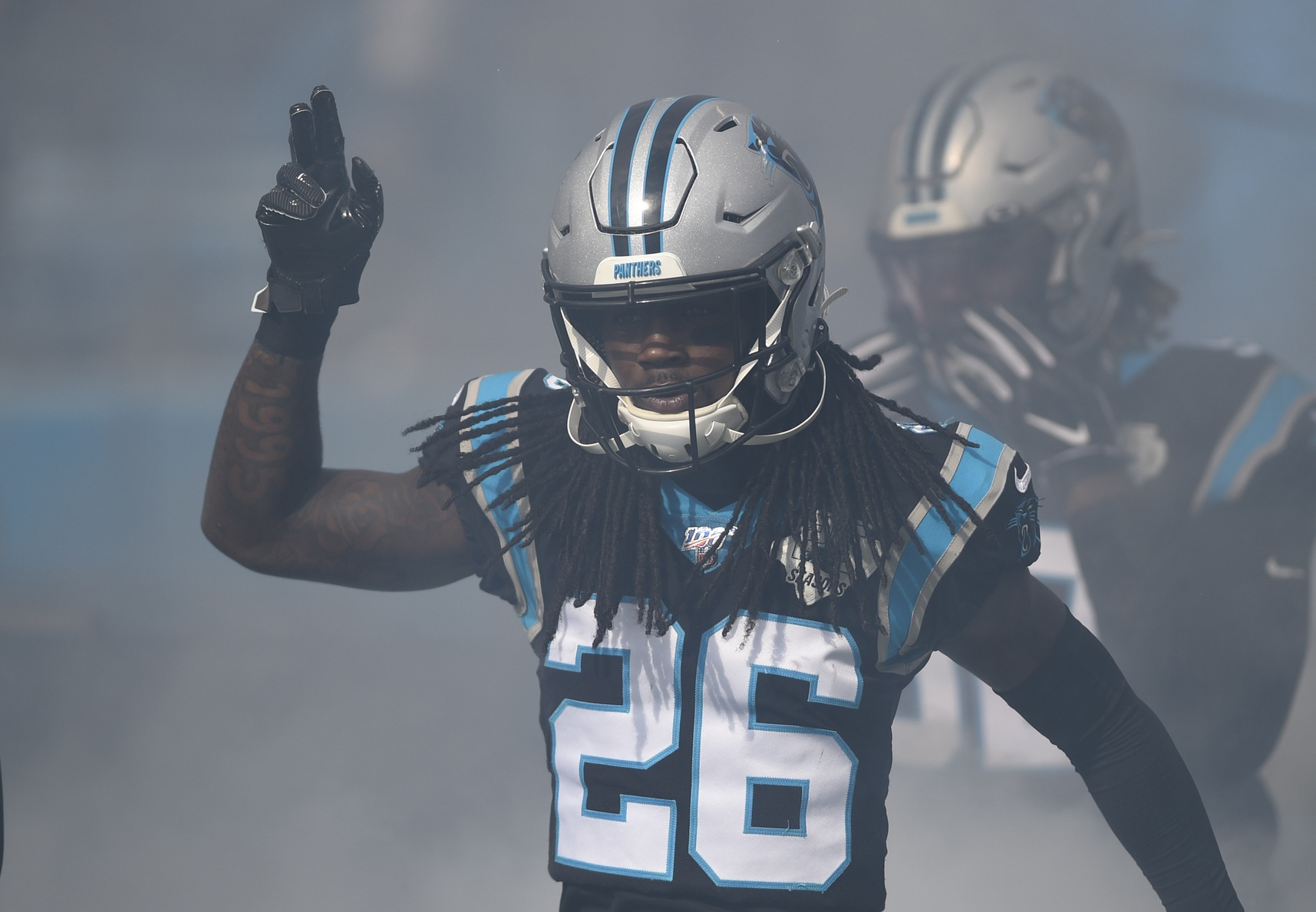 The entire Panthers defense has undergone massive change this offseason. Every single draft pick the team used was on a defender of some kind, and four of their picks were spent on secondary players. Cornerbacks Troy Pride Jr. and Stantley Thomas-Oliver III were brought in, while Jeremy Chinn and Kenny Robinson Jr were added at the safety position.
Of the corners, Pride has the best chance at playing time, but he will need to show that he is a better option than Eli Apple, given that Donte Jackson is entrenched at the other spot. Apple has allowed a passer rating of at least 104.9 in three of his four seasons in the NFL and has never earned a PFF coverage grade above 65.0. If Pride can impress early, he could push Apple for that spot.
Chinn likely starts in one safety spot next to Tre Boston, but Kenny Robinson is a really intriguing player. Arguably a first-round talent in college, he left early to play in the XFL to provide for his family, performing well in the upstart league before it folded. He lasted until the fifth round, but there's a lot to suggest that he could even be a better option than Chinn.
Tre Boston is a perennially underrated player and graded exceptionally well in 2019, his second stint with the Panthers. Though it's a new coaching staff this year, it seems unlikely that he will find his spot under threat unless the rookies are outstanding.
Javien Elliott was the team's slot corner last season, but that spot is also up for grabs this year with Cole Luke and Corn Elder battling to prove they deserve the role before somebody like Pride. Luke was impressive in the preseason a year ago and even earned a coverage grade of 77.8, but he has yet to show he belongs in the regular season.
The Jets were in the unusual position of having all the talent in the safety position, and not at cornerback. But that changed significantly when they traded Jamal Adams to the Seahawks.
With Adams now out of town, Marcus Maye will need to carry the mantle in New York. Maye has shown the ability to be an impressive coverage player on the back end. And though he only had one pick in 2019, he also had six pass breakups and the best PFF coverage grade (77.4) of his career.
The Jets did add Bradley McDougald as a part of the Adams trade, and he fits in as a box safety to complement Maye's skill set. McDougald had a solid three-year run with the Seahawks, grading above 73.0 in both 2017 and 2018, though he dropped off to just 62.8 last year in large part due to a career-high 16 missed tackles. McDougald has been a viable starter for six years. He's a nice addition given that the trade was mostly focused on the future.
Cornerback is more of an unknown landscape for the team, with Pierre Desir, Arthur Maulet and Nate Hairston, among others, making up a stable of veterans looking to try and secure a starting job with some above-average play. Desir has the best stretch of play on his resume of the group — an overall PFF grade of 77.7 in 2018 — but even he is coming off the lowest grade of his career (58.8).
The team also added Bryce Hall in the fifth round of the draft; he is a talented player who could be a potential steal if he can get back to his 2018 play. The side also rolled the dice with multiple undrafted free agents, the most notable of whom may be Utah's Javelin Guidry.
Cornerback is a significant question mark for this team, with only Brian Poole having any kind of consistent track record to bank on. Poole was the team's best-graded corner last season (79.0) and allowed just one touchdown on 53 targets.