The decade is drawing to a close, and the NFL is currently reflecting upon 100 years of football, so it seems like a fitting time to place Richard Sherman in his rightful place among the game's greats. The former Seattle standout has been back to something like his best in 2019 for the San Francisco 49ers, and he has had a huge impact on a defense that has taken important strides this year. Sherman is an excellent cornerback and one of the best-graded in football right now — he's also the best corner of the past decade.
This season, Sherman has surrendered just 227 yards into his coverage and has yet to be beaten for a pass longer than 25 yards. To put those numbers into context, rookie cornerback DeAndre Baker had surrendered 272 yards and given up 10 plays of 25-plus yards by the end of Week 2.
For a player who is peerless at avoiding being beaten over the top, Sherman has also allowed an extremely low yards per catch average — just 8.4 yards — a figure usually associated with slot cornerbacks who pick up a lot of underneath targets. This season, Sherman has avoided being beaten over the top but has also limited the impact on throws in front of him.
His PFF coverage grade of 89.2 with a week to play is the best mark he has posted since 2014, and it represents a big return to form for a player whose career was thrown into jeopardy with a torn Achilles a couple of seasons ago.
THE BEST OF THE DECADE
Sherman's coverage numbers this year match the trend of his career — he has been the most difficult cornerback to pass the ball against since he came into the league. In this decade, only two cornerbacks have allowed a completion rate of under 50% (with 250 or more targets), and those cornerbacks are Richard Sherman (49.6%) and Darrelle Revis (49.8%). They were deployed in dramatically different ways, but Sherman and Revis have undoubtedly been the two best corners of the PFF era (2006 – present).
Lowest completion percentage allowed by a cornerback, 2010-2019 (min. 250 targets)
| | |
| --- | --- |
| Player | Completion percentage |
| Richard Sherman | 49.6% |
| Darrelle Revis | 49.8% |
| Antonio Cromartie | 50.5% |
| NFL Average | 61.4% |

If you look at his numbers on a per-coverage snap basis, it is much the same story. Since 2010, only Nnamdi Asomugha was targeted less often or allowed a catch less frequently, and Asomugha benefitted from a disastrous supporting cast of corners who simply drew all the targets as teams stopped testing him entirely. Sherman, on the other hand, was playing within the fabled Legion of Boom when there was no easy target to pick on, so everybody was consistently tested.In terms of passer rating, Sherman has allowed the lowest figure of the decade (54.0) and is one of just four corners to be below a rating of 70.0 when targeted. Elite corners like Jalen Ramsey have allowed a passer rating of 76.0 during their career, but Sherman maintained one more than 20 points lower for almost an entire decade and counting. 
What's unusual for a cornerback so proficient in limiting catches is that Sherman has also been a relative ballhawk over his career. And typically, there's give and take when it comes to making plays versus giving up production.
"If you're getting a ton of interceptions then you have some leeway to give up some yards and stuff," Sherman said in a discussion with PFF, "you still shouldn't give up a ton of touchdowns, but you're also making impact plays and turning the ball over and giving your offense more possessions."
Rarely are cornerbacks able to shut down receivers and generate turnovers at a higher rate than anyone else. But Sherman has been able to do that over an entire decade and has eight more picks than any other corner over the past 10 years. He has obviously played a greater portion of the decade than many corners, but even if you look simply at interception rate based on targets, he has the second-best figure behind only Asante Samuel, who is one of the best ballhawks to play in recent years.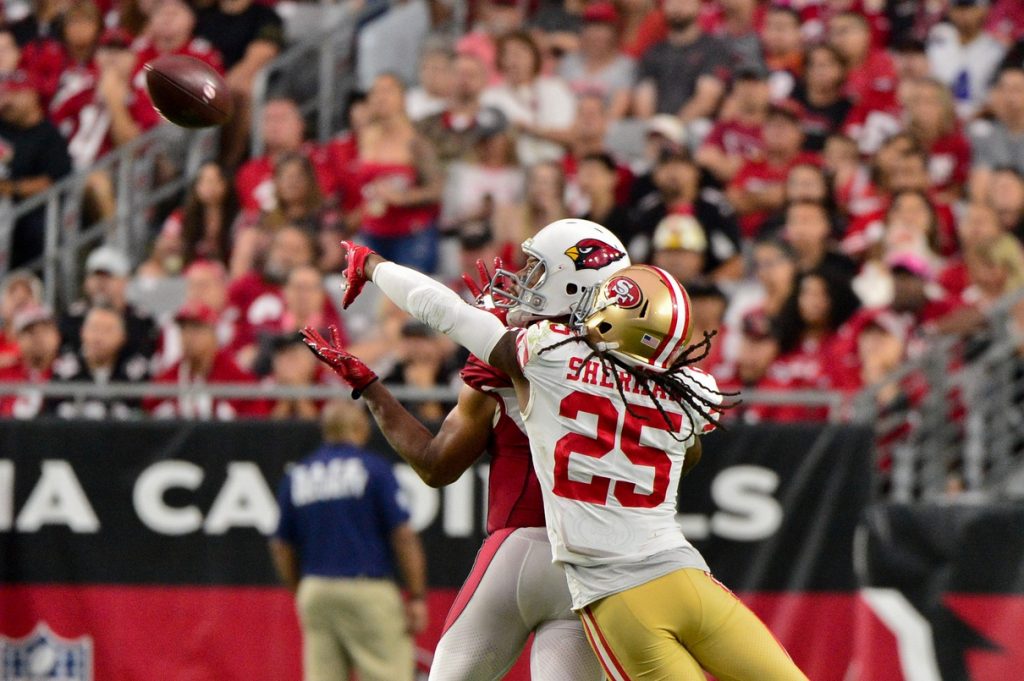 © Matt Kartozian-USA TODAY Sports
THE SCHEME
While many believe that the best thing a corner can do to help his team schematically is to track No. 1 receivers — effectively doing their best to remove the opponent's best passing weapon — Sherman believes there are other ways to take advantage of elite corner play. In fact, he argues that a lot of the kudos directed towards cornerbacks who track receivers can be exaggerated.
"You're talking about guys playing two-man, and you're sitting there like, 'Man, he's isolated on the island,' but you know he's not, he's sitting there with the safety. If anything goes over the top, 10, 20 yards, the safety should be there to make a play. If they play iso cover-1 all game like Revis did, then give them the credit, but that's rare."
As much as we might assume that corners who track make a huge impact, very few of those players are truly being isolated in man coverage without any help on the play, and even fewer are actually holding those top receivers to a level of production that makes the whole enterprise a clear win for the defense.
Instead, Sherman advocates for an approach that maintains the structural integrity of the defense and cheats help away from the best coverage player.
"That makes for stronger defense," Sherman argues, "and that's why I compared it to the tackle analogy because you could always say, 'Hey, Khalil Mack's on the right, so send your best tackle to the right.' Or you could strengthen and say 'Hey, you stay on the left, we'll make your job harder and we'll send help to the right.' That's how it can work. You don't see great left tackles following pass-rushers across the line because that screws up the continuity of the unit, and the same thing is true with coverage defense."
The other critical point when it comes to tracking receivers or not is that the days of anyone playing pure man coverage all of the time are long gone. Nobody this season has played man coverage more than 60% of their coverage snaps; only three teams have played it on more than half of their snaps, and their head coaches have all worked for the New England Patriots within the past two years.
Top cornerbacks can't just play man coverage every snap because the rest of the defense needs to be able to hold up, and modern schemes need to employ way more disguises and complex looks to slow down quarterbacks and receivers who are just too good to play any one coverage against.
"Zone" corners who play sides of the field but within systems that roll help away from them might actually play on a far bigger island than those who track receivers. If you're playing the single receiver side in a scheme like the Seahawks ran for years, you're likely manned up against that receiver while the rest of the defense rolls to the passing strength.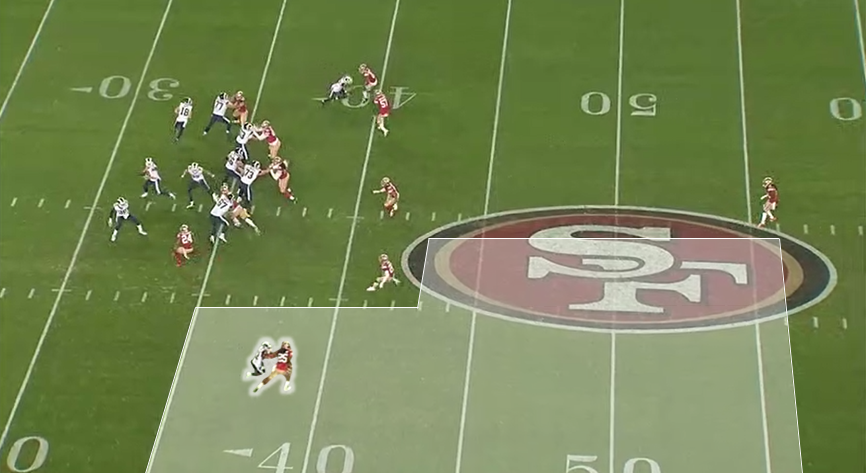 "And that's what people don't understand when they sit there and say, 'Hey man, he's a zone corner,' said Sherman. "I've probably played more man than most of the corners, you know, but you follow the false rhetoric and…You know what I mean? Doesn't mean anything."
The 49ers' defense this year is reaping the rewards that come with having a Sherman who is back to his best. This past week, with the Rams' offense finally finding some life and looking like the 2018 version of itself, Sherman was only targeted twice, and he didn't give up a single catch. Across 49 snaps in coverage, he didn't surrender any receiving yards at all, personifying the term "shutdown corner."
The 49ers' defense as a whole has earned one of the best coverage grades all season long — they're currently second in the NFL at 92.5 — and Sherman has been a big reason why. His excellent play has allowed the rest of the coverage unit to function better as a group, and he's boosted the production of them all. San Francisco now looks to roll into the postseason with a defense that can get after the quarterback and cover on the back end, and with an offense run by Kyle Shanahan, they are one of the most formidable and complete teams in the NFL.
Richard Sherman has already been to the Super Bowl twice, winning one of them, and he has a real chance to get to the big dance a third time. Sherman is one of the best cornerbacks in football in 2019, and he has been the best over the past decade of NFL action.