The PFF unit-ranking series moves to the linebacker position as we look forward to the 2020 season. The NFL's best linebacking corps have both high-end players and depth, and that's what we leaned on when putting together this ranking. Here are the best linebacking groups in the NFL heading into 2020.
Subscribe to PFF's EDGE or ELITE subscriptions to get access to the following tools, charts, etc. 
– All Premium Article Content
– Fantasy Football Rankings & Projections
– Fantasy Football Draft Guide, Cheat Sheets & Advanced Stats
– Fantasy Football Mock Draft Tool (DraftMaster)
– Fantasy Football Strength of Schedule Matrix
– NFL Player Grades
– NFL Premium Stats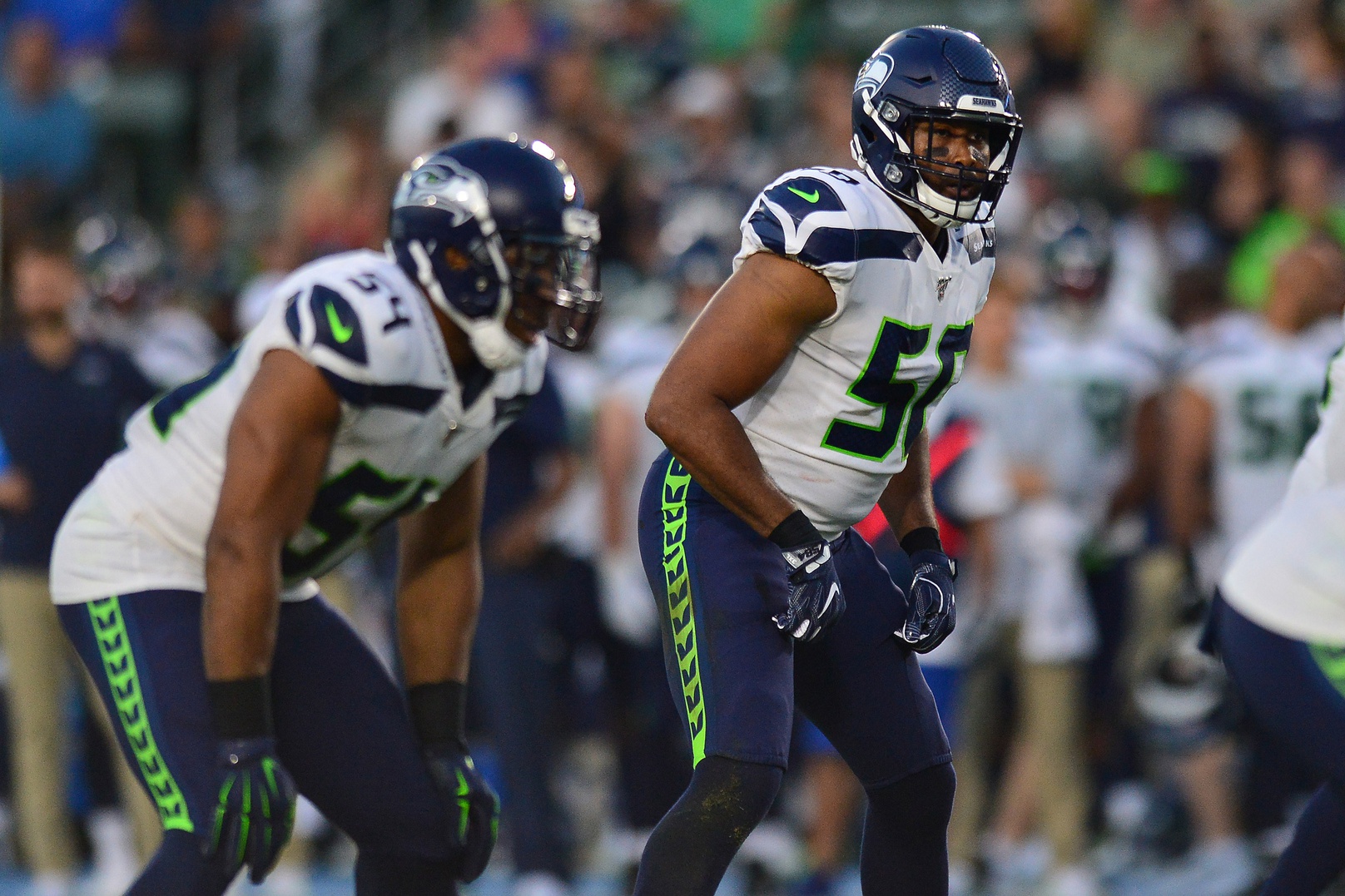 Even with Bobby Wagner taking a step back last season, the Seahawks have the best linebacking corps in the league. Wagner has the second-best overall grade in the league over the past two years (90.5), behind only the recently retired Luke Kuechly. Wagner is the only linebacker in the league to rank in the top five in coverage, as a run defender and as a pass rusher over the past two years, showing that he's the best all-around players at the position.
He's flanked by K. J. Wright, who is coming off the lowest grade of his career (59.9) but put up marks of at least 65.0 or better in each of the other eight years. Wright brings a long presence to the Seahawks' zone-heavy scheme and like Wagner, he can play the run and blitz at a level among the league's best. When Wright is back to form, he and Wagner make one of the league's best duos.
Despite the strength at linebacker, the Seahawks took a forward-thinking approach in the draft with first-rounder Jordyn Brooks out of Texas Tech. Brooks had the fifth-best overall grade in the nation last year (90.5), and his 91.5 mark in the run game ranked fourth. He fits the Seahawks' brand of physicality and athleticism, with the only question being how many plays he makes in coverage; he had just one pass breakup on over 1,300 career coverage snaps in college.
Seattle has a solid group of backups, as well, starting with 2019 draft picks Cody Barton and Ben Burr-Kirven. Barton saw the field for 253 snaps last year, grading at just 56.6, while Burr-Kirven had the fifth-best grade in the nation among linebackers in 2018 at 91.2 but played just four snaps as a rookie. Shaquem Griffin also cycles back and forth between linebacker and edge rusher, though he struggled in coverage as a rookie. The Seahawks are loaded at linebacker and are in good shape for both the short and long term.
In 2018, the Cowboys had the second-highest graded linebacking corps in the league (80.2), and they dropped to 11th with a 66.2 grade last season. They enter 2020 with one of the best units in the league as the corps remains intact, led by Leighton Vander Esch and Jaylon Smith. Vander Esch was limited to just 510 snaps last season and took a step back with a 58.5 grade after a 2018 campaign in which he posted an 84.4 mark that ranked fifth in the league. Expect Vander Esch to return closer to his 2018 form, as he missed 14.5% of his tackles last season compared to just 8.9% in 2018.
Smith ranked right behind Vander Esch with an 84.0 overall grade, sixth-best in 2018, but he regressed last season with a 70.2 grade that ranked 19th. He has recovered nicely from a knee injury that dropped him to the second round of the 2016 draft, and he's now one of the league's best all-around linebackers. The Cowboys also return Sean Lee, who has become more of a role player at this point in his career but still brings experience and leadership to keep the unit together. Lee is coming off the two lowest grades of his career — a 57.8 mark in 2018 and a 61.5 grade last season.
Joe Thomas adds veteran depth and posted a career-high 64.4 grade last season on 246 snaps. The Cowboys feature one of the best one-two punches at linebacker in Vander Esch and Smith, and they need the duo to get back to its 2018 form to maximize the defense's potential.
Only Luke Kuechly and Bobby Wagner have graded better than Lavonte David's 91.0 overall over the past three years, and that trio features the only linebackers to grade in the top 10 in both coverage and run defense over that span. David has been one of the few consistent pieces in the Buccaneers' defense since entering the league in 2012 and is capable of making plays all over the field.
The Buccaneers are hoping they found his clone in Devin White, a 2019 first-rounder who got off to a slow start with a 50.6 overall grade last season. An explosive athlete with 4.42 speed, White was an effective blitzer at LSU. Now, it's just a matter of Tampa Bay harnessing that athleticism within its defensive scheme. White missed 13.0% of his tackle attempts last season, ranking 56th out of 88 qualifiers.
Jack Cichy is the most intriguing backup in the group, but he's played just seven snaps in two years after seeing 725 snaps from 2015 to 2017. When on the field, Cichy is effective, but injuries have destroyed his career to this point. Kendell Beckwith also returns after missing each of the past two seasons. Beckwith graded at 53.0 on 847 snaps as a rookie in 2017. The Bucs' linebacker unit ranking depends on White's development — if he takes the next step, Tampa Bay features one of the most athletic, effective duos in the league.
The Texans have the only two linebackers to rank in the top 10 in run defense over the past three years in Benardrick McKinney and Zach Cunningham. McKinney is a power player at 257 pounds who can mix it up in the run game and has been one of the best tacklers in the league, missing just 6.9% of his tackle attempts — ranking 16th-best since 2014. He has his limitations when left in single coverage, but McKinney handles short-zone responsibility well enough and has posted 70.0-plus coverage grades in three out of his five NFL seasons.
Cunningham is the playmaker of the group, leading the league in run-stop percentage last season (14.2%). Cunningham uses his great length to slice through blockers to get to the ball in the run game, but he has similar coverage limitations that make him exploitable against quick running backs. His best coverage grade was just a 62.1 mark that came his rookie season in 2017. Cunningham has combined with McKinney to be one of the most durable and productive duos in the league over the past three years.
The backups include Dylan Cole, who has just 470 career snaps, and Peter Kalambayi, who has seen the field just 123 times in his two years. The Texans have one of the best linebacker duos in the league, though their depth is untested.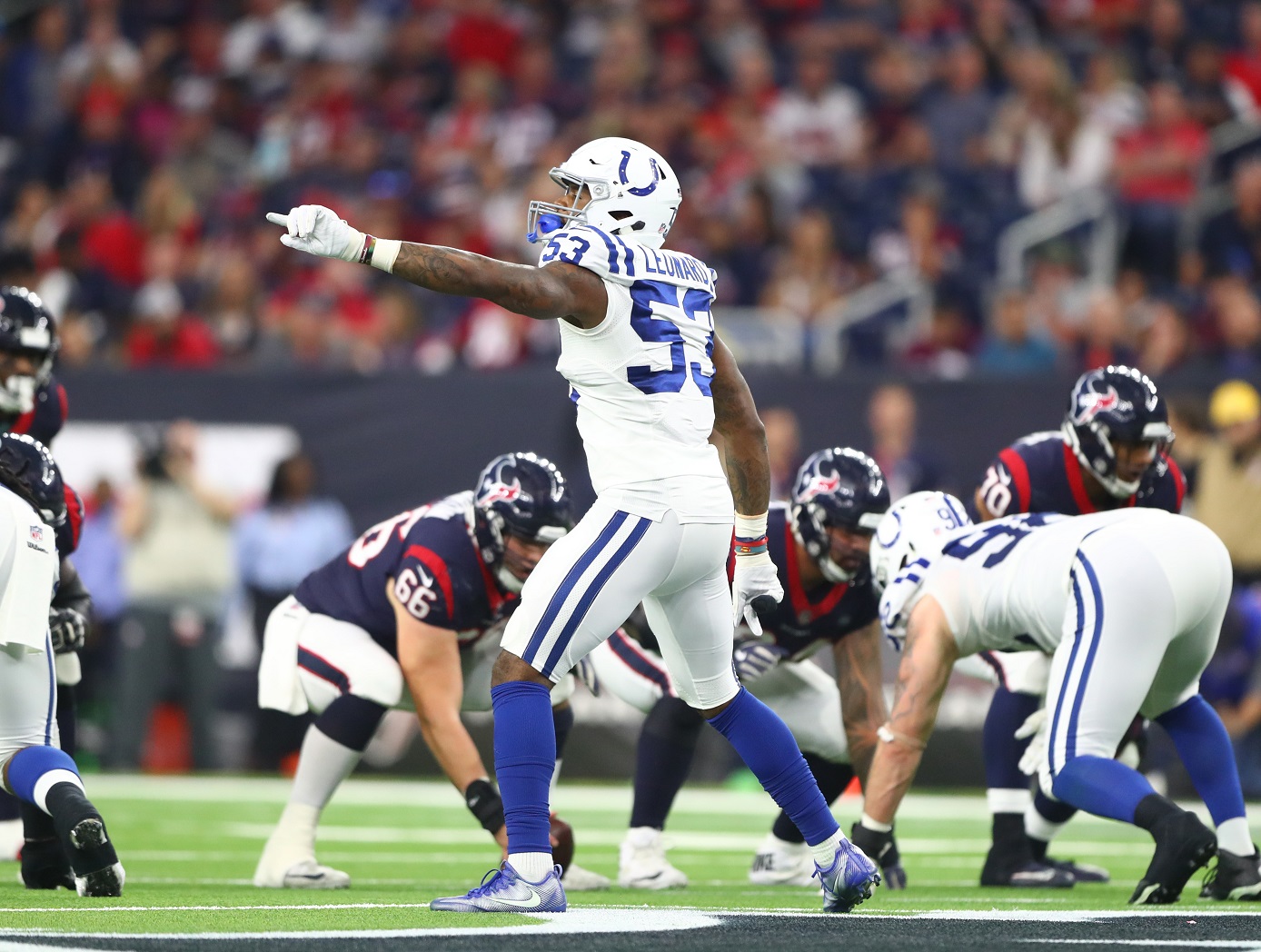 The Colts have one of the better linebacker groups in the league, led by Darius Leonard, who has been going in the second round of the 2018 NFL Draft. Leonard has the sixth-ranked grade among linebackers over the past two years and has missed just 5.6% of his tackles, good for seventh-best. A true three-down linebacker, Leonard has graded well in all phases, and his length has fit well in the Colts' zone-heavy scheme.
Indianapolis added more length with 2019 third-rounder Bobby Okereke, who is slated to start next to Leonard after seeing 472 snaps last season in which he graded at 77.3. Both Okereke and Leonard have 97th-percentile arm length among linebackers, and that length compresses passing lanes in the middle of the field. Anthony Walker is the other projected starter and is coming off his best year in coverage, posting a 73.3 grade. The issue for Walker is his 40 missed tackles over the past two seasons, which showed up in his 43.5 grade against the run that ranked just 87th among linebackers last season. 
E.J. Speed, a 2019 fifth-rounder, adds depth as an athletic backup, and Matthew Adams also returns after back-to-back years grading in the 50.0s on 332 total snaps. A couple of years ago, the Colts had one of the worst linebacker units in the league. Now, they have one of the best. 
It's an entirely new look for the Raiders at linebacker, as free agents Cory Littleton and Nick Kwiatkoski are slated to see most of the snaps this season. Littleton is a modern-day linebacker who can match up with running backs and make plays on the ball in zone coverage. His 90.3 coverage grade is fifth-best in the league over the past three years. The question for Littleton is in the run game, where he's graded at only 48.9 over that three-year span, but that hasn't hurt his standing as one of the league's most valuable linebackers.
Kwiatkoski is the opposite of Littleton — he loves to get dirty in the run game and can get after the quarterback as a blitzer, evidenced by his 81.8 pass-rush grade last season. Kwiatkoski is not as dynamic as Littleton in coverage, but he plays his role well and broke up three passes on just 34 targets a year ago. Nicholas Morrow rounds out the depth chart, yet has never graded above 53.5 in his three seasons in the league.
The other name to watch is third-rounder Tanner Muse, who played safety at Clemson. Muse crushed his offseason workouts and could add another athletic option for the Raiders after a solid college career in which he lined up all over the field. The Raiders invested heavily at linebacker this offseason, propelling them from one of the worst to one of the best units in the league. 
Over the past three years, Deion Jones is tied for the lead among linebackers with a 92.2 coverage grade, and we've seen how important he is to Atlanta's defense when he's missed time due to injury. Jones was incredible in 2017, finishing with a 91.7 coverage grade while consistently making plays on the ball in crunch time. In his four-year career, Jones has 24 pass breakups and 10 interceptions, though he has graded in the 60.0s in the run game in his three full seasons. Jones' ability to patrol the middle of the field is one of the catalysts for the Falcons' defense.
Next to him is 2018 sixth-rounder Foyesade Oluokun, who has graded in the 60.0s in each of his two NFL seasons. Oluokun is another undersized, athletic linebacker who ran a 4.48-second 40-yard dash and wipes out underneath routes in zone coverage. Deone Bucannon is also in the mix, though he has graded above 70.0 just once in his six-year career — and that was back in 2015. The former safety is on to his fourth team, and while he should add coverage versatility, it hasn't shown up in the form of production since 2016.
The Falcons also drafted Mykal Walker out of Fresno State in the fourth round of the 2020 NFL Draft. Walker was more of an edge/linebacker 'tweener with the Bulldogs. If Oluokun holds up for the entire season, his pairing with Jones should help move the Falcons forward as a defense after a rough 2019.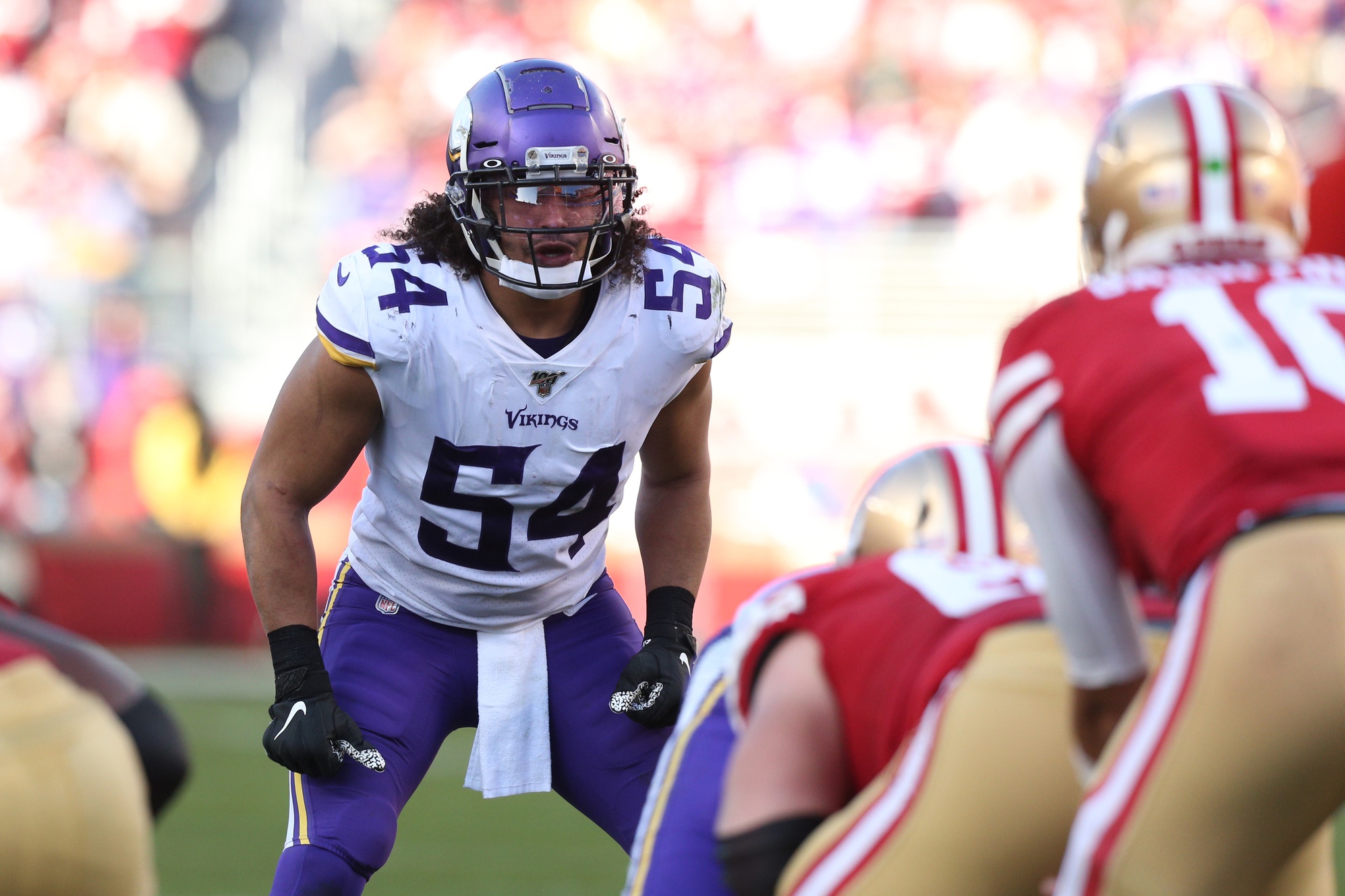 Last season, Eric Kendricks had a legitimate case for Defensive Player of the Year, as his 90.2 overall regular-season grade and 12 pass breakups each led all linebackers. Kendricks had produced grades in the 60.0s in his previous three seasons, so last year was one in which he finally put it all together in each phase. In addition to Kendricks' playmaking in coverage, he also had the third-best run-defense grade (90.1) while tying for 10th with 17 pressures. It may be too much to expect another three-phase career year from Kendricks, but he'll likely be among the league's best in 2020.
Anthony Barr returns for his seventh year with the Vikings after finishing with a 60.6 overall grade that tied for 51st last season. He's now four seasons removed from his peak 90.0 overall grade in 2015 — his best mark since then has been just 70.5. Barr has coverage limitations but has been reasonable in the run game and has rushed the passer over 100 times in each of his six seasons.
Eric Wilson manned the No. 3 spot last season, grading out at 66.7. He'll have competition in Ben Gedeon, who produced a 60.1 grade on 102 snaps last season, and fourth-round pick Troy Dye, one of the better coverage linebackers in the draft who has the length to be a weapon against tight ends.
The Vikings have a solid group that plays to their defensive style. Another high-end year from Kendricks makes this one of the top units in the league.
One of the biggest surprises of the 2019 season was the emergence of Alexander Johnson, who finished with the top run-defense grade in the league (91.4) and the fourth-ranked overall grade (88.5). Johnson was a 28-year old rookie who battled legal issues and made the most of his first opportunity in the league.
Todd Davis, the starter alongside Johnson, is one of the most consistent linebackers in the league, grading between 65.0 and 71.0 in all six years of his career. Davis is another strong run defender who helped Broncos linebackers post an 88.4 grade against the run, by far the best mark in the league among teams last season.
Josey Jewell added to that, as well, with an 88.5 run-defense grade on 214 total snaps. He'll be the top backup once again, and the key for him will be improving in coverage, where he's struggled on 674 NFL snaps after playing well in that department in college. Denver drafted Justin Strnad in the fifth round out of Wake Forest, a productive college linebacker with multiple years of strong grades in coverage.
With Johnson's emergence and Davis' stability, the Broncos have one of the best linebacker units in the league.
The 49ers have revamped their linebacking corps over the past three years and now boast a solid unit that fits their defensive scheme. Fred Warner has emerged as one of the better coverage linebackers in the league in his two seasons but needs to cut down on his 37 missed tackles, the sixth-highest total during that time. Warner's 74.5 coverage grade ranked 11th last year, and he has 14 pass breakups and two interceptions in his young career.
Kwon Alexander returns for his second season in San Francisco after being limited to just 423 snaps last year. Alexander is another rangy, middle-of-the-field defender who usually grades well in coverage. However, he has tackling issues of his own, missing 13 of his 46 attempts last year to form the worst rate in the league. One of the unsung heroes of the 49ers' Super Bowl run was 2019 fifth-rounder Dre Greenlaw, who stepped in with a 72.6 coverage grade that ranked 15th in the league while missing only four tackles including the playoffs.
Joe Walker joins the 49ers to add depth after grading out at 46.2 on 537 snaps for the Cardinals last season. San Francisco has one of the best groups of coverage linebackers in the league — it just needs to cut down on the missed tackles to live up to its potential.
Few young players had higher expectations than Devin Bush last season, with the Steelers trading up to No. 10 to draft him in the hopes of immediately improving their middle-of-the-field defense. Bush had the usual rookie ups and downs on his way to a 62.9 overall grade that ranked 40th among NFL linebackers. Bush's athleticism has given Pittsburgh a different look, and he posted a solid 65.2 coverage grade; he's primed to take a big step forward in Year 2.
Next to Bush is Vince Williams, more of a traditional run-stopping thumper who has been one of the league's best blitzing linebackers over the past three years. Williams had 19 pressures on just 56 rushes last season en route to a career-high 76.2 overall grade. The rest of the five players on the depth chart have combined for four career snaps, so the pressure is on Bush and Williams to produce at a high level.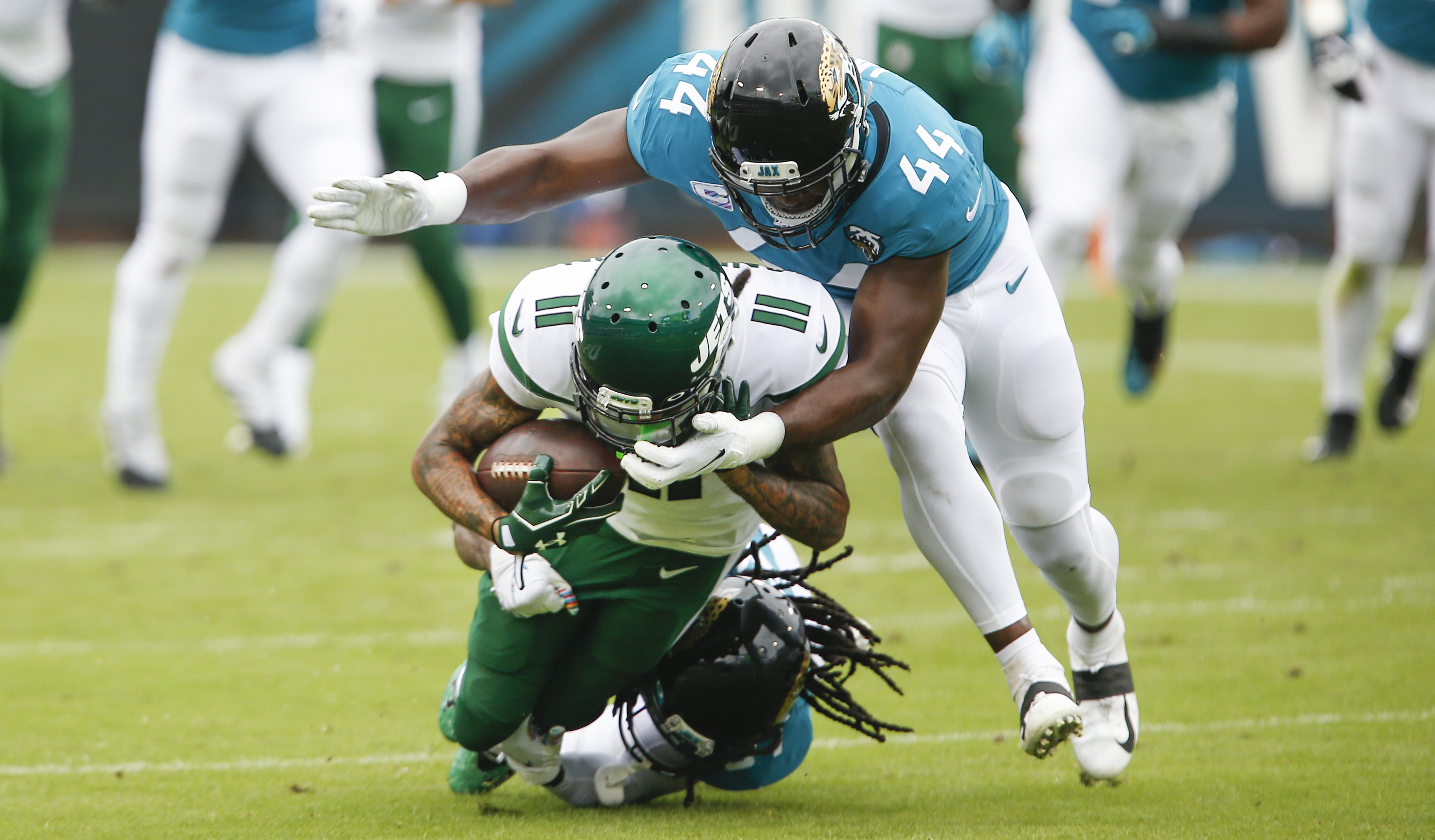 There's no sugarcoating the Jaguars' performance last season — their linebackers had by far the worst overall grade in the league (30.1). Myles Jack disappointed with the lowest grade of his career at 45.9 overall and looked a step slow in coverage on his way to a 45.8 mark. Jack was a rangy playmaker in his first three years in the league, so he needs to bounce back to get this unit moving in the right direction.
The Jaguars signed Joe Schobert, who produced the eighth-best coverage grade among linebackers over the past two years (83.6). The former college edge rusher has taken to the position switch and become an excellent zone defender, though he's struggled against the run with a 46.8 grade over the past two years. In addition, 2019 third-rounder Quincy Williams struggled to a 33.1 overall grade on 494 snaps while other players who are no longer on the team added to the poor performances from Jacksonville linebackers.
Jacksonville drafted Shaquille Quarterman, who adds a solid presence in run defense and as a blitzer after a strong career at Miami. On paper, this should be one of the better linebacker units in the league, but that's dependent on Jack bouncing back and Schobert improving his game against the run. 
Few players have turned their careers around in recent years quite like Demario Davis, who had never graded above 62.6 in his first five years in the league but posted 70.0-plus marks in back-to-back years before a 90.3 grade last year. That grade led all linebackers when including the playoffs, and Davis' emergence has helped turn a weakness into a strength in the middle of the field for the Saints. Last season, Davis made plays in all phases, including eight pass breakups (ranked tied for second) and 57 defensive stops (ranked second).
Kiko Alonso is slated to start next to Davis despite being limited to just 296 snaps a year ago. Alonso has struggled in his past two full seasons with grades in the 40.0s, but he was off to a good start with a 69.5 overall grade last year. Oft-injured Alex Anzalone was also limited to just 46 snaps last season, but he had a strong 2018 that included a 67.8 coverage grade and 16 pressures on just 72 rushes.
Just getting Alonso and Anzalone healthy should give the Saints a solid trio along with Davis, but New Orleans also has strong depth, starting with third-rounder Zack Baun. An edge rusher at Wisconsin, Baun has excellent agility and graded at 80.0-plus in coverage in each of the last two seasons, albeit on small samples. Baun adds versatility to sub packages, given his ability to rush the passer or cover running backs out of the backfield. Craig Robertson also returns for his fifth year with the Saints to add depth, grading out at 60.0-plus in four of his six qualifying seasons.
The Saints have one of the best mixes of production and depth, so a healthy unit in 2020 should rank among the best in the league. 
The Bills have revamped their linebacking corps over the past three years, with Tremaine Edmunds and Matt Milano slated for much of the work once again in 2020. Edmunds is an outstanding athlete who continues to improve, ranking 14th in run stop percentage last year. While he made a plethora of tackles, Edmunds also missed 17 of his attempts during the regular season, sixth-most in the league, and posted a 52.2 coverage grade.
Milano was outstanding in coverage last season, as his 83.3 grade ranked fourth among linebackers and he allowed just 6.6 yards per reception, fifth-best in the league. He had tackling issues, as well, finishing with 16 misses during the regular season while posting just a 39.5 run-defense grade, sixth-worst in the league. A.J. Klein comes over from the Saints to add depth, though he's graded in the 40.0s in three of his past four NFL seasons.
The Bills have a solid linebacker unit capable of matching up with running backs and flying around the field. The group just needs to cut back on its missed tackles to take the next step in 2020.
Rashaan Evans and Jayon Brown took most of the Titans' snaps at linebacker last season, and they both return this year. Evans continued his trend of making plays in the run game, putting together a 9.5% run stop percentage over the past two years that ranks 15th out of 112 linebackers. However, Evans had his struggles in coverage, where he left far too many routes open behind him in zone coverage and surrendered 13.1 yards per reception into his coverage. Tackling was also an issue — Evans missed 18 on the season when including the playoffs.
Brown has established himself as one of the better coverage linebackers in the NFL, ranking 17th during the regular season last year after finishing fourth in 2018. He's been excellent at limiting big plays in zone coverage and has forced an incompletion on 7.4% of targets, ranking 18th over the past two years. There's little experience beyond those two, as 2019 sixth-rounder David Long played just 155 snaps as a rookie and Nick Dzubnar, who spent his first five seasons with the Chargers, has 71 career snaps.
Keep an eye on undrafted free agent Cale Garrett, who had three straight years of 80.0-plus grades at Missouri. However, his 4.92-second 40-yard dash time at the scouting combine is worrisome for a linebacker. He'll be yet another case to see if on-field production can overcome physical limitations.
The Titans have a solid unit, and a smoother year in coverage from Evans could vault them into the top 10.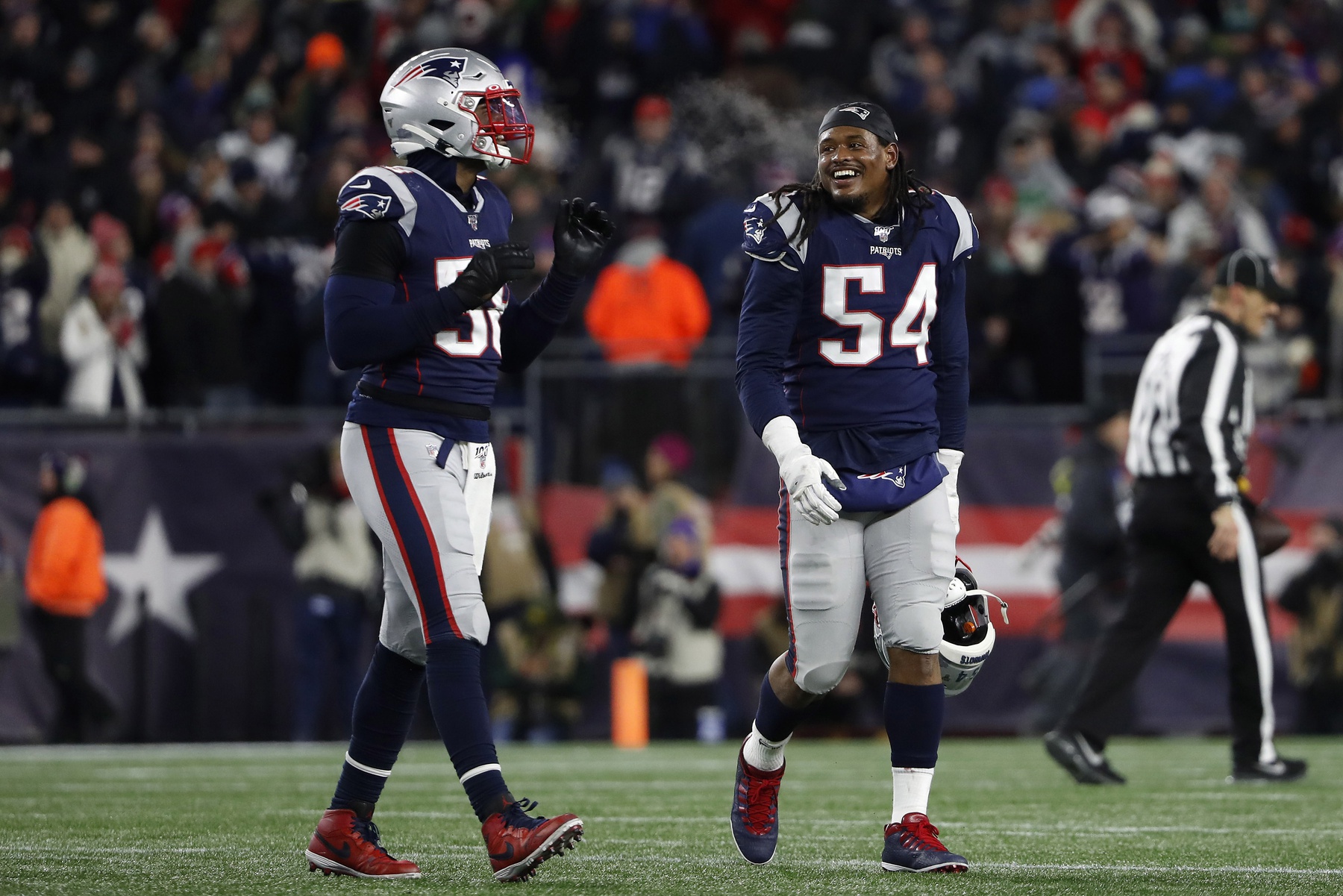 New England annually has one of the best linebacking groups in the league, though the team has some turnover at the position heading into 2020. Dont'a Hightower has been a staple since 2012, showing off the coveted versatility to play the run, drop into coverage and rush the passer from various alignments. Hightower bounced back from injury-prone and subpar years in 2017 and 2018 to grade at 71.3 last season, including his best coverage grade since 2016. He led all off-ball linebackers with 277 pass rushes and 33 pressures, including seven sacks.
Blitzing linebackers are a New England staple, and the team must replace Jamie Collins' production after he ranked second behind Hightower with 32 pressures. Collins rejuvenated his career in his return to New England, grading above 70.0 for the first time since 2015. The Patriots also signed Brandon Copeland from the Jets, who is more of the pass-rush conversion type that New England has had success with in the past. In 2018, he rushed the passer 357 times and picked up 38 pressures before taking on a more traditional linebacker role last year and grading at 58.6.
Elandon Roberts also moves on after four years as an early-down run-stopper, a role that should fall to Ja'Whaun Bentley, who was an outstanding run defender in college and has shown flashes on his 432 career snaps.
Arizona addressed a major weakness when they selected Isaiah Simmons in the first round of the 2020 NFL Draft, as their linebacking corps was one of the league's worst last season. Many analysts tried to figure out where Simmons' best fit at the next level, but the Cardinals have him at linebacker, where they had the third-worst coverage grade in the league last season (32.0).
Former first-round pick Haason Reddick is coming off the worst year of his career, as he struggled mightily in zone coverage on his way to a 29.2 coverage grade while providing little else in the run game or as a pass-rusher. He may be relegated to creative blitz packages if he's not dealt prior to the season. Jordan Hicks also had the worst overall grade of his career, at 61.0, but he has three-plus years of solid coverage grades under his belt and there's a good chance he bounces back to pair with Simmons and solidify the middle of the defense for Arizona. The Cardinals also add De'Vondre Campbell to the mix after four years in Atlanta where he posted subpar coverage grades but missed only 23 of his 291 tackle attempts. 
18. Los Angeles Chargers
The focus for Chargers linebackers this year is improving a coverage grade of 53.5 that ranked just 23rd in the league last season.
They have a slew of options, starting with first-round pick Kenneth Murray. Murray was a coveted linebacker at the time of the draft but still comes with some question marks after grading in just the high 60s over the last two years at Oklahoma. He brings excellent athleticism to the middle of the field — he ran a 4.52 40-yard dash and showed excellent explosion on his jumps — and he can be a weapon when covering running backs. It's just a matter of improving his zone-coverage skills, which were just a step slow in college.
Denzel Perryman continues his up-and-down career for his sixth season with the Chargers after posting three grades in the 50s and two in the 70s. Perryman does his best work in the run game, though he missed a career-high 15 tackles last season.
The Chargers added Nick Vigil to the mix after four years with the Bengals, though his career-high overall grade of 60.0 back in 2018 isn't particularly something to write home about. Malik Jefferson is another former Bengal who will be competing for playing time after seeing just 11 snaps in two years. Jefferson is another player who is better in the run game and could contribute on early downs.
Then there is 2019 fourth-rounder Drue Tranquill, who posted a solid 66.6 grade on 382 snaps as a rookie, the same exact grade as 2018 fourth-rounder Kyzir White, who played 372 snaps. White is in line for more snaps given that he's a former safety who performs well in the underneath zone concepts the Chargers employ.
This unit has several intriguing options, and its performance will be critical. The Chargers are strong on the defensive line and in the secondary, and the linebacking unit is needed to give them a complete defense.
Last season, Lions linebackers produced the second-worst overall grade (40.7) among the 32 units. Rookie Jahlani Tavai posted the top grade for the unit, at 60.5, and as he did in college, he did his best work in the run game where his 65.9 grade ranked fifth among rookie linebackers.
Former first-rounder Jarrad Davis is now in the last year of his contract after Detroit declined his fifth-year option. Davis' three years have been disappointing — he peaked with a 52.8 overall grade as a rookie in 2017, and while he showed signs of life in coverage in 2018, he dropped back to a 32.6 grade last season, fourth-worst in the NFL. Davis has done his best work as a blitzer, grading in the 70s in all three years and amassing 58 total pressures. His explosiveness made him an attractive developmental first-round pick, but it appears that his best fit is as a subpackage blitzer.
The Lions signed Jamie Collins from the New England Patriots after he rejuvenated his career with a 75.8 regular-season grade, good for 13th in the league last year. Collins is familiar with the defensive system, and he's yet another versatile weapon who can play all over the defensive formation while providing one of the better blitz threats in the league.
Christian Jones also returns after a disappointing 44.0 overall grade in his second year with the Lions. He's done his best work in the run game throughout his career, though last season's 46.5 grade is the worst of his career. Jalen Reeves-Maybin adds depth to the unit after earning a 54.5 grade on 298 snaps last season.
Adding Collins is a major boost to this linebacking corps, and they could surprise given that they have several players who have at least played well at some point, though last year was a poor overall performance.
Ravens linebackers saw the field on a league-low 815 snaps during the regular season as they de-emphasized the position and loaded up on defensive backs instead.
The draft shows that the linebackers will have a bigger role for Baltimore in 2020, however, as they drafted LSU's Patrick Queen in the first round and Ohio State's Malik Harrison in the third. Queen is a modern-day, athletic linebacker who flies around the field making plays against the run and in coverage. He does need to clean up his run fits and tackling, but Queen has just over 1,000 snaps of experience under his belt, so he has plenty of room to grow.
Harrison is more of a throwback, and he's coming off an impressive 87.1 grade against the run last season. L.J. Fort returns after a solid 270 snaps in which he graded at 73.5 last season, but Josh Bynes and Patrick Onwuasor both move on, leaving about 900 snaps of playing time for the rookies and Fort to fill.
Baltimore looks better in the long term at linebacker, and they may take a big step forward this season, as well.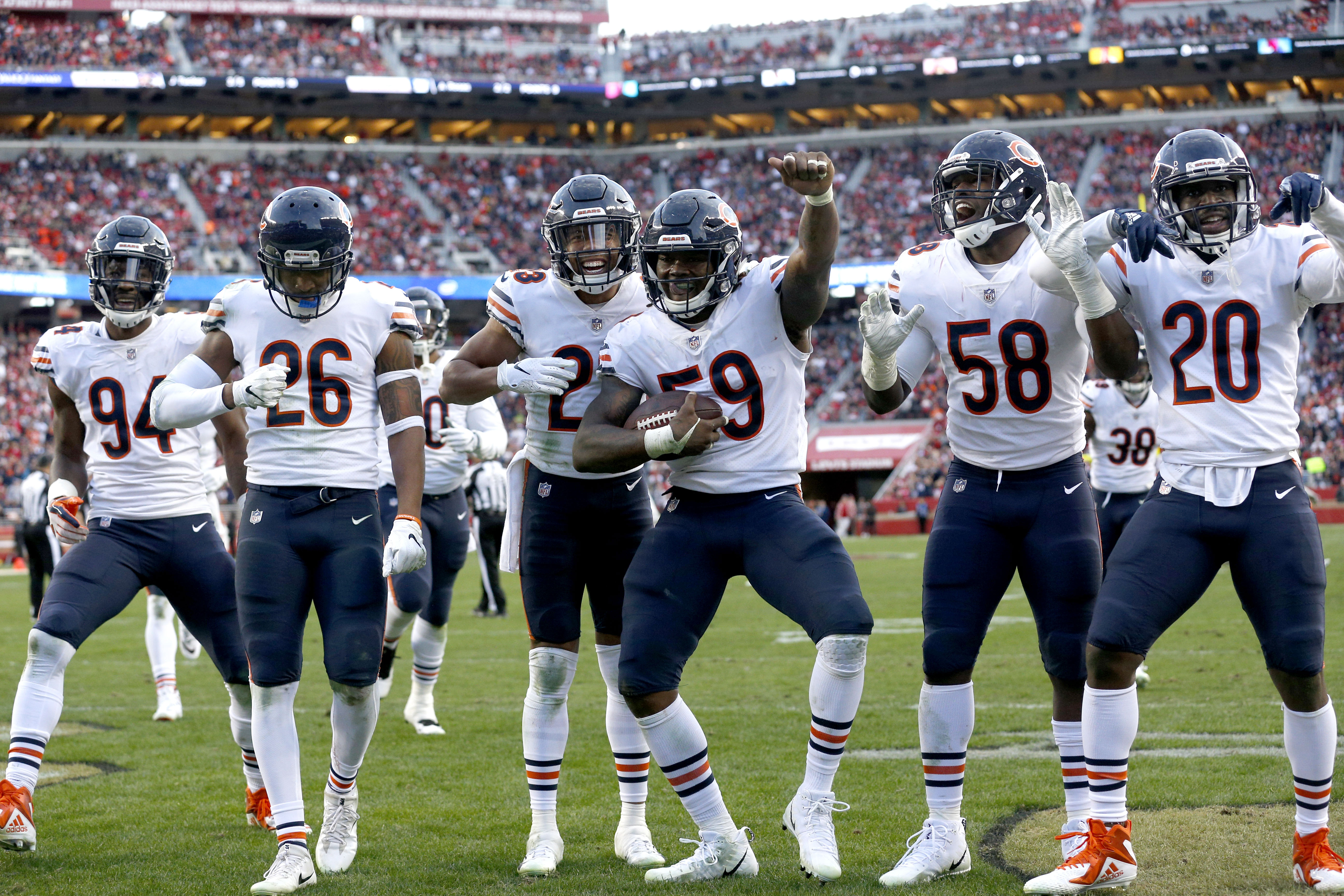 21. Chicago Bears
The Bears didn't have a linebacker play more than 12 games last year as the position was ravaged by injuries, though a stellar performance by Nick Kwiatkoski helped the unit post the eighth-best grade in the league.
Kwiatkoski moves on to the Raiders, leaving the starting role in the hands of Roquan Smith and Danny Trevathan. It's a pivotal year for Smith, a 2018 first-rounder who looked like the prototype for the modern-day linebacker coming out of Georgia. Instead, we've seen a solid rookie season followed by a poor 52.4 overall grade last season that ranked just 76th among linebackers. Smith must do a better job of taking on blocks in the run game, but more importantly, the Bears need him to show off the playmaking ability in coverage that made him a top-10 pick.
Trevathan has a different story, as he's graded at 65.0 or better in every full season until his 61.9 grade in 2019 that including a career-low 50.3 mark in coverage. Trevathan was once one of the league's best coverage linebackers, and it's not crazy to expect him to get back to those heights as he enters his age-30 season.
The only other linebacker on the roster with any experience is Joel Iyiegbuniwe, who has 27 career snaps in his two seasons. James Vaughters is a hybrid linebacker/edge with 26 career snaps to his name, while Barkevious Mingo is another hybrid who has two years with 70.0-plus grades on the edge (2017 with the Colts, 2014 with the Browns).
A thin linebacking corps is very dependent on Smith's development and Trevathan returning to form. And that gives the Bears one of the most volatile groups in the league.
22. New York Jets
The Jets linebackers had the third-lowest overall grade in the NFL last season, at 45.7, and their downward spiral started with C.J. Mosley playing only 114 snaps on the year.
Mosley was injured in Week 1 before playing 68 snaps in Week 7, but that was all we saw from the sixth-year linebacker after he signed a five-year, $85 million contract before the season. A healthy Mosley will give the unit a boost, though it will always be challenging for him to live up to that contract, especially given that he's graded in the 70s in four of his five full seasons.
Avery Williamson also returns to the mix after missing all of 2019. His previous two efforts were the best of his career, as he posted a 73.5 grade in 2018 and an 80.2 grade in 2017. When healthy, Williamson is another good run defender who has never graded above 60.7 in coverage, so there are limits to his game.
In order to fill that void in coverage, the Jets need a step forward from 2019 fifth-rounder Blake Cashman after he graded at just 49.1 overall on 424 snaps last season. He was, however, an excellent coverage player in college.
Other returning linebackers include James Burgess and Neville Hewitt, who both graded below 55.0 overall last season while playing significant time. The Jets should see a bump in production from their linebackers this season if they stay healthy.
23. New York Giants
Annually one of the NFL's lowest-graded linebacker units, the Giants were no different last year and graded at 54.5, good for 23rd in the NFL.
Blake Martinez is the biggest offseason addition after he racked up the tackles over the last few years with the Packers. Martinez has had a quirky career, both at Stanford and in the NFL, as he has a top-10 season against the run (2016) and in coverage (2018), though he has just one year with an overall grade above 70.0 (74.0 overall in 2018). Martinez is a solid player — though the tackle stats are misleading — and he's yet to put together a high-end season in all facets.
David Mayo was a bright spot last season, ranking second in the league with a 90.1 grade against the run, though he struggled to a 48.8 coverage grade. It was Mayo's first time playing more than 150 snaps in a season, and he made the most of it. Former fifth-rounder Ryan Connelly also returns after grading at 57.1 across 187 snaps as a rookie.
The Giants added a pair of linebackers in the seventh round in Tae Crowder and T.J. Brunson to round out the depth chart. This group's success will be determined by which Martinez shows up in his first year as a Giant as well as Mayo's development in his second year of extended action.
There are numerous options for Washington at linebacker this season, starting with the addition of veteran Thomas Davis Sr. Once one of the best all-around linebackers in the game, Davis has slowed down in recent years, posting grades in the 60s in three of his last four years. At his best, Davis was one of the rangiest linebackers in the league, peaking with three elite coverage grades from 2013 to 2015 with the Panthers. He's also a viable blitz threat, but he was used in that capacity just 19 times last season after regularly being sent after the quarterback at certain points with the Panthers. Davis is still effective enough to contribute, especially on a lesser team, but he may best be used as a versatile blitz/coverage option in sub-packages.
The player we'd really like to see more of is Shaun Dion Hamilton, a 2018 sixth-round pick who earned an impressive 74.9 overall grade last year on just 387 snaps. He has battled injuries and been limited to just 994 snaps over the last three years, including college, but Dion Hamilton has always performed well when on the field.
Last season saw rookie fifth-rounder Cole Holcomb play 718 snaps, and he earned a solid 71.3 run-defense grade though his 43.4 coverage grade ranked just 86th in the league. Jon Bostic also returns after a career-high 1,031 snaps, but he has just one season grade above 60.0 in his six years.
The wild cards are Reuben Foster and Kevin Pierre-Louis. Foster is a former first-rounder who looked like a future star after his rookie season in 2017, but off-field issues, poor play and a season-ending injury last season have all derailed his career. If Foster returns to 2017 form, however, he's a three-down, impact linebacker. Pierre-Louis, on the other hand, has played just 779 snaps in his five years in the league, though he recorded a 90.5 grade last year in what was an excellent stint for the Bears.
Washington has several options to choose from, and that gives them a wide range of outcomes when it comes to the quality of this unit in 2020.
Only three linebacking units had a lower grade than the Chiefs last season. Kansas City had four players play at least 300 snaps, with Reggie Ragland leading the way with a 63.5 overall grade. Ragland has moved on, though, earmarking Damien Wilson and Anthony Hitchens as the projected starters.
Wilson posted a 50.4 overall grade on a career-high 828 snaps while Hitchens had the lowest grade in the league against the run, at 34.1. Hitchens is a few years removed from looking like one of the good, young coverage linebackers, but he has not performed well in his two years with the Chiefs.
Kansas City has been searching for a good coverage linebacker for a few seasons, and they may have found one in second-round pick Willie Gay, Jr. An outstanding athlete, Gay ran a 4.46 and posted high-end jumps at the combine to go with a 90.0 coverage grade on limited snaps last season. If Gay is ready to go, the Chiefs have a place for him in sub-packages immediately.
Dorian O'Daniel and Ben Niemann are also in the mix for nickel snaps, as both players projected as coverage-first players coming out of college and both have been solid in that department in limited time over the last two years.
The Chiefs have enough versatile players in the secondary to mitigate any weaknesses at linebacker, but they also have a few intriguing young players who may be able to contribute this season.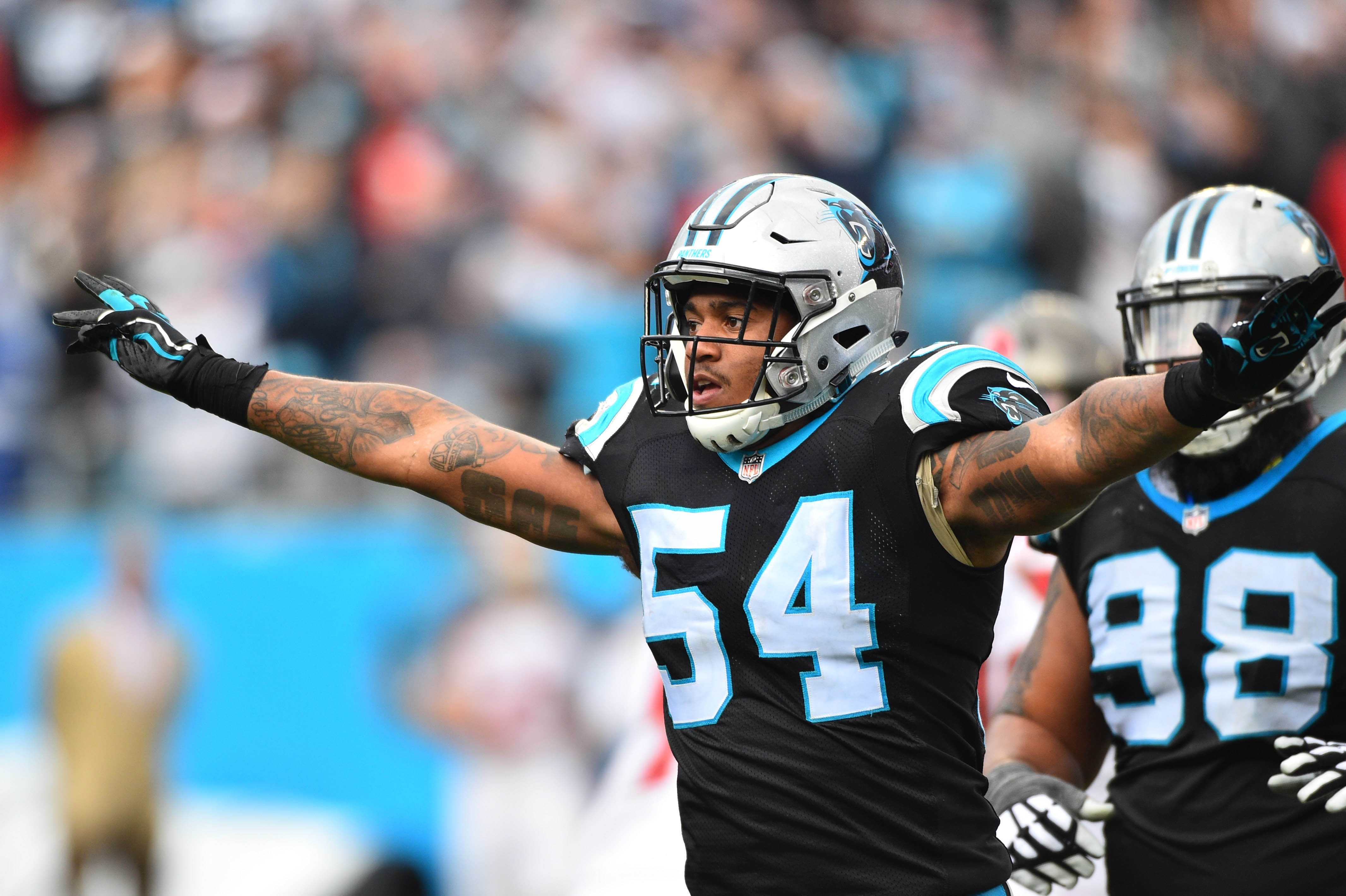 Losing Luke Kuechly, the best linebacker of the decade, was never going to be easy, and it leaves a gaping hole in the middle of Carolina's defense.
Kuechly excelled in all areas, but his instincts and range were at a different level —  he just added a special dynamic to the defense. Shaq Thompson is the top remaining option, and the Panthers showed their faith in him by locking him up before he got to free agency. Thompson is a solid coverage player who takes on plenty of responsibility within Carolina's scheme; he plays under control — and has missed only 42 tackles in his five-year career — and he wins with quickness in the run game where he's graded at 70.0-plus in all but one year of his career.
Tahir Whitehead takes the first crack at replacing Kuechly after two years in Oakland in which he graded in the 50s. Whitehead hasn't posted a coverage grade above 60.0 since 2015, though he has graded well in the run game in two of the last three years.
A pair of 2018 draft picks in Jermaine Carter and Andre Smith add depth, though they've combined for just 383 career snaps with nondescript performances to this point. The rest of the depth chart contains Jordan Kunaszyk and his seven career snaps to go with three undrafted rookie free agents.
With Kuechly out of the picture, the pressure is on Thompson and Whitehead while the team will be hoping someone emerges from the bottom of the depth chart to take the pressure off the top two.
There's a new look to the Eagles' linebacking unit as they added speed this offseason and will have a few new faces competing for playing time.
Nathan Gerry returns after playing 669 snaps last season — including the playoffs — and posting a career-high 62.2 overall grade. Gerry hasn't been as effective in coverage as you'd expect to see from a college safety, and tackling has also been an issue given that he's missed 17.8% of his attempts, ninth-worst in the league.
T.J. Edwards is the name to watch in this group as the former undrafted free agent has played well when called upon — he earned a 77.6 overall grade in the preseason and an 83.4 overall mark on 122 regular-season and postseason snaps. Edwards is below average athletically, and there may be some coverage limitations, but he's been a productive player since his freshman year at Wisconsin.
Duke Riley came over from the Falcons last season to play 37 snaps, but he now has a 47.0 career grade across 688 snaps. Jatavis Brown is another new addition who did his best work as a rookie in 2016 when he graded at 77.6 overall. He's slowly regressed since then, bottoming out with a 29.4 grade on just 94 snaps last season, but he's an explosive blitzer who is worth a second look as a sub-package player.
The Eagles added more athleticism in the draft with Davion Taylor in the third round and Shaun Bradley in the sixth. Taylor is still developing as a player, but he has 4.39 speed and played a challenging role in Colorado's defense. Bradley has man-coverage skills and can add value covering running backs out of the backfield.
The Eagles' linebacking corps has plenty of question marks but also plenty of potential answers, and it'll be worth watching how they deploy some of their new weapons.
Last season, Packers linebackers graded at just 58.2 overall, good for 21st in the league.
The big move this offseason is the addition of Christian Kirksey to replace departed Blake Martinez. Kirksey is an athletic linebacker with coverage skills, but he has just one year with a coverage grade above 60.0 — it came in 2015 when he posted an impressive 80.0 that ranked 11th in the league. Packers defensive coordinator Mike Pettine was the head coach of the Browns during that time, and the hope is that he can get the best out of Kirksey, who has played just 586 snaps over the last two seasons.
Oren Burks is the other projected starter, and he has just 195 career snaps with two years of grading in the 40s. Burks is an athletic player who played all over the field at Vanderbilt — from free safety to edge rusher to linebacker — and his NFL transition to linebacker has not gone smoothly.
No other Packers linebacker has any NFL experience, as 2019 seventh-rounder Ty Summers and 2019 undrafted free agent Curtis Bolton round out the depth chart. Keep an eye on rookie fifth-rounder Kamal Martin, who has a Burks-like given that he played all over the field for Minnesota, though his best college grade was a 70.6 mark last season. For this unit to go from weakness to strength, we need to see the old Kirksey and Burks needs to play up to his athletic potential.
If there was a bright spot on Miami's defense last season, it was second-year linebacker Raekwon McMillan's performance against the run — where he produced an 11th-best 77.0 mark. McMillan is living up to his college projection as a strong run defender who had work to do in coverage, and that's still prevalent; his 43.4 coverage grade ranked just 86th at the position. Jerome Baker posted the fifth-worst run defense grade (39.1) in 2019, a huge step back from his 77.3 mark as a rookie in 2018. Baker also has room to provide in coverage, where he graded at 58.9. Miami desperately needs him to progress in that area, as he's supposed to be the chase-and-run athlete of the linebacking corps.
The Dolphins brought in former Patriot Elandon Roberts, who established himself as more of a run-stopping thumper in his four years in New England. Kamu Grugier-Hill adds depth, though he's played more special teams snaps (1,092) than defensive snaps (737) in his four-year career. The Dolphins' linebacking corps looks like a bottom-tier unit, but a strong year of progression from McMillan and Baker could change that in a hurry.
The Bengals linebacking corps has the lowest grade in the NFL over the last two years, and they have heavily addressed the position in the draft over that span.
They drafted Germaine Pratt in the third round of the 2019 draft, but he struggled to a 51.0 overall grade as a rookie. And Jordan Evans was showing signs that he could turn around his coverage woes after two years of grading in the 30s, but he was limited to just 76 snaps last season.
Pratt and Evans will compete with third-round pick Logan Wilson and fourth-rounder Akeem Davis-Gaither. Wilson has an old-school build; he can play the run and looked good in Wyoming's simple coverage schemes. Davis-Gaither played more of a hybrid role at Appalachian State, rushing the passer 190 times to go with 316 snaps in coverage, and he's a smooth mover who should add subpackage versatility, though he must improve his tackling after missing 33 tackles over the last two years.
Josh Bynes also comes over from the Baltimore Ravens, where he posted a career-high 80.0 overall grade across 428 snaps last season. He's done his best work against the run, grading at 70.0 or better in all but one year of his eight-year career. It's still not the most exciting linebacking corps in the league, but the Bengals have intriguing youth combined with veteran role players who should make this unit better.
With Joe Schobert moving on to the Jaguars, the Browns lose a valuable piece of their back seven and will trot out one of the younger linebacking units in the league. In 2019, the Browns drafted Sione Takitaki in the third round and Mack Wilson in the fifth, but it was Wilson who played 942 snaps on his way to a 41.7 overall grade that ranked eighth-worst in the NFL. Takitaki played just 105 snaps, showing well against the run with a 75.1 grade.
In this year's draft, the Browns added Jacob Phillips, another run-first player who struggled to a 52.2 coverage grade last year at LSU. The Browns will heavily count on all three players in 2020. Cleveland also signed B.J. Goodson to a one-year deal, and he should provide early-down value — he's graded at 67-0 plus against the run in two of his three full seasons.
Trevon Young and Jermaine Grace round out the depth chart with their 18 career snaps. The Browns had one of the NFL's worst linebacking units a year ago, and they enter 2020 with plenty of question marks among their young players.
With Cory Littleton moving on in free agency, the Rams have a big hole to fill in the back seven. Littleton has earned the fifth-best coverage grade over the last three years, and there's no immediate replacement on the roster to fill that role.
While he played on the edge in his time in Chicago, Leonard Floyd could take some snaps at linebacker. Floyd hasn't topped a 61.4 pass-rush grade over the last three years, but he's been solid against the run and in coverage over his four-year career. So, look for some creativity when it comes to Floyd's role with the team.
The rest of the unit is wide open, starting with a pair of 2018 draft picks in Micah Kiser and Travin Howard. Kiser has just one snap to his name, while Howard saw the field for 102 snaps last year, grading at 60.7 overall.
Kenny Young comes over from Baltimore where he's graded in the 50s across two years and 480 snaps. Troy Reeder returns after a rough 28.6 grade as a rookie on his 298 snaps. The Rams also add former seventh-rounder Clay Johnston, who was off to a great start with an 83.1 grade and five pass breakups through six games before a knee injury ended his season.
If Floyd really gets grouped with the edge rushers, there is not a more inexperienced linebacking corps in the NFL.