The tight end units are top-heavy this season, as there are many teams with strong options but also many with massive question marks. It's crucial to have playmakers at tight end in today's NFL, and it's clear that some teams were lacking dynamism and overall speed last season. To rank these units, we balanced star players along with depth at the position. Here are the top tight end units heading into 2020.
[Editor's Note: PFF's advanced statistics and player grades are powered by AWS machine learning capabilities.]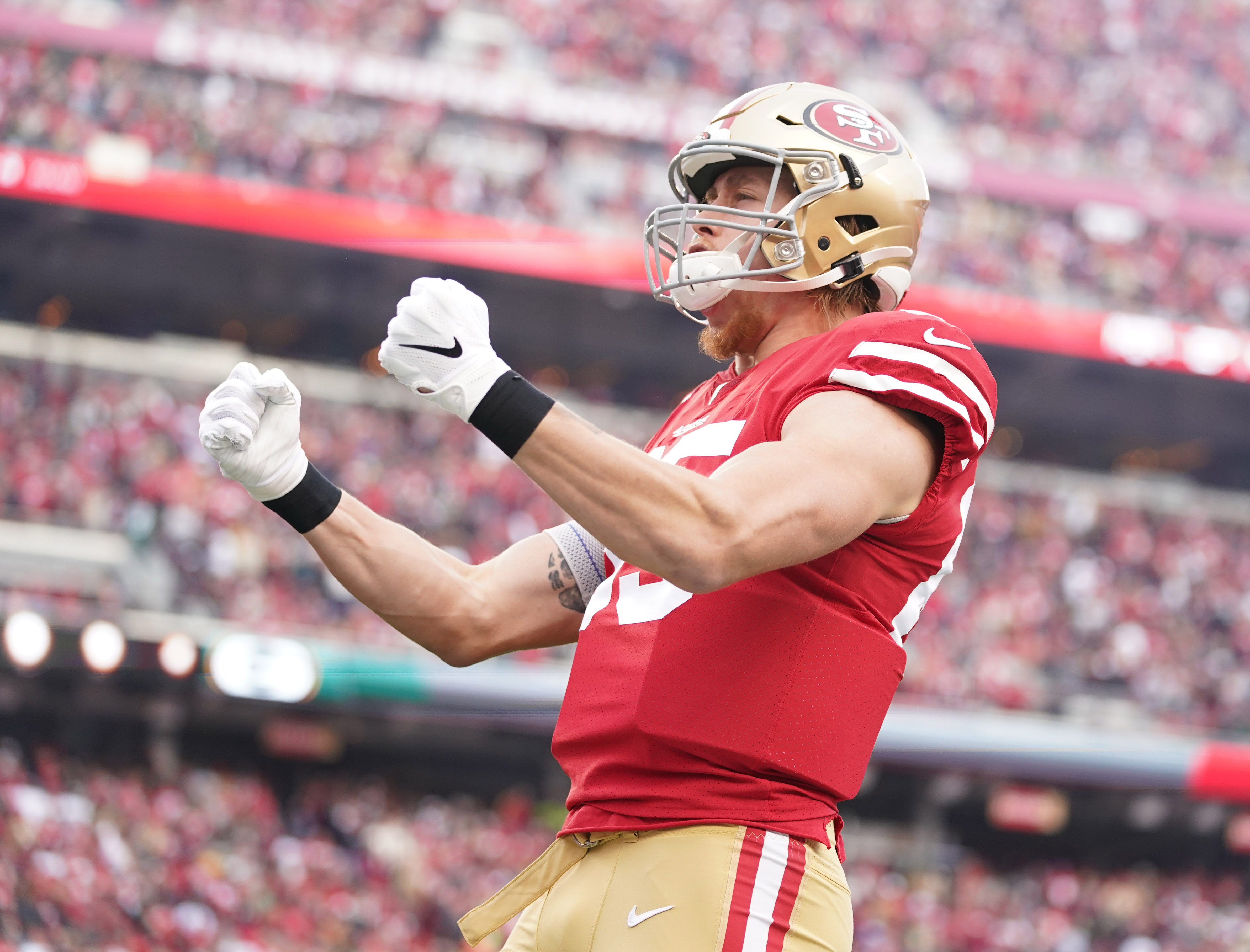 George Kittle has become the new standard for multi-faceted, all-around tight ends. He's finished with the top grade in the league in each of the last two seasons and last year posted a 94.4 mark, earning the coveted PFF Dwight Stephenson Award as the best player in the NFL regardless of position.
Kittle has burst, quickness and an after-the-catch mean streak as a receiver, and he has led tight ends in yards after the catch in each of the last two seasons. Far from just a weapon in the receiving game, Kittle also brings it as a run-blocker, where he recorded a top-six run-blocking grade in both 2018 and 2019.
Ross Dwelley is the backup behind Kittle, though he graded at only 57.0 overall last season. Keep an eye on rookie sixth-rounder Charlie Woerner, too,  because he could earn snaps in the run game. Woerner graded at an impressive 82.9 in the run game last season at Georgia while showing off the ability to effectively block on the move, which is a must for tight ends in San Francisco's offense.
Kittle makes this unit the best in the league, though they could use more depth to take at least some pressure off.
Travis Kelce finished with an 88.5 receiving grade during the 2019 regular season, finishing in the top four among tight ends for the fourth consecutive year. Kelce can do it all in the passing game, from route running to making defenders miss to making the tough catches over the middle. He is also used all over the offensive formation to create mismatches, and when paired with Tyreek Hill, there's not a more difficult duo to defend in the league.
The backup tight end spot has not been a high-volume one, and this season it will be a battle between Deon Yelder and Ricky Seals-Jones. Yelder has four career receptions, while Seals-Jones might be the more intriguing option as a former college wide receiver who is still relatively young at the position. Seals-Jones has averaged 12.9 yards per reception during his career, and even though he's earned receiving grades in the 50s in each of the last two seasons, he's still the kind of player the Chiefs could put in a position to succeed.
As long as Kelce is in the mix, the Chiefs will have one of the best tight end units in the league.
The Eagles have one of the best tight end duos in the league in Zach Ertz and Dallas Goedert, and they helped keep the offense afloat throughout all the injuries suffered by the team's wide receivers a year ago.
Ertz is a difficult cover for any linebacker or safety, and he was open on 73.1% of his targets against single coverage last season, the best rate in the league among tight ends. He's one of the most effective receiving tight ends in the entire NFL, grading above 75.0 as a receiver in all but one of his seven years in the league.
Goedert, on the other hand, was a first-round-caliber prospect in 2018 but was drafted in the second round, at 49th overall. He had a strong rookie season and followed it up with an 82.7 overall grade last year that ranked 10th in the league. Goedert has a good combination of downfield speed and ball skills, and he can also block, as his 78.9 run-blocking grade ranked second in the league in 2019. We may see Goedert steal more of Ertz's production as he heads into Year 3.
The Eagles have two legitimate top-15-caliber tight ends, giving them one of the best pairs in the league.
The Bucs already had one of the NFL's best 1-2 punches at the tight end position in O.J. Howard and Cameron Brate, but adding WWE superstar Rob Gronkowski just makes the team even more dangerous.
While Gronkowski sat out the 2019 season and wasn't even the same dominant player when he did play in 2018, his nine-year career was perhaps the best stretch of tight end play in NFL history. He has six seasons with 90.0-plus receiving grades, he's an excellent blocker and even if he's not the same Hall of Fame-caliber talent, just having his familiarity with quarterback Tom Brady is a huge win for the Bucs.
Howard has had a roller-coaster start to his career, grading at 61.4 as a rookie, 89.1 in his second year and 54.7 last season. He has the size, speed and long frame to win up the seam, and even with the ups and downs, Howard is still averaging an impressive 15.5 yards per reception over his career.
Meanwhile, Brate has seen his production decrease after two strong years in 2016 and 2017, but he's a solid backup receiving option, especially if Gronkowski and Howard return to form. The potential is through the roof for this tight end corps, but it will all depend on Gronkowski's condition and Howard looking like his 2018 self.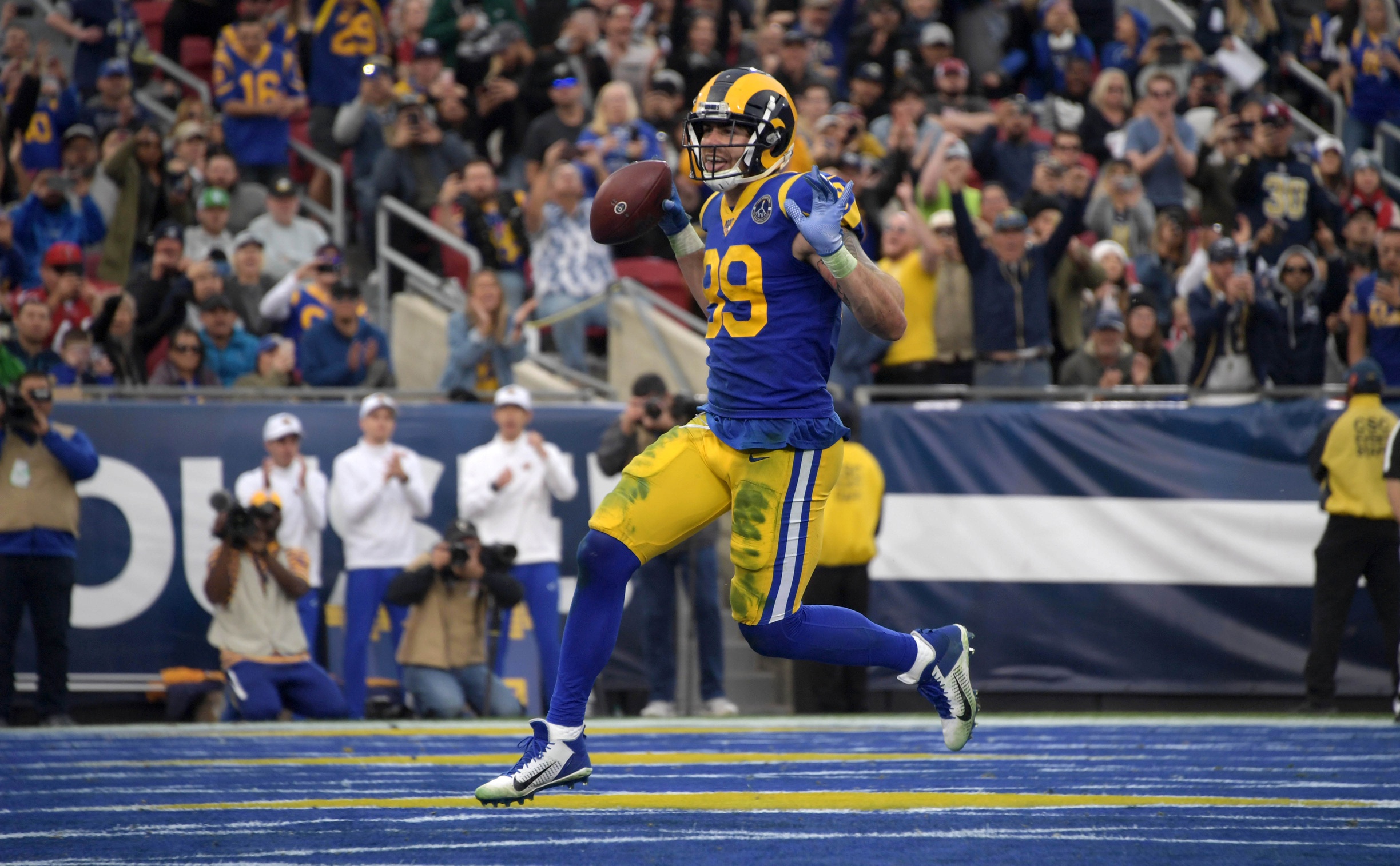 The tight ends became a huge part of the Rams' passing attack last season, finishing with 1,168 receiving yards, fifth-most of any tight end group in the league.
Tyler Higbee broke out to produce the third-best receiving grade among tight ends (90.1) while catching over 80% of his targets and averaging 5.8 yards after the catch per reception. Gerald Everett finished with the ninth-best receiving grade (78.9), making the duo the only teammates to rank within the top 10. Everett is also one of the most elusive tight ends in the league, as he forced 13 missed tackles on just 37 receptions last season.
Johnny Mundt played 170 snaps for the Rams, as well, doing his best work in the run game where his 72.4 grade ranked seventh among tight ends. The Rams also added Brycen Hopkins to the mix this offseason, and the fourth-rounder adds even more speed to the unit — he was the best vertical tight end threat in the 2020 NFL Draft, and he ran a 4.66 at the scouting combine.
Hopkins is more of a big slot receiver with "move" tight end potential, but he adds a nice depth and is more of a long-term play. The Rams have one of the best pass-catching tight end units in the league, and they may be called upon even more given the team's uncertainty at the outside wide receiver position.
Only Philadelphia's tight ends caught more passes than Baltimore's group, as the Ravens featured the position heavily and got 30-plus catches from three different players.
Mark Andrews broke out to post the position's second-best receiving grade during the regular season (90.2), and he's now averaged an impressive 14.0 yards per reception in his two years in the league.
While Andrews established himself as one of the best receiving weapons at the position, Nick Boyle also set career highs with 31 catches for 321 yards and posted the fifth-best run-blocking grade in the league, at 75.4.
With Hayden Hurst and his 500 snaps moving on to Atlanta, there's room for a third tight end to emerge from a remaining group that contains Charles Scarff, Eli Wolf and Jacob Breeland, though these three players have yet to take an NFL snap.
Minnesota has one of the best one-two punches in the league at tight end, with Kyle Rudolph and Irv Smith. Rudolph has a huge frame, and while there always feels like there should be more production in there, he's had a solid nine-year career for the Vikings. Last season, Rudolph had the No. 13 receiving grade during the regular season (76.9), though his run blocking has tapered off in recent years, given that he has graded in the 50s in this department for four consecutive seasons.
Smith brings a different skill set to the unit as more of an oversized receiver who can line up in the slot and make plays in space. He caught 39 passes for 350 yards as a rookie to go with a solid run-blocking grade of 65.4. Then there is 2018 fifth-rounder Tyler Conklin — and his 14 career catches — who will add depth to the group.
With so many question marks in the receiving corps and Minnesota's penchant for two-tight end sets, expect even more production out of Rudolph and another step forward from Smith this season.
One of the biggest stories of 2019 was Darren Waller emerging to produce the sixth-best receiving grade among tight ends, at 86.8. The college wide receiver showed flashes in 2018, but he put it all together last season, winning from various alignments and picking up 594 of his 1,146 yards after the catch to rank second at the position. Waller ranked just 40th with a run-blocking grade of 58.2, but his main role is creating mismatches, and he's been one of the best value steals in the league in recent years.
The Raiders also signed Jason Witten this offseason, though he was a step slow in his return in 2019, averaging a career-low 8.4 yards per reception and posting a 60.1 run-blocking grade — his lowest mark since 2006. Witton is set to battle Foster Moreau for those short-area targets after Moreau caught 21 of his 23 targets while averaging 8.3 yards per reception last year as a rookie.
Derek Carrier also returns after producing the top run-blocking grade among the Raiders' tight ends, at 68.7. As long as Waller continues his ascent to one of the NFL's most dangerous tight ends, the Raiders will rank near the top of the league, though they could use more juice among the backups.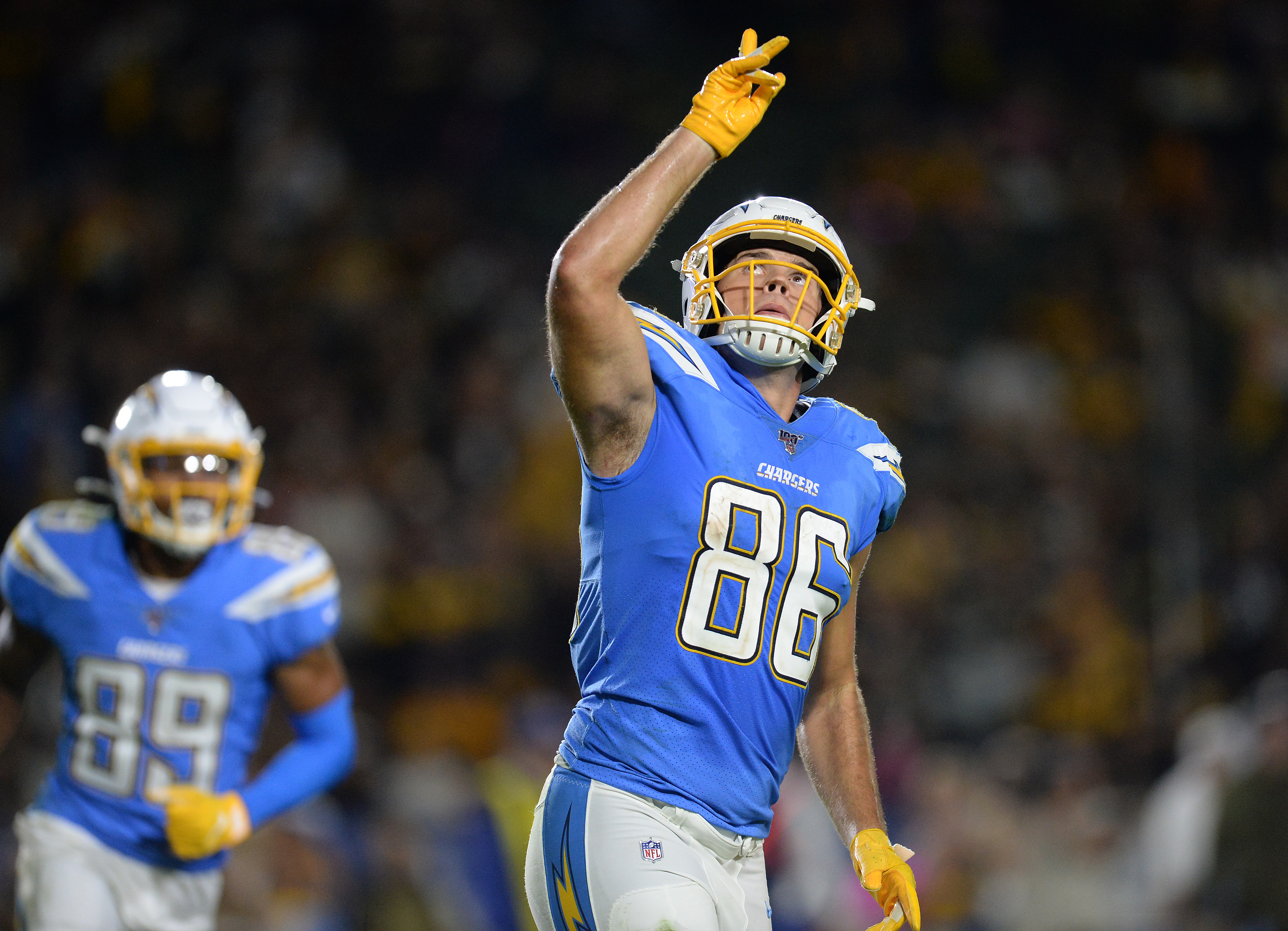 If Hunter Henry can stay healthy, he has top-five potential among tight ends. Henry posted an 85.7 receiving grade as a rookie in 2016, an 86.7 mark in his second season and then played just 14 snaps in 2018. He was then limited again last year, playing just 12 games.
Henry still graded at 73.2 overall, good for 14th in the league. He wins at all levels of the field and quarterbacks have a passer rating of 132.3 when targeting him, which is more than 10 points better than any tight end in the league since 2016.
The backup is Virgil Green, a run-blocking specialist who takes on the more difficult, in-line blocking assignments. Green is not much of a threat in the passing game — he's never caught more than 22 passes in a season — but he's performed his backup role well during his nine years in the league.
The rest of the depth chart includes Stephen Anderson, more of a "move," H-back type, and 6-foot-8 Donald Parham, a third-year project out of Stetson College. The Chargers need a full year of Henry to maximize their pass-game potential, and if he stays healthy, they'll have one of the more productive tight end units in the league.
It's clear that the Browns want to feature the tight end position in their offense, and they took the first steps toward that by signing free agent Austin Hooper to a $42 million contract this offseason.
Hooper is a solid all-around player, but he's not a mismatch creator offensively. Since 2016, more than 75% of Hooper's production has come either against zone or underneath the coverage, by far the highest rate in the league, but that should make him a productive part of the Browns' offense. Hooper is a reasonable blocker, as well, though he is coming off a career-low 56.2 run-blocking grade.
The acquisition of Hooper raised questions about 2017 first-rounder David Njoku's future with the team, but he should have plenty of opportunities in this tight end-heavy system. Njoku posted good receiving grades of 71.1 and 65.3, respectively, in his first two years in the league, and he complements Hooper well as more of a "move" option in this offense.
The Browns also drafted Harrison Bryant from Florida Atlantic in the fourth round. Bryant is a productive player and strong route-runner who posted the top receiving grade in the nation last year at 92.7, though his combine workout showed a below-average athlete.
Hooper should produce in Cleveland's new offense, but it is Njoku's development that could put this unit over the top and make it one of the league's best.
After nine years in the league, Jared Cook put together the two best seasons of his career in 2018 and 2019. Cook's 80.8 receiving grade ranked sixth among qualifying tight ends, and he scored a career-high nine touchdowns while Saints quarterbacks produced a passer rating of 142.4 when throwing his way.
Josh Hill returns for his eighth year with the Saints as a capable backup. They like to get the ball to Hill in space, where he's averaged 6.5 yards after the catch per reception during his career. The Saints also drafted Adam Trautman in the third round, and he was one of the most complete tight ends in the draft. Trautman is a sure-handed, physical player who posted a 94.3 receiving grade at FCS Dayton last season — he adds immediate depth and an option for the future for New Orleans.
The Saints have a good balance of current and future talent. Another strong year from Cook puts this group among the best tight end units in the league.
T.J. Hockenson got off to an outstanding start to his NFL career, catching six passes for 131 yards and a score in his debut in Week 1. However, he slowed down and caught just 26 passes over the rest of the season. Like many tight ends, Hockenson is primed to take a big step forward in Year 2, as he's an effective route-runner and is as sure-handed as it gets, dropping just three passes over the last three seasons. Hockenson is also an effective run-blocker, so his three-down ability combines with Detroit's receivers to give them one of the best all-around playmaking units in the league.
Jesse James returns in a backup role coming off a career-low 53.7 overall grade, while 2019 seventh-rounder Isaac Nauta is a solid blocker who doesn't provide much in the passing game. Undrafted free agent Hunter Bryant, however, is a potential "move" tight end option who could add another pass-game threat.
Detroit's tight end production will depend on Hockenson making a Year 2 leap, but he has the necessary tools and pedigree to make that happen.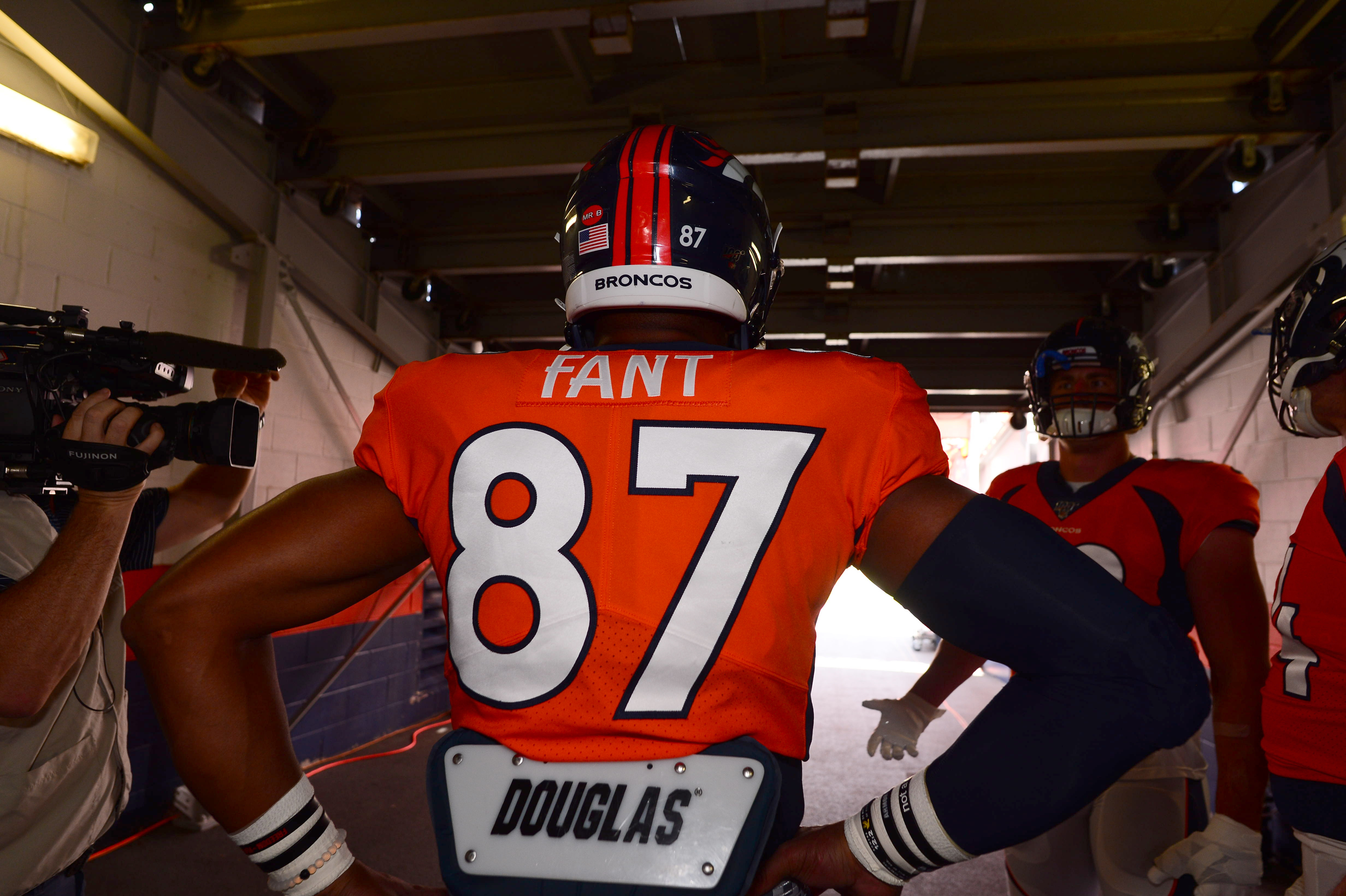 13. Denver Broncos
Just as the wide receiver corps has undergone a makeover over the last two years, Denver has become much more athletic at tight end, starting with 2019 first-rounder Noah Fant.
Fant showed off his big-play ability as a rookie, picking up 562 yards while averaging 14.1 yards per reception. He has his limitations — his ball skills need work, and his run blocking is a work in progress — but Fant's speed is an asset up the seam and underneath in space.
The backup role will be a battle between former Ohio State tight ends Jeff Heuerman and Nick Vannett. Heuerman has a better track record as a run-blocker, which might give him the nod here, though keep an eye on fourth-round pick Albert Okwuegbunam out of Missouri. Albert O had a productive college career and ran a 4.49 40-yard dash at the scouting combine, and that's attractive for a Broncos team that has done everything it can to load up on difficult-to-cover playmakers.
Denver has a solid tight end room, and it could be even better if Fant takes a step forward in his second season.
The Steelers' tight ends had the worst receiving grade in the league last season, at 43.5, while also ranking last with just 7.7 yards per reception. Obviously, the quarterback situation had plenty to do with that, but it was a disappointing year for Vance McDonald, who followed up a career-high 610 yards in 2018 with a career-low 45.3 overall grade in 2019. His 2018 season was impressive, though it still looks like more of an anomaly, meaning that his best role is as a backup.
Pittsburgh brought Eric Ebron into the mix this offseason, and he will likely provide a nice complement. Ebron averaged 12.1 yards per reception last season and has progressed after a slow start to his career, notably having a career year during a 2018 season that saw him catch 14 touchdowns and post a 70.5 receiving grade. Ebron still drops a few too many passes, and he's not a great run-blocker, but he has the athleticism and spectacular-catch ability that will complement the outside receivers nicely.
Former fifth-rounder Zach Gentry adds depth after playing 49 snaps as a rookie, but Ebron's production will make or break this unit — a replay of 2018 for both he and McDonald could push them into the top 10.
Injuries struck the Giants' tight ends in 2019, as none of their four options played more than 10 games. Evan Engram caught 44 passes in just eight games, and he's been a solid option who has excelled after the catch, averaging 6.2 yards after the catch per reception since entering the league.
While he's never graded above 60.6 as a run-blocker, Engram's 746 yards when lined up as a wide receiver ranks 12th among tight ends, so his best asset is the ability to produce all over the formation.
It will be a battle for the backup job, with 2019 sixth-rounder Kaden Smith being the top returning producer after recording 31 receptions last season. However, Smith is not a dynamic receiver — he graded at 54.6 overall last year — so expect competition with veteran backups Levine Toilolo and Eric Tomlinson. Toilolo has three straight years grading in the 60s, while Tomlinson has bounced between multiple teams as a solid run-blocker.
A healthy Engram could be in line for a big season, and any kind of production from the backups will keep this unit in the top half of the league.
Seattle has attacked this position with volume, with veteran Greg Olsen being added to the mix this offseason. Olsen is three years removed from being one of the league's best receiving tight ends, but he's been banged up and his play has tapered off over the last three years. Still, he's an effective route-runner who can win one-on-one on the outside — it's worth seeing what he has to offer as he heads into his 14th season.
Last year Will Dissly was incredibly productive with 262 yards and four touchdowns in just six games, all good for an 87.1 receiving grade. It's difficult to project a similar return, but he took a big step forward after being drafted in the fourth round as a run-block specialist with 4.87 speed.
Then there is Jacob Hollister, who led this tight end group with 412 yards last season to go with a 64.5 receiving grade that ranked 38th out of 120 qualifiers. Veteran Luke Willson also returns to compete for snaps, and the Seahawks drafted Colby Parkinson, a big-bodied, contested-catch specialist, out of Stanford in the fourth round.
There are plenty of solid options at tight end for the Seahawks, but their best-case scenario is a rejuvenated Olsen combined with Dissly proving that his big plays have not been a fluke.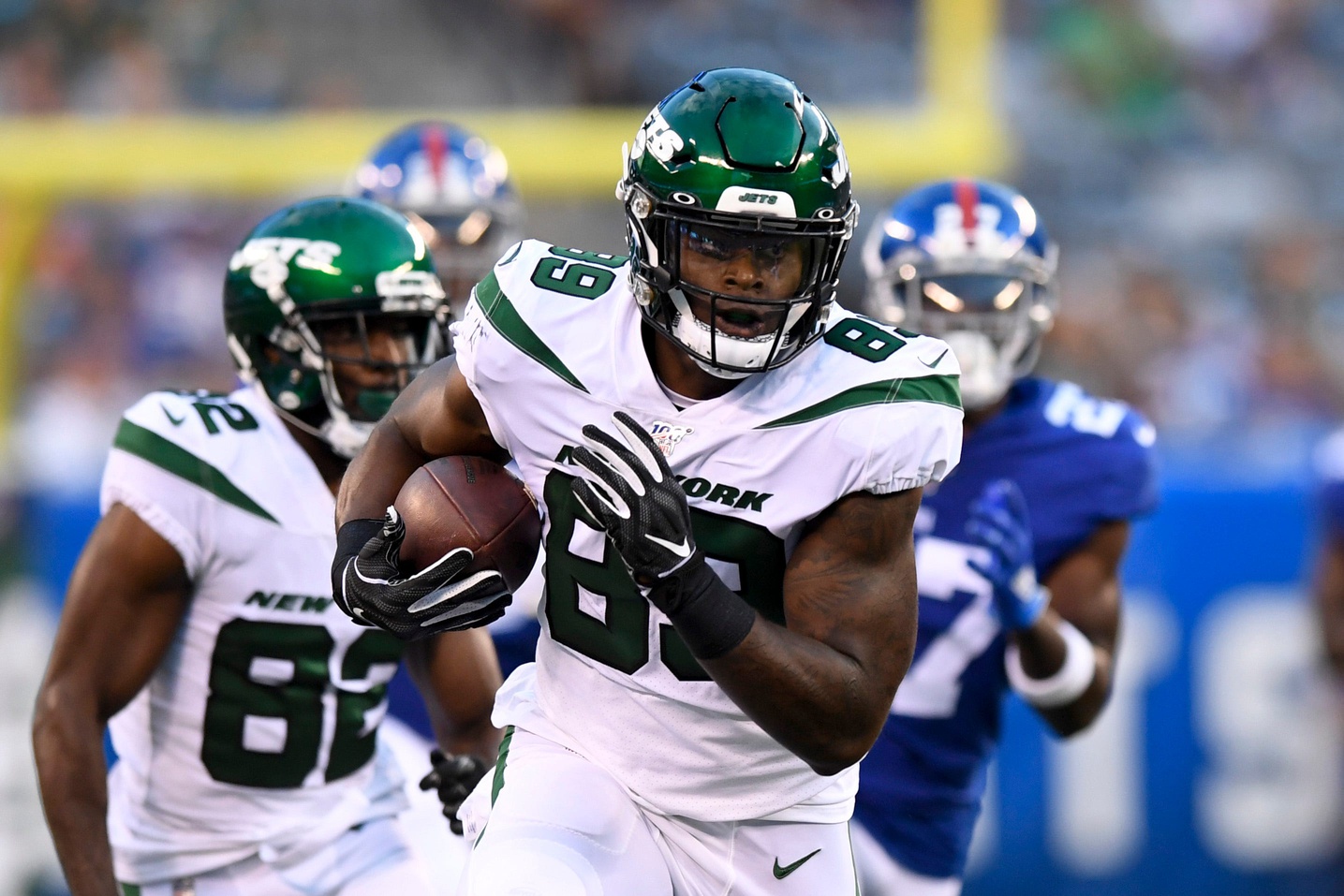 Jets tight ends caught just 44 passes a year ago, but starter Chris Herndon was limited to just 18 snaps. He was excellent as a fourth-round rookie in 2018, catching 39 passes for 502 yards to go with a 78.7 receiving grade that ranked seventh among tight ends. Herndon caught 17 of 21 passes at the intermediate (10-19 yard) level that season, and the Jets desperately need that kind of production once again in 2020.
Behind Herndon is Ryan Griffin, a career backup whose 61.9 overall grade last season was his first above 60.0 since his rookie year in 2013. Trevon Wesco, a 2019 fourth-rounder, will also see time as more of a run-game specialist after grading at 64.0 as a run blocker last season.
This looks like a mid-tier unit that can sneak into the top half of the league if Herndon continues to progress after the promising start to his career two years ago.
The Colts were able to rejuvenate Eric Ebron's career, and he combined with Jack Doyle to form one of the most productive duos in the league over the past two years. With Ebron moving on to Pittsburgh, Doyle is once again the top option at tight end. He's a solid, sure-handed option who caught a career-high 80 passes in 2017, his last season as the No. 1 tight end. Doyle is also one of the better run blockers in the league, ranking 11th with a 68.2 grade last season.
The Colts brought in Trey Burton this offseason — a player who is two years removed from a career-high 569 yards and six touchdowns. If healthy, Burton is a fine No. 2 option who can move around the formation. Mo Alie-Cox and Matt Lengel round out the depth chart with 15 and five career receptions, respectively.
The Colts won't be winning in the pass game through their tight ends, but Doyle and Burton are a solid pair who should create a good safety net for Philip Rivers underneath.
Last season, the Texans' tight ends were a complementary piece in the passing game, but the team did a fine job of scheming it up to collect over 70 catches and nine touchdowns during the regular season. Darren Fells used his 6-foot-7 frame to catch a career-high seven touchdowns and generate a 132.2 passer rating when targeted.
Jordan Akins is a solid route-runner and has some wiggle, forcing eight missed tackles on just 36 receptions. Jordan Thomas is also in the mix after a solid 72.5 receiving grade in his rookie season in 2018, though he was limited to just 67 snaps last season.
While it's not the most exciting group of tight ends, all three players bring different skillsets to the table. The Texans can take advantage of the middle of the field with this group of speedy receivers commanding the attention on the outside.
Led by rookie Dawson Knox, who caught 28 passes during the regular season, the Bills got only 46 receptions from their tight ends last season — tied for 26th in the league. Knox is an athletic tight end who can move around the formation. He should have opportunities to shine in 2020 given the attention the Bills' receivers will be getting from opposing defenses.
Tyler Kroft and Lee Smith round out the group as two of the better run-blocking tight ends in the league. Kroft is more of a receiving threat, while Smith is a glorified offensive lineman who stayed in to pass protect more often than he ran routes last season.
Each of Knox, Kroft and Smith ranked in the top 16 among tight ends in positively graded run blocks last season, making them one of the best run-blocking units in the NFL.
Jonnu Smith had a breakout year in 2019 with a 79.3 receiving grade and a second-ranked 8.1 yards after the catch per reception mark. He brought some stability to the position after Delanie Walker was limited to just six-plus games of action. Walker is gone, so Smith should take on an even bigger role, but he needs help from Anthony Firkser, who posted a solid 70.6 receiving grade last season.
Like Smith, Firkser is under 250 pounds and hasn't been great as a run blocker, but they are both added pass-game weapons to take pressures off the receiving corps. MyCole Pruitt is also in the mix after catching 10 passes a year ago.
It will be more of a committee approach for the Titans' tight ends, with Smith in line for another statistical jump.
Atlanta lost Austin Hooper to free agency, so there is some production to replace after he ranked third on the team with 787 receiving yards last season. Since 2016, Hooper gained over 75% of his yards on targets defined as holes in zones or underneath the defense (think drag routes, flat routes) — by far the highest percentage in the league. So, just the presence of the Falcons' outside threats should lead to good production in the middle once again.
Enter former first-rounder Hayden Hurst, who ranked right behind Hooper with a 79.3 receiving grade last season (though it came on 55 fewer targets). Hurst is a feisty after-the-catch runner who has dropped just one of the 48 catchable targets he's seen in his two NFL seasons.
There's not much depth behind Hurst, as Khari Lee, Jaeden Graham and Carson Meier have combined for just 15 career targets.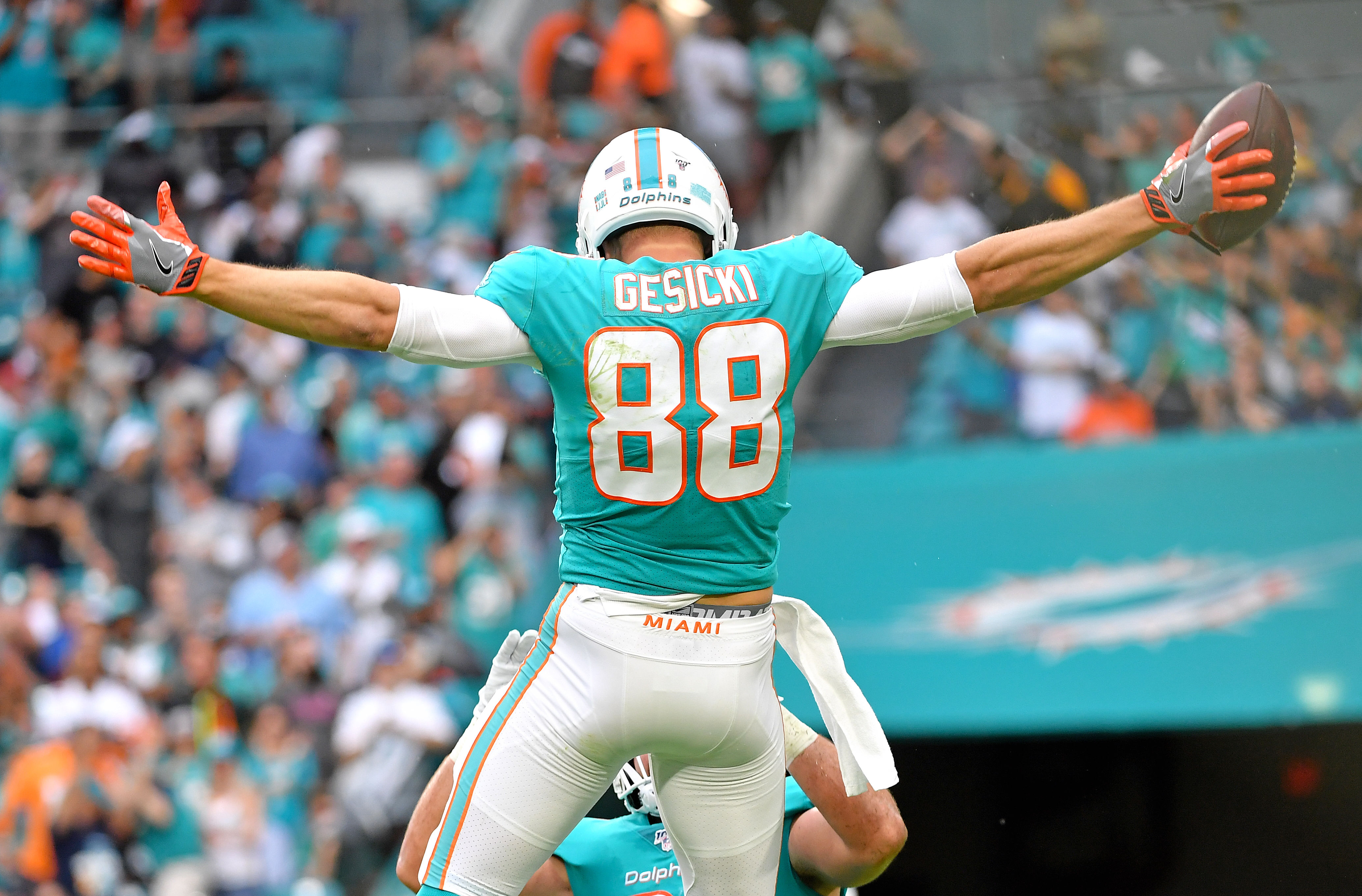 After a slow start to his career, Mike Gesicki came on strong in several games during the second half of 2019. There's still room to improve after his 60.5 receiving grade ranked 32nd among tight ends last season, but Gesicki's long frame, 4.54 speed and ball skills led to the 11th-most yards on 10-plus yard passes last year.
The top backup is Durham Smythe, who has graded in the 50.0s in his two years in the league. Chandler Cox, Michael Roberts and Chris Myarick round out the depth chart, and only Roberts has an NFL reception to his name. He showed some promise with a 71.2 grade on 222 snaps as a rookie in 2017, but he hasn't matched that level of play.
While Gesicki's development could elevate this group, there are questions marks regarding both the No. 2 tight end spot and the unit's overall depth.
Last season, the Jaguars tight ends produced a 51.3 receiving grade, tied for fourth-worst in the NFL, and James O'Shaughnessy led the unit with just 14 catches. Free agent pickup Tyler Eifert should help, though he's a few years removed from his best work as one of the top receiving threats in the league in 2015. Last season, Eifert played in 16 games for the first time since 2013, grading at 65.8 as a receiver — which ranked 25th in the NFL. Even at this point in his career, Eifert is an upgrade for Jacksonville and is still worth a look to see how much of his old form he can regain.
Josh Oliver, a 2019 third-rounder,  played in just four games last season, but he has good ball skills and is a reasonable run blocker. O'Shaughnessy returns to compete for backup snaps, and his best bet for playing time is rediscovering the 2018 form that saw him earn a 78.2 grade as a run blocker.
Just having Eifert in the mix should increase the Jaguars' tight end production, but they could use a breakout from Oliver, as well. The offense is in desperate need of playmakers at any position.
The tight end position produced a 60.5 receiving grade last season for the Cowboys, good for just 19th in the NFL. Jason Witten moves on after a season where he looked like he'd lost a step, averaging just 8.4 yards per reception.
Blake Jarwin is the projected starter and brings more athleticism to the position, as he's averaged 11.2 yards per reception in his career and his 66.6 receiving grade ranked 19th among tight ends last season. The backup spot will be a battle between 2018 fourth-rounder Dalton Schultz, who has 14 career catches, and Blake Bell, who is playing for his fifth team in five years.
Given the depth of the receiving corps, Dallas does not need huge production out of its tight ends, and Jarwin's athleticism could be an asset with an increased workload and opposing defenses focusing on the receivers.
After posting the third-worst receiving grade among tight ends (51.2), the Bears will have a completely new look in 2020. They signed Jimmy Graham in free agency, despite him coming off a career-low 56.9 receiving grade. His grades have steadily declined over the past three seasons. He also provides little as a run blocker, but perhaps the Bears may be able to steal some production out of him as a receiver in a No. 2 role with limited snaps.
Chicago then went on to draft the No. 2 tight end on the PFF Big Board, Cole Kmet, in the second round — he was one of the better all-around options at the position in the draft. Kmet showed good explosiveness at the scouting combine, but it didn't always translate to the field. He is a big-bodied threat in the middle of the field who has the size to line up against defensive ends in the run game, though his 56.9 run-blocking grade last season is a concern.
The Bears are taking a see-what-sticks approach to the position, as seven other players are competing for the last one or two spots, but this unit's success will be determined by what Graham has left in the passing game and how ready Kmet is to be a viable contributor as a receiver and as a run blocker. Even with the hefty offseason investment, Chicago's tight ends come with plenty of question marks.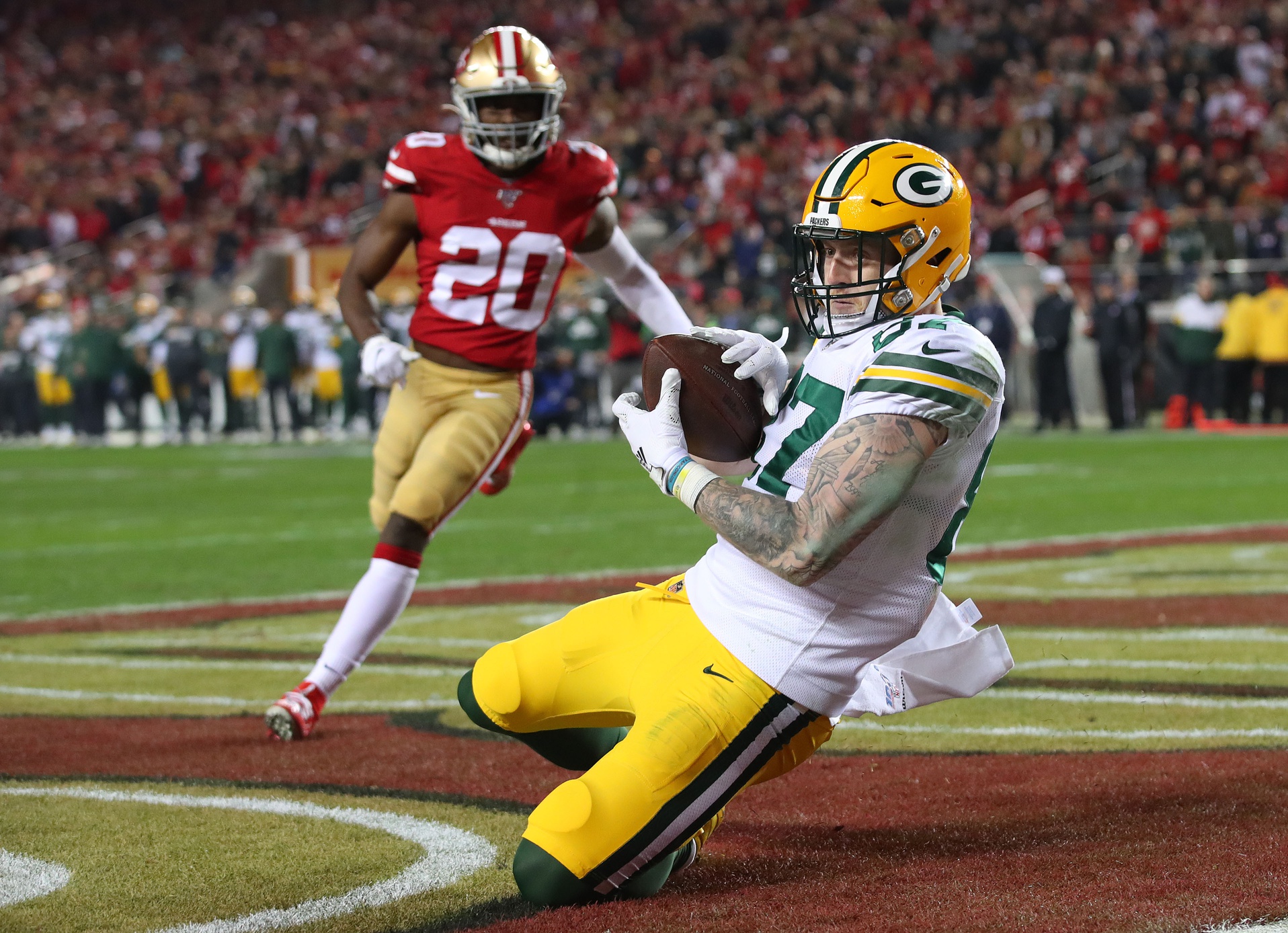 27. Green Bay Packers
Last season, Packers tight ends posted a receiving grade of just 57.0, which ranked 24th in the league. With Jimmy Graham and Lance Kendricks moving on, 2019 third-rounder Jace Sternberger is primed to show off his route-running and seam-stretching ability. Sternberger didn't see action until Week 10 last season and was limited to just 99 snaps on the year.
Marcedes Lewis returns for Year 15 after catching 17 passes on 20 targets last season. Lewis is still a good in-line blocker who is closer to an offensive lineman than he is a receiving threat at this point in his career. Robert Tonyan could also see targets, as he's averaged 12.6 yards per reception on 14 career catches.
This group comes down to Sternberger, who looked like one of the best receiving threats in the 2019 draft, living up to that billing and becoming a middle-of-the-field weapon.
The tight end position didn't become a prominent part of the Arizona offense until Week 5 last season, and it became a good change of pace for schemed-up throws like screens, releases and throwbacks. Maxx Williams led the way with 490 snaps and a career-high 79.1 overall grade, flashing his ability to work the seam while also posting the top run-blocking grade in the league (84.7).
The Cardinals must replace Charles Clay, who led the tight end group with 18 catches and 237 yards in 2019. Dan Arnold has the size, burst and catch radius to become a red-zone threat as he did late last year with two touchdowns after coming over from the New Orleans Saints.
This is a position where the Cardinals could look to add depth, even if it's not heavily featured in their offense.
Last season, we finally saw Tyler Eifert for a full season, though he certainly didn't get back to his incredible 2015 performance that had him looking like one of the best young tight ends in the league. Eifert moves on to the Jaguars after seven years with the Bengals, and that leaves 2019 second-rounder
Drew Sample as the projected starter. Sample played just 108 snaps last season. In college, he was a better run blocker than a receiver, never grading higher than 61.6 in the latter area. C.J. Uzomah hasn't had a receiving grade better than 60.0 since 2016 and, like Sample, he usually does his best work in the run game.
Beyond the top two, the Bengals have only four other career receptions from tight ends on the depth chart, so the position is a huge question mark when projecting pass-game production in 2020.
Only the Steelers had fewer yards than the 419 produced by Patriots tight ends during the 2019 regular season, as the lack of replacements for Rob Gronkowski stung quite a bit. Benjamin Watson, Matt LaCosse and Ryan Izzo all played at least 250 snaps and graded under 60.0 overall, struggling in both the pass and run game. LaCosse and Izzo return to battle with a pair of third-round draft picks in Devin Asiasi and Dalton Keene.
Asiasi is a big-bodied target with some wiggle at the top of his routes, and he earned a comp of former Patriot Michael Hoomanawanui in the PFF Draft Guide. Keene is more of a "move" tight end, as he played all over the Virginia Tech offense. However, his receiving production was limited with just 748 career yards under his belt.
New England needs at least one of the rookies to produce right away, or else this looks like one of the bottom-tier tight end groups for the second straight year.
With longtime Panther Greg Olsen moving on, the spotlight is on third-year tight end Ian Thomas to step up to the No. 1 spot on the depth chart. He has caught 52 passes for 469 yards in his career, and his 52.3 receiving grade last season ranked just 41st out of 44 qualifiers to go with a below-average 52.4 run-blocking grade. Behind Thomas is Chris Manhertz, who has played just over 1,000 career snaps and caught just six passes in his four years of action.
Thomas has some wiggle to his game, but he's still a projection at this point, making the Panthers' tight end situation one of the worst in the league.
The Redskins are going with a see-what-sticks approach at tight end, as there are several options who could see significant playing time. Jeremy Sprinkle led the unit with 241 yards last season, though his 49.8 overall grade ranked fourth-worst among tight ends. Richard Rodgers comes over from two years with the Eagles, where he caught just one pass. He has just one year with a grade above 70.0 in his career, and it came in 2015.
Logan Thomas joins his fifth team and has yet to grade above 64.0 overall since transitioning from quarterback to tight end. Marcus Baugh and Caleb Wilson will also compete for snaps, though neither has played a regular-season snap in the NFL.
Unless Sprinkle or one of the youngsters develops, this is one of the worst tight end units in the league.