The New York Jets agreed to trade disgruntled safety Jamal Adams to the Seattle Seahawks on Saturday, with Seattle sending New York veteran safety Bradley McDougald, first-round picks in 2021 and 2022 and a third-round pick in 2021 for Adams and a fourth-round pick in 2022.
To see what kind of haul the Jets can get next April, see our updated Mock Draft Simulator.
I wrote about Adams a couple of weeks back, with Seattle cited as one of the teams that could be benefitted by the acquisition of his blue-chip talent. There's ample evidence that Adams is not only a great player by himself (earning the second-most wins above replacement since he entered the league in 2017), but he is also one of the defenders that is a force multiplier for the rest of the defense, helping lower-tier players reach higher heights than they were otherwise capable. The Jets defense in 2019 was fifth in yards per play allowed and 13th in net yards per pass attempt allowed, with the deep middle of the field almost uninhabitable for opposing offenses (h/t to Timo Riske for his heat map brilliance):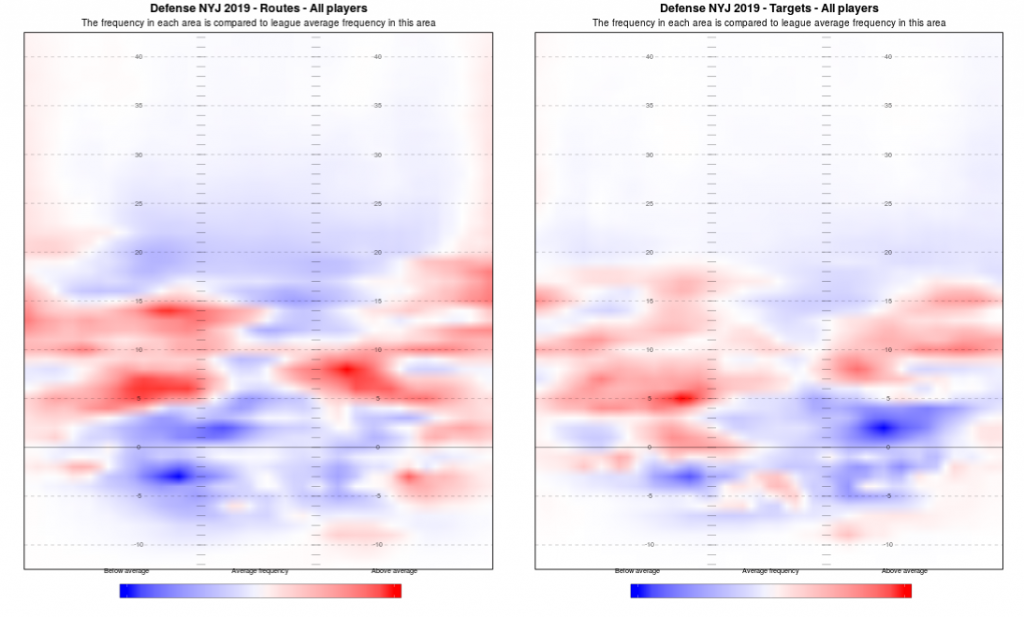 The Seahawks could certainly use a player of Adams' caliber, as they were 29th in yards per play allowed defensively during the regular season and 22nd in points allowed. They were one of the worst pass defenses in the entire league (23rd in net yards per pass attempt). Only one of their defensive backs rushed the passer more than 20 times last season (McDougald, 22), while Adams led all safeties with 25 pressures on 101 total pass-rushing snaps. Adams is the second safety they've acquired via trade in the last 12 months, joining former Detroit Lion Quandre Diggs (0.225 WAR in 439 snaps as a Seahawk).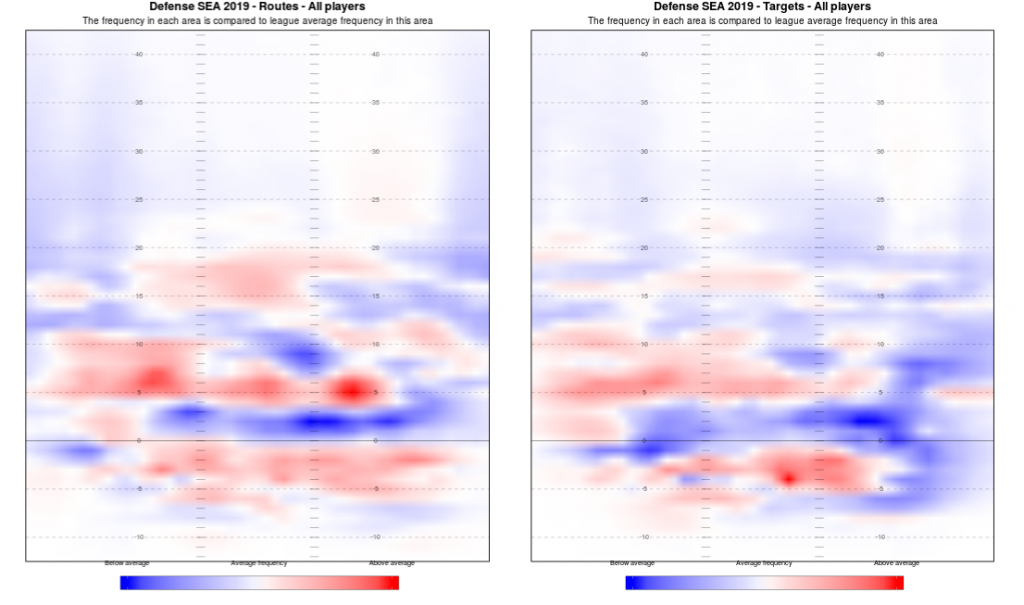 Seattle was 19th in the NFL in total WAR generated by defensive players, but after (presumably) losing Jadeveon Clowney (0.17 WAR) and with the status of the newly-acquired Quinton Dunbar (0.45) up in the air, the former Jets safety will need to team with Bobby Wagner (who regressed some in 2019) to drastically improve a defense that put a lot of pressure on Russell Wilson and luck to make the playoffs last year (they were just +7 in point differential during the regular season).
Schematically, Adams won't quite come in and simply become the new Kam Chancellor. The Seahawks have evolved because of the loss of Earl Thomas more than the loss of Chancellor. Instead of sitting back and letting Thomas control the middle of the field in their Cover 1 and Cover 3 schemes, they have evolved to show more two-high safety looks. From 2015 to 2017, the Seahawks only played two-high schemes 12% of the time. That number has gone up to 28% in the last two regular seasons. Last season, they were at 31%. This meant that Chancellor's replacement and now current Jet, McDougald, played as a half field safety much more than Chancellor ever did. Chancellor played the half field role only about 37 times a year over his final three years in Seattle and most of those were on third down. McDougald played it 286 times overall in the last two seasons. 
McDougald struggled in this role, posting a lowly 51.4 coverage grade in 2019. This is where bringing in Adams will reap the most benefits. He was lights out in this role for the Jets over the past two seasons, as he comes to Seattle sporting an 88.8 coverage grade. His ability to play flat-footed and drive on in-breaking routes from the slot is tremendous. He's also a fantastic late add in the run game, sniffing out cutback lanes and suppressing what otherwise would have been long runs. 
Despite what Adams brings to the table as a player, the Jets come out of this trade the winner. After trading the farm to move up three spots with Indianapolis to draft Sam Darnold in 2018 and leaving the cupboard bare roster-wise for him in subsequent seasons, they are in a position to have to go back to the well in 2020 at the position due to two largely underwhelming seasons from the USC product. In a draft class that includes Justin Fields and Trevor Lawrence at the top (see here for our newly-released big board) and a win total that is standing at 6.5 on FanDuel Sportsbook, the Jets are now in prime position to do what the Bears couldn't when they traded two firsts for Khalil Mack and what the Los Angeles Rams now cannot do after dealing two firsts for Jalen Ramsey – make a real change at quarterback should their current starter not work out.
The predicament that Chicago is currently experiencing is likely not one that will face the Seahawks, despite the overpay for Adams (he was worth one first-rounder in my estimation, not two). Wilson is in a tier by himself behind Patrick Mahomes of Kansas City, one of the rare instances of a quarterback able to elevate those around him enough to justify such a big contract. Adams should give the Seahawks defense a boost in 2020 and beyond and, given his ability to enhance those around him on his side of the ball, he will likely curb the future loss of draft picks in some ways. However, it's almost impossible for any non-quarterback to be worth multiple players, and while Adams gave the Jets a huge value during his first three years in the league, he likely generated more in packing his bags for the Emerald City.