The PFF50 is finally here. After first listing the best 101 NFL players from the 2019 season and then listing the best players of the entire decade, we at PFF have assembled a list of the NFL's 50 best players as we longingly look ahead to the 2020 NFL season.
The PFF50 is a product of evaluating every player on every play of each NFL season to produce PFF's unrivaled database of stats, grades and information. This list is not about how valuable players are, but rather about how good they are, regardless of position. A guard, cornerback, receiver or even a running back has just as good a chance to appear on this list as a quarterback does.
We started from the standpoint of a multiyear look at their grading before making adjustments based on situation, relevant injuries and new circumstances that could change a player's future outlook. Sample size was factored in as well as any suggestion of decline from players reaching the latter stages of their careers.
As always with football, things are far too nuanced to ever have an inarguably perfect list, so let us know where you think we got it wrong.
[Editor's note: Subscribe to PFF ELITE today to gain access to PFF's Premium Stats and new Player Grades experience in addition to the 2020 NFL Draft Guide, 2020 Fantasy Rookie Scouting Report, PFF Greenline, all of PFF's premium article content and more.]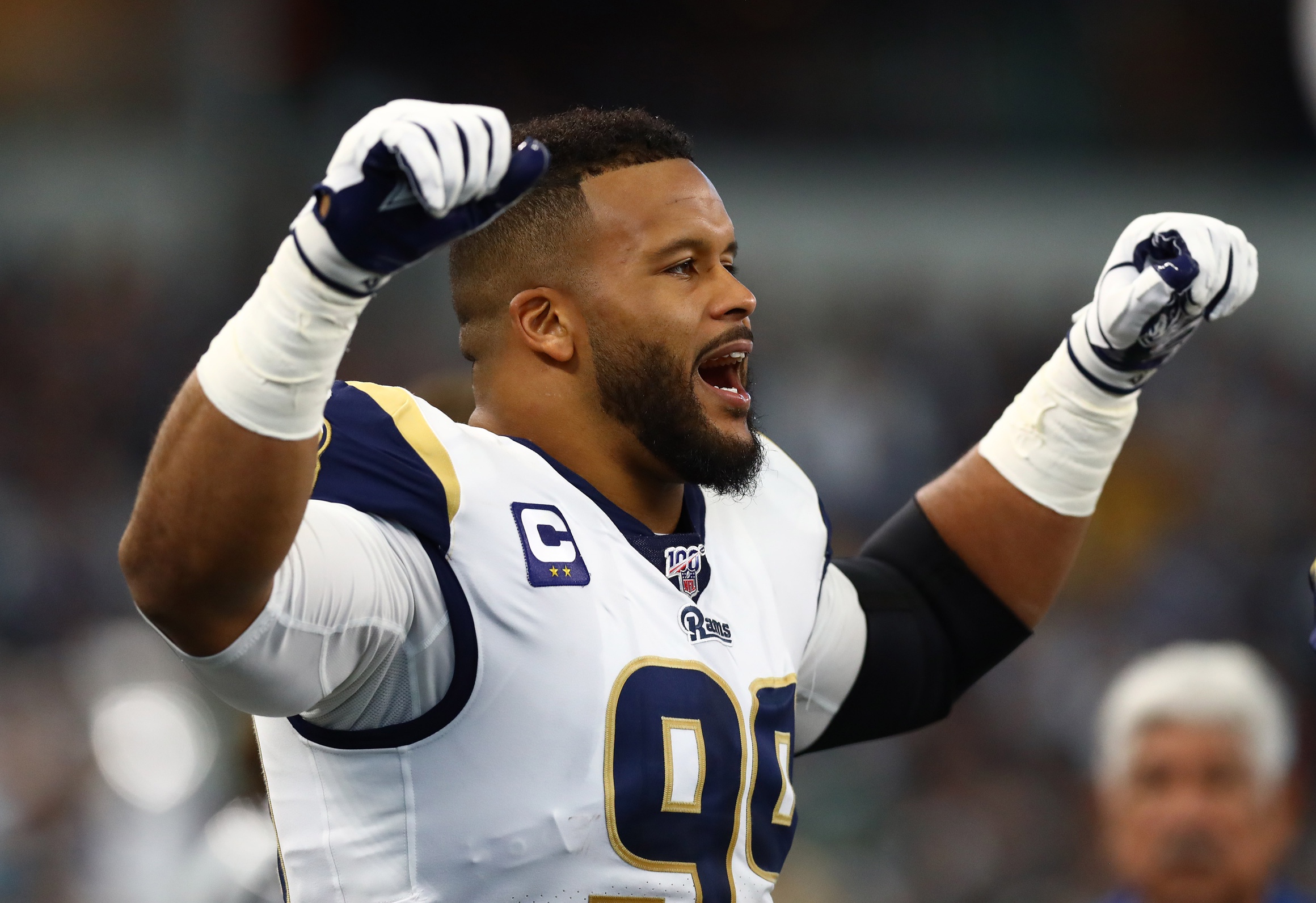 No matter how good you think Aaron Donald is, you're underselling it. He is the best player in the NFL by a distance, and only the fact that his position doesn't impact a game as heavily as quarterback or even receiver makes that in any way a debate. Since entering the league, Donald owns the best pressure rate, the best pass-rush win rate (factoring in wins at the line that don't result in pressures), the best PFF pass-rushing grade and the most total pressures. He has done all this from an interior alignment on the defensive line, where pressure is harder to come by than on the edge. The gap between Donald and the next-best interior player is bigger than it is between any other player and the rest of his peers, and he remains atop this list for the fourth straight year.
If there's a player who has a hope of rivaling Donald as the best in the league regardless of position, it's likely Mahomes. What we're seeing from the young quarterback has never been done before — not necessarily statistically, but stylistically. His feel for the game and ability to make special plays as a passer is absurd. Since Mahomes entered the league, his PFF passing grade on third-and-long alone is 91.4, and his passer rating is 125.3 — comfortably the best in the league. Nobody can do what Mahomes can right now, and 2020 should bring about an even better version than last year if he stays healthy.
Julio Jones is the most productive pass-catcher in football at a time when that skill has never been more valuable. Over the past three seasons, Jones leads all receivers in yards per route run, a statistic he led the NFL in for four straight years. Over almost any time span you choose, he is the league's leader in receiving yards gained and has now had five straight years with a PFF grade above 90.0, with the three seasons preceding those above 80.0. Jones is the best receiver in the NFL, and he climbs further up the all-time lists with each passing season.
Quenton Nelson is the rare player who brings everybody together. Whether you study tape exclusively, data exclusively, dots exclusively or any combination thereof, everybody agrees Nelson is a superstar. In just his second season in the league, he earned a 91.2 overall PFF grade, didn't surrender a sack and was a dominant force as a run-blocker. Nelson was a bona fide star early in his college career, and there's a good chance he could get even better in 2020 and beyond.
Over the past decade, five of the top seven single-season PFF grades at tight end belong to Rob Gronkowski, but the grade George Kittle racked up last season tops any of them. Kittle, like Gronk, is an elite receiver at the position while also a rare blocker who becomes a matchup problem because he can dominate smaller players in that facet just as easily as he can win in the passing game. Last season was his first truly dominant year, but it was so good that it's tough not to rank him this highly based on what the future could hold.
Michael Thomas sometimes gets dismissed as a top receiver because he doesn't get deployed or utilized the same way some of the other top players do, but that shouldn't detract from his dominance. Since Thomas entered the league, nobody else comes close to the number of first-down catches he has, and only Julio Jones has generated more yards per route run. Thomas is the NFL's ultimate chain-mover, and even though teams know exactly what he's going to do, almost none come close to stopping him.
Russell Wilson made it only to No. 33 in PFF's All-Decade 101 list, but he has taken his game to another level over the past couple of seasons. In 2019, it was Wilson — not Lamar Jackson — who led all players in PFF WAR (wins above replacement) and had the second-best overall PFF grade. Over the past three years, Wilson has 27 more big-time throws (PFF's highest-graded passes) than any other passer, while 12 quarterbacks have more turnover-worthy plays than him. Wilson is held back only by how little his own team puts the ball in his hands.
Though Russell Wilson had a higher PFF WAR figure than Lamar Jackson in 2019, Jackson was a very worthy NFL MVP. He is a unique talent who gives defenses nightmares as they work to contain both his passing threat and rushing ability, and he is the cornerstone that allows the Ravens to build a custom offense tailored to his talents. Jackson may well reinvent the quarterback position and, at the very minimum, will be one of the hardest players to limit as long as he continues to play at this level.
What DeAndre Hopkins has been able to do in his NFL career with the quarterbacks he's worked with, outside of Deshaun Watson, has been remarkable. He should be able to maintain strong quarterback play heading into 2020 with a new team and Kyler Murray under center. Over the past three years, no receiver has a higher PFF receiving grade than Hopkins' 93.7 mark, and he has the fourth-most contested catches — all while dropping just 11 passes on 469 targets.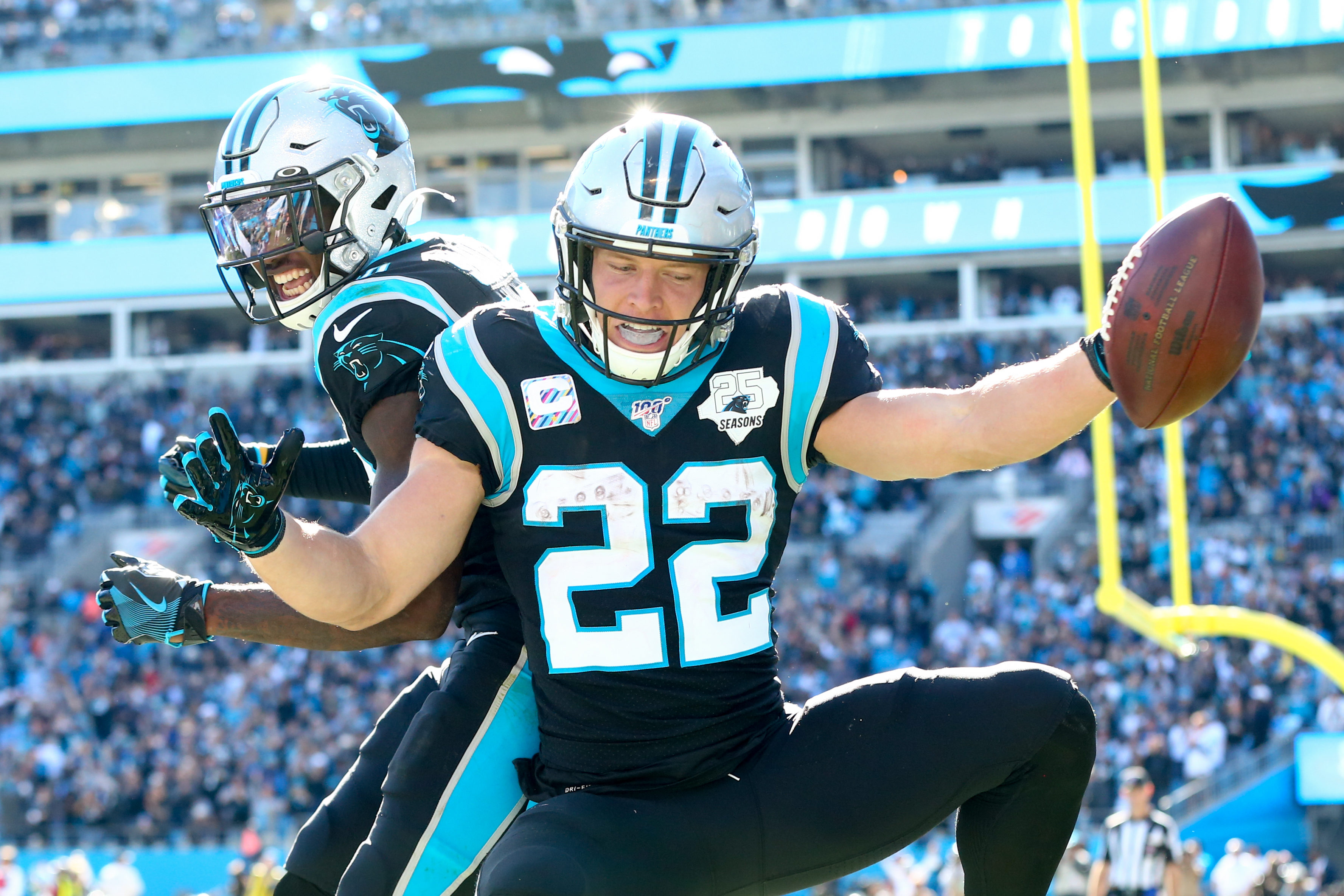 Christian McCaffrey is the perfect running back for today's NFL. One of the few players with the skills to line up as a wide receiver but also repeatedly carry the ball between the tackles, he has been the Panthers' offense for the past couple of seasons. In 2019, he touched the ball 403 times from scrimmage, racking up over 2,000 yards and breaking 65 tackles along the way. It marked the second consecutive year he had more than 100 receptions, and his 116 catches were the most by a running back in NFL history.
PFF grades say Drew Brees should be even higher on this list, but we can't look past his age and his concerning decline in play over the past two seasons, even when he had time off due to injury in 2019. When Brees is on his game, though, he remains a master of his craft, the most accurate passer in football and one of the best quarterbacks to ever play the game. He should helm one of the NFL's top offenses once more in 2020. The only question is whether his arm will hold up over the year.
The closest thing the NFL has in 2020 to a shutdown corner, Stephon Gilmore has taken his game to another level. Last season, Gilmore allowed a passer rating when targeted of just 47.4, notching 13 pass breakups and allowing fewer than 50% of targets to be caught — and that's despite DeVante Parker "Mossing" him at the catch point a couple of times to ruin his numbers. In single coverage over the past three seasons, Gilmore leads all defensive players and all cornerbacks by a significant distance in PFF grade and has allowed just 41.9% of passes to be caught.
J.J. Watt had a four-season stretch in his career that rivaled Aaron Donald's before injuries started to bite deep and derail things, but Watt has still shown glimpses of that dominance since those setbacks. In 2018, he played a full year and earned a PFF grade above 90.0. He was on track to accomplish that feat again last season before a torn pectoral muscle ended his regular season, and his return in the playoffs wasn't quite at the same level. At his best, Watt is still a dominant force in the league, and the only question about that is his health, rather than his level of play.
Only age keeps Richard Sherman this low — the best cornerback of the past decade will enter this season at 32 years old coming off one of the best seasons of his career. Sherman was a huge reason the 49ers were so successful last season and showed that he could get back to his best play another year removed from his Achilles injury. He allowed a passer rating of just 45.3 when targeted including the playoffs, and that was the first season of his career since 2014 where that figure dropped below 50.0. Sherman has always been criticized for being just a zone corner, but he has been so much more than that — and even if he wasn't, he has been so good at it that it's not a valid criticism.
Aaron Donald exists in a world of his own, but there are a number of other interior defensive linemen who are vying for the title of the best in the league not named Donald. Fletcher Cox is the best power pass-rusher in the NFL. His ability to overwhelm physically dominant offensive linemen is unique, and it has led him to some truly spectacular seasons. Over the past three seasons, Cox has 202 total pressures — the second most in the league among interior pass rushers — and the sixth most in the league among all players. He is a wrecking machine inside for the Eagles.
Chris Jones is another player looking to be the most destructive non-Aaron Donald interior pass-rusher in football. Over the past two seasons, only Donald and Cox have more total pressures among interior players than Jones, who has racked up 132 pressures and has the second-best PFF pass-rushing grade in the league, trailing only Donald among players at any position. Jones has shown, when healthy, he has the ability to take over and dominate games, as he was a big part of the Chiefs' Super Bowl victory with multiple key plays.
Bobby Wagner had something of a down year in 2019, though all the Seahawks linebackers had to deal with the team electing to play base defense on 68.7% of its snaps. That was more than 30 percentage points higher than any other team. Wagner allowed the second-most yardage in coverage of any linebacker last season, as teams heavily targeted the linebackers in that defense, but in the previous two seasons he had a PFF coverage grade above 90.0 each year. At his best, Wagner is the best linebacker in the game, but last season's performance drops him out of top 10 on this list (he was No. 3 in 2019).
Once a consistent member in the top 10, Khalil Mack endured a little bit of a down season in 2019. The fact that a down-year for him still sees him post 70 total pressures and earn an overall PFF grade of 86.2 speaks to just how dominant a force he is. Mack has now topped 70 pressures every season since his rookie year (54), and he's a dominant run defender as well as a pass-rusher. If he bounces back in 2020 to the player he was before this past season, he will be right back in the top 10.
Travis Kelce has become the prototype for modern-day receiving tight ends. While his blocking isn't on the level of Rob Gronkowski or George Kittle, it's still not bad, and he offsets this difference by being one of the best players the league has ever seen at his position after the catch. He can run like a wideout with the ball in his hands and has broken at least 10 tackles every season of his career, with a total of 91 over six seasons including the playoffs. Kelce has four-straight seasons with a PFF receiving grade of at least 87.0.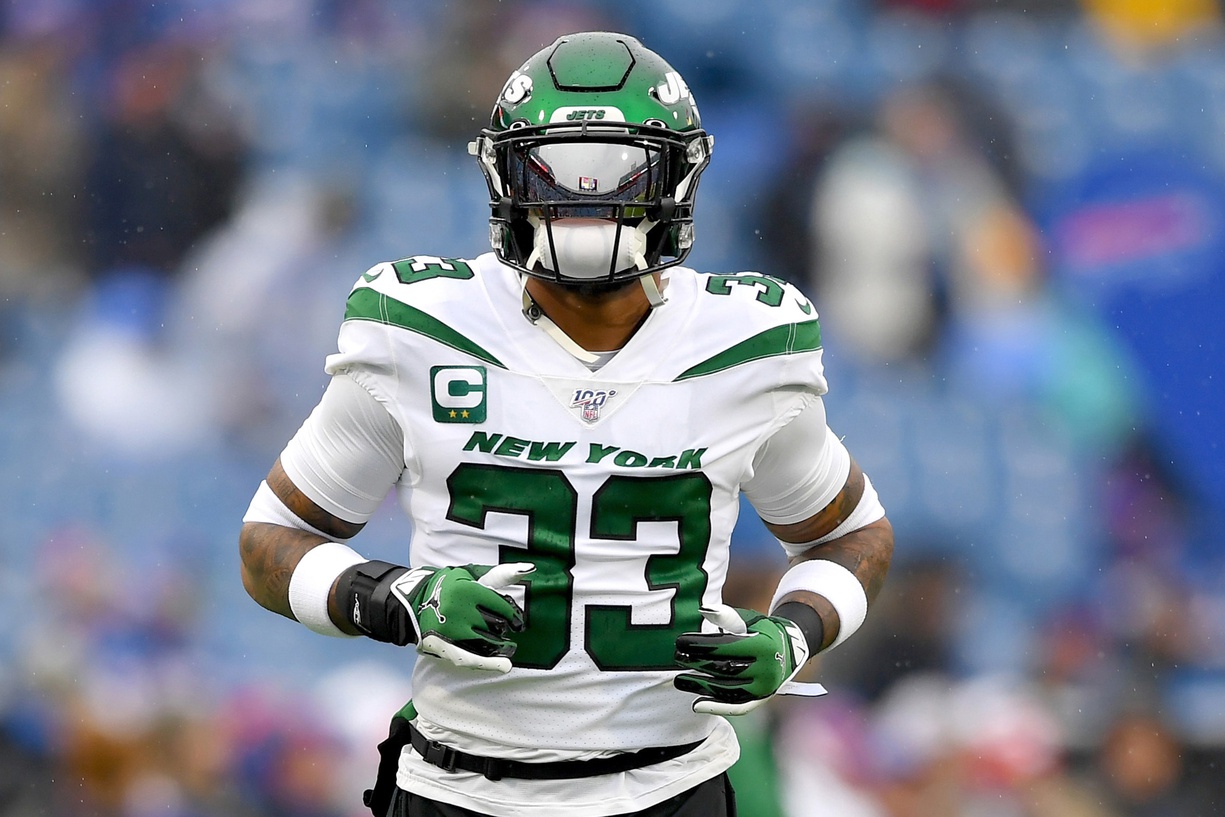 If you set the sample-size low enough, Jamal Adams has a top-10 PFF pass-rushing grade in the entire league over the past two seasons. He has become the prototype of a new breed of do-it-all safeties who occupy more of a positionless role in NFL defenses. Adams can line up anywhere and cover, defend the run or even rush the passer as a legitimate edge rusher on any given snap — and he does it all at a high level. Adams isn't redefining the safety position as much as he's pioneering a completely new role on defense.
Somehow, Cameron Jordan remains one of the most underrated players in all of football. He has elevated his game to the level of the Khalil Macks and Von Millers of the world, yet he rarely appears in the same breath as them. Over the past three seasons, only Aaron Donald and Von Miller have more total pressures than Jordan's 222, and he also has 15 batted passes over that time — the third-most in the league. He is a dominant force for the Saints and one of the best defenders in football.
There are receivers who have higher grades than Tyreek Hill on a down-to-down basis, but I'm not sure there's anyone I would take over him if I were starting a team tomorrow. His combination of devastating speed and ball skills at the catch point is unrivaled in the NFL — he's just a nightmare for opposing defenses. Only Julio Jones and Michael Thomas have gained more yards per route run than Hill over the past three seasons, and Hill has gained at least 1.4 yards per reception more than either player after the catch. Hill is one of the most game-breaking players in football and one of the best players in the league.
You could make an argument — as it seems I am with this list — that Mitchell Schwartz isn't just the best right tackle in the league but the best overall tackle and possibly best offensive lineman in the league. His run to the Super Bowl was one of the greatest postseason performances of any player at any position in NFL history, but because he's a right tackle, few people noticed. Schwartz pass-blocked for 142 snaps — with his team in obvious passing, hurry-up situations for much of it — and allowed just one hurry. He is an elite lineman.
Tom Brady's 2019 was a major drop-off from his previous baseline of play. When you consider his age, the natural reaction is to believe that Father Time is finally catching up with him and gaining an upper hand in that battle. But the tape shows the root of almost all of his issues — the lack of receiver help. That's not an issue in Tampa Bay, where the Buccaneers have two receivers on this top-50 list. Brady can still play, though perhaps not quite at his very best level anymore. He is still one of the best quarterbacks in the league.
Like Brady, Von Miller's play declined so dramatically last season that we don't quite know what to expect from him in 2020 and beyond. Miller began his career with eight-straight seasons with PFF grades over 90.0 before slipping to just 79.0 last year — and that number was propped up with a run-defense grade that remained north of 90.0. As a pass-rusher, he just wasn't the same player, and the concern is that we're seeing the beginning of a decline. Obviously, at his best Miller is one of the best players the game has ever seen. But now, for the first time, there's a question as to whether we'll see him in top form again.
During the PFF era, only three tackles (Joe Thomas, Jake Long and Terron Armstead) have had a better overall PFF grade than Ryan Ramczyk's 90.2 over their first three seasons. Ramczyk was excellent right out of the gate for the Saints, but he also improved both aspects of his game (run blocking and pass protection) each season. Last season was a career year for him, and he's won the best run blocker in the league award at PFF for two-straight seasons.
You can make a good argument that Nick Chubb is the best running back in football right now — the only thing holding the case back is a lack of sample size compared to players like Christian McCaffrey, Ezekiel Elliott and others. Chubb is averaging more than four yards per carry after contact over his NFL career. He has PFF rushing grades above 90.0 in both seasons and has broken 110 tackles on just 490 carries with another 18 broken tackles on the 56 receptions he has to date. Chubb is a dynamic playmaker with the ball in his hands, though perhaps not the receiver people want to see at the position in today's league.
Players don't always have a smooth growth curve to their NFL careers, but there's something very satisfying when they do. T.J. Watt has developed every season he's been in the league, building himself into the Defensive Player of the Year candidate we saw last season. Watt had the highest pass-rushing grade of any edge defender in 2019 (91.7), notched 81 total pressures and made a whole host of game-changing plays, including eight forced fumbles and a pair of interceptions. If he plays to that level again, Watt will be one of the best defenders in the league at any position.
Myles Garrett was enjoying a career year before the red mist descended and he swung a helmet at Mason Rudolph, ending his season through suspension. Even after missing so much time, the 49 total pressures he registered was a top-30 mark among edge rushers. His pass-rushing grade of 91.6 was the second-best in the league, a fraction behind T.J. Watt. If Garrett can return to the same level of play he reached last season, we are looking at one of the best pass rushers in the game — somebody whose PFF grade has improved each season of his career.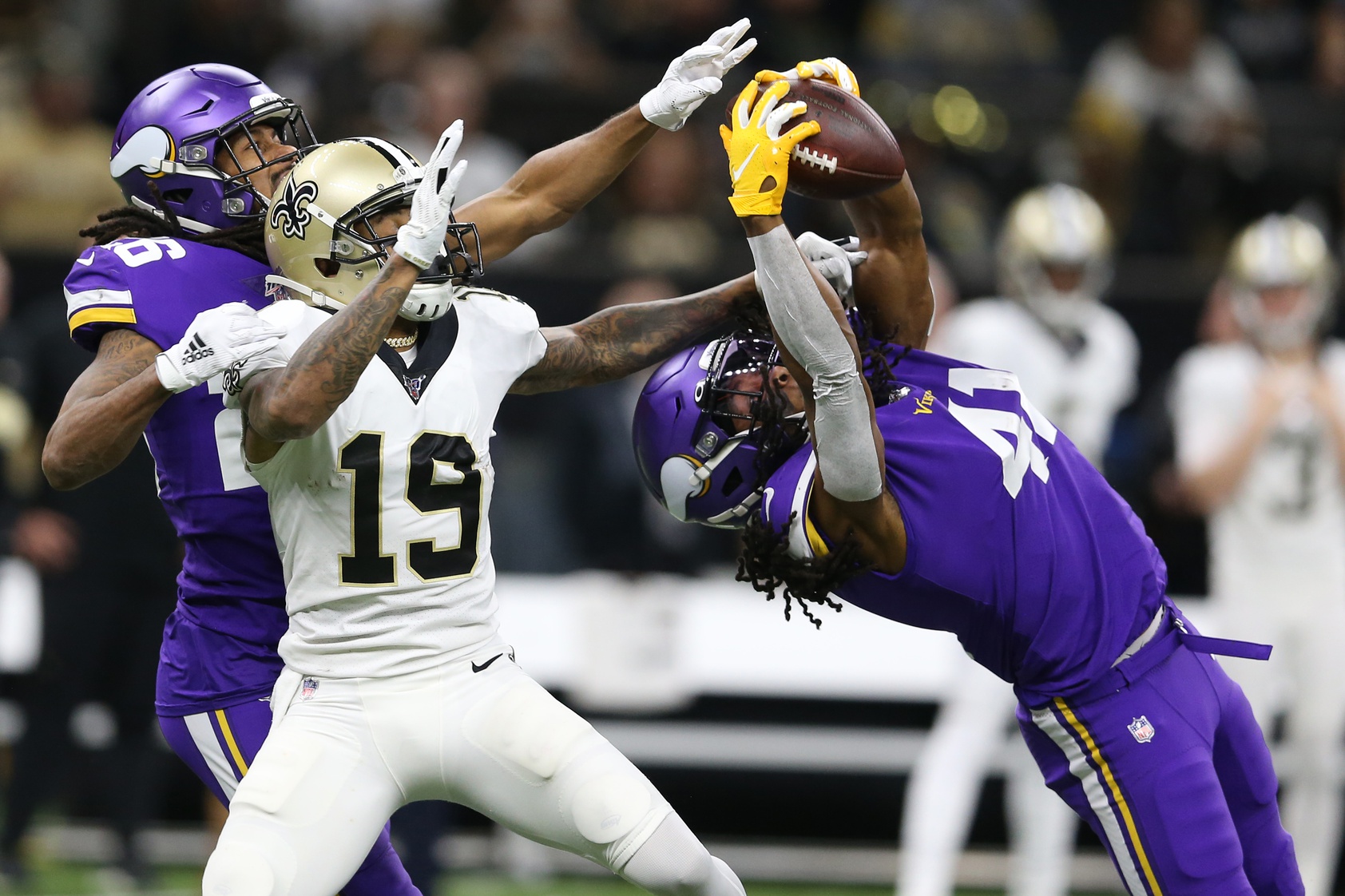 Anthony Harris has graded well every time we have seen him on the field, dating back to his final college play, and he's only gotten better with more opportunity. Last season, he was finally a full-time starter for the Vikings alongside Harrison Smith, and he responded with the best coverage grade (91.6) at the position and the second-best overall grade (90.5). Harris has been an All-Pro caliber player and a true ballhawk in Minnesota's secondary.
Only injury kept Derwin James from being higher on this list, but, like Jamal Adams, he is a pioneer of the positionless role within a defense — he has made an impact all over the field for the Chargers. James' overall PFF grade of 87.8 as a rookie showed how dominant he could be, and while he didn't quite equal that last season, it was on fewer than 300 snaps before injury shut him down. James can defend the run, cover close to the line and in deeper zones, and even rush the passer at a high level. He could become one of the best defenders in all of football in a hurry.
The league is loaded with dominant interior defensive linemen at the moment, but even in that landscape, Grady Jarrett stands out as a force. Last season was a career-year for him, and he notched 46 total pressures and 40 defensive stops. Jarrett has excellent grades against both the run and as a pass-rusher in each of the past two seasons. He's been right up there with the best interior defenders in the league not named Aaron Donald.
Chris Godwin was a human highlight reel last season catching passes from Jameis Winston for the Tampa Bay Buccaneers. PFF grades capture quality and difficulty of the catch, and often there are receivers with monster single-season grades based less on true production compared to other superstar receivers because the grades are fueled by a run of exceptional catches. That was Godwin last season, but he also had exceptional production given how much Winston threw the football. Godwin was also just one broken tackle behind the league-leaders among wideouts and could be in line for a huge season with Tom Brady throwing him the football.
Just a season ago — in his first year back from a torn Achilles — Brandon Brooks won PFF's Bruce Matthews Award, which is given to the best single offensive lineman in football. It was a career year for a player who has always been quietly one of the best offensive linemen in the league. He has never had a season that graded lower than average, and he has now surrendered just four sacks in four seasons. Last year, he had eight games in which he surrendered no pressure at all, and if anything, he was a better run-blocker than he was a pass-protector.
Harrison Smith has been the player who makes Mike Zimmer's defense go in Minnesota. Smith is the foundation stone around which every coverage shell the Vikings run can be built; he is the movable piece that allows everybody else to slot into the role to which they are best suited. His consistency at a position where play often fluctuates has been remarkable. He has never had a full season of play that earned an overall PFF grade lower than 75.0, and he has four seasons at 85.0 or above.
Calais Campbell has had four consecutive seasons with an overall PFF grade of over 90.0, and they have all come after his 30th birthday. Those seasons also span multiple different positions, teams and defensive schemes, and it shows the kind of versatility and consistency he has had. Campbell is one of the best run defenders in football, but he still more than holds his own as a pass-rushing force. He notched 71 total pressures in 2019 in what was his third season in four years with a pass-rushing grade above 80.0.
Lavonte David was back to his best in 2019, and David at his best is among the very best linebackers in the league. It was one of his three best seasons in terms of PFF grade, and his best in terms of coverage grade (91.4). With an improved unit around him, there are reasons to be optimistic that David can repeat that play in 2020, but there are too many seasons on his résumé that fall some way short of that standard — that's the only thing keeping him away from the top end of this list.
There may be no finer route-runner in all of football than Davante Adams. When you stack up his PFF grades over the last two seasons, he also compares well to the best receivers in the league and has done that despite missing some time through injury. Just 12.2% of Adams' targets over the past two seasons have been contested, which is the lowest rate of any receiver who plays predominantly outside, which just goes to show the elite-level separation he consistently generates.
Casey Hayward has been one of the game's best cornerbacks ever since he entered the league — it just took teams a little while to realize it. He began his career with a season covering the slot that produced absurd coverage numbers, but over the past few seasons, he has been a standout as the Chargers' No. 1 corner. Over the past decade, he has the highest forced incompletion rate of any cornerback to play in the league, and he has never earned a PFF coverage grade below 73.0.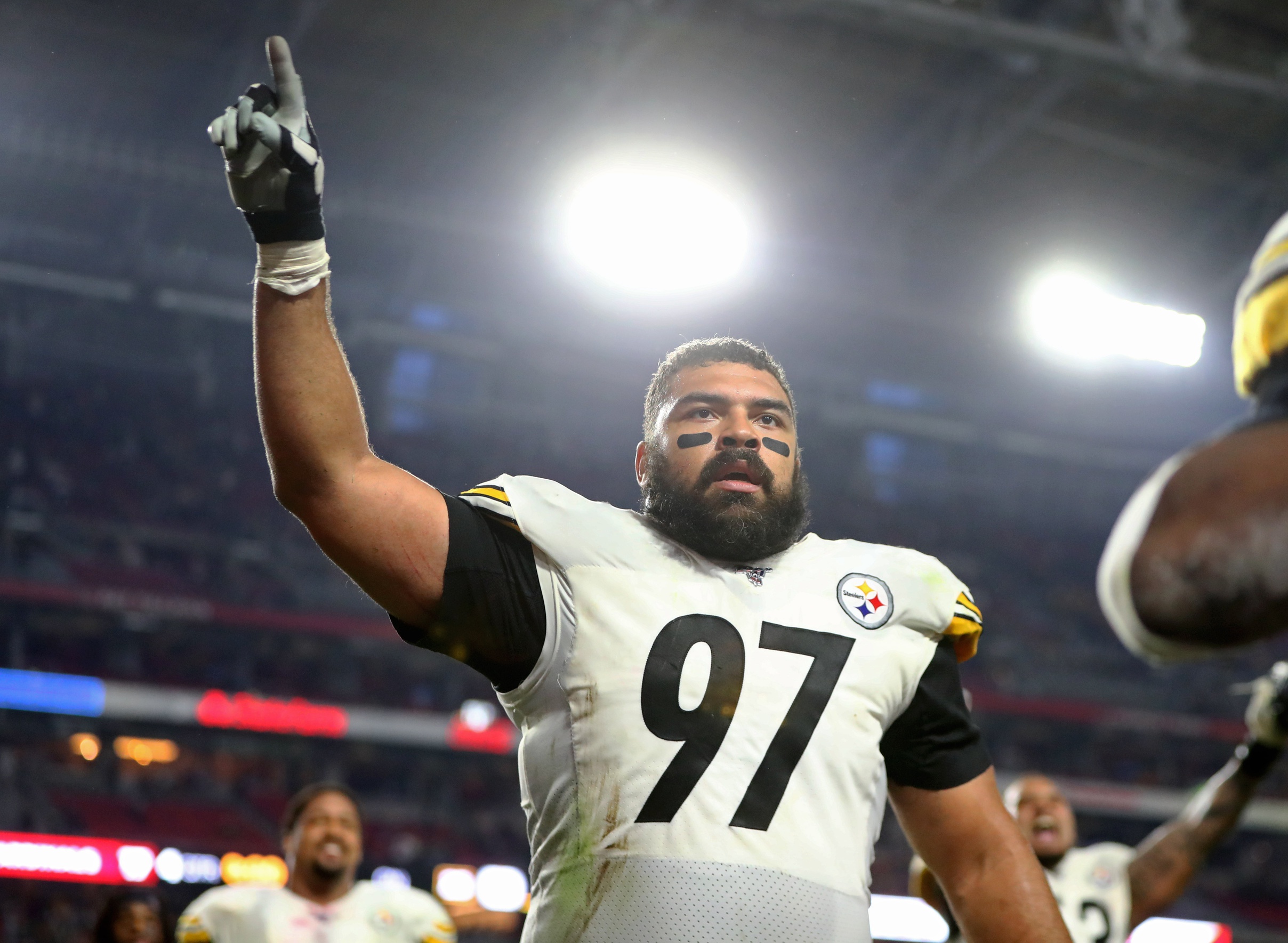 A season ago, Cameron Heyward was probably the most dominant interior defensive lineman outside of Aaron Donald. He stepped up despite losing his running mate in Stephon Tuitt early in the season and ended the year with a career-best PFF grade of 91.5. He produced 60 total pressures and 44 defensive stops and had career highs in both run-defense and pass-rush grade.
Few players have had the kind of immediate impact at the position that Nick Bosa had as a rookie. He broke the PFF record for total pressures from a rookie that had stood since Aldon Smith's 60 back in 2011, and Bosa even continued his dominance into the playoffs and the Super Bowl. It's just one year of play, but considering how good he was in college and the fact that his one season in the NFL was a record-breaking one, there is reason to believe that he is already one of the best pass-rushers in the game — and that he could get even better.
David Bakhtiari has been the gold standard of pass protection in the NFL at least since Joe Thomas retired, and likely even for a season or two before the future Hall of Famer walked away. He now has seven straight seasons with a PFF pass-blocking grade of at least 85.0, and four straight with one of 89.9 or better. Bakhtiari also has one of the hardest pass-blocking responsibilities of any tackle: protecting for Aaron Rodgers, a quarterback who holds the ball longer than almost all other passers.
Watson's play looks like that of Patrick Mahomes for the majority of the time, only Watson has far less help. It's the small subset of below-average play that separates the two players, however, and if Watson can just eliminate that in the way Russell Wilson did over the past season or two, he would vault into the top echelon of players on this list. Last season, in the fourth quarter of one-score games, Watson had both the No. 1 PFF grade (88.6) and yards per attempt average (10.3) among all quarterbacks, showing he is at his best when the game is on the line.
Kenny Clark came into the league as something of a one-dimensional run-stuffing nose tackle, but he has developed into arguably the modern-day nose tackle prototype by becoming a fearsome pass-rusher on top of that. The 2019 season saw him post a career-high 62 total pressures (69 including playoff play) and 45 defensive stops, and it marked his second straight season with a pass-rushing grade of at least 87.0.
Mike Evans has now started his career with six consecutive seasons of excellent grades and impressive raw production. Over that same time span, he has 60 contested catches, just three shy of Julio Jones, who leads the league over that period. Evans is second to Julio again in terms of explosive plays and is one of just two players who has registered more than 200 catches of at least 15 yards. Evans also has one of the deepest average depths of target in football, at 15.7.
Few players have been as consistently excellent as Zack Martin since he entered the league. Five of his six starting seasons have seen him earn an overall PFF grade of at least 85.9, and the sixth was 79.1. Last season, he allowed no sacks at all, was flagged just twice all year and earned a solid run-blocking grade. He has now been penalized just five times in four seasons.
Joey Bosa had arguably his best season last year, but such was the success of his brother in his rookie year, it seemed like few noticed. Bosa the elder notched 72 total pressures and was one of just five edge rushers to finish with a pass-rushing grade of 90.0 or higher. He also notched 49 defensive stops, which led all edge rushers by six, and he was doing this with less help along the defensive front for the Chargers than he has typically had in the past.
Just a season ago, Ronnie Stanley posted one of the most absurd stat lines in PFF history. He surrendered just six total pressures (and no sacks) all season long. He was doubtlessly helped by Baltimore's run-heavy system and Lamar Jackson's unique threat at quarterback, but even in adverse pass-protecting situations, Stanley's grade and production remained elite. He is making a hard run at David Bakhtiari's crown as the league's best pass-blocker.
Brandon Graham has been one of the best edge rushers of the entire decade, but at 32, we may have seen the last of his best years. Last season, his overall PFF grade slipped below 85.0 for the first time since 2015, and he posted the lowest pass-rushing grade of his career since he became a full-time starter. Sixty-seven total pressures is still an impressive number, but the decisive wins weren't there as often as they had been in previous seasons. Even a declining Brandon Graham is still a problem for an offense, however, and that's how he makes this list.
Somehow, Danielle Hunter is still just 25 years old. He had a career year for the Vikings last season, notching by far the best overall PFF grade (89.0) and pass-rushing grade (84.5) of his professional career. Hunter's 97 total pressures (including the playoffs) also represents a massive jump in production, with 29 more than he's ever had before despite the Vikings making it a game further in the playoffs the year that was his previous best. Hunter finally began to emerge into the player his sack totals suggested he had been for a while, and 2020 could put him even higher this time a year from now.