As a part of PFF's offseason preview, we have now ranked the top 32 NFL players at each position, including running back. Now, it's time to turn our attention to the league's best collective units.
Depth matters at the running back position because of the injury risk and the need for different skill sets on rushing and passing downs. However, one high-end running back can almost single-handedly carry a unit. That shows up on this list with teams such as the Tennessee Titans and Carolina Panthers, who appear in the top 10 despite a lack of proven depth behind Derrick Henry and Christian McCaffrey, respectively.
Here is how each NFL team stacks up at the running back position entering the 2021 NFL season.
View PFF's 2021 position rankings: 
QB | RB | WR | TE | OT | OG | C | DI | EDGE | LB | SCB | OCB | S
Subscribe to
It's not a stretch to say that Cleveland has two top-10 running backs on its roster in Nick Chubb and Kareem Hunt, two of the most elusive runners in the league. Hunt is tied for second in missed tackles forced per rushing attempt (0.23) among all running backs with at least 250 carries since 2017. The only qualifying running back with a higher rate over that same time frame is Chubb (0.25). It's a luxury to have two elite options like that available in the case of injury. That was on display in 2020 while Chubb was sidelined.
The Colts are another team that has impressive depth at running back after bringing back Marlon Mack on a cheap, one-year deal. Mack has multiple 1,000-yard seasons under his belt for Indianapolis at 25 years old, but he should be the third option in 2021 behind Jonathan Taylor and Nyheim Hines, both of whom graded as top-10 running backs in the NFL in 2020.
Taylor was one of the best runners in the league down the stretch last year. His 461 rushing yards after contact from Week 10 through the end of the regular season ranked third in the NFL behind only Derrick Henry and Nick Chubb.
The Saints' passing attack has valid concerns entering next season, with turnover at quarterback and questionable depth at wide receiver behind Michael Thomas. New Orleans' run game should still be one of the best in the NFL, though.
Alvin Kamara and Latavius Murray complement each other well in the backfield, but Kamara is the clear reason why the Saints find themselves inside the top three on this list. He and Austin Ekeler are the only two running backs who have averaged over 2.0 receiving yards per route run since 2017. The fifth-year Tennessee product is one of the most elusive backs in the league, both as a runner and receiver.
The biggest thing holding Dalvin Cook back throughout his career has been health. He missed some time again in 2020, but his 669 offensive snaps were a career-high, as was his 89.0 overall grade. Cook has now improved his overall grade in each of his first four NFL seasons.
Backup running back Alexander Mattison has also shown promise in his few opportunities since Minnesota drafted him in the third round of the 2019 NFL Draft. That includes a Week 17 start drawn against the Detroit Lions last season in which Mattison recorded both rushing and receiving grades of at least 84.0.
Ezekiel Elliott's recent step-back has coincided with the deterioration along the Cowboys' offensive line. The Ohio State product's 65.3 PFF grade in 2020 was the lowest of his career, but it is worth noting that it came behind an offensive line dealing with injuries to its three best players. That should improve in 2021 for a running back with one of the lowest "stuff rates" — the percentage of runs for a loss or no gain — since entering the league in 2016 (7.1%).
There's also reason to be excited about his backup, Tony Pollard. Pollard has been one of the more efficient runners in the league on a per-carry basis, averaging over four yards after contact per rushing attempt and forcing 46 missed tackles on fewer than 200 carries in his NFL career. He just hasn't seen many opportunities behind Elliott.
After splitting time with Dion Lewis early in his career, the Titans have unleashed Derrick Henry over the last two years — and with massive success.
Henry leads the NFL in nearly every rushing category since the start of the 2019 season. In some cases, it's not even close. His 2,758 rushing yards after contact over that stretch are nearly 1,000 yards more than the next closest back.
The reason Tennessee isn't any higher on this list is that the No. 2 running back role isn't all that solidified, and Henry also doesn't get involved in the passing game. Jeremy McNichols earned a 58.1 PFF grade in the change-of-pace role last season, so the Titans are likely hoping that 2020 third-round pick Darrynton Evans wins the job heading into 2021.
The Panthers clearly have one of the league's best running backs on their roster, but the depth at the position is shaky behind Christian McCaffrey, especially after losing Mike Davis in free agency. Fourth-round rookie Chuba Hubbard has an excellent chance of immediately stepping into that No. 2 role.
A healthy McCaffrey will improve this unit tremendously heading into the 2021 season. Across his first three seasons in the NFL, McCaffrey joined Alvin Kamara and Todd Gurley II as the only three running backs in the league with at least 1,000 rushing yards between the tackles and 1,500 receiving yards. He gives the Panthers no reason to take him off the field.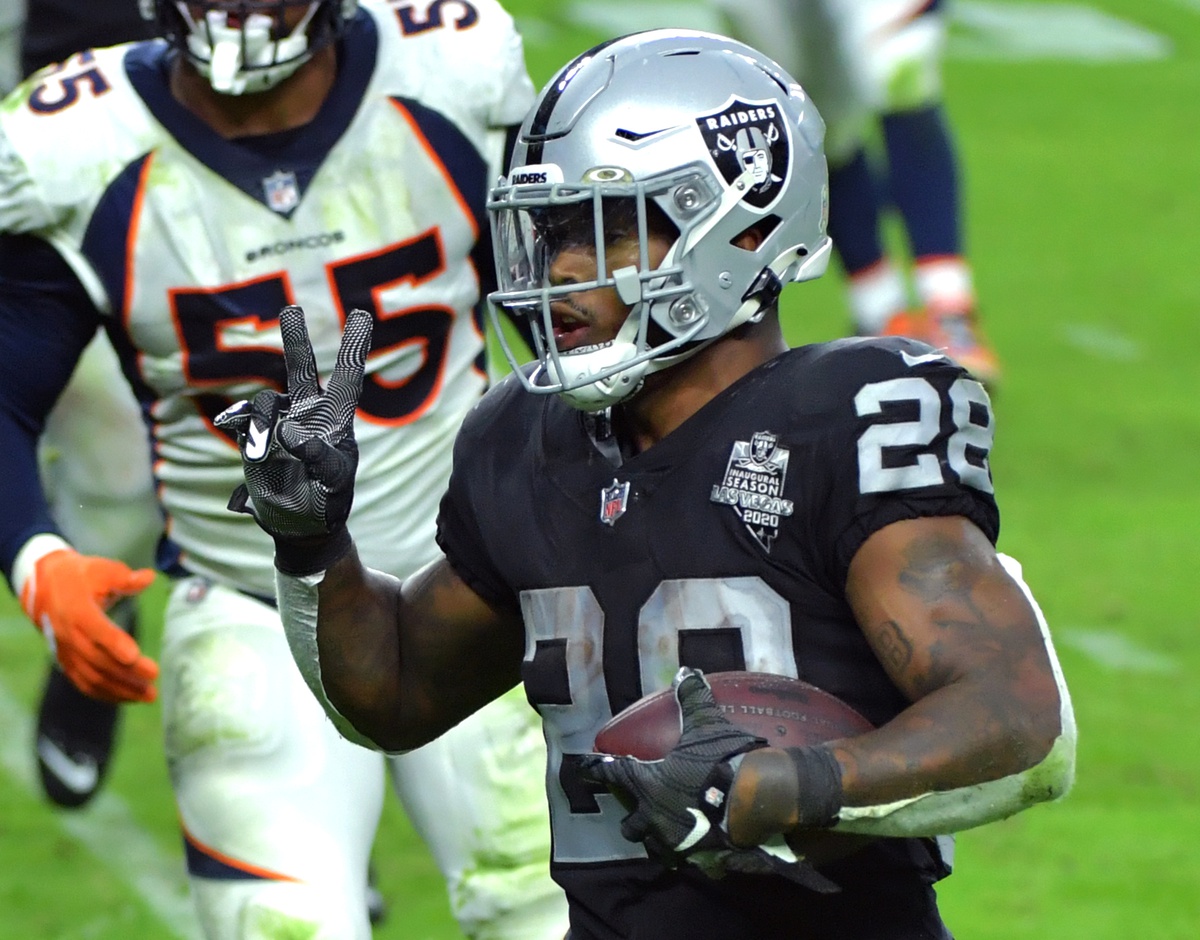 The Raiders went out this offseason and signed Kenyan Drake to a two-year, $11 million contract to fill the "joker" role for Jon Gruden's offense. He joins 2019 first-round pick Josh Jacobs and pass-catching specialist Jalen Richard to give Las Vegas a backfield that has been heavily invested in.
Jacobs has been one of the league's most elusive runners over the past two seasons, forcing 120 forced missed tackles on the ground, the third-most in the league. However, the passing game was an area for more usage and growth. Jacobs recorded receiving grades of at least 70.0 in each of his three seasons at Alabama, but the addition of Drake lessens the likelihood of that growth occurring in 2021.
Melvin Gordon III's receiving grades continue to trend in the wrong direction and bottomed out at 36.4 last season. However, Gordon did have one of his best career seasons as a runner in 2020, particularly down the stretch. His 83.0 rushing grade on the year ranked ninth among qualifying running backs.
Denver also added Javonte Williams, PFF's top-ranked running back in the 2021 NFL Draft, to replace Phillip Lindsay. Williams is fresh off the most elusive season of any running back since PFF began grading college in 2014, leading the nation with 75 forced missed tackles and a 95.9 rushing grade. We've seen that skill consistently translate to the NFL.
There was an expectation that Green Bay would have to let both Aaron Jones and Jamaal Williams walk in free agency following last season. Jones' return on a new contract keeps this as a top-10 group despite Williams landing in Detroit.
Jones hasn't been talked about enough as one of the best running backs in the league; he ranks in the 95th percentile of all running backs in rushing grade since entering the NFL in 2017, and he has shown the ability to provide value as a receiver. The Packers will need second-year back A.J. Dillon to build on several impressive showings late in the season to complement Jones in 2021.
Chicago's quarterback situation and the ensuing offensive struggles last year drew attention away from several impressive individual performances from the likes of Allen Robinson and David Montgomery. The former Iowa State running back took a noticeable step forward in his second NFL season, improving his rushing grade to 82.3 in 2020.
The unit should also receive a boost with Tarik Cohen's return from injury, given what he offers in the passing game. Cohen ranks in the 88th percentile in receiving grade among all running backs since 2017. He can line up at wide receiver to share the field with Montgomery, too, as his 399 routes at wide over the past four seasons are fewer than only Alvin Kamara among those at the position.
Saquon Barkley is one of the most dynamic running backs in the NFL when healthy. That was clear in a 2018 rookie season where Barkley was the only running back in the league with rushing and receiving grades north of 80.0. The problem is that he hasn't been fully healthy in the two years since. Barkley's production took a hit in 2019 while battling a high ankle sprain, and his season ended in Week 2 last year with a torn ACL.
Those injury concerns, along with a lack of quality options behind Barkley on the depth chart, keep New York outside of the top 10, despite how electric Barkley is when he's 100%.
The Ravens would rank much higher here if Lamar Jackson were factored into the rankings. His unique ability as a runner and the respect that defenses must give it is what drives this rushing attack, but Baltimore will have several quality running backs in the backfield heading into next season, as well.
J.K. Dobbins is coming off a rookie season in which he earned a rushing grade of 82.0 and averaged six yards per carry during the regular season. And Gus Edwards has been one of the highest-graded running backs in the league over the past three seasons. They, along with Jackson, should once again lead one of the NFL's most efficient rushing attacks in 2021.
The Patriots have a well-balanced backfield with Damien Harris and Sony Michel projected to handle most of the rushing duties and James White staying in place as one of the premier receiving threats at the position in the NFL. Harris, in particular, was impressive in his first real playing time last season. He earned an 86.9 rushing grade on his 137 rushing attempts in 2020. That trio should be set up for success again next season behind one of the better offensive lines in the league.
It's hard not to feel bad for James Robinson entering the 2021 season. He won the Week 1 starting job at running back last year as an undrafted free agent and went on to play well, finishing the year with a 72.9 overall grade and 78.5 rushing grade on over 600 offensive snaps. Despite that, Jacksonville still went out and spent a first-round pick on Travis Etienne in the 2021 NFL Draft, and they also brought in Carlos Hyde for depth.
Etienne brings more explosiveness to this unit and is expected to play in the "Percy Harvin role" in Urban Meyer's new offense. His 588 receiving yards in 2020 were more than any other running back in college football. Robinson, Etienne and Hyde give Jacksonville a relatively deep group who all bring different skill sets to the offense.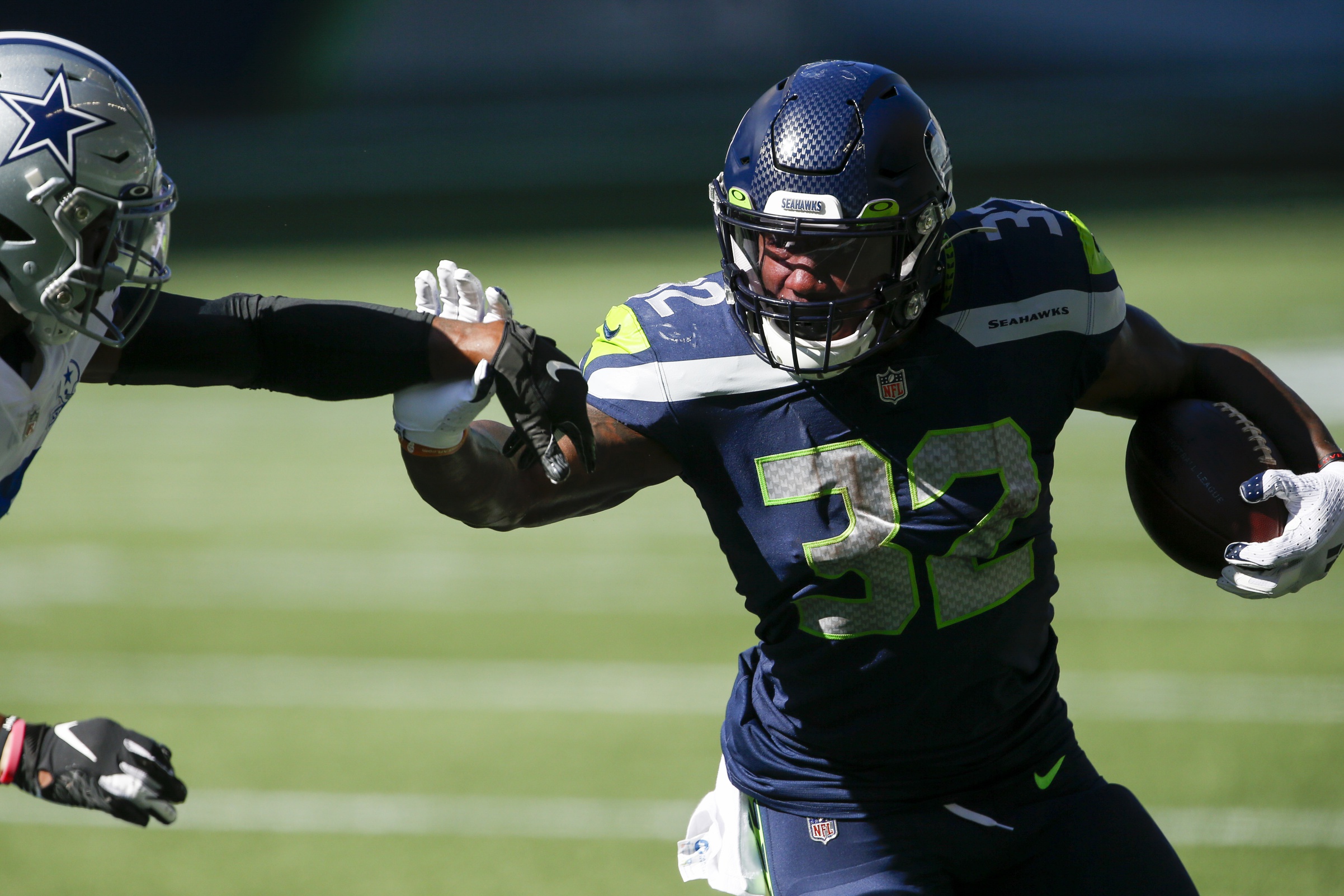 Chris Carson is a top-10 running back in the NFL; he ranks in the 94th percentile of all running backs in yards after contact per attempt since entering the league as a seventh-round draft pick in 2017. His violent rushing style has led to plenty of broken tackles over those four seasons, and he showed signs of improvement as a receiver in 2021. There just isn't much in the way of proven depth behind him.
Rashaad Penny, the man Seattle would like to earn a larger role, has played fewer than 400 offensive snaps since the team drafted him in the first round back in 2018. This is a make-or-break year for Penny after the Seahawks declined his fifth-year option.
The Chargers have a case to be higher on this list simply because the unit has one of the best receiving backs in the NFL. Austin Ekeler's 94.2 receiving grade since 2017 leads all players at the position, as does his 2.29 receiving yards per route run. Ekeler has earned rushing grades of at least 68.0 in each of his first four NFL seasons, as well.
Justin Jackson has also graded well as both a runner and receiver in each of his first three NFL seasons. There just isn't much of a sample size to work with, as Jackson has played 432 offensive snaps total over that span.
Injuries to Raheem Mostert in 2020 put a damper on what was another impressive showing when he was healthy and on the field. Mostert is one of the fastest running backs in the NFL and an ideal fit in a Kyle Shanahan scheme that prioritizes big plays in the run game. Mostert has put up rushing grades of 77.0 or higher in each of the past two seasons.
It's also worth noting Kyle Juszczyk here as one of the few high-usage fullbacks remaining in the NFL. His 3,383 offensive snaps since 2014 are over twice as many as the next closest fullback, and his 79.8 offensive grade over that stretch falls behind only Anthony Sherman at the position.
It looks as though Antonio Gibson has a bright future in the NFL based on what he was able to accomplish in his rookie season. He finished the year with an 83.4 rushing grade — seventh among qualifiers at the position. It would have been nice to see Washington use the former college wide receiver in the passing game, but it was instead J.D. McKissic who received many of those targets. He led all running backs in routes run (399) and targets (106) during the regular season.
Joe Mixon is returning from the lowest PFF grade of his career (65.3) in an injury-shortened 2020 season, but there are reasons for optimism heading into next year. The offensive line should be improved, and Mixon did earn PFF rushing grades of at least 74.0 in each of his first three NFL seasons.
The loss of Giovani Bernard does make this a thinner group heading into next season. The Bengals will rely on Samaje Perine to spell Mixon, who did end last season with back-to-back 80.0 rushing grades in Week 16 and 17 for Cincinnati.
There was talk about the Bills adding another running back to push for a starting job this offseason, but it looks as if they are going to run things back with Zack Moss and Devin Singletary in 2021. There are certainly worse running back tandems than that in the league right now.
Last season, Singletary ranked in the 89th percentile in missed tackles forced per rushing attempt, while Moss finished in the 62nd percentile. It's an area in which both excelled in college. Moss could even earn a larger role in 2021, given his edge over Singletary's size and ability as a receiver.
The number of rookie running backs who had successful seasons takes a bit away from Clyde Edwards-Helaire's success when he was healthy. His 77.2 overall grade was a top-20 mark at the running back position among qualifiers, and he made solid contributions as both a runner and receiver.
Jerick McKinnon gives the Chiefs the potential for a better second option if he can stay healthy, as well. McKinnon earned rushing and receiving grades above 74.0 last year in a part-time role for San Francisco — his first season back from injury since 2017. He profiles more as a receiving specialist than Edwards-Helaire does.
It took Cam Akers a while to wrestle away the lead-back role in the Rams' rushing attack, but he put on some impressive performances down the stretch once he did. That included a career-high 88.1 rushing grade in Los Angeles' postseason loss to the Packers. Darrell Henderson also graded well in his time on the field last season (80.4 overall). Those two should be in store for more prominent roles with Malcolm Brown now in Miami, which should, in turn, lead to a more efficient backfield.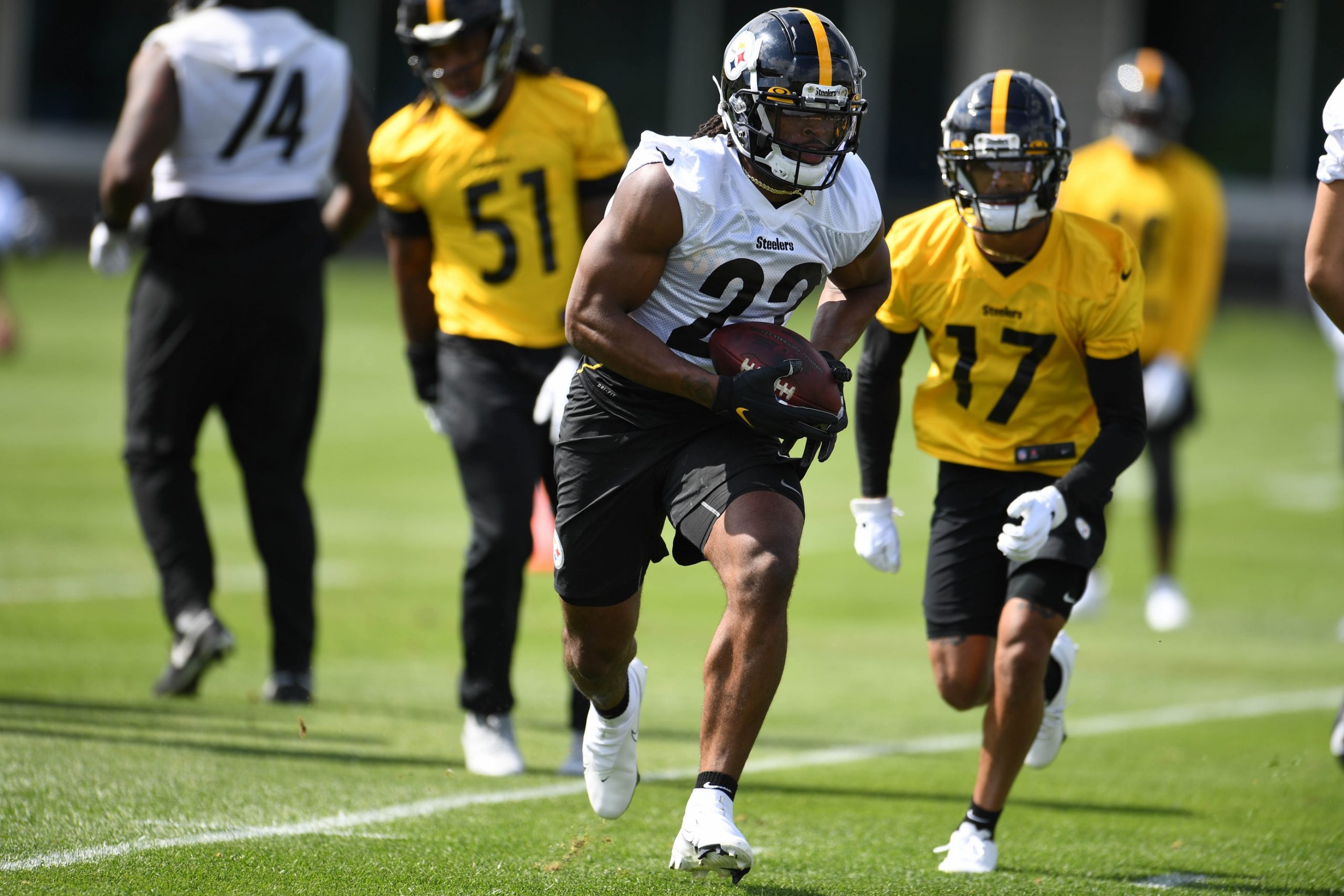 The Steelers' backfield will ride on the success of first-round selection Najee Harris. Before his arrival, it was shaping up to be in the competition for the worst running back group in the NFL, with Benny Snell Jr. as the lead back (57.0 overall grade in 2020) and players such as Anthony McFarland Jr. and Kalen Ballage rounding out the group.
Harris' well-rounded game clearly gives them a better option for the upcoming season. He has unique elusiveness in the open field for someone his size and is a natural receiver out of the backfield. There's a reason he earned three consecutive PFF grades of 88.0 or higher at Alabama from 2018 to 2020.
It's just difficult to put the unit as a whole very high, with limited quality depth behind a rookie lead back.
The best-case outcome for Detroit is that D'Andre Swift earns more of a bell-cow role in 2021 and excels in it. After all, his receiving ability was a big reason why he was PFF's top-ranked running back coming out of Georgia in the 2020 NFL Draft. Swift's rookie season had its ups and downs, though. His 69.4 overall grade on the year finished behind several other rookie running backs who got out to hot starts.
Jamaal Williams does represent a quality addition to the backfield to complement Swift next season. He is coming off consecutive PFF grades of at least 74.0 and has shown at various points throughout his career that he can contribute on all three downs.
The Buccaneers have a crowded backfield, but there are still questions about how effective this collection of talent can be in 2021. Several solid performances from Leonard Fournette late last season don't erase years of underwhelming performances as a starter, and while Ronald Jones is their most effective runner (84.7 rushing grade in 2020), he's still one of the worst receiving running backs in the league. Tampa Bay running backs also combined for a league-high 15 drops in the 2020 regular season.
Giovani Bernard may fix some of those issues as the receiving back for Tom Brady, but it remains to be seen how the pieces fit together in the backfield. That includes second-year running back Ke'Shawn Vaughn, who appeared in just over 100 offensive snaps as a rookie.
Miles Sanders is a player whose PFF grading profile doesn't necessarily match the public perception. As a rookie, he earned just a 59.1 rushing grade while running behind one of the best run-blocking offensive lines in football, but he did show promise in the passing game. That flipped this past season for Philadelphia when Sanders improved his rushing grade to 75.3. However, he struggled with drops, as his eight spills were tied for the most at the position.
He'll look to clean those drops up and continue to progress as a runner in a backfield that doesn't offer much real competition. Boston Scott, Kerryon Johnson and Jordan Howard will compete for work behind Sanders.
The Cardinals recently replaced Kenyan Drake with James Conner, who is projected to split the workload with Chase Edmonds in 2021.
Conner was effective in Pittsburgh when healthy. The issue was staying healthy. Only Kareem Hunt has forced more missed tackles per reception than Conner since 2018.
He and Edmonds (77.0 receiving grade in 2020) give the Cardinals two viable receiving threats at the position, but it's hard to say if either can hold up in a true lead-back role next season.
The Texans have assembled perhaps the league's most bizarre collection of veteran running backs. Rex Burkhead was recently added to a group that already consisted of David Johnson, Phillip Lindsay and Mark Ingram, leaving the Texans with a running back group that would have been much better several years ago than it is right now.
Lindsay is the exception. He can't be expected to offer much as a receiver, but he was an underrated runner over the past three seasons for the Broncos. He ranks in the 87th percentile of all running backs in rushing grade since 2018. His reward is battling for snaps in a crowded running back room on what is expected to be the league's worst team.
The Falcons fielded the league's lowest-graded running back unit last season (54.0 overall). And it's difficult to see them improving by a whole lot, given the moves they've made this offseason.
Mike Davis was a nice value addition in free agency after a career year in Carolina spent playing Christian McCaffrey's understudy. He earned a 73.2 receiving grade and 73.2 rushing grade while ranking toward the top of the position in missed tackles forced per touch. However, 2020 was just the second season in Davis' six-year career in which he played more than 200 offensive snaps. It will be an adjustment heading into the 2021 season as the projected starter, and Atlanta doesn't have much behind him on the depth chart.
The Dolphins were another team mentioned as a running back landing spot in either the draft or free agency, but their only additions were Malcolm Brown in free agency and Gerrid Doaks in the seventh round of the 2021 NFL Draft. That puts Myles Gaskin in a position to lead the backfield in 2021.
Gaskin played relatively well when healthy, earning a 74.5 PFF grade in 453 offensive snaps. It's still one of the weaker and more unproven running back units across the league, though.
The Jets will be relying on some combination of Tevin Coleman, Ty Johnson, La'Mical Perine and rookie Michael Carter in the backfield next season.
Coleman brings the most experience of that group by far, but he is coming off a 2020 season in San Francisco in which he struggled to stay healthy. The highest PFF grade of his career came at 74.6 back in 2016 with the Falcons. It wouldn't be a surprise to see one of the younger backs win the lead job relatively early in the season. That could be Carter coming off a 91.7 overall grade with UNC in 2020.
One of the young running backs could surprise and make a big immediate impact, but this is the weakest group in the NFL on paper heading into next season.