PFF's quarterback rankings are based on grading every player on every play and tapping into multiple years of data to project future performance. We go beyond just last season's performances, and the grading works to isolate each quarterback's performance from that of his supporting cast, making for more effective projections.
Here are the PFF QB rankings heading into the 2021 NFL season.
The 25-year-old prodigy is PFF's highest-graded quarterback over the past three seasons. With an MVP award and a Super Bowl ring already in hand, Mahomes is already rewriting the record books. And head coach Andy Reid and the Chiefs have done a phenomenal job this offseason of trying to shore up an offensive line that held the team back in Super Bowl 55.
Mahomes tends to get sloppy at times while drifting back in the pocket, putting pressure on his tackles, so the offensive line isn't the only culprit. The signal-caller finished second in big-time throws (50) but also ended the year in the top three in turnover-worthy plays (23). Mahomes features playmaking ability not only from the pocket but also when extending plays with his arm and legs. That makes him the biggest threat in the NFL.
Brady capped an incredible 2020 season with his seventh Super Bowl win, and his overall performance was the catalyst for elevating the Bucs to their second championship in franchise history. Not only did he accomplish that after changing teams, but he endured a reduced offseason while having to learn a whole new offense, which makes it that much more remarkable.
He ranked second in passing yards on 20-plus-yard throws during the regular season while taking care of the ball better than any Bruce Arians quarterback since 2006. Not to mention, Tampa Bay has re-signed every significant player from last year. Brady will be more familiar and comfortable in the Arians passing attack with even more supporting cast continuity from last year.
The biggest question entering the season will be whether Rodgers is wearing a Packers jersey at all. He led the league in overall passing grade (94.7) and passing grade on 20-plus-yard throws (99.5) in 2020 en route to taking home the MVP award.
Rodgers is a stud, playing with timing and rhythm we haven't seen from him in years. His average time to throw was his lowest in over a decade. The most impressive thing about Rodgers in 2020 was his patience with the offense and ability to let it work for him. He managed to stay on course and operate the attack while sprinkling in his playmaking ability. There is no doubt Green Bay is primed for a Super Bowl run, but that all depends on if the team can smooth over relations with Rodgers.
Wilson started the season on fire as the front-runner for the MVP title over the first eight games of the year, as he was PFF's top-ranked quarterback in overall grade (93.3). The wheels soon fell off, though, with Wilson taking the most sacks in the NFL through the second half of the season.
He has been one of the most consistent quarterbacks in the league for a long time and appears primed to bounce back from last year, particularly after the offseason drama of him wanting to be traded. He wants his value to continue to rise, and that it will. Over the past five years, Wilson has dominated the NFL to the tune of the most big-time throws (214) while tying Rodgers and Brady for the best passing grade on 20-plus-yard throws (99.9).
Surrounded by the league's second-least efficient running game and second-least efficient overall defense last season, Watson was arguably the best quarterback in the NFL. Couple that with the Texans trading away his top-five receiver and firing his head coach, and Watson clearly put the team on his back.
The most impressive thing about his 2020 campaign was how rarely he made mistakes in structure and how consistently he created positive plays out of structure. He played well from a clean pocket and under pressure while also taking care of the football. Watson had 42 big-time throws to only 14 turnover-worthy plays after making 27 turnover-worthy plays in 2019.
Josh Allen improved more in 2020 than any quarterback in recent years. The Bills have done a phenomenal job building around him on his rookie contract and also scheming the offense to fit his strengths.
Allen led the league in play-action passing attempts last season, throwing 17 touchdowns to only three interceptions. His accuracy stuck out, too. He finished with a 79.1% adjusted completion rate — the sixth-best mark in the league — after ranking in the 30s last year. The only concern with Allen's game now is his ability to protect the football. He had the second most turnover-worthy plays (23), trailing only Carson Wentz during the regular season.
Dak is back. Prescott was on pace for the best season of his career before going down to a season-ending ankle injury in Week 5 last year. For the second straight season, the Cowboys' offense was moving the ball effectively through the air. But will the unit pick up where it left off before Prescott got injured?
Offensive coordinator Kellen Moore and Prescott are going on seven years together — two as a player and the rest as a coach. They know what each other likes and how to make this offense roll. In Prescott's four full NFL seasons, he's had two top-10 finishes in PFF grade but also two finishes closer to the 20s. With Dallas' bevy of playmakers on the outside, I would expect this offense to again find its footing once Prescott dusts off the cobwebs.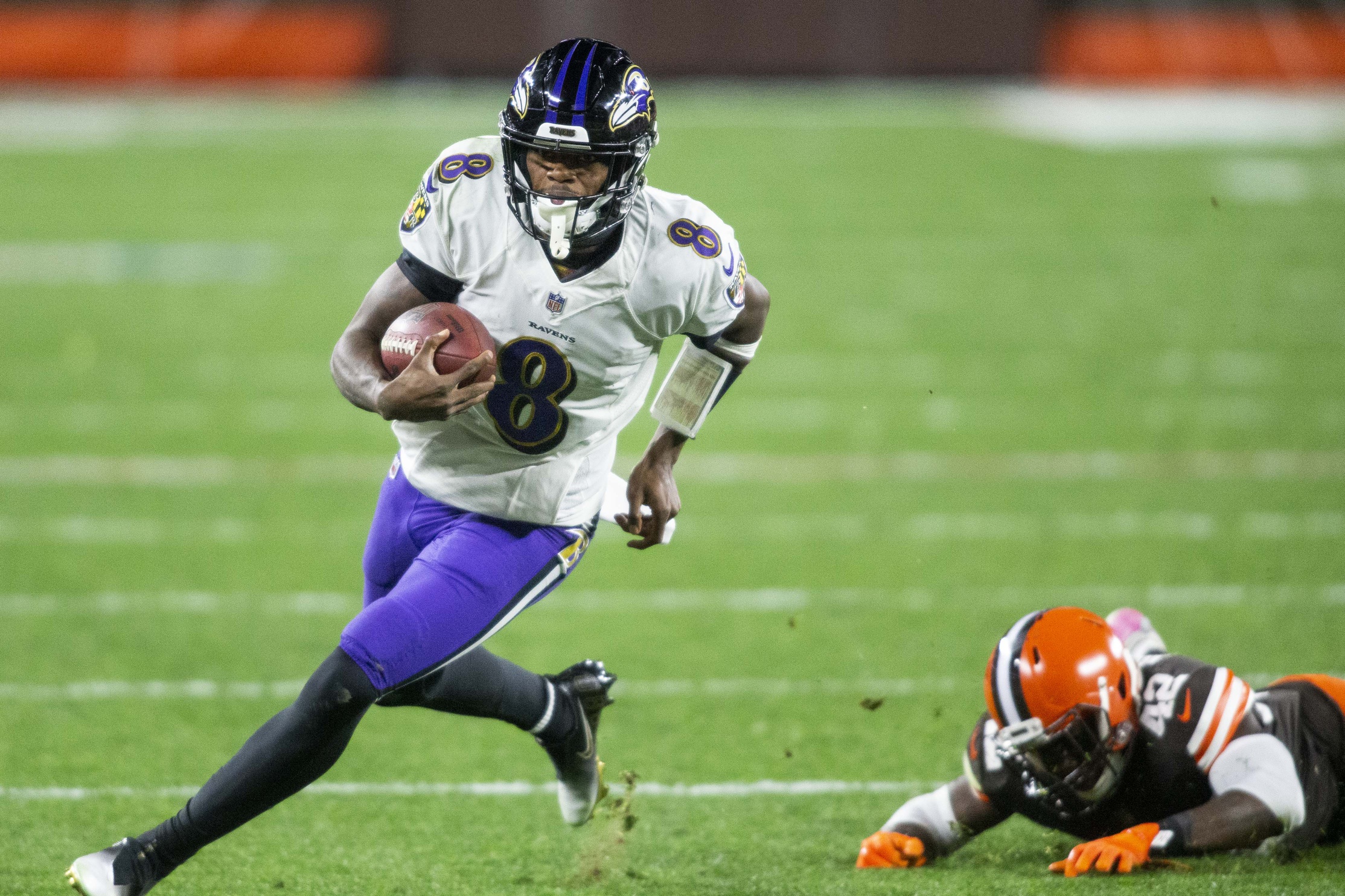 Regression is likely when coming off an MVP campaign, and we saw that from Jackson. The Ravens' offense was less effective in the run game and the offensive line struggled at times this past season.
Still, Jackson continued to prove he is one of the most dynamic playmakers in the NFL, if not the most. If the Ravens can help him out with a more efficient and effective pass game tied into their run concepts, then I would expect Jackson to get back to MVP form. Baltimore has a tough schedule ahead compared to last year, so Jackson will have to shoulder the load to prove he can take the Ravens back to the promised land.
Matt Ryan teaming up with new head coach Arthur Smith could be a good look. The play-action pass game could elevate Ryan's performance back to the days when he was with Kyle Shanahan or at least back to consistent play on a week-to-week basis.
The addition of Kyle Pitts will be a matchup nightmare for defenses, too. Ryan is a top-10 quarterback, and the Falcons' 2021 schedule could allow them to get back to competing sooner than some may think. It will be up to Ryan to be as productive as Ryan Tannehill was in this offense, if not more.
Give Coach of the Year Kevin Stefanski a ton of credit for how he helped set up his quarterback for success. The Browns protected Mayfield early in the season, but when Stefanski opened up the playbook, Baker excelled. He was the second-highest-graded quarterback in the league from Week 7 through the playoffs. He also ranked in the top five from a clean pocket, on standard dropbacks and on early downs for the entire season — all of which are important and stable metrics.
Considering the offensive weapons Mayfield has around him and his offensive line's league-leading 84.4 pass-blocking grade last year, expect him to pick up where he left off for the 2021 season.
Sean McVay must be the happiest coach of the offseason. He can finally dial up the deep passing game he's probably always dreamt of. The addition of Matthew Stafford makes this offense that much more dangerous.
Stafford offers the same steady stream of passing on intermediate-level throws, but he will excel on passing plays of 20 or more yards downfield. But let's not take for granted what Tom Brady accomplished in a first-year offense; it does take some time to get new terminology down. That will be the biggest hurdle for Stafford, but if the transition is smooth, the Rams could be taking another trip to the Super Bowl.
Tannehill has been spectacular thus far in Tennessee, so it's hard not to acknowledge his recent play. He is viewed as a very good NFL starter now, but the departure of offensive coordinator Arthur Smith may impact his progression going forward.
He is certainly a product of an offensive scheme that gave him the second-most non-RPO play-action pass attempts in the 2020 regular season, but he still grades at a very good or borderline elite level on straight dropbacks, as well. Tannehill has also done a great job utilizing his legs in key situations, which makes it hard on defenses on third downs when he takes off. With his athletic ability and consistency as a Titan, Tannehill can be counted on to continue playing at a high level.
Derek Carr finished 2020 with the eighth-best PFF passing grade and more than doubled his big-time throws from the previous season. He also engineered the only meaningful loss the Chiefs experienced during the regular season. Carr and the Raiders finished that game with 265 yards on six explosive (15-plus yard) pass plays.
That being said: Why are there still lingering questions every offseason about Carr and his future with the Raiders? He continues to prove himself as a pure passer from the pocket and also showed the ability to be more aggressive downfield, but the game is changing. There comes a time when a QB must tuck it and run for a first down or make a play in a key situation. Sometimes Carr gets careless with the football in the pocket, and he's prone to sack fumbles. Carr has yet to get the Raiders over the hump, and they are not a contender in the playoff picture.
Cousins operates very well when the conditions around him are good. The Vikings hit on replacing Stefon Diggs with Justin Jefferson in the draft, and they have a top-five rushing attack and a great offensive scheme that fits what Cousins excels at.
Minnesota has to clean up its offensive line play, though. The unit ranked 29th in combined pass-blocking grade in 2020. One of these years, Cousins will fulfill the prophecy and be the most unlikely NFL MVP of all time, but last year wasn't that year. The clock is ticking to make that happen. With the addition of Kellen Mond, the pressure rises, forcing Cousins to find a way to get the Vikings back to the playoffs.
Herbert exploded onto the scene in 2020, setting the rookie touchdown record. He was the king of high-variance and high-leverage situations, producing a better passer rating when hurried than he did when kept clean. This is a concern because Herbert will have more opportunities to execute from a clean pocket rather than always under pressure, especially with what the Chargers did this offseason to help build up their offensive line.
Herbert did more than impress during his rookie campaign, but the consistency with his accuracy is going to be the big question mark going forward. Will we see a slump in Year 2, or will Herbert continue to make big plays with more protection upfront?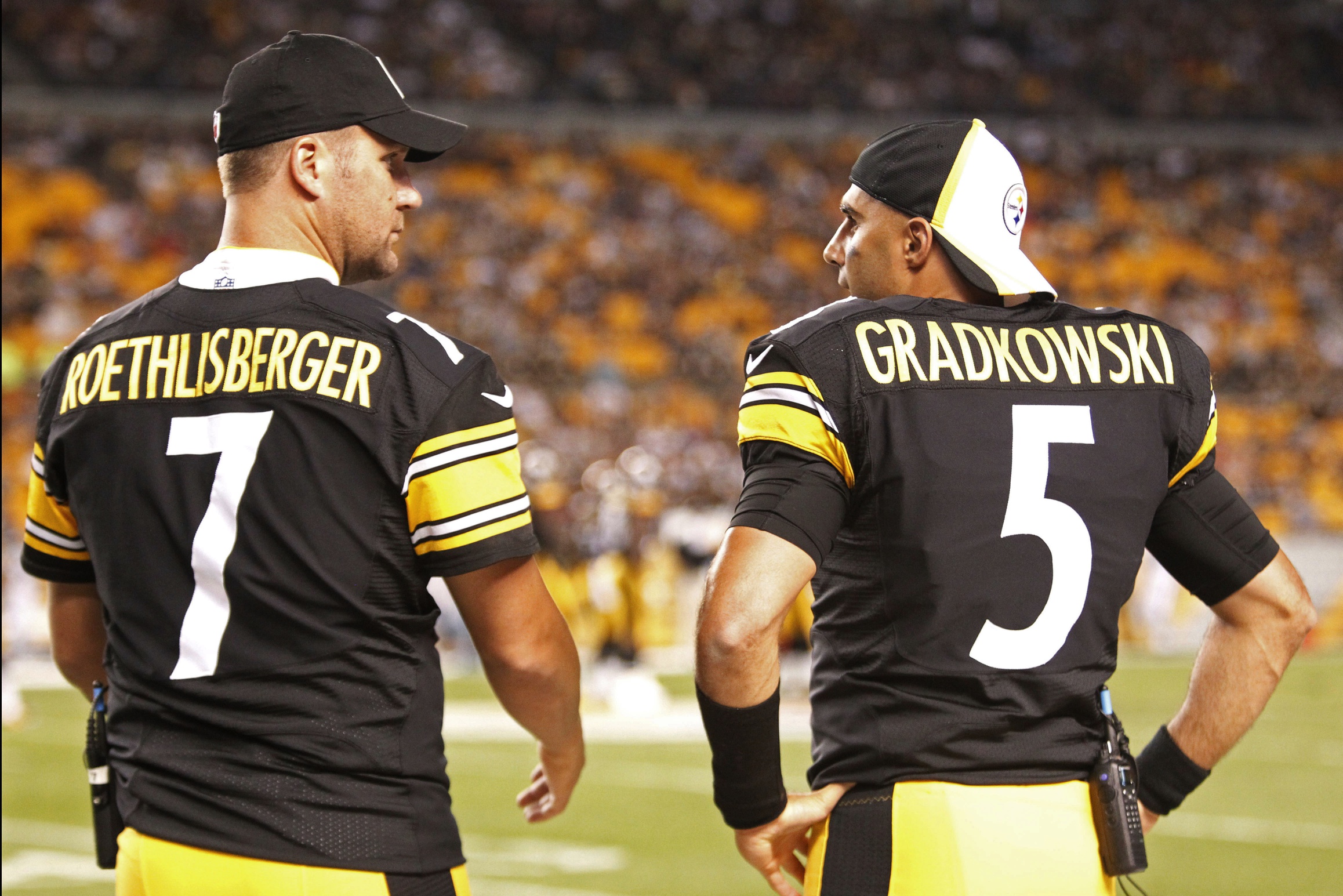 Ben Roethlisberger proved his toughness by coming back at 38 years old after elbow surgery and helping the Steelers to an 11-0 start. But something just didn't seem right during that hot streak, and Pittsburgh finished the year 1-5 in its last six games.
New offensive coordinator Matt Canada has a tall task in trying to figure out what will make this offense tick. Roethlisberger ranked last out of 36 qualifying quarterbacks on play-action attempts last season. He subsequently led the league in shotgun pass attempts (640) and pass attempts under 10 yards. He did a decent job of getting the ball out of his hand quickly, but it didn't translate into many explosive plays, as the Steelers ranked 26th in explosive pass-play percentage (11.7%).
Murray took a nice step forward in Year 2, raising his passing grade by over 16 points and adding 822 yards on the ground. The Cardinals did well to utilize his skill set, as his rushing stats were a mix of designed quarterback runs and scrambles.
With the NFC West being as competitive as ever, Arizona continues to do a good job building around Murray. However, the signal-caller has to show more development in the intermediate passing (10-19 yards) game, where he ranked 24th while in rhythm. It's an area where he can raise his level of play and make the players around him better.
Burrow had the fifth-best passing grade (92.5) when targeting throws 10-19 yards downfield, but he ranked 32nd out of 36 qualifying quarterbacks on 20-plus yard throws. He had a passer rating of just 50.8 on those 20-plus yard passes. But the good news is that deep passing can fluctuate from year to year.
The Bengals added some key weapons outside with the addition of Burrow's former teammate Ja'Marr Chase, who should help with the downfield attack. We still need to see Burrow fully healthy, and the Bengals need to do a better job of protecting him. He showed a lot of promise as a rookie based on the number of snaps he took and the volume of the playbook he was executing.
Fitzpatrick continues to play his best football the longer he stays in the league — the veteran ranks 15th in PFF passing grade since 2018. Last year in Miami, he had the team rolling until Brian Flores took the QB room for a rollercoaster ride. It's rare for a veteran quarterback "placeholder" to join a solid football team, but this will be the best team Fitzpatrick has been on in quite some time. Fitzpatrick brings energy, leadership and a wealth of knowledge to a locker room, but his Achilles heel is protecting the football. If he is able to play smart and deliver on explosive plays, Washington will be a playoff contender.
This is a big year for Daniel Jones to establish himself as a franchise quarterback, and the Giants are doing everything in their power to surround him with help. Last year, the team had the lowest pass-blocking grade in the league and the eighth-worst receiving grade, but new additions from free agency and the draft should help.
This is the first offseason Jones will be in the same offense, which will offer more familiarity going into his third season. Jones must eliminate the boneheaded decisions and turnover-worthy plays that hold the team back. With his toughness and ability to make plays with his legs, Jones can make a big leap forward.
Lawrence was a three-year starter at Clemson, leading them to a 34-2 record, three straight College Football Playoff appearances and one National Championship trophy. He has been the best player at every level of football he has played. The question is whether he will be able to continue that trend in the NFL.
Lawrence is the only quarterback in the PFF College era to earn an overall grade of 90.0 as a true freshman — and he repeated that the last two seasons. His skill set should fit perfectly in the Urban Meyer/ Darrell Bevell offense, which will be designed to help the young QB reach his NFL potential. Bevell used a lot of play-action pass in Detroit — these concepts are easy for a young quarterback to read out with pure progressions and reliable check downs.
Injuries have become the story for Garoppolo, as he has started less than 50% of the 49ers' games since the beginning of the 2018 season. He did manage to lead the Niners to a Super Bowl appearance the year he came back from his torn ACL. Things are different now, as he has Trey Lance waiting in the wings in case he is either injured or shows a stretch of inconsistency.
Garoppolo has shown he's capable of executing Shanahan's offense at a high level, but he tends to make a few questionable decisions or throws per game. Lance did a phenomenal job of protecting the football in college. It will be interesting to see how this plays out — expect Garoppolo to have a good year even under such pressure.
Wentz led the NFL last season in turnover-worthy plays (24) and didn't even play after week 14. Can Frank Reich work his magic and get Wentz back to his 2017 form and build his confidence back up? Wentz was on an MVP-caliber tear in 2017 when he earned an overall PFF grade of 84.9 — just behind Drew Brees and 20 grading points higher than his 2020 grade. He was playing lights-out in key situations, with a 91.9 grade on third and fourth downs and a passer rating of 125.0 with 16 touchdowns in those situations. Coaching plays a big role in key situations, so the Colts have some reason to think Wentz will play better under Frank Reich. A tough schedule and erratic big plays in key situations will make for an interesting year.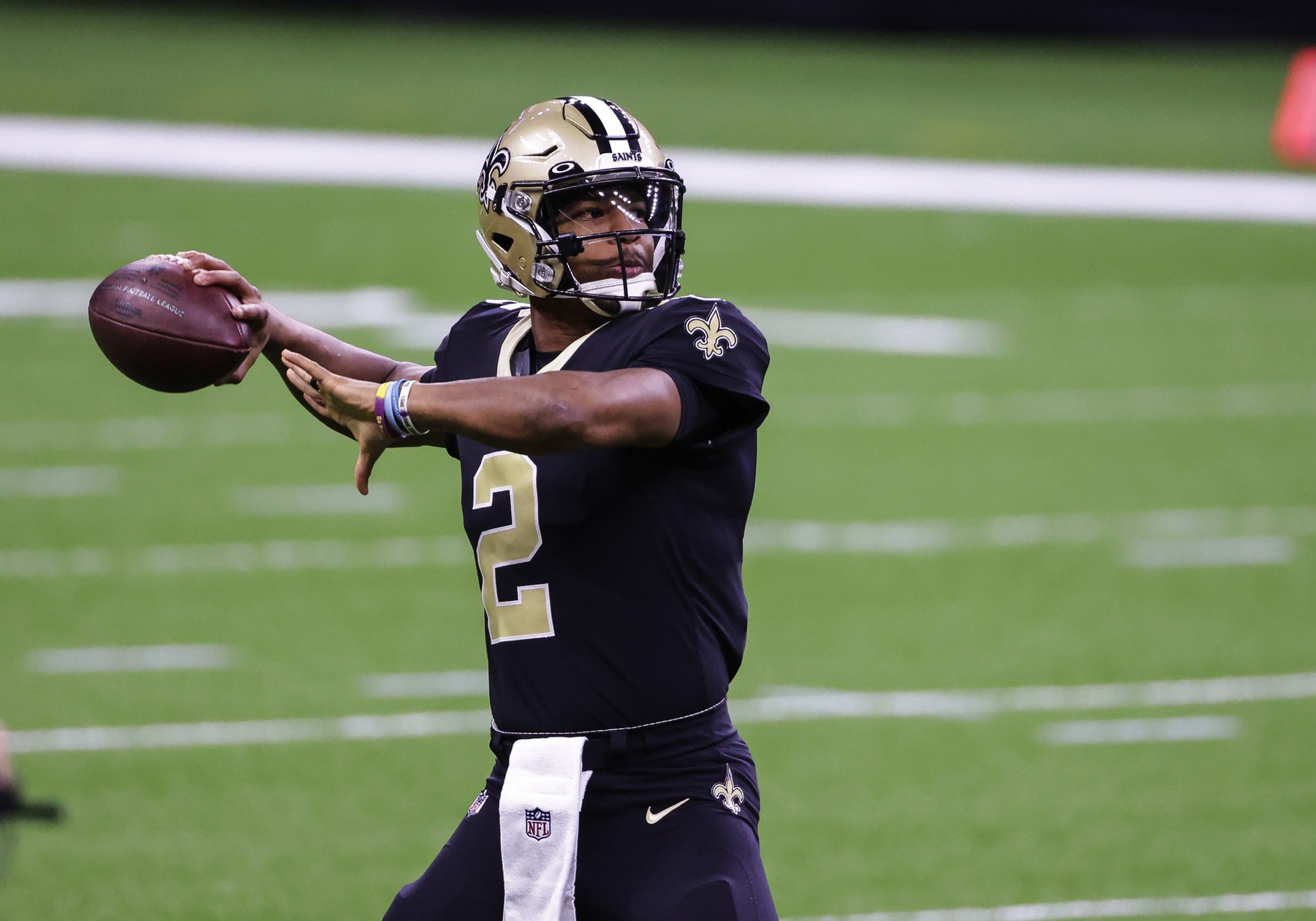 It's been 15 years since Sean Payton had to really worry about who would be the Saints' starting quarterback heading into a season. Payton made the decision to go with Taysom Hill over Jameis Winston when Brees missed four games last season. It was a smart move considering that Hill plays multiple roles in the Saints offense and was already in the flow of the season. Even though Hill went 3-1 during that four-week stretch, that doesn't mean he has the leg up going into 2021.
As a starter, Winston annually ranked among the league leaders in positively graded throws, but he's always right there near the top in turnover-worthy-play percentage as well. The Saints offense ranked 31st in deep pass attempts (38) last season — Winston's aggressiveness will give this offense a facelift and the opportunity to cash in on more explosive plays in the passing game. Winston brings tremendous physical ability and was able to back up Brees a year ago and observe how he prepares on a daily basis. Sean Peyton's offensive mind and ability to call plays could revitalize Winston's career.
Justin Fields was the only quarterback in college football to rank in the top 10 in both passing and rushing grade. While Fields' rushing ability will certainly help at the next level, it's his downfield accuracy that could make him special — he had the highest accuracy rate on passes thrown 10 or more yards downfield (65%) in 2020.
The Bears put up just 40 passing touchdowns on 10-plus-yard throws during the Trubisky era (30th in the NFL). It will be interesting to see how Matt Nagy and his staff utilize Fields' skill set. The rookie will have to play quicker and more decisive at the next level because he needs space to release the ball and the pocket collapses a lot faster and tighter in the NFL.
A fresh start does players wonders, especially at the quarterback position. It also doesn't hurt when you get a vote of confidence and your team takes Penei Sewell to protect you over some highly sought-after first-round quarterbacks. The Rams were third in the league in play-action pass attempts and tied for fifth in screen pass attempts. It will be imperative that the Lions help their QB and design an offense around what he's comfortable with. Goff has a top-five passing grade when he has a clean pocket, is in rhythm and targets intermediate throws 10-19 yards downfield. He struggled when targeting 20-plus yard throws in the same scenario, earning the 29th-ranked passing grade out of 36 qualifying quarterbacks.
Getting the ball downfield in 2020 was a struggle, whether it was missed throws or negatively graded throws. This is probably why Goff led the league in passing yards on completions of 5 yards or less a season ago. The Lions seem to be building around Goff, and this is exactly what he needs to get his confidence back up so he can play at a high level again.
Newton didn't join the Patriots until late in the offseason, which meant he had to learn a new offense in a shorter amount of time with no on-field work. He has another opportunity in the same system that catered to his strengths early in the season, which led to a league-high 12 rushing touchdowns. Newton's inconsistency as a passer ultimately held the offense back, as he posted sub-60.0 passing grades in eight of his 14 starts. The additions the Patriots made this offseason through free agency and the draft, coupled with another year in the system, offer Newton a good opportunity to prove he can still play. Rookie Mac Jones will be waiting in the wings for his opportunity if things sputter.
The No. 3 overall pick in 2018 will try to resurrect his career with Carolina. Darnold had the worst passing grade last year out of 36 qualifying quarterbacks, but he also didn't get much help from the leagues second-lowest-graded receiving unit. How much changes in Carolina? He will be surrounded by a more stable organization and leadership, as well as offensive weapons that will help take the pressure off. He's athletic, tough and able to make plays out of structure, but that is unpredictable. Let's not forget Darnold has the fourth-highest uncatchable pass rate (21.9%) since 2019, so his accuracy will have to improve to utilize his weapons on offense.
It's hard to adjust to the speed of the game as a rookie, especially when you don't know when you're going to be pulled for a savvy veteran. Tua has an opportunity this year to take control of the offense and show he belongs. The Dolphins continue to make solid roster moves through trades, free agency and the draft to surround their young QB with weapons. Tua was exceptionally conservative last year, with only seven big-time throws all season. That's not the worst thing, but he also had 13 turnover-worthy plays.
Wilson is as natural as it comes at throwing the football. He also brings the type of athleticism and off-platform throws we see from the best quarterbacks in the NFL. He had the highest single-season passing grade of the PFF College era (95.5). Only 13.6% of Wilson's throws beyond the line of scrimmage were deemed uncatchable this past season, the lowest rate in the FBS. The big question will be how fast he can learn the playbook and adapt to the speed of the game. The biggest adjustment for young quarterbacks is how fast the pocket collapses — and making good decisions while it happens.
Jalen Hurts will get his opportunity to showcase not only his skills but his leadership heading into 2021. Hurts provided an immediate spark last season, but the wheels started to fall off after that. Hurts must manage the game with better decision-making.  He finished the season with nine turnover-worthy plays in the last four games. If Hurts wants to be the guy in Philadelphia, then he needs to protect the ball better. His leadership and poise will bring the team together, but production — and winning football games — must follow.
The reason the Broncos acquired veteran quarterback Teddy Bridgewater to compete with Lock for the starting job is because Lock had the 32nd-ranked passing grade (63.4) out of 36 qualifying quarterbacks. He must find a way to clean up his 23 turnover-worthy plays and make better decisions. Lock shows promise at times — he had the eighth-best passing grade (92.3) when throwing between 15-20 yards and executing play-action pass. The leash won't be long. If given the opportunity, Lock has to play consistently and smart for Fangio to stick with his young quarterback.