The glory positions have taken center stage in PFF's position rankings up to this point, but now it's time to turn our attention to the trenches and throw some praise in the direction of some of the most underappreciated players in the NFL — offensive guards.
Gone are the days when the only data point we had on offensive linemen was the number of games they had started, as PFF's play-by-play grading system quantifies offensive line play in a way nothing has ever come close to before. Beyond those grades, we also have advanced data on pass protection and run blocking and can use all of these data points to put our list together.
Here are the best 32 guards in the NFL as we head into the 2021 NFL season.
Editor's Note: It's still undetermined whether Green Bay Packers OL Elgton Jenkins will start at tackle, guard or center this season. He'd be ranked on any of our three OL lists (OT, OG, C) if set to a certain position.
The best of the best, Nelson was seen as a generational prospect at guard when he entered the NFL, and he hasn't disappointed. According to PFF's wins above replacement metric (PFF WAR), the fourth-year guard has been the league's most valuable player at the position in every season of his career and has surrendered just three sacks in three years.
If there's a player who runs Nelson close, it's Zack Martin, who has continued to excel despite the Dallas offensive line collapsing around him. Martin has allowed one sack over the last two years and had earned a PFF run-blocking grade of 92.2 when he got injured in Week 12 of the 2020 campaign.
The Chiefs loaded up the Brinks truck for Joe Thuney in free agency this season, but at least they got one of the best guards in the league with all of that money. Thuney isn't coming off his best season, but he has still allowed just three sacks in three seasons and has been a consistently good run-blocker.
Passing is king in today's NFL, and you can make a good case that Browns guard Joel Bitonio is the best pass-blocking guard in football. He has put up PFF pass-blocking grades above 80.0 for five straight seasons and has topped 85.0 each year since 2017. Bitonio gave up a sack in the Week 1 debacle against Baltimore and then didn't allow another over the rest of the season.
Scherff was once a top-five pick in the NFL draft, and while he has never quite hit the dominant heights Quenton Nelson has, this past season was as close as he has come. The now seventh-year guard produced an impressive overall PFF grade of 86.3 in 2020, ranking in the top 10 as both a run-blocker and pass-protector.
The best advertisement for how good Marpet is and was in 2020 was what happened to the Tampa Bay offensive line when he got injured. His absence almost threatened to derail their season, as his replacement, Joe Haeg, surrendered as many pressures in a single game (seven) as Marpet had in the first half of the season in total. The former second-round pick had nine perfect games of pass protection, including the playoffs.
Mason is a run-blocking powerhouse, and that comes from years of honing that skill in a triple-option attack at Georgia Tech. He has earned PFF run-blocking grades above 80.0 in four of his last five seasons, with a career high of 88.1 this past year. He'll justify this ranking if he can avoid the uncharacteristically poor pass-blocking games he had in 2020.
If injury wasn't a factor, you could justifiably argue that Brooks would rank third behind Nelson and Martin on the list. He was the best guard in the NFL in 2019, but then a torn Achilles tendon put him out of the 2020 season. When we last saw him play, he gave up just 20 pressures in 16 games while dominating in the run game. If that player returns, he will leap up this ranking.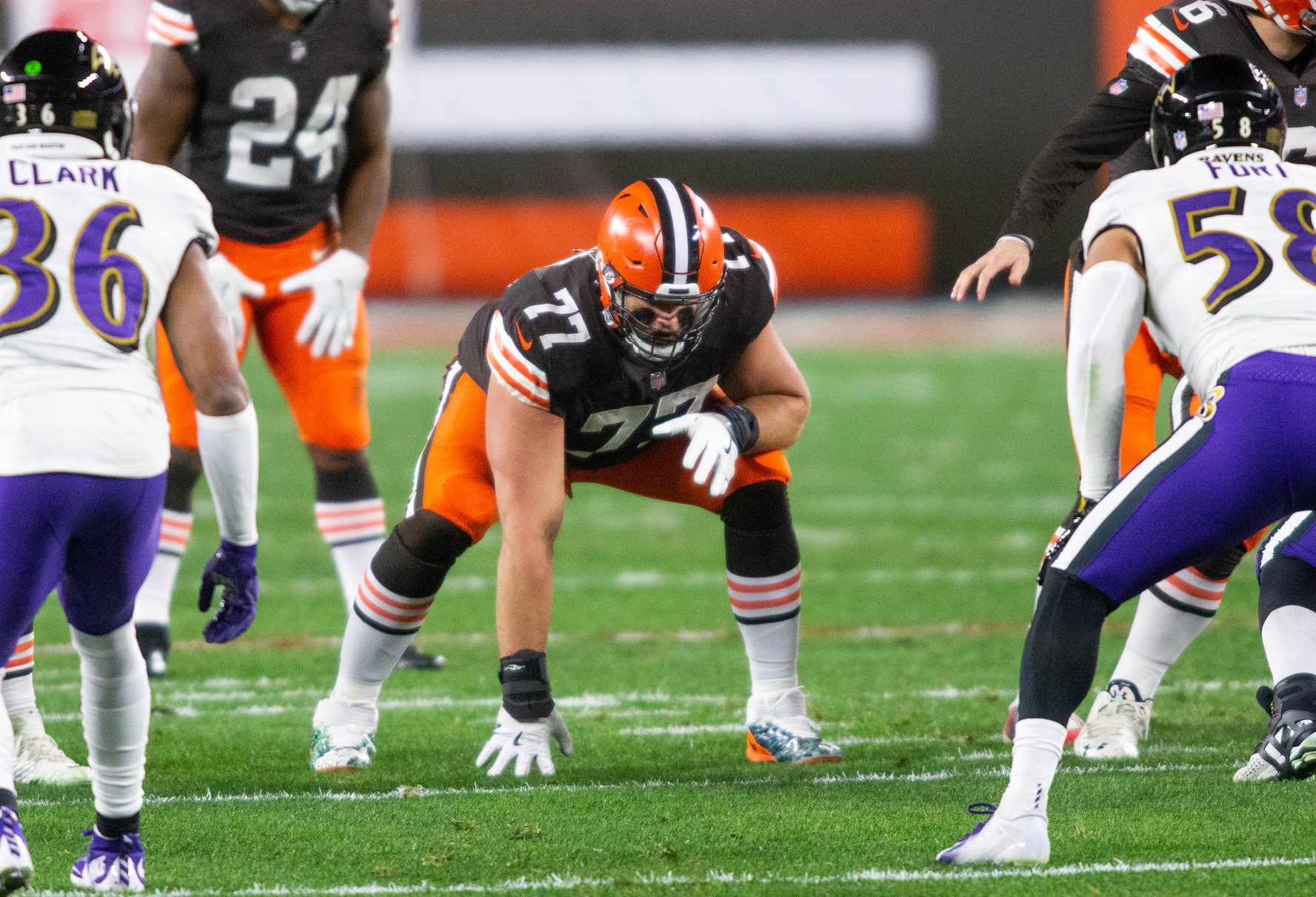 Teller enjoyed a breakout season for the Browns in 2020 that saw him leap to prominence as the best run-blocker in the game. He finished the year with a run-blocking grade of 93.6, one of the best we have ever seen over a season. His pass-blocking wasn't quite at the same level, and he was responsible for three sacks over the year, but the Browns could have something special on their hands if he can tidy that up in 2021.
Saffold had a tough start to last season, but he was looking much more like the player we had come to know in previous years toward the end of the campaign. Saffold has now put up five straight overall grades of at least 72.6. Over his career, injury is the only thing that has kept him from extremely solid play.
Onwenu was one of the rookie stars of last season, and the only reason he is this far down the list is that the majority of his play came at tackle last season. While his best two games (90.1 and 91.3 overall) came at guard, projecting a full season inside is more guesswork than proven fact.
A former first-round pick, Lindstrom was notably better in Year 2 than he was as a rookie, and another jump this year could see him become one of the very best in the game. Both his run- and pass-blocking grades took a jump in his sophomore year, topping 70.0 for the first time. His pass-blocking efficiency was better, too, as his 97.6 mark was up from the 96.4 he put up as a rookie.
Norwell has consistently been one of the best pass-blocking guards in the league throughout his career, first in Carolina and then in Jacksonville. His run blocking has tailed off since moving to the Jaguars, but as a pass-protector, he allowed just 15 total pressures in 13 games this past season despite quarterback play that wasn't always helpful to his endeavors.
This coming season may serve as a case study for how important scheme can be for offensive linemen. Zeitler was released by the Giants after struggling through the worst season of his NFL career — albeit one still good enough to rank among the top 32 guards in the NFL — but was quickly picked up by the Ravens, who have one of the most friendly schemes in the league for offensive linemen. You don't need to go back far to find Zeitler posting grades among the best in the NFL, and we could see that again for the Ravens this year.
DeCastro is still a very good player, but at his best, he was arguably the best right guard in football, and that is no longer the case without a reversal in the direction his play has been trending. DeCastro now has seven straight seasons with a PFF pass-blocking grade of at least 80.0, and he has surrendered just two sacks in four years, including the playoffs.
Still under 30 years old, Jackson has been declining unusually early into his career for a player who once looked like one of the best guards in the game. The last two seasons have been the worst two of his career, as he has surrendered 10 sacks in the last three seasons, but the Seahawks will hope they can bring his best play back to life after trading for him this offseason.
A former first-round draft pick who quickly flamed out in Detroit, Tomlinson has gone from strength to strength in San Francisco despite that blocking scheme not necessarily being an obvious fit for his playstyle. Tomlinson has allowed three sacks in each of the last two seasons but has thrived as a run-blocker within Shanahan's offense as they incorporate more gap schemes and wrinkles into their outside zone staples.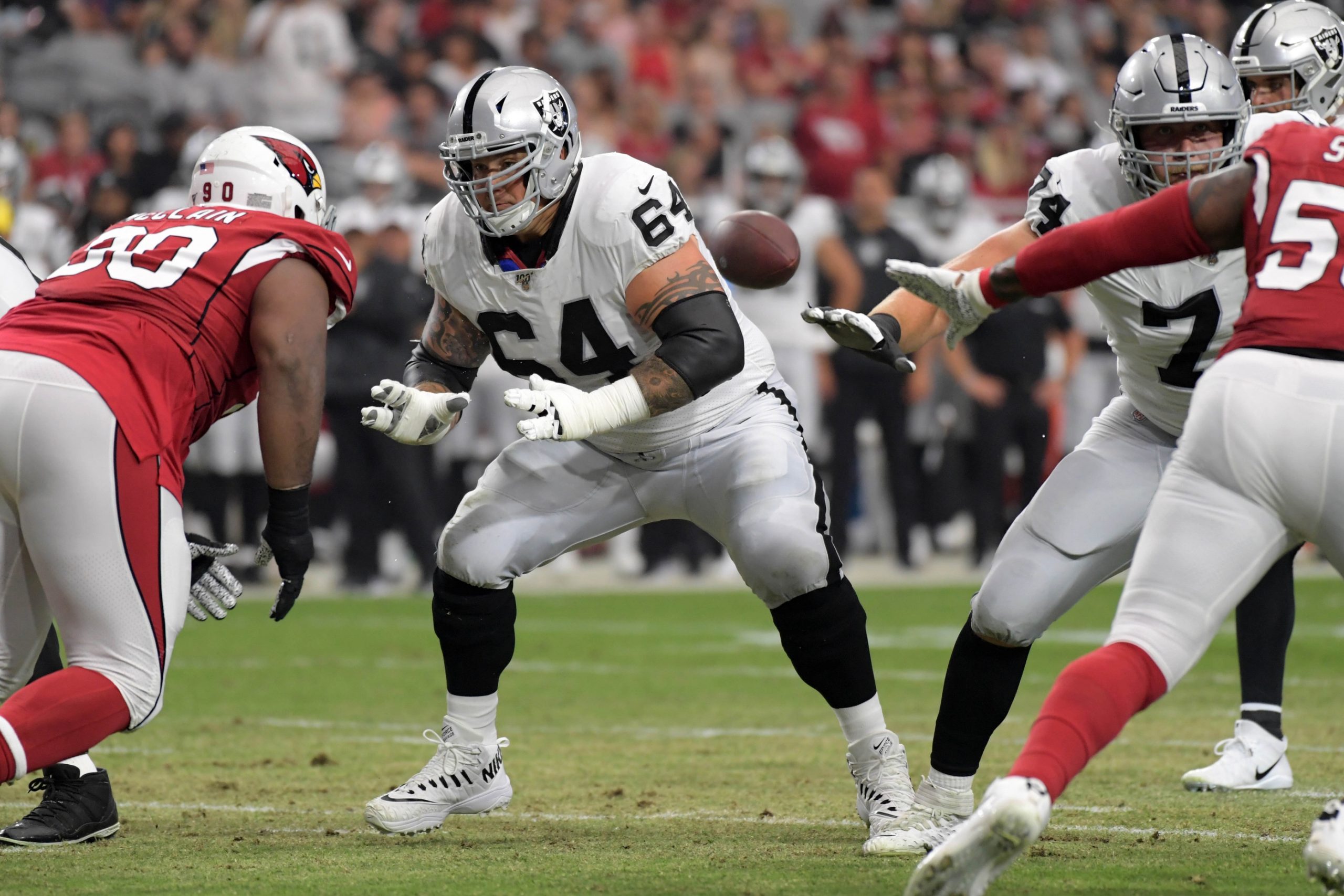 Getting on in years but still an impressive player, Richie Incognito started last season at the same high standard he has maintained for years before injury put him out for the year. The veteran has three consecutive seasons of 80.0-plus PFF pass-blocking grades (albeit separated by his one-year sabbatical) and was on pace for another after one game of action. The question for Incognito is whether age has caught up with him in terms of durability, even if it isn't slowing his play.
After three straight solid seasons in Detroit, Glasgow backed that up in his first season in Denver, posting good grades across all facets after a rocky start to the season. After the first three games of the season, Glasgow earned a top-10 PFF pass-blocking grade and wasn't responsible for a sack or a hit on the quarterback for the remainder of the year.
Overdrafted and thrown to the wolves early in his career, Corbett was in over his head when he first saw the field for the Browns. But with the Los Angeles Rams, he has developed into a solid starter at guard. He allowed one sack in 2020, but his run blocking is where we really saw improvement, and he was a big part of that offensive line getting back to a high level despite a transition in personnel.
For some time, seemingly every draft pick Dallas spent on the offensive line turned into an All-Pro starter. While Connor Williams hasn't done that, he has developed into a good player, particularly as the line has deteriorated around him. Williams is coming off a career year in which he produced an overall PFF grade of 70.8.
Seumalo's PFF pass-blocking grade has improved for three straight seasons now, with his 2020 mark of 77.4 representing a career-high figure despite the situation outside of him not being ideal. Injury robbed us of a complete campaign and career year overall, but Saumalo has now developed into a quality starter for an Eagles line that was in need of a transition in personnel.
Chicago's offensive line fell to pieces in 2020, and it was dragging the play of James Daniels down with it before injury added its toll, as well. Before that, he had been an impressive pass-blocker in the NFL and a player whose mobility and technique led to some impressive blocks in the run game. Daniels will look to bounce back this season and improve on his already good resume.
Arguably the best of the young offensive linemen the Dolphins have, the team believes that Hunt can be an All-Pro caliber guard and are moving him inside this season after he spent most of his rookie season at right tackle. His PFF run-blocking grade last year was an impressive 74.0 when playing right tackle, and his pass-blocking was solid. There is reason to believe Miami has it right with their projection, but the unknown keeps Hunt a little lower than he might prove to be worth.
Aided by the players around him, Glowinski has been able to up his game and become a solid member of one of the best offensive lines in the game. Glowinski was capable as both a run-blocker and in pass protection this past season, coughing up just two sacks across 659 pass-blocking snaps with Philip Rivers as his quarterback.
Part of the overhaul on the New York Jets offensive line, Van Roten has been a consistently above-average pass-blocker in the NFL, even if his run blocking has been less than ideal on a similarly consistent basis. In his first season with the Jets, he allowed 24 total pressures from 13 games of action.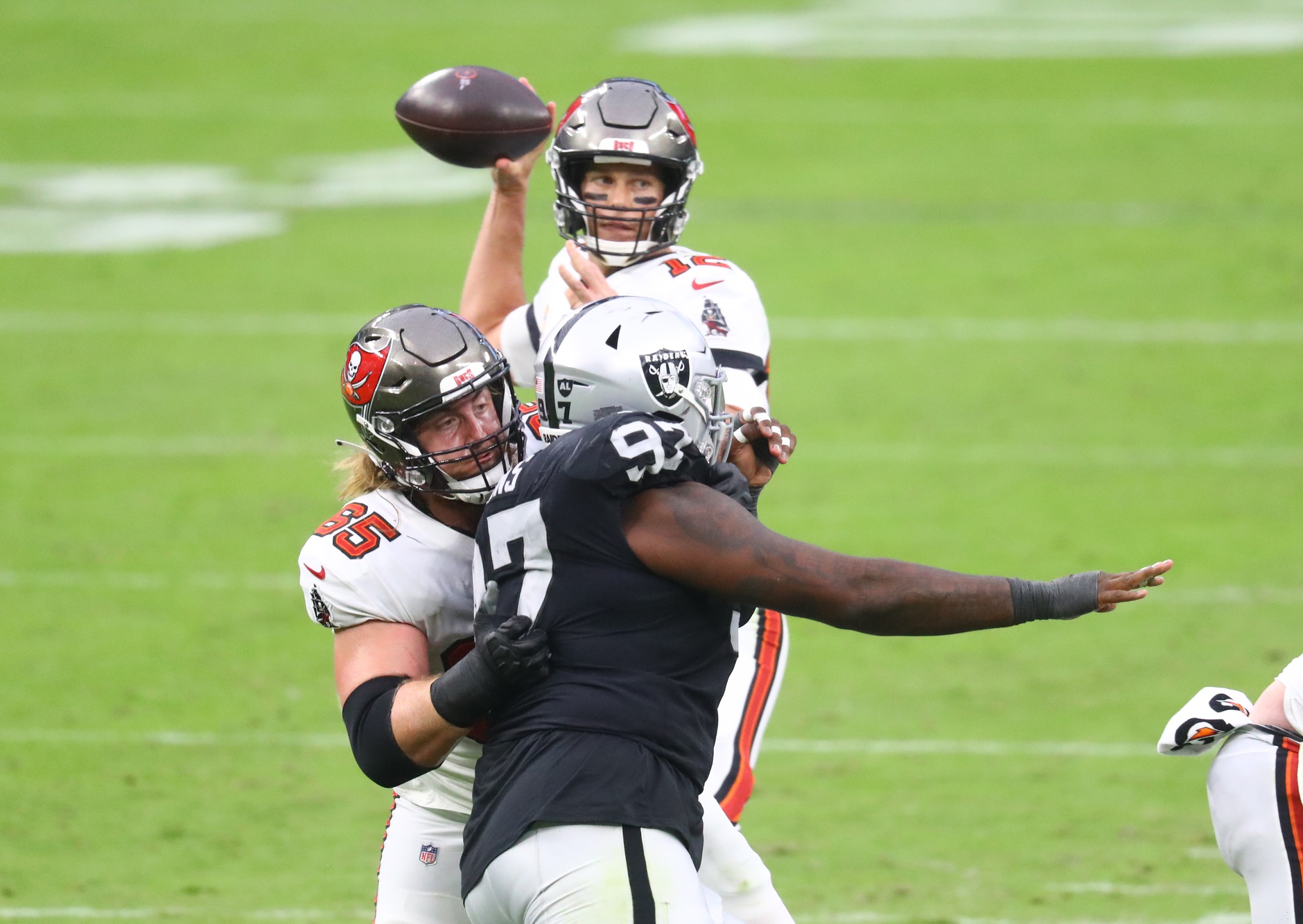 Cappa has gotten better each season of his NFL career, and with Tom Brady at quarterback, he now has the luxury of pass-blocking for a signal-caller who will make his life easier by getting the ball out of his hands quickly and mitigating pressure that does get surrendered. Cappa didn't allow a sack all last season on his way to a PFF pass-blocking grade of 67.5, but the difference between sacks and several of the 13 knockdowns he did allow was Brady at quarterback.
Cann has started the bulk of six seasons for Jacksonville, but his performances have been pretty inconsistent over that time, making ranking him a challenge. He is coming off one of his better seasons and now has the potential of getting help from both his quarterback and the offensive scheme in 2021. Cann allowed just two sacks and 21 total pressures in 2020.
The biggest projection on the list outside of rookies, Dotson has just 358 snaps of NFL action under his belt. In those snaps, he earned a pass-blocking grade above 87.2, allowing just one hurry.
It's always tough projecting rookies to lists like these. It's never an easy transition, and this may look foolish by the end of the season, but Alijah Vera-Tucker is too good a prospect for us to assume he won't be good right out of the gate. Playing at left tackle at USC, Vera-Tucker allowed just 16 total pressures on almost 1,000 snaps of pass protection.
Nate Davis struggled hugely in his rookie year but took big strides in Year 2 as a run-blocker, where his power was under more control and better harnessed by technique than it was in his first year. If Davis can take another step forward, particularly as a pass-blocker, he will be a real force in 2021.
Matt Feiler may be a better tackle than he is a guard, but a player who has had to fill in across multiple spots in Pittsburgh should upgrade significantly at guard for the Chargers and be capable of kicking out to right tackle if Bryan Bulaga gets hurt again. Feiler has generated a PFF pass-blocking grade of at least 69.9 every year in which he has played a significant role.