Few positions in the NFL have suffered more in recent years than linebacker, the focal point of a lot of the evolution within pro offenses. As offenses have become more efficient and accomplished at generating mismatches and exploiting them, linebackers have become players caught between a rock and a hard place on many plays, often leaving them with little chance for success.
There are still some elite linebackers throughout the league, but the position lacks depth and is very thin at the top. Here are PFF's top 32 linebackers ahead of the 2021 NFL season.
Subscribe to
Seattle's defense may have deteriorated around him, but Bobby Wagner remains the class of the linebacker position, especially since Luke Kuechly's retirement. Wagner has been asked to become a bigger part of the Seahawks' pass-rush strategy given their struggles in that area, and he subsequently notched 23 quarterback pressures and his fifth-straight season with an 80.0-plus PFF pass-rushing grade on the blitz in 2020.
Fred Warner is the latest contender for Wagner's crown as the best linebacker in the game, and he represents the new pathway for the position. At BYU, Warner played the overhang, slot/linebacker hybrid role that exists in several college systems because of the wide hash marks, but it doesn't really have an NFL equivalent. That has allowed him to post a 90.0-plus PFF coverage grade over the past two seasons.
Showing there is more than one way to get it done, Eric Kendricks played a more conventional college position than Warner but has been the other superstar linebacker in coverage over the past couple of years. Including the playoffs, Kendricks has 17 pass breakups and the highest PFF coverage grade among all linebackers (91.7) over the past two seasons.
David is now 31 years old, but you only need to turn on the Super Bowl to see that he can still hang with the best linebackers in the league. While Kansas City Chiefs tight end Travis Kelce had been torching everybody in his path on the way to the big game, David stuck with him and made a couple of key pass breakups in that game. He remains one of the best to do it.
Not as spectacular in 2020 as he was the season before, Demario Davis is coming off his second straight year in New Orleans in which he earned better-than-average PFF grades in every facet of play we measure. He has missed just 16 tackles on 263 attempts over the past two years, the best rate of any linebacker with that much playing time.
In three NFL seasons, Darius Leonard doesn't have a bad PFF grade in any facet of play in any single season, which is a remarkable level of consistency at a position that is routinely exploited by modern offenses. Leonard also has the most forced fumbles of any linebacker since he came into the league (10 including the playoffs).
Deion Jones is another player with elite coverage skills in his arsenal, but the past few seasons have shown just how hard it is to maintain that level of play at the linebacker position. He posted a 91.7 PFF coverage grade in 2017 and was above 80.0 again in 2019, but he surrendered four touchdowns in coverage in 2020 on his way to the worst season of his career. If Jones bounces back next season, he will belong this high in the rankings.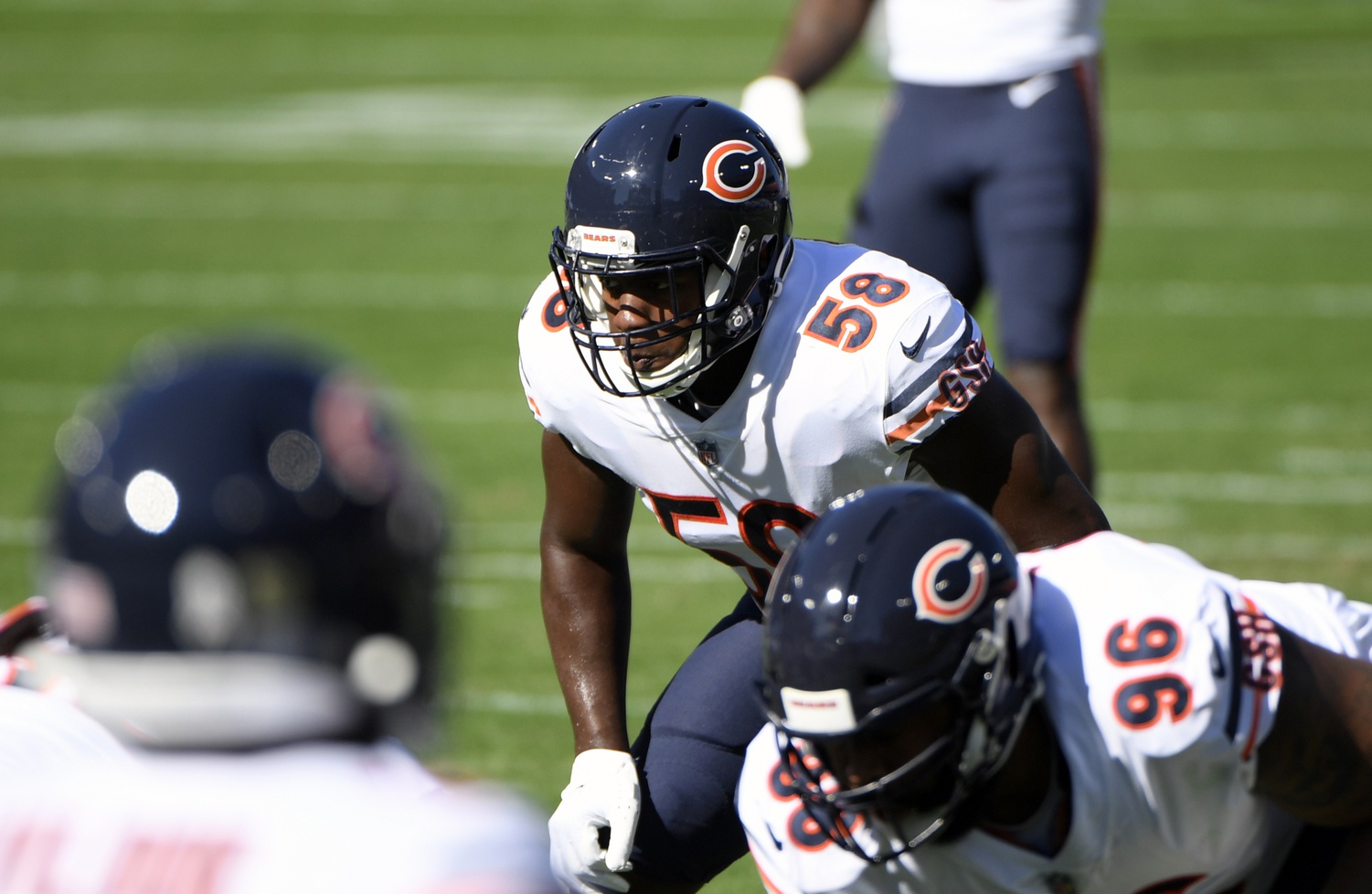 A coverage star coming out of college, Roquan Smith took a while to show that kind of impact play at the NFL level, but we saw it plenty in 2020. He earned an 84.0 PFF coverage grade last season, allowing a mere 75.8 passer rating into his coverage — some 20 points lower than the average pass and 30 points lower than the average pass targeting a linebacker.
Dont'a Hightower didn't even play in 2020, electing to opt out of the season due to COVID-19 concerns. His absence in the middle of the Patriots' defense was notable, and when healthy, he is still a difference-maker on that team. Hightower is a threat to offenses in multiple areas and has 81 total quarterback pressures over his past two full seasons of play including the postseason.
Alexander Johnson took an unusual route to become an NFL starter, going undrafted but then hitting the ground running when he was given an opportunity in 2019. His 2020 season wasn't quite at that same level, but Johnson is a hard-hitting linebacker who had 58 defensive stops this past year, the third-most in the NFL.
A key player who the Bills retained this offseason, Matt Milano has consistently been a plus coverage defender, earning a 77.3 PFF coverage grade and then an 81.9 mark in consecutive seasons before a relative down year in 2020. Milano gave up just two touchdowns over the past two seasons of play and is a difference-maker for the Bills.
Jayon Brown, a former fifth-round draft pick, has emerged as an important player for the Titans' defense and significantly outplayed former first-round selection Rashaan Evans over the past couple of seasons. Brown's 11.3% forced incompletion rate in 2020 ranked first among all linebackers.
Nobody made more defensive stops in 2020 than Zach Cunningham, who racked up four more than any other linebacker (70) and generated the best run-stop percentage (12.8%) in the league. While Cunningham is a tackling machine, he also whiffs on too many attempts. But despite his 45 misses over the past two seasons, he flies to the football and involves himself in a lot of plays.
Somehow still available as a free agent, K.J. Wright is clearly still one of the better linebackers in the league, even at 31 years old. A position switch in Seattle last season only further showed the breadth of what he can still accomplish within a defensive scheme, and he finished the year as the eighth-highest-graded linebacker in the NFL (75.3).
Myles Jack is one of the most athletic linebackers in football, but he hasn't always been able to harness that into consistently elite play. He frequently flashes that talent, and was the best linebacker in the NFL for a three-game stretch to start the 2020 season, but the wheels always begin to wobble at some point. Jack ended the year with 53 defensive stops, and an improved defense around him should only help him capture those better games more often.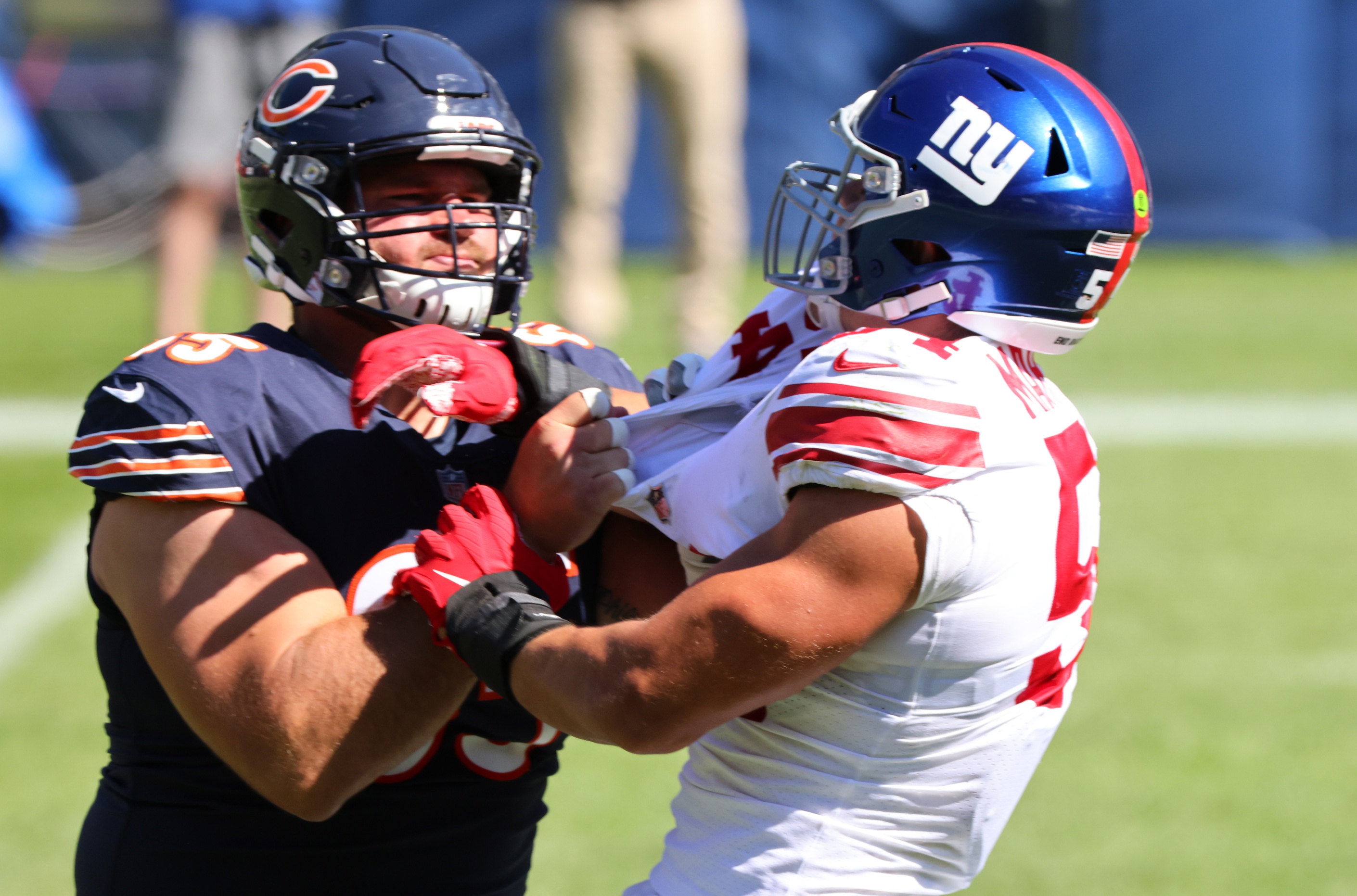 Only Zach Cunningham and Lavonte David have racked up more defensive stops over the past two seasons than Blake Martinez, whose first season with the Giants was a career-best for him in terms of overall PFF grade (75.9). He notched 57 defensive stops and forced two fumbles for the Giants, and he'll look to build on that and be even better in 2021.
We have yet to see everything Devin Bush is capable of at the NFL level. His rookie season for the Steelers was solid but not spectacular, and then injury robbed us of seeing his sophomore improvement after just a few games. Bush has flashed impact playmaking ability, but he needs to show clear improvement in consistency in Year 3.
One of the most successful player acquisitions the Raiders have made under the current regime, Nick Kwiatkoski isn't a spectacular linebacker, but he's a very good one who is consistently underrated throughout the league. He has surrendered just one touchdown in coverage in each of his past two seasons.
Josey Jewell profiles as an old-school, throwback linebacker. He wasn't the most physically imposing specimen or the most spectacular athlete when he was drafted, so he lasted until the fourth round, but he has been an incredibly productive player at the NFL level, similar to what he did in college. Jewell was targeted 70 times this past season and allowed only 9.6 yards per completion.
Benardrick McKinney featured in only four games in 2020 before he was lost for the season, and that was likely a significant factor in Houston's severe defensive struggles. Over his career, McKinney has been a very good run defender, able to take on blocks at the point of attack well while holding his own in coverage. He may never become a superstar, but he has been a consistently solid linebacker.
At this point in the rankings, we have hit players who flashed elite play at some point in their past but lost their way in a major fashion, and that perfectly describes Jaylon Smith's Dallas career. His second NFL season saw him earn an 84.1 overall PFF grade and rank as the sixth-best linebacker in the league. But his play has declined each year since and, along with the rest of the Cowboys' defense, he was disastrous for much of 2020. We still saw flashes of what he can do in certain games throughout the year, but Dallas needs him to rediscover those positives on a more regular basis next year.
Across the 2018 and 2019 seasons, only Lavonte David had a higher PFF coverage grade among linebackers than Cory Littleton with the Rams (90.8). And that impressive performance earned Littleton a move to the Raiders, where he was expected to provide a similar impact in the passing game. Twelve months later, Littleton is reflecting on a season in which he earned PFF grades in the 40s in every facet PFF tracks. He missed a career-high 14 tackles and failed to make a single play on the football.
Rookie linebackers have struggled hugely to hit the ground running in the NFL over recent years, but Kenneth Murray did as good a job as any of the bunch a season ago. He endured the typical struggles in coverage but brought an obvious physical presence to the Chargers' defense, making three pass breakups. Year 2 could be when we see Murray really emerge as a star at the position.
Tremaine Edmunds trails only Bobby Wager in tackles for loss or no gain over the past three seasons, and between those plays and his spectacular size and athleticism, it's not difficult to see what fans and the Bills alike love about him. He remains inconsistent overall, however, offsetting much of those impact plays with negative ones, such as 57 missed tackles and nine touchdowns surrendered over the same time period.
Although they aren't as good as true highlight plays, Devin White has made more tackles for loss or no gain than any other NFL linebacker over the past two seasons (33). As his offseason virtual race showed, White still has blazing 4.3-second speed, and he flies to the ball carrier like few other players can. He just needs to improve in coverage and cut down on the missed tackles (19 in 2020).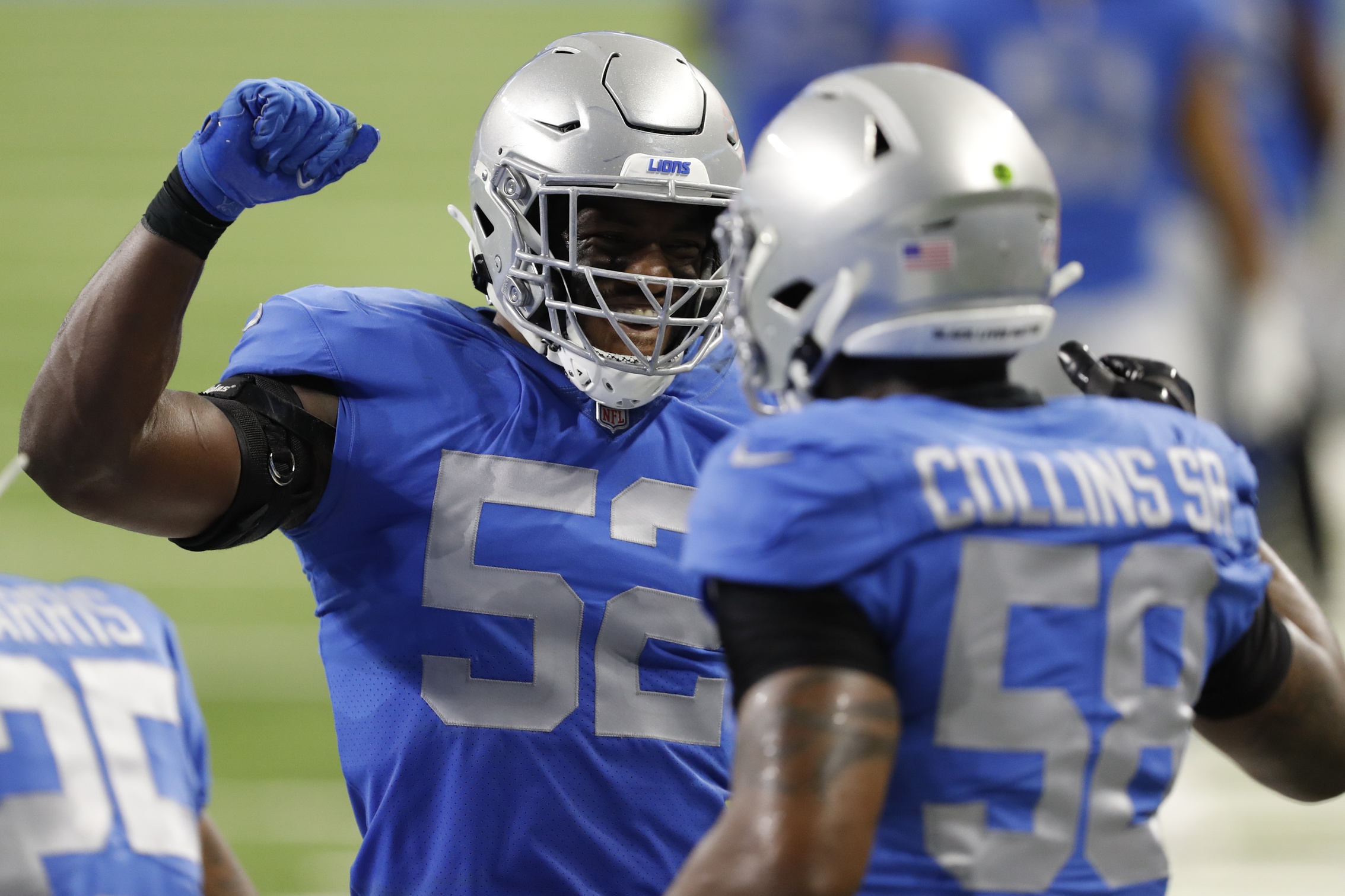 Detroit's defense may have been a disaster in 2020, but Jamie Collins Sr. enjoyed his best season yet outside of New England. Collins recorded three pass breakups and an interception in coverage, added 11 total quarterback pressures and forced three fumbles on the year. He remains a very scheme-dependent player, but he at least showed he can be an impressive force away from Bill Belichick. 
We are still dealing with very small sample sizes for Kevin Pierre-Louis, and his signing in Houston this offseason was a curious move, but few players can match his PFF grading over the past two seasons. He finally earned an opportunity to play real snaps on defense, and only Lavonte David and Fred Warner earned better PFF coverage grades than him over that span.
A former fifth-round pick, Cole Holcomb has started since Day 1 in the NFL, and despite an injury holding him back from the start of the 2020 season, he improved his play in his sophomore season. Holcomb was at least average in every facet of play this past year, allowing just 6.8 yards per reception in coverage as part of the No. 3-ranked defense in the league, according to PFF grades.
Few players made this list coming off a worse season than Shaq Thompson in Carolina. Absent Luke Kuechly, Thompson's play cratered. His 49.8 overall PFF grade in 2020 was 15 grading points worse than his previous career-low in the NFL, and he was bad across the board. We know Thompson is a better player than that, however, and it seems unlikely that he is a complete product of Kuechly's aura. Look for Thompson to bounce back in 2021.
The 49ers are another team with more than one player making this list. While Fred Warner is in contention to be the best linebacker in football right now, Dre Greenlaw is a solid foil within the same defense. Greenlaw missed just 4.7% of his tackle attempts over the past two seasons of play for the 49ers and allowed only 7.4 yards per reception in coverage.
Jordan Hicks enjoyed years of impressive play in Philadelphia before landing in Arizona and struggling hugely over the past two seasons with PFF grades of 61 and then 50.4. If Hicks was stuck in Arizona again, he might not make the list. But with the arrival of first-round pick Zaven Collins after Isaiah Simmons joined the team in 2020, the Cardinals have given Hicks permission to seek a trade, and he seems primed for a bounceback campaign elsewhere in 2021. Even with his struggles in the desert, Hicks has four picks and four pass breakups over the past two seasons.
Simmons was mercilessly attacked by Kyle Shanahan's 49ers last season, but he showed down the stretch that he was beginning to put things together at linebacker having played a brand of positionless football at Clemson. If he can develop in Year 2 after that baptism by fire, he could shoot up the rankings.