Continuing our series of 2021 NFL position rankings, we turn our attention to the trenches and evaluate the current crop of offensive tackles. With the help of PFF's advanced database — which is used by all 32 NFL teams — we can easily evaluate the big men trying to protect their quarterbacks and open lanes in the run game.
So, without further ado, let's dive into our top 32 offensive tackles ahead of the 2021 NFL season. And while there just one rookie appears on the list, it wouldn't be a surprise to see multiple first-year players rise up by the end of the year, considering it was one of the deepest tackle classes this century.
Editor's Note: Former Chiefs RT and current free agent Mitchell Schwartz was not considered due to the uncertainty of his playing future and health. Additionally, It's still undetermined whether Green Bay Packers OL Elgton Jenkins will start at tackle, guard or center this season. He'd be ranked on any of our three OL lists (OT, OG, C) if set to a certain position.
Subscribe to
Bakhtiari's play slightly dipped in 2019, but he made up for it with a career year in 2020. He posted a 91.8 PFF grade last season, marking the third time in the past four years where he ranked second among offensive tackles in PFF grade. Bakhtiari's run blocking was far better than anything he previously showed, as he shattered his career-high grade in that facet by 17 grading points (86.7).
In the way of pass protection, Bakhtiari remained the best in the NFL. His 91.6 pass-block grade ranked No. 1 among tackles — his fifth straight top-five finish in that metric. Sure, he was aided to an extent by Matt LaFleur's offense, which limited his true pass set opportunities, but Bakhtiari was still a top-five-graded tackle even when isolating his performance to stable reps (as he was in 2019, 2018, 2017 and 2016). In fact, he leads all tackles in true pass set grade over the past five years by more than eight grading points.
After taking a one-year hiatus in 2019, Williams returned to the field for a new squad in 2020 and looked like the same elite player. He notched a 91.8 PFF grade in San Francisco last season, leading all offensive tackles. While his pass protection was strong, it was his performance in Kyle Shanahan's wide zone rushing attack that really solidifies his spot here. Williams earned a career-high 91.8 run-blocking grade and laid down more big-time and positively graded blocks than any other tackle in a season during the PFF era (since 2006).
Ramczyk's 90.8 overall grade in 2019 ranked first among tackles, but he took a small step back in 2020, with his grade dropping to 81.6. Still, since entering the league in 2017, Ramczyk has been the most valuable tackle by a substantial margin. He has generated 1.38 WAR in his four years, over four-tenths better than second place. Among every tackle since 2006, when PFF began grading, only legendary Cleveland Brown Joe Thomas produced a higher PFF grade in his first four NFL seasons than Ramczyk.
Armstead has established himself as a top tackle in the NFL ever since he took over as a starter on the left side in his 2014 sophomore campaign. The Arkansas-Pine Bluff product is the third-highest-graded left tackle and the sixth-most valuable tackle overall over the past seven years. He has produced a top-10 pass-blocking grade in each of the past six years now and is more than capable of playing at a No. 1 level, as he proved in 2018. That year, he ranked second in both pass-blocking grade and run-blocking grade en route to earning the top overall mark at the position (90.4).
Stanley was his usual self prior to going down with a season-ending injury in Week 8 of 2020, virtually never losing in pass protection. He earned a 91.0 pass-blocking grade over his six outings, which at the time was the best in the NFL. In 2019, Stanley led all tackles in pass-blocking grade by over four grading points with a 93.3 mark. 
While Baltimore's offense helps, Stanley maintains his strong ranking when isolating the data set to true pass sets. He ranks fourth among all tackles in true pass set grade since entering the league in 2016, and he jumps to first when looking at just the past two seasons.
Tom Brady and the Tampa Bay Buccaneers desperately needed 13th overall pick Tristan Wirfs to step in as the starting right tackle and provide strong play right away. They got that and then some. He closed out his rookie regular season as the second-highest-graded right tackle in the NFL (82.2). His 81.0 pass-blocking grade is also the second-best mark in the PFF era (since 2006) by a rookie right tackle — behind only Marshal Yanda in 2007. Wirfs held his own against several top-notch pass-rushers, including Cameron Jordan and Joey Bosa, and is bound to continue to find success moving forward.
Prior to 2020, Bolles seemed to be an average-at-best tackle. He posted PFF grades in the low-to-mid 70s up to that point and played with notoriously bad discipline, leading his position with 46 penalties since 2017. But in 2020, everything changed. Bolles was a top performer week after week, cut down on his penalties significantly and provided clean play at the position. He led all tackles on the year in total starts with one or fewer pressures allowed (12) and ranked third among that group in negatively graded run-block rate.
In turn, Bolles earned a 90.6 PFF grade that ranked third at the position. Not only was he the most improved offensive linemen of 2020, but he was also one of the most improved players in the NFL, regardless of position.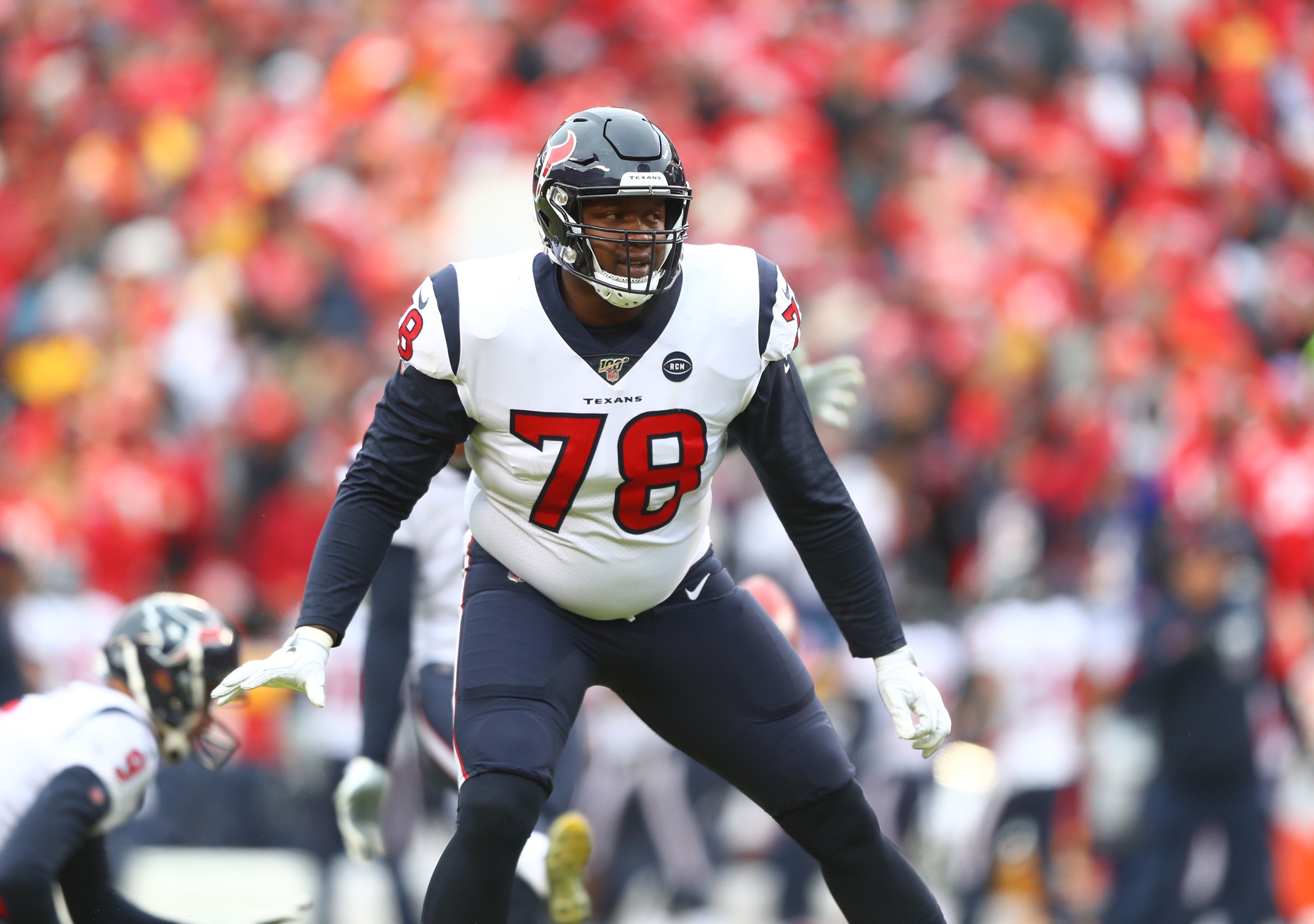 Tunsil has been a standout pass-blocker but a middling run-blocker in every season of his NFL career. He trails only Ronnie Stanley and David Bakhtiari in pass-blocking grade among tackles since coming to Houston in 2019. Considering the sheer number of long-developing plays he has endured as a Texan, that is quite impressive.
On plays where the quarterback gets rid of the ball within three seconds of the snap, Tunsil ranks second among tackles in pressure rate allowed. At the same time, he sits right at the 50th percentile in run-blocking grade at his position over the past couple of years. Tunsil's price tag in his trade to Houston was clearly too high, but his pass-blocking prowess easily makes him a top-10 tackle.
Moton has quietly morphed into one of the NFL's top tackles. He was a strong pass-blocker in his first two years as a starter but wasn't performing up to snuff in the run game. But in 2020, he became the all-around player the Panthers had been hoping for, posting grades above 76.0 in both facets. Only eight other tackles accomplished that in 2020.
Injuries have hindered Johnson over the past few years, but he's still managed to produce at a high level. However, that's with exception of his run-blocking in 2020, as his grade fell outside the top 10 among tackles for just the second time in his NFL career. Johnson was fantastic in pass protection, though. He posted an 83.1 pass-blocking grade and allowed only two pressures through his first six starts.
He played through nagging injuries in 2018 and still looked like a top-10 tackle. Before he went down in 2019, causing him to miss the last few weeks of the season, Johnson was the second-highest-graded tackle in the NFL. When fully healthy, he is among the best at his craft.
Common sense would suggest that Duane Brown was embarking on a late-career decline in 2019 after producing one of the three lowest PFF grades of his career at 34 years old. But his 2020 campaign indicated otherwise. Brown enjoyed one of the best seasons of his 13-year career, posting a grade north of 80.0 in both facets and an 87.8 overall mark that ranked fifth at the position. No matter what happens in 2021, Brown has already established himself as one of the best tackles PFF has ever seen.
Conklin excelled in his first season as a Cleveland Brown, finishing with a top-10 PFF grade for the first time in his NFL career. He previously had multiple 80.0-plus seasons that came close, but he finally got over that hump with an 84.0 mark in 2020. Regardless of the run concept, Conklin routinely opened up lanes for Cleveland's 1-2 punch, and he also performed better than ever on true pass sets. He finished inside the top 15 in both run-blocking grade and true pass set grade in 2020.
Smith is perhaps one of the more underappreciated players here. He's manned the Colts' starting right tackle spot since his 2018 rookie campaign, recently establishing himself as one of the top players at the position. He ranks fifth among all right tackles in PFF grade since 2019 and is second to only Ryan Ramczyk over that period in run-blocking grade.
Smith has only gotten better in pass protection, too. He closed out the 2020 season with a red-hot stretch of play in that facet, allowing zero pressures in five of his last six regular season contests. He comes in at No. 12 among tackles in the PFF era when looking at overall grade across one's first three NFL seasons.
McGlinchey ranks this high only because of his elite performance in the run game. He underperformed in pass protection in 2020, as has been the case early in his NFL career. A tackle like him can get away with such flaws in Kyle Shanahan's offense, though.
McGlinchey finished second to only teammate Trent Williams in run-blocking grade among tackles in 2020 (91.3). He finished in the top 10 in both positively and negatively graded run-block rate, something only three other tackles accomplished last year. At the same time, though, McGlinchey ranked fifth-to-last in true pass set grade.
After tearing his MCL during the 2020 season — and making a return in the postseason just a few months later — the 39-year-old Andrew Whitworth is coming back for Year 17 in 2021.
Whitworth was one of the five highest-graded tackles in the NFL through the first 10 weeks of the season after allowing just six total hurries and no sacks or hits in nine games. It was his 12th straight season in which he produced a top-10 pass-block grade among tackles.
Matthews is the exact opposite of Mike McGlinchey, who sits a couple of spots ahead of him here. Matthews' run blocking has consistently left a lot to be desired, but his pass blocking is among the best at the position year after year. He has been one of the 10 highest-graded tackles in pass protection in each of the past three seasons and one of the 20 highest-graded tackles in each of the past six.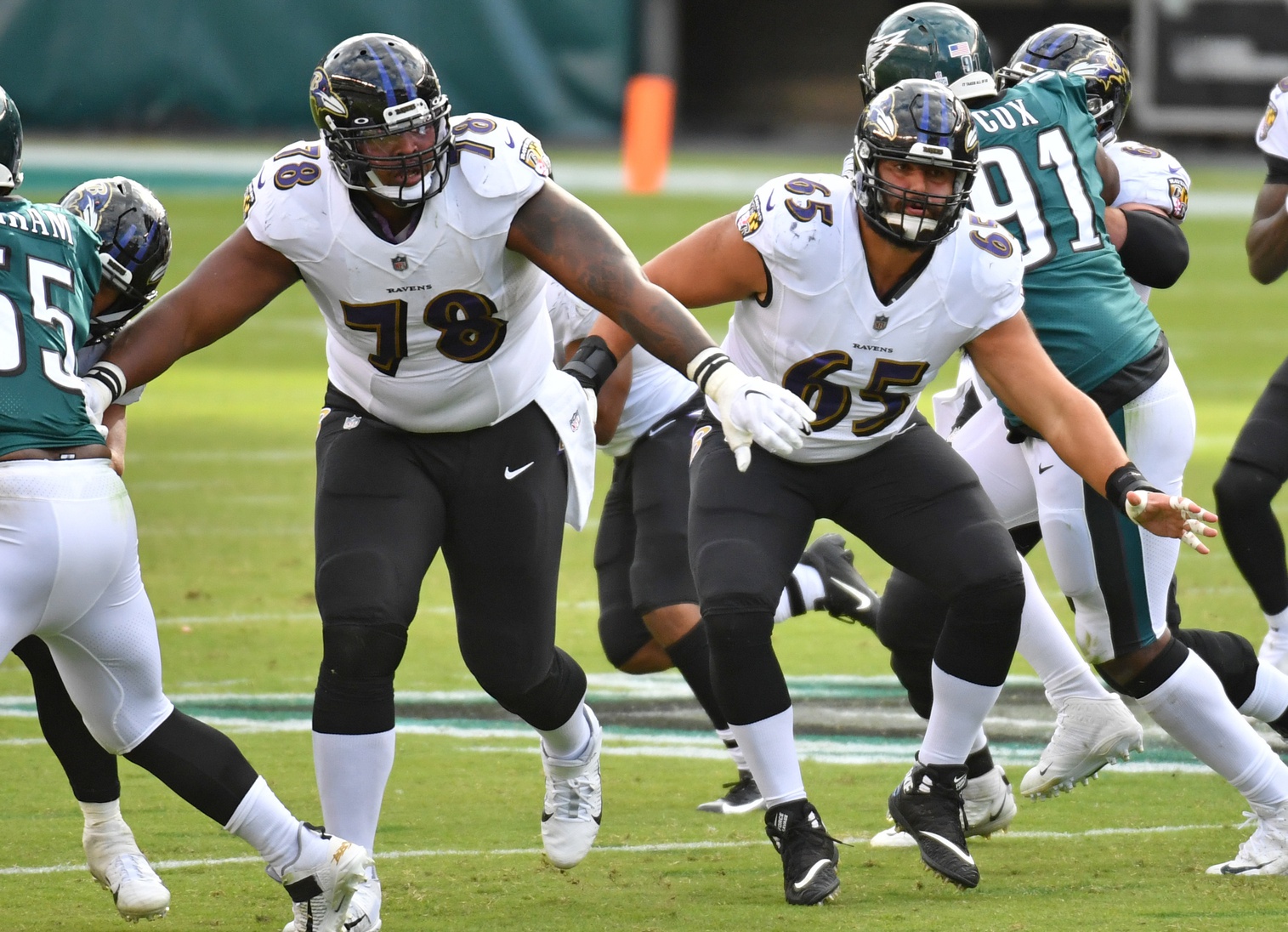 After a dreadful offensive line performance cost Kansas City a shot at winning Super Bowl 55, the team made a power play for Orlando Brown Jr., trading away its 2021 first-round pick, among others. The Chiefs will eventually have to pay Brown handsomely, as he is still on a rookie contract. Was the juice really worth the squeeze for the Chiefs? Not really, but it does solve the problem to an extent, as Brown is a reliable and quality tackle.
Brown demanded a trade from the Ravens after filling in for Ronnie Stanley at left tackle and expressing his desire to stay there. Brown did have the best season of his short three-year NFL career in 2020. His grade at left tackle ranked 16th among those with at least 350 snaps at the position. He was consistent week after week throughout the season. In fact, Brown was the only tackle overall in 2020 to start all 16 games and not once record a single-game PFF grade below 60.0. Yet, he also never cracked a single-game PFF grade above 80.0.
Lewan played in just five games this past season due to injuries, and he was clearly not the same player of the past, notching just a 61.8 PFF grade across his 239 snaps. For reference, Lewan's lowest-graded season in his six NFL seasons before that was 76.3 (2015). In that span, he owned the 16th-best pass-blocking grade and was the 11th-most valuable tackle, according to PFF WAR, in the NFL. If Lewan fully recovers and is back to his old form, he's close to a top-10 talent at the position.
It may have taken him a few years, but Decker is finally back to the level of play from his rookie campaign in 2016. That year, he produced an 81.9 PFF grade that ranked 14th among all tackles and still stands as the seventh-best mark PFF has seen from a rookie. But after Decker missed the first half of 2017, it took him until 2020 to reach the same heights. Last season, he cracked the top 10 in PFF grade with an 82.0 mark that was anchored by the fifth-best pass-blocking grade among tackles.
The problem isn't what Wynn does when he's on the field — it's actually getting on the field. He's played in only 18 regular-season matchups since being selected in Round 1 of the 2018 NFL Draft. Still, his performance in that small stretch is too good to ignore. Wynn has posted career run- and pass-blocking grades just above 77.0, something only six other offensive tackles have accomplished.
Dawkins is the model of consistency when it comes to protecting the quarterback. His career-low pass-blocking grade sits at 76.2 (2018), while his career-high is 79.2 (2020). His run blocking has been shakier, but he was more impactful in that facet in 2020 than in the two seasons prior to that. Dawkins earned a 75.1 run-blocking grade last year, which was more than 10 grading points better than his 2018 and 2019 marks and closer to his 2017 rookie campaign number.
Smith saw action in only two games last year due to injury, and it was a notable loss for the Cowboys. While he hadn't been performing as he did from 2013 through 2016, when he ranked seventh or higher in PFF grade each year, Smith was still producing at a high level before he went down. In the three years prior to 2020, he was the 12th-highest-graded tackle in the entire NFL. According to Cowboys executive vice president Stephen Jones, Smith is healthy and ready to roll in 2021, which is good news for Dallas and quarterback Dak Prescott.
I'll be the first to say I was wrong about Kolton Miller. It was one of the most questionable picks of the 2018 NFL Draft and was widely viewed as a reach — he ranked 92nd on PFF's Big Board. And through his first two seasons, he ranked second-to-last among all left tackles in PFF grade.
Then in 2020, Miller came out a far more polished pass-blocker. He went from ranking dead last among left tackles in pass-blocking grade in 2018 to 24th in 2019 to 11th in 2020. Miller's run-blocking is still on shaky ground, but that's something the Raiders can live with. What's important is that he's now holding his own in the passing game and keeping Derek Carr worry-free about his blindside.
Last year was Williams' unofficial redshirt rookie year after he missed all of his first season in the Queen City due to injury, and he performed quite well when it came to protecting the quarterback. Yes, Joe Burrow did get eaten alive, but the 2019 No. 11 overall pick generally held his ground. He finished 14th among all tackles in true pass set grade, which is the most stable area of offensive tackle play.
Along with teammate Tyron Smith, Collins was hurt in 2020 and didn't even play a down. And while that's a shame regardless of the circumstances, it's even more so considering he was fresh off a breakout year in 2019. The 2015 undrafted free agent moved from guard to tackle in 2017 and struggled out of the gate, but he showed modest growth — as reflected in his three-year PFF grades of 63.3, 71.9 and 86.4. The latest mark ranks fourth-best in the NFL. Cowboys executive vice president Stephen Jones also publicly gave the thumbs up on Collins being ready for the 2021 season.
Something clicked in Humphries' game in Week 5 of 2020. On the road against the New York Jets, he had one of the best performances of the season at the position, recording an astounding 93.1 PFF grade. From that point on, Humphries was the highest-graded tackle in the NFL and allowed just 12 total pressures in the last 12 games. His run-blocking grade for the year spiked nearly 40 grading points from 2019. If this new Humphries is here to stay, you can bet on him climbing up this list, but it is obviously no guarantee given what we saw from him up until that point in his career.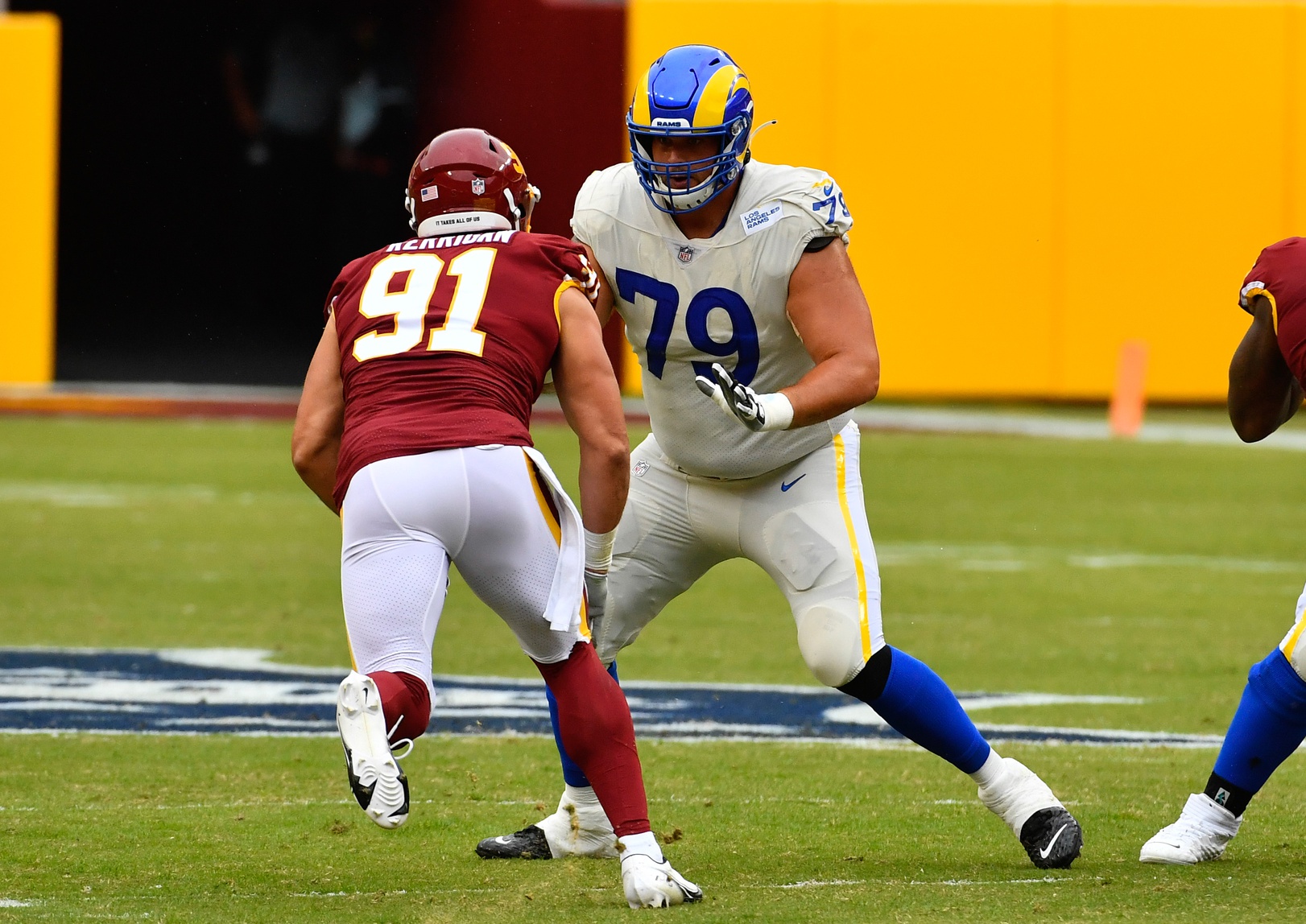 Havenstein is an interesting case study. He broke out in 2018, his fourth NFL season, as the league's highest-graded right tackle, completely fell apart in a 2019 season the ended up being cut short due to injury (fourth-to-last among RTs in PFF grade) and then bounced back to his old form in 2020 (seventh among RTs in PFF grade). His lowest-graded game of 2020 would have been his third-highest-graded performance of 2019. The moral of the story is: Havenstein could be 10 spots higher or lower on this by the end of 2021.
After an injury-plagued, up-and-down five-year stint with Carolina to begin his NFL career, Williams joined the Bills prior to the 2020 season to be their starting right tackle. Not only did he play in all 19 games, but he also played at an extremely high level. His 80.0 pass-blocking grade ranked fourth among right tackles. If Williams can stay healthy and piece together another season like that in 2021, I suspect he will shoot up this list. 
Becton was a huge (literally and figuratively) surprise last season. There were some major red flags on his scouting report that made us question whether he could make an impact right away. He came from a screen- and play-action-heavy offense at Louisville that limited his true pass set opportunities. And when he did see those true one-on-ones, it wasn't pretty. Needless to say, it was a shock to see the 6-foot-7, 369-pound tackle outperform in pass protection as much as he did. Becton's true pass set grade ranked 13th among left tackles in his rookie campaign. 
O'Neill has been average at best in pass protection throughout his three-year career, but he's made major strides in the run game. He improved his run-blocking grade from 58.3 as a rookie to 70.2 in 2019 to a top-10 mark of 83.7 in 2020. O'Neill is tied for 18th in pressure rate allowed in that span but ranks just 41st in pass-blocking grade, meaning he is still losing far too many reps despite not being credited with an abundance of pressures allowed.
I have all the confidence in the world in Sewell eventually climbing into the top 10 on this list, but we are ranking these tackles based on things as they stand — not the future.
Sewell led the Power Five in big-time blocks in 2019, and the 95.8 PFF grade he earned for his efforts — when he was an 18- and 19-year-old — still stands as the best mark in the PFF College era. He's like a guided missile with the way he tracks down defenders in space. It wouldn't be a surprise to see the former Oregon Duck face a learning curve, considering he went up against plenty of lackluster competition in the Pac-12 and was in an offense that limited his true one-on-ones, but his long-term potential is stardom.
Baltimore smartly avoided having to pay Orlando Brown Jr., offloaded him for major draft capital and then signed an average, veteran offensive lineman to replace him. Over the past three years, Villanueva ranks 12th among left tackles in pass-blocking grade and has routinely done his job in the ground game, producing a negatively graded run-block rate that sits in the 82nd percentile at the position. He has just four career snaps at right tackle (all of which came in his first season in 2014), but he should hold up just fine there for Baltimore.