Continuing our series of 2021 NFL position rankings, we turn our attention to the pass-catchers. Wide receiver is the most valuable position on the field after the quarterback, and it also elicits a hotly contestable debate as to who the best really is. But with the help of PFF's advanced database — which is used by all 32 NFL teams — we can help shed some light here.
So, without further ado, let's dive into our top 32 wide receivers ahead of the 2021 NFL season. And while there are no rookies, it wouldn't be a surprise to see multiple first-year players crack this list by the end of the year, considering it was one of the most talented classes since we began evaluating college football. And don't sleep on second-year breakouts from talented 2020 prospects such as Jerry Jeudy, CeeDee Lamb, Tee Higgins and Brandon Aiyuk, among others.
Subscribe to
Adams was the highest-graded (92.2), most valuable (0.9 WAR) and most productive (2.96 yards per route run) wide receiver of the 2020 season. He is indisputably the top player at the position entering 2021. It doesn't matter who lines up across from him — he's a threat on any given play with his route running and release package.
Since 2017, when PFF began tracking single coverage data, no wide receiver has earned a higher grade or recorded more touchdowns (27) on such plays than Adams. As long as Aaron Rodgers is in town, Green Bay has the best QB-WR tandem in the NFL. But as we all know, Adams' long-time quarterback may be on his way out.
Nuk has ranked sixth or higher in receiving grade among wide receivers in five of the past six seasons, earning 88.0-plus marks each time. In his first season as a Cardinal, Hopkins was once again one of the 10 most productive wide receivers in the league, averaging 2.25 yards per route run. He got there in a bit of a different manner, though.
Hopkins saw a career-low average depth of target of 9.0 yards, well below his previous low of 10.8 yards thanks to Kliff Kingsbury's offense pumping him screens and other underneath concepts. In turn, Nuk showcased more after the catch than ever before, tying for the most broken tackles at the position (21).
We also saw the same elite ball skills from Hopkins that have become commonplace. His 0.9% drop rate tied for the lowest mark among those with at least 100 targets in 2021, while his 13 contested catches tied for ninth. He hauled in 14 catches within a yard of the sideline, tying for the most in the NFL and extending his lead in that metric since entering the league to 26 (71 in total).
The term "perennial deep threat" is thrown around loosely, but when it comes to the Cheetah, it certainly applies. Over the past four years, Hill has notched 56 receptions (most by 10), 2,240 yards (most by 687) and 25 touchdowns (most by 10) on targets of 20-plus yards downfield. He'd still rank in the top-five in deep receiving touchdowns if we expanded that time frame to the past decade.
Keep in mind, Hill has only five years of NFL experience. He's as electric as a receiver can be and is paired with superstar quarterback Patrick Mahomes. Talk about a potent duo.
After enduring poor quarterback play in every single year of his NFL career, Robinson finally has a signal-caller with immense potential throwing him the ball in Justin Fields. We now get to see what he can do with a quality passer. 
What Robinson accomplished with Mitchell Trubisky and Nick Foles at the helm in 2020 was nothing short of exceptional. His team ranked sixth-to-last in passing grade, and Robinson saw more inaccurate targets than anyone in the NFL by a comfortable margin. Yet, he still managed to be the third-most valuable player at the position while ranking fifth in receiving grade on the year.
He tied for the most contested catches (21) and posted a 1% drop rate that ranked third among receivers with 100-plus targets. Since joining the Bears in 2018, Robinson ranks fifth in drop rate (2.2%), first in contested catches (61) and sixth in WAR generated.
Injuries may have prevented us from getting the full Julio Jones experience in 2020, but he was still uber-productive when on the field. Across nine starts, Jones notched an 86.3 PFF grade and 2.60 yards per route run, both of which were top-10 marks. He also turned over 35% of his targets into a 15-plus-yard gain, the highest rate by six percentage points among wideouts with at least 50 targets.
Will we see the 32-year-old regain the elite form that saw him place inside the top three in PFF grade in each of the five seasons prior to 2020? Only time will tell, but regardless, he still has plenty left in the tank and already solidified himself as one of the best all-around receivers in NFL history. 
Brown went from the 51st overall pick in 2019 to rookie phenom to one of the NFL's few elite wide receivers in just a couple of years. After putting up an 83.0 receiving grade in Year 1 that ranked 10th among wide receivers, Brown posted a 90.1 mark in Year 2 that ranked third. He has generated 2.66 yards per route run in those two years combined, edging out Odell Beckham Jr. and Antonio Brown for the highest mark PFF has ever recorded from a wide receiver in their first two NFL seasons (minimum 700 routes).
Brown is the leader of the next generation of star wide receivers.
Michael Thomas leads all wide receivers in slant … let's not go there.
Thomas was limited by injury in 2020 and didn't quite live up to expectations when healthy, earning a 78.9 receiving grade and generating 1.93 yards per route run for the year. But he has still been one of the three highest-graded and most productive (2.47 yards per route run in career) wide receivers since entering the league in 2016.
Highlight-reel deep receptions don't come as frequently for him compared to Tyreek Hill or Julio Jones, but he is the definition of dependable. Thomas is a damn good possession receiver who can win 50-50 balls better than anyone in the league.
After five straight years in Minnesota of very good, but not elite, play, Diggs finally earned that accolade in his first season with the Bills in 2020. He produced a receiving grade between 77.6 and 84.0 in each of his five years as a Viking, always ranking inside the top 25, but he cracked the top 10 just once.
In 2020, Diggs was one of just four receivers with a receiving grade at or above 90.0 in the regular season. He remained one of the most efficient contested-catch receivers in the game, posting a 60% catch rate on such plays to bring his percentage since 2017 to 60.5% — the second-best mark in the league.
Thielen bounced back to top-tier form after an injury-hindered 2019 season. He came away from 2020 with an 87.4 PFF grade that ranked sixth among NFL wide receivers, marking the third time in the past four years he has finished inside the top 10 in that metric.
Thielen's releases and ability to separate are as good as it gets at the position, helping him grade out as a top-five receiver against single coverage since PFF began tracking that metric in 2017.
Jefferson silenced everyone doubting his NFL potential in a big way as a rookie. He finished the season with an elite 90.5 receiving grade that trailed only Davante Adams for the best in the NFL, and he was just shy of the rookie record set by Odell Beckham Jr. in 2014 (91.2). The most impressive aspect of his first NFL season was his performance against single coverage. That was an area of concern when he left LSU because of his role there, but he has undoubtedly proved he can handle those situations.
Jefferson maintains his No. 2 receiving grade rank against single coverage and jumps to first in yards per target (13.2) on such plays. The NFL landscape thought the days of Minnesota having a top receiving tandem were over when the franchise traded away Stefon Diggs in the 2020 offseason, but Jefferson is poised to keep the tradition going.
After flashing high-end play and incredible route-running chops in Years 1 and 2 with Atlanta in 2018 and 2019, Ridley finally pieced it all together and showcased his talent on a consistent basis in 2020. His production skyrocketed across the board: From 2019 to 2020, he improved his PFF grade by 10 points to 84.9 and took his yards per route run total from 1.69 to 2.44 (seventh-best).
Ridley hauled in the third-most receptions against single coverage in which he had at least a couple of steps of separation (19) and led the league in total 15-plus-yard receptions (40).
Injuries derailed a portion of Evans' 2020 season, which ended up being the lowest-graded campaign of his seven-year career. Still, he finished as the 18th-most valuable wide receiver, according to PFF WAR, and he partnered with Tom Brady for the 11th-most 15-plus-yard receptions at the position in regular-season play (27). Evans has 231 of those receptions to his name since entering the league in 2014, trailing only Julio Jones for the most in the NFL. His career receiving grade in that span is also the fifth-best in the league.
Evans has made a killing by bodying defensive backs in contested scenarios, as his fourth-most catches (63) and receiving yards (1,007) on such occasions over the past four years can attest.
Like Evans, Godwin endured an injury-riddled 2020 campaign that played a part in him recording the lowest-graded season of his four-year NFL career, but we mustn't forget what he accomplished before that. Godwin has been the 13th-most valuable wide receiver and one of the 10 highest-graded players at the position since first stepping foot on the field for Tampa Bay as a third-round pick in 2017.
Godwin has spent the exact same amount of time in the slot and out wide in his NFL career (983 routes run at each alignment), proving productive regardless of alignment. In fact, Godwin is just one of four wide receivers since 2017 to generate more than 2.00 yards per route run from both the slot and outside.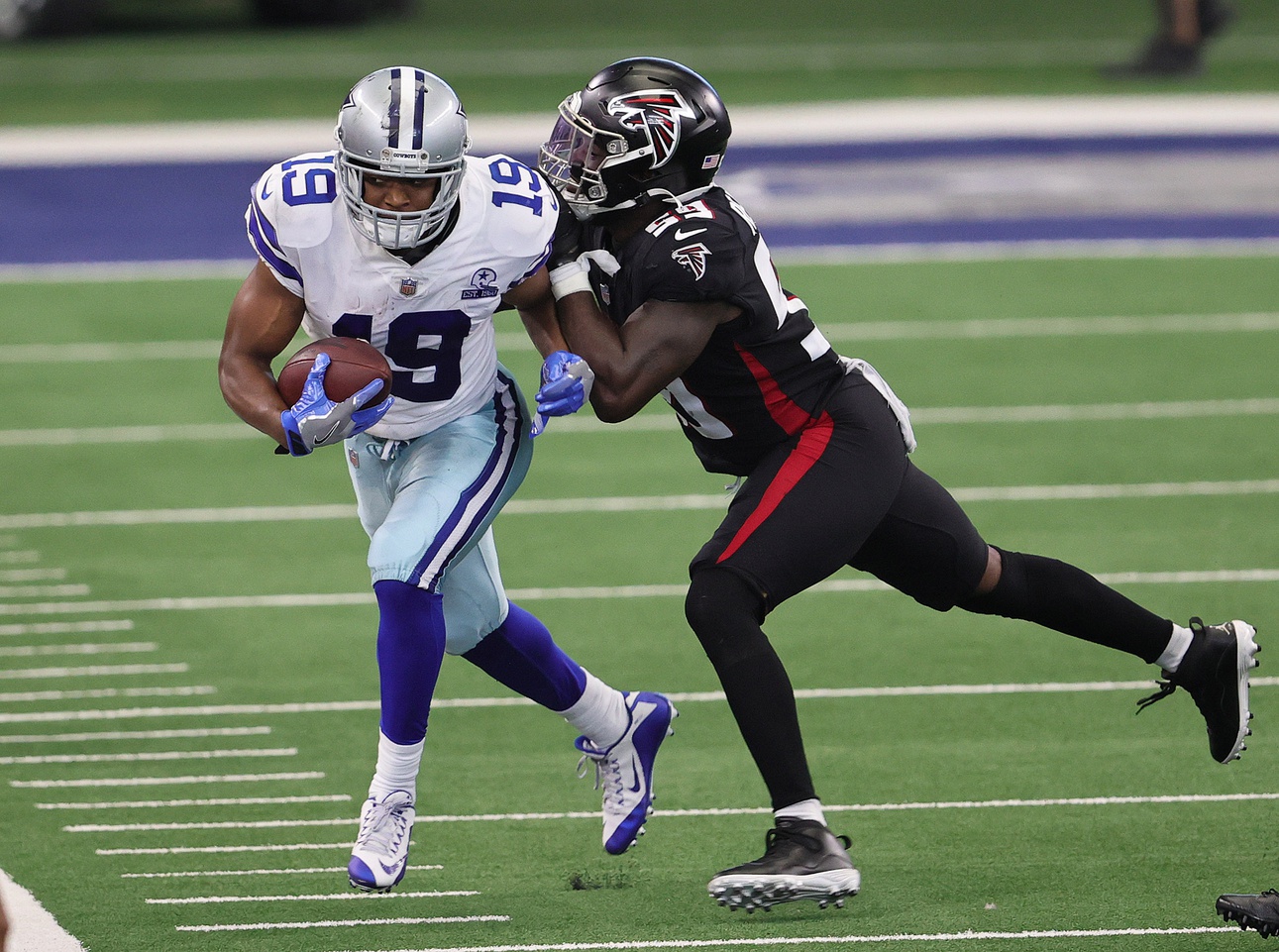 Cooper was reborn after being traded to Dallas in the middle of the 2018 season. He ranks 13th among qualifying wide receivers in receiving grade and has been one of the 15 most valuable players at the position since his debut as a Cowboy in Week 9 that season. Cooper is one of the best route-runners in the game, and it shows week after week against single coverage. His separation rate against single coverage since joining Dallas sits at the 80th percentile in the NFL, and he ranks fourth in total receiving yards with at least a step of separation on those plays in that same time frame.
It's no secret that Metcalf is so dangerous because of his rare blend of size and speed. Whether it be chasing down Budda Baker to prevent a pick-six last season or running the 100-meter dash at the U.S. Olympic Team Trials a few weeks ago, the 6-foot-3, 229-pound Seahawk is simply a rare human specimen.
Over his first two NFL seasons, Metcalf ranks inside the top 10 in both receiving yards (752) and touchdowns (eight) stemming from vertical routes. In 2020 alone, he led the league in vertical route receiving yards (475). The former second-round pick is also tied for seventh since entering the NFL ranks in both contested catches (30) and broken tackles after the catch (26).
Allen's role was tweaked a bit in 2020 compared to 2019. He ran far fewer routes at the intermediate-to-deep level and wasn't targeted above expectation at those parts of the field. He did see more shallow route targets, though. His 7.3-yard average depth of target was three yards under his previous mark as a result — the lowest of his career. And that played a big part in him producing worse on a per-route basis. Still, Allen performed admirably in that role with an 85.0 receiving grade that tied for 11th among qualifying wide receivers.
With some additions to the receiver unit and a new arm at quarterback, McLaurin will hopefully get back to doing what he does best in 2021: stretching the field. His average depth of target dipped from 14.6 yards as a rookie in 2019 to 9.9 yards in 2020. The percentage of his catches that turned into a 15-plus-yard gain decreased from 40% to 30%, and his yardage total from vertical routes was nearly cut in half from 404 to 207 despite him seeing 37 more targets overall.
McLaurin still finished with a respectable 77.1 receiving grade, but it was certainly a downtick from a rookie campaign that saw him finish as the sixth-highest-graded receiver (86.5).
Beckham has been a decidedly different receiver in Cleveland. When we did these rankings prior to the 2019 season, Beckham came in at No. 4. Throughout his first five years in the NFL with the Giants, from 2014 to 2018, Beckham was the fifth-most valuable wide receiver in the NFL, according to PFF WAR. And that even includes his 2017 campaign when he played only four games due to injury.
Over the past two years in Cleveland, Beckham barely cracks the top 50 at the position in WAR generated. His production has slid considerably, as he went from producing 2.40 yards per route run as a Giant to just 1.81 as a Brown the past two years.
The Freddie Kitchens experiment and playing through injury clearly didn't help matters in Beckham's debut season with the Browns in 2019, which ended up being the lowest-graded season of his career. He still wasn't performing like his normal self in 2020 before a season-ending injury in Week 7 (73.7 receiving grade). We know Beckham can be a top-five receiver in the NFL, but his play as of late certainly doesn't warrant such a ranking entering the season. It wouldn't really surprise anyone if OBJ changes that in 2021, though.
Before an injury-riddled 2020 campaign, Golladay established himself as one of the best deep threats and contested-catch specialists in the NFL. In 2018 and 2019 combined, he racked up the third-most deep (20-plus-yard target) receiving yards, with 930, and he tied for first in contested catches, with 43.
Hopefully for the Giants, Golladay's addition makes offensive coordinator Jason Garrett more willing to call downfield shots for Daniel Jones, who ranked third in passing grade on throws of 20-plus yards in 2020 but slotted in at 17th in total deep completions (20). A perfect marriage? Only time will tell.
No New York wide receiver has finished inside the top 10 at the position in receiving grade over the past decade, and the team has just three instances of a receiver cracking the top 25 (Eric Decker in 2014 and 2015; Brandon Marshall in 2015).
Enter, Corey Davis — a former first-round pick coming off a career season with the Titans in which he finished eighth at the position in receiving grade (87.2) and fifth in yards per route run (2.58). In the two years before that, just 63% of his targets were deemed catchable, according to PFF's ball-charting process, which ranked 97th among 104 qualifying wide receivers. Despite that, Davis still managed to turn 26.7% of his total targets into a gain of 15-plus yards (ninth) in those two years.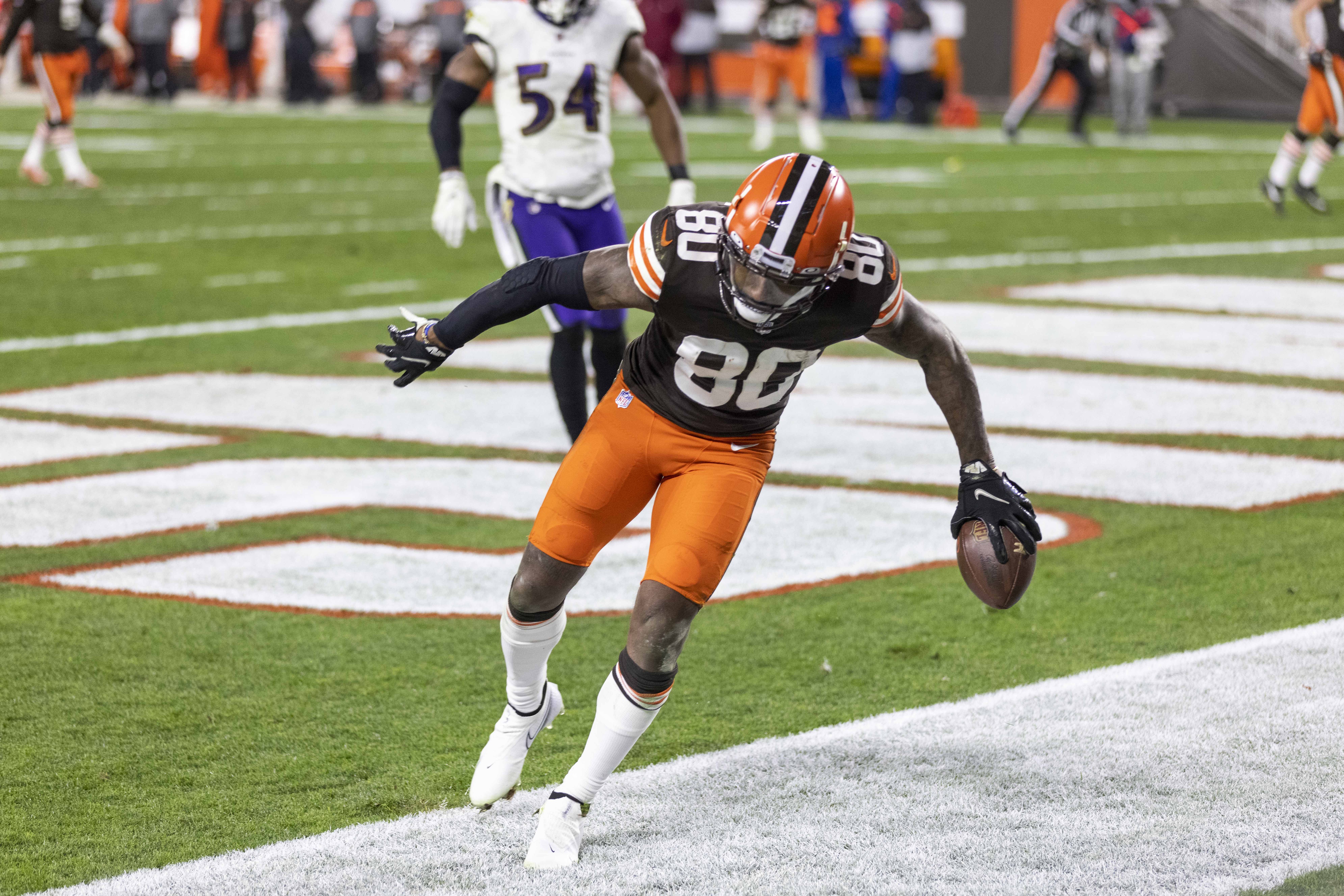 OBJ has had a tough time finding his footing with Baker Mayfield, but Landry is on the other end of the spectrum. The former Miami Dolphin has notched an 80.0-plus receiving grade in each of the past two seasons, forming a two-year mark that ranks 15th among qualifying wide receivers.
Landry, who was once infamously known for being only a slot weapon, accomplished those feats while seeing more reps on the outside. He ran the highest rate of routes from the outside in his career in both 2019 and 2020, combining to produce the sixth-best receiving grade on those plays. He went from the 22nd percentile in grade against single coverage in 2017 and 2018 to the 90th percentile on such reps in 2019 and 2020.
Lockett has emerged as a top-25 receiver after three so-so years to begin his NFL career. His three-year receiving grade since 2018 ranks 20th at the position. He and Russell Wilson have teamed up to form one of the strongest QB-WR tandems in the league, as evidenced by his league-leading 136.3 passer rating when targeted in those three years combined.
Lockett has racked up the second-most deep receiving touchdowns (13) in that span, too. Having one of the top deep passers in the league certainly helps, but Lockett deserves his fair share of credit, considering he does lead the position in percentage of catchable deep targets caught (94.1%).
Beasley is the NFL slot receiver prototype. He ran 88.4% of his routes from the slot last season, the third-highest rate in the league. On those reps, Beasley racked up 2.31 yards per route and 938 receiving yards in total while hauling in 83.9% of his targets en route to a 90.8 receiving grade — all four of which ranked inside the top three among league qualifiers.
He found soft spots against zone coverage like clockwork. Beasley's 36 such receptions in 2020 were four more than any other wide receiver.
All things considered, Brown performed quite well in 2020 after playing in just one game over nearly two years. He earned an 82.6 receiving grade on the year, including the Bucs' postseason run, and he did it in an unorthodox manner relative to the rest of his career. Brown was utilized on more underneath concepts than in any other season of his NFL tenure and posted a career-low 9.4-yard average depth of target.
He added value after the catch with 5.2 additional yards on average, breaking eight tackles while also displaying sure hands. Brown caught 98% of his catchable targets and hauled in eight of 11 contested targets.
Fuller is a genuine speedster who has proven to be one of the most dangerous deep threats at the position when healthy. Over 26% of his targets since 2018 have resulted in a 15-plus-yard gain, the eighth-highest percentage among wide receivers over that span.
Despite missing significant time in each of those three seasons, Fuller came in at No. 8 in total receiving yards on vertical targets where he had separation on his coverage defender. Him on the field alongside Jaylen Waddle is a scary thought.
While a bevy of issues plagued Houston in 2020, that didn't stop Cooks — who was playing for his fourth team in five years — from producing at a high level. He cracked the top 25 in both receiving grade (80.5) and yards per route run (2.05), both of which were the second-best marks of his career. With the help of his wheels, Cooks came away with 13 deep receptions in 2020, tying with Tyreek Hill for the third-most.
Parker revitalized his career in 2018 and 2019, earning the best season grades among his six NFL campaigns. He ranks 23rd in receiving grade over the past two seasons, churning out 55 explosive receptions of 15-plus yards (tied for seventh) and 43 contested catches (second) in the process. Parker accomplished that while seeing the third-highest rate of snaps against press coverage (45.6%). He leads the league in 15-plus-yard pass plays against press coverage since 2019 (32).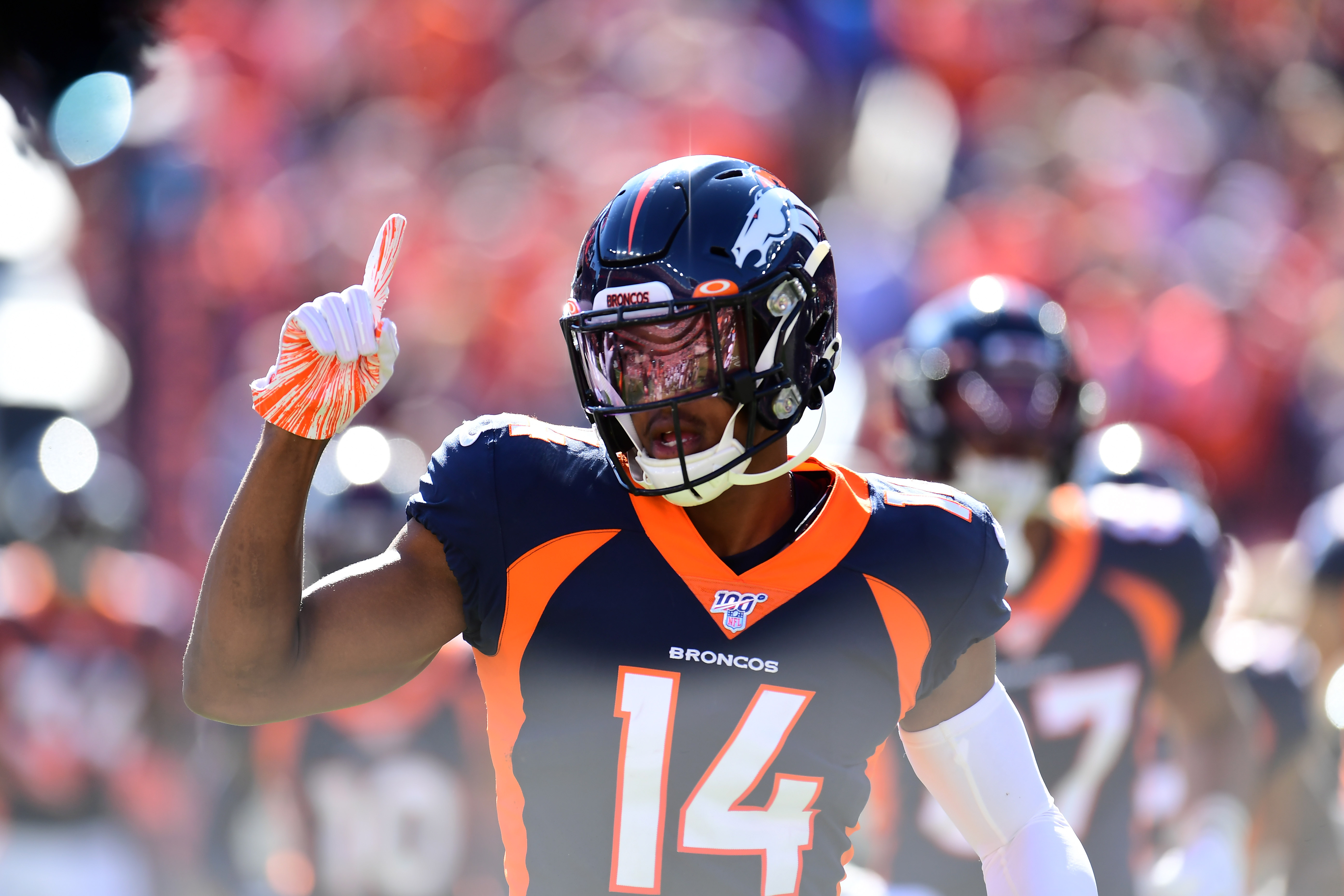 Sutton ran only 20 routes in 2020 before getting shut down for the year due to injury. He broke out in a big way in his 2019 sophomore campaign, though. Sutton improved his PFF grade by nearly 20 grading points from his 2018 rookie season to 83.1, which ranked 11th among all qualifying receivers for that season.
He often went toe to toe against press coverage, and he consistently came out on top. Sutton's 2.50 yards per route run against press on the outside in 2019 was among the five best marks in the NFL. With a clean bill of health, Sutton is bound to climb up this list. Now he just needs an accurate quarterback (ranks 83rd of 107 qualifiers in career catchable target rate).
Robert Woods in Buffalo and Robert Woods in Los Angeles are two different players. He was a suboptimal performer with the Bills during his first four years in the NFL but has revitalized his career with the Rams over the past four years.
Woods has recorded a higher receiving grade in each of his four campaigns with the Rams than in any of his seasons with the Bills. He ranks among the 15 highest-graded wide receivers since 2017 while also slotting into the top five in both yards after the catch per reception (5.6) and percentage of catchable targets caught (92.8%).
Kupp has consistently been one of the NFL's most productive slot receivers since he was drafted out of Eastern Washington in 2017. His 2.12 yards per route run from the slot over the past four years is the fourth-highest mark among wide receivers. He also ranks second in broken tackles forced after the catch from the slot (27) and is tied for first in yards after the catch per reception on those same reps (6.0).
He isn't higher on this list because of his ability, or lack thereof, to effectively win on his own from the outside. Still, he has shown more than enough from the slot to warrant this ranking.
Injuries got in the way of a big sophomore breakout from Samuel, but when healthy, he was exactly what we expected: an after-the-catch phenom. Samuel has produced 9.8 yards after the catch per reception in his two NFL seasons. Not only does that lead all wide receivers, but it leads the group by a substantial margin of 2.5 yards. He has also broken 28 total tackles in regular-season play over that span, tying for the fifth-most at the position. He played only six games in 2020, so that's pretty damn impressive.
Only one Bengal cracks this list, but make no mistake: It would not be a surprise to see the team land three inside the top 32 by the end of 2021. Tee Higgins looks poised for a second-year breakout after a strong rookie campaign that saw him notch a 79.0 receiving grade, and 2021 fifth-overall pick Ja'Marr Chase is in the Julio Jones and Amari Cooper tier of wide receiver prospects.
But again, these rankings are based on right now; not five or even two years down the road. Those two have immense potential to become premier wide receivers in the league, but for now, it's Tyler Boyd who leads the pack.
Boyd has grown into one of the NFL's top slot receivers over the past three years. Since 2018, he has run the third-most routes from the slot among wide receivers and is one of the league's 10 highest-graded players on those reps. Boyd's 51 explosive receptions of 15-plus yards from the slot in that span lead the league.