There is not an abundance of true difference-makers at the tight end position in the NFL. The league is lacking players who can consistently win as receivers, regardless of alignment, while still forcing defenses to respect them inline as blockers. That skill set is what gives the small upper tier at the tight end position its value. 
Beyond those three to four names at the top, you're left to sift through a group of developing up-and-comers (i.e. Noah Fant) and steady veteran presences who don't necessarily provide a dynamic, big-play threat in the passing game (i.e. Kyle Rudolph). 
Using PFF's play-by-play grading along with statistics that can be found in Premium Stats 2.0, here are PFF's top 32 tight ends heading into the 2021 NFL season. 
Subscribe to
It's a 1a/1b situation at the top of the position with Kelce and Kittle. Kelce earns the top spot heading into the 2021 season off the back of another dominant showing this past season, paired with an injury-limited campaign for Kittle. 
Over the last five seasons, Kelce's 2,639 receiving yards after the catch are over 400 more yards than any other tight end or wide receiver in the NFL. Only Golden Tate and Jarvis Landry have forced more missed tackles over that same span. His knack for getting open paired with that after-the-catch ability makes him the most dangerous receiving threat at the tight end position the league has to offer right now.  
Kittle still imposed his will as both a receiver and blocker when on the field in 2020. The issue was that he was only on the field for eight games, missing significant time with a broken bone in his foot. 
Since 2018, Kittle is the highest-graded tight end in the NFL (93.4) on the back of the highest receiving grade at the position (93.7) and third-highest run-blocking grade (78.0). Unlike Kelce, the majority of his damage comes inline, where Kyle Shanahan does as good of a job as any coach in the NFL at creating mismatches in coverage. Kittle's 1,811 receiving yards when lined up inline since 2018 are over 500 more than any other tight end.      
Waller has crept closer to the Kittle-Kelce tier at the top of the position with his play over the last two seasons for the Raiders. He's earned PFF receiving grades of at least 85.0 in each of the past two years, falling behind only Kelce in receiving grade during the 2020 season (90.9). 
While some tight ends need to be schemed production, Waller is fully capable of lining up out wide and beating cornerbacks as a receiver. His 2.3 yards per route run when lined up outside in 2020 were more than any other tight end with at least 75 such routes, including Kelce.  
This may be early for a player who has yet to take an NFL snap, but it's a reflection of the caliber of prospect Pitts is coming out of Florida. He's just different. 
Pitts has an absurd catch radius at 6-foot-6 with 33.5-inch arms, and he pairs that frame with high-end speed and rare cutting ability at his size. Those measurables helped lead to a 96.1 receiving grade this past season at Florida. The Falcons' decision to pair him with Julio Jones and Calvin Ridley in Arthur Smith's new offense poses a difficult challenge for defensive coordinators in the NFC South. 
Goedert splitting the field with Zach Ertz to begin his career has created a situation where many don't realize just how good he has been. Kittle is held high as the shining example of a "dual-threat" tight end who challenges defenses as a receiver and blocker (for good reason). But Goedert is actually the only tight end in the NFL with receiving and run-blocking grades of 80.0 or higher since 2018. He ranks seventh in receiving grade and first in run-blocking grade over that three-year span. 
An Ertz trade could lead to a featured role — and more recognition — for the former second-round pick out of South Dakota State.     
Andrews' skill set marries well with what the Ravens want to do in the passing game. He's a big target who can work down the seams, and he has come up big in the red zone. His 12 red-zone touchdowns over the past two seasons are tied with Kelce for the most at the position. 
Andrews is also one of the few tight ends in the league who has served as his team's primary target in recent years. Andrews (185) and Marquise Brown (160) are the only players on the team with 100-plus targets since 2019. It will be interesting to see if that changes following the Ravens' additions at wide receiver this offseason.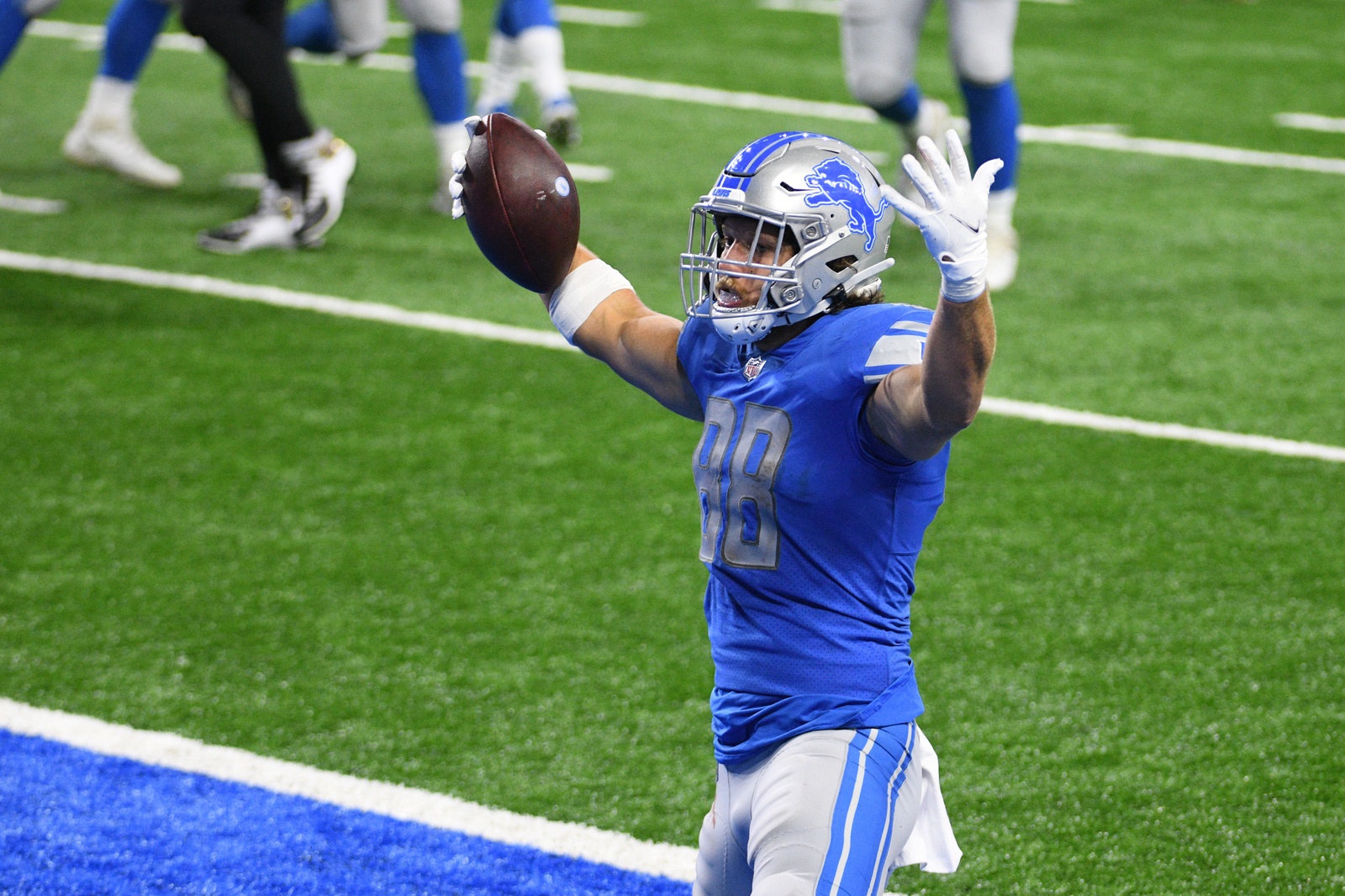 Tight end is a position where it often takes players a year or two to acclimate to life in the NFL. We saw Hockenson start to do just that in 2020, raising his PFF grade from 60.5 as a rookie to 75.4 this past season. 
The former top-10 pick recorded both receiving and run-blocking grades of at least 70.0 in 2020. He's not ever going to offer the kind of tantalizing receiving ability that made Pitts the highest-drafted tight end in NFL history, but he does offer a solid all-around game that can make him a top-10 tight end in the league year in and year out. 
Like Hockenson, Gesicki is one of several younger tight ends rising up the ranks following a strong 2020 season. His PFF grade has risen from 50.2 as a rookie in 2018 to 78.1 this past year. Gesicki has done the majority of his damage in the slot for the Dolphins. He is the only tight end in the NFL with over 500 routes run from the slot over the past two seasons. And Gesicki is all the way at 676 in that category. 
The addition of Will Fuller and Jaylen Waddle this offseason could lead to a shifting role for Gesicki, but his improvement over his first three seasons should ensure a secure spot in the passing attack heading into 2021.   
The days of Prime Gronk look to be over. But the 32-year-old showed last season that he can still pose a threat to defenses, even if some of the athleticism has waned with age and injury. 
Gronkowski's 78.4 receiving grade in 2020 was actually higher than his mark with the Patriots in 2018. He and Tom Brady were able to connect for 17 plays of 15 or more yards during the regular season, fourth at the position behind only Kelce, Waller and Gesicki. He figures to be the top man at tight end in Tampa Bay again next season despite the return of O.J. Howard from injury. 
Henry is one piece of New England's attempt to recreate what the team had early in the last decade with two talented tight ends to throw at opposing defenses. It looked early in his career like Henry was going to immediately join the ranks of the elite at the position, earning overall grades of 83.0 and 87.2 in his first two seasons with the Chargers. Injuries put a stop to that fast start, and he has merely been solid over the last two years. His 72.7 PFF grade since 2019 ranks 14th at the tight end position.    
Fant is part of a young, ascending receiving corps in Denver that just needs a quarterback to emerge. He made a big leap from his rookie to sophomore season in 2020, improving his receiving grade from 61.4 to 80.3. 
Fant did more of his damage underneath with the Broncos this past season. His 457 receiving yards on passes within nine yards of the line of scrimmage ranked fourth at the position in 2020 after finishing 27th in the same category back in 2019. Fant's athleticism makes bringing him down after the catch a difficult task. 
Smith is the second piece of the puzzle for the Patriots' revamped tight end group heading into the 2021 season. He offers a different receiving skill set than Henry as one of the more explosive players at the position. There aren't many tight ends in the league who can break off 50-yard runs out of the backfield like Smith did against the Texans back in 2019. 
He has been one of the more productive tight ends in the league after the catch thanks to that explosiveness. Smith's 7.1 yards after the catch per reception since entering the league in 2017 rank second behind only Kittle among all tight ends with at least 100 receptions. 
There's no way to get around the fact that Ertz is coming off a down 2020 season. He was one of eight tight ends in the league to run at least 250 routes and average fewer than 1.0 receiving yards per route run (0.94). That mark was tied with Tyler Eifert in Jacksonville.
Prior seasons are still going to carry some weight for Ertz in these rankings, particularly after factoring in the ankle injury that played a role in a down 2020 season. He put up receiving grades of at least 75.0 in six of his seven career seasons before last year. Any prospective trade partner will have to hope for a bounce-back season in a new environment.        
With "tight end" Tim Tebow stealing headlines in recent weeks, Thomas stands out as the current model for a former quarterback transitioning to tight end. 
He's coming off by far the most productive season of his career with Washington in 2020, catching over twice as many passes last season (72) than the rest of his career combined (35). Thomas was also the only tight end in the NFL to play over 1,000 regular season snaps last year, rarely coming off the field. He'll have more competition for targets in 2021 following the additions of receivers like Curtis Samuel and Dyami Brown this offseason.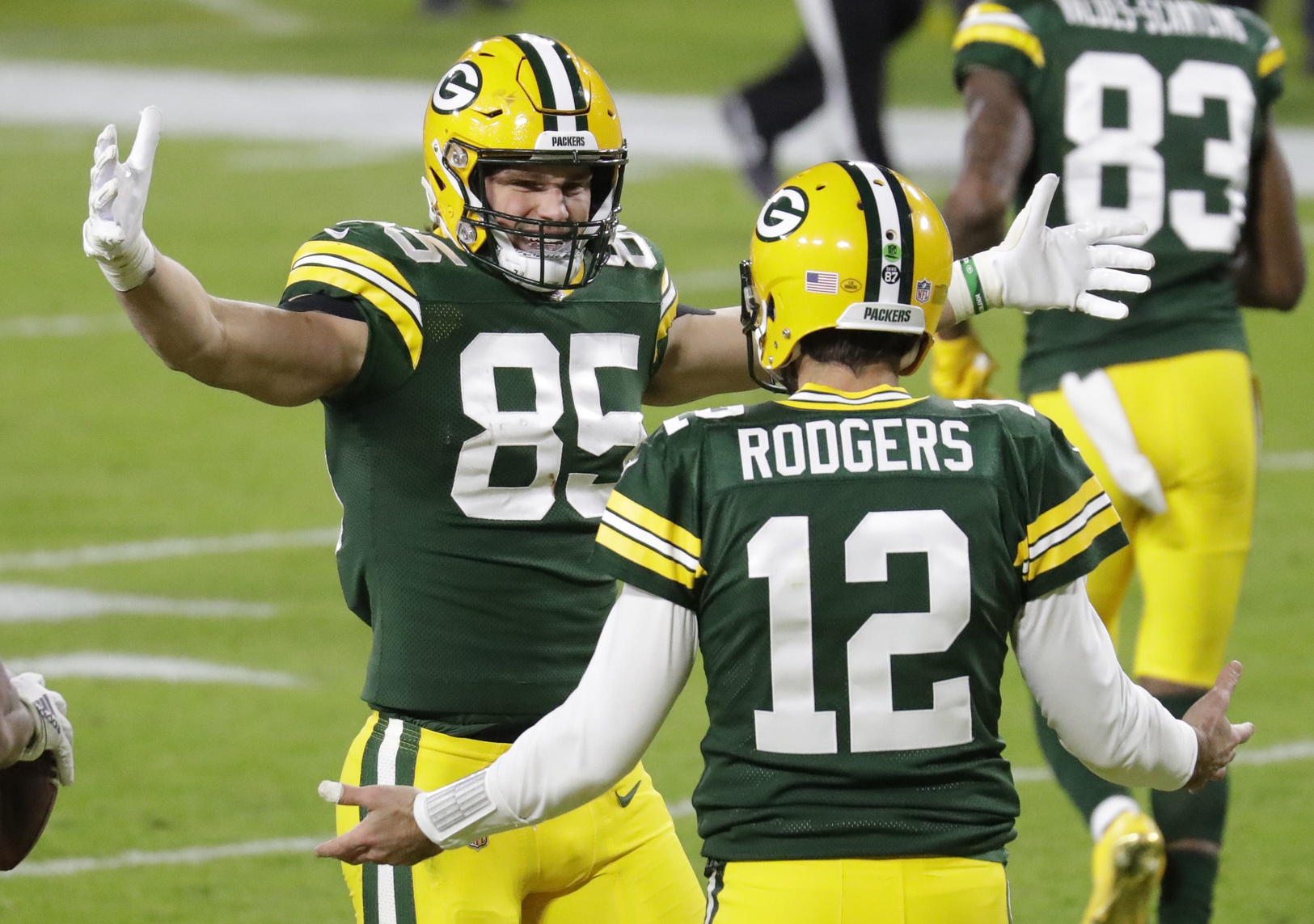 Tonyan may train with Kittle in the offseason, but he has yet to show the tackle-breaking prowess of his workout partner. He didn't register any missed tackles forced after the catch in 2020. That didn't stop him from putting up a highly productive year in a Green Bay offense that was clicking on all cylinders, though. 
Tonyan saw more than 15 targets for the first time in his NFL career, and he generated a passer rating of 148.3 on his 58 looks in the passing game. That mark led all qualifying tight ends in 2020. 
There were much worse ways for the Chargers to go about replacing Henry than signing Cook to a one-year, $4.5 million contract this offseason. The 34-year-old has arguably played the best football of his career over the past three seasons with the Raiders and Saints. Cook can still provide a vertical threat at his age, too. His 14.2 yards per reception over the past three seasons are more than any other tight end in the NFL with at least 100 receptions over that span. It makes for an intriguing potential connection with Justin Herbert in Los Angeles.     
Hooper came in at 11th on this list last offseason despite signing a deal that made him the highest-paid tight end in the NFL at the time. The reasoning was that he operated in an advantageous scheme in Atlanta where over 75% of his receiving output came on targets defined as attacking holes in zone or underneath the defense in 2016. His results weren't nearly as strong when matched up in man coverage. 
The move to Cleveland came with a downtick in production last season. Hooper's PFF grade fell from 78.3 in 2019 to 69.8 in 2020. He still profiles as a reliable target over the middle of the field who has averaged at least 1.3 receiving yards per route run in every season of his career. Hooper just isn't going to strike fear in defenses the same way some of the elite names at the top of this list will. 
Higbee's red-hot close to the 2019 season didn't carry over into the 2020 campaign. Over the last five weeks of the 2019 season, Higbee ranked third among all offensive players in PFF receiving grade (91.2) and receptions (43). No player had more receiving yards (522), either.
Higbee remained TE1 in Los Angeles last season, out-snapping Gerald Everett by nearly 200 snaps over the course of the regular season, but his production took a hit. Higbee's PFF grade dropped nearly 20 points to 67.6 in 2020, and his 1.62 receiving yards per route run was nearly a full yard lower than his mark in 2019 (2.60).    
The Giants picked up Engram's fifth-year option last season despite an underwhelming start to his NFL career. He followed that decision up by posting the lowest PFF grade of his career in 2020 (60.5) and averaging a career-low 1.28 receiving yards per route run. 
The talent and athletic ability that led to him being drafted in the first round of the 2017 NFL Draft is still there. Engram just needs to stay on the field and deliver with more consistency. His 25 drops across four years in the NFL are two more than any other tight end in the league over that span.    
Rudolph will now be part of a much-improved Giants receiving corps after raising concerns about his usage last season in Minnesota. He isn't going to serve as a field-stretcher, but he does have some of the most reliable hands the position has to offer. Rudolph has dropped just two passes in the last four seasons combined. As noted above, that's a stark contrast to his new running mate Engram, who dropped eight passes last season alone.  
Everett's PFF grade came back down to Earth in 2020 after two strong showings in a part-time role the prior two seasons. Across the 2018 and 2019 seasons, Everett's 79.3 receiving grade ranked eighth at the position. He didn't have a big role in Los Angeles, but he was effective with the looks he did receive and was one of only three tight ends with 20-plus missed tackles forced after the catch. 
Everett's overall grade fell to 61.3 last season, thanks in part to six drops —more than he had the rest of his career combined. He'll look to rebound in Seattle as he competes for opportunities with Will Dissly.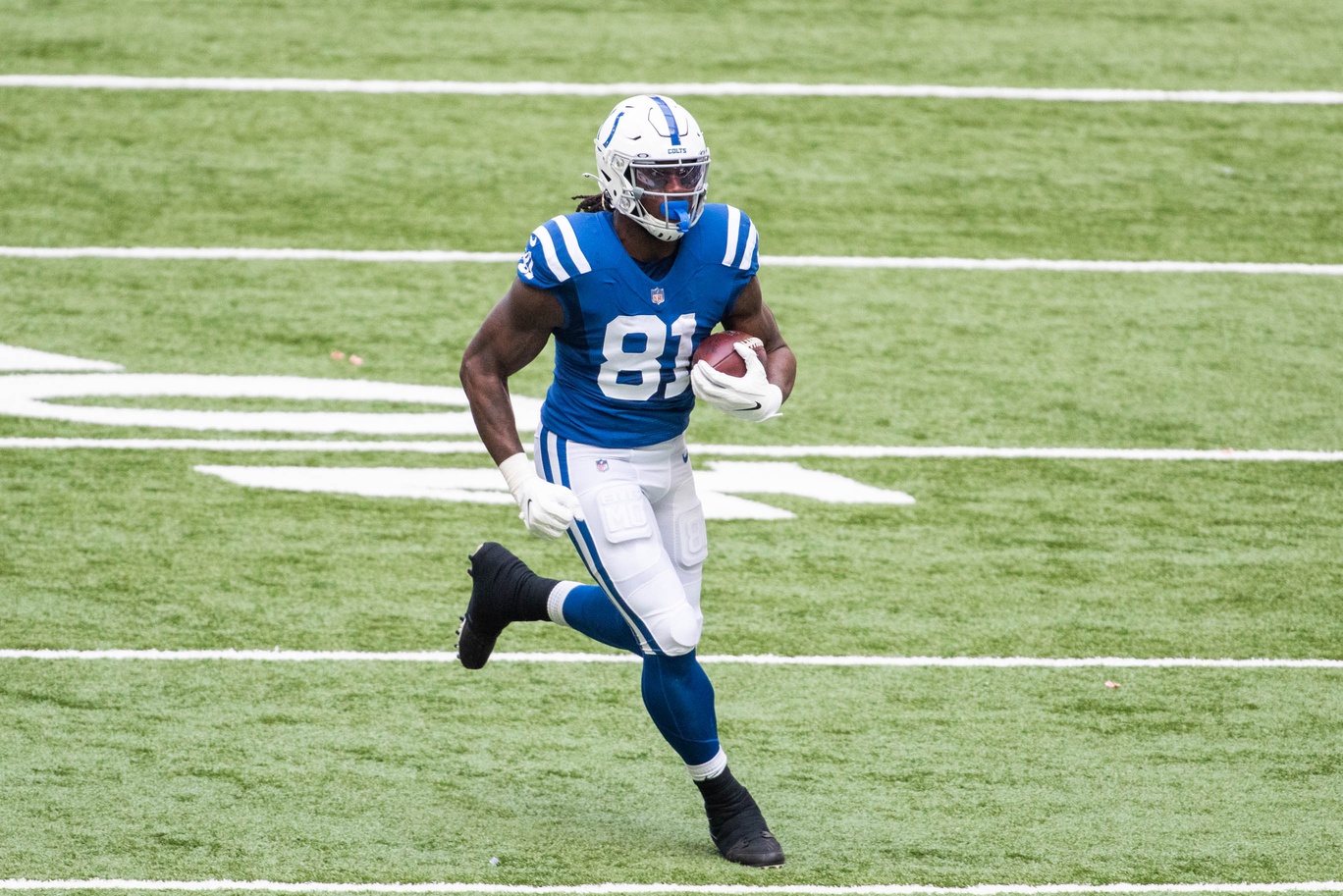 Alie-Cox did enough last season as part of the Colts tight end rotation to want to see him in a larger role in 2021. His 80.9 PFF grade was a top-five mark at the position on just over 500 snaps on the year. Alie-Cox contributed as both a receiver (2.07 yards per route run) and blocker (79th percentile in positively graded run blocks). He just needs to show similar play in a bigger role again in 2021 to move up the list.    
Howard was one of the more difficult players to pin down on this entire list. He has flashed dominance at times, but those stretches have been short-lived. Howard earned an 88.9 PFF grade in 2018 before being placed on injured reserve with foot and ankle injuries suffered in Week 11. He was off to another quick start last season (80.1 overall grade) before an Achilles injury ended his season in Week 4. 
The injuries and inconsistent play have led to Howard being more of a "what-if" at this point than someone who can be relied on moving forward. 
Doyle led the Colts' three-headed attack at tight end in snaps (596) last season, edging out Alie-Cox and Trey Burton. He falls into the bucket of steady yet unexciting players at the position. Doyle has graded between 69.2 and 75.1 in each of the past seven seasons for Indianapolis. He, along with Alie-Cox, give first-year quarterback Carson Wentz another nice one-two punch at tight end, even if it isn't quite on par with Ertz and Goedert.  
We were fans of the Ebron signing last offseason for Pittsburgh given what he could offer as a receiving threat in that offense. He was coming off five-straight seasons with receiving grades of at least 65.0, but that dropped to 58.4 in the lowest-graded season of Ebron's career in 2020. He was one of the victims of the Steelers' unimaginative passing attack last season. His drops (seven) did the unit no favors, though. Ebron's 40 drops since 2014 are more than any tight end in the league. 
Smith will have an opportunity to make a big jump up this list next offseason given that he is expected to have an increased role in 2021 following the departure of Rudolph to New York. His raw receiving numbers in 2020 were on par with his rookie production in 2019, but Smith got to those numbers more efficiently. He averaged over three yards more per reception last season and saw his receiving grade jump from 62.0 to 75.4. The Vikings will hope for another step forward in 2021. 
Hurst was his offense's primary tight end for the first time in his career last season, stepping in for Hooper in Atlanta following a trade from Baltimore. That increased role came with a hit to his grading profile. Hurst dipped from a 73.1 PFF grade with Baltimore in 2019 down to 58.9 in his first season with the Falcons. He does profile as one of the more sure-handed tight ends in the league, with just three drops to this point in his career on over 150 targets.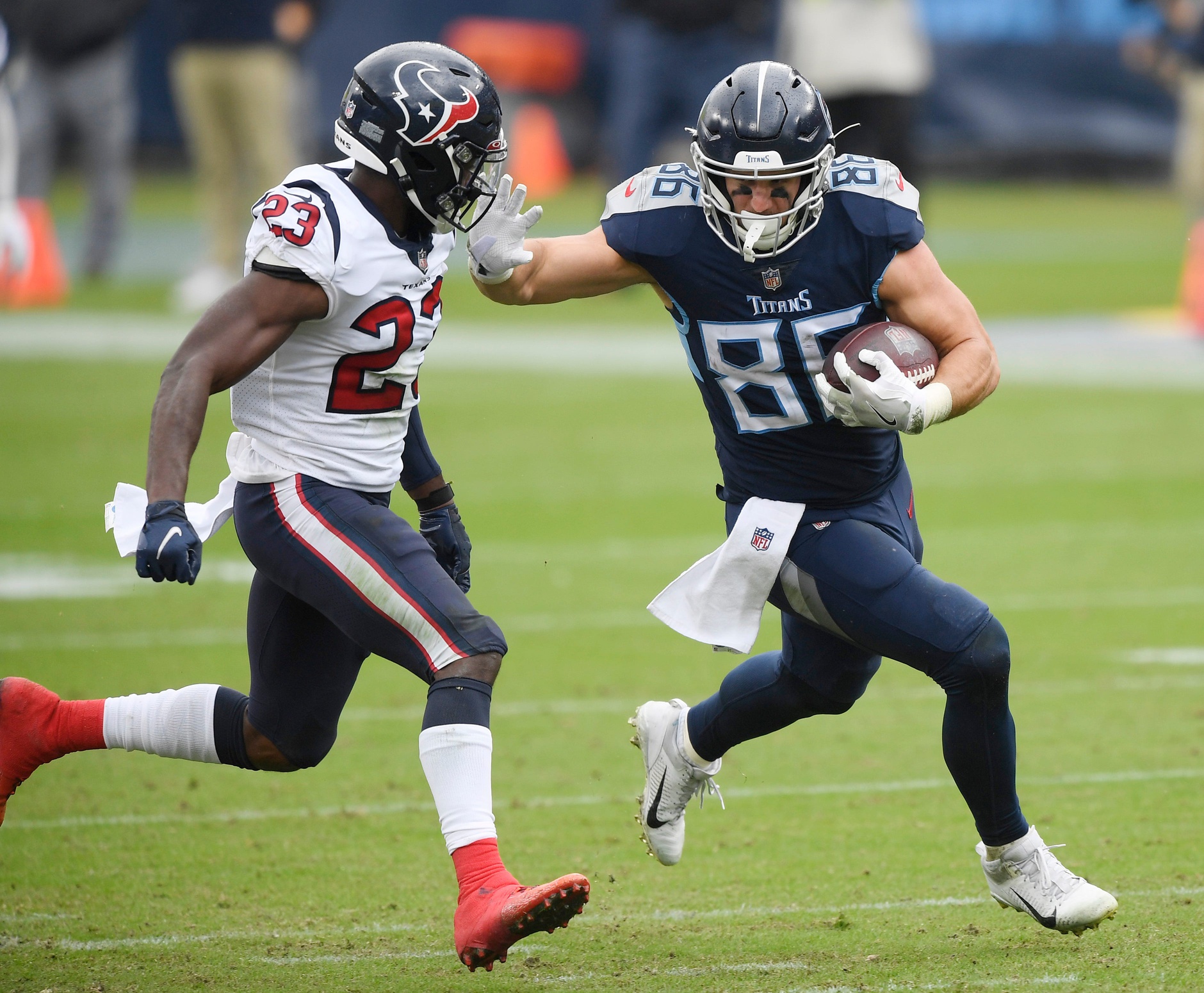 Tennessee's decision not to bring back Smith at tight end is in part a reflection on how they feel about Firkser, who gave them a reason to be confident in his receiving ability last season. Firkser didn't drop a single target in 2020 and ended the year with a career-high 77.7 receiving grade that ranked ninth among qualifying tight ends. Now he gets the opportunity to do it again in an increased role on a Titans offense that lacks proven receiving threats behind A.J. Brown. 
The Texans don't have many things going for them right now, but there is some reason for optimism surrounding Akins' improvement in 2020. His receiving stats don't necessarily show it, but Akins raised his PFF grade from 55.1 in 2019 to 71.8 this past season. He was noticeably stronger at the catch point in 2020, bringing in seven of his 11 contested targets. Akins had caught just three of 11 opportunities in his career prior to last season. 
Trautman earned a spot on the PFF All-Rookie team last season despite catching just 15 passes and playing fewer than 500 snaps over the course of the regular season. Part of that is an indictment on the strength of last year's rookie tight end class, but Trautman did play well in the opportunities he received in New Orleans. That was especially true as a blocker in the run game. Trautman's 87.1 run-blocking grade on the season led all qualifiers at the position.   
The Jarwin breakout was expected to come last season. Unfortunately, a torn ACL ended Jarwin's 2020 season after just 25 offensive snaps. He was one of several offensive starters lost to injury early on for the Cowboys. Jarwin averaged a career-best 1.82 receiving yards per route run in 2019 and will look to build on that in 2021, assuming he wins the starting job from last season's fill-in, Dalton Schultz.  
Brate is the third Buccaneers tight end to crack this list, which is one of many reasons why the team is a Super Bowl favorite yet again heading into 2021. 
Brate became an important piece of Tampa Bay's passing attack late last season and through their playoff run, out-gaining Gronkowski from Week 14 through the Super Bowl. His 76.7 receiving grade in 2020 was the second-highest of his career behind only 2016. He gives the Buccaneers three tight ends capable of being starting options to go along with one of the deepest wide receiver groups in the NFL.