The bulk of the 2021 NFL offseason is now in the books, closing the door on the greatest opportunity for NFL teams to overhaul their rosters. Free agency and the 2021 NFL Draft have seen some major players change teams or enter the NFL, so let's look at the league-wide situation when it comes to running backs.
We know backs are largely a product of their environment, but that doesn't mean they are just interchangeable — there are very real gradations to the running back position throughout the NFL.
Here are the best 32 backs as we look ahead to the 2021 NFL season.
Subscribe to
We debate how much running backs can truly outperform their environment, but nobody has done that more than Henry over the past two seasons. Henry has 2,758 yards after contact since the start of the 2019 season, almost 1,000 more than any other back in that span.
Cook is the closest thing to Henry in terms of a running back outperforming expectations in the NFL. The Vikings back has earned a PFF rushing grade of 90.9 over the last two seasons, second only to Henry, but the Vikings' offensive line has ranked 15th league-wide in PFF run-blocking grade over that same stretch. Cook is also a big-play waiting to happen — he has ripped off carries of at least 70 yards in each of the last three seasons.
Arguably the most complete back in the league, McCaffrey also showed the problems with the position in today's NFL when Carolina's offense actually proved to be a tick more efficient when he was out of the lineup. McCaffrey has seen 388 targets in his NFL career, and he has dropped just nine of them.
There may be no better pure ball carrier in the NFL than Nick Chubb, and only a relative lack of impact in the passing game keeps him as low as No. 4 overall. The Georgia product has the best broken tackle rate in the NFL over the last two seasons, with 124 broken tackles on 488 carries.
Like McCaffrey, Kamara is an all-around weapon on offense for the New Orleans Saints, as he has seen 100 targets and hauled in 80 catches in every season of his career. The Saints back has averaged over 2.0 yards per route run in his NFL career.
Jones has never had a bad year in the NFL, with four straight seasons earning a PFF grade of at least 75.6 overall and 79.6 as a rusher. He has averaged at least 3.0 yards after contact per carry in each of the last two seasons.
One of the most talented backs in the league, Saquon Barkley embodies the cautionary tale of the position, with both injury and environment combining to limit his effectiveness so far at the pro level. Barkley showed what he was capable of as a rookie, but that is his only season that generated a PFF grade above 80.0.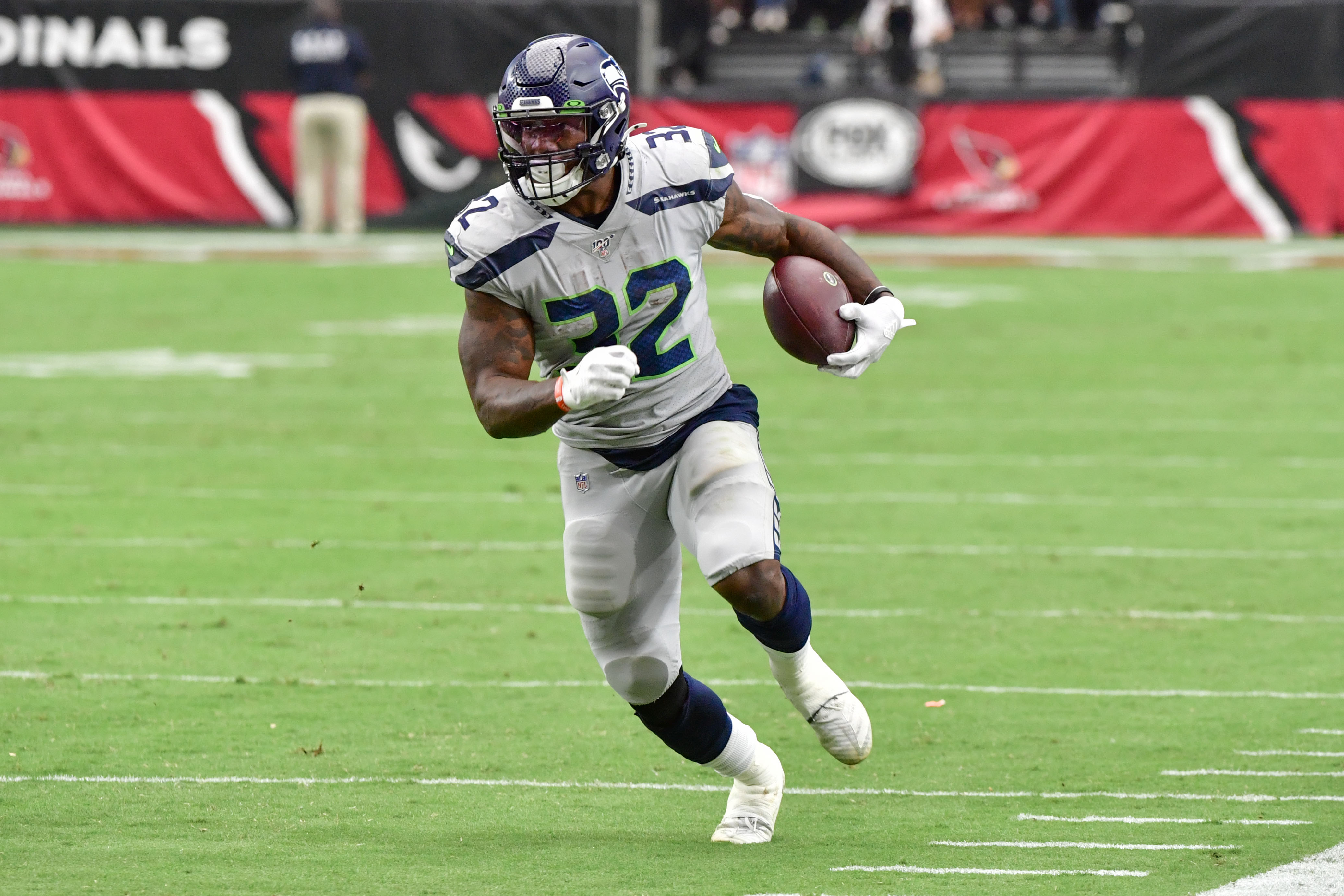 A throwback-style runner who plays, fittingly, in an offense with some throwback tendencies, Chris Carson is one of the hardest-running ball carriers in football. He has broken 136 tackles and averaged over 3.0 yards after contact per carry over the last three seasons.
Over the past two seasons, only Derrick Henry and Nick Chubb have broken more tackles on the ground than Josh Jacobs, who has been the best first-round pick the Raiders have had in a number of years.
The Browns picking Hunt up for peanuts, given his off-field transgressions, has meant the team can field two top-10-caliber running backs simultaneously. Hunt may not be quite as good as Chubb as a ball-carrier, but he is a superior receiver and has broken 33 tackles on receptions since the start of 2019.
The highest PFF receiving grade over the last two seasons belongs not to Christian McCaffrey, Alvin Kamara, or any other big-name superstar but to Austin Ekeler, whose 93.6 grade is streets ahead of the competition. Ekeler also has the most receiving touchdowns and explosive plays in that time.
You don't have to go back very far to find Zeke Elliott at the top of lists like these, but he is coming off a tough year in which he ground out 4.0 yards per carry with a 68.7 PFF rushing grade behind an offensive line that struggled. Elliott hasn't looked at his best for some time now but remains a good back without many real flaws.
David Montgomery doesn't have great breakaway speed — one 80-yard scamper in 2020 notwithstanding — but he does pretty much everything else well. He averaged 3.1 yards after contact per carry in 2020, earning an 82.3 PFF rushing grade in the process.
An offensive line so bad that it was hazardous to Joe Burrow's health has also been a major obstacle in the way of Joe Mixon having the kind of dominant production that his talent might deserve. Mixon has only averaged 3.9 yards per carry over the last two seasons, but 3.0 yards of that have come after contact.
Antonio Gibson is still just scratching the surface of what he can be at the NFL level, but he already finished with a top-five PFF rushing grade (85.3) in just his first year at this level. Gibson is an excellent ball carrier and has yet to be fully exploited as a receiving weapon, given his background playing that position in college.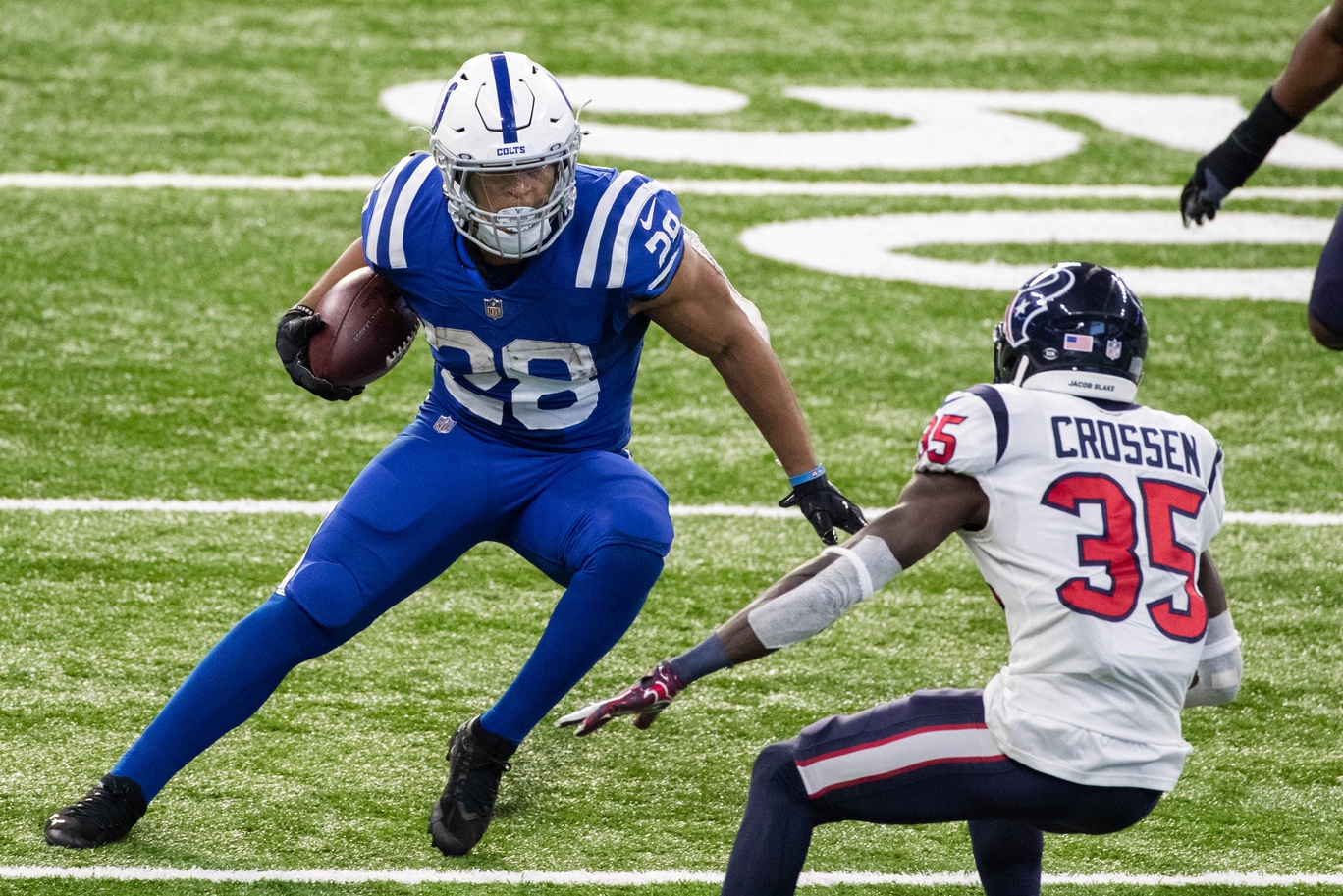 It took him a little while to get rolling, but once he did, we saw how talented Taylor was during his rookie season. The Colts back led all rookies in rushing yards, notching 15 carries of 15 or more yards and 35 carries that went for at least 10 yards.
Gordon's 83.0 rushing grade last year was the second-best mark of his career. He generated an impressive 3.1 yards after contact per carry for the Broncos, breaking 51 tackles on 215 attempts. Gordon's work in the passing game has been getting steadily worse over the last few seasons, however, with two straight seasons of PFF pass-blocking grades in the 40s.
An undrafted rookie a year ago, James Robinson was as impressive as any rookie runner, only to now find himself facing major competition from Travis Etienne and Carlos Hyde as offseason additions. Robinson averaged 3.2 yards after contact per carry as a rookie behind an offensive line that was far from unstoppable.
Sanders has been more productive than his PFF grades would suggest, though his grades have been partly dragged down by fumbles (four last season). He has impressive speed, with 14 carries of 15 or more yards since coming into the NFL to pair with an average of 3.3 yards after contact per carry.
Ranking rookies is always a tough ask without any real knowledge of how they will perform at the next level. Harris is a complete back who can be a force in the passing game as well as on the ground, and he could get a huge workload as the Steelers look to justify their pick and rejuvenate their run game. Harris averaged 3.7 yards after contact per carry in college.
If Pollard was sitting behind any other back, he might have already carved a far bigger role for himself. He is tied with Nick Chubb for the best broken tackle rate in the league since he was drafted (0.25)  and tied with Derrick Henry for the best yards after contact per carry average (4.0).
Devin Singletary has been a missed-tackle-forcing machine dating back to his college career. He has 68 broken tackles on 308 carries since the start of 2019, as well as another 19 on receptions out of the backfield.
Etienne is my favorite back from the 2021 NFL draft class. His home-run ability is what you should chase in the current landscape of offense in the NFL, but his work as a receiver is what is getting all of the attention, and his potential to be used as a hybrid player makes ranking him a difficult prospect. He recorded 85 runs of 15 or more yards in college.
Seventy-six broken tackles on just 157 carries this past season was by far the highest rate of any back we have recorded over a single season of college football. Williams is a powerful throwback of a running back who could be a devastating ball carrier right out of the gate.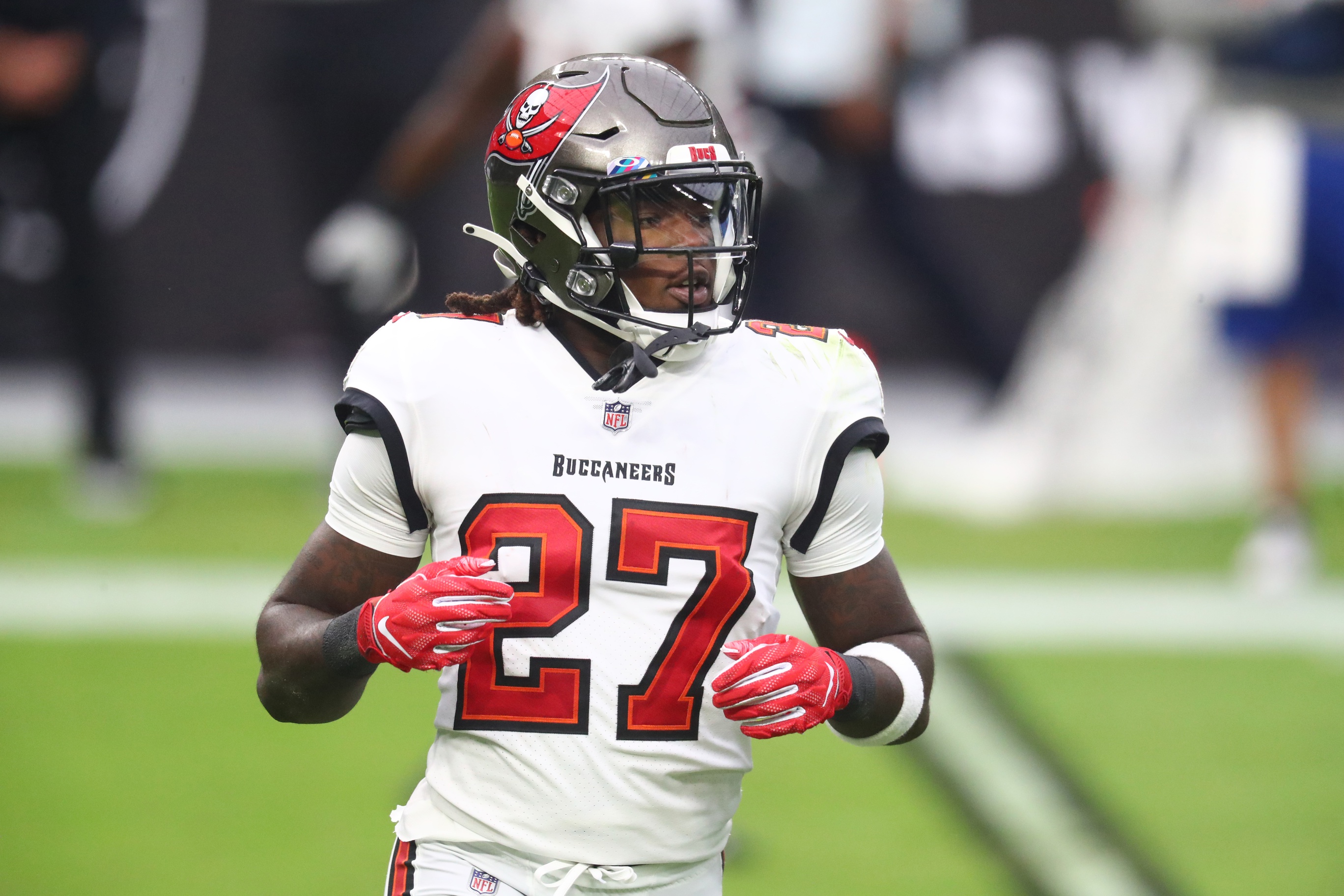 Ronald Jones produced the No. 6 PFF rushing grade last season, averaging 3.65 yards after contact per carry. Jones is an exceptional ball carrier but problematic in the passing game, where he has dropped 11% of catchable targets thrown his way in his NFL career.
It is tough to separate the performance of the running back from the boost he gets playing within a Baltimore Ravens offense that has QB Lamar Jackson distorting their opportunities, but J.K. Dobbins was extremely impressive in limited carries in his first year. Twenty-two of his 153 carries went for at least 10 yards.
One of the most fun players to watch in the NFL, Hines may never be a bell cow, but that doesn't mean he can't do a little bit of everything for the Colts. Hines broke 20 tackles on 95 carries this season, but he also caught 83.3% of the passes thrown his way.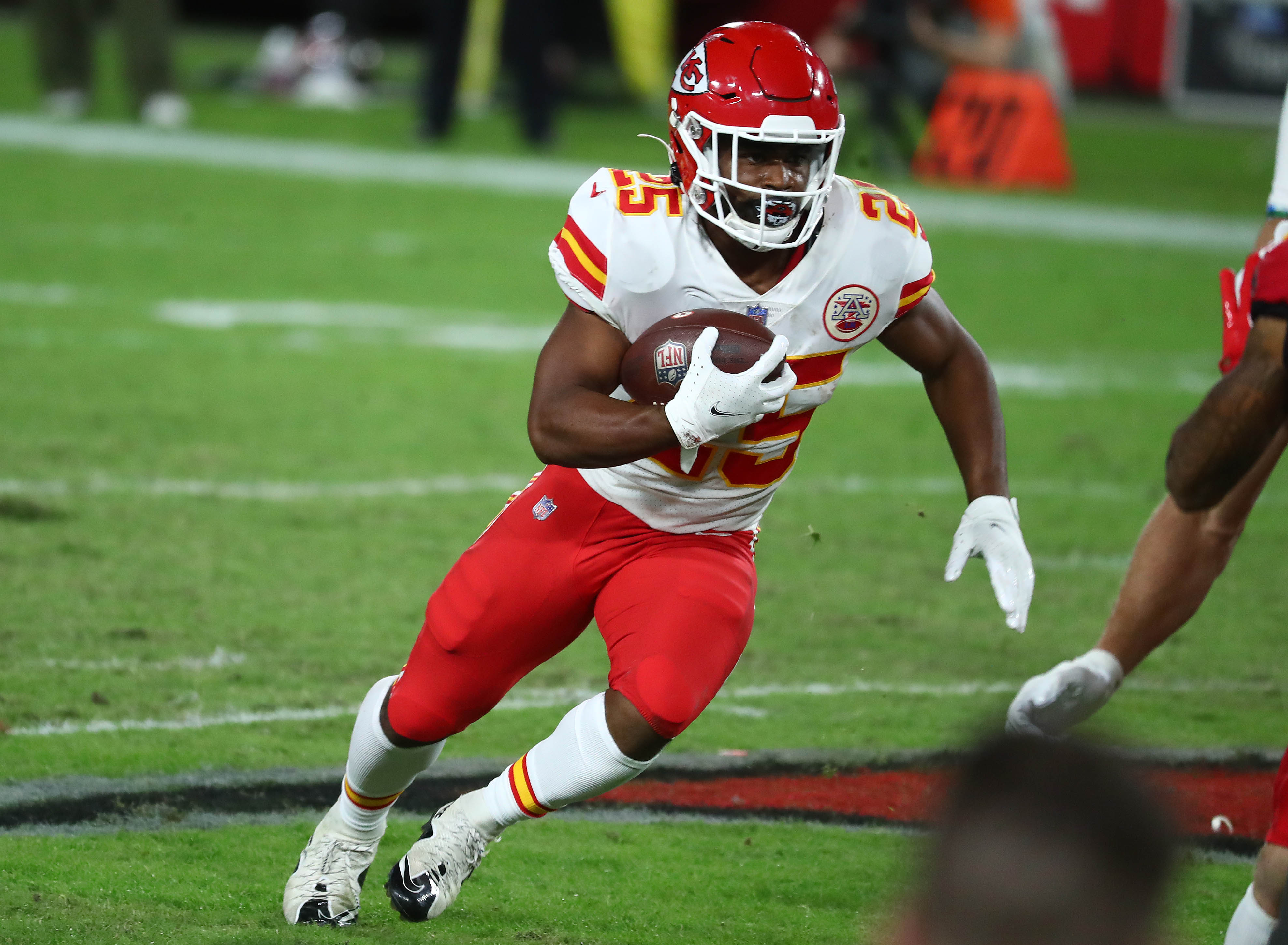 A first-round pick a season ago, Clyde Edwards-Helaire flashed ability as a rookie but didn't dominate the way we thought he might within the Chiefs offensive scheme. Edwards-Helaire averaged 3.0 yards after contact per carry, and 23 of his carries went for at least 10 yards.
One of the best receiving backs in the game, White trails only Christian McCaffrey and Austin Ekeler in PFF receiving grade over the past two seasons. White has 51 receiving first downs over that same period, with fewer targets than any of the three players ahead of him on that list.
Edmonds has been struggling for opportunities in Arizona but outperformed Kenyan Drake whenever he got the chance to. Edmonds was primarily used as the team's receiving back, generating a passer rating of 112.9 when targeted, but he also averaged more per carry and more after contact per carry than Drake.
For whatever reason, the offense in Arizona just wasn't playing to Kenyan Drake's strengths, even when he was healthy. A player who thrives in space was struggling to find any, averaging just 4.0 yards per carry, with 2.5 of it coming after contact. Drake still has game-breaking speed and ability but needs a better blocking situation in front of him.
Mark Ingram is getting up in age and has some real mileage under his belt. He is coming off a season in which he was effectively sidelined and reduced to the role of cheerleader in Baltimore. Still, a year before that, he averaged 3.1 yards after contact per carry and broke 40 tackles on 208 attempts.