The goal of the edge defender designation is to avoid comparing players who have very different roles, something that has reared its head in a Pro Bowl ballot or two over the years.
While responsibilities vary between a base 4-3 defensive end and a 3-4 outside linebacker, their roles are more aligned than that of a 3-4 outside linebacker and most 4-3 outside linebackers. So, both 4-3 defensive ends and 3-4 outside linebackers get labeled together as edge defenders.
Using PFF's play-by-play grading and advanced metrics such as pressure totals and run-stop percentage that can be found in Premium Stats 2.0, here are the top 32 edge defenders in the NFL heading into the 2021 season.
Mack falls outside the top 10 edge defenders in the NFL in total sacks over the last two seasons, but that is just one number that doesn't reflect how dominant he has been on the field. PFF's wins above replacement metric, PFF WAR, pegged Mack as the league's most valuable edge rusher in 2020, and that dominance extends back to his rookie season in 2014. Mack has recorded an overall grade above 85.0 in each of his first seven NFL seasons.
Going purely off of pass-rushing production, it's difficult to top what Watt has been able to do over the past two seasons in Pittsburgh. He leads all edge defenders in sacks (29.5) and quarterback hits (46) since 2019, falling just short of Shaquil Barrett in total pressures. Watt turned in PFF grades of 91.3 and 91.6 in those two seasons; he has developed into a legitimate Defensive Player of the Year candidate and one of the premier edge rushers in the NFL.
It didn't take long for Bosa to establish himself as one of the league's top pass-rushers. He notched 59 pressures as a rookie back in 2016 despite not seeing the field until Week 5 and has only continued to improve in the four years since. Bosa is the only active edge rusher with a pass-rush win rate higher than 20% since 2016, sitting at 22.0% since entering the league. The biggest question heading into the 2021 season is whether he'll remain healthy throughout the year.
Garrett finds himself at the top of almost every significant pass-rush grade category since entering the league as the No.1 overall pick back in 2017. He ranks in the 98th percentile in pass-rushing grade, pass-rush grade on true pass sets and pass-rush grade without play action. Garrett is one of the position's best athletes and can win his individual matchups in various ways. He will enter the 2021 season with another former No. 1 overall pick across from him on the defensive line in Cleveland, as well.
Bosa wasn't able to build on his impressive debut as a rookie thanks to a torn ACL that ended his year in Week 2, but this is a good place to remind everyone just how strong that rookie performance was. Bosa's 80 pressures were over 10 more than the next closest rookie season since PFF began charting back in 2006. And his 89.8 overall grade wasn't just tops among all rookies in 2019; it was second among all players behind only T.J. Watt. His return from injury in 2021 is massive for San Francisco's defensive line.
Jordan has been one of the more reliable defensive linemen in the NFL over the course of his career in New Orleans. He rarely comes off the field and has earned six consecutive PFF grades of 82.0 or higher. That combination of durability and high-level play is why Jordan ranks second at the position in total pressures since 2015 (428), trailing only Khalil Mack and Aaron Donald among all defenders.
Pass rush is always going to draw headlines for edge defenders. Lawrence has been one of the league's best in that department, putting up a top-10 pass-rush win rate at the position since 2017. However, he has also been an elite run defender in recent years. Lawrence's 90.1 run-defense grade over the last four seasons makes him one of just seven players at the position to clear the 90.0 mark since 2017.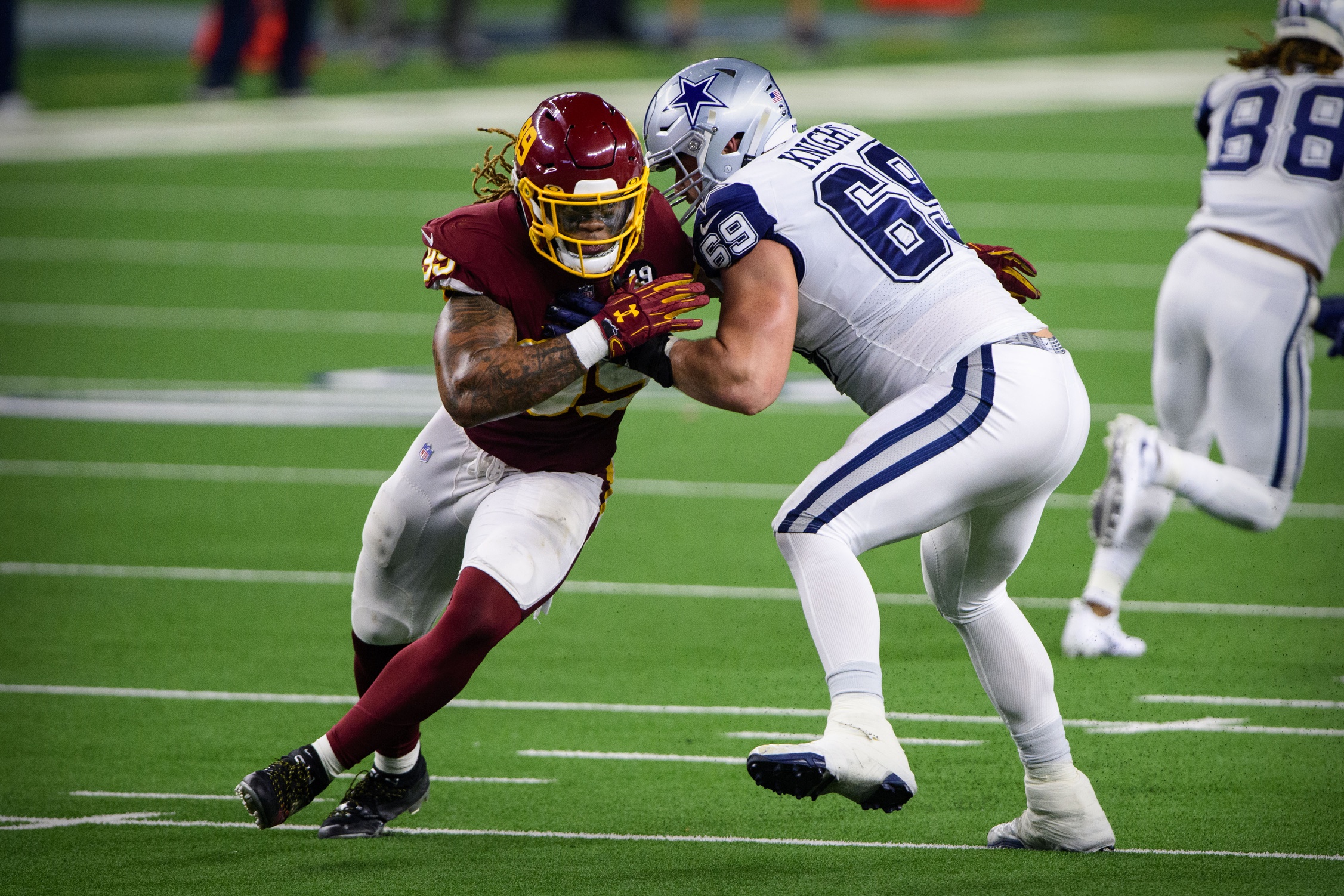 The scary part when analyzing Young's first season in the NFL is that there is still clear room for improvement from a pass-rushing perspective. And Young still got out to an 87.1 overall grade as a rookie, fifth in the NFL among qualifying edge defenders.
He was at his best in the red zone. Young's 93.3 overall grade last season in that portion of the field led all players at the position.
Barrett has taken full advantage of the increased opportunity that came with his move to Tampa Bay. Barrett graded at 74.0 or higher in each of his first four seasons with Denver, but he was limited to a rotational role in a group that had talented players ahead of him on the depth chart.
His starting role with the Buccaneers has resulted in 157 total pressures since 2019, more than any other edge defender in the NFL. The four-year extension he signed with the team this offseason was well earned.
It didn't take long for Hunter to develop into a quality run defender in the NFL following his third-round selection out of LSU back in 2015. He ranks in the 87th percentile of all qualifying players at the position in run defense grade across the past six seasons.
However, 2019 was the first season that Hunter made a big leap as a pass-rusher. He put up an 84.5 pass-rushing grade — over 10 points higher than his previous career high — and 88 quarterback pressures in 2019.  He'll look to build on that in his return from a 2020 season lost to injury.
The only reason that Miller is sitting here at No. 11 rather than higher is that he will be returning from a severe ankle injury at 32 years old. The last time he played, back in 2019, was also the first season of his career in which he fell below a 90.0 PFF grade (79.3). There is a real possibility for decline, but Miller's resume speaks for itself. No edge defender graded higher than Miller (94.6) or recorded more pressures than Miller (640) from 2011 through 2019.
The biggest issue for Watt throughout his career has been health. Few defensive linemen have been as dominant as Watt when he has been healthy over the past decade.
He might not quite be the same guy who put up four consecutive 90.0-plus PFF grades and won three Defensive Player of the Year trophies from 2012 to 2015, but he can still impact the game at a high level. Watt has been the third most valuable edge defender in the league since 2018, per PFF WAR. We could see him play more on the interior again in Arizona.
The move to Green Bay has led to the best football of Smith's career. It started with a dominant 2019 season in which Smith posted a career-high 89.7 overall grade and led the NFL in pressures with 93. The 2020 season didn't quite live up to those heights, but Smith put up another impressive 84.2 pass-rushing grade. He has been effective when kicking inside the tackles and rushing the passer, posting a 20.2% pass-rush win rate on over 100 such snaps over the last two years.
Graham is one player whose sack totals at the end of his career won't do justice to how disruptive he was as a pass-rusher. Since 2014, Graham ranks tied for 16th at the position in total sacks, but only Khalil Mack, Cameron Jordan and Von Miller have recorded more pressures than Graham has (445). Pair that with a league-high 88 tackles for loss or no gain against the run over that same span and you have one of the most well-rounded edge defenders in the game.
It's reasonable to expect Hughes to lose a step here soon, as he will enter next season at 33 years old, but he has shown little sign of decline of late in Buffalo. Over the past three seasons, Hughes' 19.8% pass-rush win rate ranks fifth among qualifiers at the position. Expect Buffalo to continue to lean on him in 2021 while grooming recent draft picks such as A.J. Epenesa, Gregory Rousseau and Carlos Basham Jr. to take on larger roles down the line.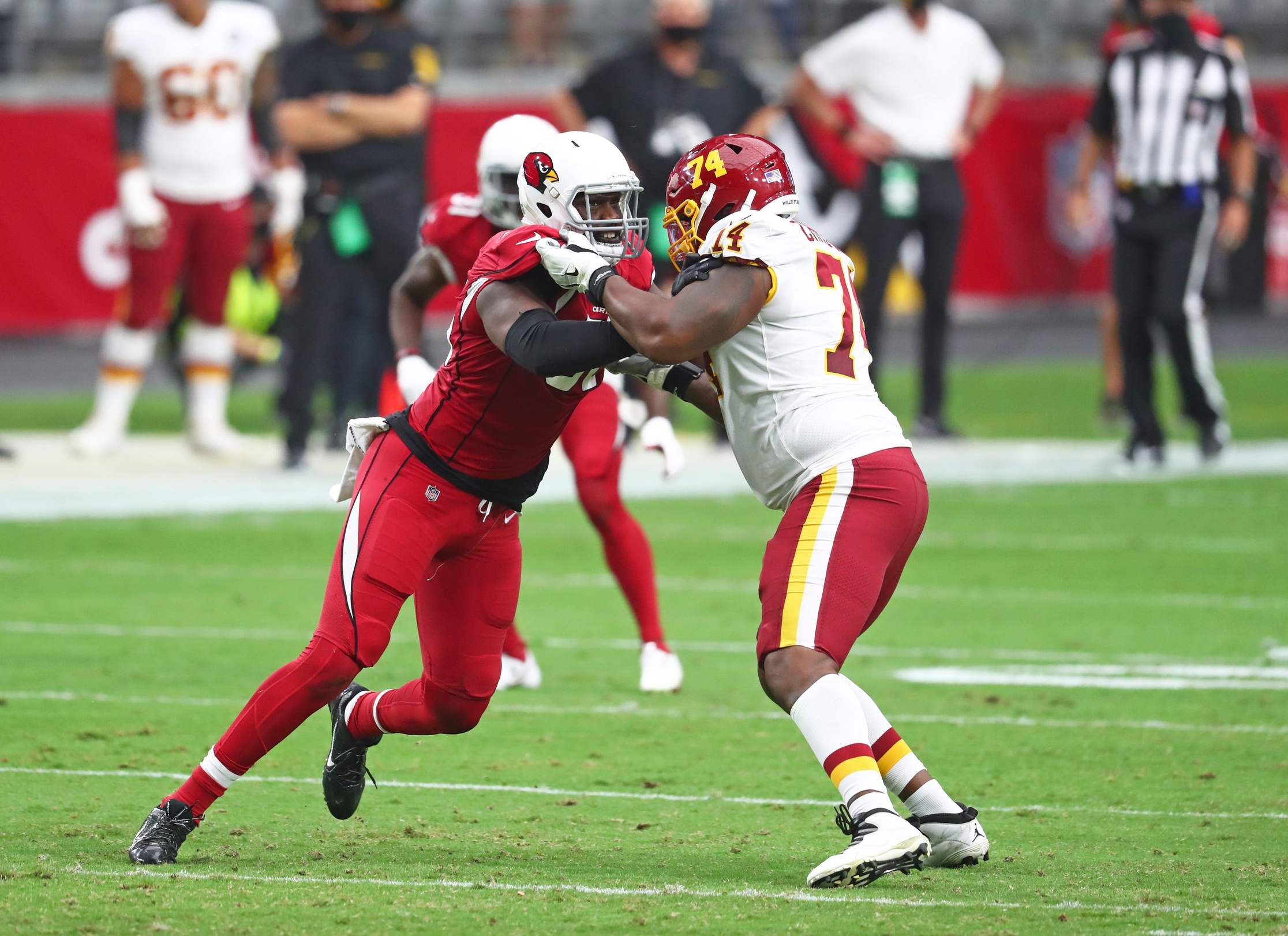 The potential is there for a formidable duo in Arizona, with Jones and Watt now joining forces as teammates. They rank first and second, respectively, in sacks since Jones entered the league in 2012.  Jones appeared in just five games for Arizona in 2020, but he recorded a career-high 90.0 pass-rushing grade the last time he played a full season. He's a key part of a talented front seven that may need to make life easier for a shaky cornerback group by speeding up opposing quarterbacks.
Few edge defenders improved more from 2019 to 2020 than Sweat did in his second year in the NFL. His 87.0 run-defense grade last season ranked third at the position behind only Khalil Mack and T.J. Watt, and he bumped up his pressure count from 32 as a rookie to 47 in 2020. Sweat also stood out as one of the best defensive linemen in the league at getting his hands into throwing lanes when rushing the passer. His six batted passes last year ranked second at the position.
Since entering the league in 2017, Lawson's pass-rush grade on true pass-rush sets ranks in the 96th percentile among all edge defenders — firmly in elite territory. Injuries and inconsistent play limited his opportunities to begin his career, but he finished the 2020 season with a career-high 723 defensive snaps and 84.9 pass-rushing grade. The arrow is pointing up. Lawson could become the most impactful edge rusher that the Jets have had on defense in the past decade.
Burns is another edge defender from the 2019 draft class who made major strides in his second season in the NFL. Most of his improvement came as a pass-rusher, where Burns improved his pass-rushing grade from 68.7 in 2019 to 86.9 last year. He was particularly difficult to slow down on third down. Burns' 22.1% pressure rate on third down in 2020 was second among edge defenders with at least 50 pass-rush opportunities behind only Shaquil Barrett.
Clowney's stock across the league is seemingly at a low point as he comes off two injury-limited seasons with Seattle and Tennessee. It's worth remembering that Clowney is still one of the most disruptive edge defenders in the league when healthy, though.
He has been a 95th-percentile run defender at the position since 2014 and put up pass-rushing grades of 75.0 or higher for the first time in his career in each of the 2018 and 2019 seasons. The key for Cleveland will be keeping him healthy on what appears to be a much-improved defense following this offseason.
Listed at 6-foot-7 and 292 pounds, Armstead has shown he can play both on the interior and edge in San Francisco after moving past several injuries that limited him to fewer than 400 defensive snaps in each of his first three NFL seasons. Over the last three years, Armstead's 88.5 run-defense grade is a top-10 mark among edge defenders. His 140 pressures over that same stretch are nearly double the amount he recorded in his first three years in the league (76).
Von Miller's injury last season made Chubb the pass-rusher that opposing offenses keyed in on. Chubb responded with the best season of his three-year career from a pass-rushing perspective, even if the sacks don't tell the same story. His 79.4 pass-rushing grade in 2020 was a top-15 grade at the position. Denver should have one of the best defenses in the NFL next season if Chubb continues to build on that play and Miller returns at close to full strength.
Flowers has been one of the lone bright spots on Detroit's defense when healthy over the past two seasons. He ended each of the 2019 and 2020 seasons with PFF grades of at least 82.0, continuing his strong play both against the run and pass from his time with the Patriots. However, that 2020 grade came in just over 300 snaps, as Flower's season was cut short by a fractured forearm.
The Lions have an opportunity for an improved defensive line in 2021 with his return and the additions on the interior this offseason.
Ngakoue should give some new life to the pass rush under first-year defensive coordinator Gus Bradley. He has recorded at least 42 pressures in each of his first five NFL seasons, with pass-rushing grades of 74.5 or higher in each of the past four years. Ngakoue just hasn't quite gotten back to the dominance he flashed in 2017 as a pass-rusher, nor has he graded above 60.0 in any season against the run.
Ingram is the most impactful free agent edge rusher still on the market following several seasons limited by injury in Los Angeles. Don't be fooled by the goose egg in the sack column last season, though. Ingram still put up pass-rushing grades above 75.0 in each of the past two years and has plenty to offer teams as a pass-rusher. Teams such as the Miami Dolphins and Kansas City Chiefs — neither of whom have representatives on this list — should have interest.
An early-season injury coupled with a breakout year from Trey Hendrickson in 2020 led to Davenport taking a backseat on the Saints defensive line. His play over the first three years of his career should give New Orleans confidence that he is more than capable of stepping back into a starting role, though. Davenport started 13 games back in 2019 and came away from that season with an impressive 84.1 overall grade. He ranks in the 87th percentile among all qualifying edge defenders in run-defense grade since 2018.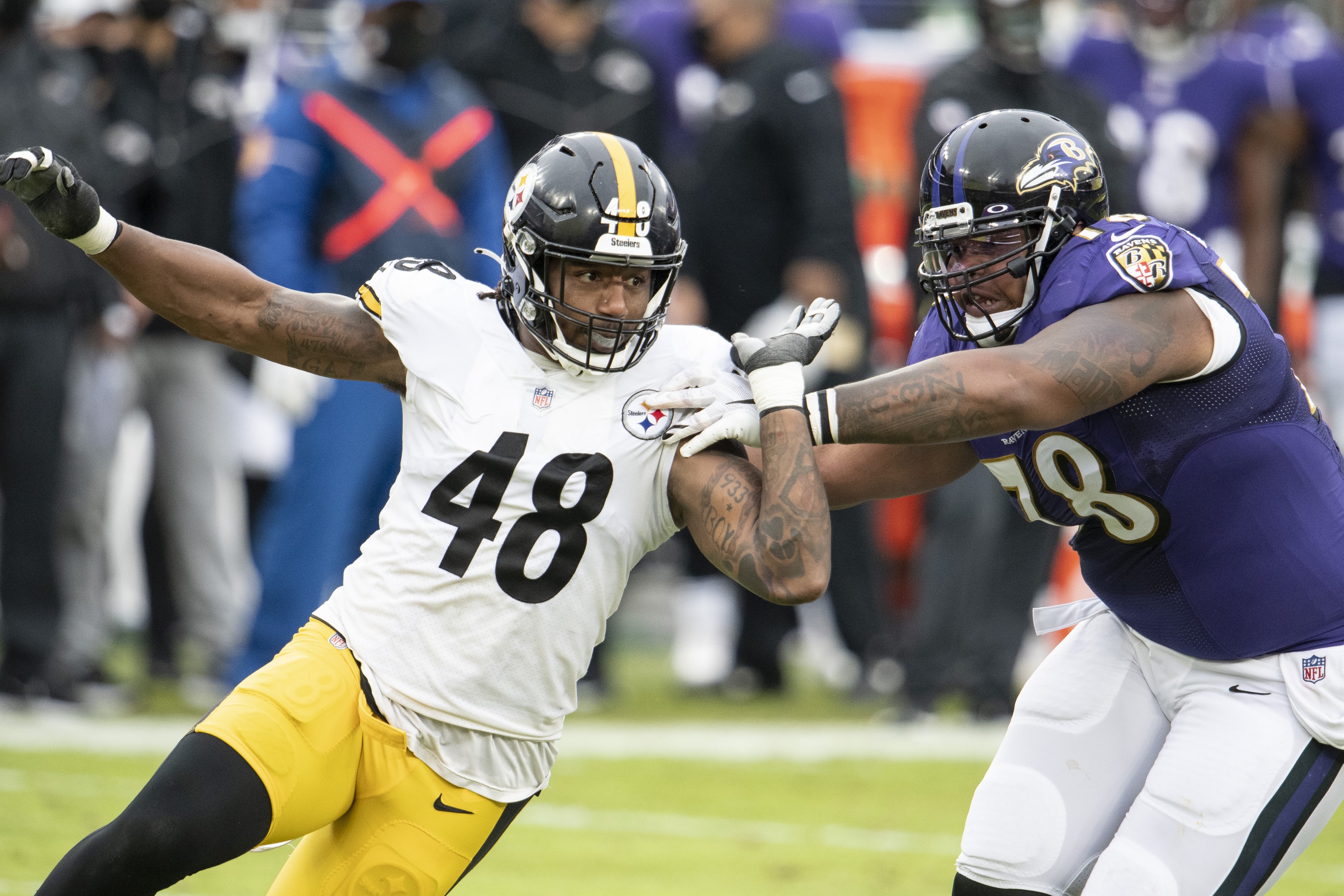 Dupree's high-end athleticism and motor were starting to lead to improved play toward the end of his tenure in Pittsburgh. He recorded at least 40 pressures in each of his final four seasons with the team, including a career-high 77.7 PFF grade in 2019.
The reason that the PFF grades for Dupree have been lower than his production throughout much of his career is that a high percentage of Dupree's pressures came in the cleanup and unblocked variety — a product partially of the talent around him. His 45 cleanup pressures since 2018 are the most in the league. It will be interesting to see how that translates to Tennessee.
Like Dupree, Floyd is another player who took advantage of an advantageous pass-rushing environment in 2020. In Floyd's case, that advantage stemmed almost entirely from having Aaron Donald and the attention he draws on the field alongside him.
Floyd's 69.5 PFF grade in 2020 was almost identical to the 69.6 grades he recorded in 2018 and 2019 with Chicago. However, his 55 pressures last season marked the first time in his career clearing 40. Floyd's 10.5 sacks last season were also a career high. There's little reason to expect he won't put up impressive numbers again in 2021.
Hendrickson's 2020 season with the Saints was an outlier given the prior three seasons in his career. His 77.0 pass-rushing grade last season was nearly 15 points higher than his previous career high, and his 49 quarterback pressures were 20 more than he had ever recorded previously.
One can't simply ignore the injuries that kept him from getting out to a fast start in his career, though. There is a chance that Hendrickson continues to develop if he can stay on the field. He earned pass-rushing grades of 90.0 or higher in each of his final two seasons at FAU.
Allen got out to a strong start as a rookie with Jacksonville in 2019, recording a 70.2 pass-rushing grade at a position that often takes some time for younger players to acclimate. He didn't have a full opportunity to build on that momentum last season, given the injury that limited him to fewer than 400 snaps on the year, but Allen did raise his pass-rushing grade by four points in his limited action. He's a strong third-year breakout candidate in 2021.
The addition of Judon was just one piece of the puzzle to a revamped front seven in New England this offseason — a transformation that was overshadowed by some of the big moves on offense. Judon is coming off four seasons of steady contribution in Baltimore, grading between 66.0 and 69.2 on at least 600 defensive snaps in every season since 2017.
Judon is another player whose pressure numbers benefitted from cleanup and unblocked opportunities with the Ravens. A league-high 39 of his 142 pressures since 2018 were unblocked — that's why he doesn't fall any higher on this list.
Ferrell hasn't lived up to the expectations that come with being a top-five pick in the NFL draft, but he was much improved in his second season out of Clemson in 2020. Ferrell improved his overall grade from 62.3 to 76.1 to go along with a 3.5 percentage point jump to his pressure rate in the 11 games he appeared in. He is trending in the opposite direction of fellow 2019 draftee Maxx Crosby, whose overall grade fell nearly eight points from his first to second season last year.