While the 2021 interior offensive line class may not be quite as strong as the tackle class, it's still much stronger than the group we saw a year ago and one of the better classes since we started grading. It's also one that could also get helped out by a number of tackle converts. Whatever the case, it's a good year to be in need of offensive linemen.
More of PFF's 2021 NFL Draft tools here: 
2021 NFL Draft Big Board | 2021 NFL Draft Guide | 2021 NFL Draft Stats Export | NFL Mock Drafts | NFL Mock Draft Simulator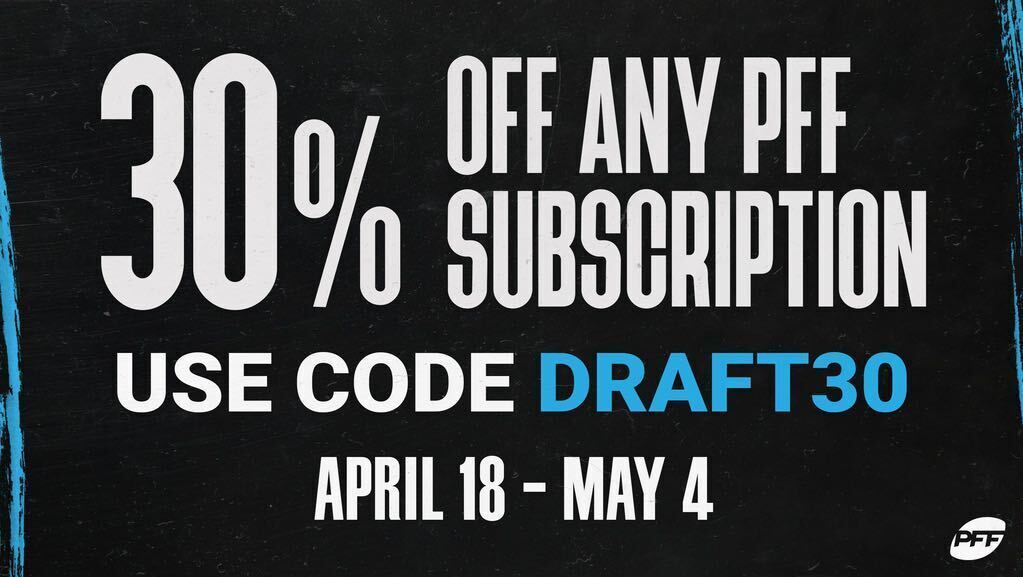 Vera-Tucker put up the highest pass-blocking grade on true pass sets of any lineman over the past two seasons, and he did it between guard and tackle. While his 32 1/8-inch arms may lead to him playing on the interior in the NFL, we'd still give him a shot at tackle.
Dickerson was hands down the best center in the country this past season and earned a 91.3 overall grade to lead the position. He's played every offensive line position at one point or another in his college career. If it weren't for the torn ACL he suffered in the SEC title game — the second ACL tear of his career — Dickerson would be a top-25 player in the class.
Meinerz earned his spot with a dominant Senior Bowl week. He won 58% of his reps in the one-on-ones throughout the week of practices, which is all the more impressive considering the level-of-competition leap and the fact that he didn't have a season this past fall.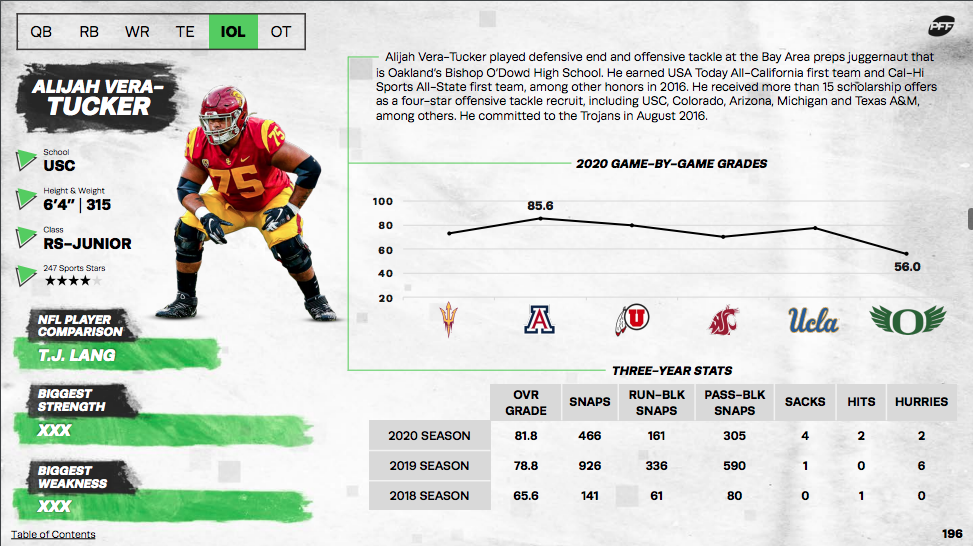 Davis has some of the best pass-blocking tape of any interior lineman in the class. Unfortunately, he also dealt with a recurring knee injury in 2020 that cost him multiple parts of games.
Humphrey has been starting at center for three seasons for the Sooners and didn't allow a single sack in his career. He has the size and athleticism to play any position on the interior.
Green is one of the most explosive offensive linemen in the draft. After switching from defensive line early in his career, Green tied for the FBS lead for big-time blocks among interior linemen this past season.
After an impressive true freshman campaign that saw him play well at multiple positions, Smith had his career derailed with injuries. He never quite developed the way many had hoped and only earned a 73.4 overall grade this past season.
Cleveland is about as well proportioned a 6-foot-6, 343-pound guard as you'll ever see. He was impenetrable in pass protection over the course of his career. He only had 13 pressures allowed across 600 pass-blocking snaps the past three seasons.
Hainsey is one of our favorite center converts in the class. He was terrific in pass protection at right tackle over the course of his career but doesn't quite have the feet to stick there. His hand usage is exceptional, though, and translated extremely well to center at the Senior Bowl.
Banks broke into the starting lineup for the Irish midway through the 2018 season and was a mainstay at left guard ever since. He's a big boy who's going to be a guard only at the NFL level despite being Notre Dame's emergency tackle. While he has three years of quality pass protection under his belt, he doesn't have the foot speed or anchor to think that will continue at the NFL level. Even at his size, you rarely see him moving guys off the line of scrimmage. I struggle to call anyone capped out, but with as technically sound as Banks is already, I'm not sure where he goes from here.