As a part of our partnership with ESPN, this is a part of a story that was originally published on ESPN+ and can be viewed in its entirety here with your ESPN+ subscription —  Senior Bowl 2021: Biggest 2021 NFL draft risers and fallers from practices, workouts
While many aspects of the pre-NFL draft process can get overrated in their importance, the Senior Bowl is not one of them. It's one of the few settings in which evaluators can see future NFL players going against future NFL players without the advent of a superior scheme or surrounding cast. More than 120 prospects went against each other at practice on Tuesday, Wednesday and Thursday, culminating in the game on Saturday afternoon.
There's a long history of under-the-radar standouts such as Tampa Bay guard Ali Marpet, Washington receiver Terry McLaurin and Carolina safety Jeremy Chinn proving early in their NFL career that what they did in Mobile, Alabama, wasn't a fluke.
Here are 10 prospects from the 2021 class who raised and lowered their draft stock at the Senior Bowl.
Biggest risers from the week
Running backs are not often asked to compete in the one-on-ones against the cornerbacks and safeties instead of the linebackers, but Felton is a different breed. The 5-foot-10, 200-pound running back started his UCLA career in the slot before transitioning to running back and that versatility was on full display in Mobile.
He not only impressed when compared to other backs but legitimately was in the conversation for best receiver in attendance. Felton's combination of quickness and speed led to some dominant reps, and his 62% win rate was among the highest at his position in one-on-ones at practice. Felton could easily come off the board toward the end of Day 2 after being a firm Day 3 running back going into the week.
Safeties are set up to fail in the one-on-ones at the Senior Bowl. After most spend their lives sitting in deep zones, they're asked to play press-man coverage against NFL-caliber receivers. That's why it catches the attention of NFL evaluators when one doesn't look out of place. That was Grant this year. He stonewalled multiple receivers at the line and also forced an incompletion in the one-on-ones against a receiver, something only one other safety was able to do.
Grant might not have the physical tools to be a first-round pick, but it would be a surprise to see him slip out of the second round now.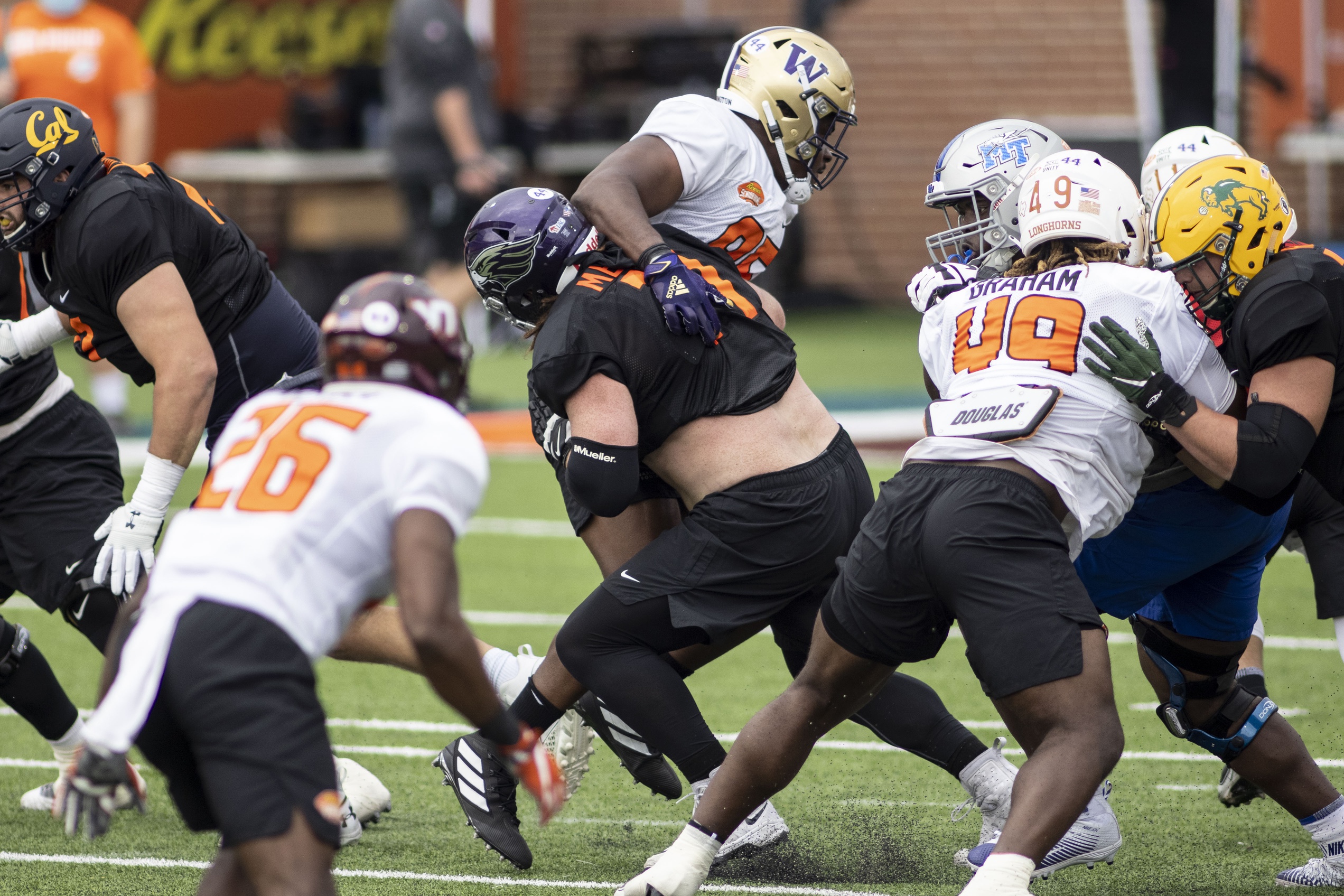 Quinn Meinerz, C/G, Wisconsin-Whitewater
Players such as Meinerz make the Senior Bowl such a great tool for evaluation. Coming from Division III Wisconsin-Whitewater, he has never matched up across from an NFL-caliber defender; I don't care how dominant you look at that level, it's still going to be difficult to "trust the tape." When that same dominance translates to the Senior Bowl, it makes buying in a lot easier.
Meinerz put multiple guys in the turf throughout the week of practice, including possible early-round picks such as Washington's Levi Onwuzurike and Pittsburgh's Patrick Jones II. Meinerz played his way into legitimate Day 2 consideration.
No single defensive back made more plays on the football this week than Brown. Undersized at 5-9, 188 pounds, he never gave an inch to bigger receivers. He picked off two passes and forced five incompletions, both of which led all defenders in the one-on-ones.
Brown's height means he won't be on the board for every team, but he proved that he can stay at outside corner, which takes him from a fringe draftable prospect to likely early Day 3 pick.
Hudson was a former highly recruited defensive lineman for Michigan before flipping to the offensive side of the ball and transferring to Cincinnati. That defensive-line type of athleticism is still present, and he has made massive strides in his technique in a short period.
At the Senior Bowl, Hudson showed how easily he could mirror speed rushers and finished with an 88% win percentage in the one-on-ones for the week — the best of any offensive lineman in Mobile. With Hudson's physical ability developing so quickly, he looks like a top-50 pick who could sneak into the first round.
Biggest fallers from the week
Leatherwood entered the week of practices with easily the highest expectations of any offensive lineman in attendance. That comes with the territory of being a two-year starter at left tackle for Alabama. Unfortunately, the same issues we saw from him over the past couple of seasons — when he would open up the door on the edge for speed rushers such as LSU's K'Lavon Chaisson and Georgia's Azeez Ojulari — were present against the talent in Mobile. Leatherwood won only 50% of his one-on-ones in a performance that will likely keep him from first-round consideration.
Nasirildeen's calling card over his career has been his versatility, as he has lined up nearly everywhere for the Seminoles' defense in four years. That being said, you can cross off playing man coverage against anyone other than a tight end from the list of roles he can execute.
At 6-3, 213 pounds, Nasirildeen simply doesn't have the quickness or explosiveness to mirror one-on-one against receivers. There's a very fine line between "versatile" and "tweener" in the NFL, and Nasirildeen fell more toward the latter in Mobile. Depending on how Nasirildeen ultimately tests at his pro day, he could fall all the way to Day 3.
While it's not necessarily surprising that Surratt struggled to gain separation, given what we saw from him on tape in 2019, it still did Surratt no favors to have it on display so evidently during the week. He's simply not fast. Cornerbacks were in his hip pocket all day when the 6-3 Surratt tried to get vertical. Any team drafting Surratt will have to accept those limitations and because of that likely won't take a chance in the first two rounds.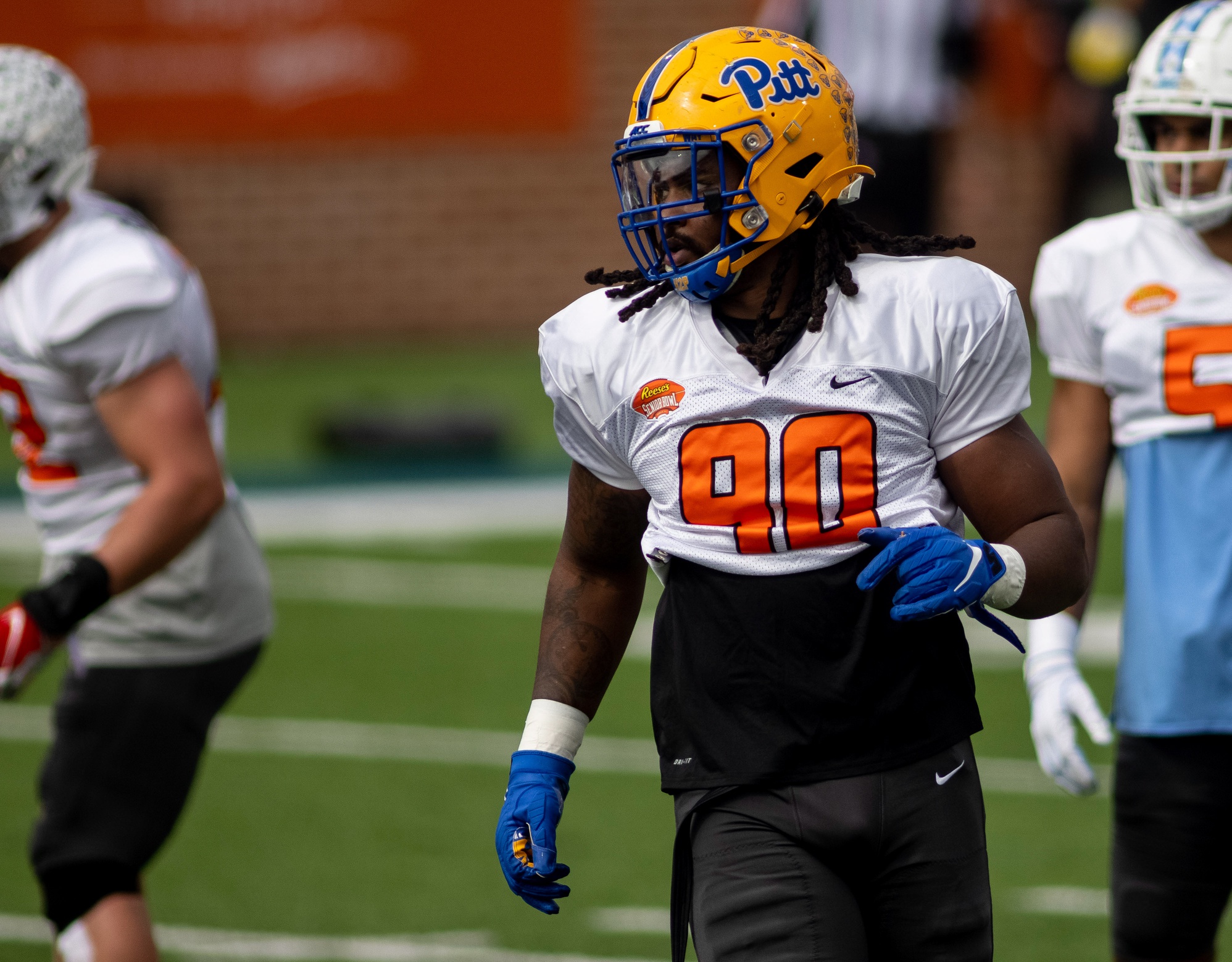 While Jones is still a bit of a project on the edge based on his traits, his production over the past two seasons is a big part of his appeal. He had 17.5 sacks over the past two seasons. But his experience in Mobile started poorly when he checked in with only 32-inch arms despite being 6-4, which is well below the desired length for an edge defender.
It didn't get much better when he hit the field against the better tackles at the Senior Bowl and that production disappeared. He only won 11% percent of his reps on the week in the one-on-ones and looked out of his depth when asked to rush from the interior. Jones came in as a possible first-rounder but now looks like a late Day 2 possibility.
After opting out of the 2020 season because of the COVID-19 pandemic, Onwuzurike had arguably the most riding on his Senior Bowl performance of any defensive lineman in attendance. While it's difficult to blame him too much for looking rusty — and his stock won't necessarily "fall" — Onwuzurike also did nothing to raise it.
He looked completely unable to hold up against double-teams at nose tackle when asked to play there, meaning he's likely to be a 3-technique only in the NFL. He went on to show little in the way of pass-rushing moves in the one-on-ones as well, as he still relied on his first-step quickness to get home. While Onwuzurike has been seen in multiple first-round mocks before this, that is likely not going to be the case anymore.