The 2021 NFL Draft class offered a plethora of talent that will help replenish dynasty fantasy football rosters. In dynasty rookie drafts, we are ideally drafting the best player available rather than targeting needs. But now is a great time to plug any roster holes through trades — especially as values have shifted a bit over the summer and we inch closer to training camp.
As such, here are my top 60 dynasty rookies heading into 2021 fantasy football. You can find my entire top-200 dynasty rankings here. For more information on each of these rookies, check out PFF's 2021 Fantasy Football Rookie Scouting Report.

---
Click here for more PFF tools:
Fantasy Draft Kit  | PFF Betting Dashboard | PFF Fantasy Rankings
PFF Fantasy projections | NFL Premium Stats | Win totals tracker
---
Last updated: Aug. 26, 2021
First Round
Ja'Marr Chase tops the list for 2021. The 21-year-old out of LSU is the top wide receiver on the  PFF Big Board and was the first wide receiver taken. One of the only negatives for Chase is that he had Joe Burrow throwing to him during his breakout sophomore season, but now that he's reunited with Burrow there isn't as much to worry about. He has the makings of an elite fantasy wide receiver with a high floor. The only concern is that the Bengals already have two wide receivers who both saw over 100 targets last season, which could limit Chase's target share.
A trio of running backs follows. Najee Harris landed with the Steelers, as many expected. He should be the every-down back in Pittsburgh. There will be very few backs from this class that will see close to as many touches as Harris will as a rookie, and the position scarcity helps move Harris and other backs up the board.
Travis Etienne's situation is a little less clear. He was put on injured reserve, costing him his rookie season, but his ranking is a case of positional scarcity. There are so many wide receiver options available and not many talented running backs. That leaves him ahead of most of the wide receivers.
The next three wide receivers each offer something that stands out. Landing spots played a heavy role in where they ended up ranking. DeVonta Smith should immediately lead the Eagles in targets and be their best offensive weapon. Rashod Bateman has the opportunity to be the top receiver for his team but has more competition at the position and landed on a more run-first team. Jaylen Waddle was the second wide receiver off the board but goes to a team that already has two wide receivers who could be the top wide receivers on some teams. The wide receivers ahead of him at least have guaranteed high targets or a better quarterback situation, but Waddle doesn't have either.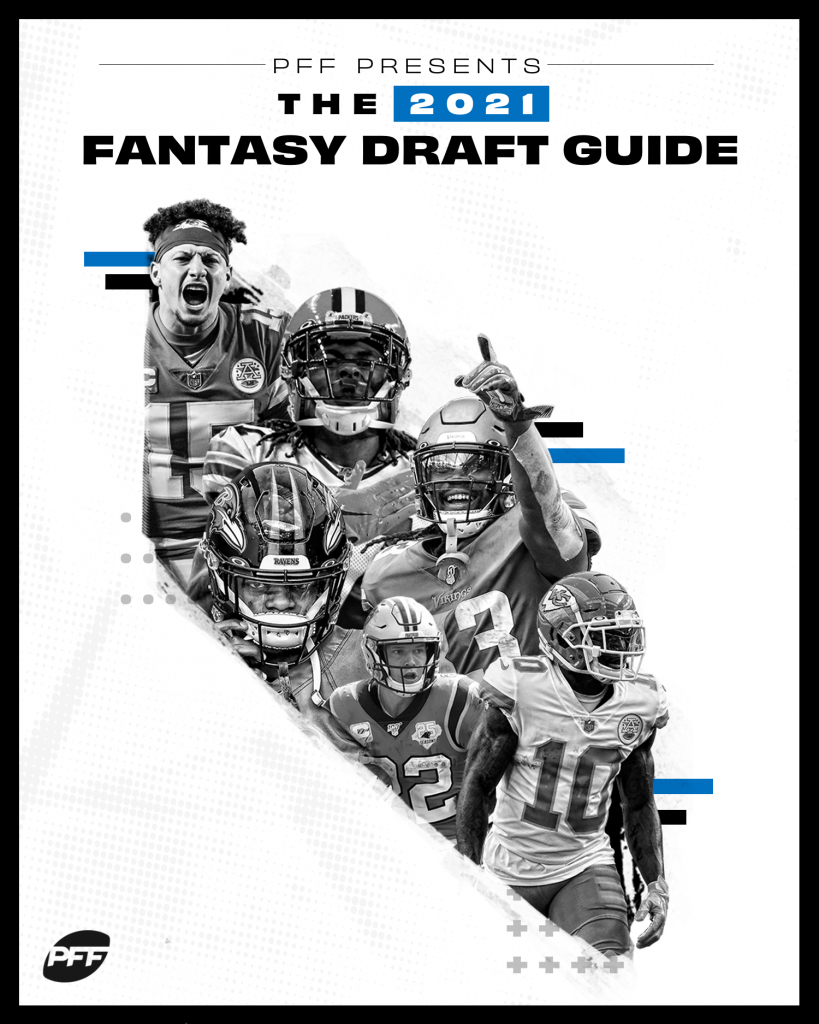 Kyle Pitts comes in fourth; he's the most difficult player to place on this list. Pitts is arguably the best receiver in the draft regardless of position. Roughly half the teams in any given dynasty league will be looking to upgrade at tight end. The problem is how unfamiliar this situation is — we have plenty of data to show how often top wide receivers or running backs turn into elite fantasy prospects, but it's rare for a tight end to be a top-10 pick in the NFL Draft. Pitts landed in a solid situation with a good quarterback but has plenty of competition for targets.
Trey Lance ends up ahead of Trevor Lawrence among quarterbacks even though he might not start right away. George Kittle, Brandon Aiyuk and Deebo Samuel are all 27 or younger, comprising one of the best receiving rooms in the league. Lance will have several years throwing to these three receivers; his second receiving option is notably better than Lawrence's best receiving option. Lance will likely also put up more rushing production than Lawrence.