We could very well look back on the 2021 NFL Draft edge defender class in a few years as an all-timer. That's the type of pure physical talent these players possess. As it stands, however, it's a group with far more questions than answers.
More of PFF's 2021 NFL Draft tools here: 
2021 NFL Draft Big Board | 2021 NFL Draft Guide | 2021 NFL Draft Stats Export | NFL Mock Drafts | NFL Mock Draft Simulator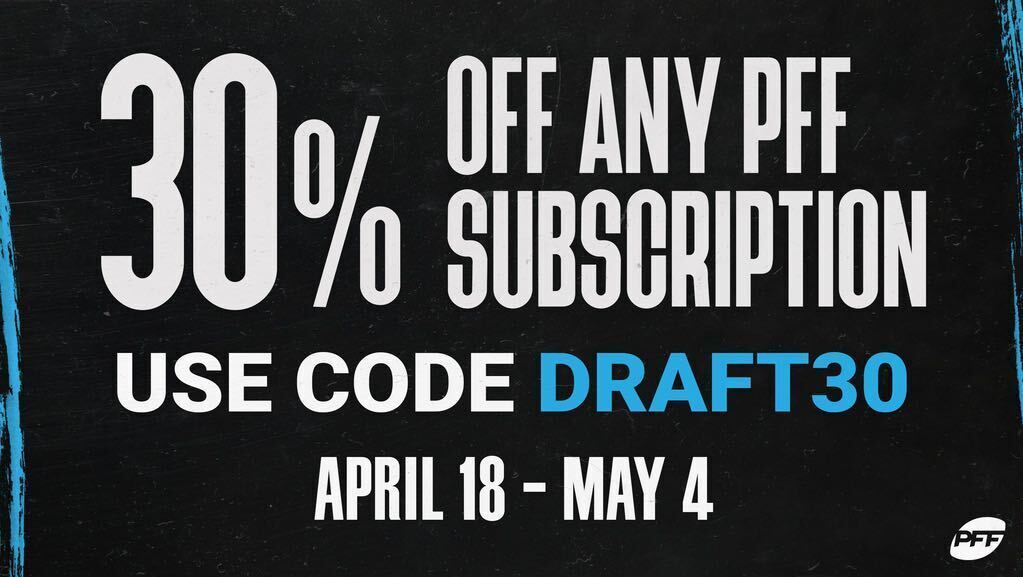 Paye has the kind of physical tools that don't come around every class. Whether it's the sub-6.5-second three-cone he ran as a junior or the 36 bench press reps he did at his pro day, Paye is the definition of "built different." This season we finally saw him start to put it all together, as his 87.1 pass-rushing grade suggests.
Oweh may not have recorded a sack last year, but he was still making a big impact in the pass rush. We actually saw real improvement from 2019, as his overall grade went from 74.6 to 85.4 this past season. He boasted the single freakiest pro day at the edge position I've ever seen and only started playing football in 2016.
Phillips put it all together for the Hurricanes this past season, recording 42 pressures and an 86.6 overall grade. The former five-star started his career at UCLA before being forced to retire due to concussions. After taking 2019 off, he showed why he was so highly touted this past season. Phillips has got all the physical tools you could want for the position, but the injury history is concerning.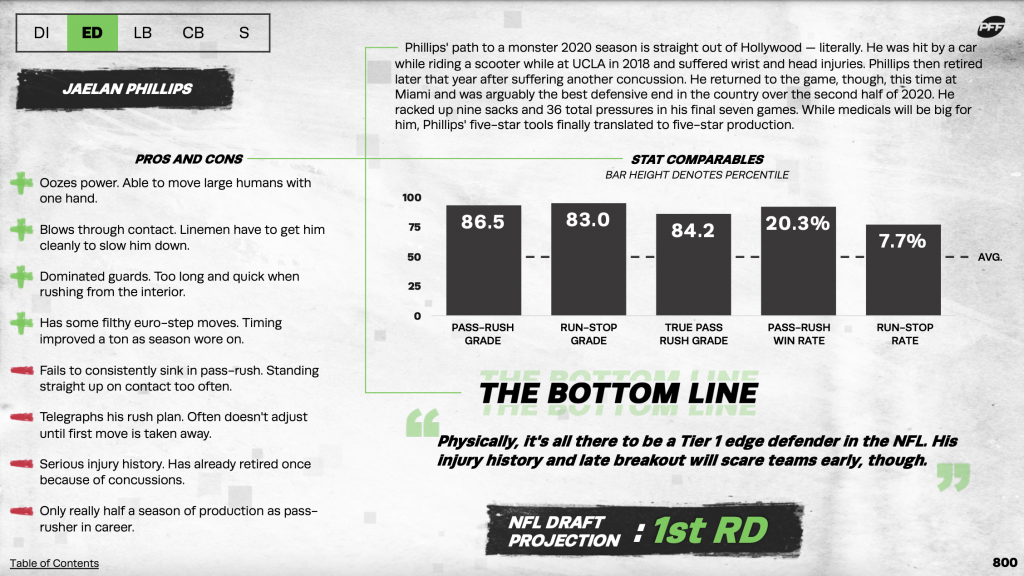 Ojulari is a sub-250-pound rusher but has the length and explosiveness to get by on the edge. He uses his hands about as well as any edge defender in the class, with his patented cross-chop getting him to a 91.7 pass-rushing grade this past season. Even at his size, Ojulari can still play a three-down role.
Rousseau exploded with a monster 16-sack redshirt freshman campaign in 2019 before opting out this past year. However, his 80.7 pass-rushing grade doesn't quite measure up to that sack total, as he has struggled to win on the outside.
Basham has elite explosiveness for a 285-pounder. His get-off will challenge every tackle he faces. That being said, he's far less physical than his size would suggest. His 77.2 pass-rushing grade this past season was lackluster compared to what he's capable of physically.
Perkins is the only edge defender in this class who earned run-defense and pass-rushing grades over 90.0 in 2020. He's been starting ever since his true freshman year in 2018 and took a massive step forward this past season. The problem is that we only saw him do it for 262 snaps.
Before he got hurt, Turner was dominant in four games this past season, putting up a 90.0 pass-rushing grade in the process. He's also got an ideal build for the edge, with absurd 35 3/8-inch arms.
Ossai only started playing on the line of scrimmage full-time this past season. He's a bursty, undersized edge who's still only scratching the surface after earning an 81.1 run-defense grade and 80.5 pass-rushing grade last season.
Weaver came back from a torn ACL in 2019 to be one of the most productive edge defenders in the country this past season. He's a long-limbed edge who wins with his hands and play strength. He racked up 48 pressures and a 90.0 pass-rushing grade this past season.