With the 2021 NFL Draft rapidly approaching, PFF has everything you need to prepare for the three days of excitement — including a big board for player rankings and our 2021 NFL Draft Guide for detailed information and data about 300-plus prospects.
Every year, fantasy football sleepers are selected in the second round and beyond of the NFL draft who go on to have surprising impacts in their rookie seasons. The path to playing time is typically unclear for these players, but talent often wins out and they can break through when the opportunity presents itself.
Last year, it was James Robinson, Chase Claypool and Gabriel Davis emerging into impact fantasy performers.
Who are the sleepers in the 2021 NFL Draft with fantasy football breakout potential? Here are six candidates.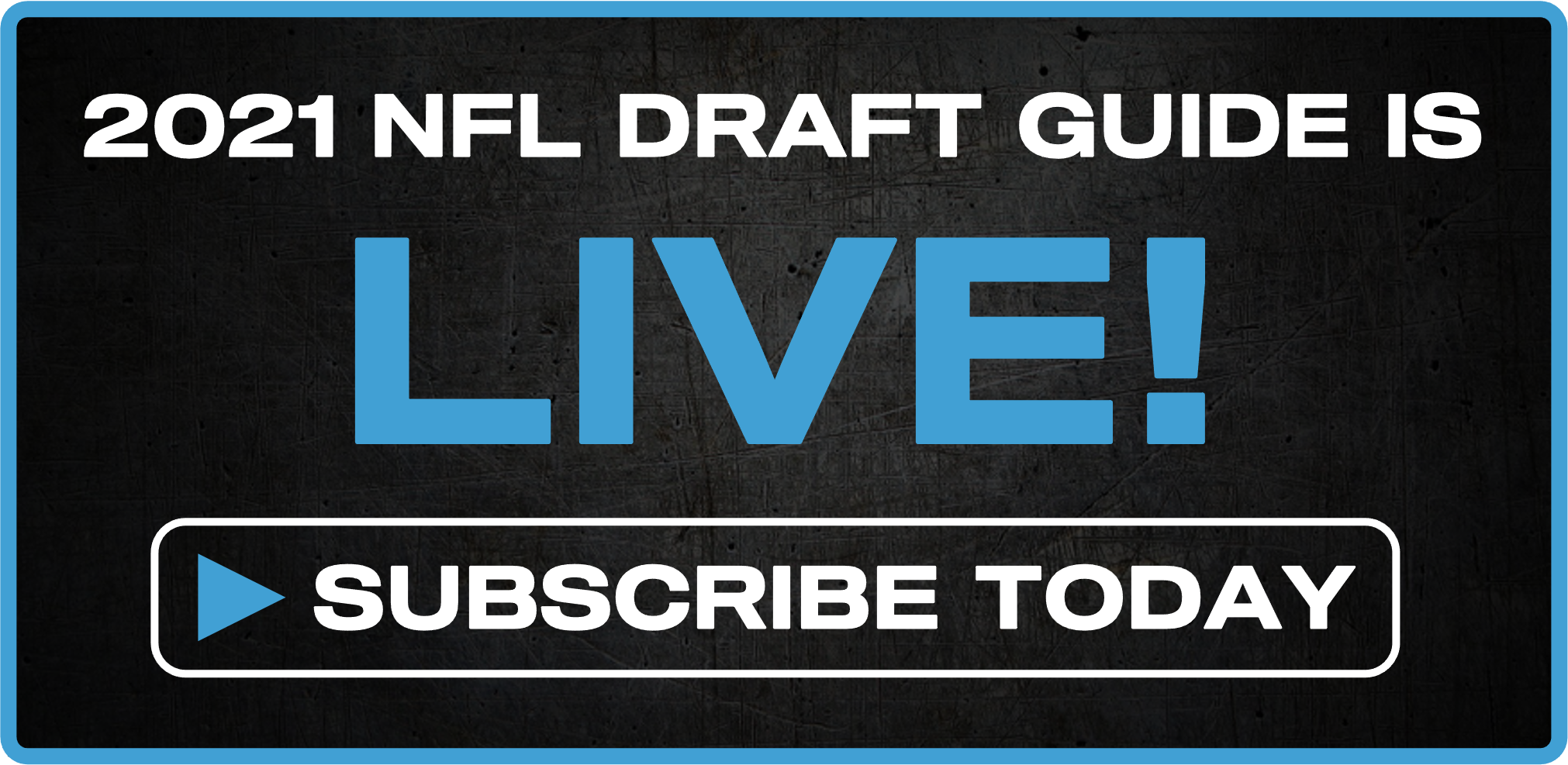 Nico Collins' draft profile bears a striking resemblance to that of Chase Claypool last year. Claypool was viewed as a tweener WR/TE prospect with flawed route-running ability and middling college production. Then he emerged at the NFL combine with off-the-charts measurables, including a 4.42-second 40-yard dash and a 40.5-inch vertical jump. In the end, the Steelers selected him in the second round of the 2020 NFL Draft.
I could see a similar surge happening this year for Collins, who is well off the fantasy radar due to his limited college production and the fact that he opted out of the 2020 season. The process is already underway after Collins tore up his Michigan Pro Day:
Height: 6-foot-4 (93rd percentile)
Weight: 215 (82nd)
Arm: 34 1/8 (97th)
Vertical: 37.5 (74th)
Broad: 125 (76th)
40-yard: 4.42 (78th)
3-cone: 6.78 (79th)
Those speed and athleticism measurables at 6-foot-4 and 215 pounds for a physical wide receiver are going to cause problems for NFL cornerbacks in one-on-one coverage. Collins wants to physically body defensive backs and uses his arms and shoulders well to maintain separation. He also possesses that next gear, with 4.42-second speed to separate when hip to hip with corners downfield to stack.
Shoddy quarterback play prevented Collins from producing more at Michigan, though he tallied a 37-729-7 receiving line while averaging a massive 19.7 yards per catch in his final season. Collins is a contested-catch monster, as he registered a 91.2 PFF grade on contested targets in 2019 (minimum 20 contested targets), ranking 13th among all wide receivers in college football. Among the few players ranked ahead of him were Denzel Mims (92.4), Tee Higgins (91.7) and Ja'Marr Chase (91.5) — quite the company for Collins.
Collins' skill set will allow him to contribute from the moment he steps onto a professional football field. His ability to win downfield and in contested-catch situations presents the type of upside that fantasy managers should be looking for when evaluating prospects.
Darden is a new breed of slot receiver with dynamite athleticism and ankle-breaking moves to make defenders miss; his 23 missed tackles forced in 2020 led all college football receivers. His slot production was also among the best in the country:
63 catches (third)
935 yards (second)
16 touchdowns (first)
Darden will likely be overlooked in fantasy football because his small 5-foot-8, 174-pound frame pigeonholes him into the slot. However, slot receivers can be plenty useful in fantasy football — Cole Beasley finished as the overall WR27 and Tyler Boyd ranked as WR29 in PPR scoring last season. Darden's athleticism and vertical skill are on a completely different level from players those two players, though.
Do not let the slot stereotype cloud your evaluation of Darden's potential upside. He may never be a fantasy WR1, but he possesses the route-running chops and dynamism after the catch to maintain WR2 upside in the right offense.
Imatorbhebhe was a highly coveted four-star recruit out of Georgia who committed to USC and then transferred to Illinois after his freshman season. His production with the Fighting Illini last season was virtually non-existent, though he tallied a respectable 33-631-9 receiving line at a rate of 19.1 yards per catch in 2019. I am willing to look past the production concerns, as Illinois is not exactly a juggernaut offensive program.
Imatorbhebhe is still an extremely raw receiver with a limited array of skills. However, he possesses arguably the best athletic traits of any player in the draft class. The 46.5-inch vertical jump that he posted at Illinois' Pro Day is the highest vertical ever recorded by any NFL draft prospect. The previous record was 46 inches at the NFL combine by a safety back in 2005.
For all the problems with the end-zone fade, NFL teams could do worse than throwing a jump ball to a player with literally the best hops we have ever seen on a football field. A team could take a shot at the end of the draft on Imatorbhebhe with that type of red-zone role specifically in mind.
Additionally, Imatorbhebhe maintains enough speed to get behind a defense, having run the 40-yard dash in 4.48 seconds. He is well-built and explosive, and he can plow through contact from corners. He racked up five receiving touchdowns on throws 20-plus yards downfield in 2019 (24th). However, his route tree is very limited, and he demonstrated problems tracking the football in the air.
Despite the flaws in Imatorbhebhe's game, wide receivers with his athleticism simply do not come around very often. Perhaps an NFL team falls in love with the potential and manages to transform his athletic upside into an actual wide receiver.
RB Kylin Hill, Mississippi State
Raw athleticism and tools are more important at the running back position than arguably anywhere else on the football field. Kylin Hill demonstrated all the physical tools required of NFL-level running backs and holds the explosiveness necessary to be a starting-caliber player.
Though Hill dealt with an array of injuries last season, few running backs were more productive than him in 2019. He was the No. 2 rusher in the SEC, racking up 1,348 rushing yards, which trailed only Clyde Edwards-Helaire, while also racking up 741 yards after contact (fourth) and 61 missed tackles forced (second). He is a bruising and explosive running back who is difficult to bring down on initial contact, with one of the best stiff-arms among any player in this entire draft class.
Hill is also an elusive pass-catcher, which is a huge bonus for fantasy managers hunting for PPR upside. He flashed as a receiver last season with a 23-234-1 receiving line, including a number of catches outside his frame while dropping only one of his 27 targets.
The primary negative in Hill's game revolves around his freelance running style. He displayed a tendency to bounce out runs and move laterally to the line of scrimmage. That style will be a problem in the NFL, where backs must be decisive with their cuts and directly get upfield.
Kylin Hill is a toolsy running back who is more than worth a late-round fantasy draft selection, regardless of his NFL landing spot.
Chuba Hubbard burst into superstardom after a ridiculous 2019 season in which he racked up 2,094 rushing yards and 21 rushing touchdowns on a preposterous 328 carries. There is no doubt that Hubbard can handle a bell-cow workload if the opportunity presents itself, and the fact that he dominated the competition with such a heavy workload bodes well for his usage prospects in the NFL.
Hubbard is a decisive runner with terrific jump-cut ability and the skill set to bounce on a dime. Hubbard is an incredibly tough runner at 210 pounds, but he is a tier below the top of the running back class in terms of what he can do physically. That's why his draft stock is currently projected into the fifth- to sixth-round range.
The critical question for Hubbard is which running back his NFL team will get — the 2020 or 2019 version? Hubbard's 2020 struggles can be explained by a myriad of injury problems, and, of course, last year was an anomaly because of COVID-19. At such a low draft cost, maybe we simply pretend 2020 never happened for Hubbard and evaluate him strictly through the lens of 2019.
Perhaps Hubbard enters the NFL and immediately recaptures his 2019 form, where he ranked second in the nation in rushing. His 88.1 PFF grade that season stacks up against some of last year's rookie studs and the elite backs in this class — including Jonathan Taylor, Najee Harris, Travis Etienne and Javonte Williams.
Hubbard's landing spot will be crucial in determining whether he can carve out a role in the NFL. He could become an early-down chain-mover if a team is willing to give carries to a running back selected in the later rounds. Chris Carson was a sixth-round pick out of Oklahoma State and has made a nice career for himself. Maybe Hubbard will follow in those footsteps.
Jefferson blew up as an 18-year-old freshman at Oregon State with a ridiculous 1,374-12 rushing line (ninth-most rushing yards in the nation) and 48 missed tackles forced (18th). The fact that Jefferson registered such prodigious production behind a middling offensive line makes his gaudy numbers all the more impressive.
The key to his production was his outstanding vision as a ball carrier. He has sneaky size with a strong lower half to power through arm tackles, and he paces runs well while gaining extra ground through creases. He also demonstrated capable receiving skills, with only one drop on 44 career catchable passes.
Jefferson will be a late-round pick in the draft because his athleticism is severely lacking for the position — nearly all his Pro Day measurables rank in the bottom 25th percentile. However, his 4.55-second 40-yard dash speed is plenty quick enough for a back with the caliber of vision that Jefferson displayed on tape.
He reminds me of another late-round running back who came out of the Pac-12 as a sub-par athlete but excelled with elusiveness and vision: Myles Gaskin. Landing spot and opportunity will be key for Jefferson because he probably will need to climb a depth chart for a fantasy-relevant role.