March is here, and NFL draft season is in full swing. PFF.com is going to be stuffed to the gills with content on all of your favorite draft prospects, as our draft guru Mike Renner has been grinding tape throughout the college football season. His work has already produced the second version of PFF's Draft Guide, available to grab with any PFF Edge or Elite subscription.
Compared to Mike, I'm late to the party when it comes to draft evaluation, but I come armed with PFF's database to help me watch tape of these guys, and I thought we could go through that journey together in this article series.
The first player I looked at was the Heisman Trophy winner, Alabama WR Devonta Smith. Next up was LSU's Ja'Marr Chase, followed by Jaylen Waddle,  Kyle Pitts, Rashod Bateman, Rondale Moore and Kadarius Toney. We then switched things up by moving to the defensive side of the ball, beginning with Virginia Tech cornerback Caleb Farley and Alabama cornerback Patrick Surtain II.
Now we will look at Jaycee Horn, a player who has recently generated a lot of draft hype. As his draft stock continues to rise, Horn is now in a battle with other corners to be one of the first taken in the draft. So, let's fire up the targets sent his way to get a taste of his play.
The same caveats as before still apply: This is not a complete picture of his game, but it will give us a good idea of what happens when the ball is in the air and Horn is in coverage against the targeted wide receiver.
For a first impression, this method makes a lot of sense, and we can go back and fill in the blanks later.
Timeline
Here are my thoughts in chronological order as I sifted through Horn's tape. I have labeled each takeaway with +/- (or double plus or minus for significantly good or bad things) and a ~ for neutral.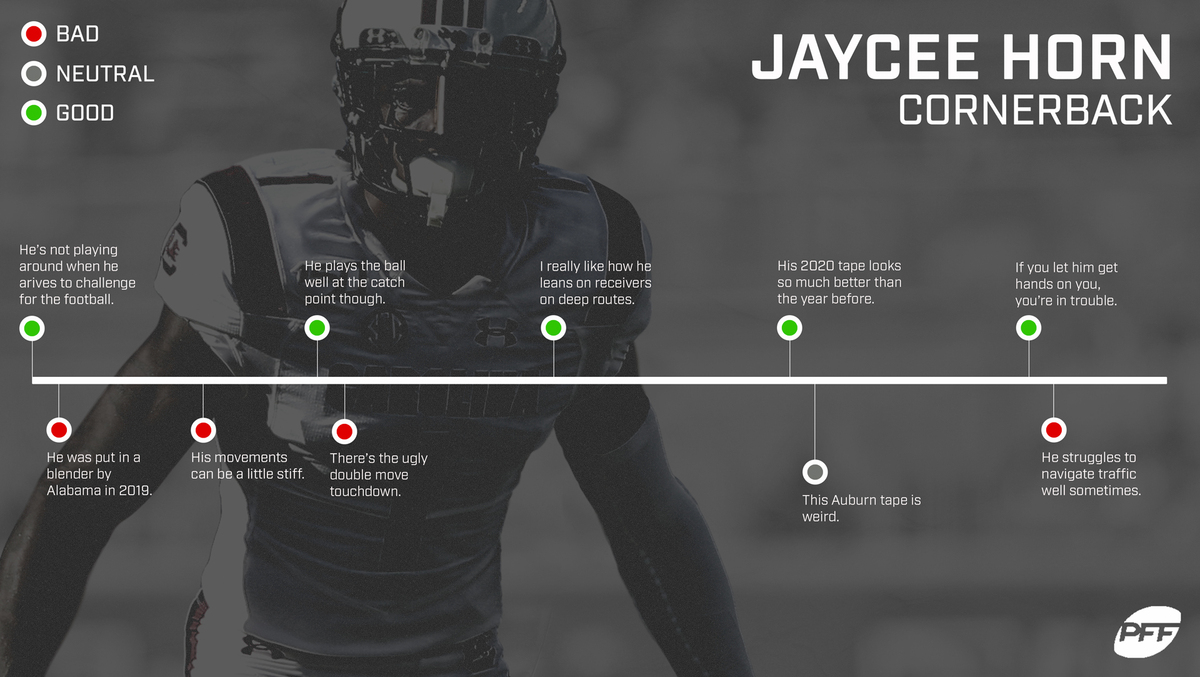 + He's not playing around when he arrives to challenge for the football
OK, so this rep isn't against elite competition, but he sticks his foot in the ground and drives on the receiver who has broken off his route and is waiting for the ball. A lot of corners will challenge for this and create a contested catch, but Horn delivers a huge hit at the catch point and flattens the intended receiver. 
– He was put in a blender by Alabama in 2019
This shouldn't be a huge surprise, given that Alabama had four first-round wide receivers on the field that year. It was DeVonta Smith who gave him the most trouble, even if Horn did record a couple of pass breakups. 
Overall, he really struggled to live with Smith's release and route running, and Smith got him for a couple of big catches and could have easily had more. In total, Horn allowed five catches for 113 yards and a touchdown into his coverage, good for a passer rating of 145.8. This is as tough as competition gets, but it wasn't pretty.
– His movements can be a little stiff
This has popped up a couple of times now — and in different situations, too. One was when coming downhill to attack a quick receiver screen when he took a bad angle and seemed to really struggle to change direction and correct his course. Here, against Georgia, he struggled badly to flip his hips to the outside after lining up in off coverage with bail technique facing the field. This is essentially the drill that corners go through each year at the combine, and Horn almost tripped himself up trying to execute the move. That obviously isn't his baseline, but a relative lack of fluidity with some of his movement shows up.
+ He plays the ball well at the catch point, though
He snagged an interception against Florida in 2019 that again shows a stiffness to his hips and overall movement. It leaves him training a receiver into the end zone, and he does an excellent job of elevating and high-pointing a slightly underthrown ball, winning a jump ball and fixing whatever mistakes he had earlier in the play. When Horn is in position to make a play on the football, he usually does a very good job of doing so. He recorded 21 pass breakups in his college career.
– There's the ugly double-move touchdown
Before I did my tape study of Patrick Surtain II, I would have said that every cornerback has at least one really ugly loss against a double-move on their college tape. The college game is so much about attacking that initial move that corners are eventually exploited on a second move and are left with no shot. Surtain was the first corner I can remember without a really bad loss in his college career on those moves. Here's one for Horn, who coughs up a deep touchdown against Vanderbilt on an out-and-up back in 2019.
+ I really like how he leans on receivers on deep routes.
A lot of corners get in good position down the sideline where it just becomes a foot race and a physical matchup at the catch point, but Horn is really good at getting position and then slightly leaning on the receiver, often throttling him down so that the ball sails harmlessly overhead. That way, it never becomes a contested catch where anything can happen. We tend to think of physicality in terms of hand fighting etc., but his ability to use his whole body to control receivers is really slick.
+ His 2020 tape looks so much better than the year before
The PFF grades back this up, too. This past season, albeit in just seven games, he earned a PFF coverage grade of 78.0, almost 15 grading points higher than the year before. He still had some bad plays in there — getting absolutely torched deep against Auburn only to be partially bailed out by a late and underthrown pass, for example —  but he looks more confident and aggressive in coverage than he was the previous year.
~This Auburn tape is wild
He was targeted 10 times in the game, which is more than twice as much as any other game last season, and he had five pass breakups and two interceptions. Horn caught as many passes as he allowed to be caught by Auburn receivers (two), but he also had that play mentioned above where he got himself into real trouble deep down the field. He also missed a couple of tackles. This was tape that showed the real highs and lows of his game in a nutshell.
+ If you let him get hands on you, you're in trouble
Horn is really good once he has physical contact and control over a receiver. That's especially true on those deep sideline targets we talked about, but it's also true on in-breaking routes like digs and drags where he can just maintain contact with a receiver until the ball arrives and then attack the target point. This is Horn's niche when it comes to coverage.
– He struggles to navigate traffic well sometimes
South Carolina moved him around a reasonable amount. But whether it came from the slot and against bunch and stack formations, he would regularly get in trouble trying to pick his way through bodies and track his assignment.
Some of this looks like an issue with the defense not having great rules for passing off routes in these situations, but some of it is definitely on Horn for not having great instincts for cutting through that kind of traffic. I've even seen an awkwardly placed official give him trouble.
The Bottom Line
Jaycee Horn is a corner who has a clearly defined niche but wasn't always placed in the situation to show it to the best of his ability. He is an aggressive man-cover cornerback who can turn a receiver's lights out if he gets his hands on them, and he can stay in control physically during the route. He can make life incredibly difficult for receivers and quarterbacks when he plays that kind of press-man coverage, especially because he is also excellent at challenging at the catch point and physically leaning on receivers and disrupting their routes.
He looks far less comfortable when he's in space or asked to change direction and adjust to routes when he doesn't have that constant physical contact with the receiver, such as when he's asked to play within zones or with more of a cushion. He has some very ugly reps on tape and some plays where he taps out and just commits a penalty because things are going that badly. 
Horn has the physical skills and dimensions to be a top press-man corner in the NFL, but that's becoming a smaller role than it used to be. The question will be whether he has enough strings to his bow to thrive in all systems or even in the other situations within a man-heavy coverage scheme. I have some concerns about how stiff he can look at times when changing direction, especially against quick players, and he seems more limited than the other corners I have looked at so far.
Some teams will view him more favorably than others because of the scheme they run, but he is undoubtedly a more scheme-specific corner than Farley and Surtain.