Every NFL mock draft is different, but I tend to lean on the "what I would do" style. Rather than trying to predict what will happen on draft night, I'm playing GM for every team in the first round and making picks based on what I think is best for each NFL franchise.
While trades are often a big part of the first round, no major moves came to mind as I worked through each pick. Even though it would make sense for certain teams to trade into the top 10 to select a franchise quarterback, I ultimately decided to stand pat with the current draft order.
Here's what I would do with every first-round pick in the 2021 NFL Draft.
View PFF's 2021 NFL Draft position rankings:
QB | RB | WR | TE | T | iOL | DI | EDGE | LB | CB | S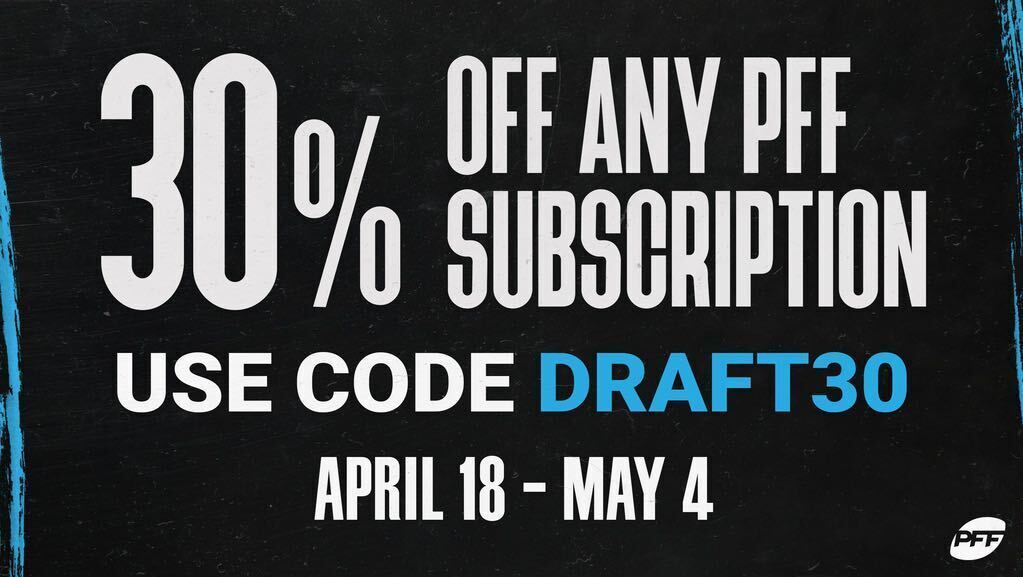 This pick has been locked in for a while, but the Jaguars still get what many call one of the best quarterback prospects of all time. Lawrence has three straight years of 90.0-plus PFF grades and an arm to attack all levels of the field with touch and accuracy.
Lawrence also adds enough of a running-game component to keep defenses off-balance, as he has gained 445 yards on scrambles and 819 yards on designed rushes in his three years at Clemson. He has the talent and production to be a top-five NFL quarterback for a long time.
With a new regime and in a prime position to draft another signal-caller, moving from Sam Darnold to Wilson is the right move for the Jets. Wilson was lights out last season, posting a PFF passing grade of 95.5, the best of the PFF era.
Wilson ranked second in the draft class in big-time throw percentage and first in avoiding turnover-worthy plays, and he possesses the coveted ability to create plays both within and outside the structure of the offense. Wilson's development will depend on the Jets doing a better job of building an offensive ecosystem, but they're already off to a good start with a solid free agency period this offseason.
While the markets are finally leaning back in Fields' direction, I believe this has been the play all along. Kyle Shanahan's offense is always excellent, but it hit another level two times: 2012 with Washington and 2016 with the Falcons. That 2012 team featured a rookie Robert Griffin III being used effectively in the designed run game with play action coming off it, and that may be what Shanahan is looking to do to further elevate his creative offense.
Fields has two straight seasons with 90.0-plus PFF grades, and he ranked fourth with a 92.2 passing grade last year to go with the top rushing grade at 85.3. He has the accuracy to hit the open throws created by Shanahan's offense; it's just a matter of getting the ball out of his hands faster, given that his 3.11 seconds from snap to release was the second-slowest in the class.
Expect Shanahan to try to hit a home run after moving up to No. 3, and Fields is the swing-for-the-fences candidate out of the next trio of signal-callers.
Pitts is the first non-QB to come off the board. While the Falcons would love to add playmaking talent to their defense, the value is just not there in this draft. Pitts is a unique weapon who can win from any alignment, and his route running and ball skills create a mismatch for every position on the defense. His 96.1 receiving grade is the best we've seen from a tight end since 2014, and Pitts being on the field with Julio Jones and Calvin Ridley is the best way to maximize the last two years of Matt Ryan in Atlanta.
With a tight end shortage around the NFL, Pitts has the ability to quickly join the likes of the Kelces, Kittles and Wallers of the world as one of the best playmakers at the position.
The hottest debate in Cincinnati is Sewell vs. Ja'Marr Chase, and I see the argument for both players. In this instance, I'm going to lean Sewell, in part because of the game theory aspect of what will be available at the top of the second round.
I'm expecting the NFL to covet the offensive tackles throughout the first round, leaving some quality receiver talent for the Bengals at the top of the second. As for Sewell, he's an outstanding run-blocker, especially in zone concepts, where he ranks in the 98th percentile compared to recent NFL prospects. In pass protection, Sewell allowed just 15 pressures on 706 pass-blocking attempts, and the plan is to pair him with Jonah Williams at tackle while one-year signing Riley Reiff will have to play guard in 2021.
After dropping out of the No.3 spot, the Dolphins jumped back up to No. 6 to all but ensure that they got one of the "blue chip" players in this draft class. Chase is one of those talents. He was uncoverable in 2019, posting a 91.3 receiving grade while averaging 21.2 yards per reception on 84 catches.
Chase has the catch-point nuance to create late separation, a trait of many of the league's best wide receivers, and his 4.38 40 time and explosive testing only enhanced his next-level production. The Dolphins came into the offseason with a major need at wide receiver, and the one-year addition of Will Fuller V, along with adding Chase to the mix, is a major step in aiding QB Tua Tagovailoa's development.
With a new regime in Detroit, the Lions can be patient and grab the best players in this draft. In this scenario, they add to a depleted wide receiver corps with the most decorated college wide receiver in recent college football history.
Smith's 2020 Heisman campaign showed off his entire skill set, as he has fantastic ball skills to go with the seventh-highest YAC per reception numbers among recent NFL prospects dating back to 2014. His 94.9 PFF grade is the best single-season mark from a receiver, and Smith's only major question mark is how his 170-pound frame will hold up at the next level. So far, there's little evidence that it will be a factor at the next level.
The Panthers have a hole at left tackle, and shoring up the offensive line for Sam Darnold was a task the Jets failed to accomplish. Slater is undersized by offensive tackle standards, but he makes up for it by being really good at blocking people, and his pro day showed that he can step in as one of the better athletes at the position right away. Slater opted out of 2020, but in 2019, he allowed just five pressures on 355 attempts. Over his last two seasons of action, he ranks above average in every stable metric compared to recent NFL-caliber prospects.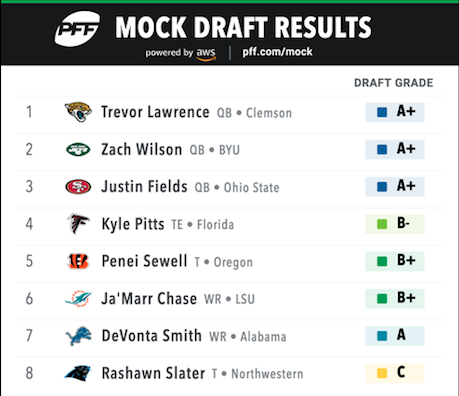 There are plenty of rumors that the Broncos may be looking to trade up for a quarterback, but in this iteration, they can stand pat and take another shot at the position with Jones, who posted a gaudy 95.8 PFF grade last season.
Jones has become a polarizing quarterback evaluation, as he doesn't have a cannon for an arm, and he's the least mobile of the first-round hopefuls, but he executes the offense at a high level with decision-making and accuracy. Jones has the second-lowest rate of negatively graded throws compared to recent NFL prospects, a key number in his projection and one that should bode well in a Denver offense that has loaded up with offensive playmakers.
OK, this is a rarity. The first defensive player comes off the board at No. 10, but this draft is top-heavy with offensive players and lacking slam-dunk defensive stars.
The Cowboys get the cleanest cornerback prospect in the draft in Surtain, who plays with incredible patience to go with the size and movement skills to become one of the league's best. Surtain has three straight years of solid production, including the top grade in the nation among FBS cornerbacks at 89.9 last season. He fits the Cowboys' new defensive scheme while also filling a need at outside corner.
Even with the offseason addition of WR Kenny Golladay, Waddle is a fine addition to the Giants passing attack because he's the most explosive receiver in the draft. There's some projection here, as Waddle has only played 22% of his snaps outside while being surrounded by three other first-rounders at Alabama. However, he's the only one of the bunch to post three straight PFF grades of 80.0-plus.
The upside is a DeSean Jackson, stretch-the-field type that defenses must account for on every play, and this is the way to build around QB Daniel Jones. Waddle gives the Giants another legitimate deep threat to pair with Golladay and multiple middle-of-the-field weapons.
The Eagles have been one of the best pass-rushing teams in the league since 2015, but the biggest difference on their Super Bowl team in 2017 was in the secondary.
Horn adds an aggressive man corner who gets his hands on the ball as well as any cornerback in the class. He does his best work in press, but he's a natural playmaker who broke up 19.5% of his targets, good for the 95th percentile compared to recent NFL prospects. For the Eagles, adding Horn to the mix with Darius Slay on the other side is a necessary move, especially in the NFC East, where the opposing receiving rooms continue to improve.
The Chargers have made great strides along the offensive line this offseason, and Darrisaw may be the final piece. Coming off the second-highest single-season grade of the PFF era, he fills their one remaining hole at left tackle. Darrisaw is a powerful run-blocker, and he only gave up six pressures on 293 pass-blocking attempts last season.
The Vikings would love to take an offensive tackle at this spot, but I'm playing the value game based on the PFF draft board. Barmore is the best interior defensive lineman in the draft, and he adds a pass-rushing element that Minnesota doesn't currently have on the roster.
The Alabama product has the top pass-rush grade and pass-rush win rate in the class over the last two years, and both numbers rank in the 99th percentile among NFL-caliber defensive linemen since 2014. He also ranks first in the class in run-stop percentage, finishing in the 98th percentile compared to NFL-caliber interior defensive linemen. His 747-snap sample size is small, but he has the tools to become one of the league's best.
New England is primed to move up for a quarterback on draft night, but the more I let this draft play out, the more comfortable I am with Lance in the middle of the first. He's a dynamic runner who's flashed the arm to hit every throw, but his accuracy is a notch below the other four first-round prospects. It's a good play for New England, who have Cam Newton for one year, and they can take their time with Lance or throw him right into the mix when he's ready.
Lance did his best work as a redshirt freshman in 2019 when he graded at 90.7 overall, but there's some risk with a quarterback who has only 371 career dropbacks.
Cornerback is likely in play here for the Cardinals, but adding a talent like Parsons is too tough to pass up. He's one of the best run defenders of the PFF era, ranking fourth among all linebackers in grade (92.4) dating back to 2014, and he's a solid coverage player with 4.39 speed. Parsons is also an outstanding pass-rusher who fits nicely in an Arizona scheme that got as creative as any with the front seven last season.
In a division full of run-heavy offenses, Parsons' run-stopping ability has a tick more value, and the Arizona defense continues to take positive steps in the right direction.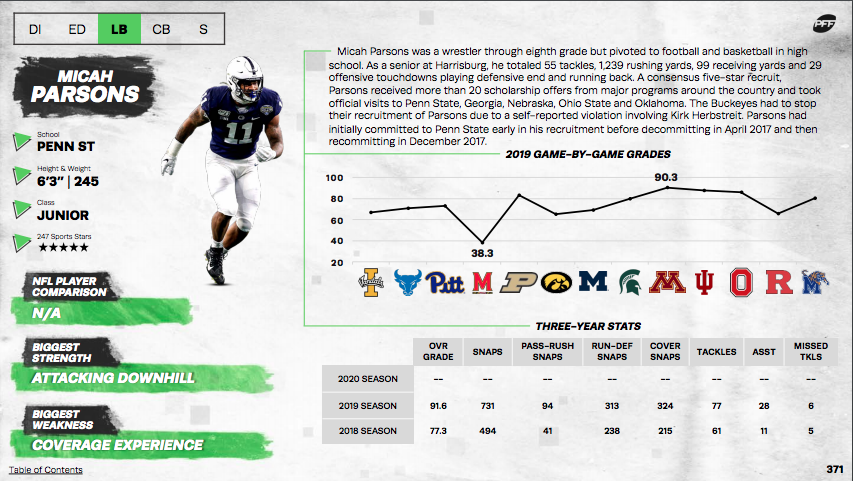 The bottom line for the Raiders is if they don't improve at cornerback, they have little shot of contending in a division with Patrick Mahomes, Justin Herbert and an emerging passing attack in Denver. Newsome has the skillset for Gus Bradley's new Cover 3 scheme, as he is solid in off coverage while also showing the footwork to hang in press coverage.
He took great strides by earning an 83.8 coverage grade and allowing a passer rating of just 31.7 in 2020. The Raiders can add him to the mix with Trayvon Mullen and Damon Arnette, who both posted sub-60.0 PFF grades last season.
The Dolphins have done a fine job building their roster over the last few years, but they can still use some juice off the edge. Paye has improved every year at Michigan, and with a sub-6.5 three-cone under his belt, he provides a strong combination of production and athleticism.
Paye recorded an 87.1 pass-rush grade last season, but there's still room to improve from a technique standpoint, and that's the most intriguing part of his game and a worthwhile risk for the Dolphins with their second first-round selection.
Wide receiver is less of a need in Washington after adding Curtis Samuel and Adam Humphries to the mix this offseason, but Bateman is still an excellent fit within that receiving corps. Terry McLaurin can do it all as a big-play threat, and Bateman complements him nicely as a strong route-runner with catch-point skills and some of the slickest releases in the draft class.
Bateman has done it all, winning from all alignments, playing big at the catch point and forcing 36 missed tackles on 147 career receptions.
In this situation, the Bears will likely look at the second tier of quarterbacks later in the draft. Moehrig will pair with current safety Eddie Jackson to form a rangy duo on the back end.
Moehrig can do it all from a coverage standpoint, but he excels when playing in a two-high role. He patrols the field gracefully, leading to a 99th-percentile coverage grade, a 94th-percentile grade at free safety, a 95th-percentile grade in the slot and the top forced incompletion percentage in the class (23.7%).
It'd be great to give the Colts a tackle in the first round, but I don't love the value at this point in the draft. Oweh adds the athleticism that the Colts covet, and he steps in at a position of need along the defensive front.
Oweh took huge strides in the run game, and his legendary pro day featured a 4.38 40-yard dash. He also ranked in the 95th percentile or better in the vertical jump, broad jump, three-cone and short shuttle. Don't worry about Oweh's zero-sack 2020 season; his 86.2 pass-rush grade over the last two years is a better indicator of future pass-rush performance.
There's both a short and long-term play in this move for the Titans. Their pass-rush was among the worst in the league last season, and while they did add Bud Dupree this offseason, Harold Landry III is in the last year of his contract.
Phillips may just be the best edge defender in the entire class. The question for him is health and experience, as he has played just 962 career snaps, one year of top-notch production and a history of concussions. However, Phillips' production profile is undeniable, and it's bolstered by an 87.9 pass-rush grade, 18.1% pass-rush win percentage and the No. 28 run-defense grade among 118 recent NFL-caliber prospects.
While there's some risk here, the payoff from Phillips could be massive.
Farley comes with injury concerns of his own, but teams like the Jets would be wise to use their extra draft capital to try to hit a home run. Farley is a top-10-caliber player with back issues, and when healthy, he has one of the best cornerback skill sets to come out in a few years. His size, length and burst show up on film, all leading to his ranking first in coverage grade, coverage grade when targeted in single coverage and coverage grade at outside CB in his last full season in 2019.
The Jets must revamp their corners, and the Farley risk is well worth it as they rebuild the roster.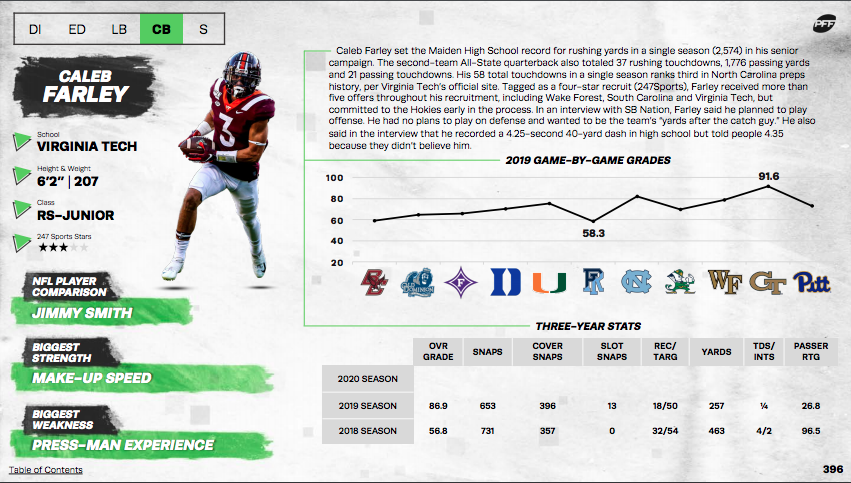 The Steelers have a few major needs to fill, and starting cornerback opposite Joe Haden is right at the top of the list along with offensive tackle and center.
Samuel is a ballhawk, especially with his eyes on the quarterback, and that's a perfect fit for the Steelers defense. He has slot-like movement skills, but he's at his best in a zone-heavy scheme on the outside. Samuel ranks above average in most PFF critical factors, but it's his 97th-percentile forced incompletion percentage that is most attractive and the right fit for Pittsburgh.
The Jaguars have plenty of draft capital, and the rest of their draft is all about building the best environment for Trevor Lawrence to succeed. Moore helps take a big step in the right direction, as he adds a speedy playmaker who excels in the slot and could dabble on the outside.
In the short term, he complements the current group of Jaguars wide receivers nicely, as he joins D.J. Chark with deep speed to go with a veteran possession type in Marvin Jones and a wild card in last year's second-rounder Laviska Shenault Jr. Moore posted a 91.2 PFF grade last season and he's gotten open on 71.2% of his single-coverage targets, 11th-best out of 88 qualifying recent NFL prospects. That skill set is valuable in any offense.
The depth chart certainly says linebacker is a need, but that's not why Owusu-Koramoah is a good fit for the Browns. It's excellent value at this point in the draft, and JOK provides yet another versatile coverage player to the back end in Cleveland.
He is a linebacker in name, but at Notre Dame, he lined up over the slot 411 times in his career to go with an 85.2 grade, and his overall coverage grade of 89.6 ranks 13th among 121 recent NFL-caliber linebacker prospects. While rookie linebackers have a difficult transition in today's NFL, JOK should become one of Cleveland's best coverage players in the coming years.
Like many of the other edge defenders in the class, Ojulari has a small sample size of college data, but he emerged last season with the best pass-rush grade in the draft class at 91.7. Ojulari has an old-school 3-4 outside linebacker feel, and that's a good fit for the Ravens, who want versatility for their blitz-heavy scheme. With good burst, length, and the willingness to get dirty in the run game, Ojulari will join Tyus Bowser and Pernell McPhee to form a solid trio of edges in the Baltimore defensive front.
With Emmanuel Sanders getting released, the Saints are in the market for a No. 2 receiver, and Marshall matches up well with Michael Thomas on the other side.
Marshall has the size and speed to be a downfield threat, which meshes well with QB Jameis Winston's aggressiveness. The LSU product caught 59.5% of his contested catches in his college career, No. 1 out of 63 qualifying recent NFL-caliber prospects.
The Packers have had one of the best offensive lines in the league over the last few years, but they have a question mark at right tackle heading into 2021. Jenkins can step in as a starter after an outstanding career at Oklahoma State that saw him grade at an impressive 90.1 in true pass sets over the last three years. Jenkins is also a powerful run-blocker who ranks above the 87th percentile in run-blocking grade on both gap and zone runs. He fills a big need at right tackle and allows Billy Turner to kick back inside to guard.
Vera-Tucker has had success at both guard and tackle at USC, and that versatility only enhances his value. He was excellent in pass protection last year at tackle, allowing only eight pressures on 305 attempts. He allowed just seven pressures on 590 attempts at guard in 2019.
Vera-Tucker has some stickiness as a run-blocker, especially at the second level, where he can lock onto linebackers to open up running lanes. He can start immediately at guard while doubling as a swing tackle in Buffalo. 
Unless there's a free-agent signing on the horizon — either Russell Okung or Alejandro Villanueva are available and are a good fit — the Chiefs head into the draft in a desperate spot at left tackle. Radunz is an impressive athlete who is explosive in the run game and smooth in pass protection, though he still has some work to do in the latter area. He did post a strong 89.3 pass-blocking grade in 2019, and he was one of the best tackles at the Senior Bowl. 
The Bucs are positioned to take the best player on the board, but they can also mitigate potential weaknesses in the short term with a player like Molden. He has the third-best slot coverage grade among NFL-caliber prospects since 2014, and he has the skill set to play safety, as well. Molden profiles as a Mike Hilton or Tyrann Mathieu type, and he provides immediate depth and future starter potential for the league's most well-rounded roster.
---
More of PFF's 2021 NFL Draft tools here: 
2021 NFL Draft Big Board | 2021 NFL Draft Guide | 2021 NFL Draft Stats Export | NFL Mock Drafts | NFL Mock Draft Simulator