We're down to the final position ranking in the 2021 NFL Draft class.
It's a safety class that has a lot of ball production toward the top. With safety, it's important to remember that scheme fit is a necessity. The "safety" moniker is a catch-all for more roles these days than any other position in the NFL. It's the guys who can execute all of those at a high level that we here at PFF covet most.
More of PFF's 2021 NFL Draft tools here: 
2021 NFL Draft Big Board | 2021 NFL Draft Guide | 2021 NFL Draft Stats Export | NFL Mock Drafts | NFL Mock Draft Simulator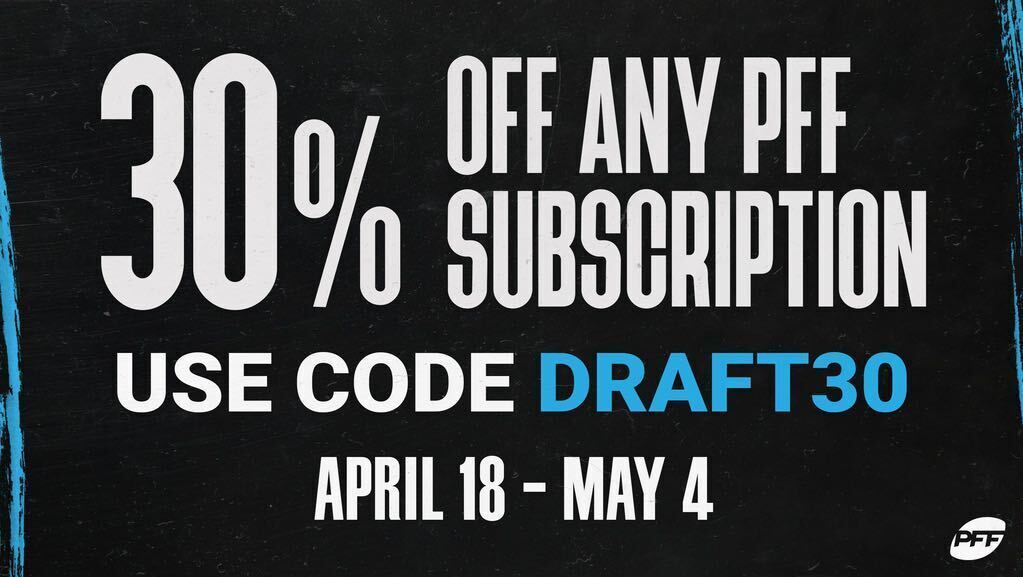 Moehrig has some of the best ball production you'll see from a safety prospect, as he led all FBS safeties in pass breakups in each of the past two seasons. At 6-foot-2, 202 pounds, Moehrig has ideal size and physicality for the position, as well.
Molden is the gold standard in the slot for this class. He earned a 90.9 coverage grade in that role in 2019 and backed it up with a mark of 86.2 this past season. While he's a little undersized to stay outside, he's a physical tackler who has the skills to move to safety seamlessly.
Johnson's high-end coverage plays are special. You won't find a safety with better ball production per snap in the class. On 406 career coverage snaps, Johnson's picked off seven passes and broken up six others. Just don't ask him to play in the box — he's a liability as a tackler and missed 13 of his 49 attempts last year.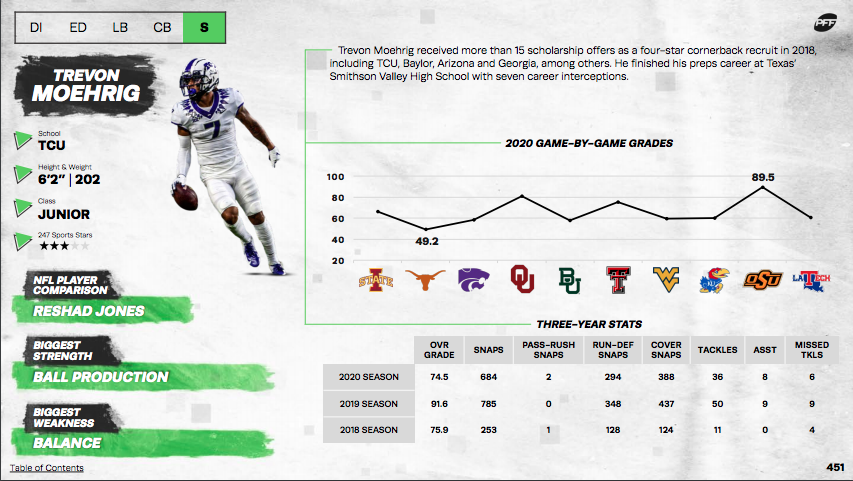 Grant is one of the most experienced safeties in the draft class. He's played 2,658 career snaps for the Knights in a versatile safety role. He's quite easily one of the best safeties in run support, too, so it's easy to see why he came away with a 90.0 grade in that regard this past season.
Holland started at safety as a true freshman in 2018 before switching to the slot in 2019 and opting out this past season. He excelled in coverage in both roles, recording an 89.6 coverage grade as a freshman and an 85.3 grade as a sophomore, with 20 combined picks and pass breakups over that span.
The TCU safety may not even be 180 pounds, but he continually plays bigger than his listed size. Over the past two seasons, Washington has earned a 91.3 coverage grade, allowing only 15 total catches on his 35 targets in coverage.
Cisco has incredible plays littered all over his tape and had more combined picks and pass breakups in his three-year career than games played. Unfortunately, he tore his ACL halfway through 2020, and his stock will take a hit accordingly.
Deablo has been a three-year starter for the Hokies who really came on strong this past season with four picks and two pass breakups. At over 220 pounds, Deablo may even be seen as a linebacker prospect by some teams in the league.
Despite his size, Gillespie played primarily deep for the Tigers in his three seasons as a starter. While he wasn't much of a playmaker in coverage, he came downhill to ball carriers with a vengeance. That's a skill set that should translate nicely to the box at the next level. Gillespie could easily fill the dime safety role for teams that utilize that sort of position heavily. I just wouldn't expect much of a versatile coverage player.
Hamlin has been starting for the Panthers ever since 2017 and has developed a reputation as a big-hitter at the position. While he's not the stingiest coverage player, he's done a better job of capping big plays over the past couple of seasons. Hamlin's best attribute when translating to the NFL is how willingly he adds on in run defense. His angles coming downhill and ability to read concepts are both top-notch. While he's not the speedster you want roaming the deep middle, he's got more than enough to hold up in a split-field role (Quarters/Cover 2), as he played at Pittsburgh.