PFF recently partnered with Underdog Fantasy because NFL best ball szn has arrived. Drafts are LIVE over on Underdog — I've already signed up for multiple contests. 
PFF's Jarad Evans and I recently jumped into an Underdog best ball draft in order to spend some time sharing strategy and kicking around picks in real time. We landed the No. 9 pick and streamed the draft live on Twitter and Periscope. Find the full video here.
The following is a breakdown of the 18-round, 12-team best ball draft with analysis on each pick. Whether you're dipping your toe into best ball for the first time or just want to prepare for your own drafts before putting money on the line, hopefully thinking through this process with us helps. 
Drafting this early might seem intimidating with so much still unknown about free agent and rookie landing spots, but it actually offers a ton of opportunity. We try to stay ahead of the field with our offseason rankings and NFL news, along with work we've already published identifying overvalued and undervalued players. 
Without further ado, here is PFF's first 2021 best ball squad. Keep in mind that Underdog uses half-point PPR.
Running backs were a hot commodity to start the draft, with six taken in the first seven selections. With both of the Kansas City Chiefs' top pass-catchers both off the board at No. 9, Davante Adams made the most logical sense. 
Best ball rosters should always lean slightly toward being more wide receiver-heavy than running back — acquiring at least four WRs in the first six rounds is a solid benchmark.
Even though I don't anticipate Adams repeating his insane 2020 season — 21.6 fantasy points per game — his league-leading 16.5 expected fantasy points per game suggests that he will be tough to supplant as the No. 1 wide receiver in fantasy football. 
Adams has averaged just under 12 receiving touchdowns per season over the past five years. 
With our WR1 locked and loaded, our draft strategy shifted to the running back position, as the elite players dry up very quickly. Ezekiel Elliott, Nick Chubb, Cam Akers and Austin Ekeler all came off the board after we selected Adams. 
D'Andre Swift was the highest running back left and felt like a solid pick. By the time our next pick came around, the top-ranked RBs available — Clyde Edwards-Helaire, Najee Harris and David Montgomery — are fringy RB1 options at best. 
Swift has massive upside from a talent perspective — he's my 10th overall running back. He's going to be the workhorse in the Detroit backfield as a dual-threat rusher/receiver and only has room to grow. Swift finished his rookie season 19th in RB points per game (13.1) despite seeing a 70-plus percent snap share only once.
The only downside to his outlook is the potential lack of touchdowns. I'm not particularly excited about the Detroit Lions' offense with Jared Goff under center.
From this point forward, our focus was targeting the best available wide receivers. We ended up drafting Allen Robinson right after Michael Thomas (they're ranked back-to-back) and felt good about the selection. Hopefully Robinson finds himself in an awesome situation post-free agency. 
Russell Wilson has been rumored to be atop the Chicago Bears' list of trade targets. That massive upgrade at quarterback would surely entice the Bears' star wide receiver to keep his talents in the Windy City.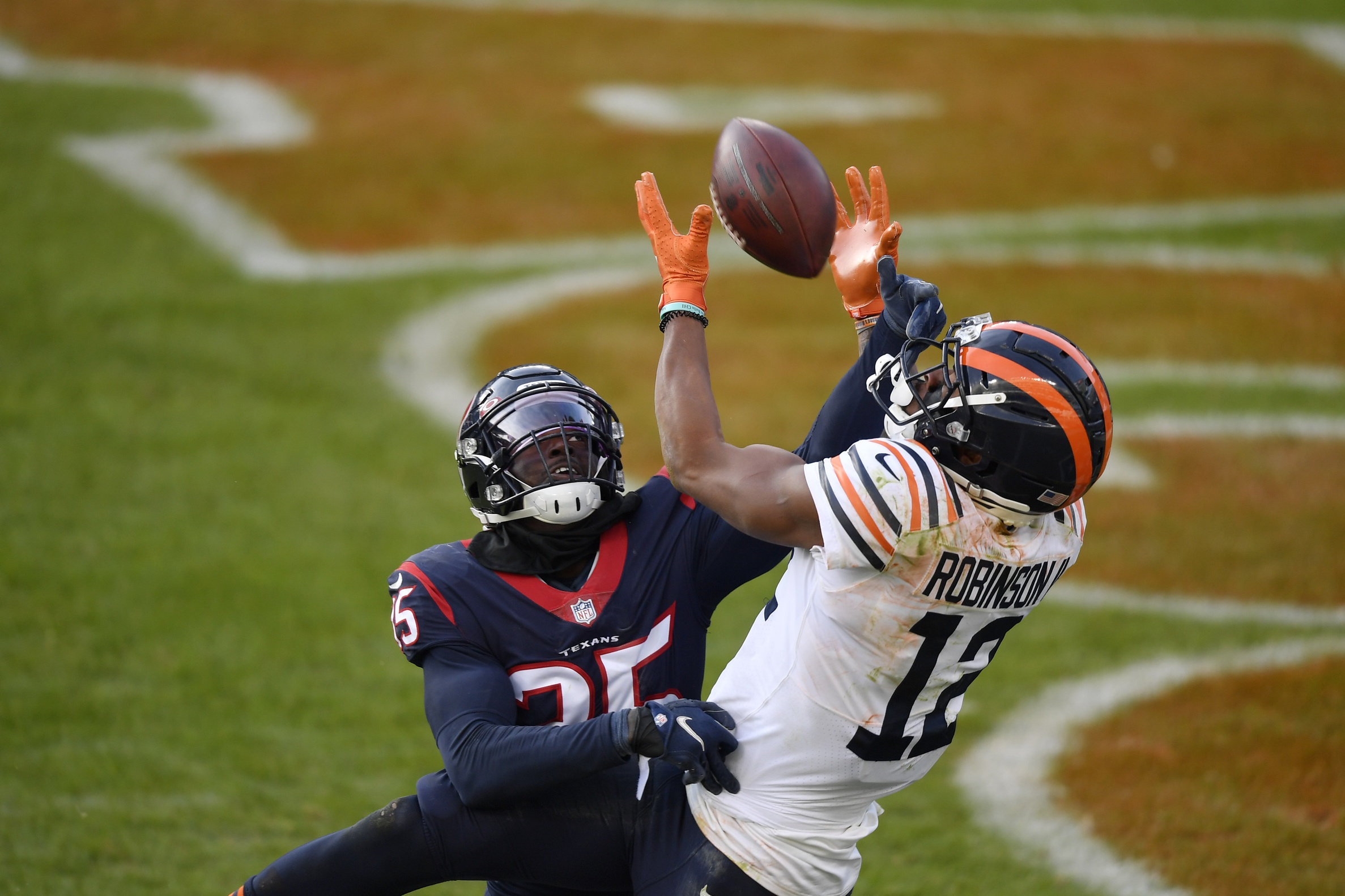 Getting Robinson as WR11 is insane value considering how well he has played the past two seasons with subpar quarterback play. He's finished fifth (14.0) and eighth (13.8) among receivers in expected fantasy points per game the past two seasons. 
Robinson's ADP can only go up at this point, so savvy managers should be looking to scoop him up on now in best ball drafts. 
The third and fourth rounds of fantasy football drafts offer a plethora of great wide receiver options, so it's tough to make the wrong selection. CeeDee Lamb, Mike Evans, Chris Godwin, Julio Jones and Adam Thielen were all available at 4.04.
Going with the second-year receiver over more established veterans is swinging for the fences. Lamb was a monster with Dak Prescott under center, averaging 16.3 fantasy points per game — 12th best at the position.
Per PFF's 2021 QB Annual, Lamb was by far Prescott's favorite target in two critical situations: third down and in the red zone. 
If Lamb can emerge as Prescott's favorite target in the red zone, nobody will be surprised to see him double his five touchdown catches from 2020. Two of his five TDs came with Prescott at quarterback in the first four weeks of the season. 
It's also important to note that Lamb was the only Dallas skill position player who performed above expectation in terms of fantasy points scored. His secure role in the slot — second-most catches, third-most yards — helped him thrive despite the volatile quarterback play.
And although Lamb is a slot receiver, he is still relied on heavily as a downfield threat. His 12 catches of 20-plus yards ranked fifth overall and second among the 2020 rookie wideouts behind only Justin Jefferson (14).
The start of the fifth round doesn't mean you stop drafting wide receivers. There are still so many great options on the draft board, and Courtland Sutton stands out. 
I specifically highlighted Sutton when I first released my 2021 best ball rankings because the price of admission just simply doesn't compare with what we should expect of him in 2021. 
Sutton is going beyond the WR2 range (outside top-24), and that's just blasphemy. Let's not forget that the Broncos' big wideout was the WR13 with Drew Lock under center in the final five games of the 2019 season.
Don't sleep on Courtland Sutton ???? pic.twitter.com/U67LshJjaj

— PFF Fantasy Football (@PFF_Fantasy) March 3, 2021
Most people who are lower on Sutton will point to Lock as a reason to stay away. But I'm not so sure Lock is bad for Sutton considering his downfield prowess — Lock had the league's highest deep-ball rate in 2020.
There's also no guarantee that Lock is even under center in 2021 with the Broncos reportedly in the Deshaun Watson sweepstakes. 
A few weeks ago, I listed Dak Prescott as a "buy" heading into the 2021 fantasy season. He has been nothing but a fantasy superstar since entering the NFL. 
Dak Prescott (2016-2019)
only QB to finish top-10 in fantasy all four seasons

He was the QB5 through the first five weeks of 2020

— Andrew Erickson™ (@AndrewErickson_) March 8, 2021
When Kyler Murray was selected at the end of the fifth round, we knew a QB run would soon begin, and Prescott made the most sense for us. He was the second-highest-ranked quarterback available — we chose him over Deshaun Watson because we already had Lamb as a stacking partner.
Watson is also starting to carry unwanted risk with the possibility that he could sit out if Houston can't or won't move him. A trade to a nice landing spot could easily spike his value, but I'll be out on Watson in these early drafts until his situation becomes more clear or if his ADP starts to fall into Rounds 7 or 8. 
Drew Lock ranked 31 out of 32 quarterbacks in percentage of uncatchable passes in 2020. Jerry Jeudy had his fair share of problems as a rookie, but we can't bury the guy when his quarterback play was so erratic. 
Only A.J. Green scored fewer fantasy points versus expectation than Jeudy a season ago. This is a huge indicator that the 2020 first-round pick is primed to bounce back in Year 2 with some slight improvement at QB. Cleaning up his drops won't hurt, either.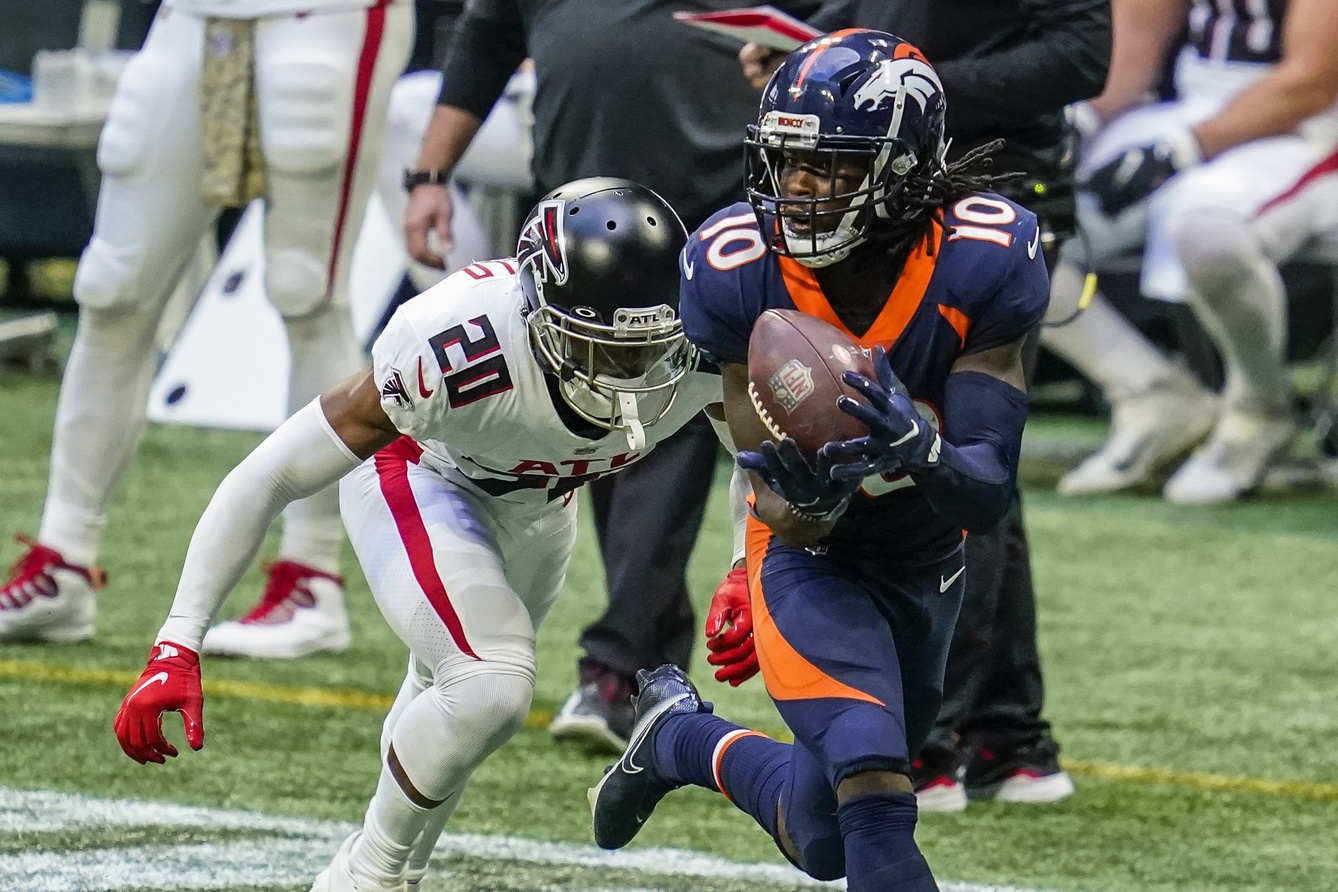 PFF's Kevin Cole highlighted Jeudy as being significantly undervalued in current best ball drafts, especially compared to fellow first-round 2020 rookie wide receivers. 
At Jeudy's current ADP (WR40), he is going to be one of my highest-owned players in best ball this year. 
The strategy behind selecting Michael Gallup was to add another offensive piece to our Dallas Cowboys stack. Still, it's tough to find much to love about last year's disappointing performance.
Gallup was the rare part of the Cowboys offense that didn't see a dramatic downturn in fantasy production after Dak Prescott went down — that's because he wasn't performing when Prescott was playing. 
Gallup's fantasy points per game (11.6 versus 10.6) barely changed with the backup QBs, and his yards per route run with Prescott (1.53) ranked 60th.
Like in 2019, Gallup finished 2020 strong — he was the WR13 in total points from Weeks 13-17. He led the Cowboys' trio of receivers in targets (35), receptions (22), receiving yards (305) and receiving touchdowns during those five weeks.
That provides at least some hope that Gallup will have his share of "boom" games in 2021. 
After drafting our sixth receiver, it seemed appropriate to address the running back position in the ninth round. We opted for Tony Pollard with so much already invested in the Dallas offense.
Pollard has been nothing short of fantastic in his limited action in the NFL and possesses league-winning upside should anything happen to Ezekiel Elliott. 
Since entering the league in 2019, Pollard ranks fifth in PFF rushing grade (87.7), first in missed tackle rate per attempt (25%), first in yards after contact per attempt (4.0) and fourth in missed tackle rate per touch (25%). 
He's tied with Nick Chubb for the highest missed tackle rate on rushing attempts and tied with Derrick Henry in yards after contact per attempt. Talk about elite company.
We also saw Pollard as the fill-in starter for Zeke in Week 15 against 49ers, and he did not disappoint. He scored 33 fantasy points — more than any point total Elliott put up all season. Zeke better hope he doesn't miss any more time in 2021 or we might see a new RB1 in Dallas. 
Dallas RBs Since 2019
| | | | |
| --- | --- | --- | --- |
| | PFF rushing grade | Forced missed tackle rate | Yards after contact per attempt |
| Ezekiel Elliott | 81.5 (17th) | 17% (32nd) | 3.0 (23rd) |
| Tony Pollard | 87.7 (5th) | 25% (1st) | 4.0 (1st) |
Whether Pollard gets his chance at the starting role due to an injury or more touches based on how well he has played, he's an easy selection here in the ninth round. 
At the time of this draft, Rashod Bateman was my No. 4-ranked rookie WR. Since then, he has climbed up to No. 3 and actually came off the board in PFF's dynasty mock draft as the second rookie WR.
He's going several rounds after Ja'Marr Chase, DeVonta Smith and Jaylen Waddle, making him one one of the better values among the rookie WRs. 
The Rashod Bateman hype train is on a runaway course.

And IM ALL ABOARD ???????? pic.twitter.com/JX5X1zE4EC

— Andrew Erickson™ (@AndrewErickson_) March 7, 2021
With only two running backs on the squad, we needed to head back to the well. That led us to Gus Edwards who, like Pollard, has been insanely efficient as a rusher since joining the league.
Since the start of 2018, Edwards ranks fifth in PFF rushing grade (90.2) and fifth in yards per attempt (5.1). He doesn't quite have the elusiveness or pass-catching chops as someone like Pollard, but he has a clearly defined role for the Baltimore Ravens.
Edwards didn't see fewer than seven carries in a game after Week 13. He also was only slightly out-touched by J.K. Dobbins (74 to 86) during that time.
After 11 rounds, it was time to address the tight end position. And, lucky for us, Vikings third-year tight end Irv Smith Jr. was available in the 12th round at 148 overall. 
The best part about this selection: It was made before the Kyle Rudolph news broke, so ISJ came at a massive discount. His ADP is now closer to pick 120, almost two rounds earlier.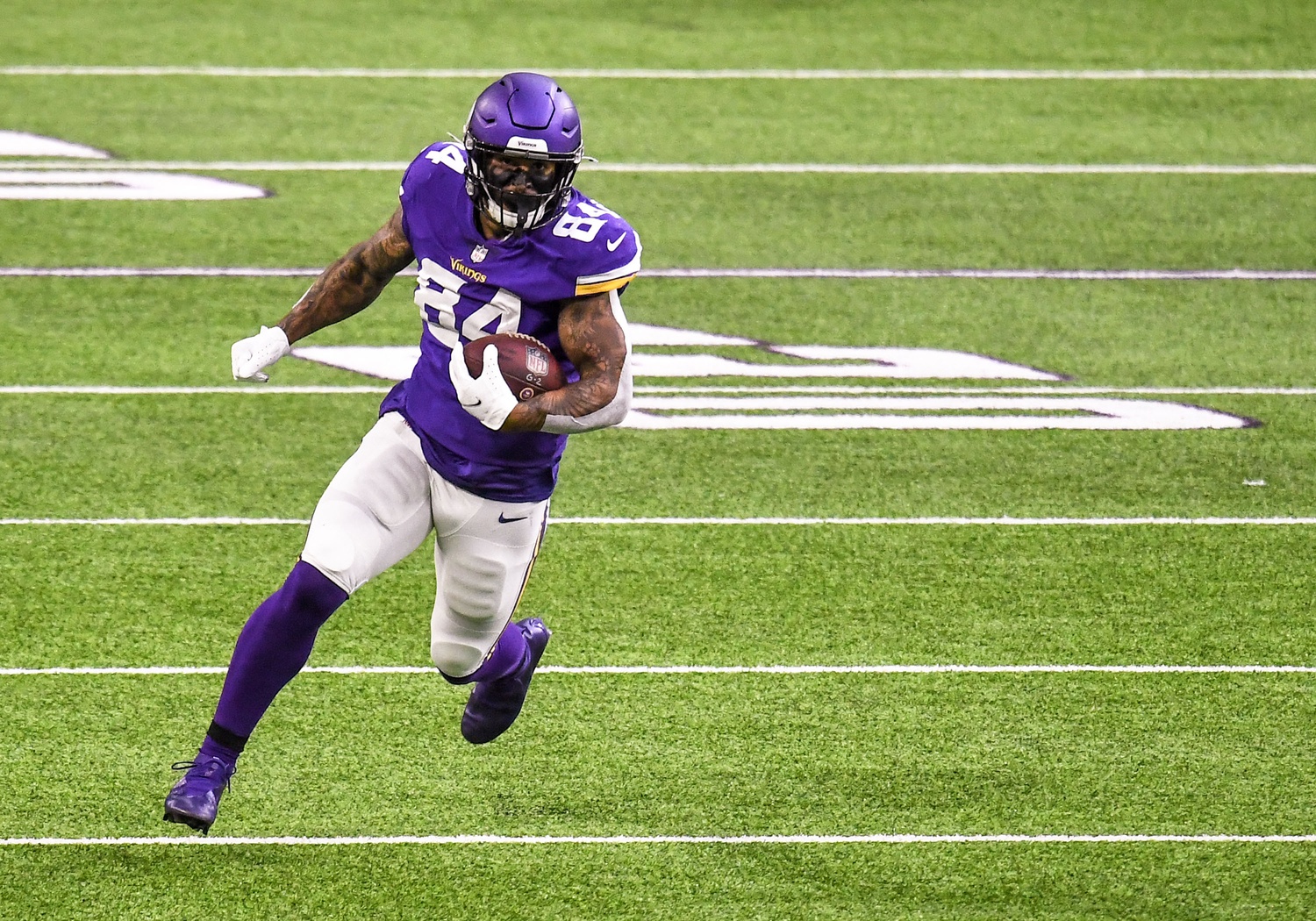 It makes sense that Smith's ADP has risen, as he showed TE1 upside when Rudolph was sidelined to end the season. In the final four games without Rudolph, Smith ranked eighth in fantasy points per game (12.8).
But those paying close attention should have realized that Rudolph was upset with his usage last year. It also made sense for the team to cut ties with the veteran due to its current salary-cap situation. ISJ was a strong bet to be a winner this offseason well before the team released Rudolph. 
We waited a bit longer than usual to grab a second quarterback — the 11th round is a sweet spot — but getting Justin Fields in the 13th felt like a steal. While some drafters are taking Trevor Lawrence as early as Round 8, we'll opt for the rookie QB who has been compared to a smaller version of Cam Newton five rounds later all day. 
He averaged eight rushing attempts and nearly 55 rushing yards per game at Ohio State. Reaching those thresholds at the collegiate level puts him in the conversation with some of the NFL's best mobile quarterbacks from the past few draft classes.
Specifically, Fields' 3.4 scrambles per game are right on par with the likes of Lamar Jackson and Jalen Hurts in their college days.
With his fantasy stock almost certainly set to rise after the NFL Draft, savvy managers need to be all over Fields in the double-digit rounds of best ball.
I didn't love the pick we made here in the 14th round, but the options are slim this late in a draft. Latavius Murray is just a backup RB-plus. The New Orleans Saints would be wise to not overload Alvin Kamara with an insane workload, so Murray is likely to see between 8-10 touches per game.
He also earned a career-high PFF grade (81.5) in 2020.
Even so, I can't help but feel some buyer's remorse after seeing a much younger back in Alexander Mattison go a couple rounds later. Both have nice fantasy ceilings should anything happen to the starter, but Mattison's is a little higher. 
With Irv Smith Jr. firmly in place as our TE1, it made sense to pair him with another tight end who would be able to provide a safer weekly floor to ensure we aren't taking zeroes every other week at the position. Insert Zach Ertz, who has been mentioned in trade talk this past week.
The hope is that Ertz lands with a new team that will entrench him as their starting tight end — that's all he needs to beat his ADP in the 15th round. Ertz is still only 30 years old, and nobody could look good playing in the Philadelphia Eagles' offense last season.
No tight end scored fewer points versus expectation (-48.4) than the Eagles' veteran tight end. And his expected fantasy points per game (11.3) ranked seventh at the position. That's a much better indication of what we should expect out of Ertz in 2021, especially if he finds better surroundings.
PFF's Kevin Cole identified Ertz's drop in ADP from last year (TE4) to this year (TE17) as the largest gap at the position.  
Nobody's going to be excited about taking a 1B running back for a team that barely runs the football. And yet here we are, fresh off drafting Devin Singletary in the 16th round. The rationale behind this pick is that Singletary's price is just too cheap.
Through all the turmoil that was the Bills running game in 2020, Singletary still managed to finish as the RB32 overall with over 950 yards from scrimmage. He managed a top-32 mark without much help from TDs — no running back scored fewer fantasy points from touchdowns (8%) than Singletary in 2020.
Lowest % of Fantasy Points via TDs | 2020 RBs
| | |
| --- | --- |
| Player | Percentage |
| Devin Singletary | 8% |
| J.D. McKissic | 9% |
| Austin Ekeler | 11% |
| Clyde Edwards-Helaire | 17% |
| Cam Akers | 17% |
TDs can be fluky. If they revert in Singletary's favor, it will add a lot to his fantasy value. 
Buffalo coaches have also said they want to be able to run the ball more in 2021. Singletary has been efficient when given opportunities and would benefit from any uptick in usage. 
He ranks fifth in 15-plus yard rushes (23) and sixth in missed tackle rate forced per touch (25%) since 2019.
We added Drew Lock to complete the Broncos stack. Lock can be a roller-coaster ride, but that's not a problem in best ball leagues.
After returning from injury in Week 6, he posted six games with less than 15 fantasy points and four games with over 21 fantasy points. Just a few good games from Lock will make him more than serviceable as our No. 3 quarterback.
With our last pick, I had to advocate for one of my favorite rookies, Khalil Herbert. Last season, Herbert tied Jaret Patterson for the lead in yards after contact per attempt (4.74) among the 2021 draft class and finished second in total yards after contact (734) behind only Najee Harris.   
Rookie RBs just need the right opportunity to pay off big in fantasy. My hope is that Herbert can be that guy in 2021. He'll need to land in the right spot in the NFL Draft, but it's a fine dart throw with our last pick.