If you didn't draft Travis Kelce or Darren Waller in fantasy football this past season, chances are you were left frustrated with the output from the tight end position. From weeks 1-16, Kelce (312.6 fantasy points) and Waller (253.9 fantasy points) outscored the average of TE3-TE6 by a whopping 165.7 fantasy points. There was TE1 and TE2 — then basically everybody else. 
Part of the reason why tight ends are so inconsistent is that they simply don't have the opportunity to be involved in the passing game. Whether they're running too few routes, buried in the target pecking order or leaned on as blockers, targets can be hard to come by. There is certainly a method to the madness in real life, but that doesn't make us feel any better when they're crushing our fantasy teams. 
Still, with the NFL free agency upon us, we're about to witness player movement across all 32 NFL franchises, some of which could lead to better opportunities for the following tight ends. 
Starting at the top, we have Hunter Henry, PFF's No. 1-ranked tight end available in free agency. The Chargers tight end is bound to have his fair share of suitors this offseason, and a new landing spot could give last season's 16.5% target share a boost. 
That mark ranked eighth-highest at the position — behind TEs like Noah Fant (17%), T.J. Hockenson (17%) and Logan Thomas (19%). 
There is definitely room for Henry's fantasy ceiling to rise in a new offense, but it's also hard to envision him not having success if he ended up back in L.A. Before he missed the last two weeks of the season, he ranked third among all tight ends in routes run, which is a key component for projecting future tight end fantasy production.
That provides a decent floor for a tight end in fantasy, but 2021 could easily be Henry's best season. His expected fantasy points per game in 2020 (11.2) was almost identical to the year prior (11.3), but the actual results differed much more. His true fantasy points per game (10.4) was a slight downtick from 2019 (12.5). 
Safe to say, Henry is much more likely to be in the 11-plus point-per-game range in 2021 if he lands back with the Chargers. Henry has shown considerable consistency in back-to-back seasons with different quarterbacks, so I'm confident that his production won't take a major dip under new offensive coordinator Joe Lombardi. 
If Henry ultimately does leave in free agency, his range of outcomes will widen significantly. He'd have a higher ceiling if he lands in a place like New England — the Patriots really need a tight end of his caliber and he'd have a chance to flirt with over 100 targets with the barren state of their current pass-catching weapons.
Henry's loss is not ideal for the development of Justin Hebert. The Chargers need to surround him with as many weapons as possible if they hope to compete with the Kansas City Chiefs for years to come.
Henry's departure would likely slide former XFL superstar Donald Parham into a starting role. He is technically the only Chargers tight end under contract for next season, so dynasty owners need to make sure he is not available on any waiver wires.
Parham is a size-speed freak — 6-foot-8, 257 pounds, 4.70 40-yard dash speed — and Hebert loved looking for him in the red zone. He caught three of his touchdowns from passing attempts inside the 10-yard line. 
There's no debating the talent Jonnu Smith showed during the 2020 season. He was one of my favorite late-round tight ends heading into the season and delivered several splash weeks. But because of his inconsistent usage — 25th in routes run, 18th in targets — he averaged just 8.9 fantasy points per game (20th). That rate was nearly a full fantasy point more than his expected output.
Needless to say, Smith would have been a colossal bust if not for his eight total scores Smith and ability to create yards after the catch (5.5 YAC/reception, eighth-most).
Smith would ideally find team that will put more of an emphasis on his pass-catching abilities — blocking is the weakest part of his game. But despite his struggles, the Titans had him play the second-most run-blocking snaps of any tight end behind only Tyler Higbee last season. 
Keep tabs on how the Titans address the position in free agency. They could also lose MyCole Pruitt and Geoff Swaim in free agency — 2021 could be Anthony Firkser TE1 szn by process of elimination. 
When I dove into the Jared Goff trade to Detroit Lions, my major takeaway was that Hockenson was a winner in the move. It's weird to conceptualize, but Goff might cause the Lions' best options at WR — free agents Marvin Jones Jr., Danny Amendola and Kenny Golladay — to look for different teams. 
If all of those players leave, Hockenson's main competition for targets would be second-year wide receiver Quintez Cephus, RB/WR hybrid Jamal Agnew and opt-out returnee Geronimo Allison. That's nobody's idea of an elite receiving unit.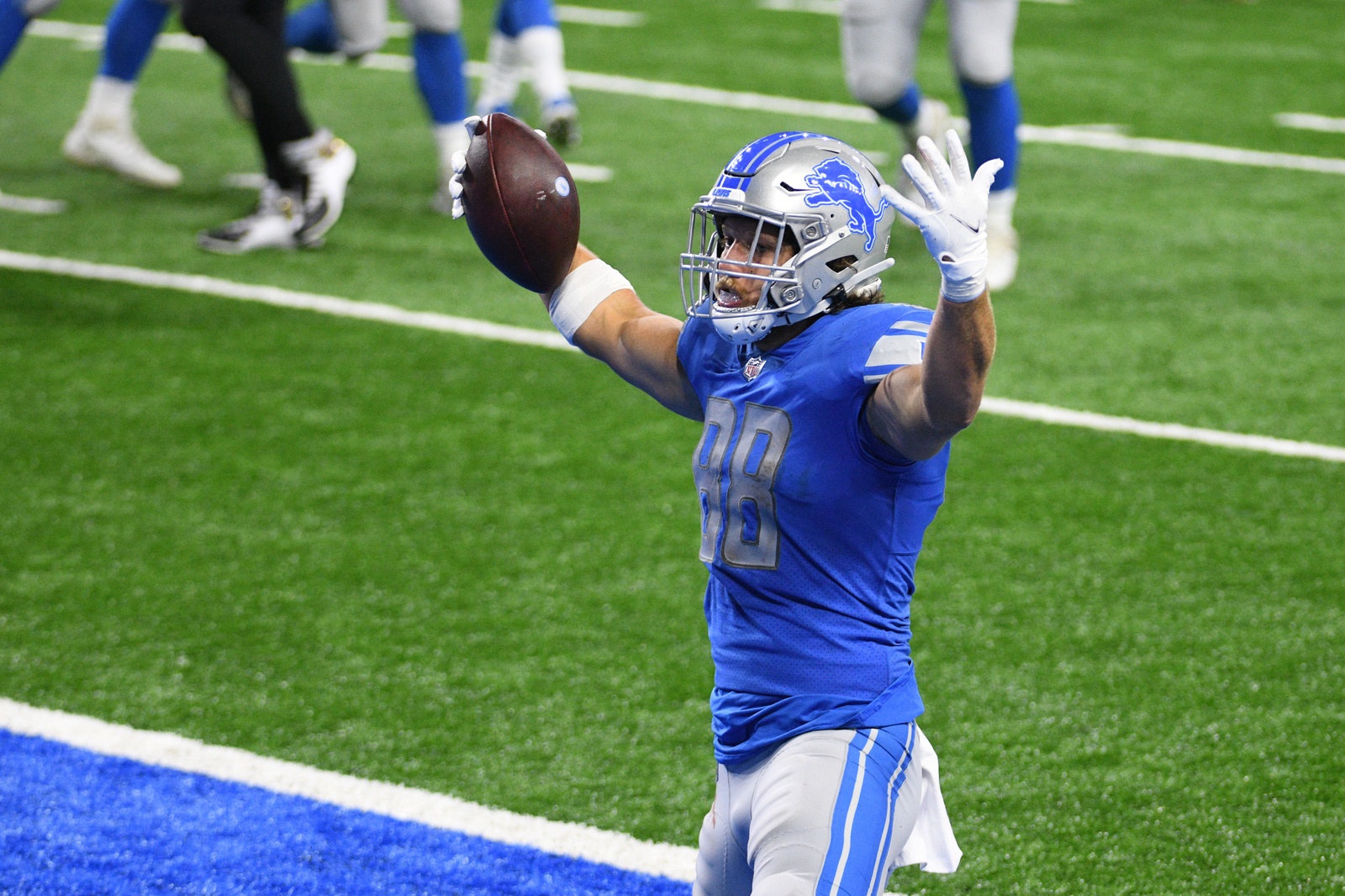 I can't stress enough how key "opportunity" is for finding the next breakout tight end. Hockenson looks primed to be that guy in 2021. Just last season, he ranked fifth in targets and 10th in routes run at the position.
That resulted in Hockenson finishing sixth in points per game (11.0) and sixth in expected points per game (11.5). The Lions tight end finished third in receiving yards (723) at the position in just his second season. 
If Goff could make an elite tight end out of Tyler Higbee — albeit for just a small stretch of games — then he surely can get Hockenson fully there next season.
I touched on Goedert's upside in a piece on Jalen Hurts' potential to become the next superstar fantasy QB — the stage is set for that duo to take off in 2021 with both Carson Wentz and Zach Ertz out of the picture. Both players are as good as gone, and that sets up perfectly for 2021 to be the year Goedert steps out of Ertz's shadow. 
From Weeks 8-12 with Ertz sidelined, DG finished as fantasy's No. 2 tight end (12.3 fantasy points per game) behind only Travis Kelce. He averaged nearly 38 routes run per game. 
There's a non-zero chance that Allen Robinson is gonzo from the Chicago Bears. From his cryptic tweets to my own belief that he is the best available wide receiver in free agency, all indications are that he won't be back in the Windy City. 
Robinson accounted for 26% of the Bears' total targets (163) — his loss would create a massive hole in the offense that will need to be filled. 
Some of that production will be taken on by wide receivers Darnell Mooney and Anthony Miller, but neither of those players will alone make up for all those vacant targets. Kmet is the more under-the-radar player to benefit. The team was clearly leaning in his direction over veteran tight end Jimmy Graham during the second half of the season.
Kmet played more snaps (85% versus 45%), ran more routes (204 versus 117) and commanded more targets (39 versus 22). Only the touchdowns fell in Graham's favor, four to one.
The Bears have a potential out in Graham's contract that would save up to $7 million for the 2021 season, so it could be just a matter of time before Kmet's draft stock rises as Chicago's offseason progresses. 
The Carson Wentz-to-Chicago trade rumors are in full swing, and he has an affinity for targeting the position. Wentz's target rate to the tight end position (31%) ranks second in the NFL since the start of the 2019 season. 
The Minnesota Vikings rank in the bottom-10 teams in available salary-cap space heading into the 2021 offseason. Moving on from Kyle Rudolph seems likely considering they need to shift cash toward their defense and they have an ideal replacement in third-year tight end Irv Smith Jr.
Smith took massive leaps in his second season, finishing 12th in PFF receiving grade (75.4) and seventh in yards per reception (12.2).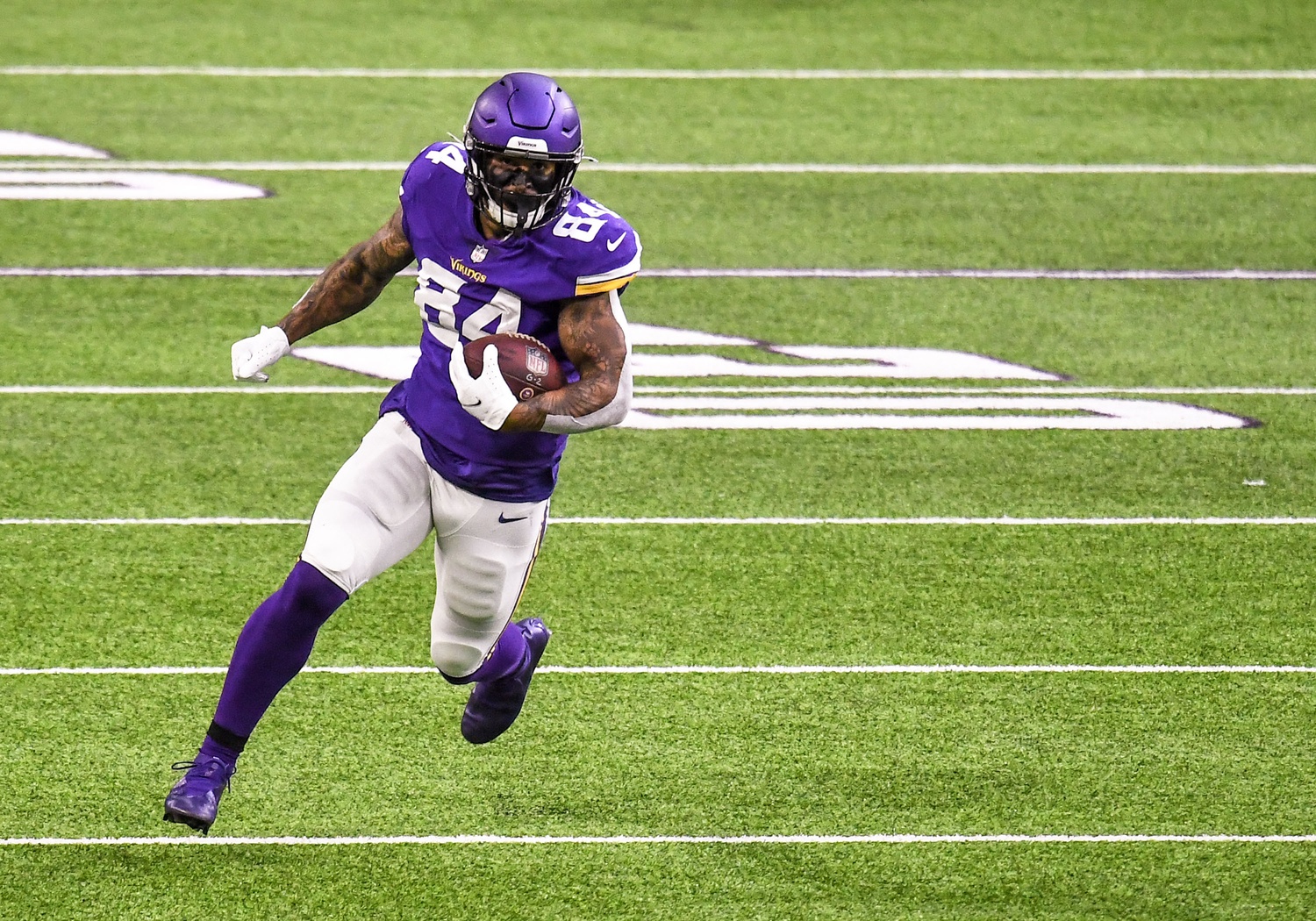 In the final four-game stretch he played with Rudolph out due to injury, ISJ ranked ninth in expected fantasy points per game (11.9) and eighth in true fantasy points per game (12.8).
Smith ran 118 routes over this stretch (29.5 per game, eighth-most), which was drastically higher than his routes run per game (18) in his first nine games. 
There's a pretty simple statistic that can encapsulate Ian Thomas' 2020 campaign: He finished ninth in routes run (468) among all tight ends but ranked 108th in yards per route run (0.31) and dead last in target rate (6.4%). He had just 20 receptions on over 400 routes run, which is completely absurd. 
Ian Thomas 2020 in a nutshell

– 468 routes run (ninth)
– 0.31 yards per route run (108th)

honestly might be a nice buy-low entering his year four season if the team doesn't retain Curtis Samuel.

— Andrew Erickson™ (@AndrewErickson_) February 5, 2021
The opportunities were there for Thomas in the Panthers offense, but he did absolutely nothing with them. It seems like a long-shot that Thomas can be a fantasy factor in 2021, but the departure of Curtis Samuel in free agency would be a start.
That could really open up more opportunities for Thomas to be used from the slot. He was already playing 55% of his snaps from the slot, so there's a possibility of growth for the fourth-year tight end. The other TE on the roster, Chris Manhertz, is also a free agent.
It might be time to go ahead and send some low-ball offers for Thomas in dynasty formats if he hasn't already been banished to the waiver wire. 
Jared Cook is ranked as PFF's 78th-overall free agent and isn't likely to be retained by the Saints. New Orleans added to the tight end position in the 2020 NFL Draft, selecting Adam Trautman out of Dayton in the third round.
If Trautman sees more snaps operating as the primary No. 1 receiving tight end in the Saints offense, he could thrive in fantasy in Year 2. No college tight end had a higher PFF receiving grade (94.3) than Trautman in 2019. To put that into perspective, his receiving grade was higher than the 2018 grades of Jace Sternberger, T.J. Hockenson, Irv Smith Jr.  and Noah Fant.
During his rookie season, Trautman flashed the receiving ability he showed in the college ranks. He led the NFL in catch rate (94%) and ranked third in yards after the catch per reception (7.7) at the tight end position. Obviously, this came on a small sample size of just 15 catches on 16 targets, but his overall efficient play can't be ignored.
The Saints letting Cook walk would be a vote of confidence for their second-year tight end. 
Back-to-back injury-plagued seasons have derailed the once-heralded tight end from San Jose State. The former third-round pick should finally be healthy in 2021 and could benefit from being part of a Trevor Lawrence-led Jacksonville Jaguars offense. 
The tight end room is wide open for Oliver with the other Jaguars tight ends — Tyler Eifert and James O'Shaughnessy — either on club options or deemed unrestricted free agents. 
POTENTIAL LOSERS IN FREE AGENCY
Not everybody can be a winner in free agency — the following players could find themselves in worse situations after the dust settles in the offseason.
Robert Tonyan finds himself in an interesting position as a restricted free agent coming off a season where he tied Kelce for the regular-season lead touchdowns (11) at the position. Another NFL team could bid aggressively on Tonyan, but I'd have to imagine that's unlikely.
Green Bay will probably lose veteran tight end Marcedes Lewis. The 37-year-old's $2.25 million contract just expired — I doubt the Packers will want to be without their top two tight ends from last season. 
Lewis is hardly a household name in fantasy circles, but he did play 41% of the snaps last season. The run-blocking tight end will likely be replaced by Josiah Deguara, who the team drafted in the third round of last year's draft.
Tonyan is already a candidate to be hit by touchdown regression in 2021, as no tight end scored more fantasy points over expectation (52.2) than Big Bob. Aaron Rodgers' 9.1% touchdown rate in 2020 was the highest of his career and will almost certainly come down back toward his career 6.3% rate. 
It's a darn shame that O.J. Howard got hurt so early in the year because he started the season strong through the first four weeks. He was PFF's fourth-highest-graded tight end (85.3) and ranked third in yards per route run (2.39). Howard has been extremely efficient throughout his NFL career outside a disastrous 2019 campaign. 
It seemed like he had worn out his welcome in Tampa with the team bringing in Rob Gronkowski and financially attached to Cameron Brate. Splitting time with two other tight ends is not ideal — it would be best if Howard could somehow get out of Tampa. 
With reports surfacing that Gronk is returning for the 2021 season, things aren't looking any better near-term. But Howard is young and talented enough that he could be worth buying-low on in dynasty with the hope he is moved to another team at some point during the offseason.