The QB Annual is one of my favorite publications that PFF puts out each year. It's 365 pages of in-depth analytics dedicated to the quarterback position, with plenty of data and insights fantasy players can use to their advantage when considering QBs heading into fantasy drafts. 
Subscribe to
Last year's edition showed that Tom Brady's deep ball had not fallen off to the extent that NFL talking heads were suggesting. The numbers said TB12 could still sling it downfield, and he proved them right by leading the league in several statistical categories on passes 20-plus yards downfield. 
With our sights set on 2021, it's time to comb this colossal document to find some of its key fantasy football takeaways. 
Baker Mayfield simply isn't getting enough love for his performance last season. He regained the 2018 rookie form that excited the NFL and fantasy community alike, finishing the year as PFF's second-highest-graded quarterback from Week 7 on.
New head coach Kevan Stefanski and the revamped offensive line paid dividends after Mayfield face-planted in 2019. The third-year QB was above-average in each of the following facets: throwing from a clean pocket; when weighing his positively graded-throws versus his negatively graded-throws; and when comparing his big-time throws to his turnover-worthy plays.
Finishing as the league's fifth-highest graded-quarterback from a clean pocket is the most important accomplishment to call out, as that type of metric tends to be more stable from year to year. The Browns earned PFF's highest pass-blocking grade in 2020, which bodes well for that success to continue with good protection in 2021.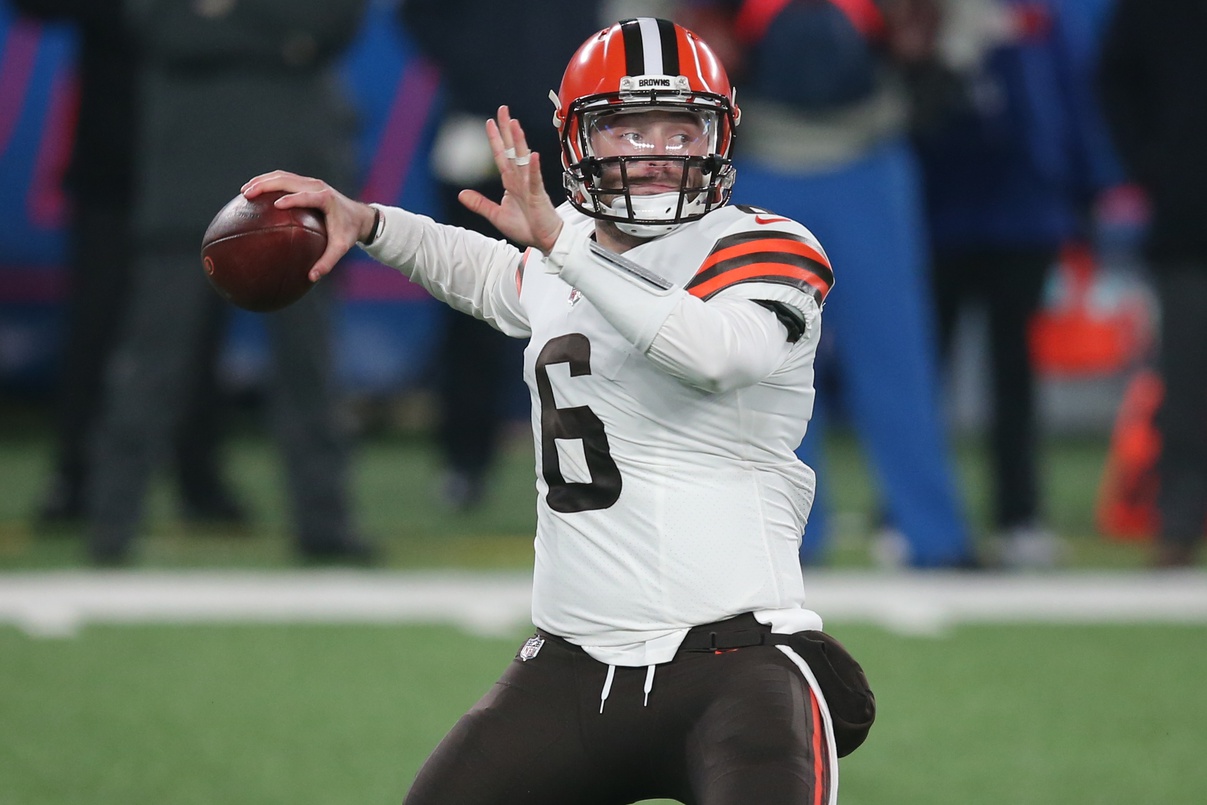 Keeping Mayfield upright is critical because his passer rating under pressure (45.0) in 2020 ranked 34th in the league and was lower than in 2019 (59.6). 
The area where we could see him take a leap for fantasy purposes is touchdown percentage in the red zone. Even his improved 26% red-zone TD rate in 2020 pales in comparison to his rookie season (33%). Per PFF's expected fantasy points tool, Mayfield threw four fewer touchdowns than expected. 
With all the change at quarterback happening in the NFL, we are going to massive changes in teams' offensive outputs in 2021. The Detroit Lions and Los Angeles Rams quarterback exchange will drastically change both of their offenses.
Matthew Stafford finished 10th in big-time throw rate and third in turnover-worthy play rate in 2020, two stats that left him closer to some of the league's best quarterbacks like Aaron Rodgers and Deshaun Watson.
Meanwhile, Jared Goff finished nearly dead last in big-time throw rate (31st) and ranked lower in turnover-worth play rate (17th). 
Those metrics explain why L.A. went after Stafford so aggressively — he offers much more upside as a downfield passer. Goff led the league in passing yards on throws five yards or less (2,122).
Goff's reliance on short-to-intermediate passes projects well for second-year running back D'Andre Swift. But his unwillingness to turn loose downfield and into tight windows is bad for Kenny Golladay, who could be leaving the team in free agency anyway.
If anything, T.J. Hockenson is the main benefactor with Goff under center — he wasn't a good fit stylistically with Stafford. Tight ends need to rack up volume to be difference-makers in fantasy, and that's much more likely with Goff considering he had the league's fifth-highest adjusted completion percentage (79%) last season. 
Stafford finished with the league's sixth-lowest adjusted completion percentage (74%) because his passes downfield are more difficult to complete. 
Ben Roethlisberger's average time to throw of 2.19 seconds was the fastest in the NFL in 2020. The Steelers ranked dead last in play-action and first in passing plays from the shotgun formation, both of which contributed to Big Ben's quick release. 
Considering how poor Roethlisberger's efficiency was across the board — 31st in PFF grade from a clean pocket, 31st in positively graded throws — it's surprising that he was able to support three fantasy-viable receivers. 
The team's sheer volume was to thank for propping up all three of JuJu Smith-Schuster, Diontae Johnson and Chase Claypool. Roethlisberger led the league in pass attempts. The inefficiency and lower aDOTs led to lower yards per route run — these receivers were victims of consequence in an offense that was dead set on short throws. But that approach appears to have been necessary because Big Ben's deep ball cratered in 2020.
He was one of the league's most inaccurate quarterbacks throwing the ball 20 or more yards downfield. His on-target percentage (34%) on those throws was well below league average (42%), ranking 31st out of 36 qualifying quarterbacks. 
Lowest on-target rate on 20-plus yard throws | 2020
| | |
| --- | --- |
| Player | Rate |
| Ben Roethlisberger | 34% |
| Sam Darnold | 32% |
| Drew Lock | 31% |
| Mitchell Trubisky | 22% |
| Joe Burrow | 21% |
| Jimmy Garoppolo | 10% |
At age 39, it's hard to imagine Roethlisberger flipping the switch on his deep ball, which could continue to limit the ceiling for Claypool. But Smith-Schuster's likely departure should provide enough of a buffer to overcome the efficiency woes.
I'd also expect that Smith-Schuster won't be pigeonholed into such a low-aDOT role on a new team. His 2020 average depth of target (6.8) is considerably lower than what it was during his first three seasons (9.9). 
Aaron Rodgers ranked first in several passing categories, but his astonishing 35.5% touchdown percentage in the red zone led to so much of his fantasy success. That rate ranked second in 2020 and was the highest mark for Rodgers since 2017.
He posted a career-high 9.1% overall touchdown rate — the highest rate we've seen since 2004. Still, history has not been kind the following year for players who achieved such a feat.
Just last season, Lamar Jackson saw his 9.0% touchdown rate from 2019 fall to 6.9%. When Rodgers first achieved a 9.0% touchdown rate back in 2011, his TD rate fell to 7.1% the following season. 
Highest Seasonal TD % since 2004
| | |
| --- | --- |
| Player | TD % |
| Peyton Manning (2004) | 9.9% |
| Aaron Rodgers (2020) | 9.1% |
| Lamar Jackson (2019) | 9.0% |
| Aaron Rodgers (2011) | 9.0% |
Kyler Murray's second season is a good reminder that young QBs are hardly finish products, even if we expect them to make a leap in Year 2. Murray emerged a fantasy cheat code this season, rushing for 822 yards while dazzling as a deep and short passer.
His passer rating was well above average in those areas of the field, with his one bugaboo being the intermediate level. His 72.0 passer rating on attempts 10-19 yards downfield was well below average (97.6), and he struggled in this area as a rookie, too.
Arizona would benefit from adding another pass-catcher alongside DeAndre Hopkins to operate in the intermediate level of the field. If that happens, we could see Murray take another big step forward in Year 3. 
It might sound gross, but Corey Davis landing in Arizona could be a sneaky good move. Davis was PFF's 10th-highest-graded receiver (93.3) when targeted between 10 and 19 yards downfield in 2020. 
The biggest issue with Carson Wentz wasn't even related to the incessant pressure he faced. He simply turned into a turnover-machine from a clean pocket, leading the NFL in interceptions (10) and ranking 40th in passer rating (82.5) when kept upright.
Wentz only threw five interceptions when under pressure in 2020. So even though he's heading to a team with a much better offensive line, more protection won't necessarily cure what went wrong last year. 
We also can't overlook the fact that Wentz was the most inaccurate quarterback when targeting open receivers. His accuracy on those throws was 14 percentage points lower than the NFL average in 2020. 
Hopefully, dialing back Wentz's aDOT — fifth-highest in 2020 — as they did with Philip Rivers last year will help take the pressure off Wentz and save him from himself. It seemed to work to an extent with Rivers, who posted his lowest aDOT since 2015 — the last time he played in a Frank Reich offense. 
Dak Prescott earned the highest PFF grade (85.2) of his career in his shortened 2020. 
There appears to be room for him to grow, too. Prescott posted a career-low passer rating (69.2) on third downs. His red-zone touchdown percentage (17.4%) was the second-worst of his career. I'd expect him to regress closer to his career averages in these two categories in 2021. That would greatly benefit second-year receiver CeeDee Lamb.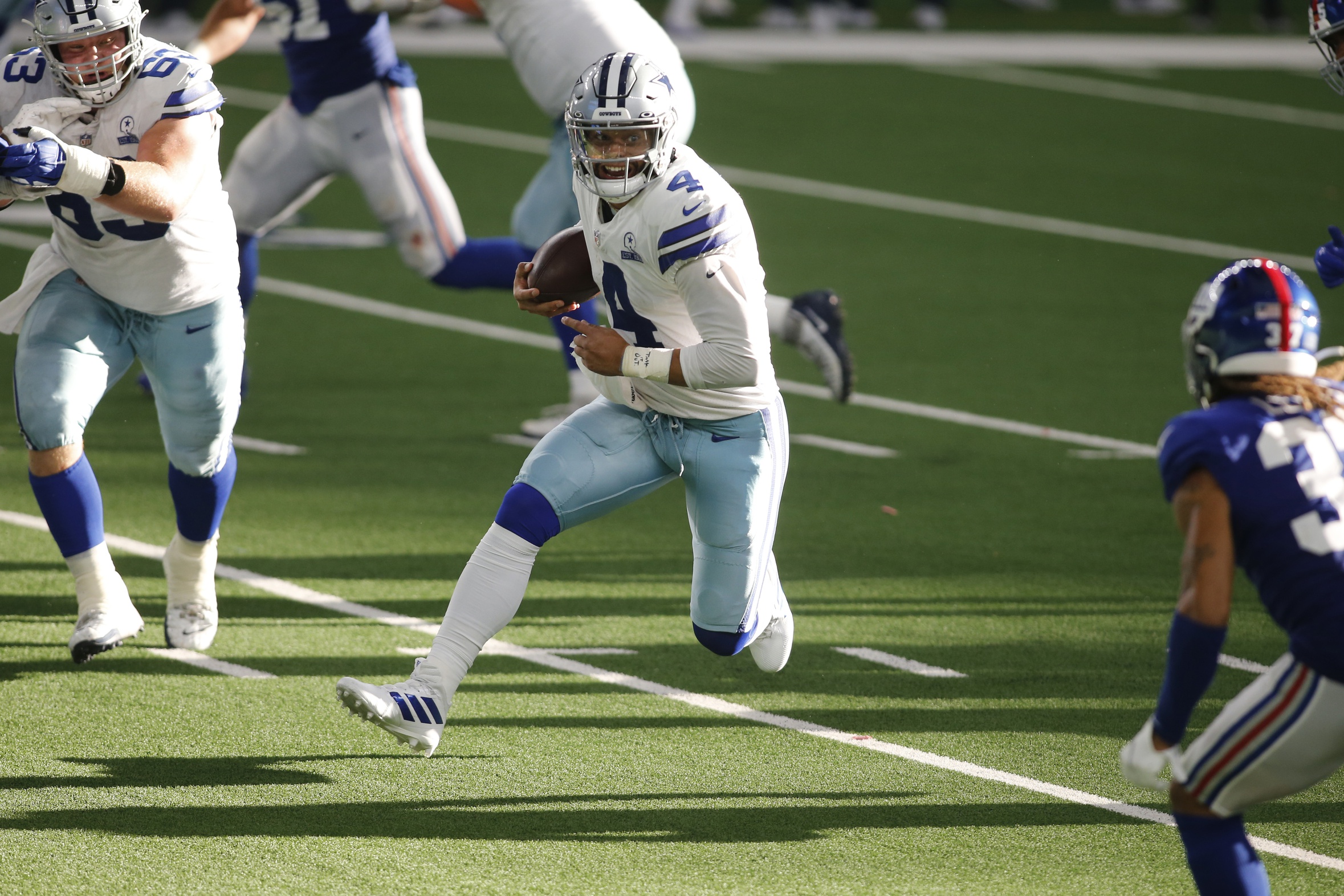 Lamb led the team in targets on third down and in the red zone when Prescott was under center. Prescott's return to elite fantasy status will fuel another step forward for Lamb. As a rookie, Lamb hauled in seven deep balls from Prescott — more than all other Dallas WRs combined (six).  
I went into the QB annual without high hopes for Daniel Jones. But the second-year signal-caller did everything that could be asked of him playing alongside a pretty poor supporting cast. As a result, his PFF grade ticked up from 65.7 in 2019 to 78.4 in 2020. 
The Giants' OL ranked dead last in PFF pass-blocking, yet Jones was able to still post the third-best grade and highest passer rating in the league (132.5) on throws 20-plus yards downfield. 
That's an indication that we shouldn't downgrade any above-average pass-catchers who might find their way to Big Blue in free agency or the 2021 NFL Draft.
If anything, we need to put the Darius Slayton experiment to rest. If he isn't producing as the team's primary vertical threat — when his quarterback is one of the league's best deep-ball throwers — we have a problem.
Jones' deep ball and added mobility make him a true under-the-radar QB to target in fantasy. The Giants' schedule is projected to be much easier than it was a season ago. 
It shouldn't come as a surprise that I was excited to dig into Jalen Hurts' advanced stats after declaring him fantasy football's next superstar — he has a clear path to become the QB1 in Philadelphia. 
Hurts' 52% completion percentage ranked dead last in 2020, but it's important to note that he was throwing the ball deep down the field. He actually ended the season ranked first in aDOT (11.0) with a whopping 46% of his pass attempts going at least 10 yards. 
That was by far the highest mark in the league, with Deshaun Watson (41%) ranking second. 
Hurts is more likely to take off and run rather than check it down to a receiver, so his completion percentage will always look poor compared to QBs who aren't so aggressive. Hurts' biggest struggle was completing passes in the short range, and he was actually slightly above average on pass attempts from 10-19 yards. 
| | | |
| --- | --- | --- |
| | Hurts on target % | NFL average on target % |
| 0-9 yards | 65% | 83% |
| 10-19 yards | 66% | 65% |
| 20-plus yards | 35% | 42% |
Joe Burrow's advanced metrics paint the picture of a rookie quarterback who showed signs of promise while also revealing areas to his game that he can improve upon. He was excellent in Year 1 throwing up to 20 yards, ranking sixth in PFF passing grade.
Things didn't go as well in the deep passing game. His on-target percentage (21%) was second-worst in the league on deep throws, and these plays resulted in a 58.0 passer rating.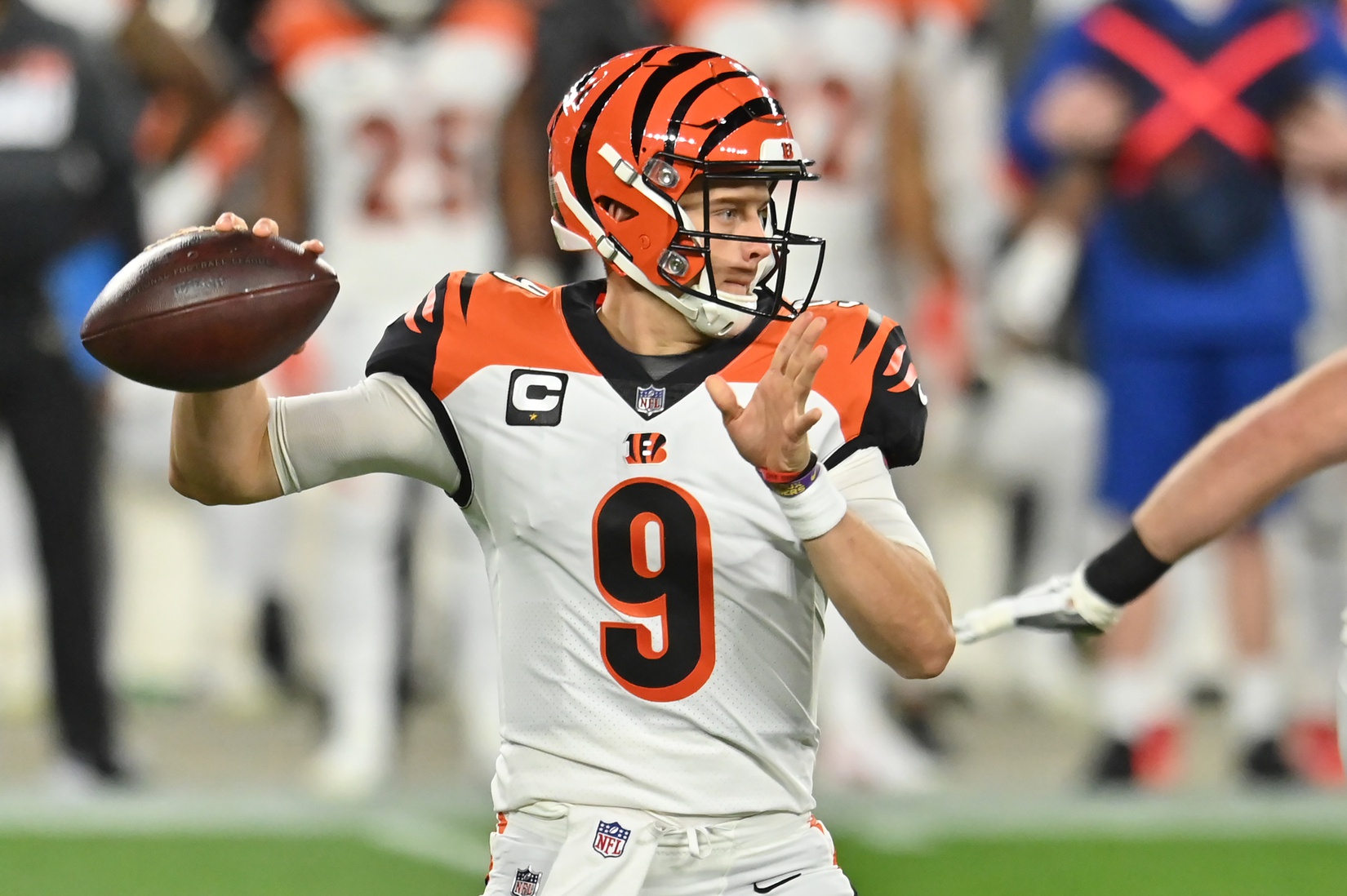 Because of his inaccuracy downfield, Burrow finished second overall in fantasy points scored under expectation at the quarterback position.
It wasn't all Burrow's fault. Targeting A.J. Green deep played a big role in tanking his overall numbers. Green generated a 59.8 rating when targeted — a far cry from Tyler Boyd (103.2) and Tee Higgins (116.3).
With Green out of the picture and replaced with a more capable field-stretcher, don't be surprised to see Burrow's deep-ball improve drastically in Year 2. 
Justin Herbert ended the season as PFF's highest-graded quarterback under pressure. He was actually so great under pressure that his rating when feeling the heat (99.4) was actually superior to his rating in a clean pocket (97.7).
Numbers like that look great on paper, but PFF has found over the years that quarterbacks who produce insane efficiency under pressure often regress the following season. 
Herbert definitely spent his rookie season living on the edge — his accuracy rate increased relative to league average when his receivers were less open.
Those are signs that Herbert could see a sophomore slump, so I'd be wary of drafting him too high in fantasy drafts. 
It's crazy to think that Kirk Cousins led the NFL in red-zone TD% (36.5%) during a year with so many outlandish QB performances. His 6.8% touchdown rate was the highest of his career.
Adam Thielen led the way with 13 red-zone touchdown scores, but that's going to be tough to repeat with Justin Jefferson entering the season as the locked-and-loaded No. 1 receiving option. 
The narrative surrounding Tua Tagovailoa suggests that he was unwilling to force the ball into tight windows like Ryan Fitzpatrick. There are elements of truth to the statement — he certainly wasn't as aggressive as Fitzpatrick, but not many QBs are.
Fitzpatrick led all passers in tight-window throw percentage (24%). That doesn't sound surprising, but look who was just behind him at 22%: Tagovailoa. Like the veteran, Tua also displayed above-average accuracy on tight-window throws. 
Drew Lock finished the season ranked 31 out of 32 quarterbacks in percentage of uncatchable passes. Jerry Jeudy had his fair share of problems as a rookie, but we can't bury the guy when his quarterback play was so erratic. 
Only A.J. Green scored fewer fantasy points versus expectation than Jeudy a season ago. This is a huge indicator that the 2020 first-round pick is primed to bounce back in Year 2 with some slight improvement at QB. Cleaning up his drops wouldn't hurt his case, either. 
Jimmy Garoppolo is expected to make his return to the starting lineup for the San Francisco 49ers after an injury-plagued 2020 campaign. As he has done for the majority of his career, he relied on his receivers making plays after the catch rather than throwing downfield.
Sixty-five percent of Garoppolo's passing yards were credited as YAC — the highest percentage in 2020. On 10 deep-ball attempts, Garoppolo only completed one pass over 20 yards. That's not the kind of quarterback we're looking for in fantasy football. 
Derek Carr has been coined a "check-down king" in recent years, but 2020 may have finally debunked the moniker. Carr finished the regular season with a top-five on-target rate on throws 20-plus yards downfield (53%). He also finished fourth in yards and third in adjusted completion percentage (53.3%) on those deep pass attempts.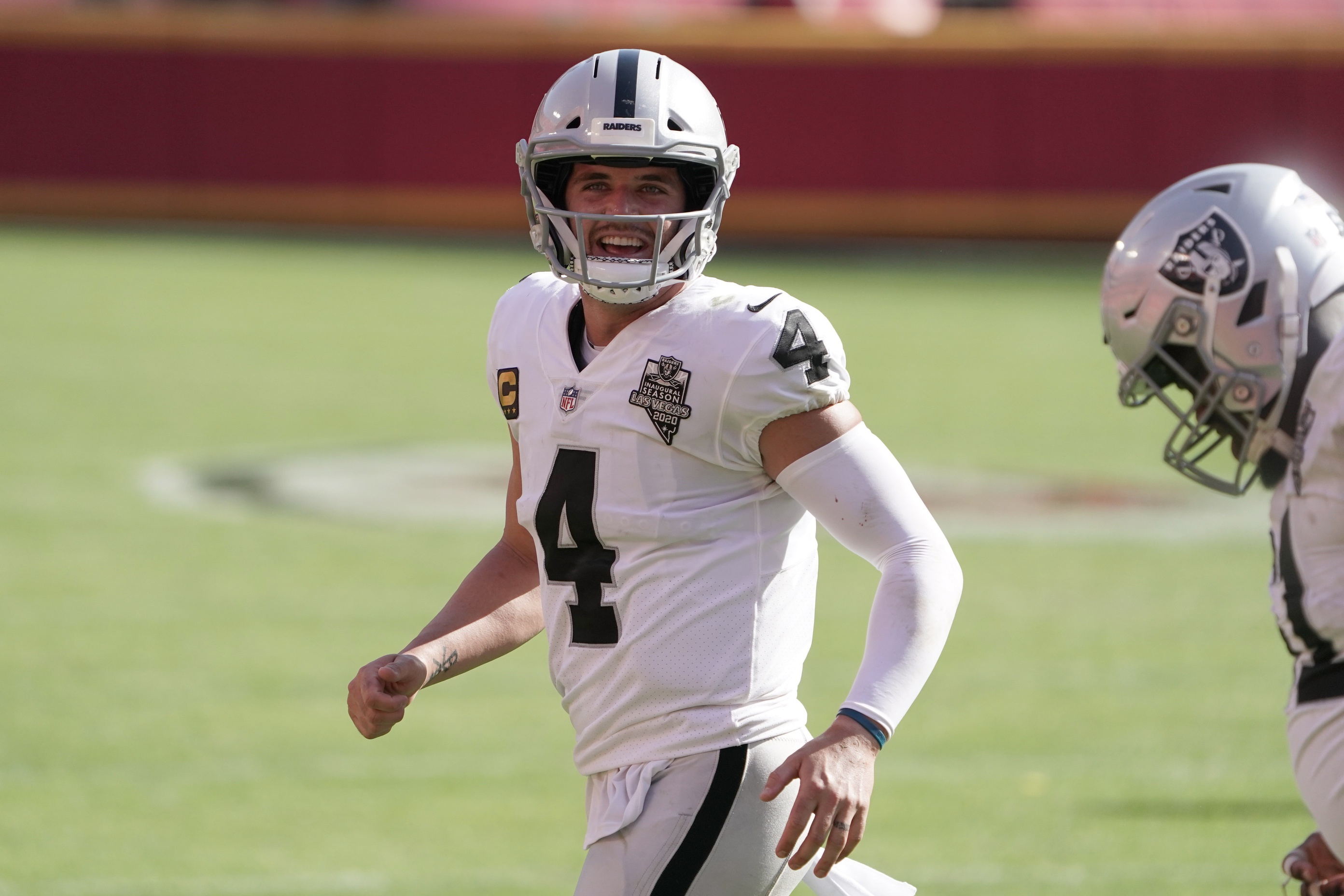 For those hanging onto Henry Ruggs in dynasty formats, Carr's skill as a deep-ball thrower offers hope that the rookie can turn his production around in Year 2. 
Drew Brees' arm was shot in 2020, resulting in his worst PFF grade (71.5) in the PFF era. He finished as the league's 23rd-ranked passer, and his average depth of target (6.5) fell to the lowest of his career.
Brees finally hit his "cliff" season, which had a residual effect on Michael Thomas — the 2019 WR1 fell off badly in 2020. Thomas was also dealing with injuries, so he's going to be an easy-buy low player heading into 2021 with Jameis Winston the odds-on favorite to take over in New Orleans. 
Teddy Bridgewater finished third in the league in adjusted completion percentage (80%), a rate almost identical to his previous season with the New Orleans Saints. 
His ability to complete a high rate of passes has been chalked up to his conservative approach. But his accuracy percentage was only above league average when his receiver was considered "open." His conservative nature played a role in his red-zone touchdown rate (12.5%) ranking well below league average (22.6%).
If I could say with any certainty that Teddy B would return to the Carolina Panthers, I'd label him as a prime candidate for positive touchdown regression. He was one of only two quarterbacks (Jared Goff) to throw for at least 3,700 yards last season and less than 24 touchdowns. Bridgewater only threw 15 touchdowns in 15 games. 
His numbers from 2020 make clear why Carolina is looking to invest elsewhere in a long-term quarterback. Still, positive touchdown regression might have to come in the form of acquiring Deshaun Watson. 
Don't fall for J.D. McKissic's league-leading 106 targets at the running back position last season — it was clearly a result of having Alex Smith under center. No player was targeted more on the Washington Football Team with Smith at QB, so we could see McKissic's numbers shift quickly if there is a new signal-caller in the nation's capital. 
Taylor Heinecke will have a chance to at least compete for the starting gig — the team extended him a contract for 2021 after the backup QB posted the second-best passing grade in the playoffs.
Heinecke proved to be the complete opposite of Smith, consistently pushing the ball downfield. His aDOT (10.9) ranked fourth-highest on the season. Every other Washington quarterback finished outside the top 48 in average depth of throw. 
Cam Newton was the worst-ranked quarterback in accuracy-plus percentage, a metric that considers the ball placement of a throw relative to the receiver (in front of the receiver, behind the receiver, etc.).
This makes Jakobi Meyers' 2020 season seem that much more special amid such a horrendous passing game. Meyers finished the season 12th in yards per route run (2.24).