Projecting team target shares is one of the most productive tasks we can undertake during the NFL offseason — it's the first step toward identifying wide receivers who might be in line for more opportunities in 2021. With NFL free agency approaching, we need to determine who will benefit when high-volume wide receivers change uniforms.
Just last season, we saw Randall Cobb, Emmanuel Sanders and Robby Anderson leave their respective teams, which paved the way for rookies CeeDee Lamb, Brandon Aiyuk and Denzel Mims to command significant targets in those offenses.
Anderson was the biggest winner from the 2020 crop of wide receiver free agents in part because his situation improved dramatically. After finishing 33rd in targets (10 fantasy points per game, 56th) in his last season with the New York Jets, Anderson ended the 2020 season eighth in targets (14 fantasy points per game, 28th) with the Carolina Panthers.
Several receiving corps are going to be shaken up during the upcoming free agency period, so it's best we stay ahead of the curve and identify the potential wide receivers winners now. We've already looked at the running backs and tight ends who could benefit from impending roster changes. 
Chris Godwin is PFF's No. 1 ranked wide receiver in free agency and the No. 2 overall player behind only quarterback Dak Prescott. The Tampa Bay Buccaneers' slot wide receiver failed to live up to his 2019 campaign when he finished as the WR2 in fantasy football, averaging 19.6 fantasy points per game. 
He only averaged 14.8 fantasy points per game (21st) in 2020, but that still ranked higher than both Mike Evans (14.6) and Antonio Brown (13.4). The addition of AB from Week 9 onward decreased Godwin's fantasy output from 16.2 fantasy points per game. 
The target squeeze with additional weapons in a less pass-happy offense limited Godwin's fantasy ceiling, but that could change quickly if he takes his talents to another team. The Indianapolis Colts are rumored to be interested in Godwin's services — if he were to land there, he would be the unquestioned No. 1 target in the passing game. 
The only concern I would keep in mind with Godwin is that he does his best work from the slot. He has played an average of 64% of his snaps from the slot and has been much more efficient in that area of the field. 
Most receivers follow a similar production pattern when it comes to slot versus outside usage, but this could be an issue if he lands with a team that wants to line him up outside the vast majority of the time. 
Chris Godwin slot vs. outside since 2019
| | | | |
| --- | --- | --- | --- |
| | PFF grade | Yards per route run | Yards per reception |
| Slot | 95.9 (2nd) | 5.01 (3rd) | 14.8 (3rd) |
| Wide | 77.6 (76th) | 1.94 (78th) | 13.6 (46th) |
Ultimately, Godwin's best-case scenario for fantasy purposes would be to leave Tampa Bay so he can be a target hog on another team. 
Brown is also a free agent, but his return to the Buccaneers seems imminent. Considering the bridges he has already burned with multiple franchises and the fact that Tom Brady is overly infatuated with him, Tampa seems like the only logical spot for him in 2021. There won't be much competition in free agency, so the Bucs will be able to bring him back on the cheap as they try to repeat as champions. 
Despite joining the squad midseason, Brown was a solid producer. He led the team in yards per route run (1.92) and target rate (25%). If Godwin moves on, we'd have to consider Brown second in the target pecking order and give him a chance to lead the team in targets in 2021. 
Brown posted his lowest aDOT (9.5) since his rookie season in the Bucs offense, so his path to success will have to be volume as opposed to huge downfield plays.
Another potential winner for the Buccaneers could be 2020 rookie Tyler Johnson. The fifth-rounder didn't grade particularly well in his first season, but he flashed signs of upside at points throughout the season. He posted the team's highest passer rating when targeted (142.4) and stepped up big in a spot-start Week 5.
Johnson caught four of five targets for 61 yards filling in for Godwin in the slot and would likely be promoted to the same job in 2021. 
After the Chicago Bears were eliminated from the NFL playoffs, I wrote an article highlighting why Allen Robinson deserved to be the most sought-after player in free agency at the WR position. He ranked in the top four in PFF's WAR (wins above replacement) metric in 2020 just behind DeAndre Hopkins, Davante Adams and Justin Jefferson.
It wasn't always easy: Robinson led the NFL in contested targets (49) in 2020 and ranks No. 1 in that category since the start of the 2019 season (98). He has seen 17 more contested targets than the next-closest wide receiver (DeVante Parker). 
A-Rob has risen to the occasion by hauling in more contested catches (49) than any other player since the start of the 2019 season. His drop rate (1.8%) over that period is the second-lowest among all wide receivers with at least 150 targets.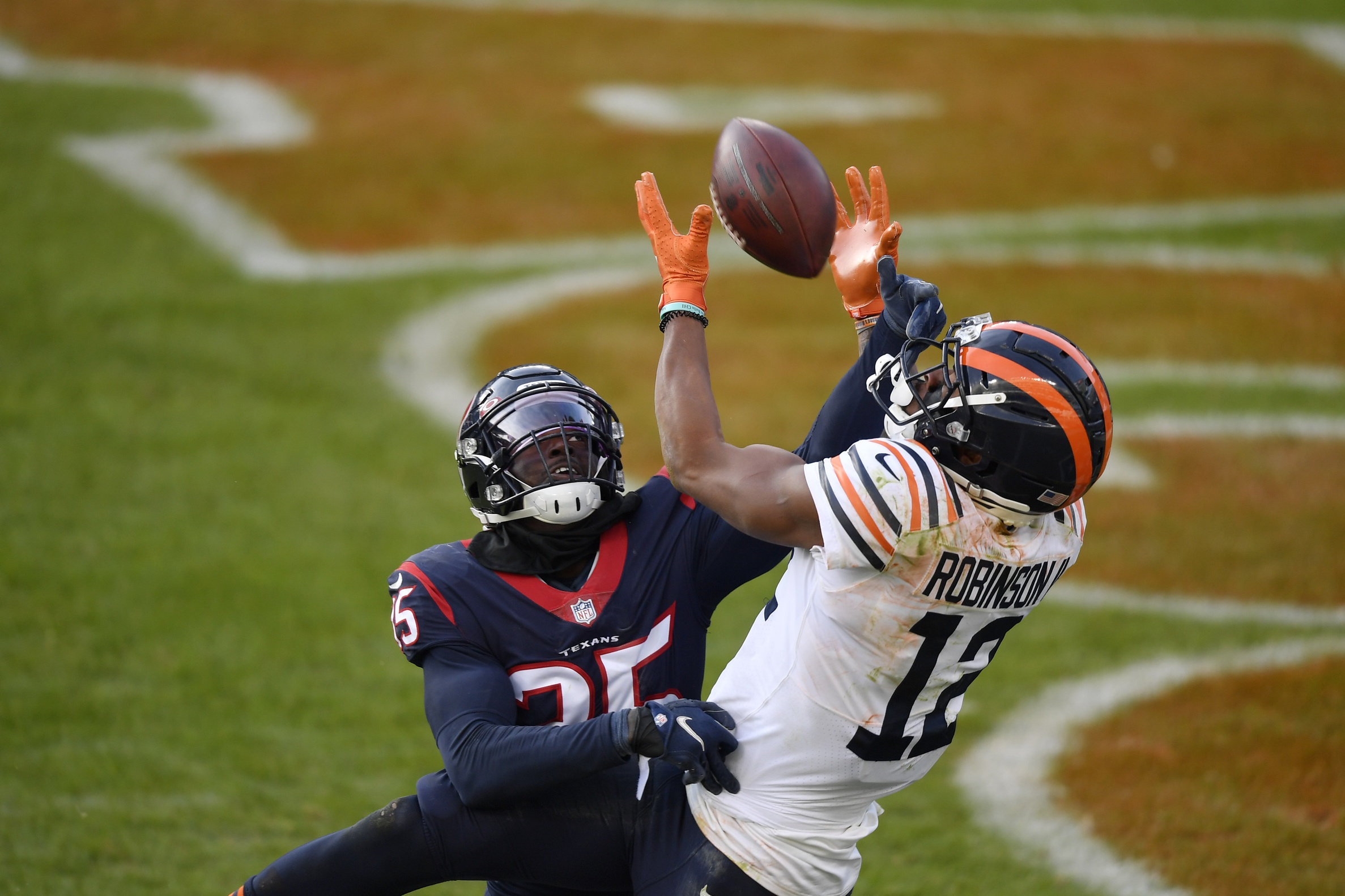 Needless to say, Robinson has delivered the true WR1 experience despite poor QB play his entire career, and that's why this offseason is so huge for him. If he can get a solid upgrade at quarterback, whether in Chicago or elsewhere, he's going to be a top-five wide receiver in fantasy football. 
It's still not clear whether A-Rob will remain in the Windy City. My guess is he's gonzo — I said as much in my potential tight end winners from free agency breakdown when I hyped up Cole Kmet as the main recipient of Robinson's potential vacated targets.
If Robinson leaves, some of his production would be taken on by wide receivers Darnell Mooney and Anthony Miller, but neither of those players will alone make up for the high number of targets Robinson saw. 
Both Mooney and Miller would benefit from a target share perspective without Robinson, and that's enough for me to buy into a second-year receiver coming off a serviceable season. Mooney wasn't particularly efficient as a rookie — 1.20 yards per route run, 13th out of 14 qualifying rookie WRs — but we can't overlook the erratic quarterback situation.
Mooney commanded 94 targets and caught 61 balls, which ranked sixth and fifth, respectively, among rookie wide receivers. His rookie season compares best statistically to the likes of Michael Gallup and Will Fuller. Both of those receivers made significant strides in their second seasons in the league.
Rookie Seasons
| | | | | | | |
| --- | --- | --- | --- | --- | --- | --- |
| | Targets | Receptions | Yards | YPRR | PFF Grade | aDOT |
| Will Fuller V | 112 | 62 | 832 | 1.30 | 64.9 | 15.5 |
| Michael Gallup | 96 | 48 | 719 | 1.30 | 62.9 | 14.1 |
| Darnell Mooney | 94 | 61 | 631 | 1.20 | 67.3 | 12.1 |
I recognized Mooney in a rookie standout piece after Week 16 of the regular season, highlighting the fact that he had caught at least two balls in every game he played. Then in Week 17 he hauled in 11 passes for 93 yards — both season highs.
Among rookie WRs, only Mooney and Justin Jefferson were able to catch at least two passes in every game during the 16-week regular season. Not too shabby for a fifth-rounder. 
Larry Fitzgerald has yet to decide whether he will return for the 2021 season, but he is technically a free agent right now. Even if he plays another season, there is no guarantee he will do so for the Arizona Cardinals.
Fitzgerald's retirement is good for those with shares of Christian Kirk in dynasty. His NFL breakout still hasn't happened after three years in the league. Old man Fitz has been hogging the slot for Arizona over the past two seasons, playing 87% of his snaps lined up inside.
Kirk entered the NFL in the mold of a slot receiver but topped out at a 43% snap share in the slot (2019). Last season, he played less than 15% of his snaps from the slot. 
Among 46 wide receivers with at least 150 targets since Kirk's 2018 rookie season, he ranks 43rd in PFF receiving grade (83.8) when targeted out wide.
The Lions are in a tough situation when it comes to their wide receivers. Kenny Golladay, Marvin Jones Jr. and Danny Amendola are all free agents. Jones and Amendola appear to be on their way out, with Golladay likely the team's primary focus to lock up long-term. 
The issue with Golladay comes down to new Lions quarterback Jared Goff. As I wrote in my fantasy fallout piece after the Matthew Stafford-Goff trade, Golladay thrives as a downfield and contested-catch receiver — two areas where Goff isn't particularly known for excelling.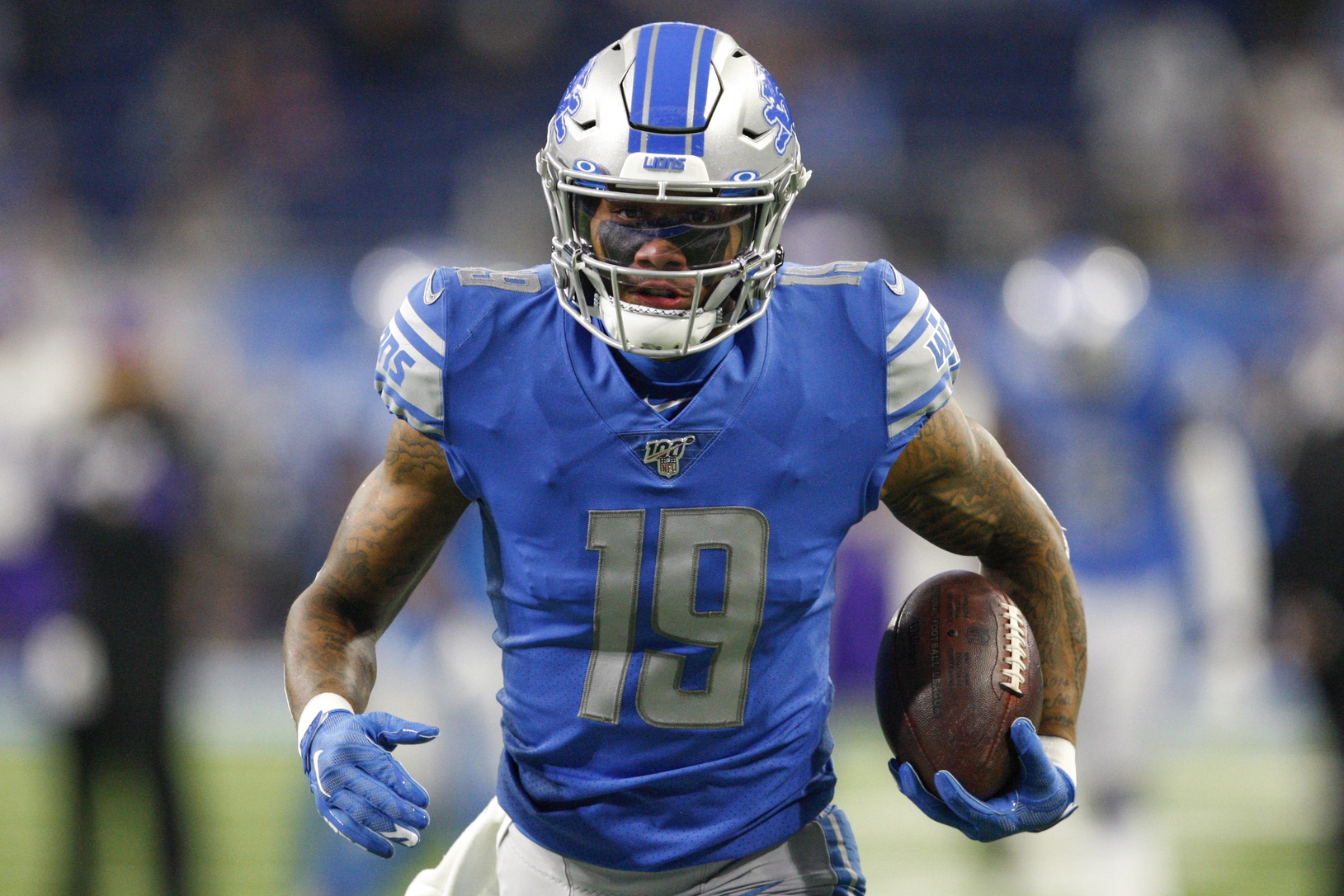 Goff ranks 31st in pass-play percentage over 20 yards (9%) and 52nd out of 60 qualifying quarterbacks in aDOT (7.5) since 2019.
At 27 years old, Golladay still has a lot to offer as a true No. 1 wide receiver and is a dynamite asset in fantasy. He just needs to land with a team/quarterback that will be aggressive and push the ball downfield. Golladay was the driving force during Stafford's hot start to the 2019 season. He was a top-10 fantasy wide receiver in that time, and he averaged 16.4 fantasy points per game in his four healthy games in 2020 — 12th-best at the position. 
Fantasy analysts 'round the world are sure to be singing the praises of A.J. Brown WR szn all offseason, for good reason. But 2021 presents an opportunity for Brown to finally see 120-plus targets with Corey Davis likely on the move. When Davis disappeared toward the end of the year, Brown gobbled up all the targets. 
He commanded a 35% target share in the team's final five games. With at least one of Davis or Jonnu Smith almost certainly off the Tennessee roster next season, we need to brace ourselves for A.J. Brown's top-three WR szn. 
Since he entered the NFL in 2019, Brown ranks fifth among all players in yards per route run (2.54)
Will Fuller showed out in his first season without DeAndre Hopkins. In 11 games, he earned a career-high PFF receiving grade (85.0, 11th overall) and averaged 17.2 fantasy points per game (ninth). From Weeks 1-12, Fuller was everything fantasy managers dreamed he could become: a legit WR1. (Not to mention he achieved this with zero points scored in Week 2.)
Fuller's emergence was one of the reasons why the Texans ranked No. 1 in the league in explosive pass-play rate (17.8%). 
In a parallel universe, Fuller stays attached to Deshaun Watson in Houston and they continue to build off last year's success. In reality, the way the Texans have been "handling" their franchise this offseason makes a Fuller/Watson bring back seem all but impossible. 
The most likely and best outcome for Fuller is landing in Green Bay as the much-needed WR2 upgrade from Marquez Valdes-Scantling. Imagine Aaron Rodgers throwing to one of the league's most efficient deep threats who had a 3.6% drop rate last season compared to MVS's 17.5%? Let's not forget trade talks were hot between Green Bay and Houston before the trade deadline last year. 
I've already got chills thinking of Fuller going for 200 and two twice against the Detroit Lions next season. 
It's a win-win situation for Curtis Samuel this offseason. Whether he stays in Carolina or signs a contract with another team, I'm confident he is going to be an effective fantasy asset worth rostering in 2021.
If he comes back to the Panthers, we get to see him play in an offense that allowed him to have his best season to date. Samuel earned a career-high PFF grade (77.0) last year and finished Weeks 7-17 as the WR12 overall in fantasy football.
Even in a crowded receiving room with both Robby Anderson and D.J. Moore, Samuel was able to carve out a solid role in a new offense. 
Going to a different team might mean that Samuel won't be nearly as efficient, but the targets/touches will surely increase to make up for it. 
It's far from set in stone, but there's a strong possibility that the Buffalo Bills cut ties with wide receiver John Brown this offseason. WGR Buffalo's Mike Schopp said on the PFF Fantasy Football Podcast that he's not confident the team will bring back the oft-injured Brown because it can save nearly $8 million by releasing him. 
That sets the stage for 2020 fourth-round pick Gabriel Davis to take a big step forward in his second season. He was heavily relied on as a downfield weapon — 17.3 aDOT, seventh-highest in the NFL — and delivered many splash weeks.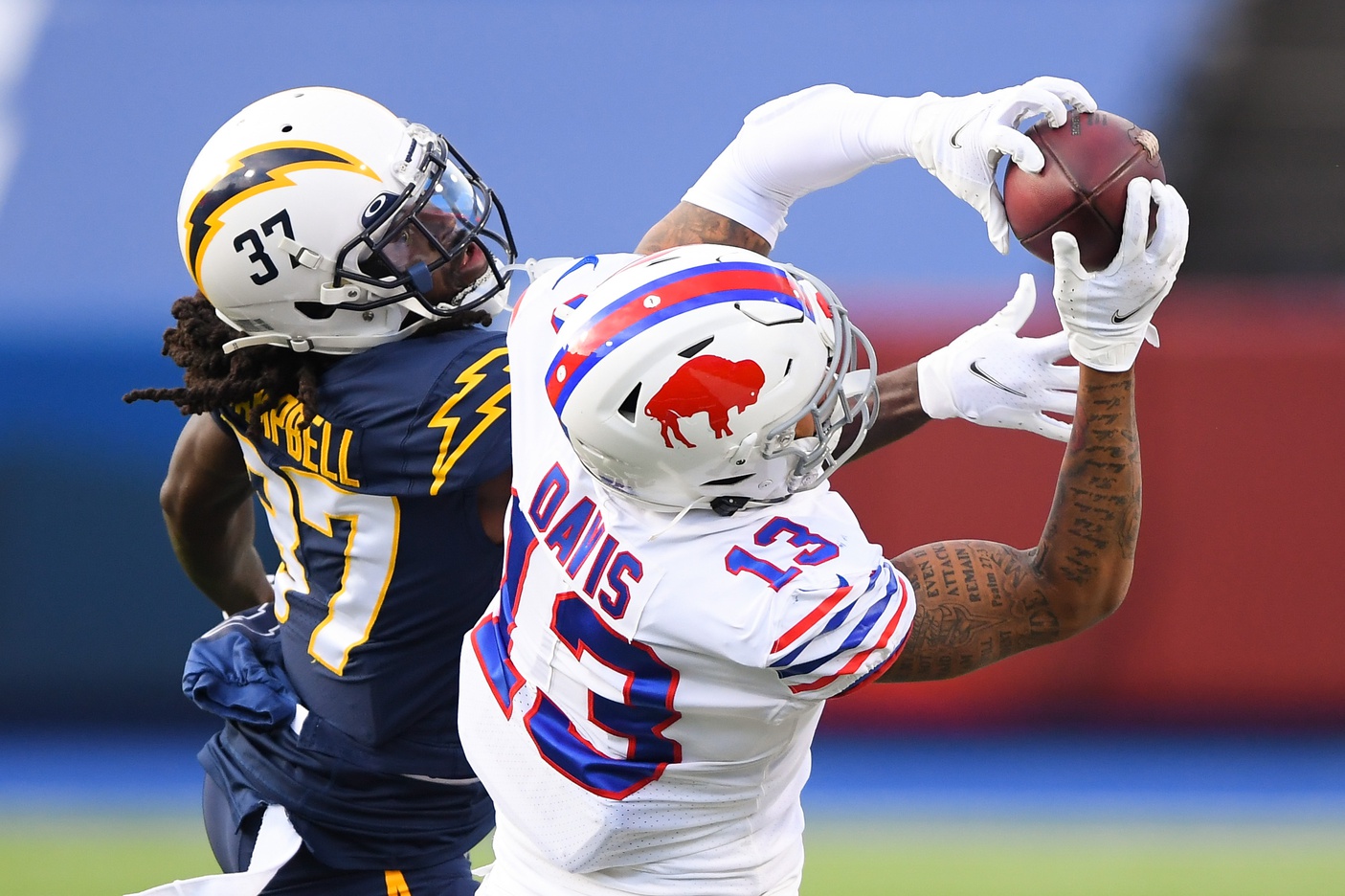 Davis had at least 68 receiving yards or scored a touchdown in nine games. He ended the season strong in his last two games before his injury: 192 receiving yards on only six receptions. That netted him a PFF receiving grade of 90.7. 
Josh Allen showed us last season that he can support multiple wide receivers with Stefon Diggs and Cole Beasley, so savvy dynasty owners should be all about trying to acquire him. He's long overdue to cash in on the 1,300-plus air yards he saw last season. 
JuJu Smith-Schuster leaving the Pittsburgh Steelers through free agency seems like a foregone conclusion. He's been linked to several wide receiver-needy teams, and that only means good things for the other Steelers wideouts, Diontae Johnson and Chase Claypool.
Both could be defined as winners with Smith-Schuster's 21% target share up for grabs, but I'll give the slight edge to Claypool. Johnson's 139 targets during the regular season already ranked fifth in the league, so it's tough to imagine that growing much higher next season.
Claypool, on the other hand, saw just north of 100 targets and raked outside the top 50 wide receivers in total routes run. Without JuJu, there's plenty to like about Claypool going into 2021. 
An increased role should help mitigate any potential regression for the big-bodied wideout who finished with the 10th-most fantasy points scored above expectation at the position in 2020. 
Tthe majority of fantasy gamers are going to flock to Michael Pittman Jr. once they realize T.Y. Hilton is a free agent. The Indianapolis Colts' offense is shrouded with question marks, which makes it difficult to identify which of Pittman or Parris Campbell could be the team's next No. 1 pass-catcher. In ambiguous situations like this, I usually lean toward acquiring the player at the best value. Campbell only played in two games last season while Pittman ended his rookie year on a high note, catching five passes for 90 yards in the team's playoff loss. 
That will ensure Campbell's draft cost stays extremely low despite the fact he will almost surely be the team's starting slot wide receiver in 2021. I'm also hesitant to buy into Pittman Jr. considering he had ample opportunities to make an impact as a rookie during Hilton's struggles but only posted three games with more than 66 receiving yards.  
The 2020 season was an extremely unusual year, but Nelson Agholor's low-key excellent year may have been of one the weirdest elements. His one-year deal with the Las Vegas Raiders initially looked like just a depth signing after the team spent draft capital on Henry Ruggs III and Bryan Edwards. 
But Agholor more than proved his worth by emerging as Derek Carr's go-to wide receiver. He finished second in the NFL in yards per reception (18.7) and second on the team in targets (82). Agholor's return to his 2017 form made it tough for a rookie like Edwards to see the field.
If there's one player whose value I can guarantee will rise in 2021, it's Denzel Mims. Not only should the New York Jets have a new (and hopefully improved) situation at quarterback, but both Jamison Crowder and Breshad Perriman could be long gone. Crowder has been rumored to be a cap casualty and Perriman is a free agent. 
Mims will have every opportunity to grow into an expanded role and a better situation in his second season. (And if not, then let the Chris Herndon hype train run wild.)
The Baltimore Ravens are clearly in need of additions at wide receiver this offseason. The receiving corps of Marquise Brown, Willie Snead IV, Dez Bryant and Miles Boykin simply isn't going to get it done. Snead is an important player to call out because he's a free agent — the team could easily move on from him with 2020 third-round pick Devin Duvernay waiting in the wings
Duvernay would become the Ravens' starting receiver in the slot and could offer the explosiveness and upside that has been lacking in Baltimore's passing attack. They finished the season 23rd in explosive pass-play percentage (12.3%).
The rookie flashed his big-play ability when he returned a kickoff of 93 yards for a touchdown in Week 3.