Last week, I unveiled my 2021 fantasy football rankings for best ball. Drafts are already in full swing — trust me when I say there's no better way to spend a March weeknight than glued to a fantasy football draft board. 
Subscribe to
Whether it's your first time participating in best ball or just another day at the office as a seasoned veteran, I'm here to provide guidance through the top tiers of each position, with running backs up first. 
So without further ado, here are my top 12 running backs for the 2021 best ball season.
Christian McCaffrey didn't deliver upon his 1.01 draft cost in 2020, as his season was limited to just three games. The injuries were frustrating for fantasy managers, but at least he was the fantasy superstar we have all come to know and love when he did play.
McCaffrey averaged 30.1 fantasy points per game and 24.1 expected fantasy points per game in his three starts — both ranked No. 1 at his position. Those numbers weren't too far off from his 2019 stats when he averaged 29.3 fantasy points per game and 26.1 expected fantasy points per game. 
Some fantasy managers might be concerned about McCaffrey seeing a lighter load in 2020 to help prevent any future injuries. But everything we saw from the team last year suggests that isn't the case. CMC finished second in the NFL in touches per game (25.3) in 2020. 
There's also a chance that free agent Mike Davis does't return. If the Panthers fork out a ton of money to bring Davis back, we can assume he will have some role in the offense. If not, I doubt we see any other Carolina back garner worthwhile looks. Trenton Cannon, Reggie Bonnafon and Rodney Smith currently fill out the remainder of the Panthers' running back depth chart. 
Dalvin Cook slots in at No. 2 after finishing the 2020 season third in fantasy points per game (24.1), second in expected fantasy points per game (21.0) and first in touches per game (25.4). 
In his fourth season in the league, Cook finished as PFF's second-highest-graded rusher (90.2) and second-leading rusher with 1,557 rushing yards despite only playing in 14 games. 
Missing regular-season games has been a consistent trend over Cook's career, as he has yet to play a full 16-game schedule. He played only 14 games in 2019 and 11 in 2018.
Injuries aside, Cook's high-end production as a rusher and as a receiver — 40-plus catches the last three seasons — makes up for the fact that he will miss a game or two. His league-leading 26 carries inside the 5-yard line shows the offense's heavy reliance on him. 
Those who miss out on Cook in drafts should look to target his backup, Alexander Mattison, to maximize their chances of winning if Cook sustains another injury. Mattison has been the clear RB2 in the Vikings' backfield since being drafted back in 2019 and has flashed when given the opportunity.
When Cook was hurt versus the Seattle Seahawks, Mattison stepped in and rushed for 112 yards. In Week 17 with Cook out, Mattison racked up 29.5 fantasy points against the Lions. 
Like CMC, Saquon Barkley's 2020 season was cut short by injuries. He only played in one full game — and it was an utter disaster. Barkley rushed for just 6 measly yards on 15 carries against the Steelers. Yuck. 
The Week 1 matchup was brutal, but things started to look up in Week 2 versus the Chicago Bears. Barkley ripped off a long 18-yard gain and appeared on his way to validating the No. 2 overall pick in fantasy drafts. Alas, he went down with a season-ending injury soon after.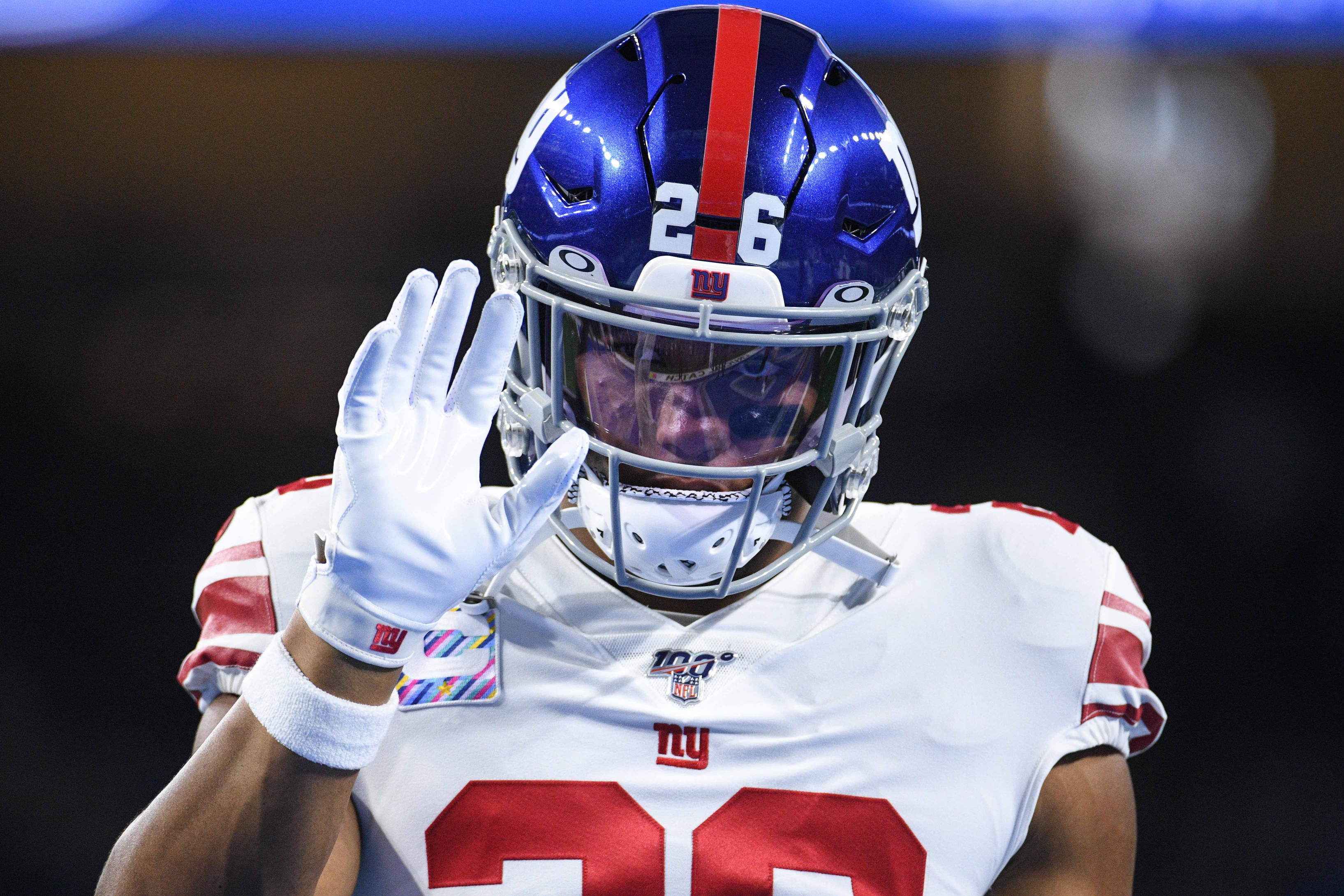 Entering the 2021 season, Barkley should be all systems go based on his lengthy recovery time, so fantasy managers should not be overly concerned with health. The state of the New York Giants' offense is a potential worry, but I'd argue that the situation is not as dire as people make it out to be. 
Recall that backup RB Wayne Gallman ranked as the RB10 from Weeks 7-13 last season, averaging 15.8 fantasy points per game. If a backup running back could put up top-10 numbers in the Giants' offense, Barkley can easily reclaim his status as a top-three fantasy football RB. 
Let's also not overlook the fact that Big Blue played one of the most difficult schedules last season. The 2021 season projects to be much more favorable. 
There's a strong argument to be made that Alvin Kamara could be ranked higher. After all, he finished the 2020 season second in points per game (24.2) and third in expected fantasy points per game (20.5). From a total fantasy points perspective, he finished as the undisputed No. 1 running back.
Kamara hauled in a career-high 83 passes, continuing his streak of at least 81 receptions in four straight seasons. Posting elite receiving numbers is nothing new for Kamara, but we have to drop his ranking because of the uncertainty of the New Orleans Saints' quarterback situation. 
We all saw the insane drop off in receiving numbers with Taysom Hill under center. Kamara's fantasy points per game fell from 27.4 with Drew Brees to 14.2 with Hill. I don't anticipate Hill being the starter come Week 1, but any other quarterback who isn't noodle-armed is bound to negatively impact Kamara's receiving totals. 
Most signs suggest that Jameis Winston is the frontrunner to take over, and his ability to throw downfield could hurt Kamara's bottom line as a receiver. That regression wouldn't be shocking, as Kamara led the NFL in fantasy points scored above expectation in 2020.
He could be forced to make up more production as a rusher. Sean Payton leaned more on his star running back on the ground at the end of the 2020 season. Kamara set a career-high in rushing attempts in Week 16 (22) and then did one better during the wildcard playoff game (23).  
Derrick Henry was easily my biggest miss of the 2020 season. He was my 11th-ranked player heading into 2020 and my RB9. The Big Dog stiff-armed me harder than Josh Norman, finishing as the fourth-highest non-quarterback and the No. 3 running back overall. 
Henry's guaranteed workload is practically unparalleled to other running backs — he saw nearly 25 touches per game in 2020. Volume is the biggest predictor for fantasy success at the running back position, even if the vast majority of touches are carries as opposed to receptions.
So although we can't project any type of legitimate pass-game usage for Henry, that doesn't prevent him from being a top-five running back. My only concern with him is that he could fall victim to touchdown regression — Henry has scored 10 rushing touchdowns over expectation in his last two seasons.
And, of course, even a back as great as Henry is unlikely to rip off another 2,000-yard season. Of the seven running backs who have rushed for 2,000 yards, the best fantasy finish the following season was RB5. Five of them finished as top-12 running backs, leaving just two that failed to return RB1 status.
The silver lining is that Henry leads all running backs in expected rushing touchdowns (22) over the past two seasons. So even if his touchdown totals regress to the expectation, it won't deflate his fantasy value enough to push him out of the top five RBs. 
Jonathan Taylor cemented himself as a first-round pick in 2021 fantasy drafts by the time the 2020 regular season ended. But it was a rollercoaster ride for him to reach this point.
He started with a bang, rushing for 57 yards or more in his first five starts after Marlon Mack went down with an injury. The rookie then flamed out after the team's Week 7 bye, outplayed by backup Jordan Wilkins for several weeks.
The team didn't give up on Taylor despite the downturn, and he got back on track versus the Green Bay Packers in Week 11. From that point to Week 17, Taylor was the RB3 overall and averaged 26.1 fantasy points per game — tops at the position over that stretch.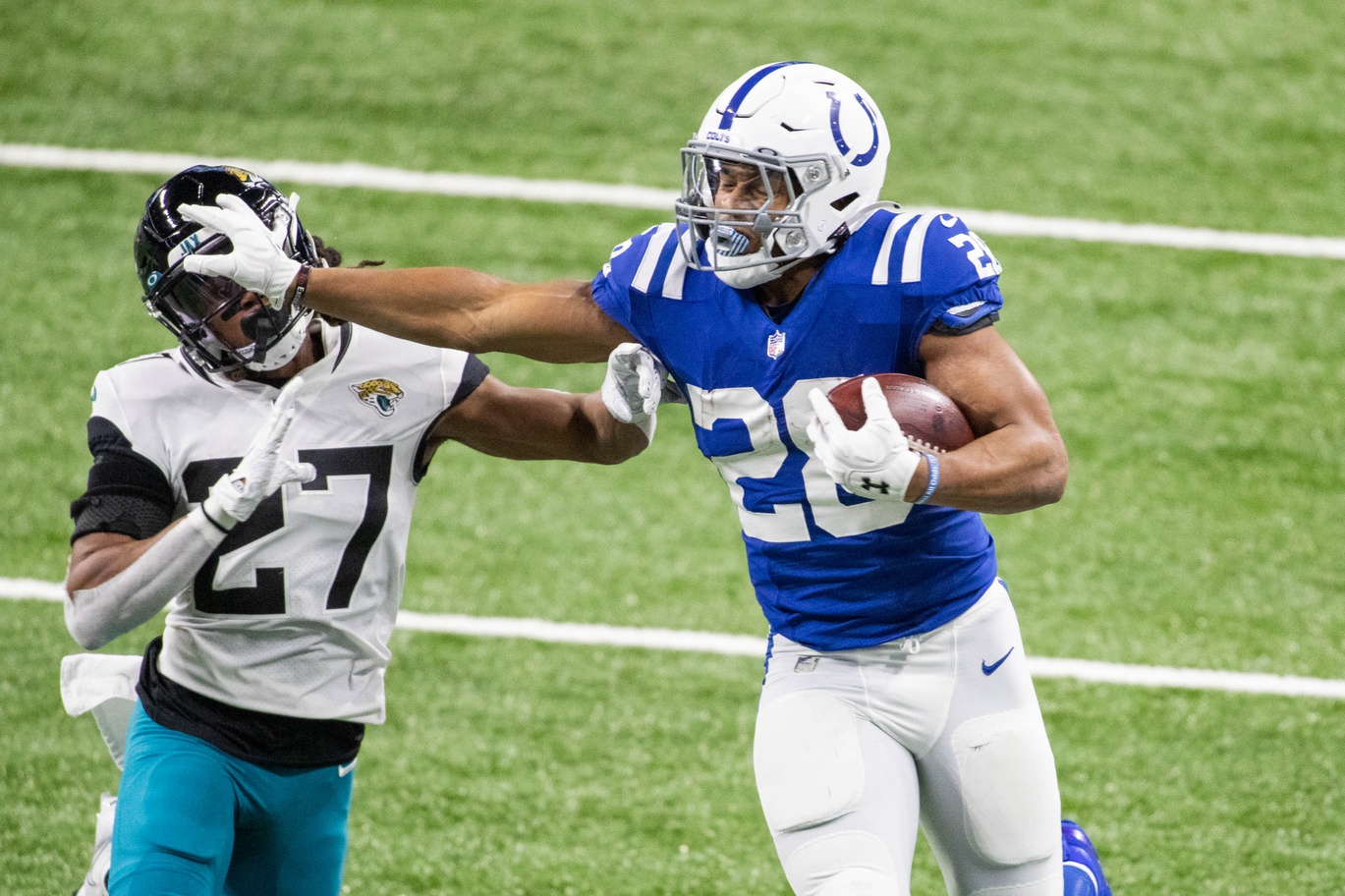 Finishing as the overall RB1 is well within Taylor's range of outcomes with his talented skillset. The only question surrounds Taylor's role and how he might operate as a pass-catcher in conjunction with Nyheim Hines. 
I wouldn't necessarily give Taylor a massive boost as receiver heading into 2021 with a much more mobile Carson Wentz under center in place of the statuesque Philip Rivers. Mobile quarterbacks tend to target their RBs in the pass-game less frequently, so I'm hesitant to assume Taylor will outperform his receiving production from a season ago unless he completely supplants Hines in the passing game. 
During Taylor's final seven games, he ran one more route than Hines (105 vs. 104) but saw eight fewer targets (20 vs. 28). 
Nick Chubb is one of the best pure running backs in the NFL. He finished the regular season first in yards after contact per attempt (4.0) and second in rushing attempts of 15-plus yards (15) despite only being healthy for 11 games. 
In the full games he played in 2020, Chubb averaged 18.7 fantasy points per game — seventh-best at the position. He was able to accomplish such a feat while averaging just 17 touches per game. Teammate Kareem Hunt played a large role in Chubb's low touch volume, as he averaged just under 15 touches per game.
It's a credit to Chubb's immense talent that he can produce high-end numbers without the same type of workload other RB1s see.  
He would easily have the ceiling of the overall RB1 if anything were to happen to Hunt. His consistency since entering the NFL — three seasons averaging over 5.0 yards per carry and top-four PFF grade — is truly remarkable.
Drafting Chubb as the seventh running back off the board is getting him at his absolute floor. 
I'm super excited about Cam Aker's potential in 2021. The rookie did everything in his power to position himself as a top-10 running back in 2021. He posted solid rushing statistics despite facing the second-most stacked fronts (52%) and consistently earned 18-plus opportunities once he finally became the team's true workhorse in Week 13. 
During that stretch, Akers averaged 16.6 fantasy points per game and 18.4 expected fantasy points per game. He actually underperformed versus expectation because he fell short in the touchdown department. He only scored three rushing touchdowns, in part because he was 0-for-6 inside the 5-yard line.
Jared Goff scored more rushing touchdowns (two) inside the 5-yard line. That's almost certainly not going to be the case in 2021, as scoring tends to regress to the mean. Goff (five carries), Malcolm Brown (seven) and Darrell Henderson Jr. (nine) all scored four rushing touchdowns from inside the 5-last season.
Akers scored one on eight carries. Regression is coming in the form of a double-digit touchdown season in 2021. 
Matthew Stafford's arrival in L.A. is just icing on the cake for Akers' upside. As mentioned, he faced a large percentage of stacked boxes, partly because of Goff. Defenses won't have that luxury with a capable downfield passer under center for the Rams in 2021. 
Ezekiel Elliott's 2020 season is definitely one he would like to forget. After starting the year red hot with Dak Prescott under center (22.6 fantasy points per game, third) his numbers plummeted (12.9 fantasy points per game, 26th). 
Fantasy points per game

w/ Dak Prescott
???? Amari Cooper – 20.8 (3rd)
???? CeeDee Lamb – 16.3 (12th)
???? Ezekiel Elliott – 22.6 (3rd)

w/o Dak Prescott
???? Amari Cooper 12.6 (37th)
???? CeeDee Lamb 12.2 (38th)
???? Ezekiel Elliott 12.9 (26th) pic.twitter.com/P8zCbQy9fM

— PFF Fantasy Football (@PFF_Fantasy) February 25, 2021
Losing Dak was significant for Zeke's fantasy stock, but we can't forget the rotating carousel that was the Dallas Cowboys' offensive line, which sustained multiple injuries throughout the season. They finished the year as PFF's fourth-lowest-graded run-blocking team (57.2).
Needless to say, the cards were completely stacked against Elliott in 2020. He finished with most fantasy points under expectation (-49.8) at the running back position. But those numbers tend to positively regress. 
Presumably with Prescott and a healthier offensive line returning in 2021, we should see Zeke return to the upper echelon of fantasy running backs. The high-end usage is still going to be there despite what Tony Pollard truthers might say. 
Let's not forget that Elliott led the NFL in carries inside the 5-yard line (26) but only converted five into scores. In 2019, he had 18 carries inside the 5-yard line and scored 10 touchdowns.
D'Andre Swift was set to absolutely go nuclear during his rookie season, but a late-season concussion put a slight damper on his final production. He saw little usage through the first 10 weeks of the season despite being the most productive back on the team. Adrian Peterson's gotta get his touches, I guess.
But Swift was finally unleashed in Week 10 versus the Washington Football Team. He played a season-high snap share (73%), totaled 21 touches and compiled over 150 yards from scrimmage. 
Unfortunately, Swift's undisputed bell-cow status was short-lived because he missed the next three weeks with the concussion. It seemed like he didn't return to full strength until Week 15.
During his final three games, Swift averaged 17.1 fantasy points per game. 
All in all, Swift finished his rookie season 18th in RB points per game (14.9) despite seeing a 70-plus percent snap share only once.
With the new Detroit coaches raving about Swift's ability to shoulder a three-down workload, we can safely project Swift to surpass his limited playing time from a year ago.
D'Andre Swift breakout incoming ???? pic.twitter.com/zsXuyE6hZ8

— PFF Fantasy Football (@PFF_Fantasy) February 11, 2021
The pass-catching chops Swift flaunted in his first season will go a long way in proving his value this upcoming season. Last season, Swift was 12th in targets (56) and seventh in yards per route run (1.58) among RBs. He barely trailed Austin Ekeler in both categories. Ekeler always saw heavy usage in the passing game during the Anthony Lynn era in San Diego/Los Angeles. 
Lynn is taking over as the Lions offensive coordinator, which bodes well for Swift to remain a staple in the offense's passing attack. The same can be said for having Jared Goff at quarterback. Targeting running backs as receivers worked well during Goff's 2017-2018 run when he was PFF's 11th-highest-graded QB (83.1).
During that stretch, Goff owned a 17.5% target share to the running back position, and Todd Gurley II ranked fourth in the NFL in targets among RBs. Over the past two seasons, that target share has dipped to 11%. 
Swift's pass-game usage is the reason why the second-year back finds himself with low-end RB1 status ahead of next season. 
Joe Mixon was a usage monster through the first six weeks of the season. He ranked second in the league in carries (20 per game), ninth in routes run (21 per game) and 15th in targets (four per game). His overall touches per game (23.3) during the regular season ranked fourth-highest among all running backs.
The heavy workload helped him finish 11th in fantasy points per game (16.9) and fifth in expected fantasy points per game (18.1). 
Mixon's poor yards per carry (3.6) figure and lack of explosive runs — only three runs of 15-plus yards — tarnished his efficiency metrics in 2020, but the 25-year-old is far from washed up. Breakaway run rate is extremely volatile, and there's no doubt that Mixon would have broken off more big runs if he suited up for more games. 
In 2018 and 2019, Mixon ranked second and fourth, respectively, in rushes of 15-plus yards.
The former second-rounder has bounce-back written all over him for 2021 as QB Joe Burrow heads into Year 2. Cincinnati also looks primed to make upgrades across the offensive line in free agency and the 2021 NFL Draft and could potentially cut ties with veteran Giovani Bernard, which would save $4 million of salary-cap space.
Aaron Jones is the most likely candidate on this list to have his ranking changed — for better or worse — depending on where he ends up in free agency. 
Jones has been nothing short of fantastic since entering the NFL in 2017, ranking third in PFF rushing grade (91.1) and fourth in yards per carry (5.1). He also has limited wear on his tires, having operated in a timeshare during his four seasons in the league.
Jones has the chance to be a dominant asset in fantasy football if he lands with a team willing to commit to him as a three-down back. He finished 2020 ranked 12th in total touches per game (17.7).

At age 26 and with 846 touches on his resume, Jones has at least one or two more super-productive fantasy seasons still within him. 
After finishing as the RB2 overall in 2019, he finished as the RB5 in 2020, averaging 18.5 fantasy points per game (fifth).