Injuries headlined Week 2, as several players were knocked out — and plenty are believed to be serious. Despite the injuries, there were several high-scoring games with fantasy performances that were equally impressive.
Breaking down the Week 2 action, here are the snap counts for the skill players in every game. I'll also dive into waiver wire targets, players to buy low, sell high or cut and, of course, how each team handled any injured players who went down.
Akers left the game very early with a rib injury, which gave Darrell Henderson the opportunity to take a larger role in the offense. Henderson had a 40-yard run, a touchdown and 40 receiving yards. It's too early to jump all in on Henderson in waivers unless Akers' injury is very serious. While Henderson ended up with a few more carries, Malcolm Brown was still in for over half of the pass plays. So far this season, Brown has been the running back on 83.3% of third downs. Henderson has more upside in a two-back committee if Akers is out, but if all three are healthy, all of them will have a role.
Higbee had a three-touchdown game on just five targets. He caught all of them for a total of 54 yards. There are so many tight ends in the league having breakout seasons that it's worth seeing if anyone will bite on Higbee. He should still be a low-end TE1 the rest of the season, but someone might overpay after the three-touchdown performance.
Sanders missed Week 1 with an injury, and there was concern that he might be eased back in. He had a solid 95 yards on 20 carries and a touchdown despite no runs longer than 15 yards. What's even more encouraging is the fact that he was the third-down back as well. Sanders played eight of 12 third downs and was targeted seven times. He should live up to his first-round draft status going forward.
Woods played his usual amount but was held to two catches on five targets for 14 yards despite having an above-average matchup. To this point, Josh Reynolds and rookie Van Jefferson have rotated as the third wide receiver. If Jefferson keeps playing well, Woods could see his target share continue to decline.
Moore had a disappointing Week 1 with just four catches for 54 yards. While he still hasn't found the end zone, he was targeted 13 times this week and brought down eight for 120 yards. He's already Bridgewater's favorite target, and it's only a matter of time before he starts reaching the end zone.
Ronald Jones had his usual role in the first quarter, but Leonard Fournette led the Buccaneers in snaps every quarter after that. It's impossible to start Jones going forward, as he'll either be sharing time or playing behind Fournette. Fournette's stat line is a little inflated thanks to a 46-yard touchdown run while the Buccaneers were running out the clock. Unless Fournette can take all of Jones' playing time, it will be hard to trust any of the backs in Tampa.
Anderson was not far behind Moore in terms of production, bringing in nine of his 10 targets for 109 yards. Last week, he caught six passes for 114 yards and a touchdown, with a lot of his production coming on one 75-yard play. He needs to be picked up across all leagues.
McCaffrey left the game in the fourth quarter with an ankle injury, and he was playing slightly less than usual before leaving. Mike Davis ended up taking every running back snap afterward. Davis ended up with eight targets in the game with seven coming in the fourth quarter while the Panthers attempted a comeback. If the injury results in McCaffrey missing playing time, Davis becomes a must add as he should be the every-down back. This also helps Curtis Samuel a little bit, as he ran the ball four times in this game and could end up running even more if McCaffrey is out.
Conner was expected to be splitting playing time with Benny Snell, but based on the snap counts, it was clearly Conner's backfield. He ran 16 times for 106 yards and a touchdown, and also caught two passes for 15 yards. Over half of his rushing yards came on a single carry, so he wasn't necessarily effective running, but his playing time is promising for his future. I wouldn't drop Snell yet, but I certainly wouldn't be starting him.
Jerry Jeudy left the game early with a rib injury but returned, while Sutton left the game early with a knee/leg cramping after missing Week 1 with an AC joint sprain. Despite these two being third and fifth in snaps, respectively, they were the top two on the team in receiving yards. They'll lead the team in snaps and targets when healthy, but there's no one to add even if they miss time.
Claypool had the second-highest grade among all wide receivers in Week 1, though it was on a 19-snap sample size. This week, Claypool had five more snaps than last week while James Washington had six fewer. This led to an 84-yard touchdown by Claypool as well as two more catches. He has looked great and his playing time should continue to rise. Pick him up now.
Lock left the game early after completing just one of five passes for 20 yards. It shouldn't be a season-ending injury, but he's expected to miss some games with a sprained AC. Backup Jeff Driskel kept the Broncos in the game, but it wasn't enough to win. The Broncos have the fourth-worst schedule for quarterbacks the rest of the fantasy regular season and their two worst remaining games of the season over the next three weeks. He doesn't need to be picked up in most league formats.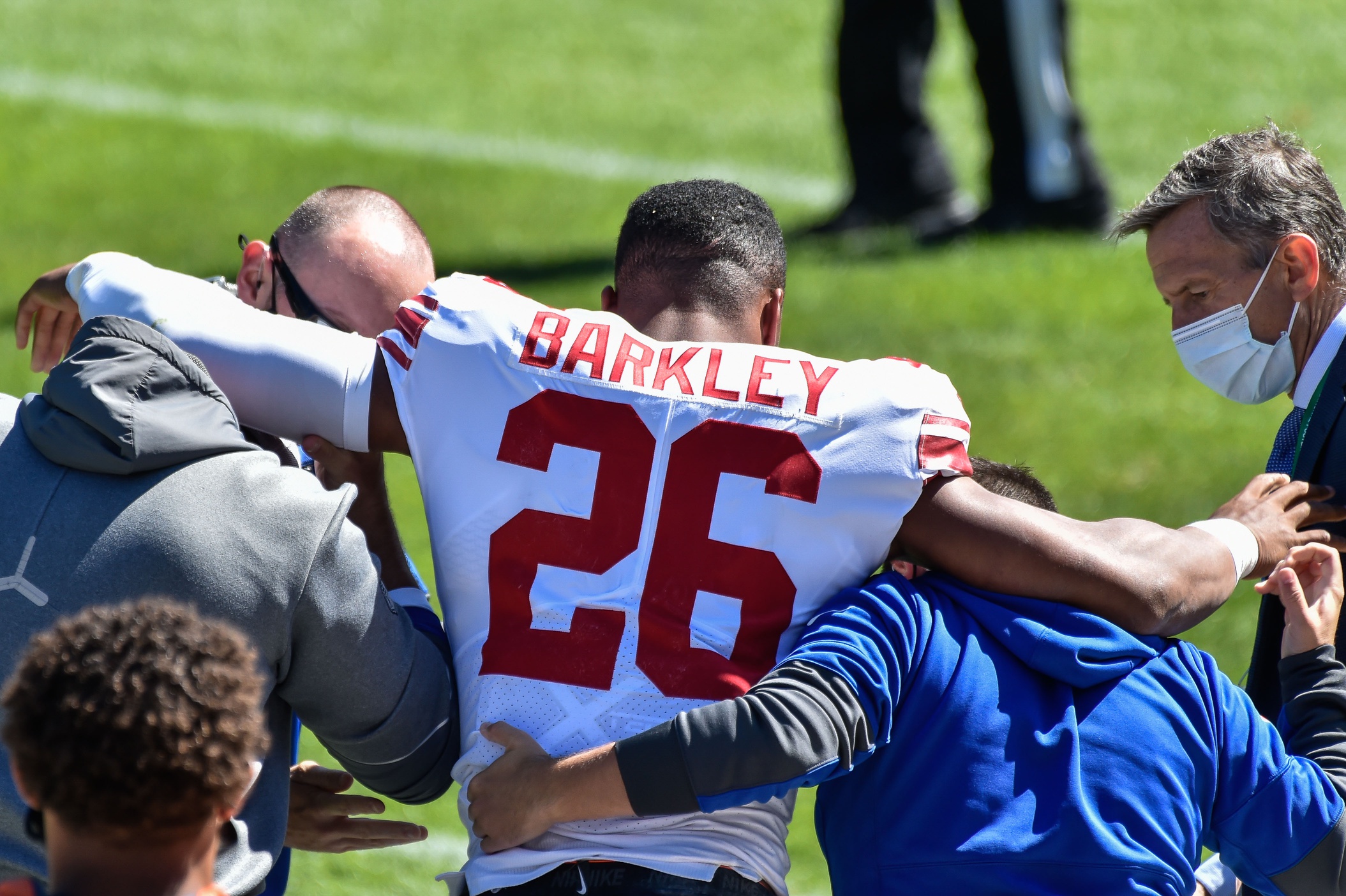 Barkley suffered what is believed to be a season-ending ACL injury. In his place, Dion Lewis took nearly all of the running back snaps. He's a reasonable waiver target, but don't spend too much on him. Wayne Gallman was healthy but inactive and would have likely seen significant playing time if healthy. He played more snaps than Lewis last season. This also seems like the perfect landing spot that Devonta Freeman was waiting for.
Cohen's playing time seems to be declining in Chicago. David Montgomery missed some time with a neck injury in this game, but he ended up leading the team in third-down snaps — typically Cohen's role. Cordarrelle Patterson had more carries than Cohen, which is likely to continue. It would take an injury to even consider starting Cohen, and even then someone else would likely lead the team in carries.
Miller had a surprisingly good performance in Week 1 despite limited playing time with four catches for 76 yards and a touchdown. This week was more discouraging — the Bears used more two-tight-end sets, which Miller almost never plays in. He finished seventh among skill players in snaps and had three targets and no catches. It's hard to find a scenario where you could trust starting Miller in most leagues.
Shepard left the game with a toe injury early. In the first half, Darius Slayton had a clear lead in snaps at 21, with Shepard at 14 and Tate at nine. If Shepard misses time, Tate's value would go up. When all of the receivers are healthy, it looks like Tate is third on the depth chart.
Smith was TE7 in Week 1 thanks to four catches and a touchdown. He will be higher this week after a two-touchdown performance on four catches and 84 yards. He's a sell-high candidate because of the Titans' schedule the rest of the season. Per our strength of schedule tool, the Jaguars are the easiest matchup for tight ends on the schedule. The Titans have the fifth-most difficult schedule for tight ends the rest of the way. Despite the schedule, Smith could still end up as a TE1 for the season, but there will be some weeks where he is limited to just a few catches.
Chark has looked good when he's been targeted but just hasn't been targeted enough. Fantasy owners were again underwhelmed with his four targets this week, but a 45-yard play led to a decent yardage total. As more players on the offense step up, the less defenses can focus on Chark, which should lead to bigger games in the future.
Robinson again was the clear primary runner for Jacksonville, racking up 102 yards and a touchdown on 16 carries. Robinson already had a decreased role in Week 2, and it could decrease more going forward. In Week 1, Jacksonville didn't have many third downs — when they did, Robinson played 40% of them. This week, he played just one of 14 third down plays. Eventually, Devine Ozigbo or Ryquell Armstead could come off of injured reserve to take some carries. Laviska Shenault Jr. is also getting a few carries per game. His stock can only go down from here, so now is the time to trade him.
Davis was clearly the Titans' top wide receiver in snaps. His fantasy performance was saved by a touchdown, but he only had two other catches. Both tight ends and Adam Humphries had more, and A.J. Brown will likely be back soon. It would be hard trusting him to start unless he gets a larger hold on the target share. With the talent Tennessee has, that's unlikely.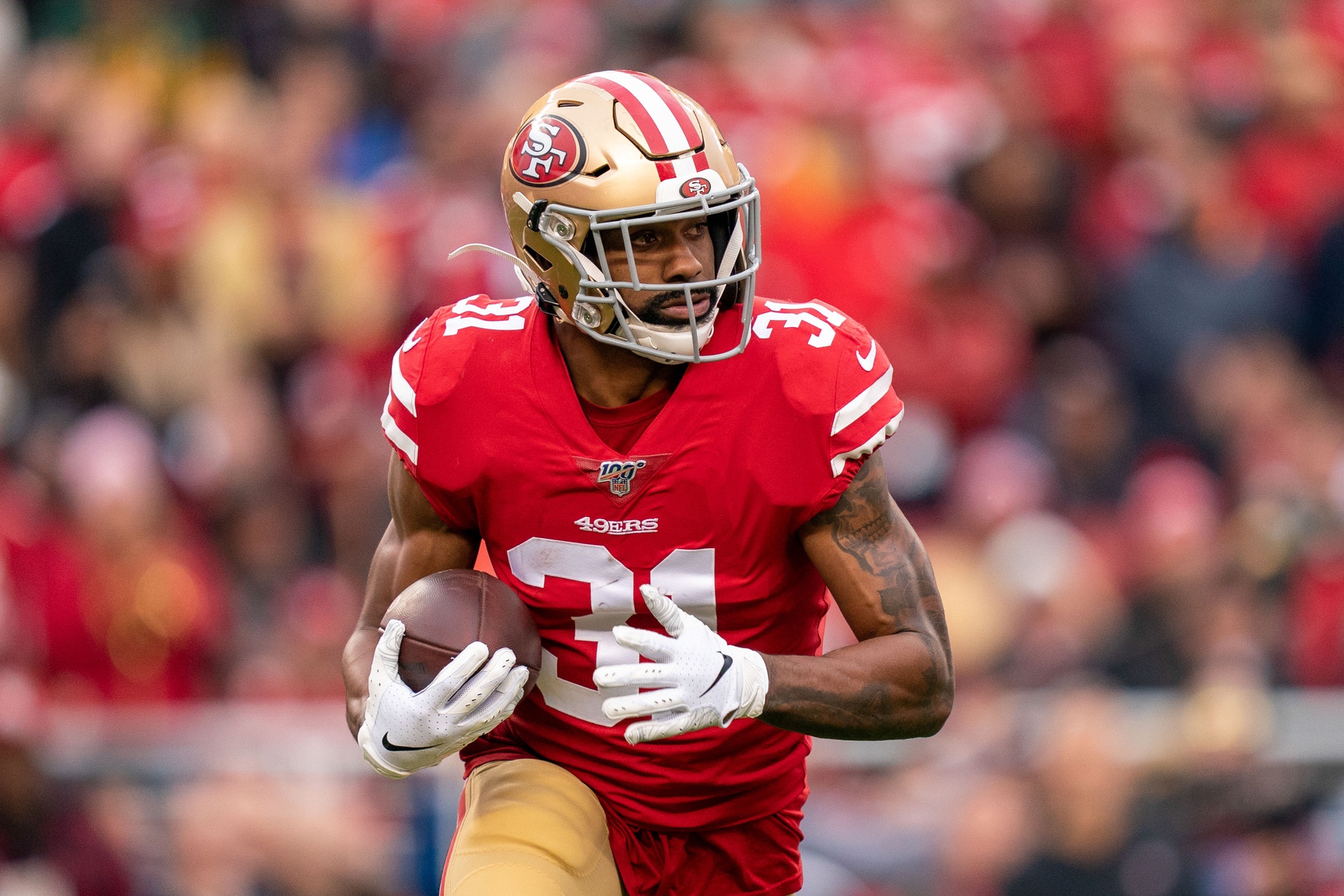 Mostert was having a good game thanks to his 80-yard touchdown run, but there was reason to be worried about his fantasy value before that point. He and Tevin Coleman split playing time on rushing downs while Jerick McKinnon remained the third-down back. In the third quarter, Coleman was the early-down back and McKinnon the late-down back. In the fourth quarter, Coleman also left with an injury. If both backs were to miss time, McKinnon might look tempting due to his 55-yard run. However, in the fourth quarter, it was Jeff Wilson Jr. who was taking the early-down work instead of McKinnon. Wilson Jr. would be the waiver wire pickup if both miss time.
With Le'Veon Bell out, Gore played in over half of the Jets' snaps including running the ball 21 times. He was ineffective with those touches, only gaining 63 yards. For Gore's fantasy owners, it was good for him to have that many touches. With Bell on injured reserve, it wouldn't be surprising to see Gore continue to dominate touches.
Garappolo missed the second half with a high ankle sprain. Nick Mullens took over and completed eight of 11 passes, although an interception hurt his passer rating. If you're in need of a quarterback, Mullens might not be the worst pickup. Our strength of schedule tool shows the 49ers with the fourth-best matchup for a quarterback next week against the Giants and top-12 matchups in the following three games.
Perriman left the Jets game early with an ankle injury. The Jets were already without slot wide receiver Jamison Crowder, and Denzel Mims was placed on injured reserve so he will miss time. In the vast majority of leagues, the healthy Jets receivers can probably be avoided. For those in very deep leagues, it's worth noting that Braxton Berrios was primarily the slot receiver replacing Crowder, while it was Josh Malone playing on the outside replacing Perriman.
Taylor didn't play at all in the first quarter last week, but after the Marlon Mack injury, he was expected to have a big role. He ended up not just in a timeshare but as the clear top running back. While his 26 carries for 101 yards was encouraging, the third-down work is even more exciting — Taylor played seven of 13 third-down snaps. His passing snaps led to only two targets, but he'll be less dependent on game scripts moving forward.
Hines was the No. 2 running back behind Taylor but he only played three snaps in the second half while Wilkins saw 15. It will be interesting to find out if there was a reason he had such little playing time or if Wilkins also passed him on the depth chart. It's too early to drop him from your roster, but until there is either an explanation or he plays more in another game, he shouldn't be started.
Campbell led the Colts wide receivers in snaps in Week 1 primarily playing in the slot. He went down after two plays, which led to Zach Pascal becoming the new slot wide receiver for Indianapolis. It also paved the way for Michael Pittman Jr. to see more playing time, as he ended up leading the team in snaps. If Campbell were to miss time, this would primarily boost Pittman's stock — he had four catches on six targets for 37 yards.
After two games, these two are still splitting snaps — they had a combined one catch for three yards in this game. Nearly every other team has a tight end who is playing the majority of his team's passing snaps. The lack of playing time and targets means neither needs to be rostered.
Gesicki had a career game with eight catches on 11 targets for 130 yards and one touchdown. He did this on just 35 pass routes. Gesicki was a breakout candidate coming into the season, and he's worth starting in the right matchups. The Dolphins have a stretch of tough tight end matchups, but around the middle of the season, he'll have great matchups.
Diggs had a strong debut with the Bills last week with an 86 yard performance on eight catches. He followed it up with a better one in Week 2: eight catches on 13 targets for 153 yards and a touchdown. He had more than double the targets of any other Buffalo player. The only reason he's a sell high candidate is the rest of the Bills' schedule. According to our strength of schedule tool, the Bills have the second-most difficult schedule for wide receivers going forward.
In Week 1, Moss looked primed for more playing time. While Singletary out-snapped Moss in most situations, Moss had the red zone work and a touchdown. This week, Singletary continued to play more frequently on each down, but they split red-zone work. Moss wasn't targeted and ran just eight times. If Moss was getting the red zone work and close to half the touches, he's a borderline starter. With Singletary ahead of him in every kind of situation, it's hard to play him.
Myles Gaskin played just under 60% of snaps for the second straight week, leaving Matt Breida and Jordan Howard splitting the other 20%. Because of the offensive line, it's hard to trust Gaskin or any back even with a full-time gig here. For players with less than 20 snaps per game in this offense, there's more upside in rookies who should see their playing time increase as the season progresses.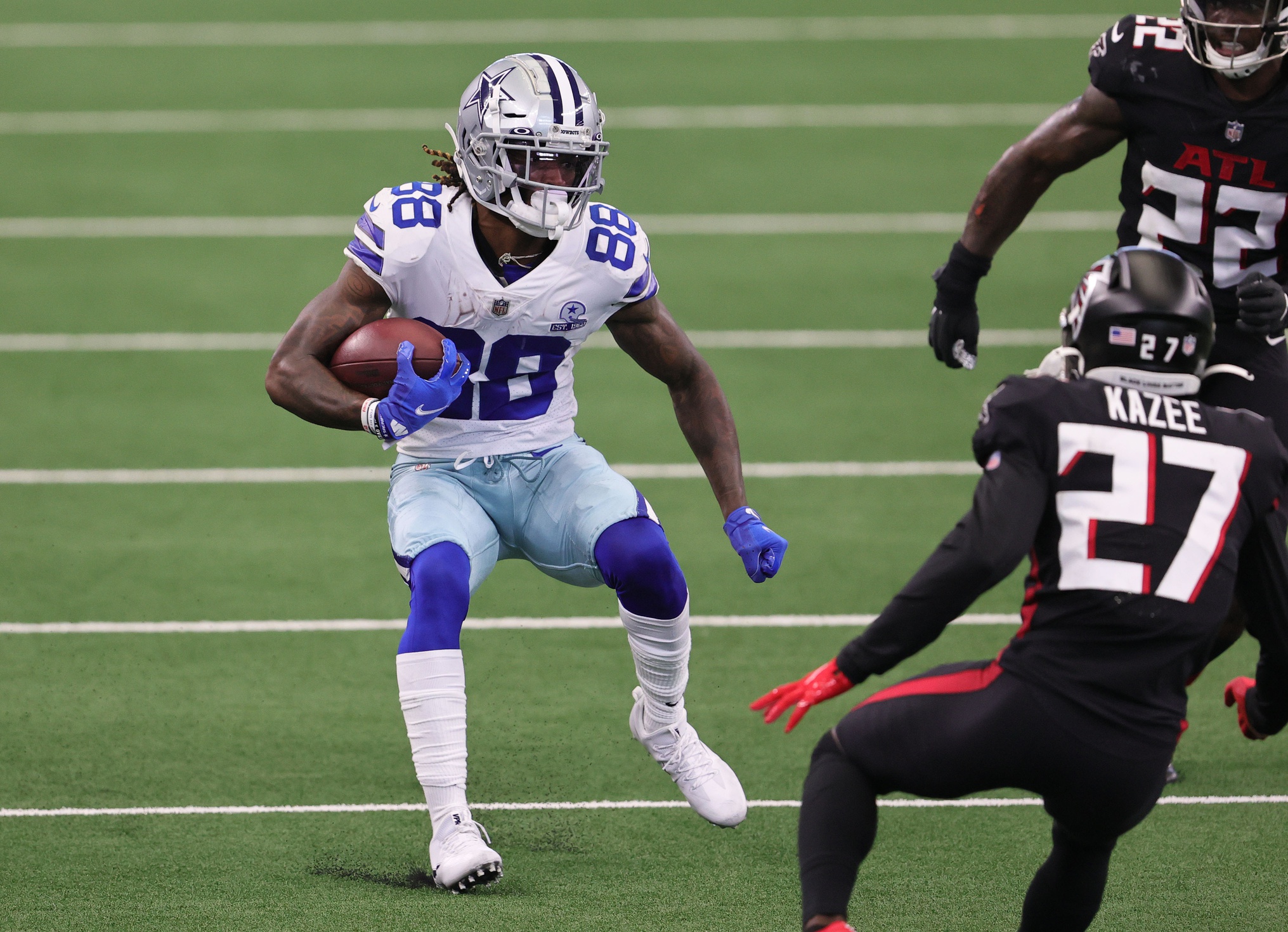 With Blake Jarwin out, it was clear Schultz would be the passing-down tight end. His value was in question due to the talent Dallas has at the other four skill positions. Still, Jarwin led the Cowboys this week in targets with 10, bringing in nine of them for 88 yards and a touchdown. This doesn't make Schultz a must-start player, but he can be started in the right matchups. At the very least he's outperformed other tight ends who were drafted to be TE2s.
Hurst had a lot to prove and showed that he can put up big numbers in this offense. He was targeted on eight of 36 pass plays and brought down five for 72 yards and a touchdown. It is concerning that Russell Gage had more targets than Hurst once again, but Hurst has avoided being deemed a bust early in the season.
When Matt Ryan has more touchdowns to other receivers than targets to Julio Jones, there is a problem. This wasn't the most favorable matchup for Atlanta, and the next two might not be great either with cornerbacks expected to shadow Jones. He's not a buy-low candidate yet, but his owners will be frustrated after another week or two of this.
There is no way that Ezekiel Elliott can have 20 carries and all four Cowboys receivers end up happy. This week, it was Gallup who got the short end of the stick. He did have a couple of long catches — 38 and 20 yards — but was targeted only five times. This is the second-straight game where both Cooper and Lamb had more targets than Gallup.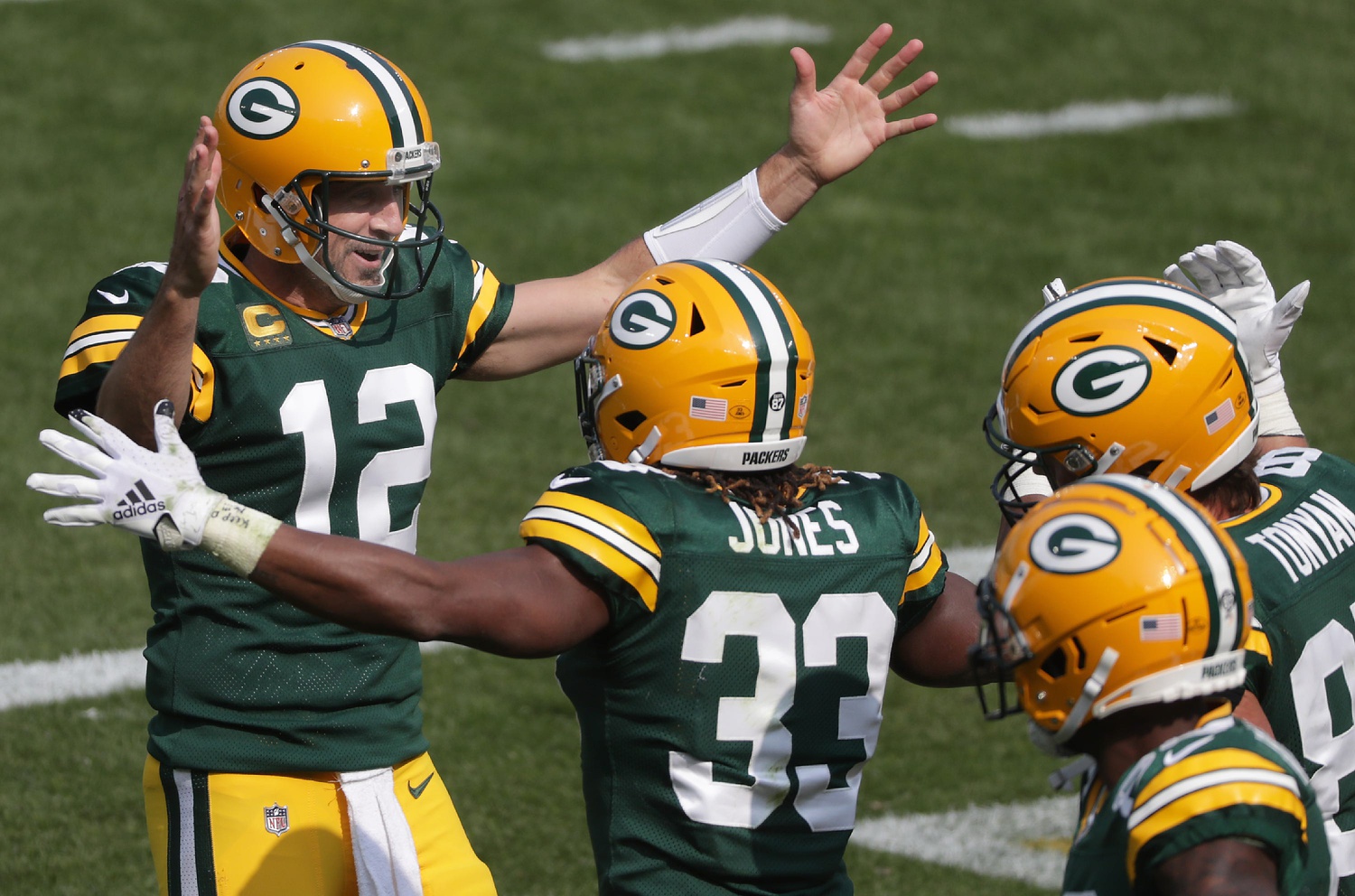 Jones had a three-touchdown game despite playing in less than half of the snaps. He either ran the ball or was targeted on 26 of his 35 snaps. It will be interesting to see if the reason for less playing time was the fact that he kept getting the ball when he was on the field or if there will be some weeks where Jones doesn't get as many touches from the game script.
Peterson looked like the clear leading rusher for the Lions after last week, but things are as confusing as ever for this backfield after Peterson saw only seven carries after 15 last week. Part of that was the game script, but Kerryon Johnson had more carries than Peterson, plus a touchdown. To make matters more confusing, Ty Johnson joined the running back rotation with five snaps. In general, this remains a backfield to avoid.
Valdes-Scantling had the second-most targets for the Packers for the second-straight game, but he's only caught three passes for 64 yards on the season. The target share from Aaron Rodgers is worth an early bet if you have room on your bench.
Adams left the game in the third quarter with a hamstring injury. The Packers used only three receivers in the first half, but after his injury Malik Turner took over as the third wide receiver. He didn't receive any targets. If Adams were to miss more time, Valdes-Scantling would be the one to add instead of Turner.
Gibson had the third-highest snap total for the Washington running backs after Week 1, making his fantasy owners wonder when he would start seeing a higher share of the backfield. It only took one week. While J.D. McKissic remained the third-down back, Gibson went from a three-person committee on early downs to the main ball carrier in those situations. It only led to 55 yards rushing and one catch, but he made up for it with a touchdown. With how difficult of a schedule Gibson has for running backs, he will need to see more targets to live up to the hype.
McLaurin was the most targeted wide receiver in this game despite the Hall of Famers playing for the Cardinals, who also had more passing attempts. He was efficient with his targets, hauling in seven catches for 125 yards and a touchdown. Whenever a receiver has over 50% of a team's passing yards, it's an impressive performance.
Isabella had a 54-yard catch in this game and was two yards away from leading the Cardinals in receiving yards despite only playing 14 snaps. His percentage of playing time increased from Week 1 to Week 2, while Christian Kirk put up another disappointing performance with just as many catches and fewer yards than Isabella. If you pick him up, it's in hopes of him taking over the third receiver spot sometime in the season.
Thomas was one of the most popular waiver wire additions last week after leading Washington in targets and catching the Football Team's only passing touchdown. His fantasy production wasn't as impressive this week, but there's still plenty of reason to believe he can be successful in the future. His percentage of offensive snaps saw a slight decrease, but he had more targets this week than last. Any tight end who can consistently be among the top two in targets should have plenty of TE1 weeks.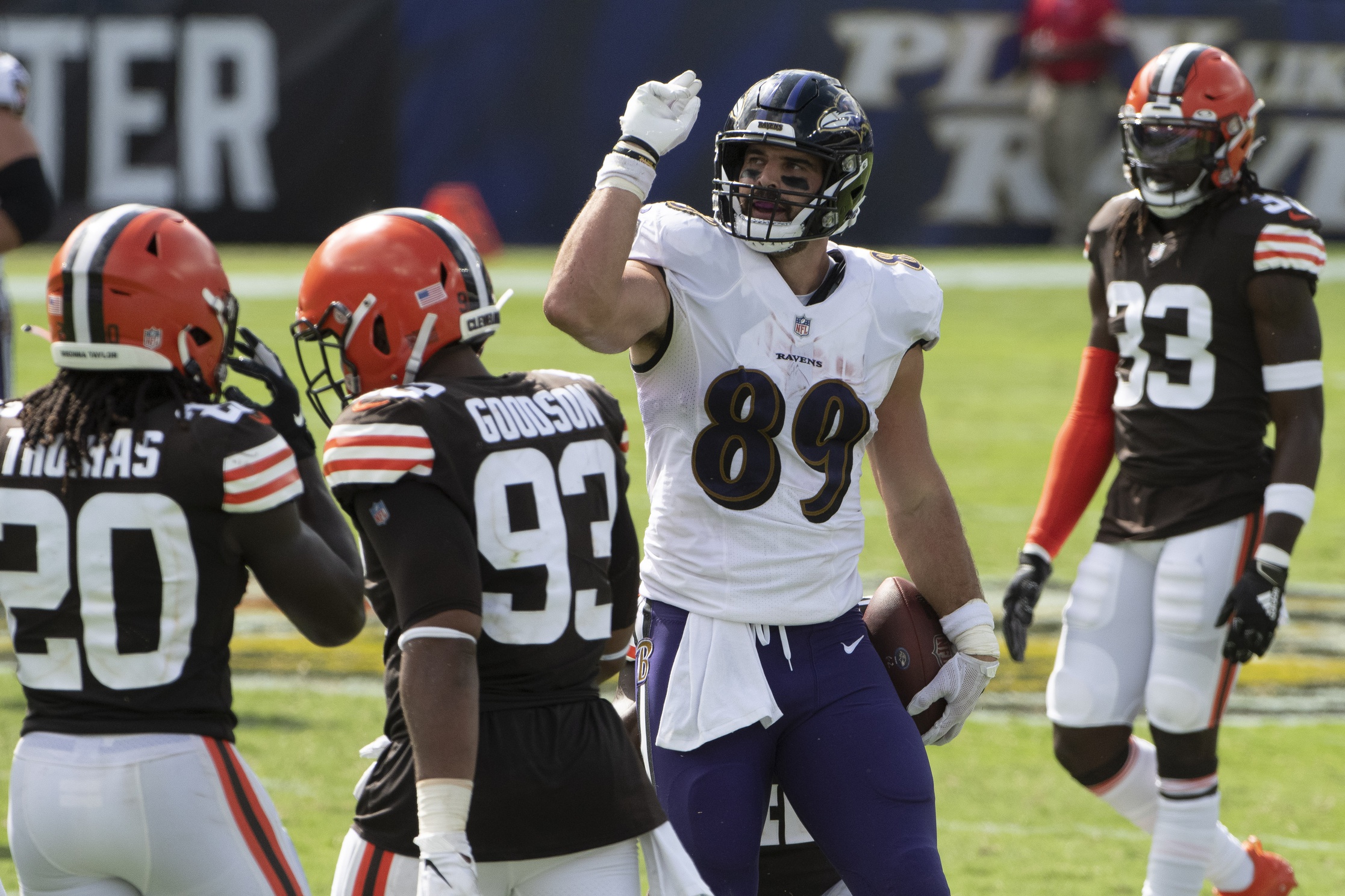 Andrews appeared ready to fight to be the top fantasy tight end after Week 1's two-touchdown performance. This week he didn't even have two catches. This playing time was more similar to last year than last week. In 11 personnel, Nick Boyle played more often at 15 snaps to 11. Andrews needs to be in on that formation the vast majority of the time to be a top tier tight end.
Dobbins was another fantasy winner last week who didn't get the expected number of opportunities this week. He only had two of the 21 carries by Ravens running backs and broke one for 44 yards. He maintained the role as the Ravens' third down back, but that only led to one target. As long as Gus Edwards is getting significant playing time, making this a three-man committee, it will be hard to trust starting Dobbins.
Johnson had a disappointing 50 total yards of offense despite Duke Johnson missing the game with injury. Despite the poor performance, there is reason to believe he can be great going forward. He played a majority of snaps even when Duke was healthy, but this week he led the league in playing time percentage for a running back. Any back who sees this much playing time is a must-start. The Texans won't be playing the Chiefs and Ravens every week, which should lead to a more favorable game script for Johnson. Try to trade for him now.
Fuller left the game in the fourth quarter with a hamstring injury. Kenny Stills was already rotating in at times for the Texans' other receivers, but after the injury he became an every-down player with Brandin Cooks and Randall Cobb. Before the injury, Fuller had a disappointing performance with no targets. If Fuller were to miss time, expect Stills to be a starter. He can be stashed in leagues with deeper rosters, but he'll only be a reliable starter in the right matchups.
Ekeler may not have gotten the playing time he could hope for, but he did the most with his opportunities. He ran for 93 yards on 16 carries without any longer runs to beef up his yardage total. He caught all four passes thrown his way for an additional 55 yards. While he didn't have a touchdown, it's also worth noting he was more effective running than teammate Joshua Kelley, who had seven more carries but 29 fewer yards. In a game where the Chargers aren't running 83 plays, Ekeler can be expected to have a higher percentage of carries.
Williams led the Chargers in targets last week, which made it seem like he should have a higher floor. Today he had just two catches on four targets for 14 yards. With how limited the Chargers receiving options are, he should typically see more targets than this. If he doesn't, that means an even higher percentage of plays going to Keenan Allen, Austin Ekeler and Hunter Henry.
Justin Herbert was a surprise start after Taylor suffered a chest injury before the game. Tyrod has already been named the starter when he is 100%. Herbert didn't look bad for a quarterback who found out he would start shortly before kickoff — he put up 311 yards and one touchdown. The Chargers play the Panthers next week, so either could be worth a one-week rental depending on who starts.
Watkins left the Chiefs game in the fourth quarter after a helmet-to-helmet hit. In the first three quarters, he had his usual amount of playing time but only one catch on three targets. It's noteworthy that even before the injury, Mecole Hardman had a little bit more playing time than Demarcus Robinson. Those two played significantly in the fourth quarter and overtime with Tyreek Hill. If Watkins were to miss any games, Hardman would be the beneficiary. Unfortunately, the Chiefs have the Ravens and Patriots secondaries the next two weeks, so Hardman still might not be worth starting.
Wilson was projected to have the third-worst matchup of the week, according to our strength of schedule tool, as he was set to face a New England Patriots side with a great secondary but a weaker front seven. While Wilson's passing yardage number wasn't high, he had just two more incompletions than touchdowns. If he plays this well against a team like the Patriots, his numbers should look even better against worse secondaries.
Hyde led the Seahawks in carries in Week 1 while also having the team's only rushing touchdown. The tables turned for Week 2, though, as the Seahawks' run game was much more dependent on Chris Carson. The third-string running back ended up with one fewer yard rushing but on two fewer carries. With this split, even in games where the Seahawks should be running more, it could be hard to trust starting Hyde.
Edelman was by far the Patriots' most effective receiver, catching eight passes for 179 yards, though it's important to remember how much Seattle lost in the secondary as the game went on. Marquise Blair started the game as the slot cornerback but left early with a knee injury, and safety Quandre Diggs was ejected on the first drive. Still, Edelman was third in snaps for the second consecutive game. It's unlikely the Patriots will need to throw this much going forward, so Edelman likely won't have many more 100-yard games this season.
Michel failed to achieve 20 yards of offense in a game where the Patriots were without James White and Damien Harris. While White's absence had a minor impact on Michel's playing time at best, it wouldn't be surprising if Michel gets even fewer opportunities when Harris is back.