Comparing fantasy rankings to ADP is a tried and true approach for finding value in fantasy football drafts. Targeting a few players at or ahead of ADP allows you to build around players you're higher on than the consensus. Of course, we fade those we're lower on, leaving these players for our opponents.
The PFF fantasy rankings are a good place to compare your thoughts with those of our experts. In this article, I'm looking further into the players I'm higher on versus their current ADPs in March 2021 Underdog Best Ball Drafts. 
I've been drafting in the best ball streets since the beginning of the month, and there are values to be had with rookies and veterans alike. The market is still reacting to player movement via NFL free agency, and the 2021 NFL Draft is still a few weeks away. 
PFF recently partnered with Underdog Fantasy — you can score a free PFF subscription with your first $10 play using promo code "PFF."
QUARTERBACK
When I first unveiled my 2021 best ball rankings in February, Matt Ryan was being drafted as the 16th quarterback off the board. His ADP has stayed consistent over the past month, making him a screaming value in Round 11 or 12 of fantasy football drafts.
The market is far too low on Ryan after a "disappointing" 2020 campaign when he actually led the NFL in passing attempts and completions. His final fantasy points per game (17.9, 16th) is inconsistent with his PFF grading on the season. 
Ryan earned his highest PFF passing grade (82.1, ninth) since 2017. His PFF passing grade from a clean pocket ranked sixth out of 32 qualifying passers in 2020 (92.1). 

The issue the last two seasons has been his high of 26 touchdowns, which can be traced back to his below-average touchdown percentages in the red zone — 21.9% in 2019 and 19.6% in 2020. 
I could see his overall efficiency improving if new head coach and former Tennessee Titans offensive coordinator Arthur Smith utilizes play-action. Under Smith, Ryan Tannehill led the NFL in play-action throw percentage (36.4%) in 2020. Ryan has ranked 22nd (26%) and 28th (21%) the last two seasons.
Ryan led the league in play-action throw percentage (28%) in his best season under Kyle Shanahan. He's being drafted at his floor without consideration for his upside as one of the league's best passers.
Keep in mind that Ryan was without Julio Jones or Calvin Ridley for almost all of his poor performances in 2020. With both of his stud WRs in the lineup, Ryan averaged 23.3 fantasy points per game (seventh). Without them, his fantasy points per game plummeted to 15.4 (28th).
Other Quarterback Values:
Trey Lance, North Dakota State — ADP QB29 | RANK QB19
Justin Fields, Ohio State— ADP QB24 | RANK QB16
Cam Newton, New England Patriots — ADP QB23 | RANK QB21
Tua Tagovailoa, Miami Dolphins — ADP QB21 | RANK QB18
Baker Mayfield, Cleveland Browns — ADP Q19 | RANK QB17
RUNNING BACKS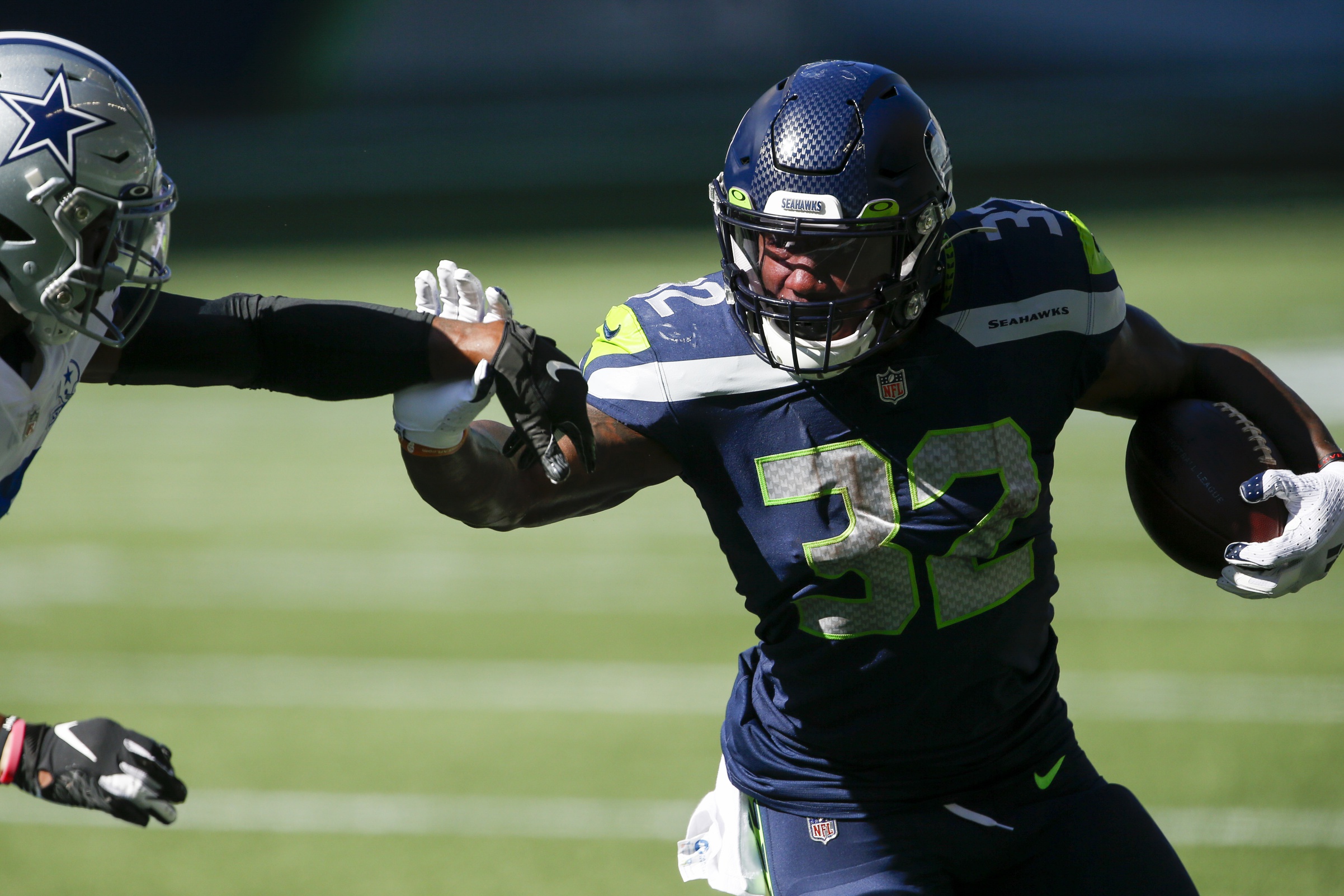 Chris Carson's current ADP is absolutely egregious. Returning as the clear-cut workhorse for the Seattle Seahawks in 2021, he has easy RB1 fantasy potential. We know that the Seahawks have an affinity for establishing the run, and Carson has been the clear bell cow whenever he has been healthy.
Carson was a top-eight fantasy running back through the first six weeks of the 2020 season, averaging 20 fantasy points per game (seventh) and 16.5 expected fantasy points per game (13th) while playing a 56% snap share.
There's a reason why Carson was listed as one of my biggest risers post-free agency. Early best ball drafters should be all over him until his draft price corrects.
I landed Carson with the 60th overall pick in my most recent best ball draft. He is easily a top-40 player regardless of position. 
The Buffalo Bills recently signed running back Matt Breida, and that has fantasy managers more pessimistic about the team's fantasy backfield. Zack Moss and Devin Singletary were huge disappointments last year operating in one of the league's most pass-heavy offenses.
Singletary finished the 2020 regular season as the RB32 and Moss as the RB48 (he missed three games). 
But their ADPs have fallen so dramatically (Singletary is routinely available in the 15th or 16th round) that both have become value propositions. Breakout running back performances often tend to emerge from ambiguous backfields, and that's exactly what we find here. 
We can easily project Buffalo to have another above-average offensive season with Josh Allen at quarterback, and drafting the team's RBs late is the easiest way to get cheap exposure. 
Singletary's biggest issue two years into his NFL career has been a lack of touchdowns. Part of that is to be expected when playing alongside a rushing QB like Allen who steals goal-line work. But touchdown scoring can be fluky year to year anyway. 
Last season, no running back scored fewer fantasy points from touchdowns (8%) than Singletary.
Allen is going to experience some type of production regression next season after finishing with the sixth-most fantasy points above expectation in 2020. It will most likely come in the form of touchdown regression, which could end up benefiting Singletary.
That's the major missing component to Singletary's fantasy appeal because has been efficient churning out yardage. He ranks fifth in 15-plus yard rushes (23) and sixth in missed tackle rate forced per touch (25%) since 2019.
We also know that the team hasn't been shy about leaning on him as their do-it-all back. Singletary functioned as the team's bell cow in five games last season with Moss out due to injury. In those contests, Singletary saw a 75% snap share and nearly 77% of the team's RB opportunities. 
Devin Singletary | 2020
| | | | | | | |
| --- | --- | --- | --- | --- | --- | --- |
| | Fantasy points per game | Snap % | Expected fantasy points per game | Touches per game | Carries per game | Team RB opportunity share |
| With Zack Moss | 8.6 | 56% | 9.5 | 11.1 | 8.8 | 52% |
| Without Zack Moss | 10.1 | 75% | 13.0 | 14.6 | 11.0 | 77% |
Other Running Back Values:
Mike Boone, Denver Broncos — ADP RB56 | RANK RB53
Mike Davis, Atlanta Falcons — ADP RB43 | RANK RB43
Alexander Mattison, Minnesota Vikins — ADP RB51 | RANK RB42
Lynn Bowden Jr., Miami Dolphins — ADP RB65 | RANK RB59
Rookie RB values:
Najee Harris, Alabama — ADP RB19 | RANK RB16
Kenneth Gainwell, Memphis — ADP RB35 | RANK RB28
Khalil Herbert, Virginia Tech — ADP RB76 | RANK RB46
Javian Hawkins, Louisville — ADP RB84 | RANK RB75
Elijah Mitchell, Louisville — ADP RB78 | RANK RB74
WIDE RECEIVERS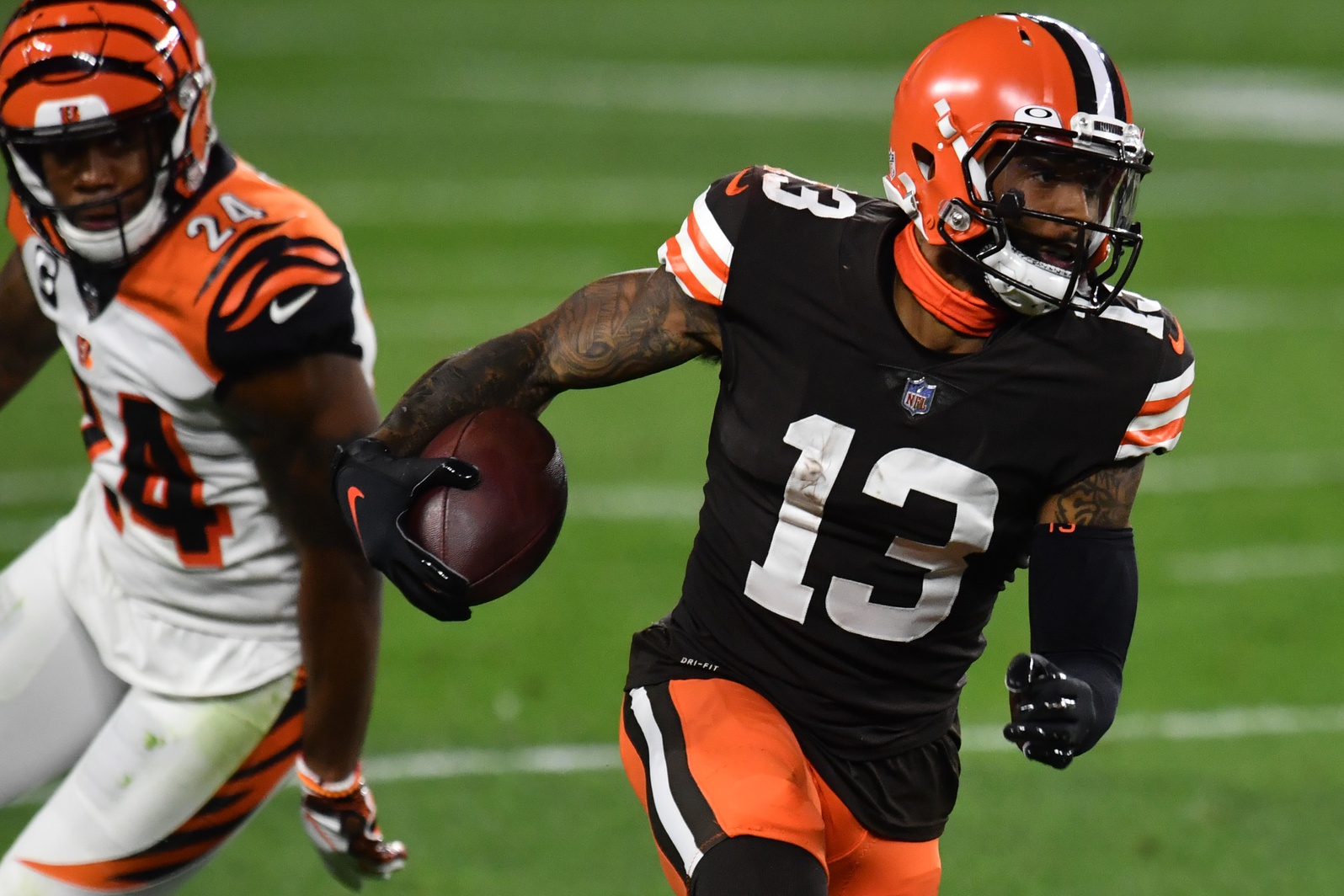 There isn't a more debated wide receiver in fantasy football than Odell Beckham Jr. After melting faces during his days with New York Giants, OBJ hasn't been the same star player in Cleveland. He has dealt with injuries, but even when healthy he's been much more of "just a guy" than a true difference-maker.
Beckham averaged 14.3 fantasy points per game (24th) and 14.6 expected fantasy points per game (15th) in his six healthy games in 2020. Still, his peripheral numbers looked great: He commanded a 28% target share and led the team in both air yards/end-zone targets.
OBJ's fall-off in raw production has caused him to slip in best ball drafts with an ADP of WR33. 
Many will point to the Cleveland Browns' overall improvement on offense without Beckham during the second half of 2020 and decide to fade him in 2021. 
But PFF's Ben Linsey points out that a lot of the Browns' struggles early on were against difficult defenses. Baltimore, Washington, Indianapolis and Pittsburgh accounted for four of the six teams they opened with in 2020.
Each graded out as a top-12 defense by PFF. OBJ averaged 28 fantasy points in his two games against poor defenses (Bengals, Cowboys). Not too shabby for a receiver being drafted outside the top-30 at his position. And let's not forget that Baker Mayfield finished the year as PFF's second-highest-graded QB from Week 7 on.
Those who snag Nick Chubb in the first round should prioritize Beckham a few rounds later with a Browns offensive stack in mind. I also love scooping up Donovan Peoples-Jones at the end of drafts if things don't pan out with OBJ. 
DPJ finished fourth among the 2020 WR class in yards per route run (1.83). In Weeks 13-15, he finished second among all WRs in deep-ball yards.
I wasn't overly excited about Corey Davis' fantasy prospects when he first signed with the New York Jets because there are major concerns about whether he can be a true No. 1 wide receiver. I also assumed that Davis' ADP would rise since he's the team's projected target leader in 2021, but that has hardly been the case.
Davis' ADP rests at WR48 — easily the cheapest WR who projects for a high target share. 
With all signs pointing to Zach Wilson coming in to be the Jets' next quarterback, I have no problem continuing to draft Davis in the eighth and ninth rounds of best ball drafts. They could become a solid duo at the next level.

During Davis' career-year in 2020, he excelled working at the intermediate level of the field. He was PFF's 10th-highest-graded receiver (93.3) when targeted between 10 and 19 yards downfield in 2020.
Wilson was PFF's fourth-highest-graded passer (93.9) in the FBS on intermediate throws in 2020. He also finished with the third-highest percentage of pass attempts thrown between 10 and 19 yards downfield.
Other Wide Receiver Values:
D.J. Moore, Carolina Panthers — ADP WR15 | RANK WR12
Courtland Sutton, Denver Broncos  — ADP WR30 | RANK WR16
Jerry Jeudy, Denver Broncos — ADP WR41 | RANK WR32
Gabriel Davis, Buffalo Bills — ADP WR53 | RANK WR50
Rookie WR Values:
Rashod Bateman, Minnesota  — ADP WR49 | RANK WR42
Jaylen Waddle, Alabama  — ADP WR47 | RANK WR41
Tutu Atwell, Louisville — ADP WR100 | RANK WR88
Tylan Wallace, Oklahoma State  — ADP WR82 | RANK WR66
Rondale Moore, Purdue  — ADP WR59 | RANK WR53
Kadarius Toney, Florida — ADP WR76 | RANK WR72
TIGHT ENDS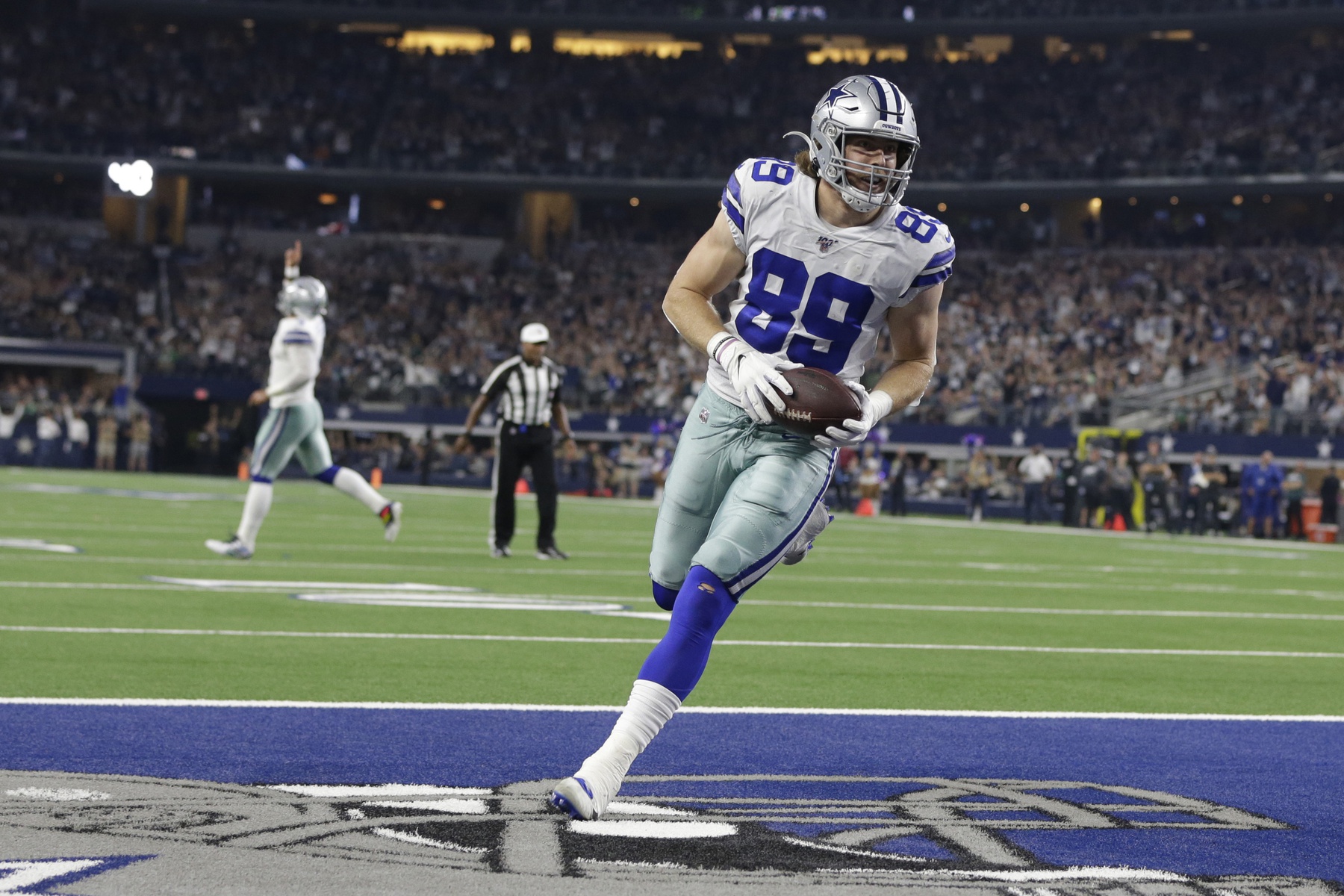 Last season could have been such a special year for Blake Jarwin. He was one of my top breakout candidates heading to the season, but an injury sidelined him for most of 2020. 
Recall that Dallas heavily invested their fourth-year TE financially before the start of last season with a hefty contract extension. If he inherits the tight end role that Dalton Schultz occupied in 2020, Jarwin will be fantasy-relevant in 2021.
Schultz ran the third-most routes at the tight end position (553) last season. That type of opportunity is rare for a tight end, so I'm less concerned about his competition for targets with all of the other pass-catchers in Dallas.
Jarwin is going to have his fair share of spike weeks with Dak Prescott at quarterback and defenses unable to pay extra attention to him. 
Other Tight End Values:
T.J. Hockenson, Detroit Lions — ADP TE5 | RANK TE5 (OVERALL RANK: 50 vs. ADP 76)
Dallas Goedert, Philadelphia Eagles — ADP TE7 | RANK TE6
Kyle Pitts, Florida — ADP TE9 | RANK TE8
Austin Hooper, Cleveland Browns — ADP TE22 | RANK TE19
Gerald Everett, Seattle Seahawks — ADP TE23 | RANK TE20