The Miami Dolphins made a post-free agency splash last week, sending the No. 3 pick in the 2021 NFL Draft to the San Francisco 49ers for No. 12, a 2021 third-rounder and first-round picks in 2022 and 2023. At that point, it looked like the team had decided to pass on the chance to add one of the 2021 draft class' top two playmakers, Ja'Marr Chase and Kyle Pitts.
But Miami wasn't finished dealing. The team then moved back up, flipping the No. 12 pick and their 2022 first-rounder to the Philadelphia Eagles in exchange for the No. 6 overall pick. The Dolphins clearly knew they wouldn't be falling out of the top-10 for long, and they ended up with a decent haul in exchange for moving back three spots in 2021.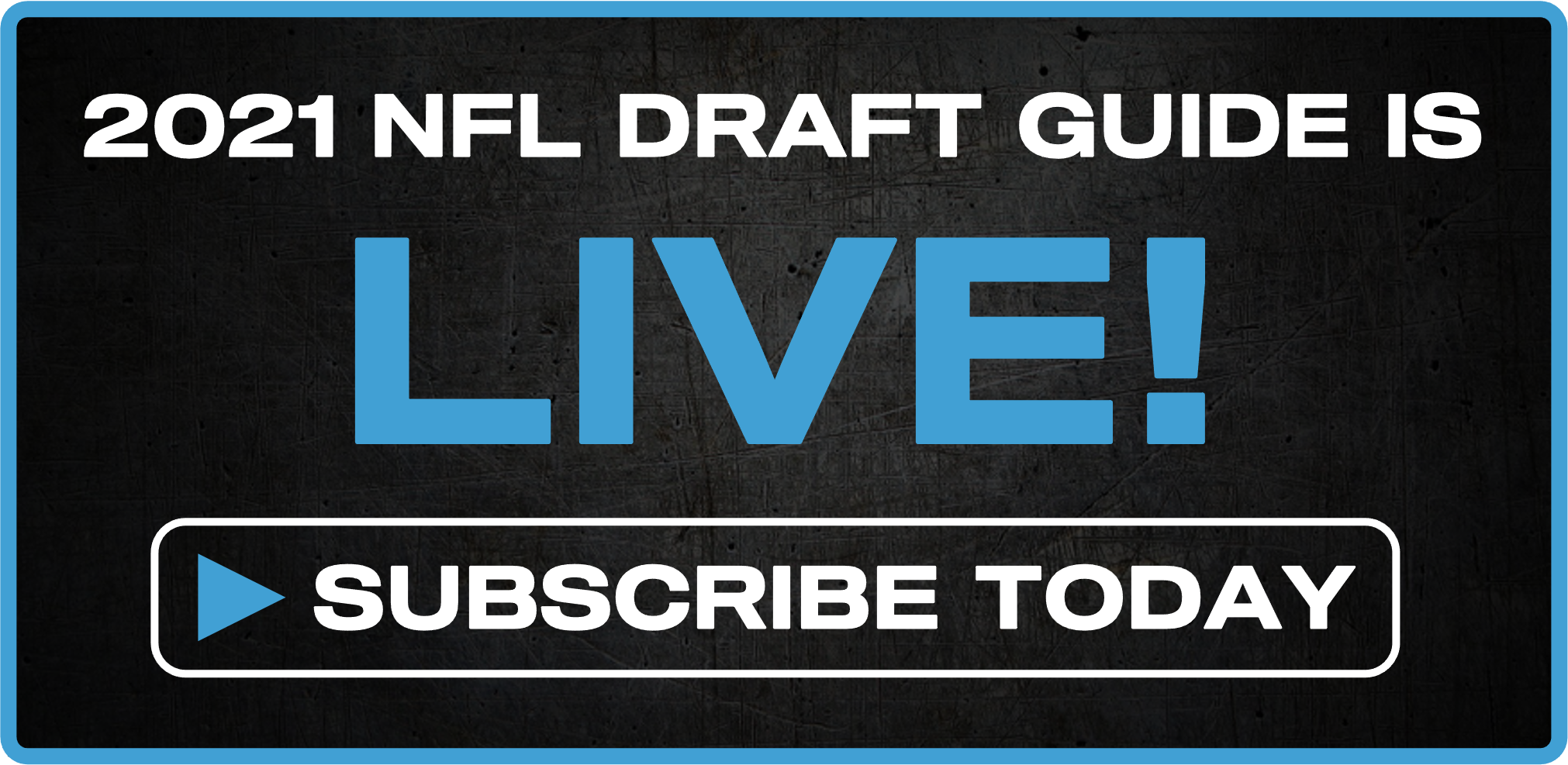 These corresponding moves suggest that Miami had its eyes on a supreme playmaker all along, and all signs point to Pitts being their guy. 
BUILDING AROUND TUA TAGOVAILOA IS PRIORITY NO. 1
Tagovailoa finished 20th in PFF passing grade versus man coverage last season, a less-than-impressive showing but one that isn't necessarily surprising considering his targeted receivers were deemed open on just 16% of his throws. That mark ranked 19th out of 40 qualifying QBs. 
Tua's receivers created at least one step of separation on just 58% of his pass attempts — fourth-worst in the league. Ryan Fitzpatrick dealt with the same issue. 
Lowest % of pass attempts delivered to "open" receivers | 2020
| | |
| --- | --- |
| Player  | % of attempts |
| Jalen Hurts | 54% |
| Sam Darnold | 56% |
| Gardner Minshew | 58% |
| Tua Tagovailoa | 58% |
| Ryan Fitzpatrick | 58% |
| Drew Lock | 58% |
Dolphins receivers also failed to squeeze the ball when targeted. Tua's 8.8% drop percentage ranked fifth-highest in the league. 
that's why you sign Will Fullerpic.twitter.com/2tY4Tz2Rum

— Andrew Erickson™ (@AndrewErickson_) March 18, 2021
The second-year quarterback's supporting cast was not great last year, but adding Pitts to the offense — along with Fuller — would dramatically change that. Pitts is an excellent separator and didn't drop a single pass in 2020. 
The playmaker from Florida is a "tight end" by positional designation, but make no mistake that he is much more of a wide receiver — and an excellent one at that. Pitts earned a 97.0 PFF receiving grade and averaged 4.91 yards per route run against man coverage. Those ranked first and second, respectively, among all players in college football. No other tight end averaged over 3.0 yards per route run or posted a grade higher than 87.2.

He's also the epitome of sure hands — he was the only player last season to have zero drops while commanding at least 65 targets. 
MORE TWO TIGHT END SETS
Adding an elite tight end makes a ton of sense based on the Dolphins' recent usage of the position.
Miami finished the 2020 regular season with the league's eighth-highest passer rating (112.6) and 12th-highest yards per attempt (8.0) when throwing from 12 personnel (one RB, two TEs). Both Tagovailoa and Fitzpatrick saw a slight uptick in passing efficiency when operating from two-tight-end sets compared to three-wide-receiver sets (11 personnel).
Tagovailoa 12 vs. 11 personnel
| | | | | | |
| --- | --- | --- | --- | --- | --- |
| | PFF grade | Yards per attempt | Passer rating | aDOT | Attempts |
| 12 personnel | 65.8 | 7.1 | 102.5 | 8.9 | 73 |
| 11 personnel | 63.2 | 6.1 | 79.8 | 7.7 | 194 |
Fitzpatrick 12 vs. 11 personnel
| | | | | | |
| --- | --- | --- | --- | --- | --- |
| | PFF grade | Yards per attempt | Passer rating | aDOT | Attempts |
| 12 personnel  | 76.4 | 8.6 | 122.5 | 7.2 | 63 |
| 11 personnel | 67.1 | 7.5 | 85.7 | 8.6 | 170 |
Tagovailoa was heavily deployed from 12 personnel — he finished the season sixth in dropback percentage (26%) from that particular package.

Highest rate of dropbacks from 12 personnel | 2020
| | |
| --- | --- |
| Player | Dropback % |
| Baker Mayfield | 35% |
| Carson Wentz | 33% |
| Ryan Tannehill | 31% |
| Russell Wilson | 27% |
| Kirk Cousins | 27% |
| Tua Tagovailoa | 26% |
The Dolphins relied heavily on tight ends in the passing game, and the team's top two TEs — Durham Smythe (80.6) and Mike Gesicki (74.4) — were Tua's highest-graded pass-catchers.
Tagovailoa wasn't nearly as successful when throwing to the wide receivers Jakeem Grant (71.3), Lynn Bowden Jr. (67.7) and DeVante Parker (66.5). 
There's a clear path for both Gesicki and Pitts to be used without extended overlap. Gesicki has been a glorified slot receiver since 2019, playing roughly 70% of his snaps lined up inside. Pitts played just 26.7% of his snaps from the slot in his final year at Florida, which was the lowest rate of any college tight end with at least 60 slot snaps. 
Miami tight ends finished last year as PFF's fourth-highest-graded unit (87.7) when targeted from 12 personnel behind only the Tampa Bay Buccaneers, Los Angeles Chargers and San Francisco 49ers. But they finished second in passer rating generated (146.3).
In 2018 — arguably Tua's best season at Alabama — Tagovailoa played alongside future second-round TE Irv Smith Jr., who finished second on the team in PFF receiving grade (89.0) and generated a perfect rating when targeted by Tua (158.3).
Keep in mind that Smith was able to accomplish this while operating among five future first-rounders in Jerry Jeudy, Jaylen Waddle, Josh Jacobs, Devonta Smith and Henry Ruggs.
Smith's passer rating generated when targeted (157.7, which includes passes not thrown by Tua) ranks No. 1 among all college tight ends since 2018. Pitts' 146.2 passer rating generated when targeted in 2020 ranks second.
COACHING FIT IN MIAMI
The Dolphins need to surround their 23-year-old quarterback with savvy pass-catching tight ends who can create mismatches against linebackers and safeties. The New England Patriots appear to be taking the same approach after adding Jonnu Smith and Hunter Henry in free agency. 
Brian Flores is a disciple of the Bill Belichick coaching tree, so it's not a stretch to think the Dolphins would go the same route. After all, if Miami is going to contend for a Super Bowl they'll have to win the AFC East and find a way to beat the Kansas City Chiefs.
The best way to do that is to challenge the Chiefs with tight ends.
Chiefs vs TEs in 2020
26th in ypa
30th in YAC/reception
26th in explosive catch rate
26th in TD %
27th in success %
30th in PFF coverage grade
32nd in PFF red-zone coverage grade

almost like the Patriots are constructing an offense to compete with the AFC's top dog

go figure

— Andrew Erickson™ (@AndrewErickson_) March 26, 2021
The Jets (31st), Chiefs (30th) and Patriots (26th) all finished outside the top 25 in PFF coverage grade versus tight ends in 2020. The Bills (28th), Chiefs (27th) and Patriots (24th) also all finished outside the top 23 teams in success rate allowed to tight ends. 
Miami's decision to move on from offensive coordinator Chan Gailey, who infamously underutilized TEs, suggests that a change in the offense is coming. 
The team replaced Gailey with co-offensive coordinators Eric Studesville and George Godsey. Studesville is the former running backs coach for Miami, and Godsey was a tight ends coach.
The fact that Godsey previously worked with tight ends was enough to pique my interest in his background. He spent time with the Patriots from 2011-2013 and worked as the tight ends coach when the team unleashed Rob Gronkowski and Aaron Hernandez.
I thought Godsey's connection to H-back hybrid tight ends would stop there, but that wasn't the case. Fast forward to his time with the Houston Texans as offensive coordinator and, once again, Godsey had his hands on another WR/TE hybrid in Stephen Anderson. 
Pitts' PFF receiving grade (96.1) led all tight ends and wide receivers last season and was the highest grade in the PFF era. The receiving skills are obvious, and Miami has a coaching infrastructure built to take full advantage. 
WILL PITTS BE AVAILABLE AT NO. 6?
Pitts is certainly worth taking at No. 6, and I think he'll be on the board when Miami's pick rolls around. The first three selections are locked into quarterbacks, which leaves only the Atlanta Falcons and Cincinnati Bengals in play for Pitts (assuming no more blockbuster trades). 
I ultimately expect another team to package a deal to trade up with the Falcons and draft a quarterback at No. 4. Atlanta could also take tackle Penei Sewell or one of the remaining top-tier QBs themselves.
Brian Flores spoke with Kyle Pitts today — with positive feedback — and plans to call him again this week, Pitts said.

— Adam Beasley (@AdamHBeasley) March 31, 2021
The Bengals might be the biggest threat to draft Pitts, but the team seems infatuated by the prospect of reuniting Joe Burrow with his former LSU teammate Ja'Marr Chase. The Bengals also added Riley Reiff in free agency to help bolster the tackle position and may feel less inclined to take one at No. 5 overall. 
This class is deep at tackle, so they can address the line later. Cincinnati was also strongly in the running for Kenny Golladay, so adding a top pass-catcher for Burrow is a priority. 
I think the Bengals ultimately lean toward Chase and that it's likely Pitts ends up taking his talents down I-95 to South Beach. And that would be a very good thing for Tua, Pitts and the rest of the Miami offense.